Best Gifts for Beer Lovers and Craft Beer Enthusiasts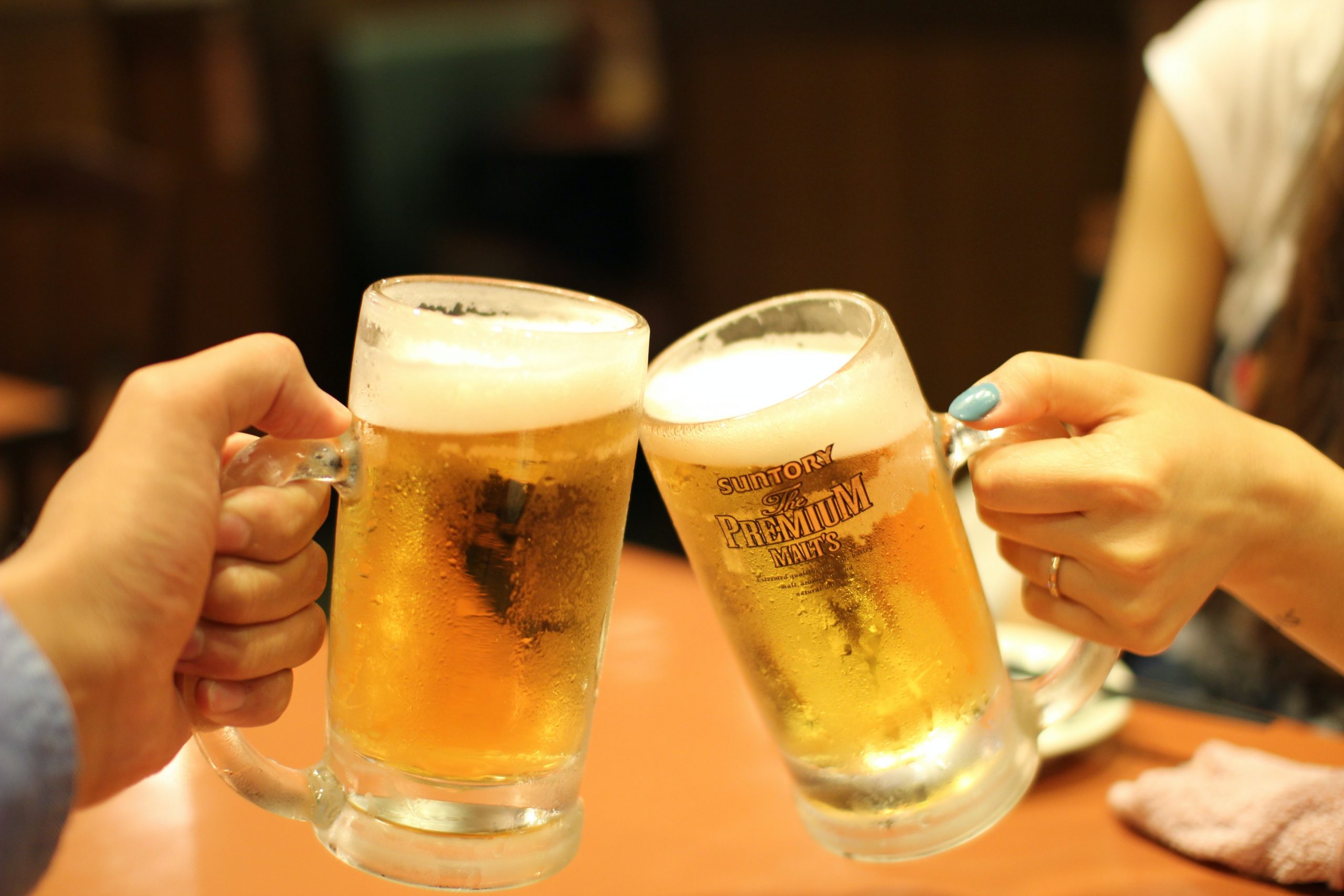 Do you have friends? Do some of those friends drink beer? Do you ever see them in a beer-drinking contest? Do you ever go to their homes when they're enjoying beer, take a look around the room, and say (perhaps only to yourself), "You know, you can't be that serious about drinking beer, because you don't have a customized growler or a beer pong golf course on the premises"? If the answer is yes, then you don't want to miss these unique gifts for beer lovers.
Gift-giving is an ideal way to make sure your alleged beer "fans" have all the accessories they need to prove their love of beer through the magical power of merchandise. But it can be hard to think of the perfect beer gift because heaven knows, beer drinkers don't always articulate their deep desires for coasters or tap handles. Save them the effort. Here are some unique gift ideas for beer lovers that they will love even when they sober up.
---
Related: Gifts for Drinkers
---
Pressurized Growler
No, a "pressurized growler" isn't your cranky uncle in tight pants. It's a long-term storage medium for beer that you want to keep for a while. Just fill the canister with 64 ounces of brewery-fresh beer, close the cap, stuff it in your fridge, and walk confidently away for a week or two. When you return, your beer will still be as fresh as the day you sent it away. It's one of my favorite gifts for beer lovers.
---
Related: Personalized Gifts
---
Personalized Beer Flight Set
You can't have a list of gift ideas for beer lovers without a beer flight set. These beer paddles come with four snifter-type sampling glasses and your own personalized message inscribed on the handle. Suggested messages include: "Hey Dad, Enjoy Retirement," or "Hey Mom, Enjoy Divorce," or "This Paddle Reminds Me Of That Unfortunate Summer On The Rodeo Circuit," or "Not To Be Used In Fraternity Hazing Rituals."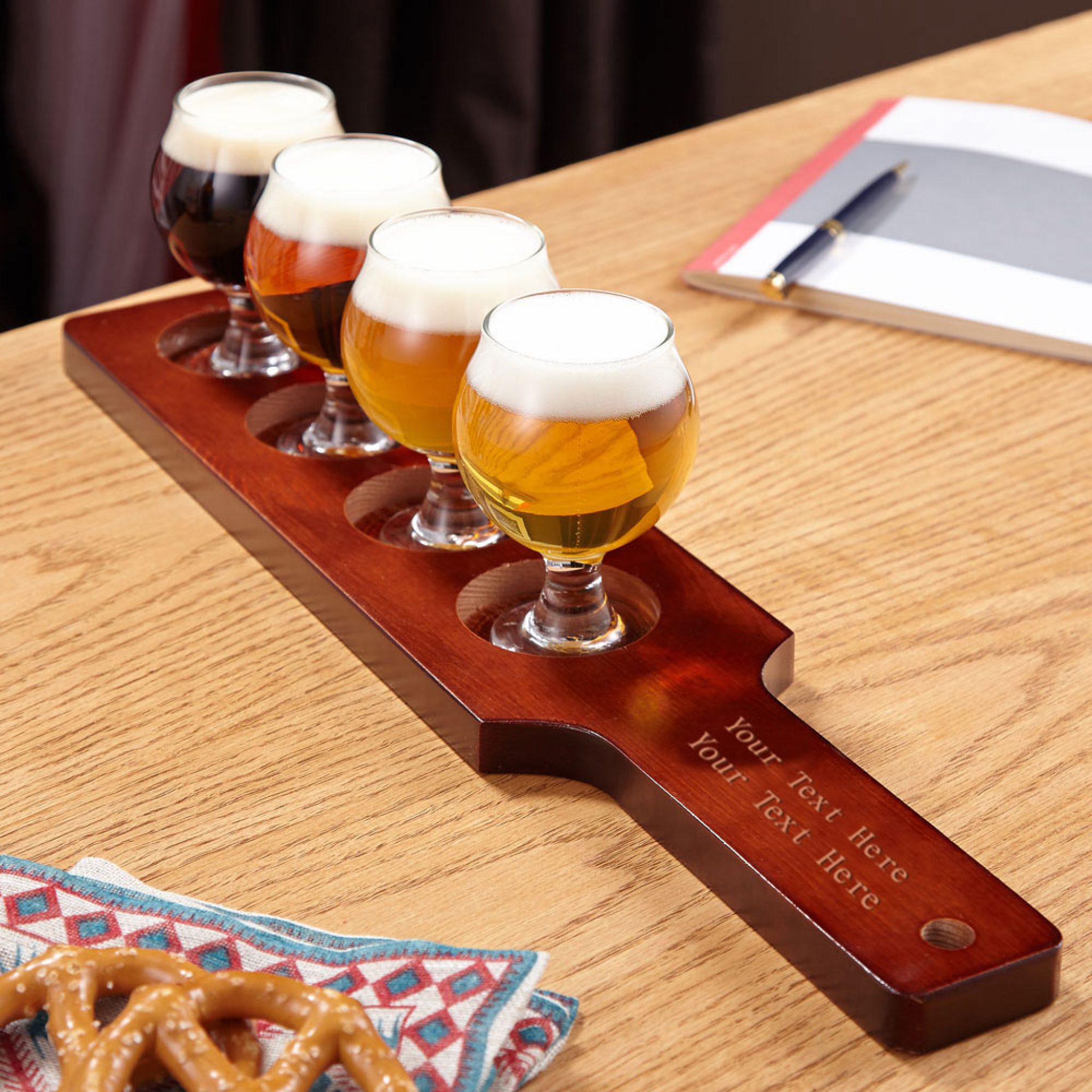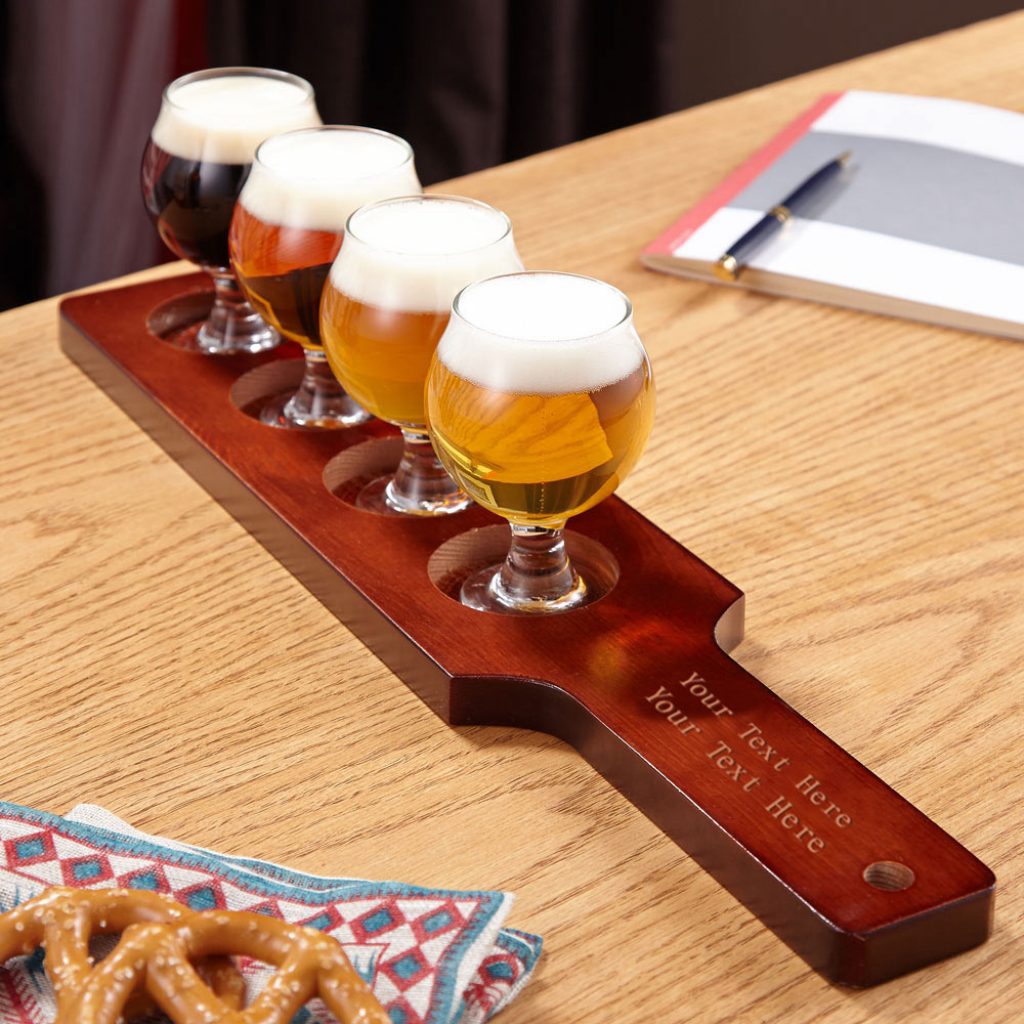 ---
Engraved Growler And Pint Glass Beer Gift Set
Some people love the convenience and effectiveness of beer growlers but hate that they don't have their names or initials engraved on them. Say goodbye to that injustice with this custom-designed, 64-ounce growler. It comes with two pint glasses that also bear the user's name or initials in case they really want to hammer the point home.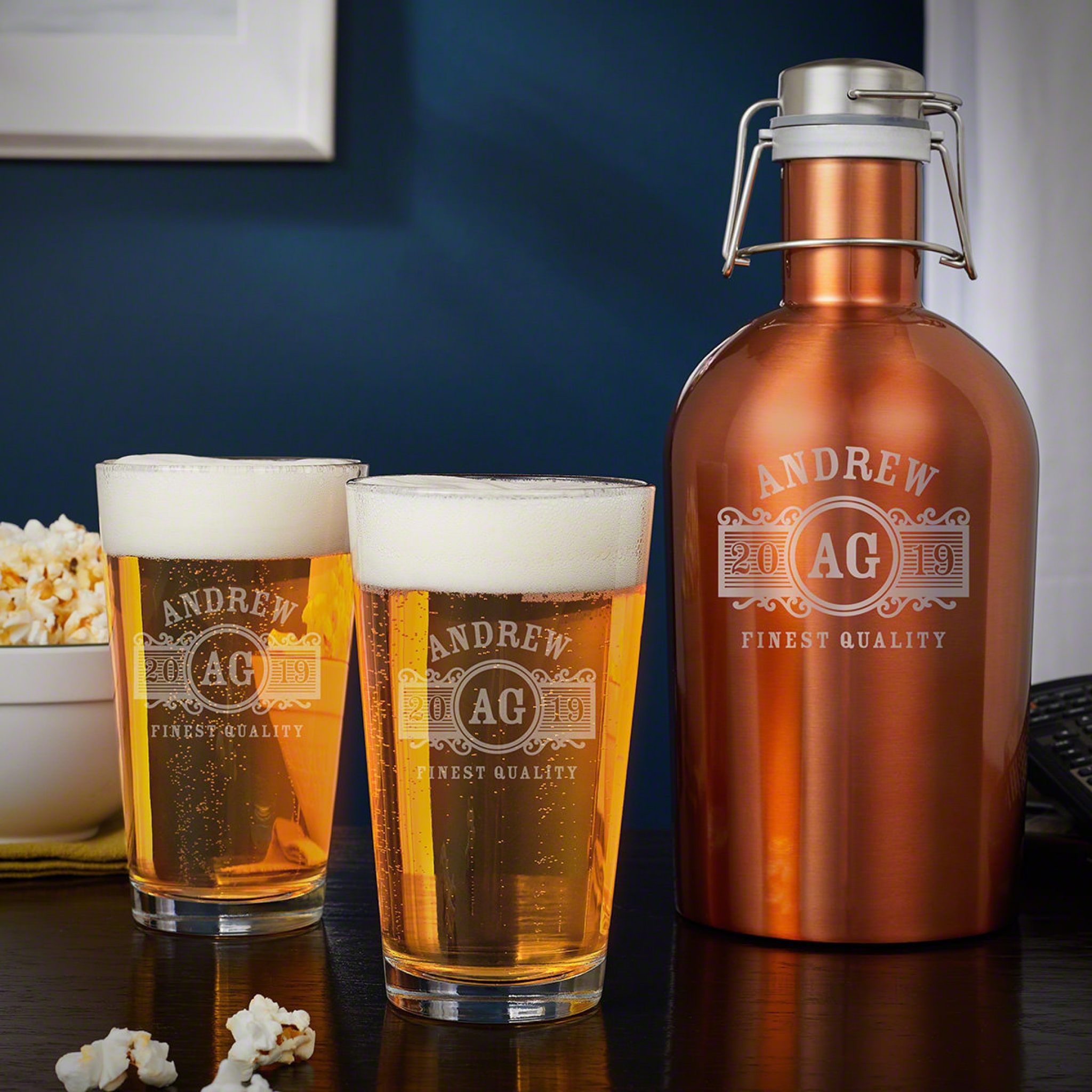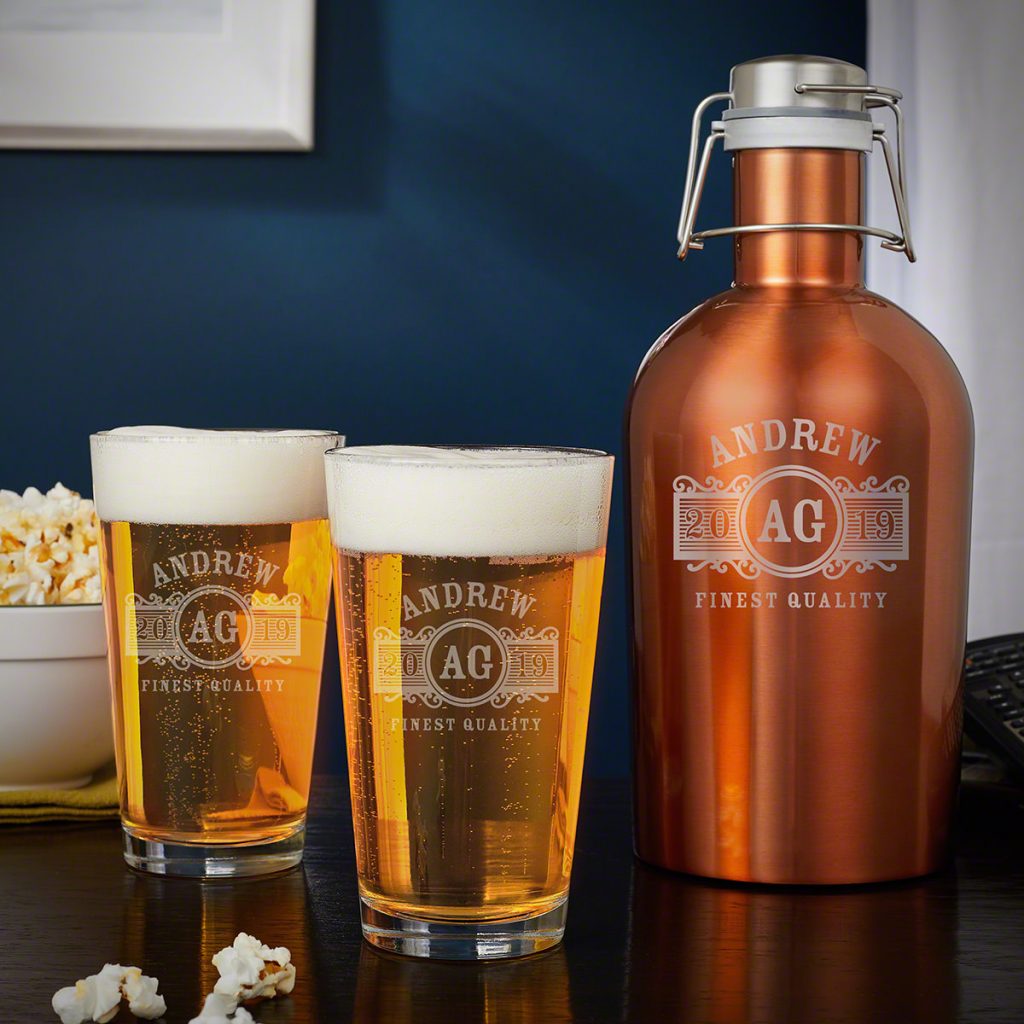 ---
Craft Beer Kit
Mr. Beer makes a complete home brewing kit for those who sometimes think to themselves, "Oh, come on, I can make better beer than this!" Often, of course, they don't realize they're actually drinking ginger ale. But for the others, there's no more rewarding activity than brewing their own hops, mash, and yeast and waiting a month before it's ready.
---
Engraved Beer Bottle Openers
Curiously marketed as ideal gifts for men at the exclusion of women, who need to open bottles just as much as guys do, these nonetheless stunningly made custom bottle openers are attached to meticulously designed wooden planks bearing the drinker's own company, logo, or family name, in case they forget who they are.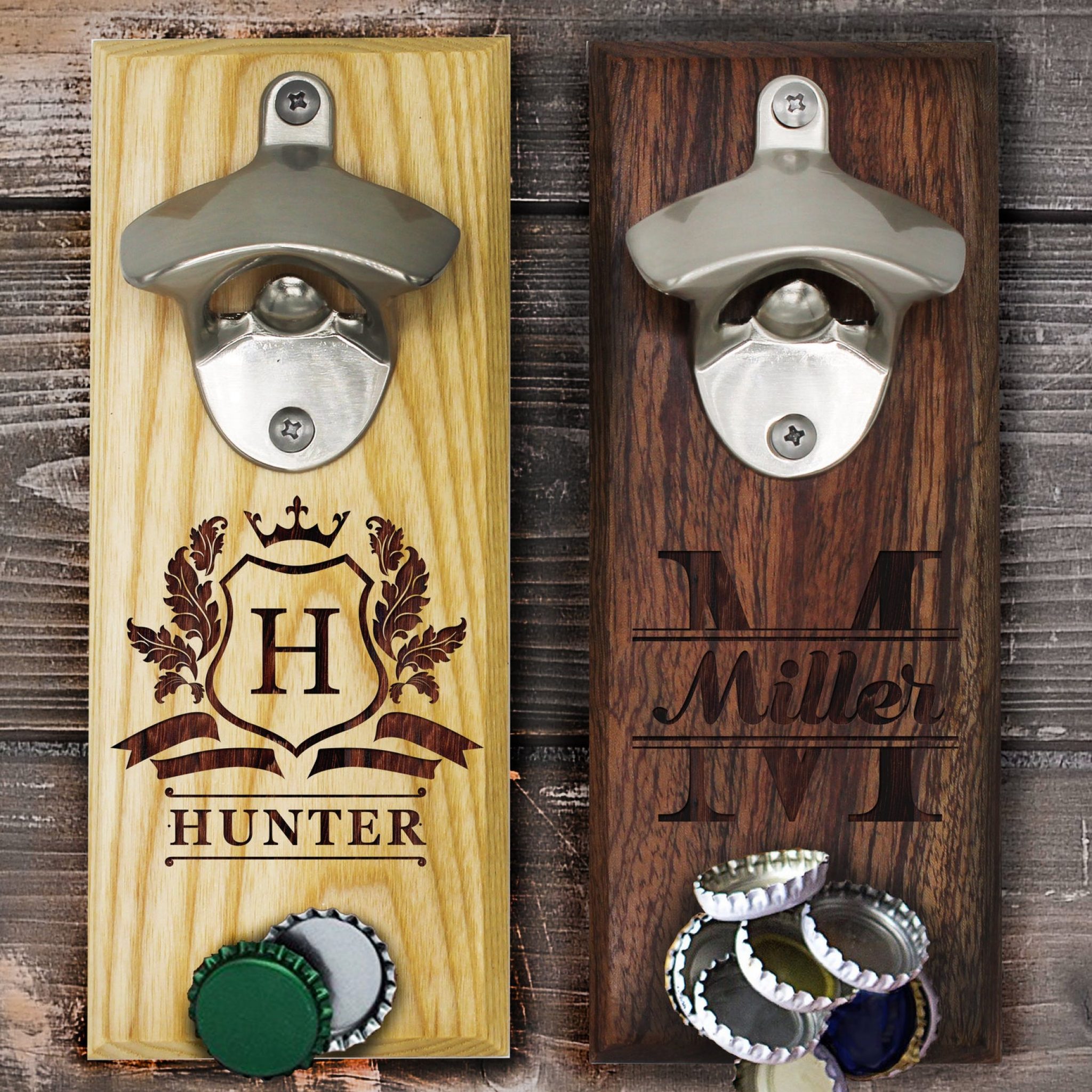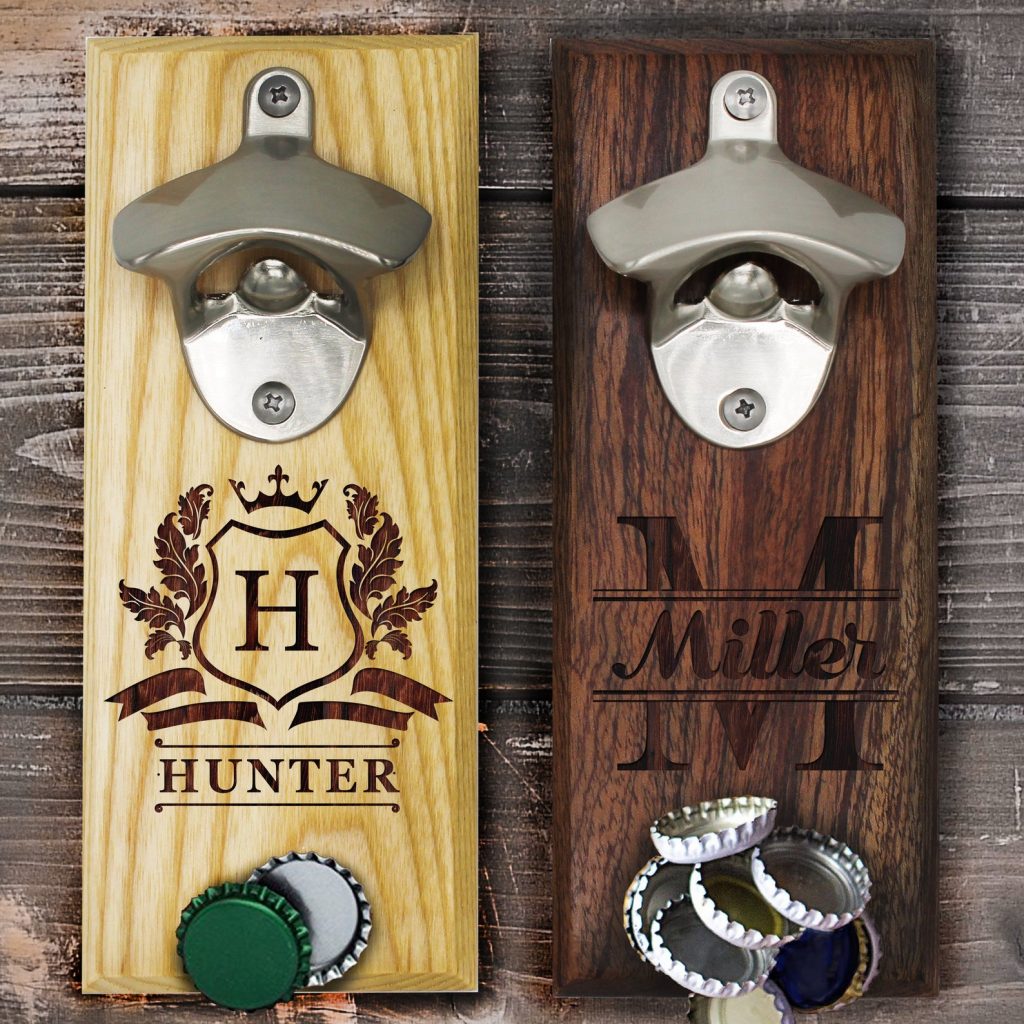 ---
Personalized Beer Tap Handles
Turn your friend's drab, lifeless, annoyingly inconspicuous beer tap handles into thriving, exciting, action-packed, downright vivacious, personalized beer tap handles with their own names inscribed upon them. These beer tap handles are so loaded with personality you'll be tempted to ask them out on a date or offer them a home loan at reasonable rates. They make the best craft beer lover gifts.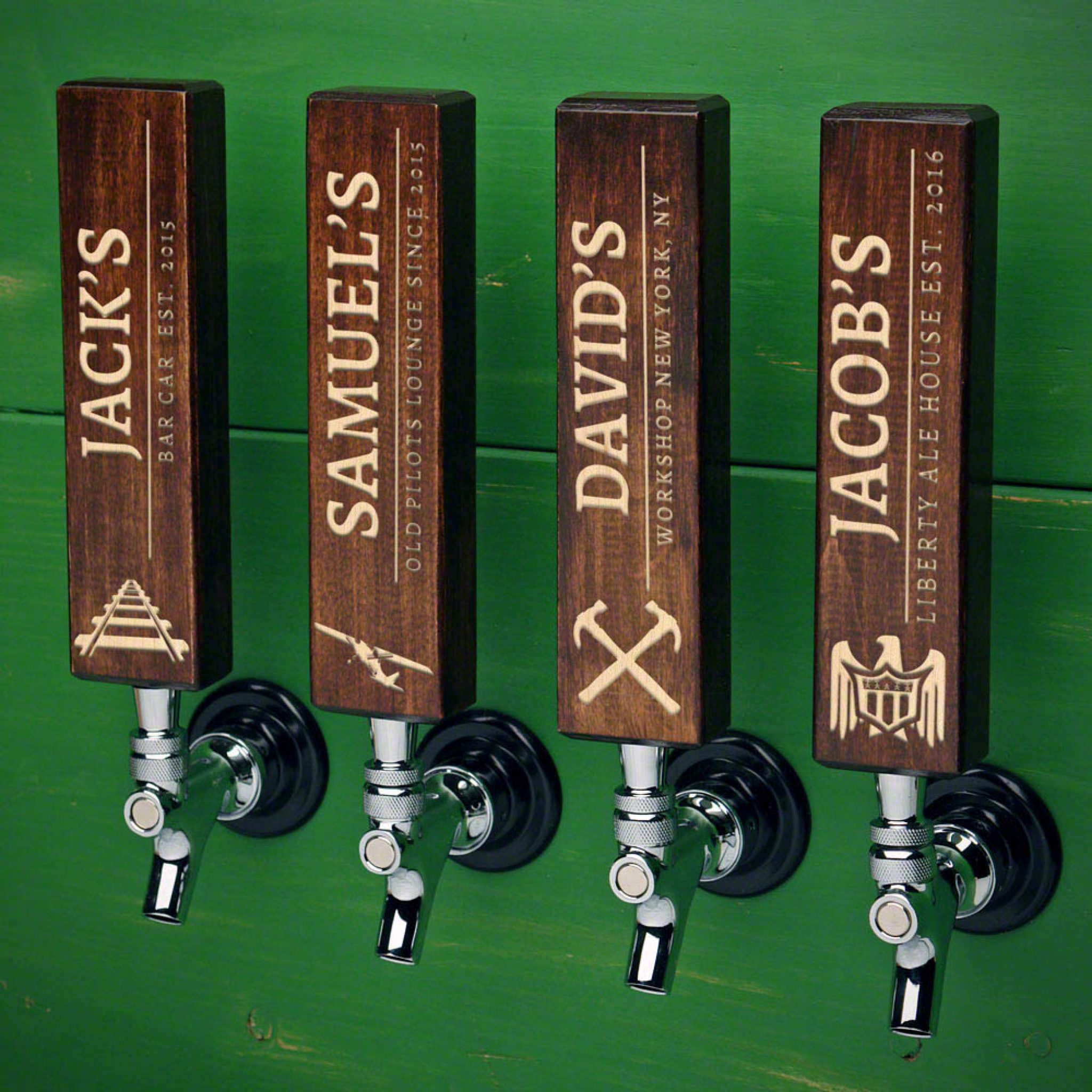 ---
Related: Gifts for Men in Their 50s
---
Personalized Oktoberfest Mug
Oktoberfest! The mere mention of the word calls forth images of good friends, doughy pretzels, unpronounceable sausages, and beers the size of your head. This dimpled glass is the same style as the Biergarten Mugs of Germany. It comes with a monogram or name that will make your friend feel like German royalty or an old newspaper headline.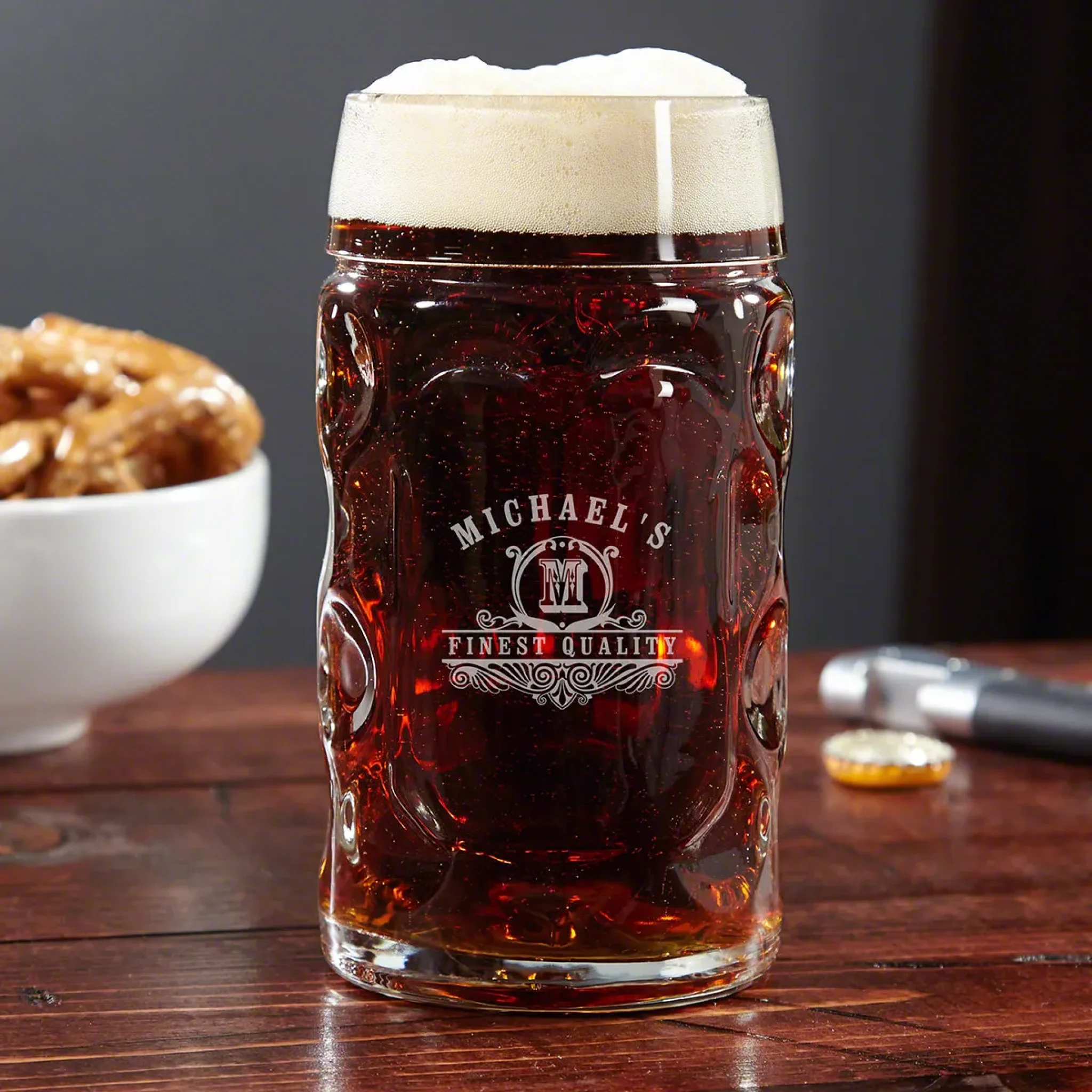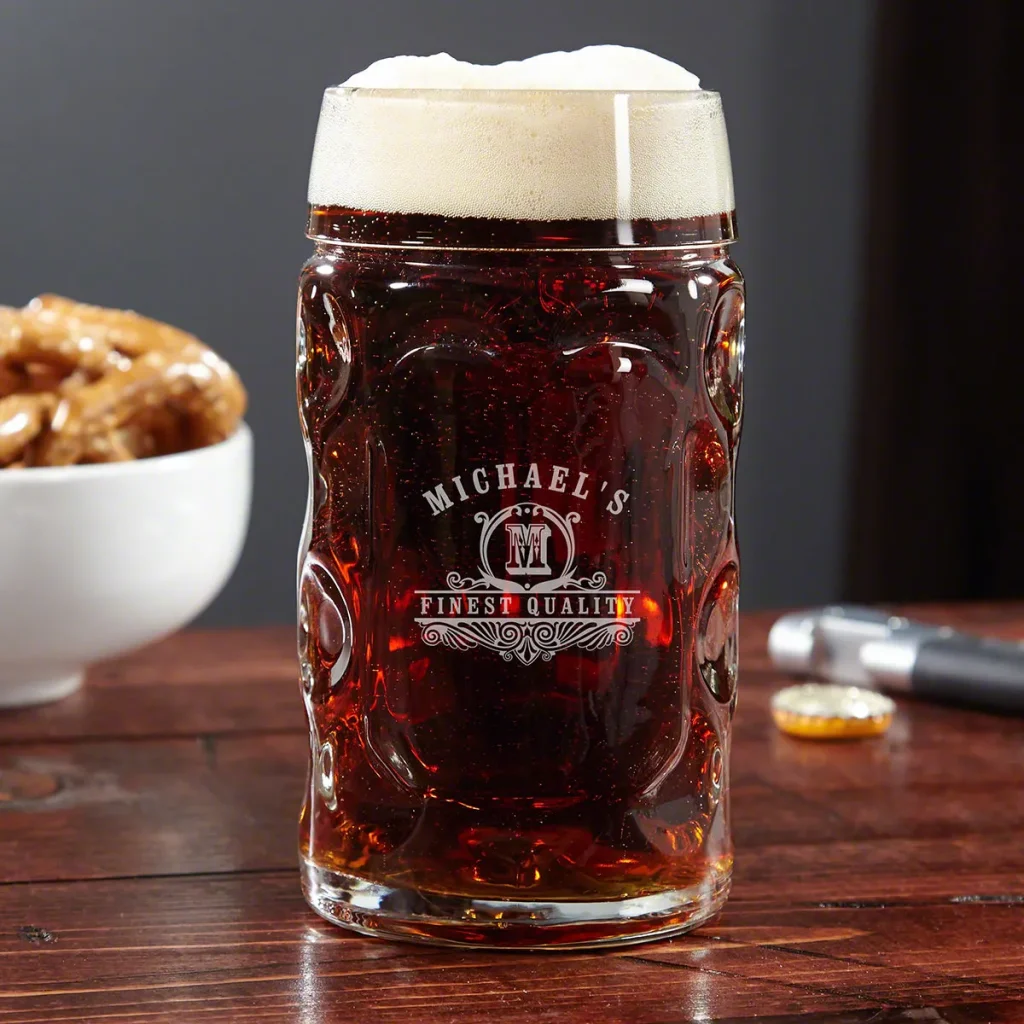 ---
Related: Gifts for Men in Their 20s
---
Beer Tasting Tours
If you know someone who's spent too long as an amateur beer drinker and is itching to go pro, a beer-tasting tour might be just what they need. Proving that beer doesn't have to be snapped up in bland six-packs at all-night gas stations, Cloud 9 offers brewery tours and pub crawls that enliven the senses and get them out of the house, not necessarily in that order. Beer-tasting tours make one of the best gifts for beer lovers who have everything and want nothing.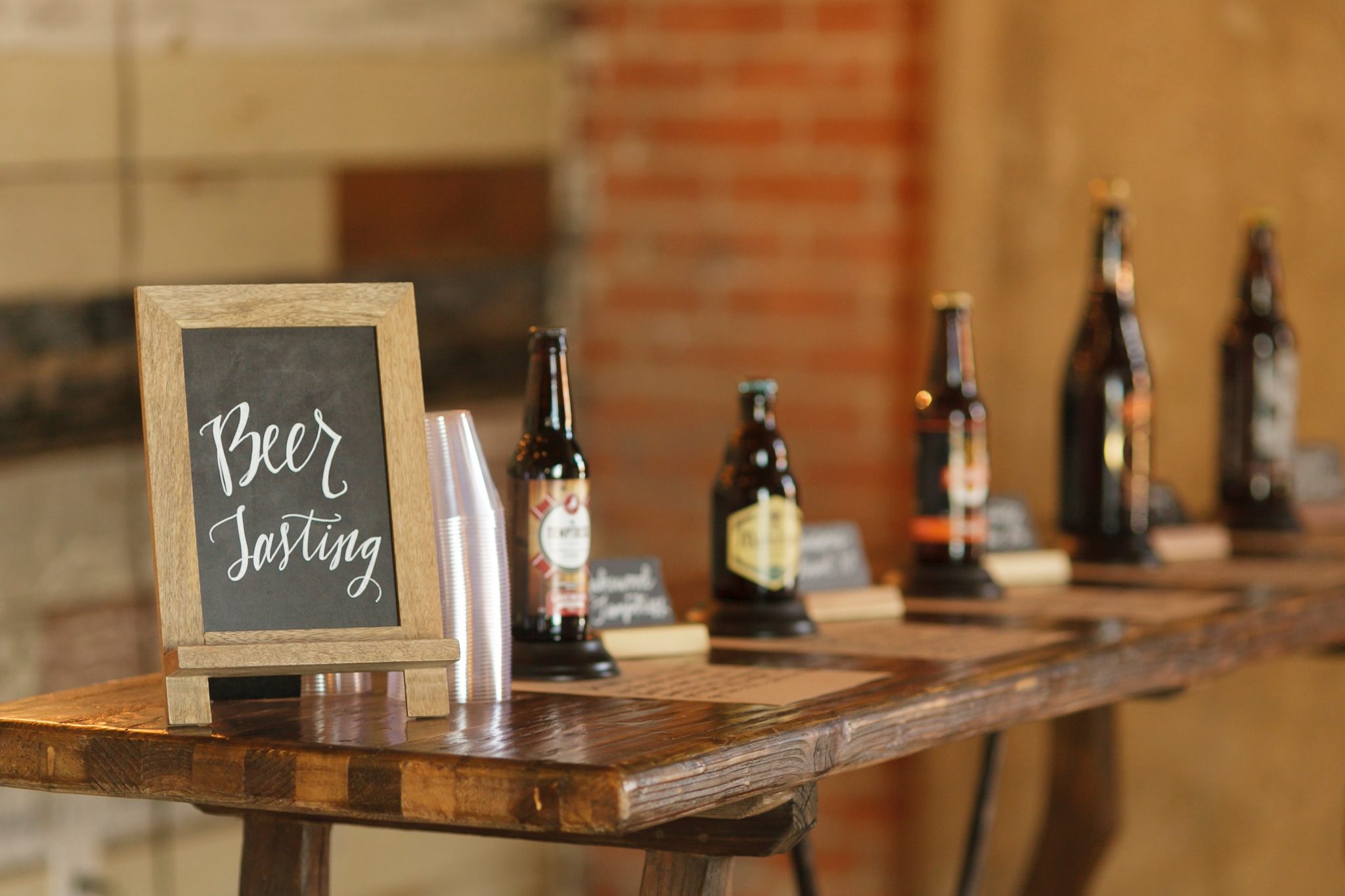 ---
Craft Beer-Of-The-Month Club
Beer clubs are just like book clubs, except you don't have to take notes, engage in deep discussion, or pretend you've been keeping up. When your friend gets a new selection of quality, hand-crafted microbrews delivered straight to their door every month, they'll sample tasty beers from all over the globe without having to listen to Shirley's endless yammering about The Hunger Games.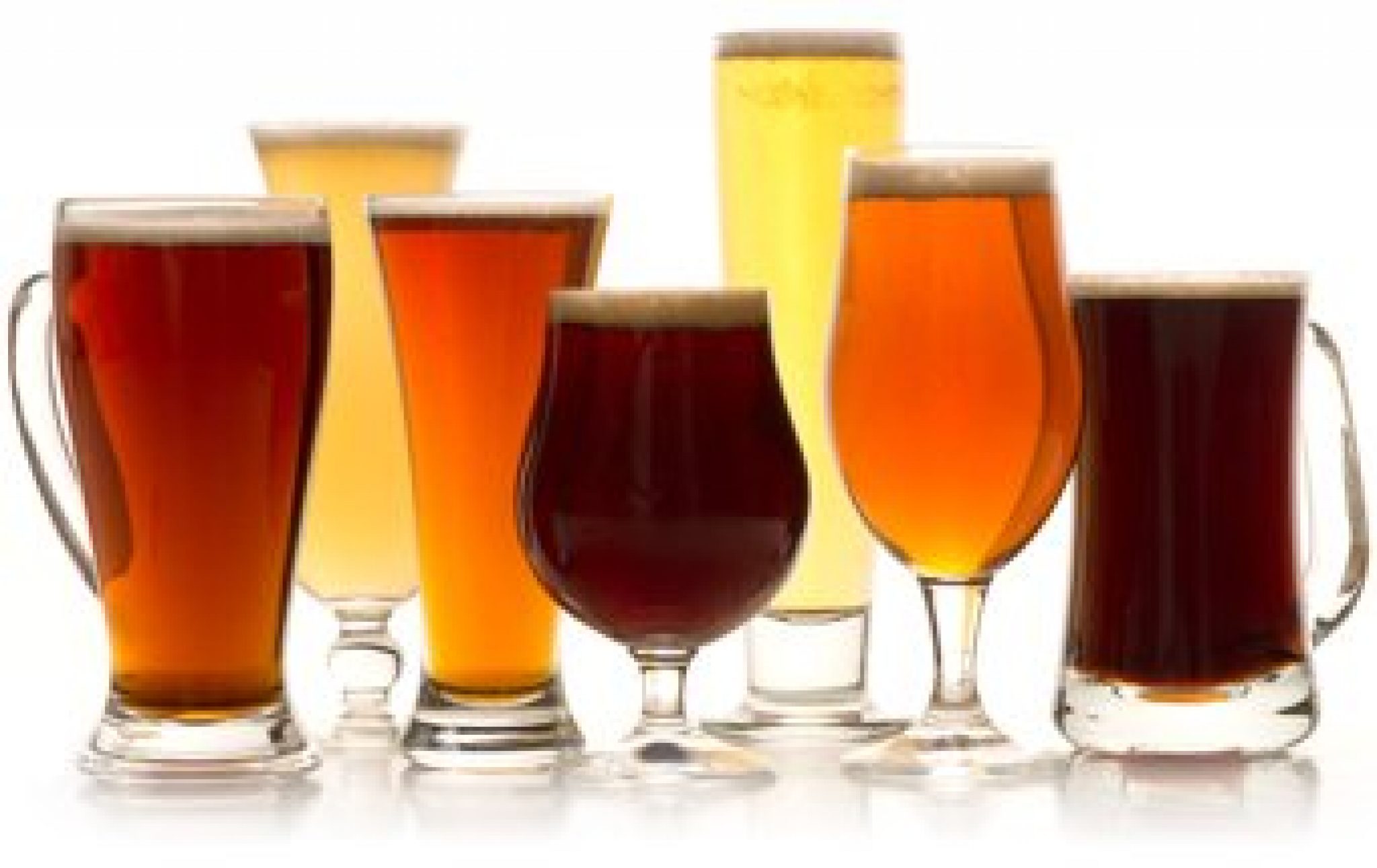 ---
Beer Cap Map
This attractive beer gift lets beer drinkers affix bottle caps to a comprehensive map, letting them track the places of origin for all the various craft beers they've sampled. It's a great idea, although some may only need a city map of Greater Milwaukee.
---
The Beer Bucket List
This best-selling travelogue by Mark Dredge retells his globe-trotting adventures sampling beers all over the world. Readers will feel the thrill as Dredge stamps his passport at festivals, pubs, bars, brewhouses, brauhauses, gardens, parking lots, strip malls, protective tarps, tents with no privacy, and abandoned amusement parks in search of the perfect beer experience. This is one of the best last-minute, inexpensive gift ideas for beer lovers.
---
Beer Flight Serving Caddy
Let's clear this up: "Beer flight" does not refer to launching beer into the sky. That would defeat the whole purpose of beer. Rather, this set of two torched wood carriers is a way to deliver beer samples to patient drinkers, with an erasable label strip so they don't swill hot sauce by mistake.
---
Craft Beer Tasting Kit
Tasting craft beer requires lots of preparation and auxiliary equipment. Items like glasses, openers, carrying paddles, Famous Amos cookies, beef jerky, gourmet popcorn, cozies, and a crate. Don't get mad at your parents for never telling you this before. Just be an adult and get this all-in-one tasting kit. It also includes, we're relieved to note, some beer.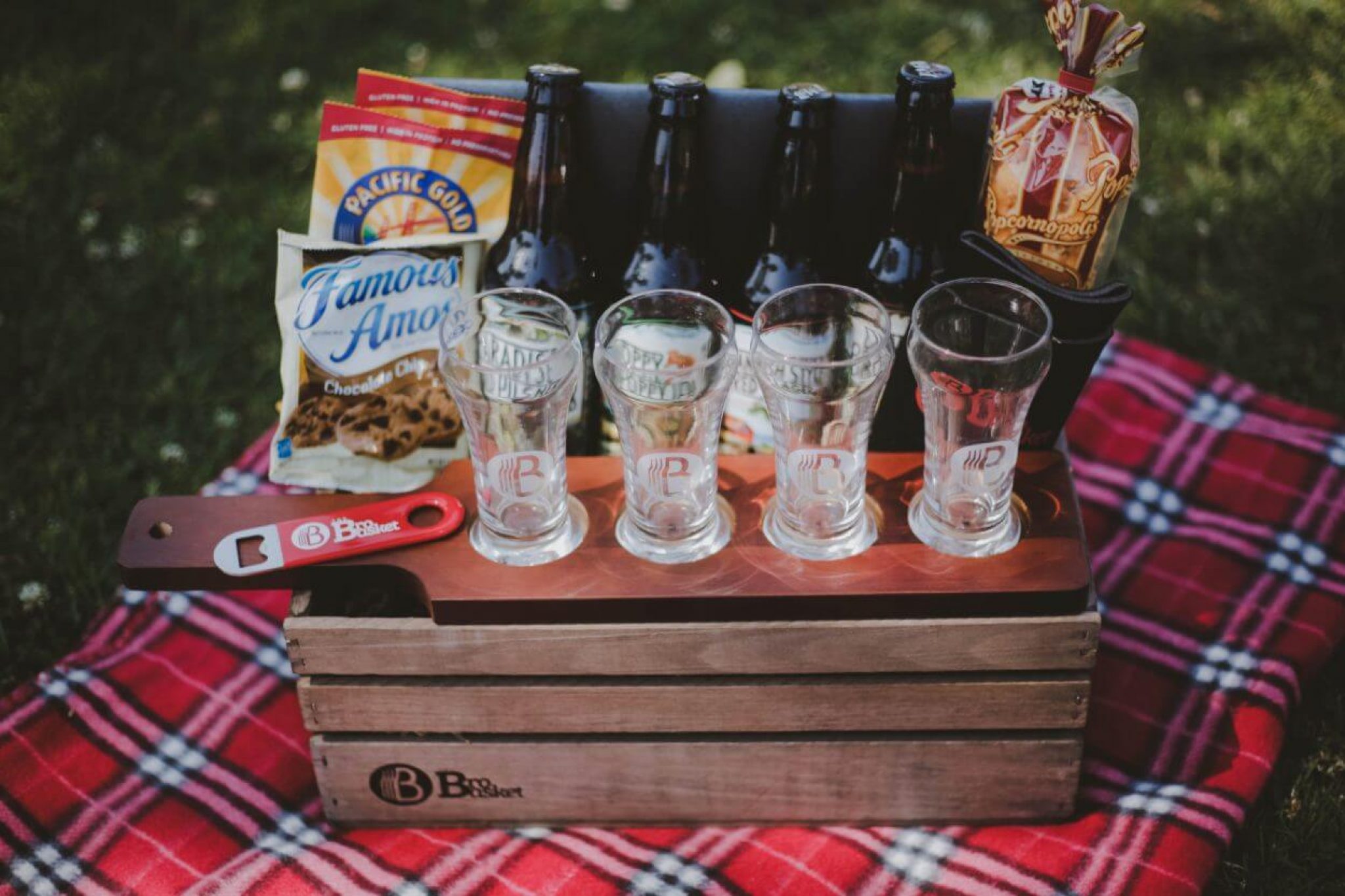 ---
The Ultimate Import Beer Sampler
No more of your best friend watching helplessly as giant, metal tubs filled with the best beers in the world float cruelly by, mocking them with their solid-frame construction and tasty brews. Get your friend a giant, metal tub of their own with 12 cans of hoppy bliss, along with gourmet popcorn and glasses that make drinking easier.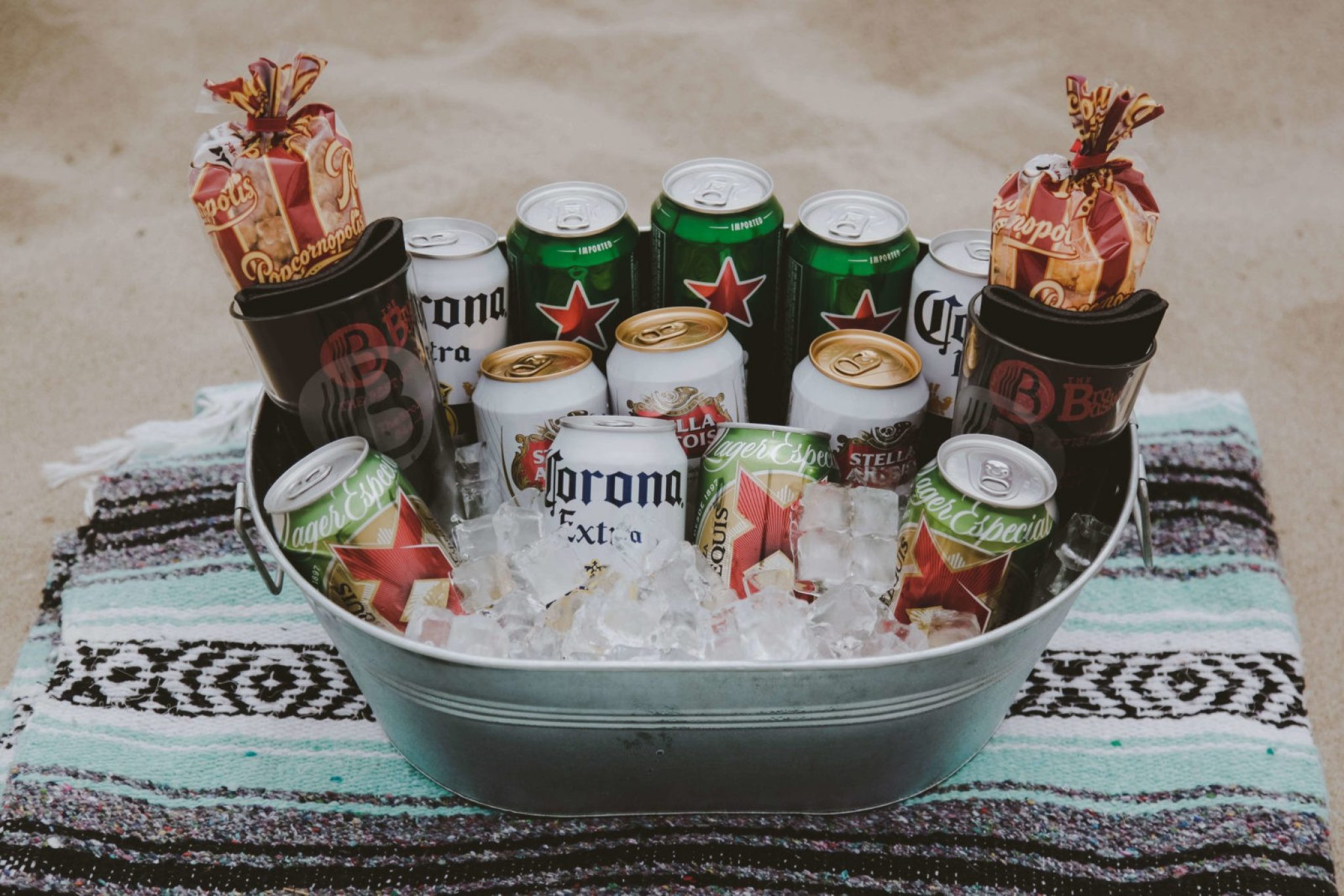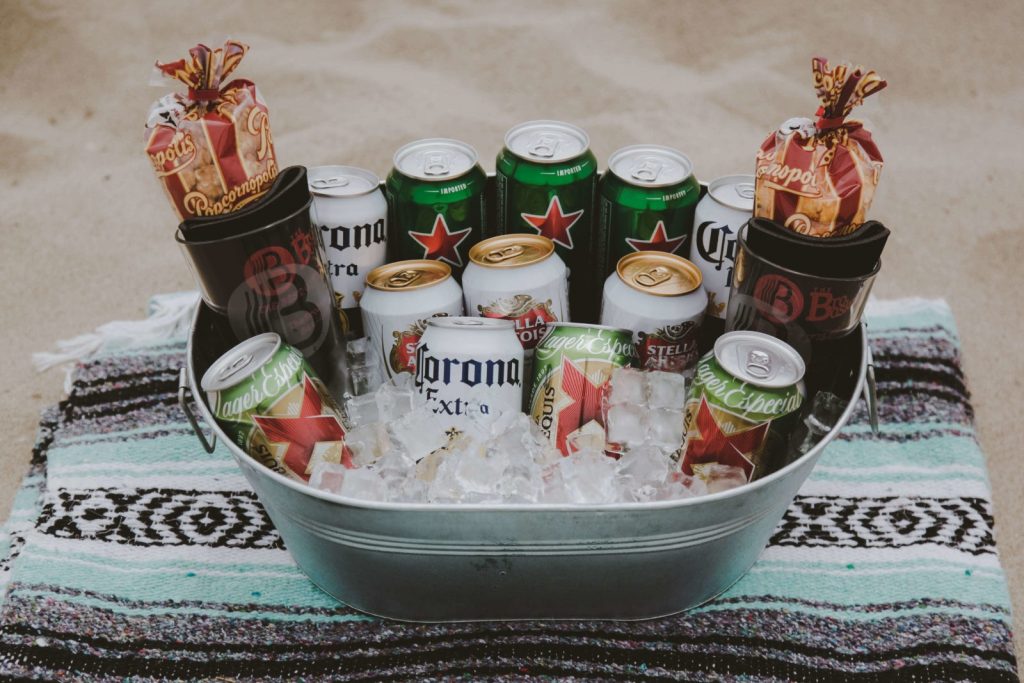 ---
Craft Beer Home Brewing System
Does your friend crave the chance to brew their own beer, but can't because they live under the stairs or in a supply closet? We say crawlspace dwellers deserve the intoxicating thrill of home brewing too.
This DIY kit contains everything to make a gallon batch of IPA: a Gallon glass fermentor, an Air lock, a Rubber stopper, tubes, and clamps, a racking cane, a thermometer, funnel, malt extract, specialty grains, hops, yeast, sanitizer, grain bag, and instructions that double as an expensive beer coaster.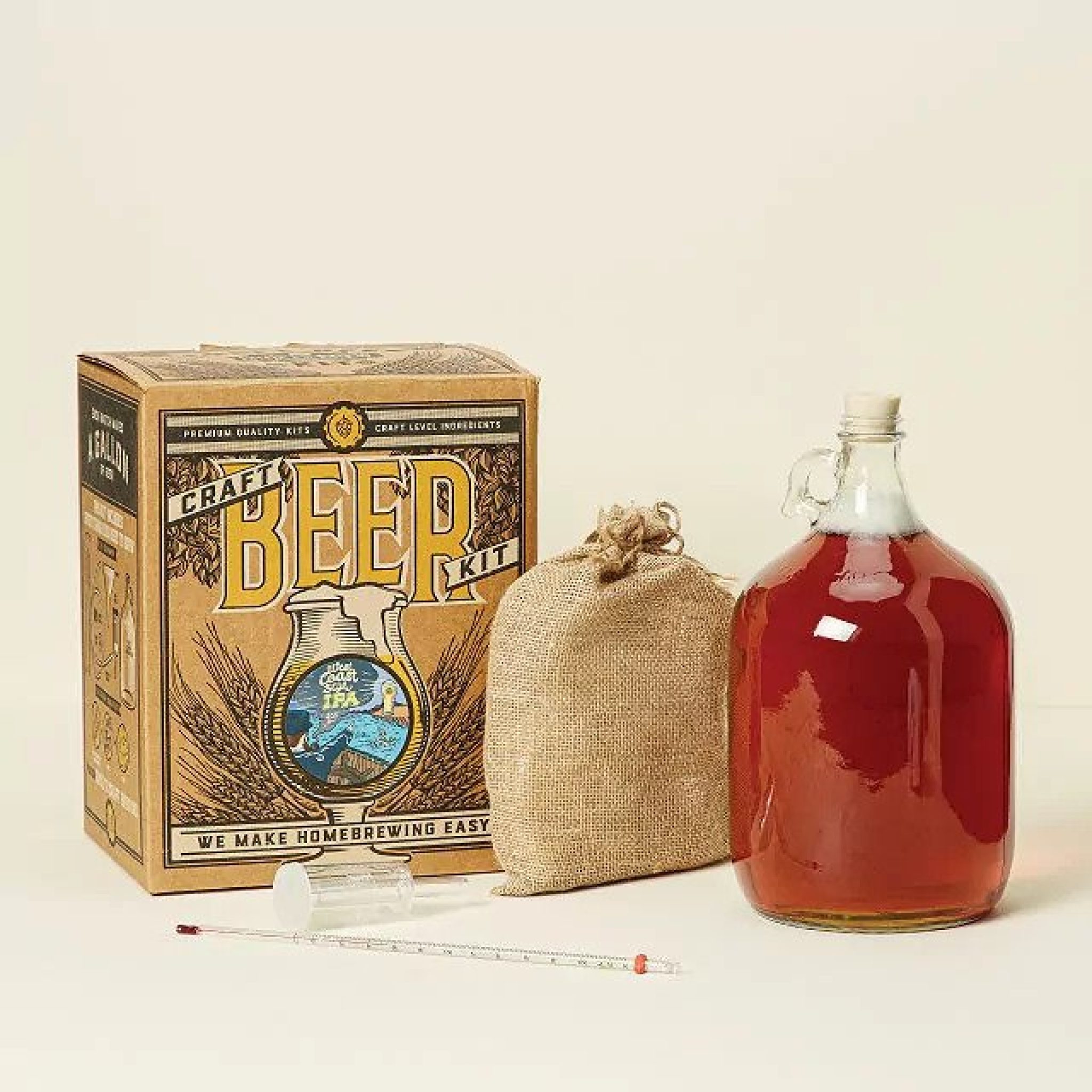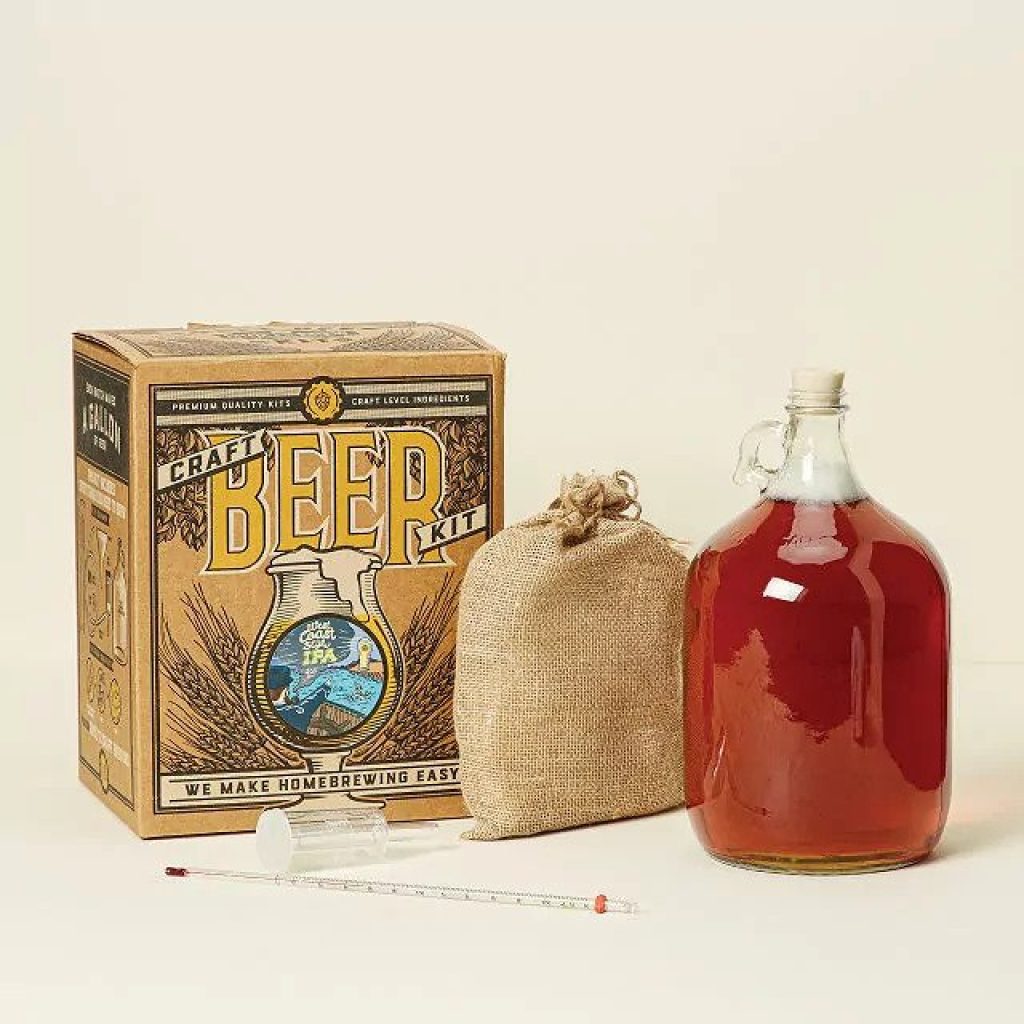 ---
Beer Coaster Sets
These flat-out gorgeous beer coasters feature attractive replications of vintage labels, art-deco historical scenes, and stunning backdrops that expand beer drinkers' visual horizons and make them dream of far-off places and distant times. They will also keep cruddy beer rings from destroying their tabletops.
---
Beeropoly
A highly amusing board game, Beeropoly forces its players to perform several arduous mental and physical tasks while partaking in a group drinking session. Said tasks include dancing, speaking in rhyme, standing up, making people quack before they speak, lying about their pasts, and — checking my notes — drinking a lot of beer.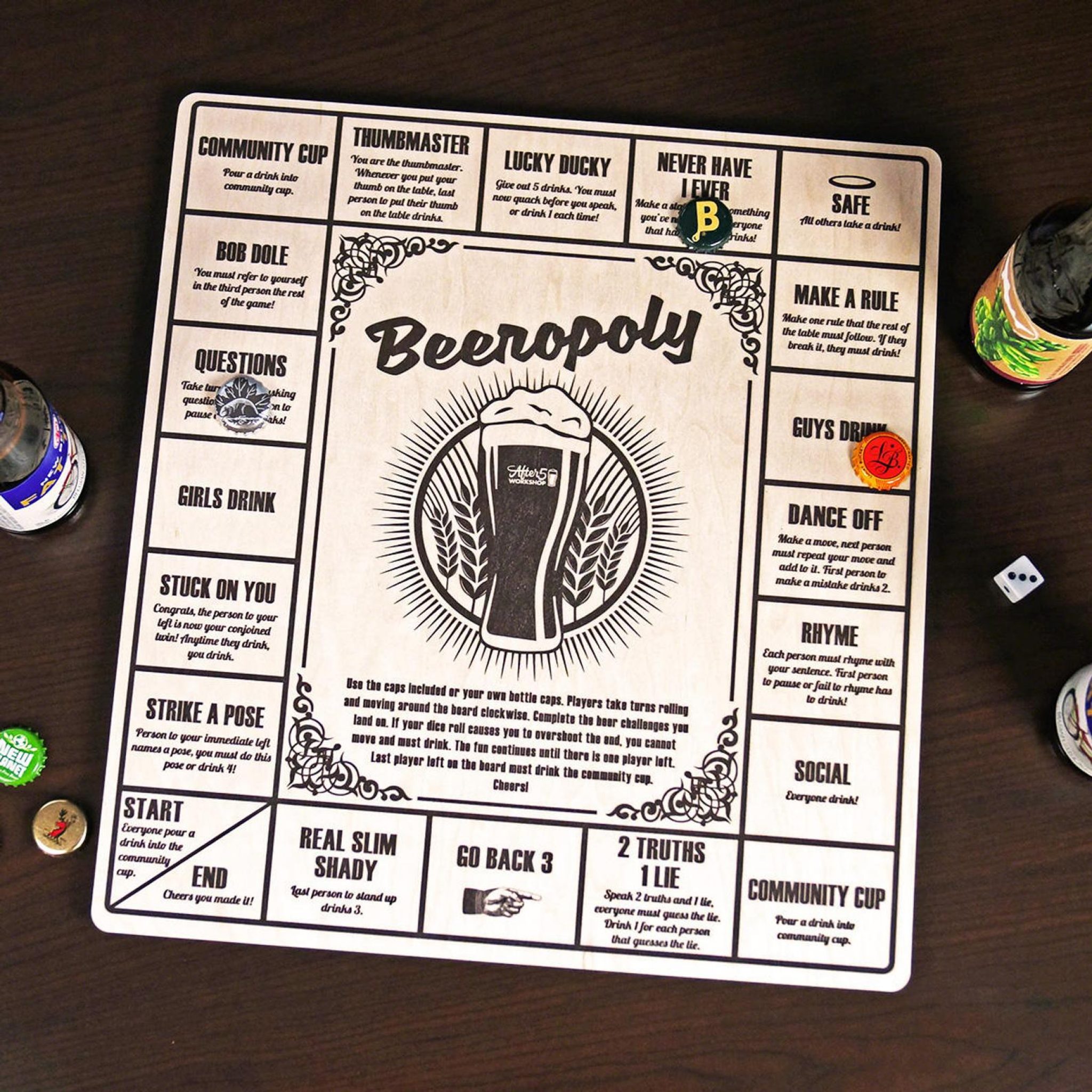 ---
Wooden Beer Caddy
Every beer drinker has faced the frightening prospect of their beer getting up and walking away on its own. Paper can't stop it. Plastic can't stop it. Only the power of wood can stop it. This deluxe wooden caddy restrains multiple bottles of beer, preventing them from becoming sentient beings and discovering the power of mobility. It also has a bottle opener for quick access and can be engraved with their name, initials, or anything else.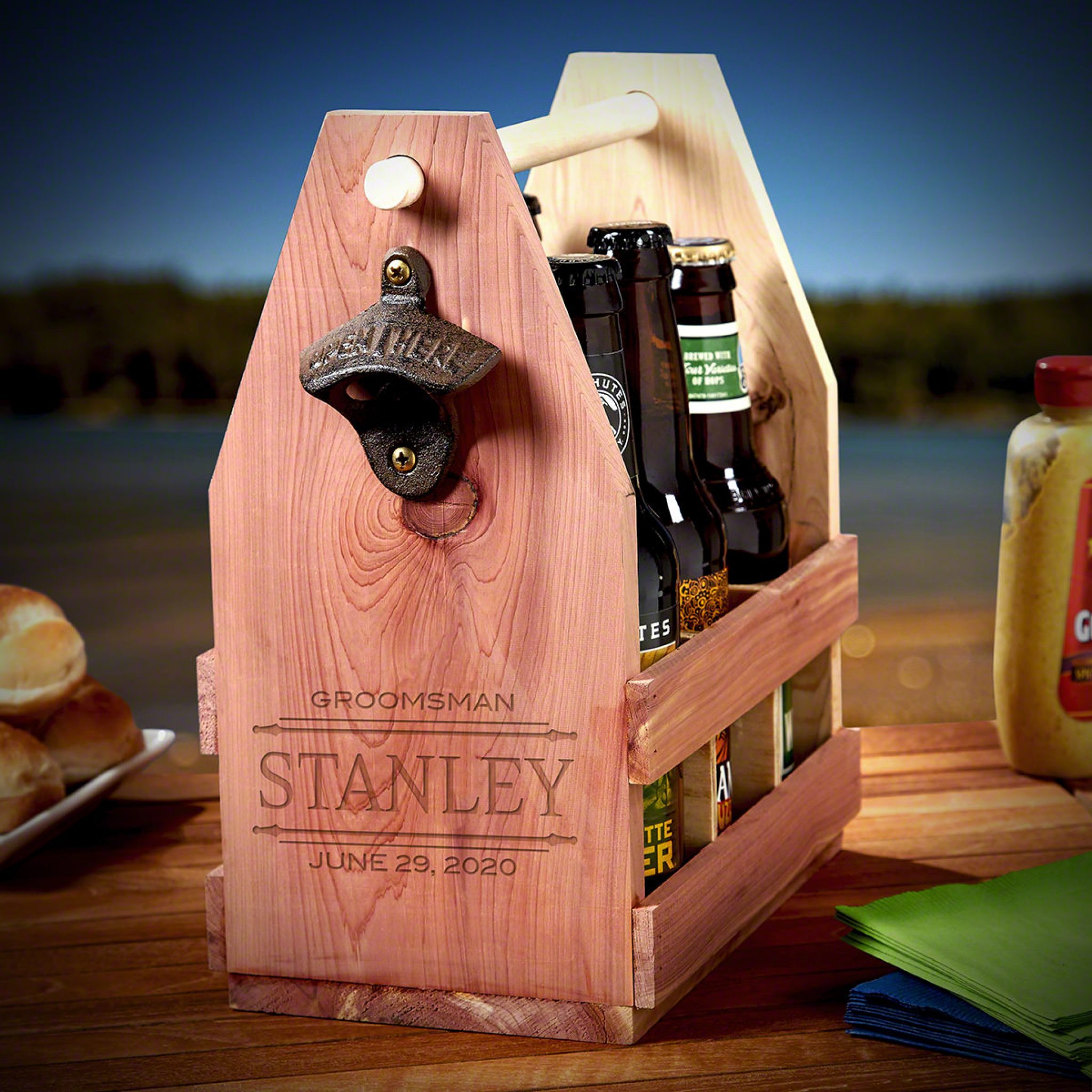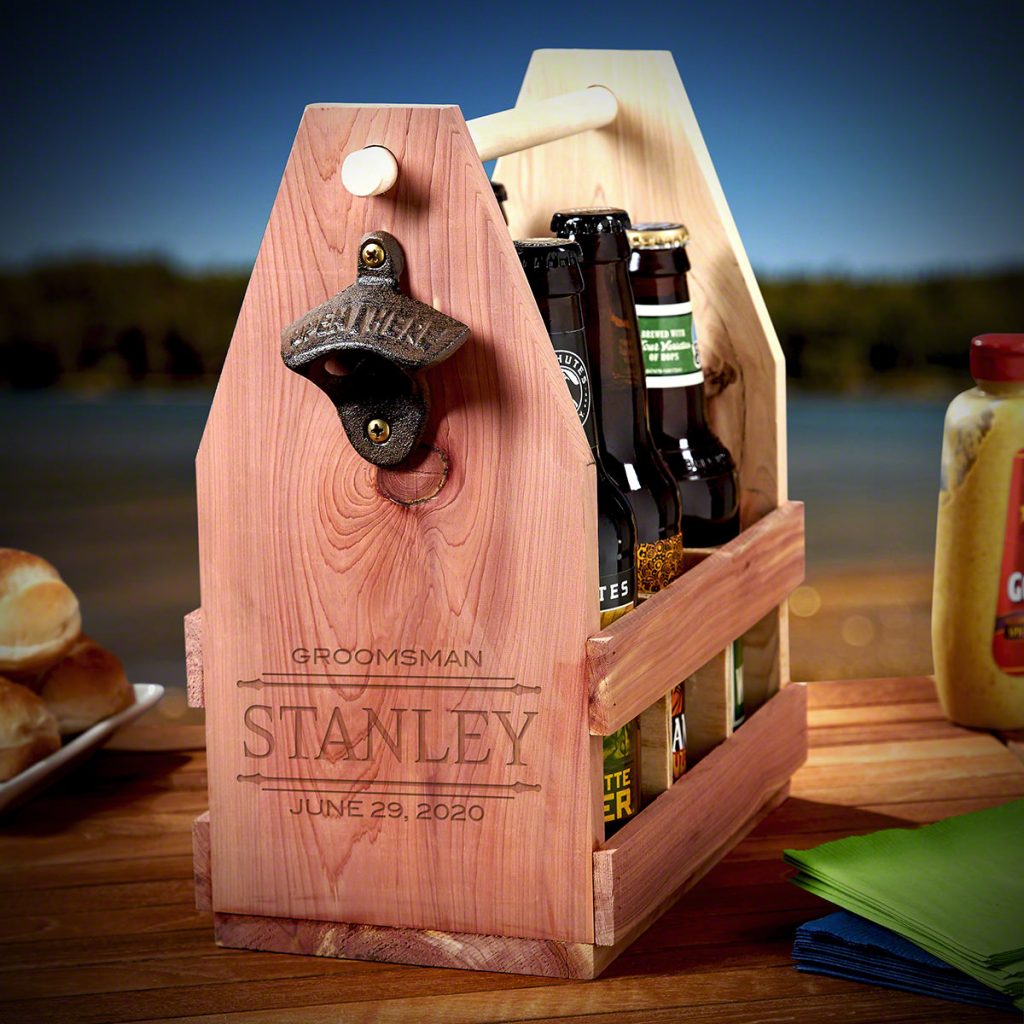 ---
Backyard Beer Pong Golf
This beer gift package includes two boards, 12 balls, chipping mats made of 100% artificial turf, and everything your friend needs for cut-throat, take-no-prisoners beer pong brawls. Now they can play just like the pros did before steroids and greedy sports agents ruined the game.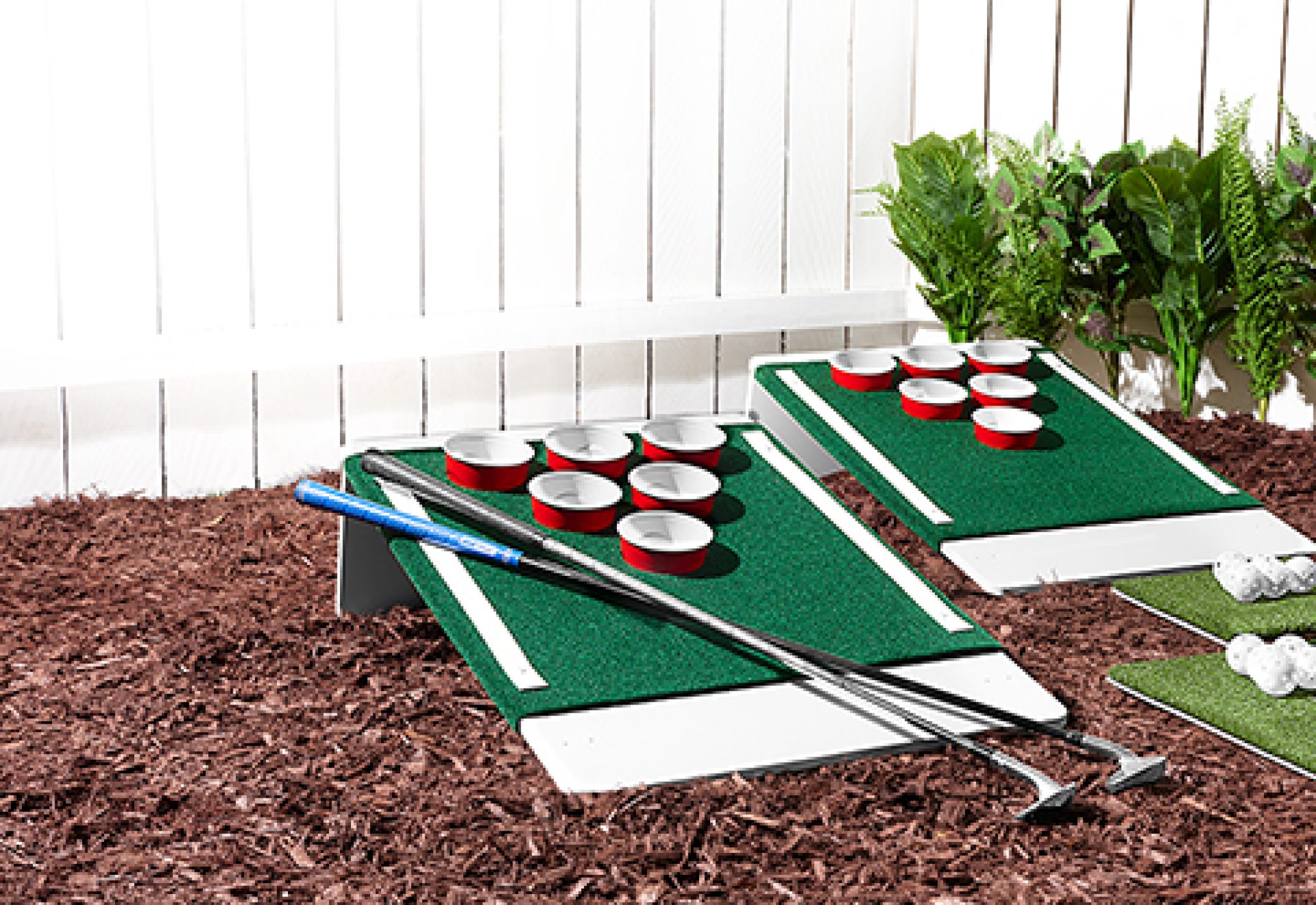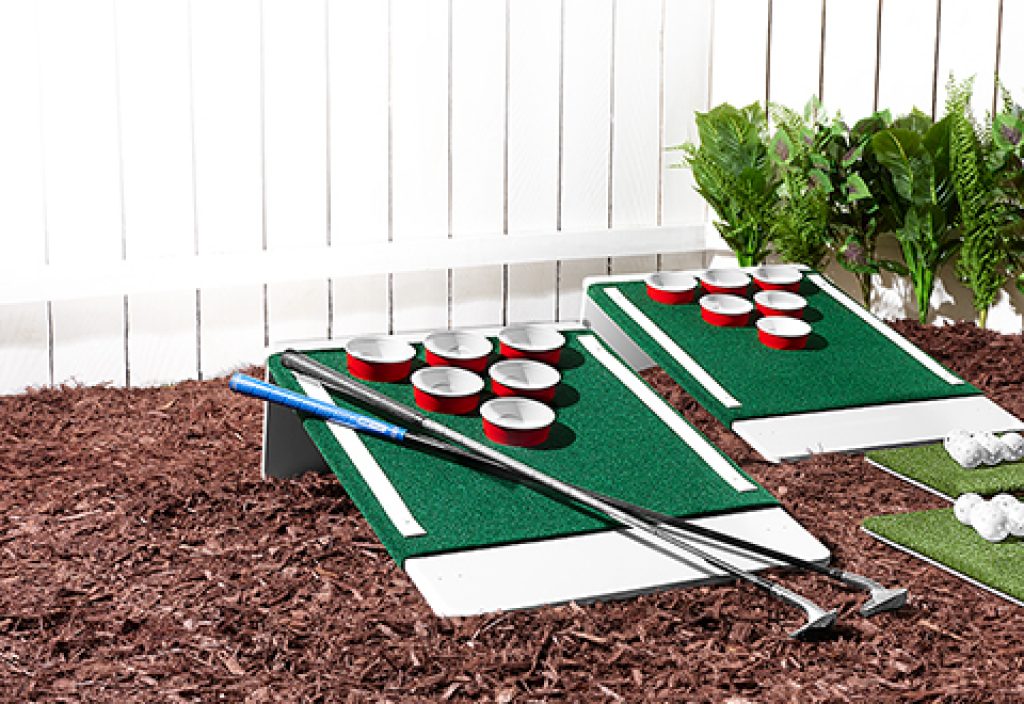 For more unique gift ideas for beer lovers, check out our section on Gifts for Drinkers. Or for other gift ideas, check out Gifts for Men or Gifts for Women.
Be sure to follow us on Facebook for daily updates on unique gifts!