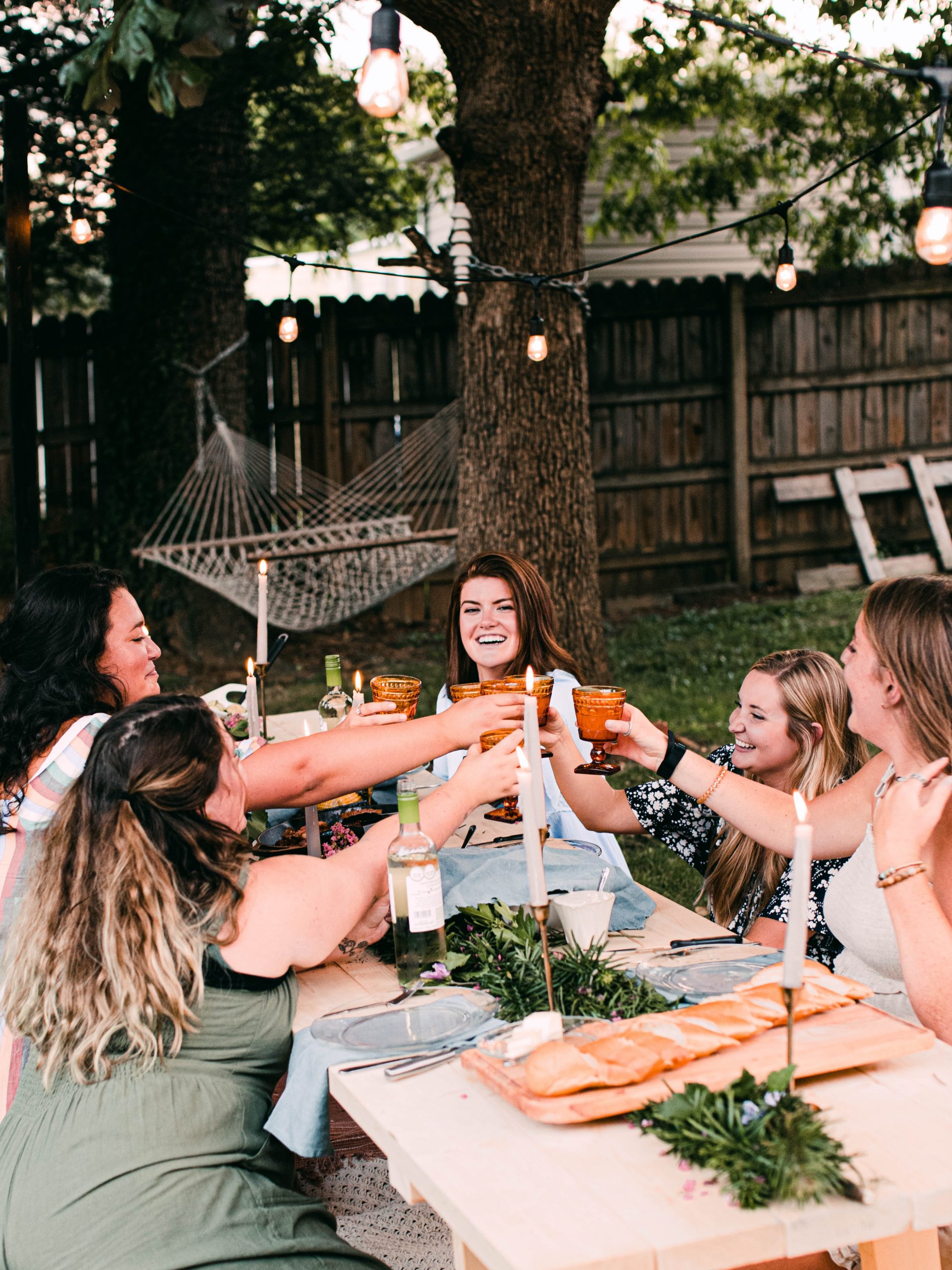 You never want to show up empty-handed to a dinner party if you ever want to get invited back. Sure, you can bring the regular boring gifts like wine and chocolate, but here is a list of hostess gift ideas that will make you stand out from the crowd and they will appreciate it much more. Whether you are looking for a gift for hostess foodies, a drunk hostess, or a hostess with a great sense of humor, we've got you covered!
Host Gifts for Drinkers
These host gifts make drinking and entertaining more fun, if that is even possible. These gifts will make their cocktails more delicious and they will enjoy sharing them with their guests.
Book & Vinyl: A Spirited Guide to Great Music and Mixed Drinks
This book looks at the greatest albums of all time and pairs them with cocktails. It is great fun to sit around listening to music with friends and discussing the album while trying out a cocktail inspired by the songs. It has been a huge hit every time I have given it to someone.
Cocktail Infusion Tea Bags for Vodka and Gin (under $40)
These tea bags are a fun way to add flavor to cocktails.  Pour some liquor and add the tea bag for 1-5 minutes, then add tonic or club soda, and ice.  It has 24 teabags, 4 of each flavor; Red Passion  (fruity with apple and various berries), Green Flavor (cucumber, lemon, fresh flavors), Rose Jasmine (hibiscus and orange), Yellow Citric (lemon, berries, chamomile), Orange Energy (orange, lemon, cinnamon), and White Essential (physalis, lemon, juniper, cardamom).  It makes it fun to try different flavors for each cocktail! For a more inexpensive version, try this Infusion Tea Bag Set for under $10.
Pink Himalayan Shot Glasses (under $20)
These pink Himalayan shot glasses add a hint of salt as you take your shot of tequila. They are also fun to use for Bloody Mary shots or oyster shooters.
Gin and Vodka Infusion Kit
This Gin and Vodka Infusion Kit is one of my favorite hostess gifts because I get to come back to their house at the next party and taste their concoction. It comes with 2 glass bottles with nice corks to create a masterpiece and 12 exotic botanicals from around the world such as; Juniper-berries, pink-pepper, lavender, cardamom, cubebs and many more! You use your own vodka or gin, add botanicals, and wait 24 hours for your delicious blend.
Bloody Mary Spice Gift Set (two versions; one under $10 and one under $25)
This Bloody Mary Spice Gift Set comes with bacon salt, celery salt, ghost pepper salt, and berbere to make the best homemade Bloody Mary in town. They have two sizes to choose from to fit your budget.
Custom Travel Map Wine Stopper (under $30)
Customize a wine stopper with the map of their favorite city or their home town. It fits standard-sized bottles and you can pick any location in the world.
Mixology Dice (under $35)
Mixology Dice allow you to try different combinations to create new cocktails.  You pick the type of drink you want to drink and it tells you which dice to roll and how much of each ingredient to use. Ingredients include spirit, sugar, liqueur, citrus, fruit, herb, spice, and bitters.  This is a great hostess gift for those who like to try new cocktails at their parties and it is great for professional bartenders or amateur drinkers alike.
Cocktail Garden Kit (under $30)
This Cocktail Garden Kit allows you to grow herbs, fruits, and flowers that are delicious in cocktails in the comfort of your home.  They are compact enough even for those living in small apartments.  It comes with recipes on how to incorporate your crop into cocktails to impress your friends, little pots, and seeds to grow; Cucamelon (like watermelon and cucumber in a grape-sized melon), Blue Borage, Lime Basil, Hyssop, Mint, and Lemon Balm.
Hostess Gift Ideas for Foodies
These hostess gifts are for those who love food and love to share what they make. The great thing about these gifts is that you may have the opportunity to try their new creations the next time they invite you over.
Maple Syrup Gift Box (under $30)
This is not your ordinary pancake syrup. These barrel-aged and infused syrups are delicious on meats, fruit, coffee, crepes, and more. There are MANY flavors to choose, such as; whiskey barrel-aged, elderberry, cardamom, cinnamon, smoked pecan, bourbon barrel-aged, and more!
Sober Dough Brew Bread (under $10)
Sober Dough is a delicious mix that you just add beer and bake for a yummy bread. It comes in many flavors so you will want to try them all: sourdough, cinnamon swirl, classic, cornbread, ale, roasted garlic, and more! Even if they don't want to use beer, they can use other liquids. The hostess will want to bake it for their next party!
Cheese Making Kit (under $30)
I just bought this for myself, because I figured I am a pretty good hostess, if I do say so myself. My guests would usually disagree with me because I can't boil water to save my life, but this cheese making kit was amazing. It comes with everything you need (except milk) to make several batches of various cheeses and even I couldn't mess it up. So far, I made Queso Blanco and Mozzarella and I have plenty of ingredients to make MANY more batches. And the best part… it only took 30 minutes to have homemade cheese!
Infused Salt Sampler (under $20)
This is a foodie's dream. These infused salts have several flavors to choose from, but here are a few: Smoked Bacon Chipotle, Hawaiian Bamboo Jade, 5 Pepper, Garlic Medley, Rosemary, and Hawaiian Black Lava. They liven up any meal so the hostess will want to invite you to another get together so they can show off their new recipes.
Oh! Nuts Honey Sticks (under $25)
These honey sticks are great as an energy-boosting snack, party favors, or to add a great flavor to your tea or coffee. They are easy and convenient to take with you on the go and they include 5 delicious flavors; clover, blackberry, orange, buckwheat, and wildflower.
These dice are fun to use when you want to get creative in the kitchen. The 5 main dice have protein, grain/carb, cooking method, herb, a bonus ingredient, and the 4 additional dice have seasonal vegetable options.  The protein die has a meat or vegetable option so these work for carnivores or vegetarians.
Host Gift Ideas for those Who Love to BBQ
If you are going to a BBQ, these hostess gift ideas will liven up the party.  They make barbecuing even more fun, they are unexpected, and they are something the host can use outside around the barbecue.
Beer and Beverage Caramelizer (under $35)
This is another one of those host gifts that are so unexpected, they probably won't even know what it is at first.  You heat of the Caramelizer stick on the BBQ or the campfire and then quickly stick it into any beverage.  The heat reacts to the sugars and makes your drinks richer and smother.  It is super fun to use with beer, cocoa, cocktails, cider, and more. It doesn't change the temperature of the drink, so you can still enjoy your craft beer cold… but richer!
Personalized Steak Branding Iron (under $25)
Customize this steak branding iron with the initials or name of your hosts.  You can brand meat, tortillas, bread, leather, wood, and more! It is the perfect hostess gift if you want something totally unexpected and fun.
BBQ Rub Gift Set (under $40)
If you are going to a barbecue, the host will love getting this BBQ rub gift set. This one has 3 classic America BBQ blends and 3 global BB blends in reusable tins to take your barbecue to the next level; St. Louis BBQ, Cajon Rub, Memphis BBQ, Jamaican Jerk, Chili Lime, and Spanish Barbecue. Each tin has about ½ cup. The best part of this hostess gift is that you may get invited back to taste them!
BBQ Sauce Making Kit (under $40)
This kit has everything you need (except tomato paste and oil) to make 3 unique, custom BBQ sauces (tomato or mustard-based barbecue sauce and a vinegar pepper mop sauce). It comes with the spices, bottles, gloves, vinegar, and more. It allows you to customize it to the perfect flavor. 
Funny Host Gifts
These hostess gift ideas are for the host with a great sense of humor. They may be a bit snarky and you love that about them. These gifts are sure to keep the laughter coming long after the party.
Horrible Suggestions Coasters (under $15)
These coasters give guests horrible suggestions while they are drinking, such as; "Share even more with this new friend", "Have another. You're only getting funnier.", "You know who'd love this party? Your ex. Text 'em.", "Everyone loves strip poker. You start." and many more. These are a perfect hostess gift for those who like to encourage bad behavior for their own amusement.
Our Restroom Guest Book (under $15)
This hilarious bathroom guestbook not only allows guests to document the day/time of their visit, but it gives them space to doodle, write their favorite bathroom graffiti, vote for the best direction of the toilet paper roll, confess what they do in the bathroom, and so much more. This will leave guests laughing on the loo while they do what they do and wanting to return over and over again.
Go Away Doormat (under $25)
Nothing says "welcome to our house" like a doormat that says "Go Away". Your snarky friends will love it!
Pick Your Nose Cups (under $20)
These cups are hilarious for all ages and I have used them many times. Laughter will ensue when each person takes a drink from a cup and it looks like they have a funny nose and mustache.
Please Don't Do Cocaine in the Bathroom Candle (under $25)
Every bathroom needs a candle, so why not add a little humor with this "Please Don't Do Cocaine in the Bathroom" candle. Whether your friends do cocaine or not, they will laugh when they see this. At 16.5 oz, this soy candle burns for 100 hours and is available in various scents; Apple Harvest, Amber Noir, Toasted Pumpkin, Christmas Tree, Black Sea, Moonlight Path, Eucalyptus Spearmint, or Mahogany Teakwood.

Hostess Gift Ideas for the Host Who Loves to Entertain
These host gifts are great for the hostess who loves to entertain often. They are the life of the party and are constantly making plans for the next get together. These gifts allow them to be a social butterfly and share their gift at the next party.
Personalized Cutting Board (under $30)
This gorgeous personalized cutting board is great for the host who likes to entertain often.  Choose between maple, walnut, or Sapele and various styles and sizes.  It is beautiful and well-made and makes a great board to display cheese.
Murder Mystery Party Game (under $25)
This murder mystery game is great for 6-8 players ages 18+. They have several themes to choose from to pair with your type of party (BBQ, wine, pasta, Mardi Gras, etc…). It comes with character descriptions for each of your guests so they can dress up and you can solve a crime and possibly accuse your best friend of murder.
Mixtape of My Life (under $15)
This is sort of a musical scrapbook and a musical conversation starter in one to allow you to reminisce with your friends. It has prompts like, "What was the first album you bought?" and "What song did you later realize was smutty?". You can use it alone or bust it out at your next dinner party to go down memory lane together.
Barrel-Aged Whiskey Coffee
This Barrel Aged Whiskey Coffee is available as whole beans or ground and comes in a pack of three delicious flavors: Single Malt Whiskey, Rye Whiskey, and Rum barrel-aged coffee. The average person drinks over 3 cups of coffee a day, so why not drink something with a delicious twist.
Funky Veg Kit (under $30)
This Funky Veg Kit comes with everything you need to grow 5 bizarre vegetable plants. Your host will be excited to grow these from seeds and include them in the meal at the next party. It includes purple carrots, yellow courgettes, striped tomatoes, red brussels sprouts, and multi-colored swish chard. They are easy to grow even in a small apartment and kids and adults will love trying them.
For more hostess gift ideas, check out our Gifts for Couples, Gifts for Women, or Gifts for Men. For gifts related to food, check out our Gifts for Foodies.
Be sure to follow us on Facebook for daily updates on unique gifts for those who have everything.