Nomadik Outdoor Gear Subscription Box Review – August 2020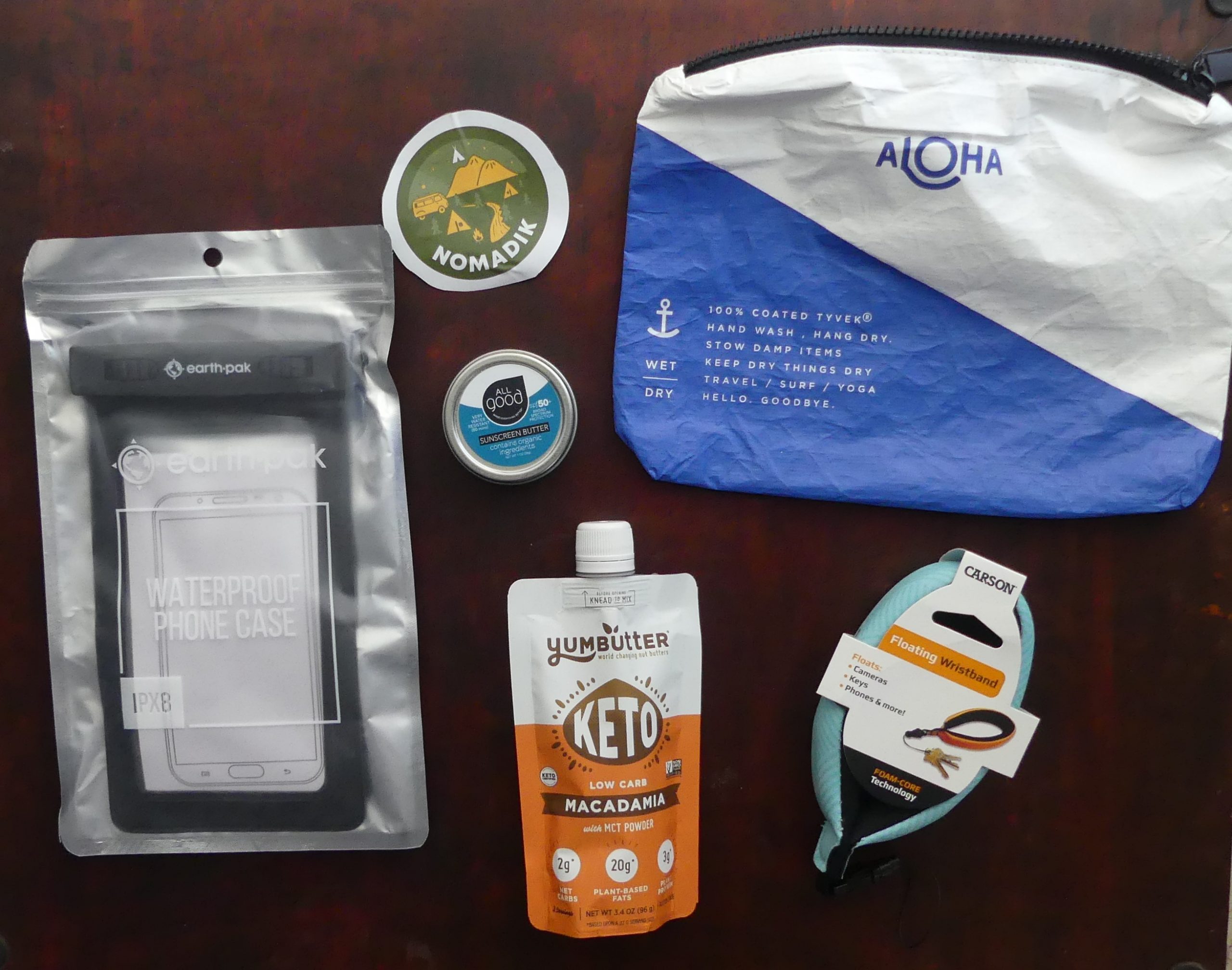 This month's Nomadik Outdoor Gear Box theme is "On the Water".  Since I live in Florida, I was excited to open this box. Nomadik is a subscription for outdoorsy people like campers, hikers, climbers, or anyone who just likes to be outside.  This month's box had a water-resistant pouch, waterproof phone case, Yumbutter, sunscreen, and a floating wrist strap. (coupon code and video review are both below)
Aloha Collection Splash-Proof Pouch
I love these bags. They are great to take to the beach to throw your wet bathing suit in it so the rest of your stuff doesn't get wet. Or, you can put your dry stuff in it when everything else is wet. It is great for going on vacation because it doesn't take up space but it always comes in handy.
Earth-Pak Waterproof Phone Case
This is my favorite item. I have used waterproof phone cases before but this one was far superior. It was clear on both sides so you can take selfies or regular pictures and it was big enough to fit any smartphone. It comes with a lanyard to hand your phone around your neck. I also like to throw my credit cards and cash in it so I don't have to leave anything of value on the beach.
Yumbutter Keto Nut Butter – Macadamia
This stuff tastes similar to nut butter or almond butter from Trader Joes. It is filling and easy to take with you on the go. The cap is resealable so you don't have to eat it all in one sitting, although, it is tasty enough to do that. It has 2 net carbs, 20 grams of plant-based fats, and 3 grams of protein in each serving.
All Good SPF 50+ Mineral Sunscreen Butter
This sunscreen is zinc so it does a great job of protecting your skin. I am faired skin and freckly so sunscreen is a priority to me and I love zinc. Plus, it is safe for the reefs, so you don't have to worry about killing the wildlife for your beauty.
Carson Floating Wrist Strap
Everyone can use this thing! You hook it to your keys or waterproof camera and it keeps them from sinking to the bottom of the ocean or lake. It also has a comfortable wrist strap so you can keep it attached to you. I use this ALL of the time.
I googled the pricing for each item to see if it was a good deal and discovered it was a GREAT deal. They say each box is valued at $50-$60, but according to my calculations, this box was valued at $70.46. Since subscriptions are $29.99 if you pay for each month as you go and they are even cheaper if you get a subscription of 3 months or more, this is a bargain.
I have been subscribing to Nomadik for about 7 months or so and love it.  The Nomadik Outdoor Gear Subscription Box is great for any outdoorsy person.
For a 10% discount, use code: GIFTERWORLD10 at Nomadik.
For more gift ideas for the outdoorsy type, check out our Gifts for Outdoors and Sports. Or for other unique gifts, check out our Gifts for Women and our Gifts for Men.
Be sure to follow us on Facebook for daily updates for unique gifts for those who have everything.