Nomadik Outdoor Gear Subscription Box Review – May 2020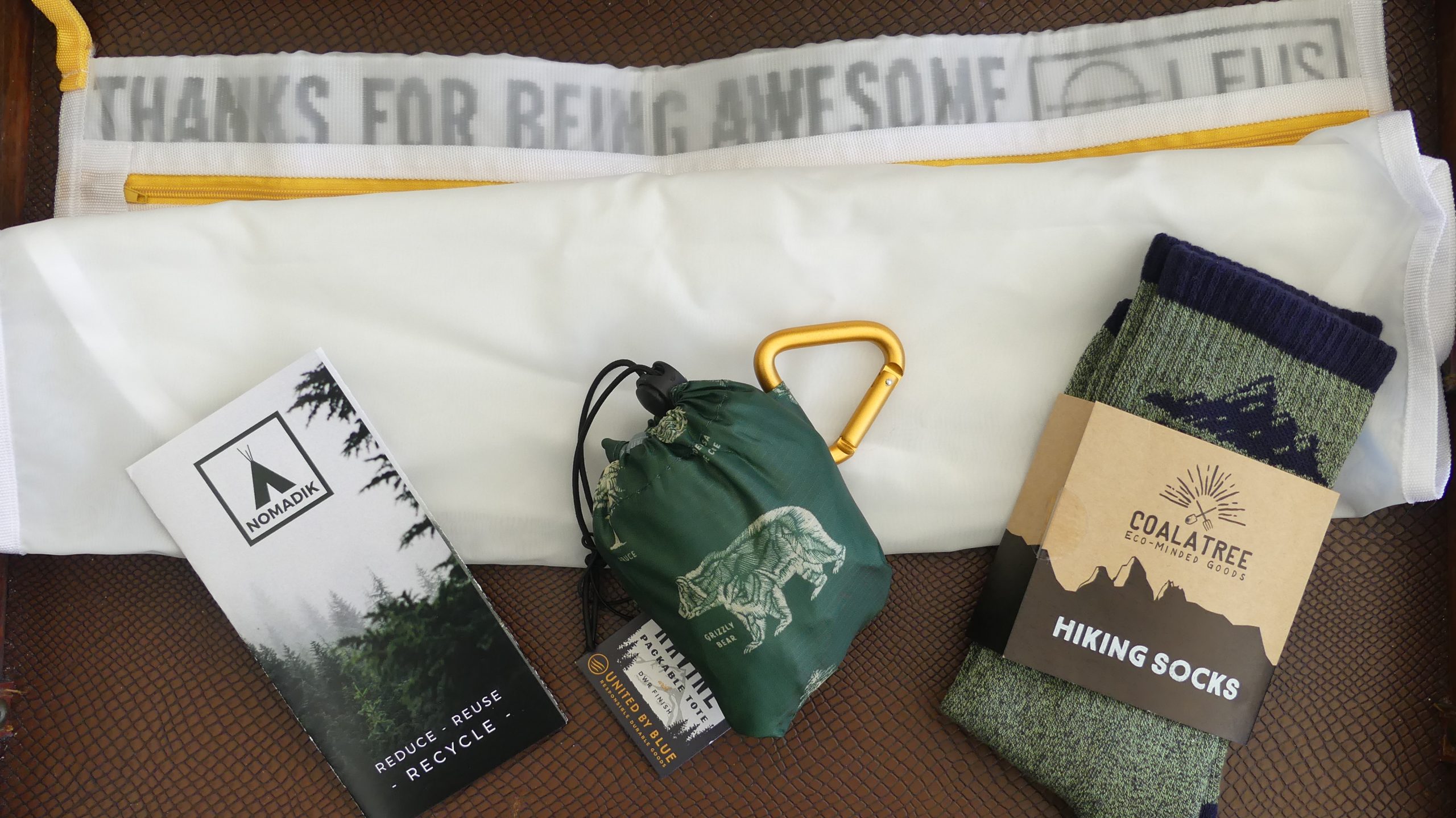 This is my 3rd month of receiving the Nomadik Outdoor Gear Subscription box and I have enjoyed receiving them each month. Each month, you receive products that can be used for outdoor activities such as hiking, camping, climbing, and more. This month, I received three items in the May 2020 box; hiking socks, a packable tote, and an eco-friendly wash bag and the theme was "Reduce, Reuse, Recycle."
The Coalatree Java Hiking Socks were very comfortable and had extra cushion in the toe, heel, and arch. They are sustainably made with coffee grounds and plastic bottles and the coffee helps with odors when your feet start to stink from a long day on the trail. They are one of my favorite socks to wear even if I'm not hiking… (I'm probably sitting on the couch right now with them)
The Packable Tote is lightweight and durable and condenses down into a pocket-sized ball that can clip onto your backpack or purse. It has two extra pockets for storage and the carabiner allows you to hang the tote anywhere at your camping site.
The Leus Eco Wash Bag had me stumped and I had to resort to the instructions and google in order to figure it out, but now that I understand, it is pretty cool. You just throw your muddy, gross camping clothes in this fancy bag and wash them in the river. The bag prevents microfibers from washing into the stream and polluting the water. But I think it can be used for so much more! After a soccer game, the kids' clothes are often nasty but you can just throw them in the bag and when you get home, just throw the whole bag in the wash so you don't get the whole house muddy.
It may even help essential workers during the pandemic because they can throw your plague-ridden clothes in it and toss them in the wash when they get home. I'm no expert, but it seems that it would help contain their clothes a bit better than putting them in a backpack and then touching them again when they get home. Just a thought…
The Nomadik Outdoor Gear Subscription Box has been fun over the last 3 months and it's been a surprise each time I open it.  You can order a month or a subscription, but I recommend the subscription so the gift keeps giving month after month.
For a 10% discount, use code: GIFTERWORLD10
For more gifts for outdoor enthusiasts, check out our Gifts for Outdoors and Sports. Or for more unique gifts, check out our Gifts for Men or our Gifts for Women sections.
Don't forget to follow us on FACEBOOK for daily updates of unique gifts!