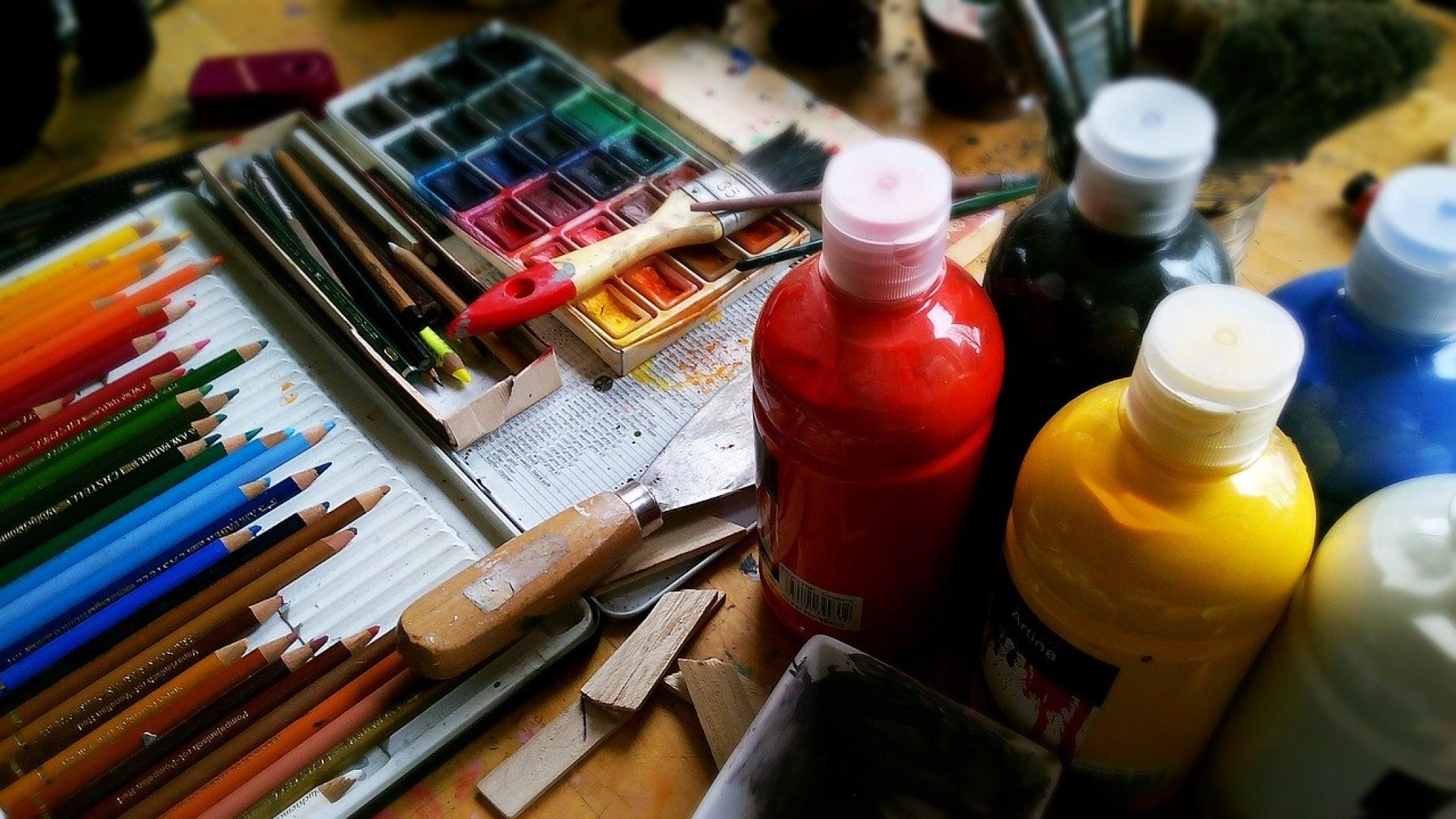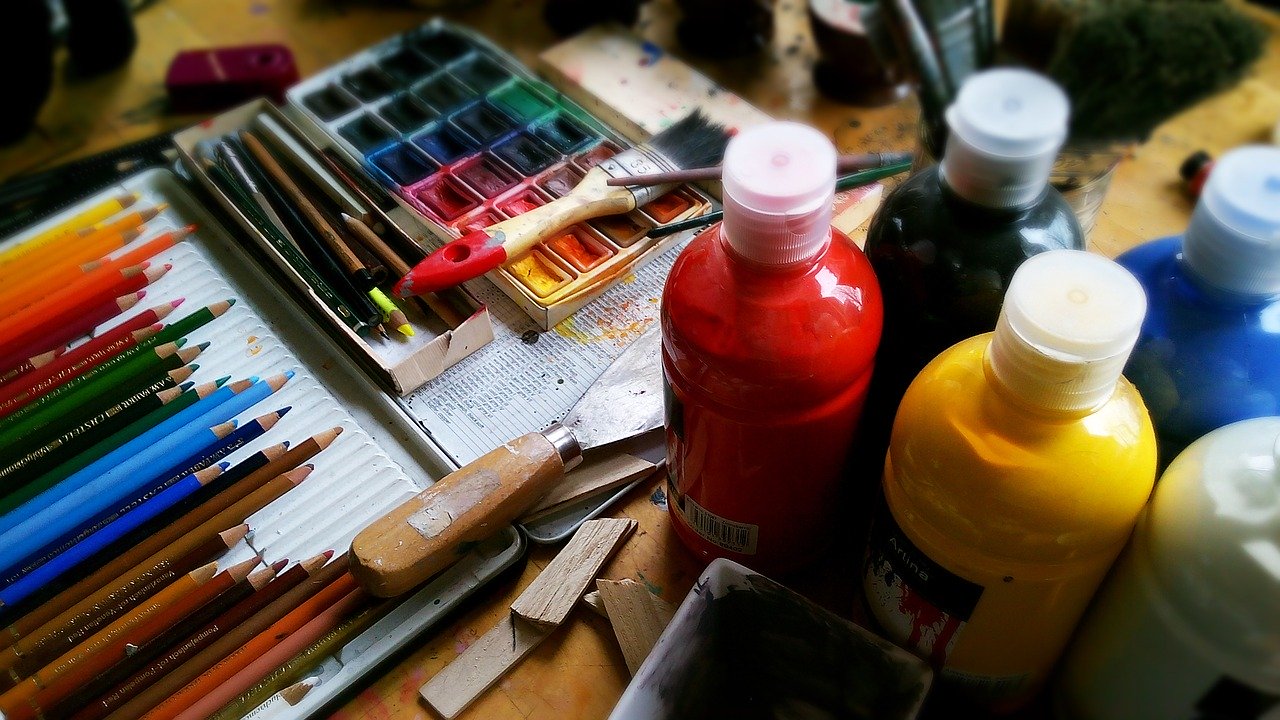 I don't know about you, but days can seem pretty mundane in quarantine if there is nothing to do. I've done all the dishes (or imagined I did), I've watered all the plants (maybe twice for fun), and I've eaten way too much spreadable cheese. A little activity can be just what you need to not go insane. In light of this idea, I began to research fun quarantine craft ideas to do as a part of your new day to day routine while stuck inside. Some of these activities require multiple small items, while others are in a DIY kit, so its up to you to choose which craft is right for you.
Crafts with Paints and Dyes
These quarantine craft ideas result in unique art pieces that could showcase you're somehow related to DaVinci or that you have questionable artistic talent. Either way, they are a whole lot of fun! So, time to roll up your sleeves and get crafty.
Bleach and Tie-Dye Dark Clothes
Tie-Dying white clothing is always super fun, but what if you don't have a white shirt or article of clothing to dye? Use a black shirt and bleach instead!
You begin by laying out the shirt and picking places on the shirt that you want to be bleached white. Keep in mind these bleached spots will soon be filled with the dye color of your choice. Once you decide, you sprinkle bleach on the selected areas to strip the black dye. Another method is to twist or rubber band certain areas of the shirt off so you can create a cool bleach/ dye pattern. Let the bleach dry so the areas are completely white and all the previous dye is removed. Then, rinse the shirt with cold water and ring the excess water out. Finally, apply the tie-dye colors of your choice and wait 6 hours before rinsing and washing. You can make it look like a galaxy or look like acid wash jeans!
What you need: black t-shirts, bleach, and tie-dye kit
This Tie-Dye Kit was super easy to use. The bottles were pre-filled with the dye in powder form, all you had to do was add water! Also, rubber bands and gloves were included.
I have a lot of stuff in my room that I feel needs a new paint job. A new fresh coat of paint is sometimes all you need to make an old item feel brand new again. But my problem is that I don't want to do the same old red paint or the same old teal paint. Boring! Why can't I do every color I want at the same time? Can't I tie-dye more than just my clothes? The good news is you can!
Hydro Dipping is a cool technique that uses spray paint to unconventionally renovate items in your home. All you need is a plastic storage bin, water, spray paint, and your item of choice. To stay safe and clean, I recommend using plastic gloves and a mask while Hydro Dipping.
First, you fill the plastic bin about ¾ of the way full with water. Then, spray the spray paint on the water's surface. You can spray however many different colors you want in whatever order you want them to be in. But, the key is to go fast! If you add too much paint or wait an extended period of time after you spray, then the paint won't stick to the item you are dipping. After you spray, dip the item in at a 45-degree angle. This ensures an even covering and avoids unwanted air bubbles to form. Once submerged, rotate object face up and pull out of water. There you have it, your perfectly Hydro Dipped item! What you need: spray paint, plastic storage bin, gloves, mask, item to dip (has to be waterproof)
This brand of spray paint is perfect to use for plastic, wood, or any metal surface. It comes in multiple fun colors perfect for all your Hydro Dipping needs.
On a scale of 0 to pull your hair out, how stressed do you think you are? I'm at the point where I eat more than I'd like to admit, but that's okay because this pandemic is a scary time! But something I've found mesmerizing to help me zone out is watching YouTube art videos. One type of art video I love to watch is Acrylic Pouring. This technique is perfect for anyone who wants to use art to relieve stress. Acrylic Pouring is as simple as it sounds, you just pour paint!
You begin by raising a canvas board off of a covered surface. Secondly, check to see if the paint you are using is premixed with a thinning or flowing agent. If it is not, then, you mix the paint thinning agent with the different colored acrylic paints. After, fill the plastic cup with layers of different colored acrylic paint and pour slowly onto the canvas board. Tilt the board to cover edges and move paint around. Voila! Your new art piece to hang in your living space! What you need: cardboard canvas, acrylic paint, paint thinning agent, plastic cups, liner for surface of choice
When Acrylic Pouring, you want to use these canvas boards because they are sturdy and hold weight. If you use a regular canvas, the material will stretch and pool the poured paint in the middle because of the lack of structure!
This set contains acrylic paint that is ready to pour because it is pre-mixed with the flowing agent! With 32 vibrant colors, I'm sure your acrylic pour art piece will look amazing!
Out of all the quarantine craft ideas, this one is my favorite! Something interesting about me is that I am a licensed Cosmetologist. One of my most favorite crafting tasks is giving myself (or someone else) a new look! For a lot of people that have seen hair cutting fails on Instagram, this idea probably terrifies you. But no need to worry! I've personally noticed that most of the horrific hair stories happen when people are cutting or bleaching their own hair. You don't have to do either of those things to change up your look!
Fun and vibrant hair colors have been a trend on social media, so if you don't want to be left out, pick up some hair dye and DIY. All you have to do is section hair to evenly apply the dye around the whole head or the area of choice. The hair dye linked below uses zero harsh chemicals on hair and doesn't require bleaching before use. This maintains your hair's health and integrity while also providing a deep conditioning treatment. For dark hair, I recommend darker colors that will show up, like purple or blue. What you need: hair dye, hair dying brush, hair color bowl, comb, gloves, cape, hair clips
Out of all the fun hair color this company sells, my absolute favorite is the color "Electric Paradise". Since all of their dyes are 100% chemical free, they all have a fruity scent, which makes your hair smell amazing after you wash it!
If you want to avoid a mess and do a very thorough job, this set of materials is perfect for hair dying at home!
Crafting Kits
For all you people out there who just want to open a box and have all the materials needed for a project, DIY crafting kits are definitely the choice for you. These are for quarantine craft ideas that have everything you need!
During quarantine, I have picked up gardening as a new hobby. Something my garden seems to be lacking is a little pizzazz! These mosaic steppingstones are perfect to liven up any backyard or garden setting. You can imprint hands, dog paws, or just bedazzle it up with your favorite rocks or stones! My family might even be making it a competition for who makes the coolest mosaic (I'm definitely going to win…)!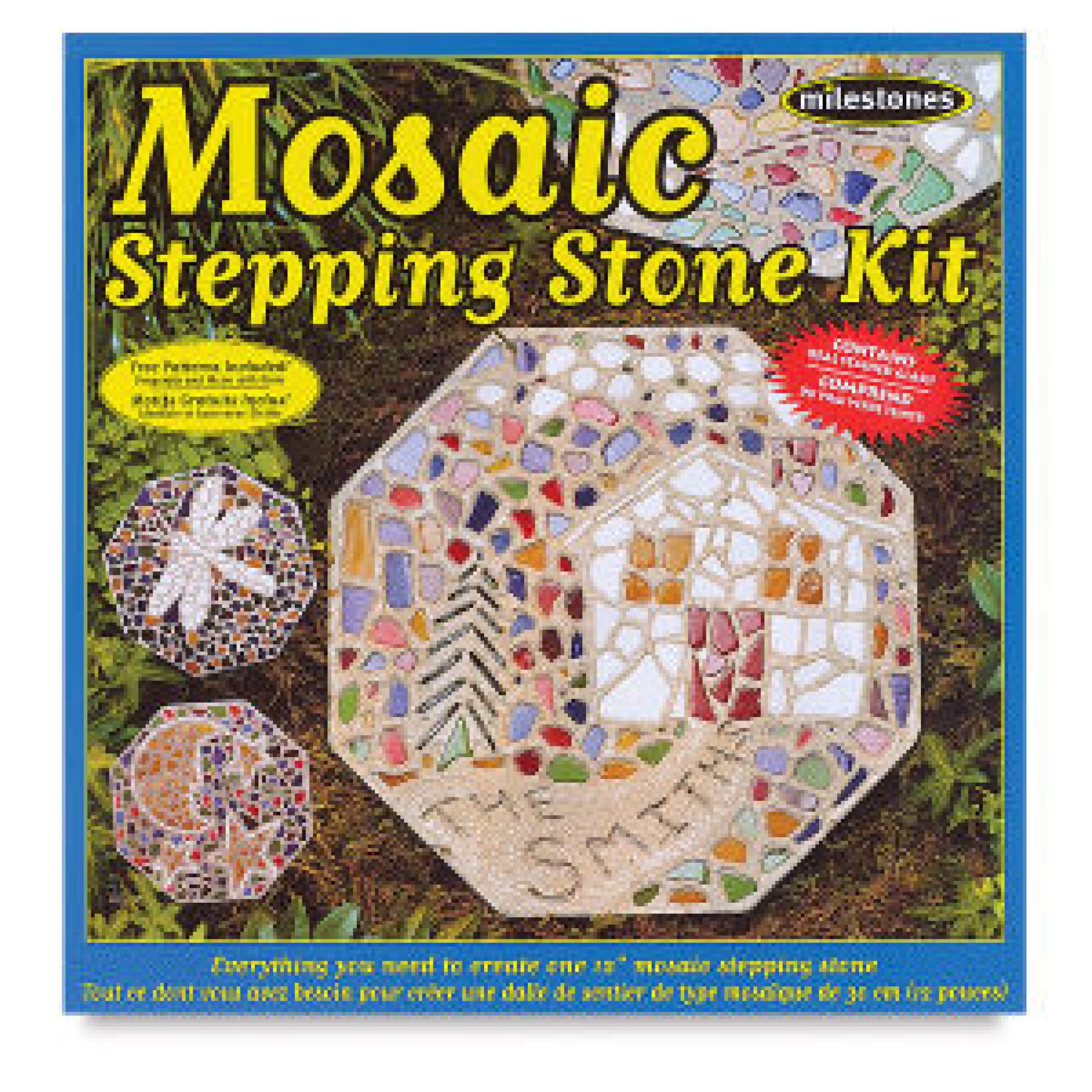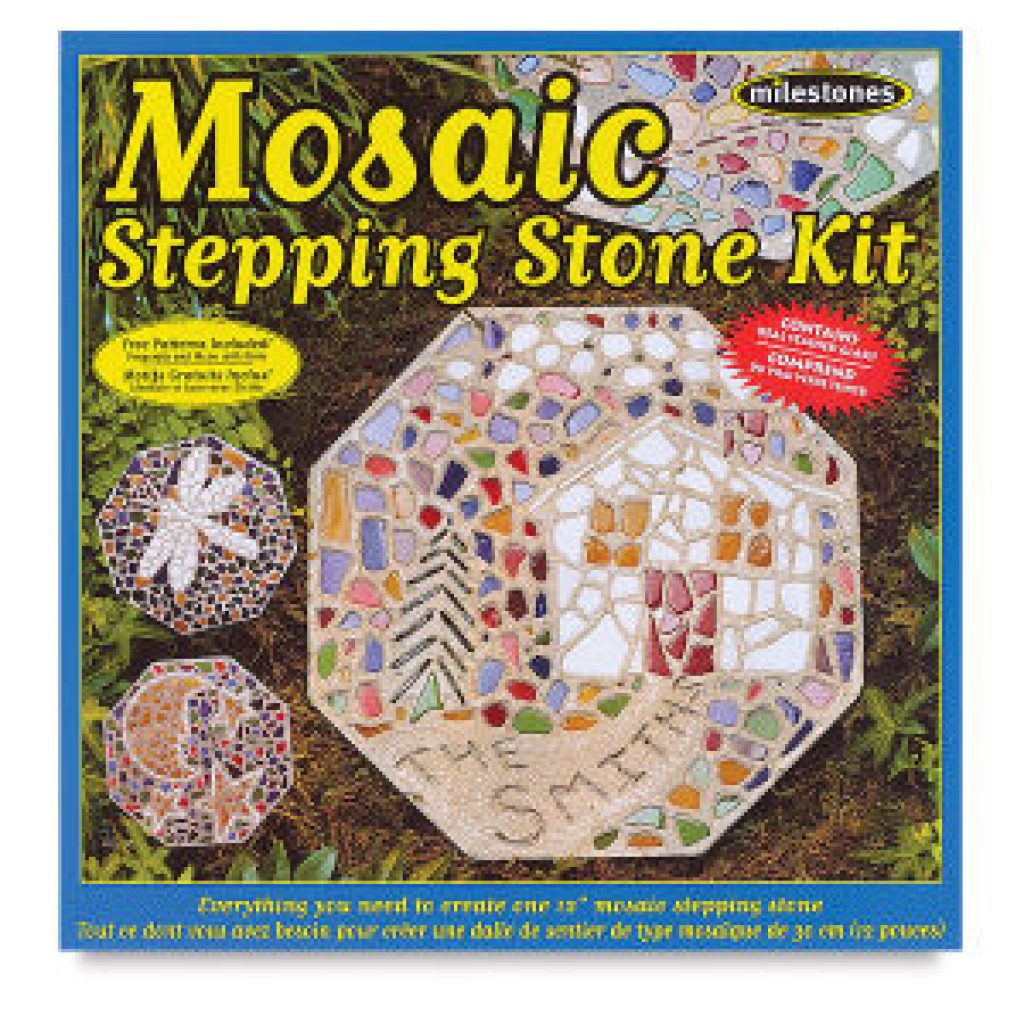 When stuck at home, things can get…. smelly. My sister would argue that I'm the only one that gets smelly, but we both know that's not true. That's why this DIY soap making kit is perfect for freshening the place up! It has 3 blendable fragrances to help get rid of all that stank! I know I'll be trying this for sure!
Teach Yourself Calligraphy
Whenever I look at wedding invitations or beautiful ads, I always notice I am drawn to style of handwriting or print used. This double item kit comes with fancy calligraphy pens and a book to follow through, so you learn all the tips and tricks of the trade! Not only can this benefit your note writing skills, but I also think it will help boost your self-esteem!
This pen set not only includes beautiful pens, but also multiple different colors of ink cartridges.
This book is an extra treasure for all you aspiring calligraphists! It shows multiple different lettering styles that are more suited for modern calligraphers.
Imagine you have a nice clean bathtub, some hot running water, candles lit all around, and a soothing face mask on…. but where's the bath bomb?!?! I'm sorry to traumatize you with that scenario, but it's often the situation I find myself in most. Prior to relaxing time, this DIY Bath Bomb making kit would be essential to whip out and try. You can make the bath bombs any scent you want to fit your own personal needs when you want to relax.
For more Quarantine Craft Ideas, check out our DIY Kit Gifts that you can do at home, or our Family Activities to do at Home article. For some unique gift ideas, check out our Gifts For Men, or out Gifts For Women.
Be sure to follow us on Facebook for daily updates for unique gifts!
Contributing Editor: Olivia Torrey