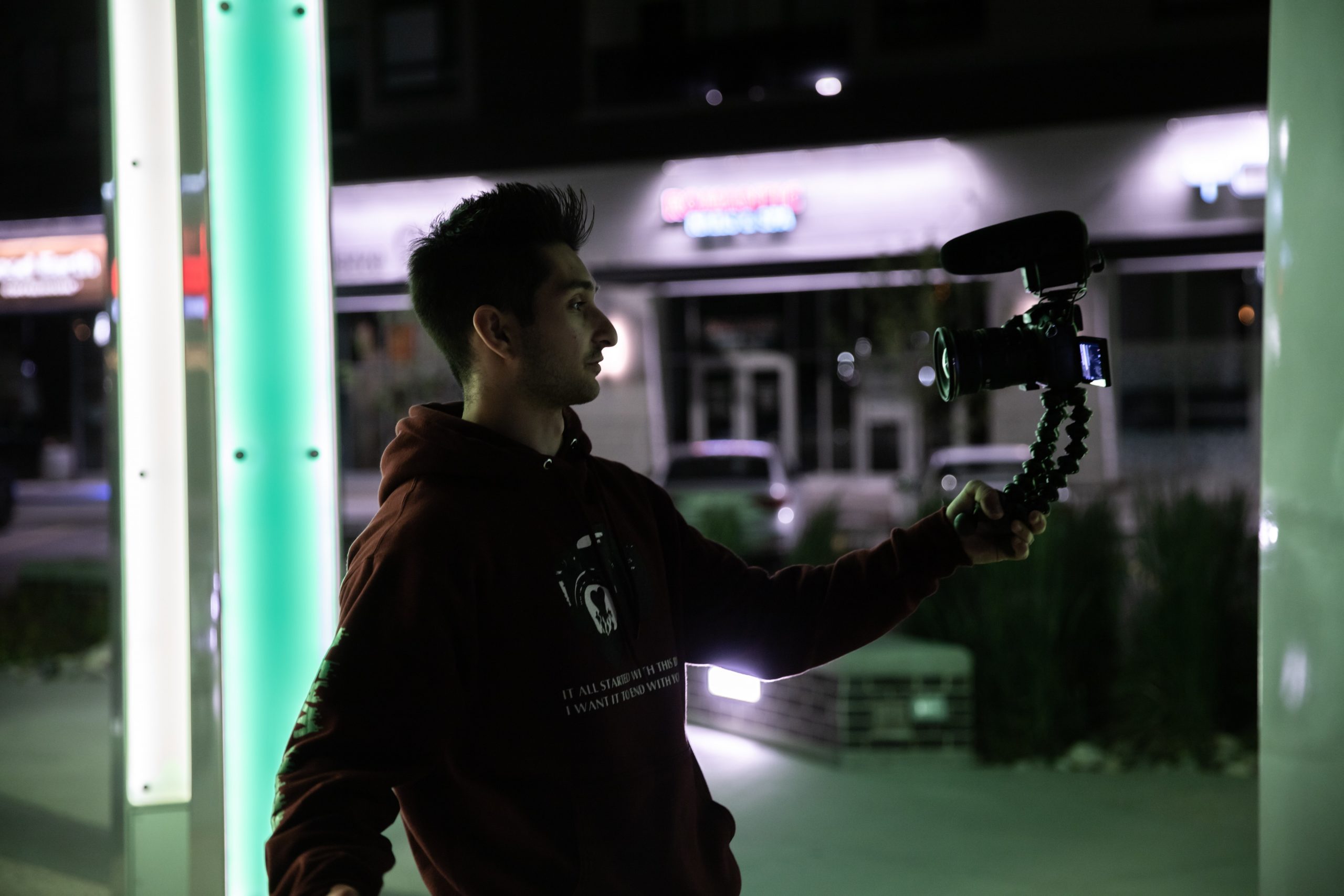 Twenty years ago, the idea of vlogging and Youtubing didn't even exist. When I was in school decades ago, that wasn't even an option, but I wish it was.  Instead, I was encouraged to pursue "normal" boring jobs.  But the thought of being a star of my own video and doing it from the comfort of my house in my pajamas sounds pretty good. So if you know someone who is into vlogging, these gifts for youtubers and vloggers are crucial.
Whether the vlogger is an experienced pro or just getting into it, they need a ton of equipment and they usually want fun new products every year.  I started vlogging a couple of years ago, so I compiled a list of items that I love. So read on for the best gifts for vloggers and Youtubers…
Related: Gifts for Gamers
Best Gifts for Vloggers and Youtubers Who Need Lighting
One of the key pieces of equipment is lighting. If you have the right lighting, then you can even look good on a cell phone video. Here are my favorites that I can't live without…
 Ring Light
This thing is a gamechanger.  I struggled with the lighting whenever I would film videos and it just looked dark and uneven.  This ring light allows you to mount your camera or phone inside the ring so the light fills the frame.  You can adjust the temperature color and brightness, so it is totally customizable to make you look flawless. When you see gorgeous models giving makeup tutorials, they are probably using this light. You can buy a battery for it so you can take it outside and it comes with a great carry case for easy transportation. This is one of the most useful gifts for youtubers and vloggers.
Related: Gifts for Techies
Mini Ring Light for Cell Phone
Like the ring light, this mini version fills the light for a balanced look and is adjustable in the intensity going from warm to cool and mixed white brightness. It is small and compact so you can easily throw it into your pocket. When you are on the go and bringing the regular ring light with you is not an option, this is a great alternative.
Tripods for Vloggers and Youtubers
There are so many options for tripods, monopods, and bipods that it makes it hard to know which to choose. Every vlogger and Youtuber needs them to mount their camera or phone at the right angle and each one is great for a different angle or function. Here is a list of various types that work in different ways… pick one or get them all!
Joby Gorillapod
This can be used as a tripod or you can wrap the legs around a tree branch, fence, or more.  It makes it easy to set up a tripod when you are on the go. You can also use it to hold up microphones, lighting, cameras, or more and it has a ball head that tells you when it is level so your shots look even. This is one of the best gifts for vloggers and youtubers who like to film outside of the home.
Manfrotto Tripod
This tripod is sturdy, compact, lightweight, easy to assemble and they last forever. Every vlogger and Youtuber needs a solid tripod and this one checks all of the boxes.
Selfie Stick
This sounds silly, but a selfie stick is probably one of the most important gifts for youtubers and vloggers. It allows you to easily film on your cell phone on the go so you don't have to set up any equipment.  I love mine and use it often, even when I'm not vlogging. This one is great because it can be used as a selfie stick or a tripod, it stretches to 40" but compact enough to fit in your pocket, and you can use it with your cell phone or a camera.  Plus, it has a remote so you don't have to struggle with setting a timer.
Gimbal Pocket Stabilizer
This stabilizer helps you take smooth video while moving. It is great for filming sports, kids, or just walking/running/hiking, and takes out the bounce so the screen is clear and in focus. It is compact and can fit in your pocket but it also comes with a small tripod and carrying case.
Z Flex Tilt Ball Head
This allows you to tilt your camera for shots where you want to show food or show your hands working on something because you can aim it completely down. It also allows you to easily tilt the camera to angle it precisely the way you want. This is a super useful gift for food vloggers or how-to videos.
Microphones and Sound Equipment Gifts to Make Vloggers and Youtubers Sound Great
It doesn't matter how good your videos look if the sound isn't clear.  Viewers will turn it off if the sound is murky so here are some gifts for youtubers and vloggers who are looking for clear sound.
Rode Video Shotgun Microphone
This microphone provides a great clear sound and it is easy to use. It has directional sound so it focuses on what you want. I even used it when the gardener was outside mowing the lawn and the sound was clear. All you have to do is slide it onto your camera, plug the short cable in, and press power.
Blue Yeti Nano Microphone
This microphone is great for podcasters, gamers, and skype calls because it has great sound and sits on your desk.  It is easy to use with the plug-and-play feature.  It is smaller than the original so it doesn't take up valuable desk space.
Microphone Wind Muff
This muff slides over your shotgun microphone when you are having to film in high wind situations. It blocks out the excess noise for a clear sound.
Best Camera Gifts for Vloggers and Youtubers
The camera is one of the most important features you will need for vlogging or Youtubing. You can use your smartphone but sometimes, you just want something extra. There are a ton to choose from and the options change every day, so here are a few options to give you an idea of what to get.
DJI Mavic 2 Zoom Drone
This drone has all of the cutting-edge features the top drones have these days. It has a speed of 45mph, flight-time of a whopping 30 minutes, and a flight range of 4 ½ miles. The pictures and video are clear and the zoom feature allows you to get up close and personal without actually getting close at all and it comes with a great carrying case. This is the best drone on the market and all I can say is, "WOW". It is a bit pricey but so worth it. If you are looking for cheaper options, they have other models to choose from.
GoPro Hero 8
A GoPro is a useful gift for vloggers and youtubers who do action or travel videos.  It is compact so you can throw it in your pocket, waterproof up to 10 meters, and durable. The stabilization in the 8 is much better than the previous model and even if you purposely shake it, the video still remains smooth. It has a live burst so you can capture the moments 1.5 seconds before and after your shot so you get the perfect one. It has live streaming, time-lapse, voice control, wind reduction, slow-motion, and so much more.
Camera: Panasonic Lumix FZ300
I have this camera and is great for vlogging and is a fantastic value for your money and is one of the best gifts for vloggers and Youtubers on the list. It has an articulated screen so you can see yourself to make sure you are looking stylish and on point, it is relatively compact, and it is a great point and shoot camera. And the zoom (600mm) is incredible so you can shoot far away but it seems up close. It also has fun settings to take pictures with effects. It is a couple of years old, but it still stands up to newer models. Panasonic has a newer version (Lumix F1000 II) if you don't mind spending a little more. The FZ300 has a better zoom but the FZ1000 II has a higher ISO and more pixels. I prefer the FZ300 due to the zoom, but you can't go wrong with either!
Extras for Vloggers and Youtubers They Won't Expect
If they already have the basics, then how about some of these fun extras they won't expect? These fun extras are not only some of the best gifts for vloggers and Youtubers, but they make vlogging even more fun!
Spectacle Nico 2 Camera Glasses
These are super fun because you can film from your perspective hands-free.  They are made specifically for Snapchat, so you can send them to your page instantly or download them to share anywhere you want. Just push the button to take an HD photo or video. Videos can be up to 30 seconds long but you can film 70 videos on one charge.  It comes with a cable so you can recharge on the go.  They are even water-resistant and can be submerged in water to take underwater pictures and video. These are super cool and nobody will even know you are filming. They have a newer version of these (Spectacle 3 for 3D), but they can run small on people with a large head so I prefer the Nico 2 version. This are one of the best gifts for youtubers and vloggers who love snapchat.
Camera Backpack
This camera backpack is my absolute favorite! It holds camera bodies, 3-4 lenses, a laptop, and many accessories. The interior is padded and customizable with movable dividers for maximum storage. It even has a strap to hold your tripods and other large gear. Carry everything you need in one bag.
Making Youtube Videos – For Kids
Kids across the world have been dreaming of being a Youtube star and this book breaks it down into basics for kids to understand. It teaches you how to shoot to get better lighting and sound, how to edit, create cool effects, and how to upload. If you have a child who is just starting out on their dream, this is for them!
All in One Smartphone Video Kit
If you are just starting out or if you want something compact that is easy to use on the go, then this all-in-one kit is for you. It has adjustable lighting to three brightness levels, a smartphone mount, a microphone for professional stereo sound with windscreens, a remote, and a compact travel case. If you have a newer phone without the headphone jack, you just need to use your adaptor.
For more ideas for the best gifts for vloggers and Youtubers, try our Gifts for Techies. For more unique gift ideas, check out our Gifts for Men section or our Gifts for Women.
Follow us on Facebook for daily updates of cool new products!