Funny Christmas Decorations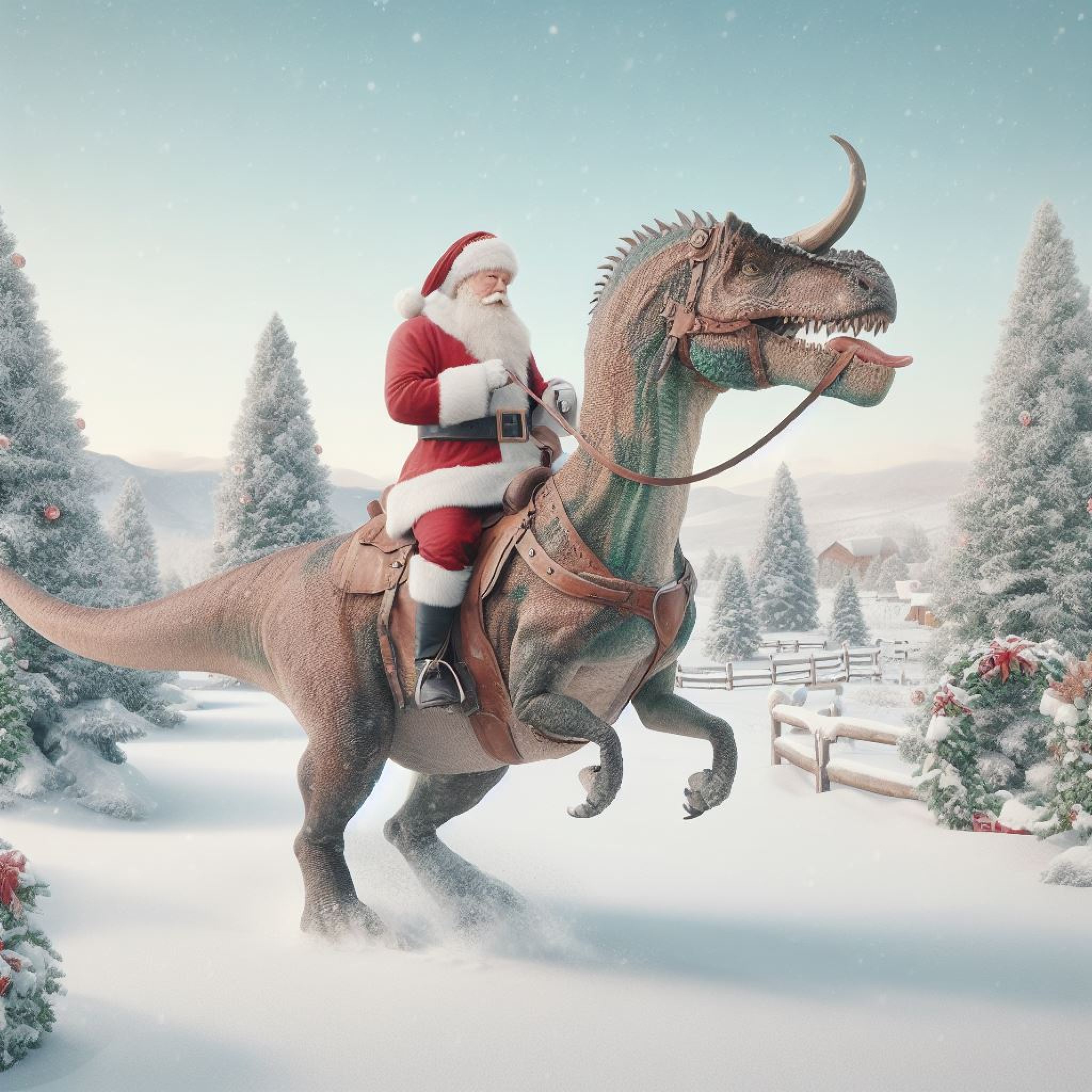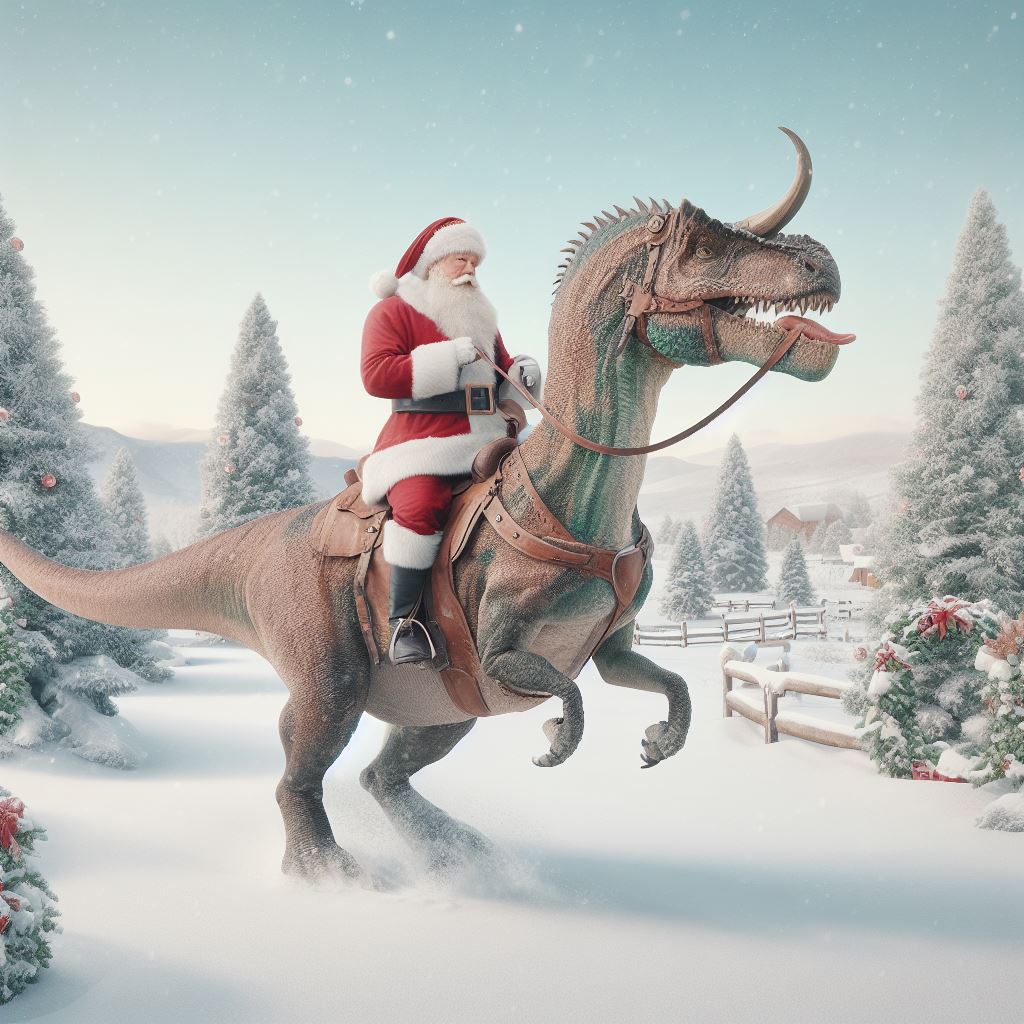 It's that time of year again when the weather gets colder, the lights get brighter, and everyone's stress levels hit an all-time high. Yes, it's the Christmas season, and while some may associate this time of year with love, family, and giving, I associate it with something even better – funny Christmas decorations.
That's right, folks. Who needs traditional, elegant, and sophisticated decorations when you can have a picture of Santa riding a dinosaur, a giant teddy bear in your front yard, or a gaudy neon holiday sign?
---
Related: What Do I Want For Christmas?
---
Animated Crashing Reindeer (Santa Also Available)
This poor reindeer looks like he crashed into your window and got stuck. It is sound-activated, so it wiggles its legs as if it is trying to escape. But don't worry, there is an on/off switch so you don't have to watch him struggle all day. The broken window reusable sticker makes it look realistic.
---
"Merry Christmas, Ya' Filthy Animal" Funny Christmas Neon Sign
From the classic Christmas movie, Home Alone, comes this neon sign with the famous quote used to scare away the bandits. It's available in many colors or you can customize it to match your other décor. And it is available in many sizes from 16 to 39 inches!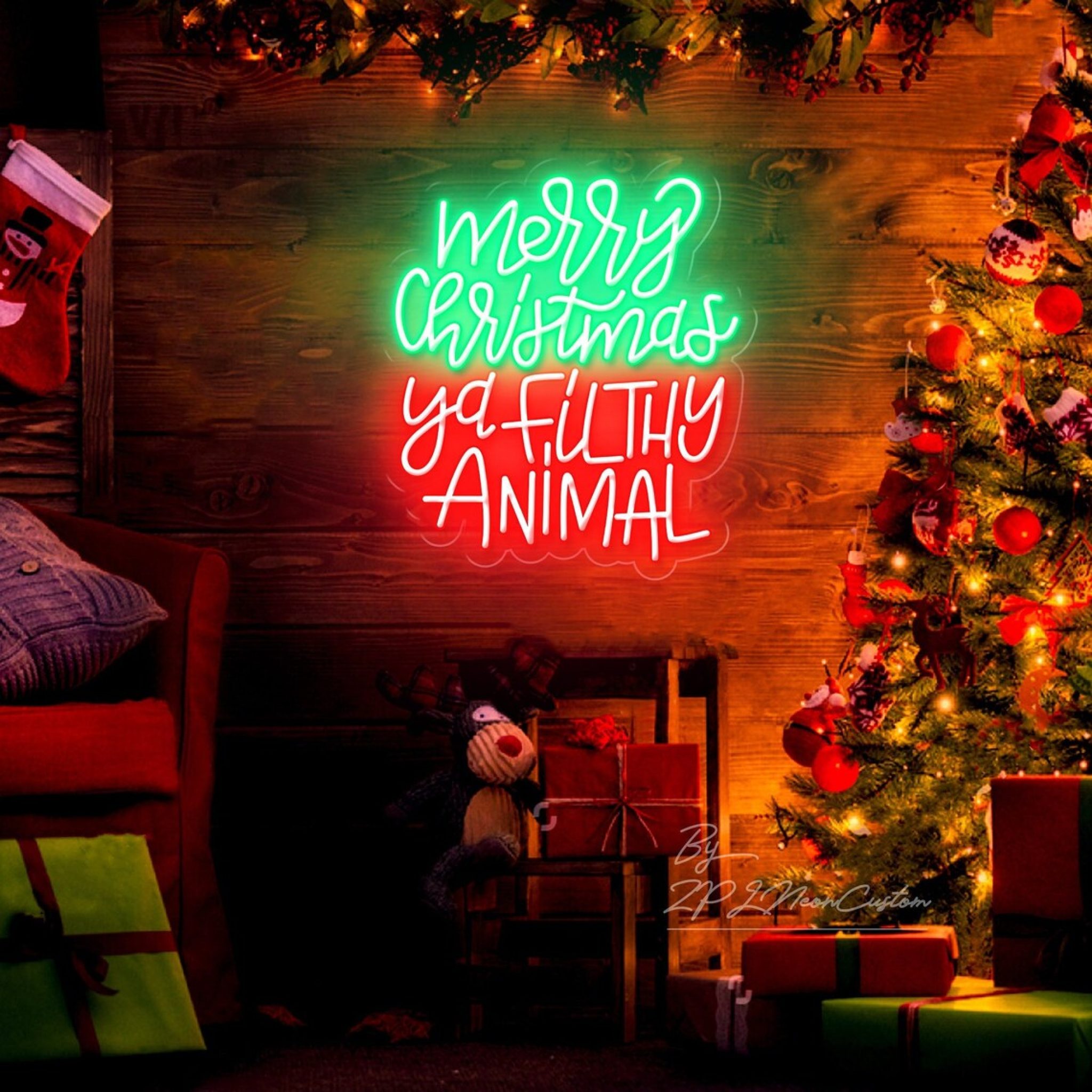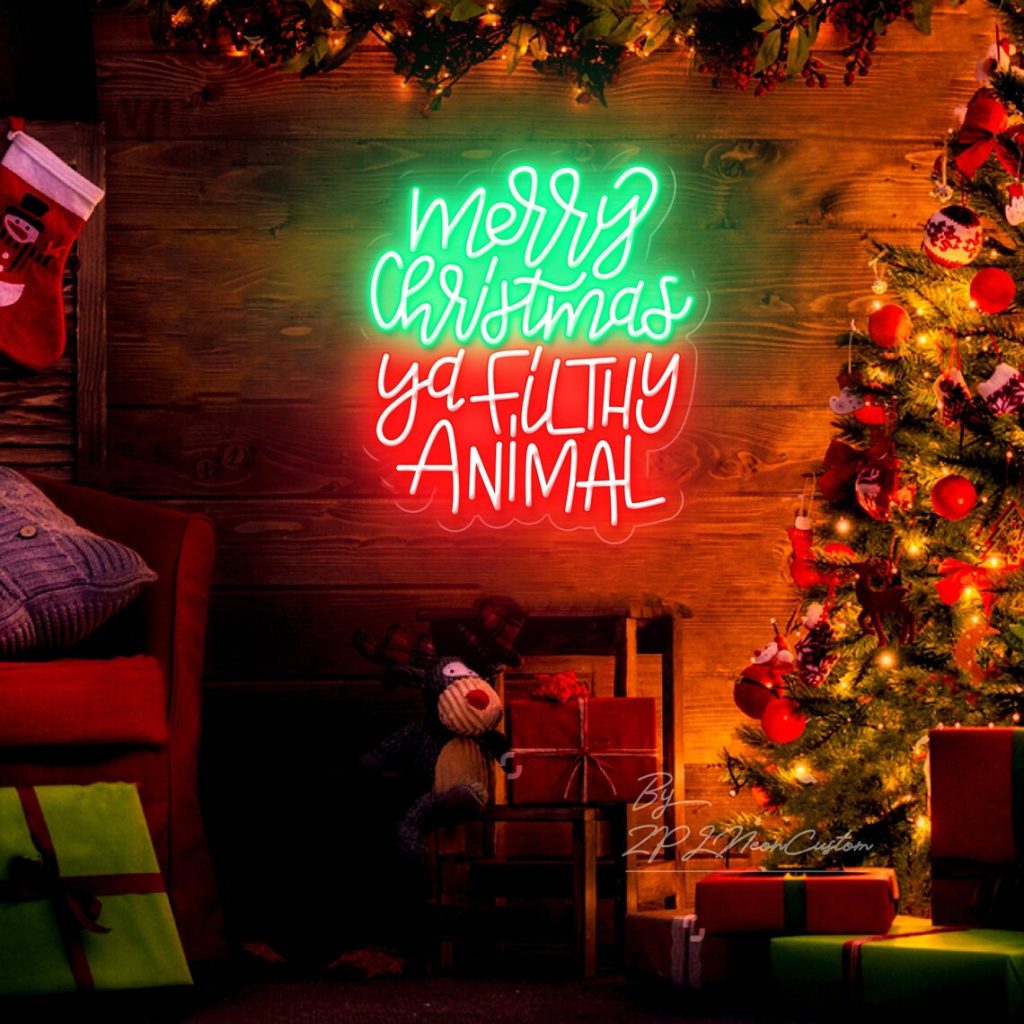 ---
Related: White Elephant Gifts
---
Personalized Christmas Twerking Banner Decor
If you are having a Friendsgiving holiday party, you absolutely need this personalized Christmas twerking banner. You can have up to 8 different faces on each banner and you can customize the color and finish. A party isn't really a party without these twerkers to get it started.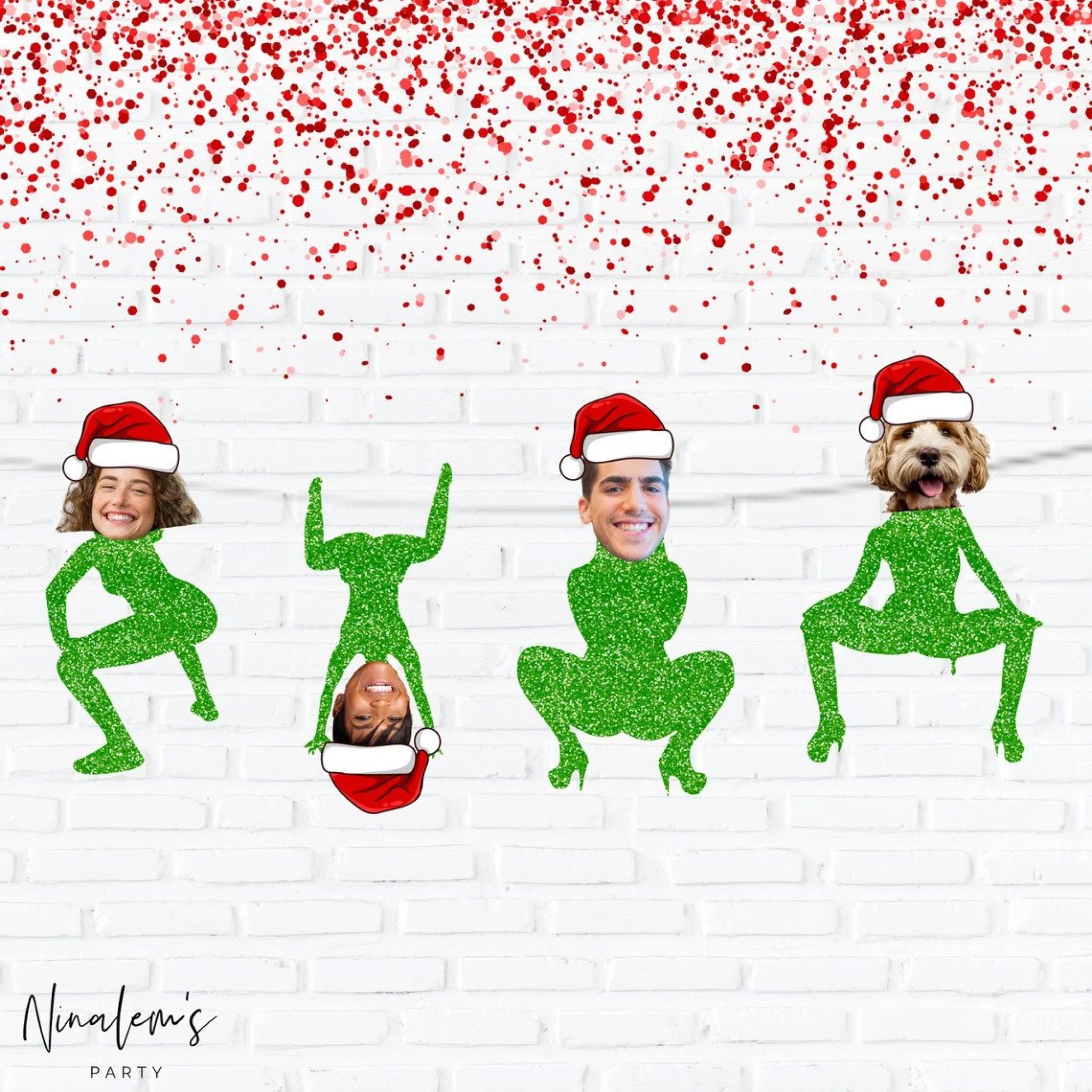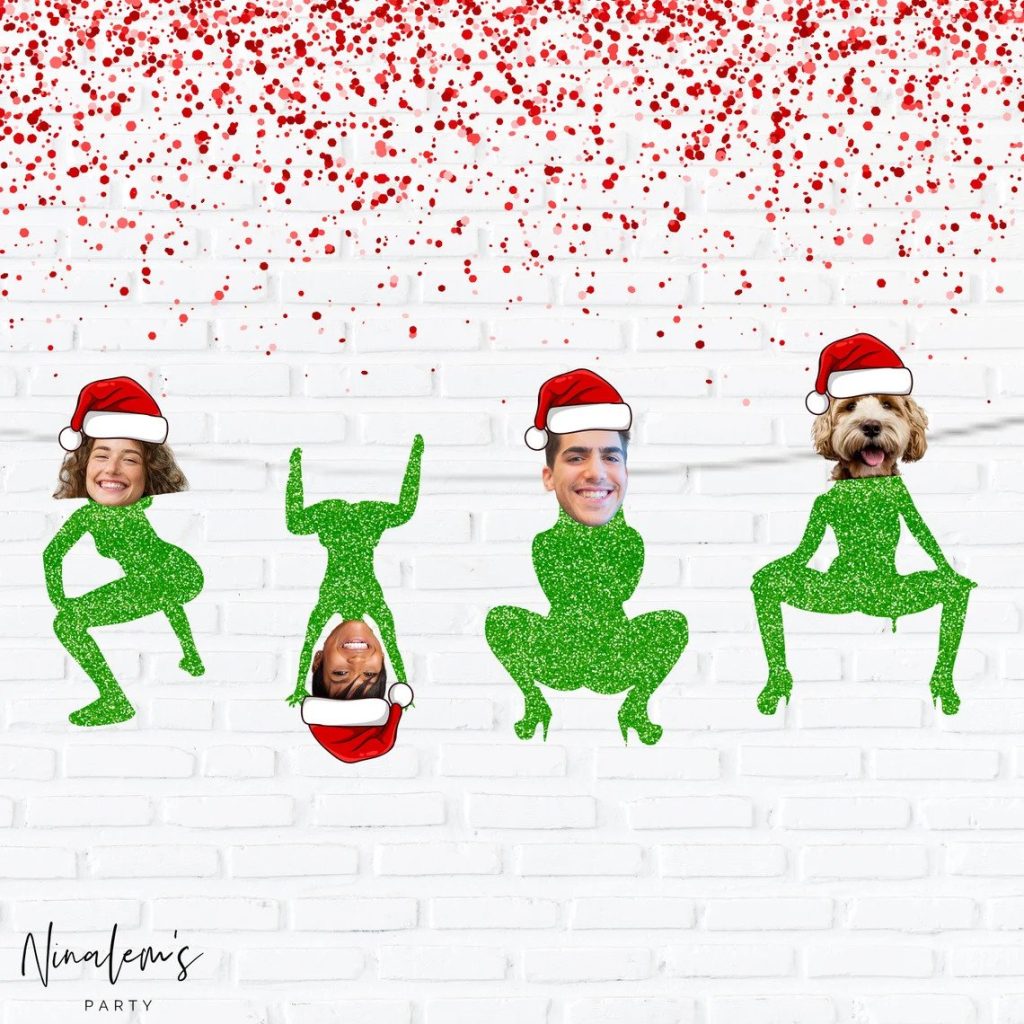 ---
Santa Riding a Dinosaur Wall Decor
Some people don't realize it, but before Santa found Rudolph, he had to ride a dinosaur to deliver gifts to the cave children.  Sure, Google says people weren't on Earth until 65 million years after the dinosaurs died off, but I'm pretty sure they are wrong because this picture looks legitimate.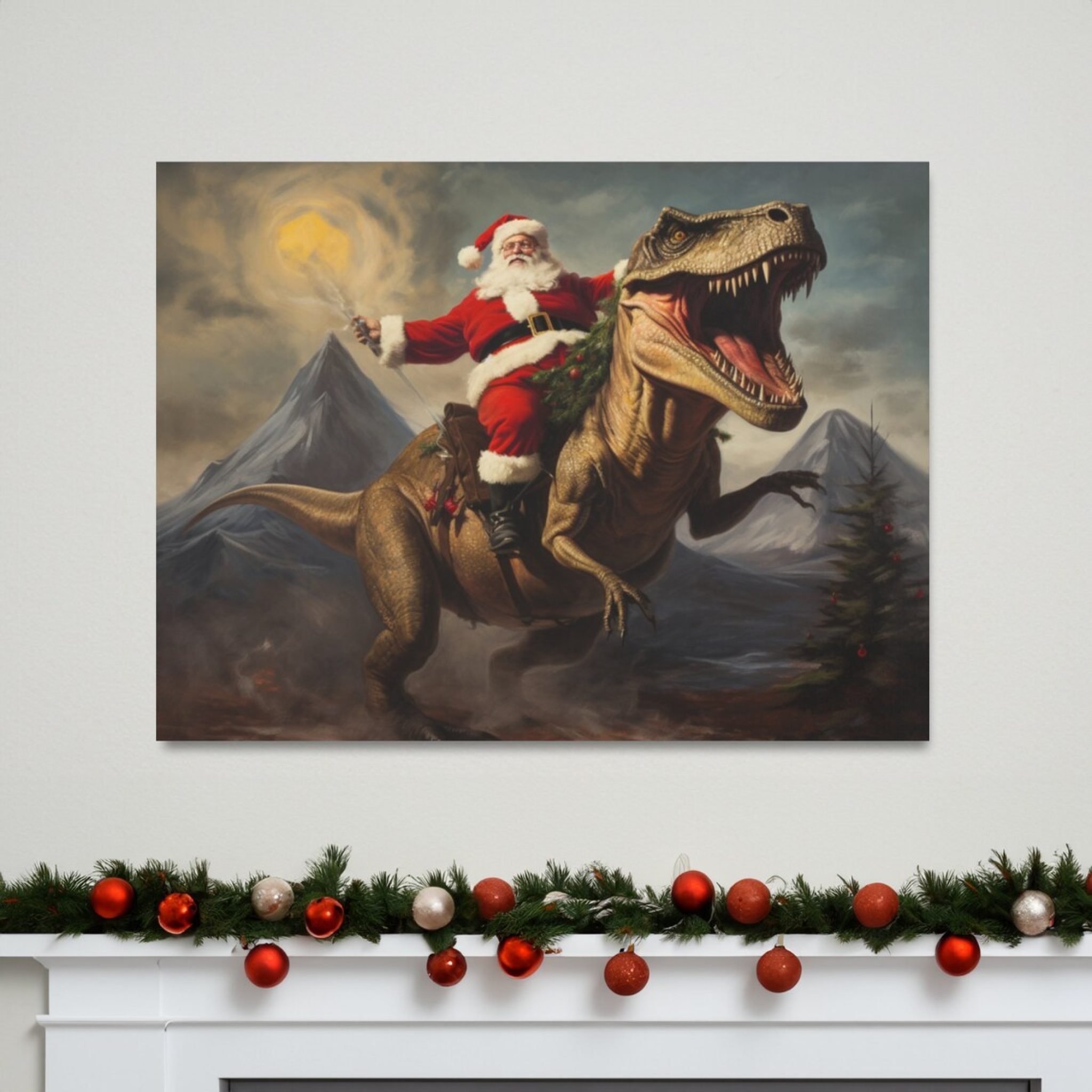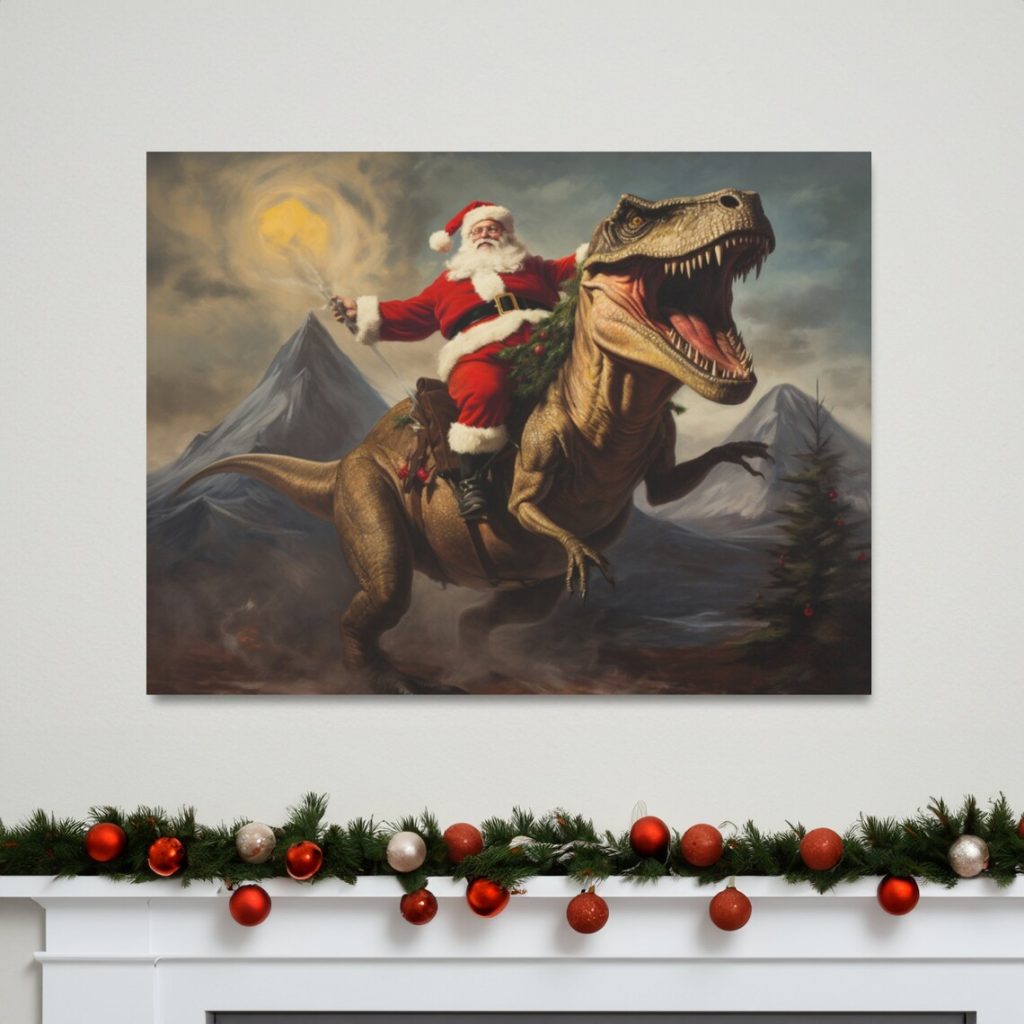 ---
Related: Stocking Stuffers for Adults
---
Funny LED Dead Cat Christmas Vacation Rug
From everybody's favorite holiday movie, Christmas Vacation, this light-up dead cat rug will even make Aunt Edna laugh. But don't worry, because it is made with faux fur so no cats were harmed while making this hilarious Christmas décor.
---
Large Christmas Yard Decor
These large yard signs are huge and they have them for many different Christmas movies; Christmas Vacation, Home Alone, Grinch, Christmas Story, and more.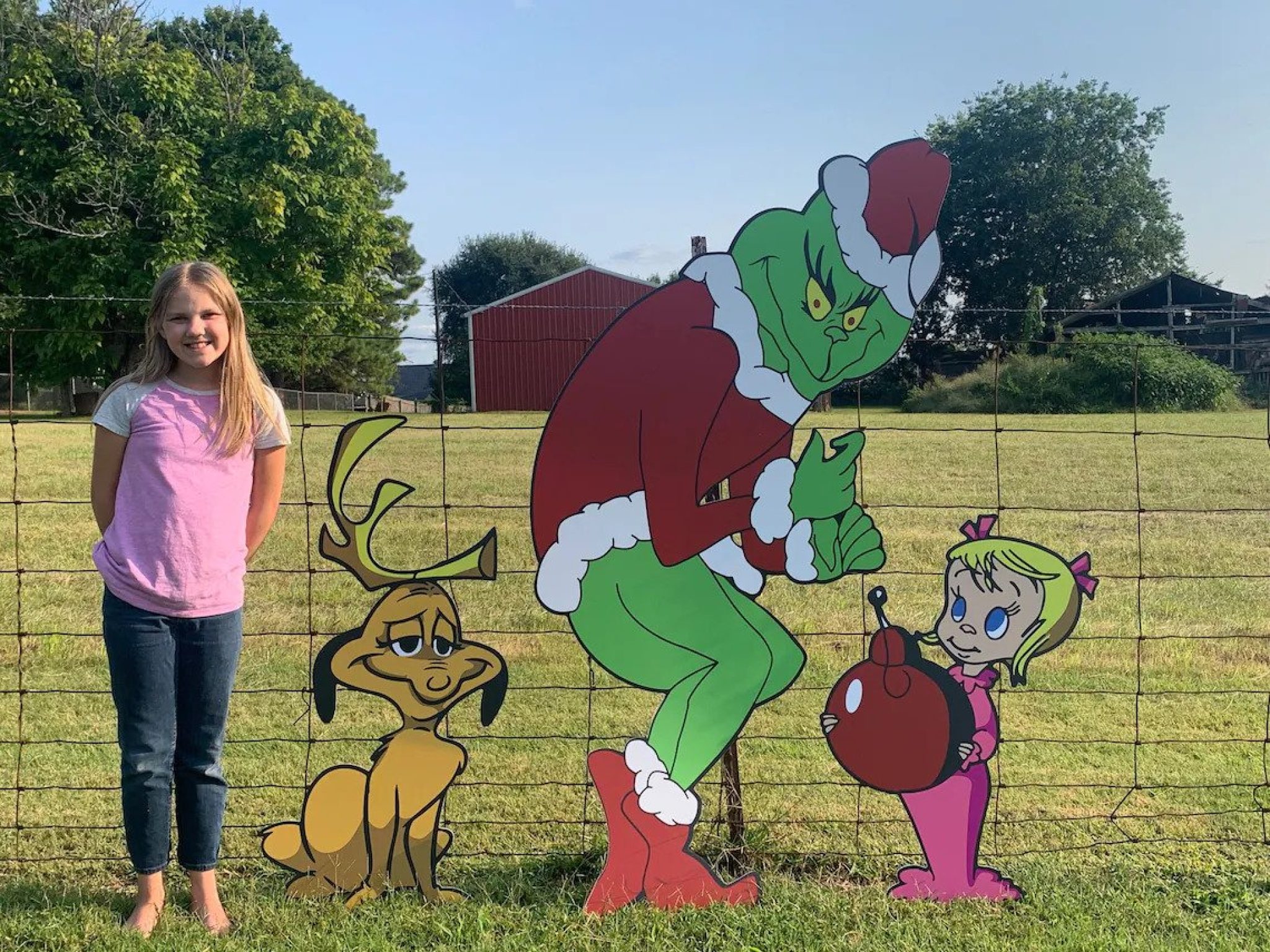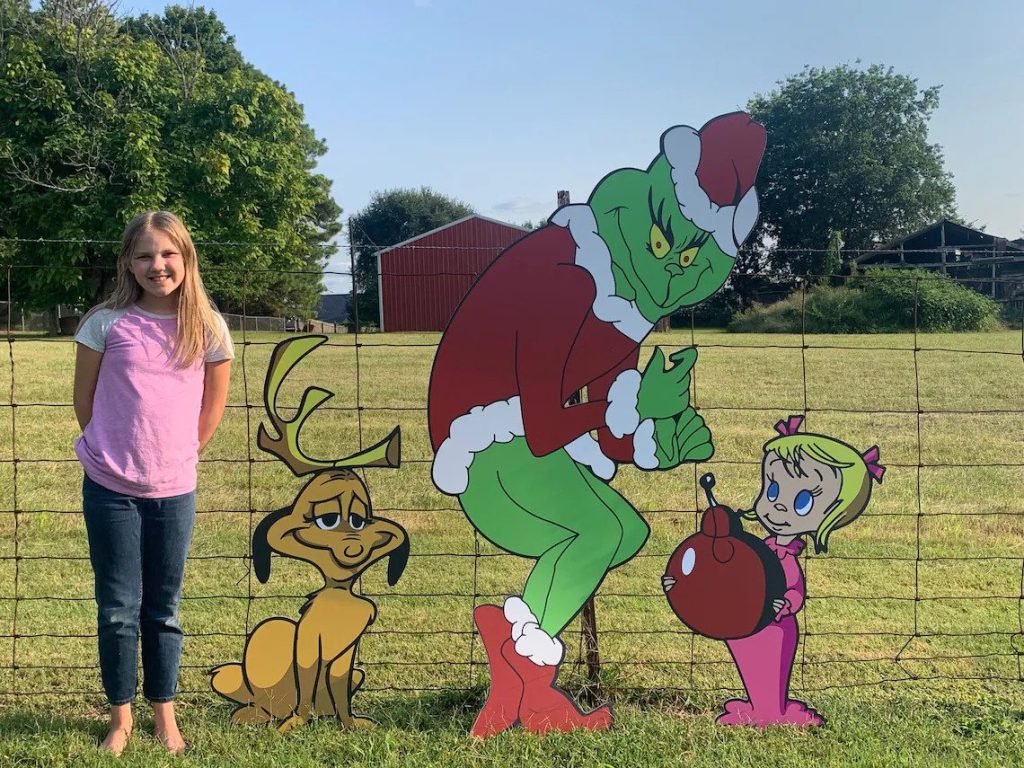 ---
"Santa's Favorite Ho" Funny Christmas Wine Bottle Light
Do you know who gets the best Christmas gifts? Santa's favorite ho, of course! This hilarious bottle has fairy lights inside and it's easy to turn them on or off. It looks good in any room of the house and adds a nice warm glow.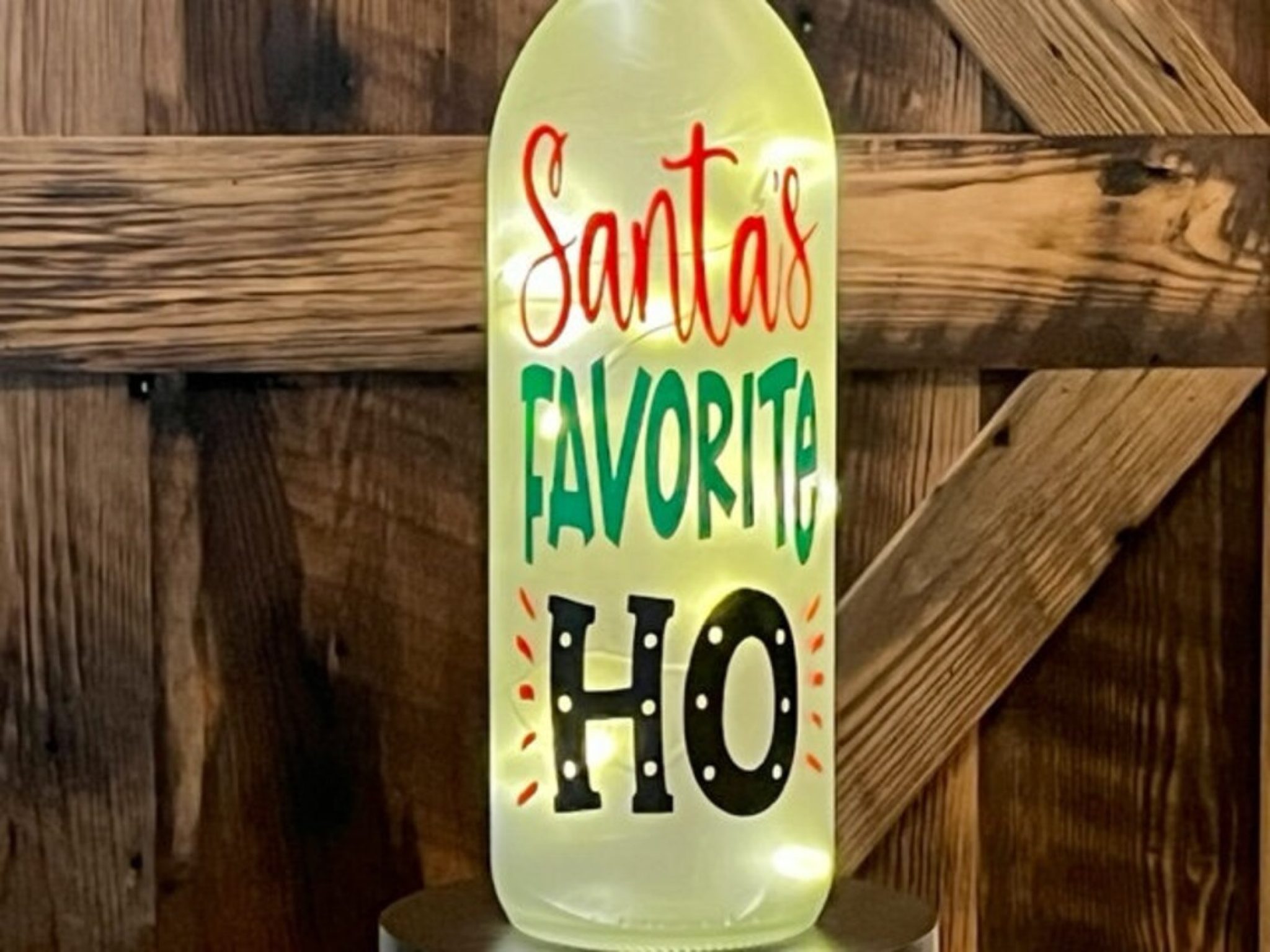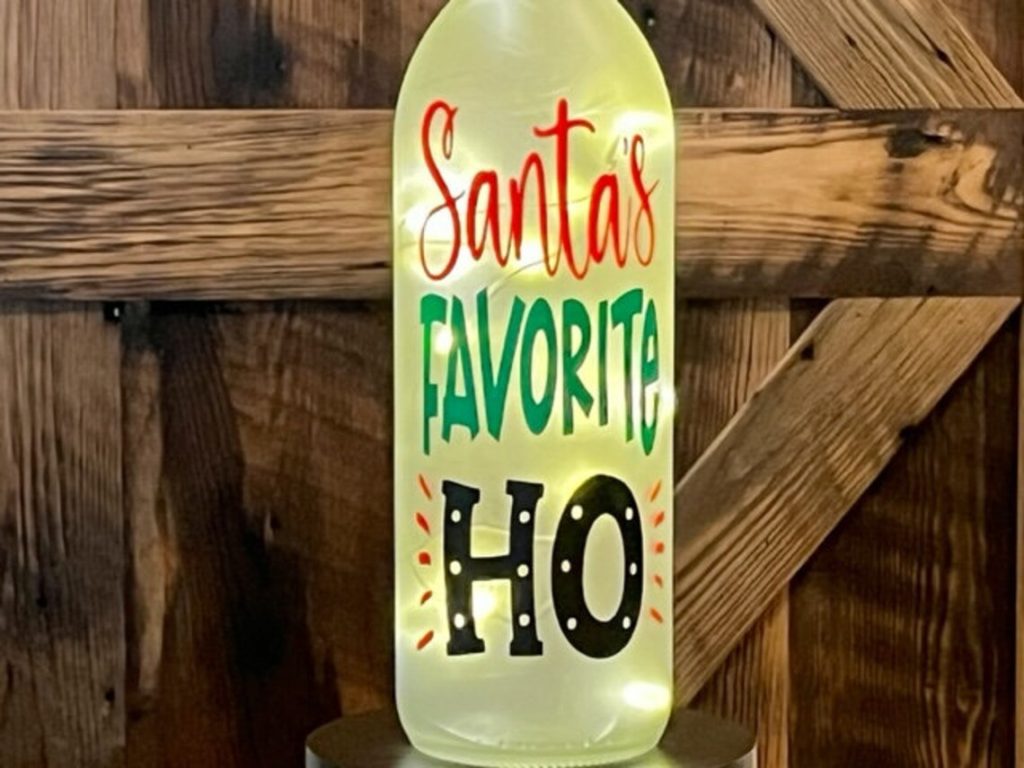 ---
Christmas Tree Grinch Arm Ornament
Everyone knows the Grinch despises Christmas, so that is why he is stealing your ornaments. This bendable and adjustable Grinch arm is hilarious and it's one of my favorite funny Christmas decorations. They also have Grinch legs and head if you would rather have his whole body climbing into your tree.
---
Santa Riding a Dinosaur Yard Christmas Decor
Once again, here is proof that Santa rode a dinosaur a long time ago. This 6-foot inflatable Christmas yard decor will bring a smile to your neighbor's face. But don't worry because it is made of high-quality material to withstand the weather and obnoxious teens.
---
"There's Some Ho Ho Ho's in This House" Funny Doormat
Santa is looking good this year and I think it's because he started pole dancing with Prancer. This funny doormat is designed to be used indoors or outdoors and it has a non-slip rubber back to prevent you from falling while doing your ho stuff.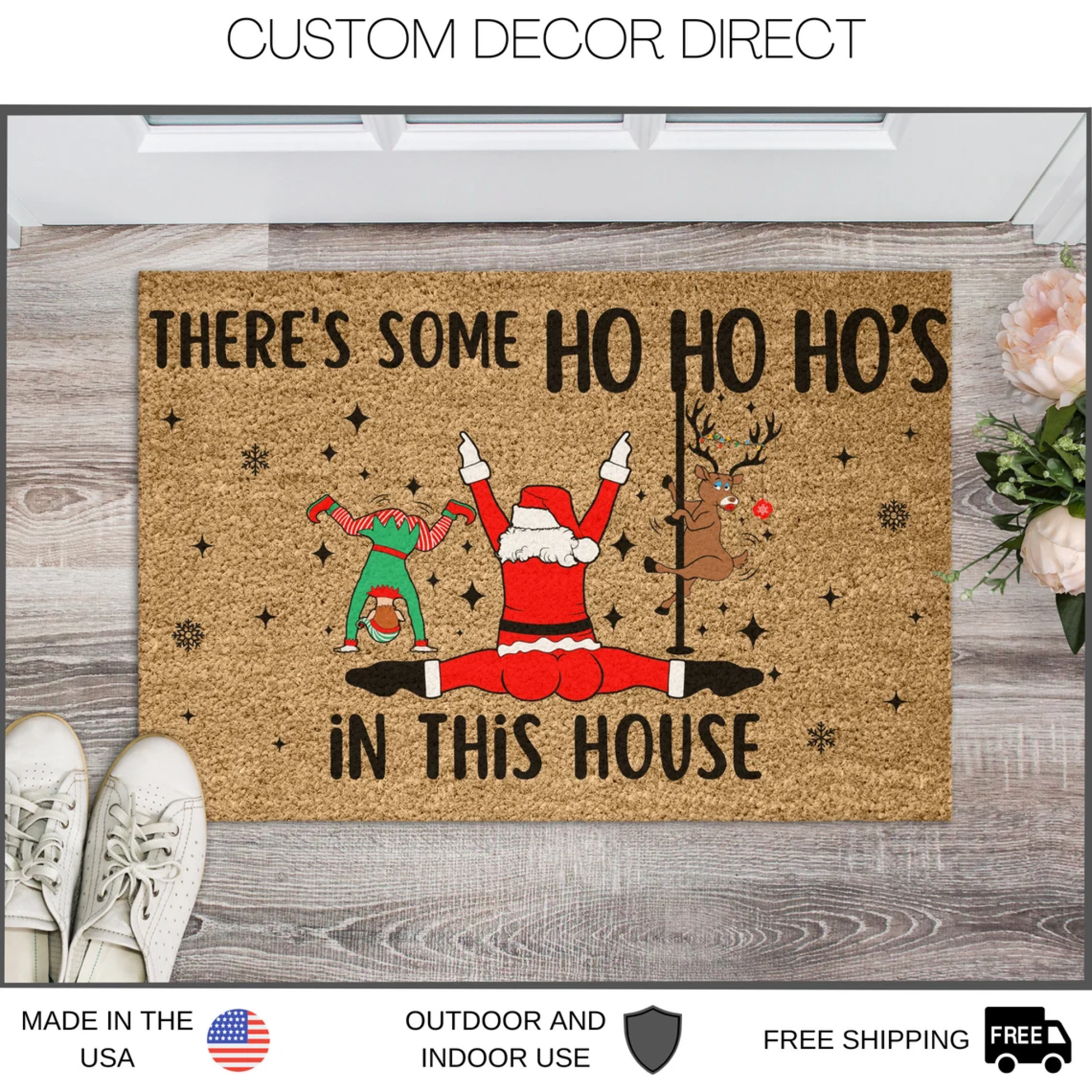 ---
"I Saw That" Santa Home Décor Door Topper
Keep your family in line with this Santa door topper. If the kids are reminded daily that Santa is watching them, they are more likely to behave.  I'm thinking of leaving it up all year. It comes in many sizes and you can get it for the left or right side.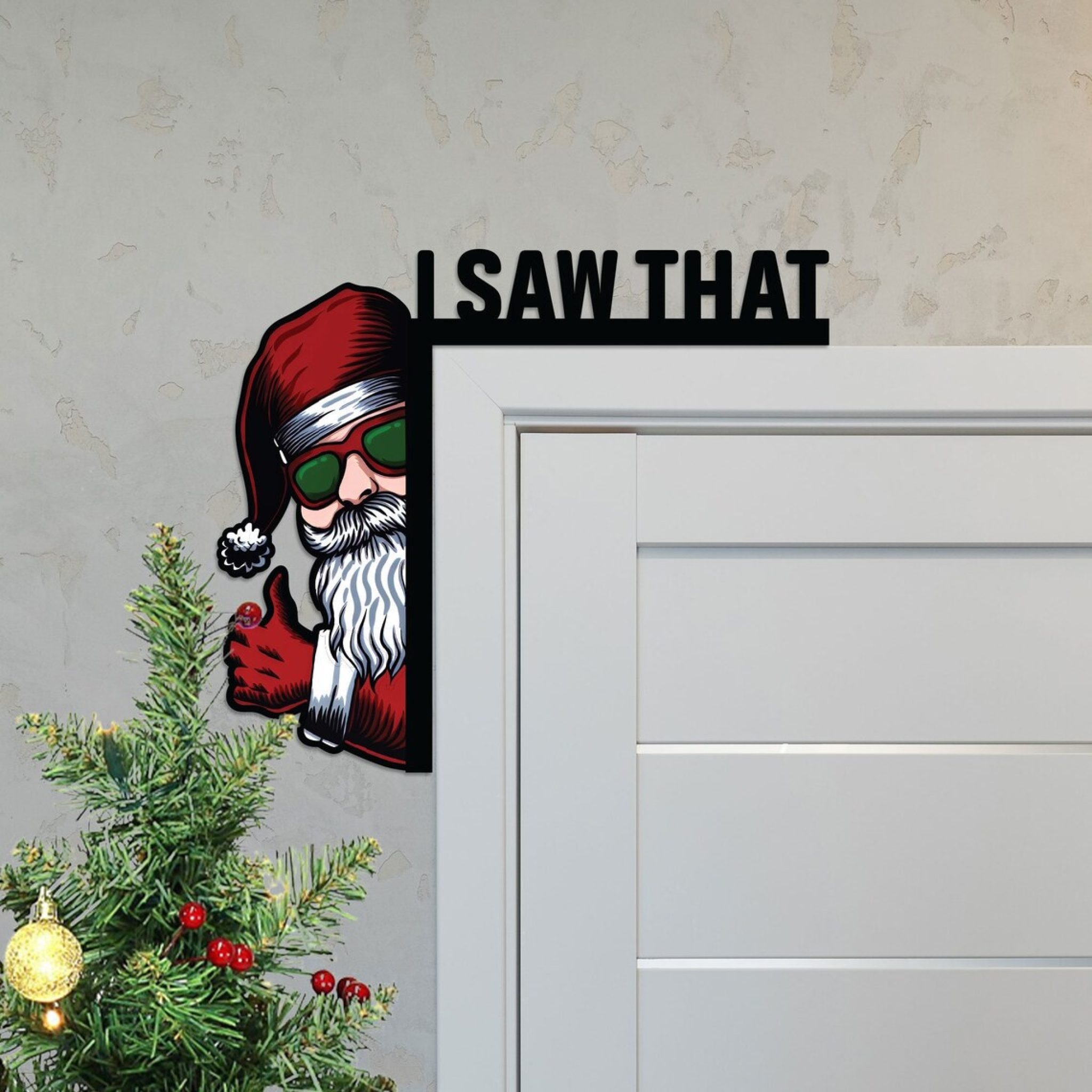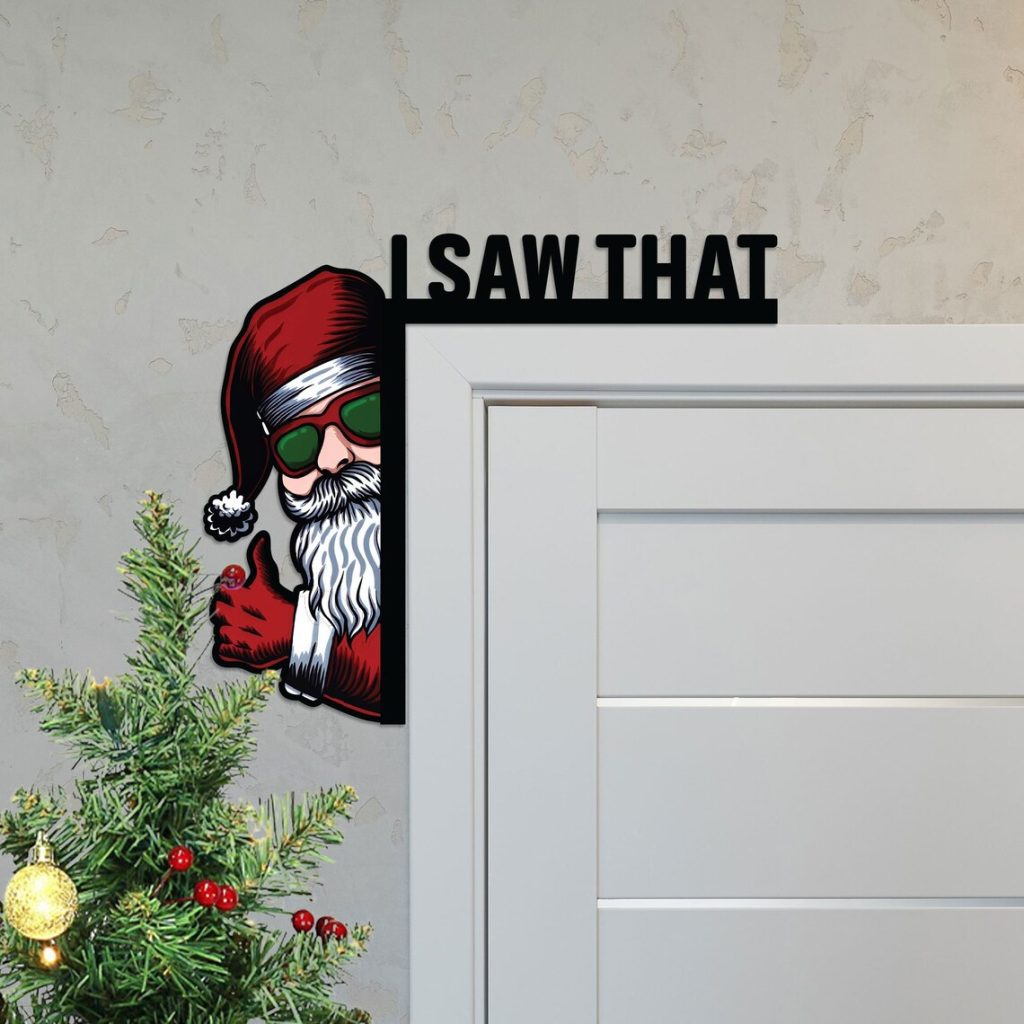 ---
Naughty Snowmen
Christmas with your family has never been so fun.  Put these naughty snowmen soap in the bathroom and wait to see how long it takes Grandma to yell at you. Pick between rose or peppermint scented, and you get to pick the size you like because size does matter in this situation.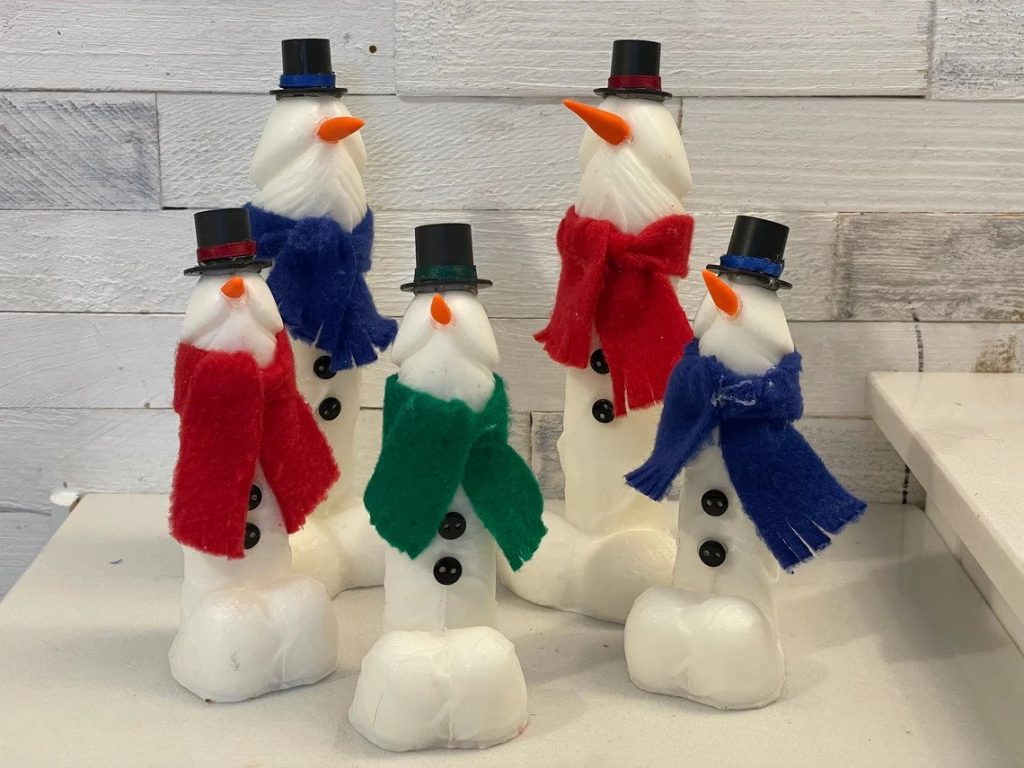 ---
Giant Fluffy Outdoor Christmas Bear Decor
Our neighbors have this, and it cracks me up every time I pass it because it is huge. At 7 feet tall, it makes a statement, and that statement is, "I am a freak for Christmas". It is made of a magical furry material that can withstand the rain and sun and still maintain its furriness.
---
Hanging Santa Decor
Santa is getting older these days, so climbing on the roof isn't as easy as it used to be. At 4 feet tall, this Santa can be hung indoors or outdoors to make it look like he is hanging on for dear life.
---
Why Should You Use Funny Christmas Decorations?
Let me give you a few reasons why it's absolutely essential to display funny Christmas decorations. First and foremost, let's talk about the entertainment factor. Sure, regular Christmas decorations look nice, but do they make your friends and neighbors stop in their tracks and burst out in laughter? I didn't think so. There's nothing quite like seeing your neighbor's face light up as they drive by your house and see your Santa Claus riding a dinosaur or Rudolph stuck in your window. It's guaranteed to bring joy and laughter to all who see it.
Next, let's consider the stress-relieving effects of funny Christmas decorations. Let's face it, the holiday season can be a bit overwhelming with all the shopping, cooking, and family gatherings. But, when you come home after a long day and see a Christmas Vacation cat rug in your living room, all your worries will melt away. Suddenly, you'll forget about that annoying relative coming to visit and only focus on trying to find the next funny Christmas decorations to add to your collection.
Speaking of collections, funny Christmas decorations are a great way to show off your unique sense of humor and personality. Forget about those cookie-cutter, store-bought decorations. By displaying funny holiday decor, you're giving a glimpse into your quirky and creative mind. Your friends and family will appreciate your creativity and will remember your house as the one with all the funny decorations. You may even inspire others to join in on the fun and start their own collection.
Let's not forget about the holiday photos. Every year, families gather around the Christmas tree to take those classic, posed family photos. But why not spice things up a bit and add some funny decorations in the background? Imagine the memories you'll create and the laughter that will ensue when you look back on those photos years from now. Plus, your Instagram feed will thank you.
Last but not least, funny Christmas decorations are a great conversation starter. When friends and family come over for a holiday party, there's always that awkward lull in the conversation. But with a Ho Ho Ho light, that awkwardness is sure to disappear. People will be asking questions, taking photos, and bonding over their shared love for funny holiday decor.
In conclusion, forget about all those fancy, expensive decorations. Funny Christmas decorations are the way to go. They bring joy, laughter, and a sense of individuality to your home during the holiday season. So, go ahead and let your inner child come out to play this Christmas. After all, nothing says "Happy Holidays" quite like a giant inflatable Santa riding a dinosaur.
Be sure to follow us on Facebook for undates on unique gifts for the whole family!