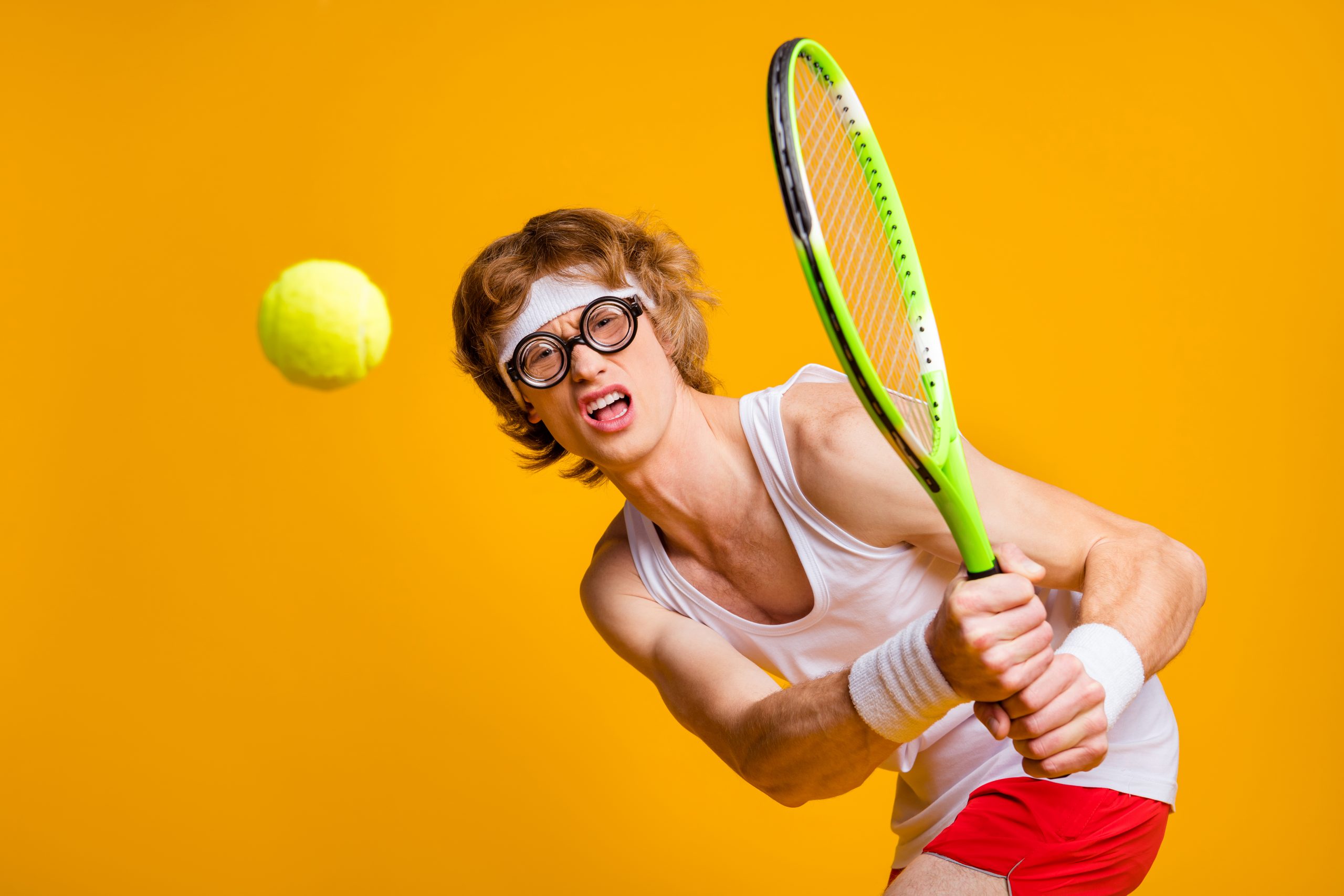 Tennis: the internationally adored game that requires stamina, agility, laser-like focus, and a series of grunts. Frankly, we get exhausted just thinking about it. We get even more exhausted trying to find appropriate gifts for tennis players. We have very frail physiques, obviously.
But you don't have to thumb through endless catalogs of the best gifts for a tennis player to find one that will win the Tournament of Friendship. We've amassed some of the most novel, unique gifts for tennis fans in one article. There are so many great gifts in this piece, you could swing a racket at this article and a good one will fall right out.
Whether your friend is a serious tennis player, a tennis hobbyist, or someone who just likes to move their head from left to right and back again in a mostly quiet arena, we're sure they'll love these items because they're all ace tennis gifts. So we're going to serve you this list and let you get to it. Here are the best gifts for tennis players you will find…
---
---
Tennis Gifts for Décor
The racket is a tennis player's weapon of choice. They can't just hit the ball with their hands. A baseball bat would, likewise, be insufficient. So would a chainsaw, which would also be dangerous. Why would you even think of bringing a chainsaw to a tennis court? No, there's no way around it: If you want to play tennis, you'll need a racket. Several artisans have been inspired to fashion the wares they sell into the shape of a tennis racket. Here are some of the tennis gifts for décor they have come up with.
Vintage Tennis Racket Mirror for the Wall (prices vary by style)
An inspired Etsy seller has taken vintage tennis rackets and replaced the racket strings with reflective glass, effectively turning them into handheld mirrors with extremely long handles. It's a beautiful tennis gift, but we're struggling a little with the logistics. The handle's really long, so to get a good look at your face, you'll probably have to grip the handle close to the base of the mirror unless you're somebody with extremely long arms that dangle close to the ground. We're overthinking this, aren't we? Oh wait… I get it…. You hang it on the wall. It looks super cool and it is truly unique.
Vintage Tennis Racket Lamp
Another Etsy dweller has had the idea to turn vintage tennis rackets into a vehicle for LED string lights and it might be the coolest lamp ever. This stunning desk-ready item is a racket positioned upright, with racket strings dappled all over with helplessly cute bead-like lamps. It's like gazing into a sparkly constellation against the sky-like expanse of your wall, or a tool someone's just used to kill a bunch of fireflies.
Tennis Themed Wine Charms & Bottle Stopper (under $30)
Hold on a sec, we have to look up what exactly a "wine charm" is… Oh, okay. That makes sense. It's something you attach to a wine glass to mark it as your own, so it won't get accidentally picked up by somebody else. Now that we think about it, that could be useful. This box contains six tennis-themed, extraordinarily practical wine charms. It also has a tennis-fashioned wine bottle stopper that, stay with us here, stops wine bottles.
Tennis Patent Art (price varies by style)
Tennis, like everything else in industrialized society, had to be invented before anybody played it. After they invented tennis, they then had to invent the specific tools to be used in tennis play. When they did, they had to submit diagrams of these tools to the U.S. Patent Office. This set of art gifts replicates those blueprints into fashionable, smart wall decorations.
Wimbledon Periodic Table Tennis Art (price varies by size)
Wimbledon is the oldest championship tournament in tennis history, played every summer in England on courts made of seriously mowed grass. The periodic table of elements is the oldest periodic table in element history, arranging all the materials in the world in order of their nuclear proton content. It was only a matter of time before someone combined the two. This poster presents the entire rosters of Wimbledon Gentlemen's or Ladies' singles champions in a periodic table format, color-coded according to their country of origin. A neat gift for gaining the affection of your tennis-loving friend or confusing your chemistry lab partner.
---
---
Unique Personalized Tennis Gifts
If you are looking for gifts for tennis players who have everything, then get them something that is monogrammed or is personalized to them. It adds a touch of class and helps them remember their own name after they played a hard match.
Personalized Tennis Towel (under $20)
Step off the court and into luxury with one of these customized towels, bearing your name and stitched replicas of tennis rackets and a ball. They're available in your choice of base colors and thread colors. We're not sure if John McEnroe fans can order a picture of a smashed-up racket, but they darn well should.
Personalized Tennis Balls (under $30)
Tennis balls are no-brainer gifts for racket enthusiasts. Even better are these custom-made balls bearing the name of the recipient in big, bold letters. We'd also like to suggest ordering tennis balls with the name of your favorite tennis player's worst enemy so they can pursue psychological vengeance by whacking balls with that name into oblivion. An empty gesture? Perhaps. But it's easier than lawsuits or tire-slashing.
Personalized Caricature (under $60)
If you are looking for unique personalized tennis gifts that you know they don't already own, then this is a sure bet. You send in a picture of the recipient and they are drawn as a caricature on a tennis court. You can also get one for golf, soccer, dentistry, teachers, or any other sport or job, but we are focused on tennis gifts right now.
Letter Name Art Tennis Print (price varies by size)
One of the best gifts for tennis fans that need ongoing validation of their identities, this hangable wall art features pictures of tennis-related items arranged to resemble English alphabet letters. Just enter the name you want personalized, and within a reasonable time frame, you'll receive a print with letters spelling out that name, creatively using balls, nets, and other items to make up the letters. Every time your tennis-loving friend looks at this picture, they'll remember what people call them.
Personalized Tennis Sign (under $45)
This customized sign is made of steel and available in many colors to match any décor. It is sturdy and not like those other aluminum signs that can easily break. This thing will stand the test of time. I'm sure most people just have their name put on it, but I kind of want mine to say "US Open Champion".
Custom Bobble-Head
Out of all of the gifts for tennis players, this one is the wackiest. You can get a custom bobblehead that looks just like you. You send in several pictures and they make you a little mini-me. You can customize the color of the clothes and add a logo and you can add glasses if you want.
Tennis Gifts to Enjoy Off the Court
Humans can't live on tennis alone. At some point, even the most devoted and persistent tennis player must retire to private quarters and enjoy some of the other things life has to offer, like books, pictures, badminton, or the periodic table of elements. This section features gifts for tennis players to enjoy when they're not playing, or for tennis fans who just want to look like tennis players when they're not playing.
Tennis Ball Bath Bombs (under $20)
Bath bombs are all the rage. Simply insert yourself into a bathtub, toss one of these babies in the water, and it's like lazing in a vat of scented Alka-Seltzer. Inspired makers of bath gifts have put two and two together and made bath bombs that look like tennis balls. They are scented, but we're not sure what they smell like. We'd like to think they smell like hard work.
It's Not My Fault (under $20)
Tennis athletes are conditioned for success, so when they mess up on the court, they need to find plausible excuses for their failures. This book by Josh Shifrin contains 150 such self-defenses, some of them actually uttered by tennis pros who theoretically know better. Included are such gems as "The sun was in my eyes," "I was distracted by my opponent's grunting," and "Technically, I'm dead."
U.S. Open: 50 Years of Championship Tennis (under $50)
The U.S. Open is the Super Bowl of tennis. It's the final rose on The Bachelorette of tennis. It's the last bingo game of the night where the prize is a new microwave oven — of tennis. This book by Rick Rennert commemorated the 50th anniversary of the U.S. Open in 2018. It's full of stunning pictures, biographies of winners, and intimate details befitting a tournament that is, we must say, the Price is Right Showcase Showdown of tennis.
Autographed Memorabilia
These autographed gifts are perfect for diehard fans of the tennis game. From what we can tell, you get your choice of photographs or tennis balls. Snag a picture signed by Roger Federer or Serena Williams. Grab a tennis ball signed by Pete Sampras or Andre Agassi. Our favorite is a picture of Rafael Nadal sitting on a bench, looking curiously dejected or irritated, with his signature authenticating the whole mood. If you've ever wondered what it would feel like to spend $200 on a single tennis ball, boy do we have good news for you. But great news, it's an investment!
Boulder Portable Tennis Net Set (under $70)
This adjustable recreation set is actually three gifts in one. Leave the net in its lowest position and you can play tennis on any flat surface. Raise it to its highest point, and you have a fully functional badminton or beach volleyball net. There's a middle position as well, but we can't figure out exactly what sport it's supposed to be for. Probably for badminton players who are afraid of commitment.
Gluten-Free Tennis Ball Macaroons (under $45)
If you can't get to the court, kick back and eat some tennis balls. They are yummy and filled with buttercream and, somehow, they are gluten-free. If you are bringing them to an event, you can specify the date so they arrive nice and fresh.
Tennis Ball Cake Pops (under $40)
There isn't anything better than a cake pop. They are like tiny cakes with frosting in each bite and they are small so you don't have to count the calories. You don't even have to like tennis to eat these delicious nuggets of heaven.
---
---
Gifts for Tennis Players to Help Them Play Better
You can't just wake up one morning, decide to start playing tennis, then go out and win the French Open. You need to work at it. You need practice, training, and a few games with other people who at least look interested. These are the best gifts for a tennis player who wants to up their game.
Billie Jean King's Eye Coach
Billie Jean King is one of the all-time tennis legends. To help aspiring players develop their skills, she's put her name on a training tool consisting of a ball mounted onto a bendable stick. The idea is to whack this ball as you move around. Each time you do, the ball arcs right back to you, and you whack it again, repeatedly, over and over. You'll then develop better hand-eye coordination than a fast-breaker in a buffet line.
Gexco Tennis Ball Saver (under $20)
Nothing brings a tennis game down like using balls that don't bounce. It's not because the balls are depressed or unmotivated. It's because, after extended periods of being bludgeoned by mad people in skorts, they lose their inner air pressure. This device is like a hyperbaric chamber for tennis balls, preserving their youthful vigor by keeping them stored in an ideally pressurized environment — like a vampire's coffin, or an unopened soda can, or divorce court. I think every list that has gifts for tennis players includes this thing because it is so handy.
Tennis Ball Pick Up Tube (under $30)
After a long, strenuous game of tennis, the last thing you want to do is bend over repeatedly while you pick up your balls. This lightweight tube easily picks up 16 balls and the tube has an easy carrying strap. To release the balls into your bag, you simply unscrew the top.
TopspinPro Tennis Training Aid
Every tennis player who wants to be taken seriously must master the topspin. The importance of this technique cannot be overstated. It helps players hit the ball so it lands safely inside the bounds of the tennis court, rather than fly recklessly into the stands where it could topple someone's drink. We've been there. This machine helps players adjust their swings, so they execute a perfect topspin every time. Learn the topspin, save a soda.
Tennis Trainer Rebounder
When you don't have a friend to play tennis with, you find a wall to hit balls against. When you can't find a wall, you sit in a corner and cry because you don't have friends or a wall. But that ends now with this tennis trainer Rebounder. You fill it with sand or water (or anything heavy) and attach the balls to the included elastic string. When you hit the ball, it magically bounces back to you so you can swing repeatedly until you are exhausted. You will think Serena Williams just kicked your bum.
Rebounder Net
If the Rebounder Trainer isn't for you, then try this Rebounder Net. You hit the tennis ball towards the net, and the net flings it back at you for you to hit it again. It is great for backyards and can be left outside as a permanent fixture or drag it around wherever you want.
Swingball Pro Portable Tether Tennis Set (under $80)
Technically, this isn't a tennis gift. It's a swingball gift. We really should have saved this for our article on swingball gifts. But we let this gift through because it includes a tennis ball, and sometimes you just take whatever action you can get, plus, it allows you to practice your swing when you just can't get to the court. Swingball looks like a variant on schoolyard tetherball, except you use tennis-ish rackets to slam the ball around a pole until your opponent submits. This kit has everything you need to get started on your lifelong journey to swingball superstardom and you will improve your tennis swing along the way.
Spinshot-Player Tennis Ball Machine
This machine, the most rugged of tennis gifts, spits out tennis balls. You can use an app to program exactly how they get spit out — how high, how often, how fast, and in what direction. But one thing's for sure: Every tennis ball that falls into the barrel of this meek-looking cannon will get spat without remorse. It's the best gift for a tennis player who loves to practice, or for those who get their kicks watching tennis balls get spat out of a box. There are more of us than you think.
Hit Zone JR Tennis Air Tee for Kids
This device has a more congenial attitude toward tennis balls and doesn't spit them out. Rather, it levitates them. It uses a gentle, upward airflow to lovingly cradle tennis balls (more accurately, tennis-like balls, which are included) in a pocket of wind, where they lay in wait to get whacked with a racket. The Hit Zone Jr. is designed for kids who want to learn tennis, but that shouldn't stop adult fans of tennis balls being gently suspended through aerodynamics. Again, there's more of us than you think.
The Total Serve Tennis ServeMaster Serve Tool (under $60)
This device — for which we have also come up with several alternate, kind of inappropriate non-tennis uses — consists of a handgrip, bound by a flexible rope to three molded ball-shaped units. We know you're titillated by that description, but before you get the wrong idea, this tool is to help build muscle memory for tennis serves. Properly used, this device helps you know exactly what it's like to serve a tennis ball, without your having to rent out a tennis court or hire a sitter.
Bushnell Velocity Speed Gun
The makers of fine gifts at Bushnell bring you a gun-shaped device that registers the velocity of any tennis ball that passes in front of it. It can measure speeds from a paltry 10 feet per hour to a head-ripping 110 miles per hour. Just aim, shoot, and record the speed in a notebook or something. Finally, an ingenious product that combines the thrill of tennis with highway patrol speed traps.
BIG LEAGUE EDGE Velopro Tennis Training Harness
No exercise gifts target specific muscle sets, improve motion range, or torment the horizontally inclined like resistance bands. This tennis-centric harness hooks around the foot and waist, spanning the leg of your choice with elastic bands. This is the best gift for a tennis player who needs to develop the lower leg movement and weight transfer that are so vital in tennis. It's also a conversation piece that might make your next blind date a bit more interesting, though still doomed.
SkorKeep Score Keeper and Vibration Dampener (under $10)
Never forget the score of a game with only five possible points with this snap-on tennis scorer. Attach this plastic box with two dials to the bottom string of your tennis racket and start playing. Every time you or your opponent scores, you turn the dial to the appropriate point. Should this simple tallying system seem unworthy of shelling out bucks for, we remind you that (a) it's cheap, (b) it also keeps track of set victories, and (c) it also reduces string vibrations, which we're led to believe can negatively impact a game.
Tennis Ball Dryer (under $30)
This cool thing was voted top tennis gadget of the year by Ace Tennis Magazine. We just like it because of the name. It makes us giggle… we know, we are immature. It says it actually has 4 gadgets in one: it dries your balls, it keeps your drinks cold, it measures the net, and it has an easy carry strap. We're not sure why they say the carry strap is a gadget, but because they made us laugh, they can keep claiming it.
---
---
Tennis Bags
There are so many tennis bags to choose from so it can be overwhelming to find the perfect one. These tennis bags are great gifts for tennis players because they each have qualities that tennis players are looking for. They hold their rackets and gear and they are stylish… you can't beat that!
Tennis Backpack (under $100)
There are many different tennis bags out there; from the professional bags that hold 12 tennis rackets and nothing else to the small bag for the amateur tennis player who doesn't need any gear. This bag is the perfect go-between because it holds 2 rackets comfortably (3 if you had to) and it has pockets for everything; shoes, balls, towels, tape, phone, clothes, toiletries, and so much more. It holds twice as much as other bags so you will never go back to the others after trying this out.
Backpack for Women (under $100)
This stylish tennis backpack doesn't scream, "I'm a tennis player!" It looks like a regular stylish backpack except it will probably have two tennis racket handles poking out of the top. It comes in 3 really pretty colors and it has a laptop sleeve so it is great for using between work and tennis.
Court Couture Casanova Tennis Bag
This Court Couture Casanova Tennis Bag is for the girly girl. The woman who seems to never sweat but has a backhand that can rival Simona Halep. This elegant bag looks great on the court or out to dinner and cocktails afterward. No need to lose your style when you are toting this around. If you prefer white, check it out HERE.
---
---
Jewelry Gifts for Tennis Players
Jewelry can sometimes be a boring gift, these items are unique and more exciting than some boring teardrop earrings that everyone has. Show your love for tennis by wearing it on your body.
Tennis Necklace (under $20)
You've heard of tennis bracelets. Technically, they have very little to do with tennis. This tennis necklace, on the other hand, has everything to do with tennis. It's a sterling steel chain with a beautiful pendant shaped like a tennis racket, which in turn suspends a dainty tennis ball, a personalized charm, possibly a gemstone from its "strings." It's freaking adorable, that's what it is, and it pairs well with our tennis boxers and our tennis garter belts.
Tennis Racket Pearl Earrings (under $30)
Yet another spin on the apparently popular phenomenon of tennis racket-related gifts, these handmade earrings encase solid pearls inside the strings of tiny tennis rackets. They're made from sterling silver and freshwater pearls. You wear them as you would regular earrings. Conceivably, you can play tennis using these earrings as well, but you probably won't get a good topspin from them.
Tennis Cufflinks (under $50)
If you have to dress up in a suit, you might as well sport your passion on your sleeves. These silver tennis rackets and balls look classy and unique.
For more unique gifts for tennis players, check out our section on Gifts for Sports and Outdoors. Or for other unique gift ideas, check out our Gifts for Men or our Gifts for Women.
Be sure to follow us on Facebook for daily updates of unique gifts for your whole family.