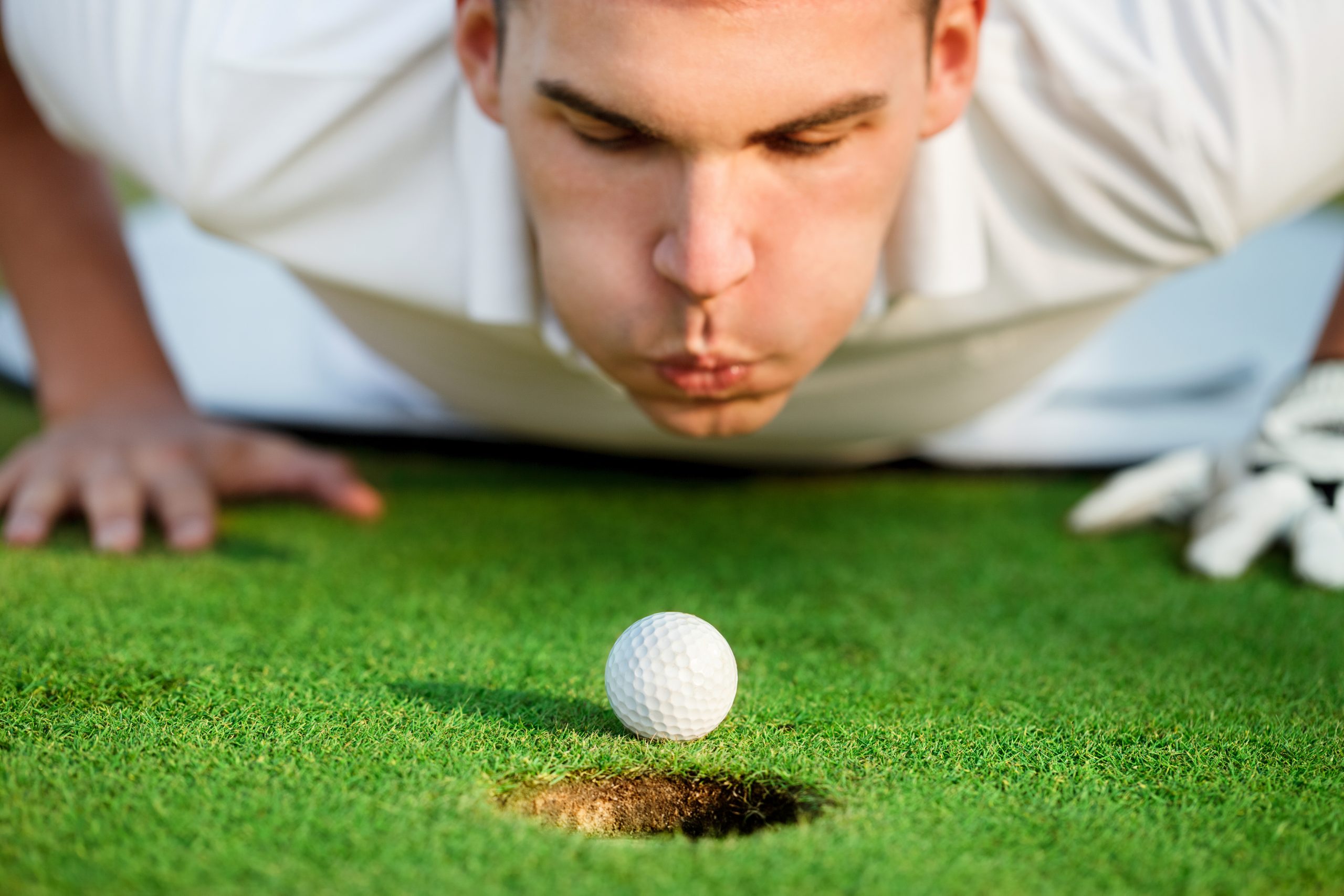 Golf. They call it the "sport of kings."
Actually, that's not right. That's what they call horse-racing. But we feel golf should be called the "sport of kings," because it's one game a king could conceivably play. Have you ever seen a monarch on a racehorse? No, you haven't, not since Louis XIV at least. But have you seen a head of state on a golf course? Yes, several times. Especially American ones.
Golf is an international pastime that, unlike more physical sports that demand large reserves of agility and muscular strength, almost anyone interested can play. And it's a sport that it's easy to get obsessed with. Like cross-fit, spinning classes, and watching Tiger King, golf is an activity it's almost impossible to not talk about to other people who are clearly disinterested in the topic.
How do you buy the best gifts for golfers who live, breathe, exhale, and perspire the game with every fiber and reserve of their being? Read this article for the best gifts for golfers who have everything — from the casual fan to the pathologically tormented player.
Related: Gifts for Men in Their 50s
---
Golf Gifts and Gadgets That Improve Your Game
Some golfers are relentlessly perfectionist about their game. They practice incessantly. They work on their swing. They wake up screaming from nightmares about missing a 3-foot putt on a level plane. Even if they're superstars in life outside the fairway, there's something hopelessly adrift in their lives if they can't get better on the links. Although it might be more appropriate to seek more professional, institutionalized help, these golf gifts and gadgets may help them on their quest for golf superiority, or they may aggravate them further. In any case, here are the best gifts for golfers who have everything who want to improve their game.
SKLZ Gold Flex Golf Swing Trainer Warm-Up Stick (under $70)
Golf clubs are unforgiving devices. They're not your friends. They're inflexible tools that both demand and mock your attempts at mastery over them. If you haven't developed the physical acumen to bend golf clubs to your will, you may as well just be a groundskeeper. This bag-legal golf swing warm-up stick helps your muscles congeal into a virtual swinging machine, helping you to build strength, maintain tempo, maximize your flexibility, and make that 9-iron call you its daddy. (Or mommy, whichever's more appropriate.) And who wouldn't want a golf gift that calls you daddy?
Flightscope Personal 3D Swing Analyzer
The golf swing is one of the most beautiful physical motions the human body can perform, right up there with the Macarena, lawn bowling, and tossing a TV out of a sixth story window. But like those activities, a golf swing must be honed and crafted, improved with constant trial and error. This Flightscope Swing Analyzer measures every individual part of your golf swing: carry distance, club head speed, ball speed, smash factor, vertical launch angle, spin, apex height, and flight time. It stores the videos of your swings so you can compare them later, without the hassle of groveling to your caddy for approval.
SelfieGOLF Record Golf Swing Cell Phone Holder (under $30)
You've just followed through on the greatest golf swing ever executed. It had form, it had force, it had panache, it made you look great in plaid shorts. But how will others understand just how monumental this swing was? By your bragging about it? Come on. We're no suckers. What you need is instant, visual proof of your golf swing, captured by a cell phone. This cell phone holder, strategically placed near the tee, will help you mark every classic swing you create as you launch your ball into a sand trap.
Cordless Electronic Return Putting Mat (under $70)
When you're practicing your golf swing, you usually must do so outdoors, in a large, empty room, or among people who either like or tolerate the risk of being smacked by a club. But you can practice putting anywhere: the living room, the bedroom, the office, dog kennels, supermarket aisles — any place with a flat surface. This putting mat makes practice easier, because instead of making you walk the four or five steps to retrieve the ball you've just putted, it spews it right back out at you, like a vile substance its body has rejected. This golf gift is fun for hours!
PuttOut Putting Mirror Trainer and Alignment Gate (under $75)
Putting is an exact science. A putt must travel in a true, dedicated direction, correctly guided and properly squared, or else it won't go into that tiny little hole that helpfully collects golf balls at the end of a range. This device uses mirrors, guide bars, magnets, and a construction that looks a bit like a little, slightly depressed Arc de Triomphe to help golfers refine their putting motion through repeated drills. Use this get-up to turn from a wobbly, flaccid dribbler into a hard, toned, ruthless putting machine.
SUNHOO Pop-up Golf Chipping Net
Chip shots are some of the biggest challenges a golfer can face during a game, along with choosing the right clubs and not spilling the sunscreen (or your beer). They're important to practice like anything else, and this net-like contraption lets golfers perfect their chip shots anytime, anywhere. Simply put this net up on a soft piece of ground, grab your favorite wedge, and propel your chip shots repeatedly until they hit the desired target. Comes with special balls that take repeated punishment without sniveling. It also comes with fairway turf and rough turf to help you improve your golf game in any condition.
Abco Tech Indoor Golf Putting Green (under $65)
This isn't just another indoor putting practice green that instantly improves the appearance and stylishness of your TV room. It's quite long, for one thing. It's got two tracks: one with a chalk-like mark for those who need the extra guidance, and one that's plain for those with more confidence. It looks and feels like real putting green turf. It also returns each ball you hit back to you via a gravity-friendly groove, sort of like a deconstructed pool table, so you can improve your golf game at home, the office, in the yard, or in the garange.
SUNHOO 3-in-1 Golf Hitting Mat (under $45)
Okay, look. We're not saying this golf-related gift won't help golfers; undoubtedly it will. We're not saying this piece of material, built to resemble three distinctive styles of surfaces, isn't worth its very reasonable price. We're not saying it won't keep golfers from wrecking their backyard lawns or carpet with constant hitting. It's a fine invention. We're just saying, at its very heart, it's a glorified floormat with three different surfaces on it. We could have made this thing up in a couple of hours, tops. And, again, we're just more ticked off we didn't think it up first because it's genius. This golf gift allows you to practice golf on rough, fairway, and short grass.
Optishot Complete Golf Simulator System
If you have sufficient room in your living quarters, this full-screen golf projection system will help you enjoy all the competitive thrills of golf without ever leaving the home. It features a full-size screen, an Epson projector, a patch of artificial green, and a healthy supply of protective net. Take a swing with your usual club and drive the ball toward the screen, and the projector simulates the action as the ball sails down a virtual fairway and onto the putting green. Sure, you may miss the smell of fresh-cut grass, but that's what air fresheners are for.
Play a Round With a Golf Pro
There's a difference between learning golf with a dog-eared copy of Golf for Dummies and learning from a longtime professional who actually cashed some checks thanks to the game. Cloud 9 Living offers you several opportunities to play rounds of golf with PGA tournament veterans. Their complete experience packages take you to golf courses in exotic locales like Yonkers, Sacramento, and more, where a well-compensated golf pro lets you watch every move they make and tolerates your most inane questions.
Bill Kroen's Golf Tip-A-Day 2021 Calendar (under $20)
Bill Kroen is a golf pro. Usually, aspiring golfers must make an exhausting, depleting pilgrimage to a remote, snow-swept location, just to get a single pearl, a mere fragment, from Bill Kroen's endless wellspring of golf knowledge. They must sacrifice an untold number of their personal resources and expenses. Their bodies must suffer the blow of ceaseless travel. They must forgo all measures of comfort and solace. And for what? For this: to satisfy their excruciating search for one shard of wisdom to improve their golf game. Either that or they can just get this calendar with a new tip every day.
---
Unique Gifts for Golfers That Improve Their Experience
Some golfers are more casual about the game. They're not there to prove their might. They could shoot 12 over par and still call the game a success if they've closed an important business deal or drank enough to not care. They're not the ruthless, cutthroat golfers who secretly pine to be asked on the PGA Tour — they're more like the guys in Caddyshack, who see golf as a socially acceptable way to act out in public. These golf gifts help those far more amiable golfers enjoy a good, trouble-free day on the course with as much convenience as possible. So here are the best gifts for golfers who have everything but want a few more perks.
Garmin Approach S10 GPS Golf Watch
This wristwatch is one of the coolest golf gadgets and it is similar to all the other smartwatches that use GPS technology to monitor and guide your physical fitness regimen, except it's specifically geared for golfers. It comes fully preloaded with information on over 41,000 golf courses across the world, so your favorite local course is probably on it (unless it's a mini-golf course, you freak). It will track your current score, estimate your distance to all parts of the green, and help improve your game. You can even upload your last game results if you thrive off being publicly humiliated.
Golfer's Best Tool Golf Multitool (under $30)
This handheld, threatening-looking device does everything. Absolutely everything. There's nothing it doesn't do. It counts your golf strokes. It repairs divots. It tightens your cleats. It marks your balls. It cleans the grooves on your golf clubs. It brushes things. It opens bottles. It's a screwdriver. It's a marriage counselor. It's a deodorizer. It removes waxy yellow build-up around your refrigerator. It knows the Serenity Prayer in 26 different languages. It gets rid of unwanted facial hair. It does everything. When it's done doing everything, it does other things that centuries of human knowledge have yet been unable to classify. (Your results may vary.)
PEAKPULSE Golf Laser Rangefinder
Every hole on a golf course is different. It's got its own unique range, slope, curves, grades, planes, and distance. In days past pro golfers used to send their caddies out for days with nothing but water and breadcrumbs for in-depth measurements and hole analysis. This slightly more humane, view-finder type device users laser technology and magnification to get the lowdown on the hole you're at, helping you choose the right club and strategy, and allowing your caddy to do more important duties, like washing off the golf balls with their tongue. This golf gadget is a must have.
GPS Audible Golf Range Finder (under $90)
This GPS device makes it much easier to navigate the golf course, without the need for maps, guides, or underemployed psychics. Used in conjunction with a smartphone app, this golf range finder clips onto your shirt, eyeglasses, or visor for easy use. It will tell you how far your last golf swing went, how far your ball is to the putting green, and how close you are to the hole, and does so with a soothing voice that's always helpful but never patronizing. This makes one of the best gifts for golfers who have everything because it is new so it is doubtful that they have one.
Mr. Heater Golf Cart Heater (under $100)
Golfing is a cold business. And when we say that we don't mean it's merciless, unforgiving, and cruel. It is, of course, but that's not what we're specifically saying at the moment. We're saying it's literally cold. Anyone who's ever chased an errant golf ball across the frozen tundra of Pebble Beach will tell you a golf cart can get downright frigid. Here comes Mr. Heater to save the day, using liquid propane in a hand-holdable device to make sure your golf cart never gets down to those near-Arctic temperatures below 65 degrees.
Driver Drink Dispenser (under $60)
One of the wonderful things about golf is that you can do it while drinking up a storm. But it's not practical to carry a mini-bar in the back of your golf cart. You might hit a bump and spill your whole supply. This device solves that problem in a sneaky, almost diabolical way: It's a drink dispenser disguised as a golf club that fits neatly into your bag. Just fill the container with your favorite beverage enhancement and stick the dispenser in your bag. When you want a drink, you just depress the attached pump, and the "club" spits out your drink until your cup or hands runneth over. It makes a great golf gift for golfers who drink… and let's face it… they all drink.
Pain Relief Golf Gloves (under $50)
All that constant swinging, putting, and strangling your competitors on the golf course can be extremely hard on your hands. They wither from the pain and sap whatever enjoyment you might get. That's why these magical gloves are so handy, pun very much intended. They use "high-tech compression plus copper infusion" that brings relief to the pings, pangs, and discomfort caused by repetitive golf motions or arthritis. These one-size-fits-all gloves are like having your own personal team of miniature masseuses and masseurs tending to your extremities from within the suffocating confines of tightly-fitting gloves — i.e., sheer heaven.
Personalized Golf Ball Marker/Divot Tool (under $40)
Whenever a golf ball hits the putting green after its flight, it creates a little depression in the turf. We're advised that when this happens, it's extremely important for the golfer to "fix" the spot when they get to it. Not doing so can make it harder for grass to regrow, but more importantly, it could screw up your putt. That's why every serious golfer needs a divot tool to conduct on-the-spot repairs. Most golf courses offer cheap, plastic divot tools for free. But a committed golfer will have custom, more resilient divot tools with their name on them so they don't get mixed up with someone else's. That's what these are. So when it comes to gifts for golfers who have everything, chances are they don't have this because they are using some cheaply made piece of plastic.
"Kiss My Putt" Personalized Hip Flask (under $30)
Flasks are convenient, discreet vessels for toting hard liquor around in places where it's socially frowned upon to swig straight from the bottle — like the golf course. These leather drink flasks are ideal for altering your consciousness and drowning your miseries on the green. Each one is made with a personalized name etched into the surface, underneath a golf-centric design bearing the modest, quaint message "Kiss My Putt." Should the mystical power of that mantra elude you, you can probably order another custom message in its place.
Samsonite Expanding Golf Trunk Locker Organizer (under $50)
Long regarded for their unsurpassed excellence with luggage, the folks at Samsonite have developed an expandable "trunk" specially tailored to the diverse traveling needs of the golfer. It's got several different compartments and holding mechanisms, so golfers can keep track of their gloves, tees, shoes, socks, breath mints, liquor, cigars, and other miscellaneous golfing accessories. It's one of the best gifts for golfers who have everything but have run out of fanny pack room for all of it.
Golfers Delight Golf Gift Basket
This golf basket has so much stuff, it's almost irresponsible. Good grief, it's got all the following: golf balls, golf tees, golf tools, granola snacks, beef jerky, a bottle of scotch, and no less than four (4) items directly related to cigar smoking, including three Nicaraguan cigars. You can also customize certain items and get personalized glasses for the scotch. Best of all, with some minor alterations, this basket's appropriate for other, non-golfing types, like poker players, leatherworkers, or congressional interns. Why wrack your brain trying to decide which one of the best gifts for golfers who have everything you want to buy when you can just get them all?
Golf Bluetooth Speaker (under $100)
If you've seen pro golf on television, you may be led to believe that players need utmost silence to concentrate on their game at the driving tee or the putting green. We say such players are missing the intense atmosphere that a musical soundtrack, played through a sturdy Bluetooth speaker like this, can add to a game. Imagine sending a drive into orbit to the strains of AC/DC, escaping a sand trap with the gumption of Jason Aldean, or sinking a 20-foot putt to the calming sounds of Barbra Streisand. Silence is for chumps.
Personalized Golf Ball Case (under $55)
Nothing's more aggravating to the active golfer than a bag full of disorganized balls. You can't just grab a golf ball from a sack like a loose French fry from a drive-thru bag. Your golf balls must be kept in order. Coddled. Pampered, if you will. That's exactly what they'll be with this handsomely constructed case, which also has room for pencils and pads, and comes inscribed with your monogrammed initials so they don't get confused with another player's case, which could get nasty.
Monogram Silver Golf Ball Stamp (under $30)
Once you whack a golf ball down the fairway, it might as well be anybody's. Golf balls have this way of bounding into the ether, where they lose all sense of identity or belonging. Stave off that identity crisis with this personalized stamp, which you can use to permanently mark your golf ball as yours and yours alone. No more scuffles with your competitors as to which of the multiple balls mired in the bunker are yours.
Caddyswag Par 6 Pack Golf Bag Cooler (under $30)
This innocent-looking tote attaches to the side of your normal, every-day golf bag, looking like nothing more than an extra compartment for spare tees, sweatbands, scorecards, or misbehaving caddies. But unzip it, and you'll find six perfectly cooled cans of your favorite beverage, none the worse for wear. How do they do it? With a reusable freezer gel pack, innovative polyester construction, and a thirst that can't wait for a par-5 round to get over with. This is one of those golf gifts that every golfer needs.
Intech USA Golf Bag Cooler and Accessory Caddy (under $30)
This voluminous piece of luggage has attachments that will hold your golf tees and water bottles. It also comes with an inside compartment that has enough room to hold ten 12-ounce cans of your favorite beverage to help the active golfer "stay hydrated," according to their product description. Well, of course. Anybody who brings ten cans of beverage with them to the golf course obviously has the fear of dehydration uppermost in their mind, and nothing else.
Athletico Golf Shoe Bag (under $30)
Never let your favorite golf shoes wander away from your side with this convenient carrying bag, designed for golf shoes but perfectly acceptable for shoes from other walks of life, ha ha ha. This bag also has an innovative ventilation structure that prevents your shoes from being befouled by the odor of hard work. It also features a couple of carrying pouches on the side for items like golf tees, keys, or small pets with no sense of boundaries.
---
Gifts for Golfers Who Have Everything And That Improve Your Lifestyle
You don't have to actually play the game of golf to get a lot of enjoyment and personal satisfaction from it. You may simply enjoy the history and folklore of the sport. You may like the aesthetics and quietly driven nature of other golf players. You may even — and we understand that some people really do this — watch the game on television. Whether you're an obsessive golfer or just plain obsessed, these unique gifts for golfers and people who love them will bring certain aspects of the game to life wherever they may be.
Vintage Golf Gifts
This is one of the best gifts for golfers who have everything because we are pretty sure they don't have this. This winsomely original Etsy site features a bunch of novel, unique gifts for the golfer, many of them repurposed from discarded golf clubs. We're talking clocks, fruit bowls, bookends, and more items, all using the recycled ends of golf clubs who have gracefully faded away from the harsh klieg lights of fame and fortune, but still feel they have something valuable to contribute to society. Do not patronize these clubs. They don't want your pity. They don't deserve your ridicule. They just want to live. And sometimes, to keep living, you have to be a table lamp.
Vintage Golf Patent Poster Prints (under $20)
Incredible as it may seem, golf wasn't sent down from heaven by a God who needed to find a suitable use for all that vacant land in Augusta, Georgia. That's right: golf was invented by humans. These humans furthermore invented the tools and supplies intended for use in their game, and they had to submit designs for these tools to the US Patent Office if they wanted to be taken seriously. These poster prints recreate the diagrams and drawings used in these design papers, and they're suitable for hanging on your wall or sacrificial altar, whichever one's closest.
Golf Dartboard Game
What if you have the yen to golf, but it's raining? What if you need to get in a few rounds, but your favorite course is on fire? What if you want to play some holes, but you're trapped on a fishing boat? Problem solved in full with this dartboard, fashioned in admittedly abstract ways to resemble a two-dimensional, nine-hole golf course. This game is fun for all ages and takes care of your golf jones the same way we address employee disputes and family disagreements: by throwing pointy objects at a wall.
Block Mount Personalized Golf Name Art (under $80)
Most golfers can't get enough of their favorite game. They need to be surrounded by it 24 hours a day. They dream of golf. They talk of golf. They name their children after Tiger Woods, unless they're girls, in which case they name them after Jack Nicklaus. Legitimize your favorite golfer's obsession even more with these personalized pictures of letters made from various golfing pictures, so they can spell out their name in resplendent golf imagery.
Golf Ball Cuff Links (under $20)
Modern cuff link technology has made it possible to display your overbearing addiction to golf using the ends of your shirt sleeves. These hand-made cuff links are replicas of Titleist golf balls, the agreed-upon golf standard for quality golf balls, ergo a natural choice for golf ball cuff links. Simply fasten them onto to cuffs of your shirt. They'll show the world you're a fanatic for the game, and also protect your wrists from the humiliation of unsecured shirt cuffs. It's a win-win for your body and soul.
The World's Largest Putting Pool Table (under $100)
Pool is a lot like golf. Both involve the use of long, stick-like instruments. Both have the object of putting balls in empty holes. And both are ways some of us have used to make spare change until our inheritance money finally came through. Now Hammacher Schlemmer has combined the elements of billiards and golf in this family-friendly game, where you shoot pool with miniature golf clubs rather than those thin, hard-to-manage cues. It's a terrific way to enjoy a game of pool without nearby drunks or to enjoy golf without… well, other nearby drunks.
The 500 World's Greatest Golf Holes (under $35)
According to the summary for this book, there are over 500,000 golf holes in the entire world. Not all of them are equal. Some of them are extra challenging. Some of them are positioned in beautiful surroundings with stunning views. Still others are unbelievably easy or located in total dumps or are too close to airports. This book from the editors of Golf magazine doesn't even deal with those substandard holes, those blights on the face of this noble game. It only focuses on the 500 best. No matter where these outstanding holes are, they're probably not too far from a Starbucks.
Autographed Memorabilia
One of the most unique gifts for golfers you can find is a common object that bears the real signature of a famous golfing personality. For example, take the Tiger Woods autographed red vapor mock turtleneck Nike polo. Without that signature, it's nothing more than a common red shirt. Maybe even a little boring. But get Tiger Woods' autograph on it, and it practically turns into a holy relic right before your eyes. There are a bunch of similarly transformed articles on this website, including balls, pictures, hats, and scorecards, signed by everyone from Tiger, Arnold Palmer, and Jack Nicklaus to the gopher from Caddyshack.
Push Pin Map of the World's Top 100 Golf Courses (under $30)
Everybody knows "that" golfer: the one who treks all over the earth, flying to all its remote corners, to play at all the Top 100 golf courses in the world. They're hard to get a hold of and they never make it to weekend barbecues. They may be so busy running for airport taxis and getting their passports stamped that they might forget exactly where they are, or even if they've visited the local golf course before. Cut down on their confusion by giving them this world map showing all the greatest golf courses in the world, fully compatible with push pins to mark off where they've been.
Glow in the Dark Golf Balls (under $20)
We had to look up whether it's possible to play golf at night. Most of the golfers playing at night are just trying to finish their 18 holes after the sun goes down because they got distracted with drinking too long at each hole. But it turns out there are a few courses in the world that are hospitable to night golf, but they use lamps to make the course visible, and they're mainly exclusively for executive types in places like Dubai. Nevertheless, the company behind these LED-lit gifts are pressing forward with their plans to offer these glow-in-the-dark golf balls that light upon impact. They're probably useful for all-night raves where all the guests have brought golf clubs for some hopelessly impractical, but fun, reason.
Fairly Odd Novelties Shot Glass Drinking Game (under $30)
Fairly Odd Novelties is one of our favorite gift manufacturers in the world. They provide a vast range of tabletop games and devices designed to do nothing but make the act of drinking shots of liquor even more exciting than it already is. This is their golf-themed drinking game, complete with a miniature putting green, a couple of laughably small clubs, and holders for six shots of booze. We're going to assume that there are playing rules. We're also going to assume that after a couple of rounds, these rules are unimportant.
For more ideas for the best gifts for golfers who have everything, check out our Gifts for Sports and Outdoors section. Or for other unique gifts, check out our Gifts for Men or our Gifts for Women.
Be sure to follow us on Facebook for daily updates of unique gifts for the whole family.