5th Anniversary Gift Ideas and Romantic Wood Gifts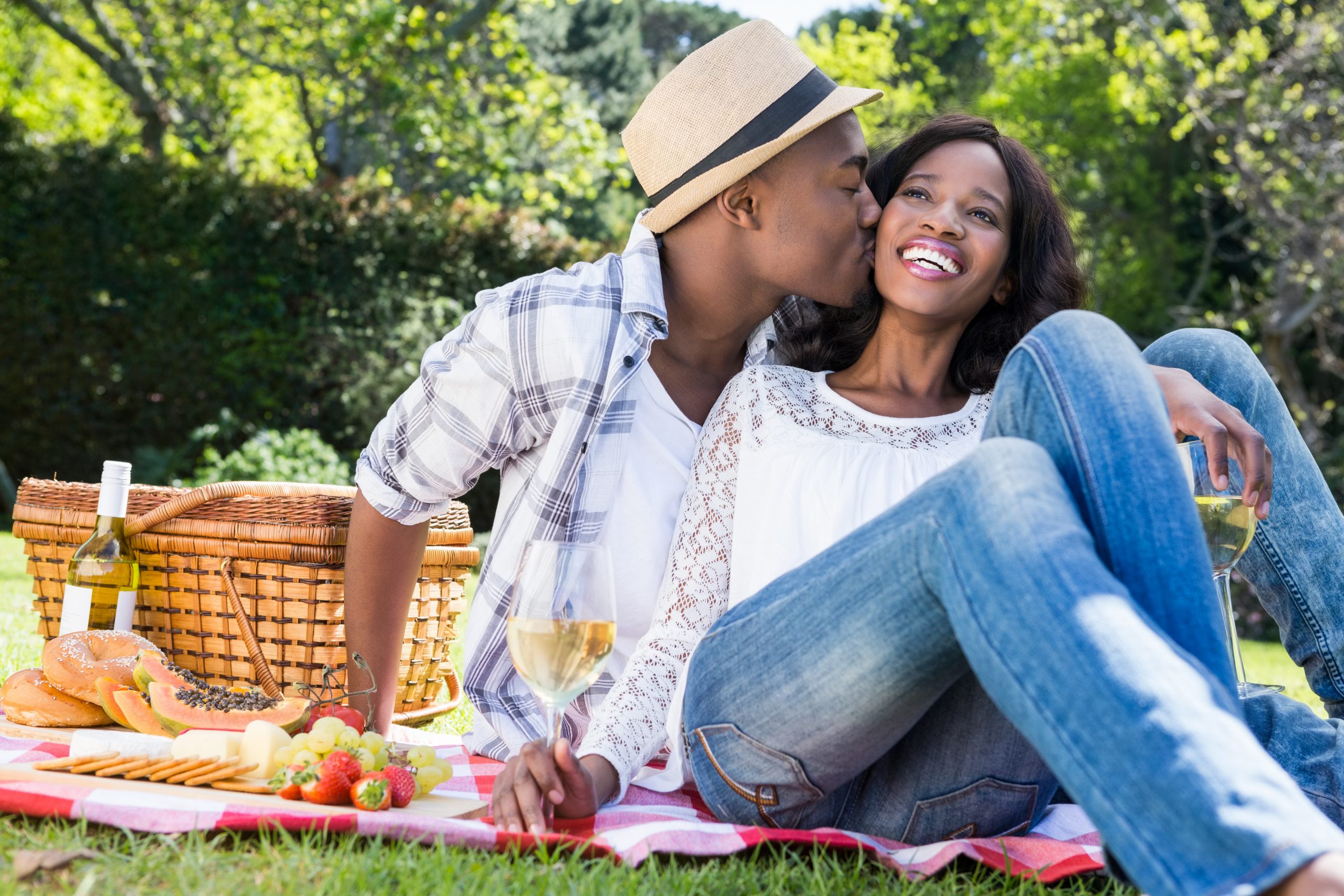 You did it! You somehow managed to stay married for 5 years and that is something to celebrate. So, now you need to show your significant other that you still get butterflies when you look at them so it helps to give them a thoughtful gift. In case you weren't aware, the 5-year anniversary gift tradition is wood. Sure, you could just go out and get your husband a bunch of wood from home depot or your wife a wooden spoon, but you want to stay married. So, here are the most unique 5th Anniversary gift ideas with a wood theme that will make their heart skip a beat so they won't kick you to the curb.
1. Wooden Map of the World
My husband gave this map to me and I absolutely LOVE it. It comes broken down into several pieces so it takes about an hour to put it on the wall and it is fun to do it together. The push pins with flags and airplanes allow you to mark the places you have been and places you want to go. It looks gorgeous in any home and it comes in various sizes. We went with the giant one but we like to 'go big or go home'.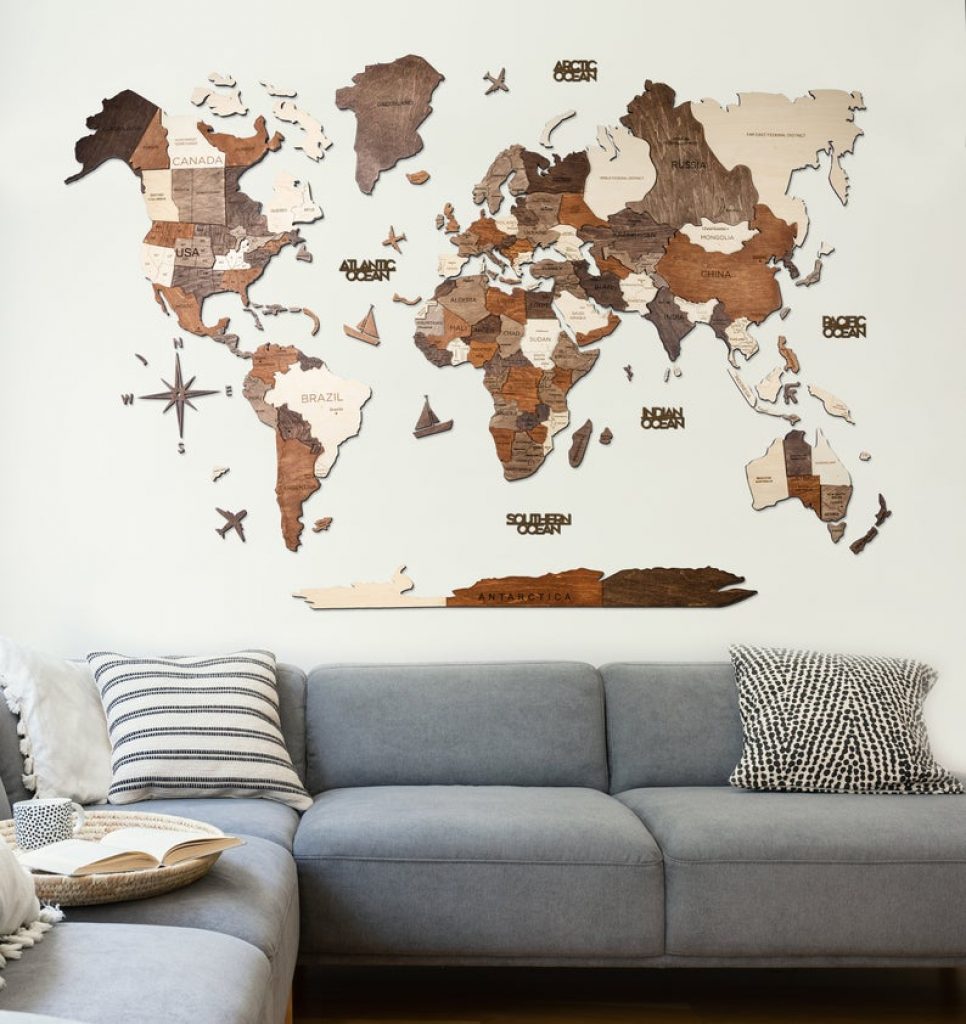 2. Personalized Wooden Beer Caddy
This personalized wooden beer caddy is the perfect 5th anniversary gift for men who love beer, especially those who love to try new brews. If you collect craft beer from around the world, why not carry them with you to show off to your friends?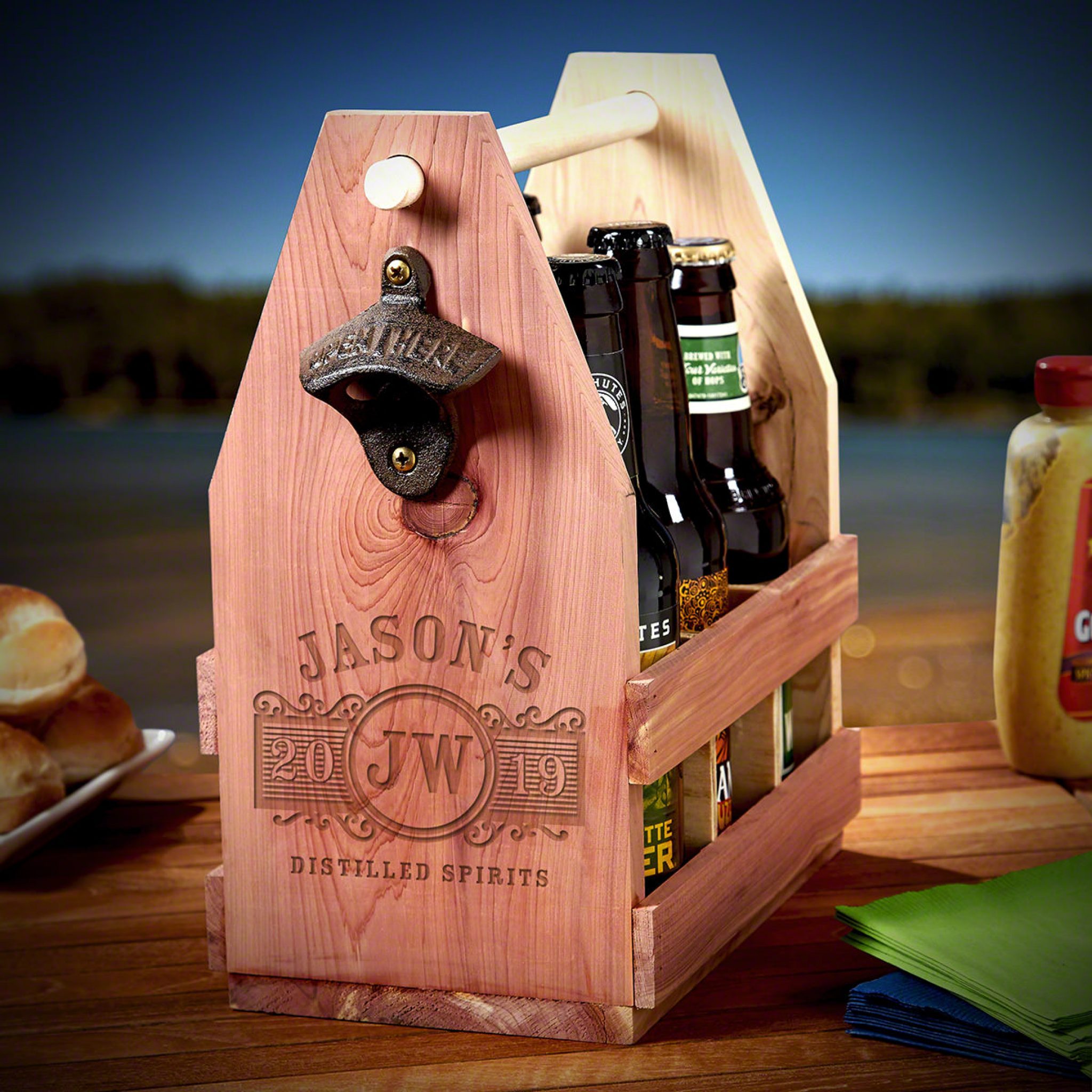 3. Personalized Wooden Sign
 We received this sign a couple of years ago and I can't express how much I appreciate it.  It not only looks great on our wall, but it also helps me remember our anniversary each year. For some reason, I always forget the date, but now I can just glance at the wall and my husband never knows I'm a complete jerk.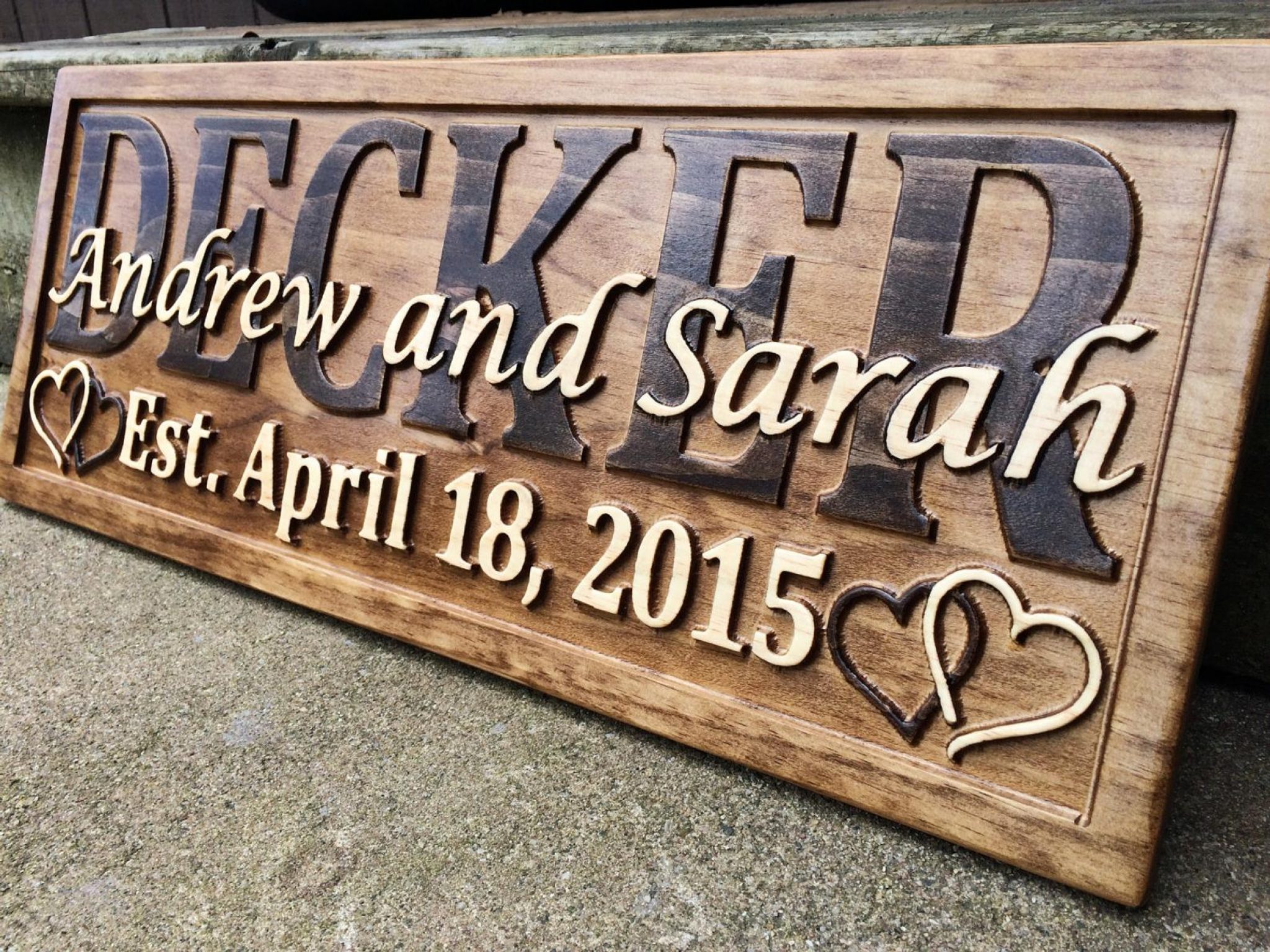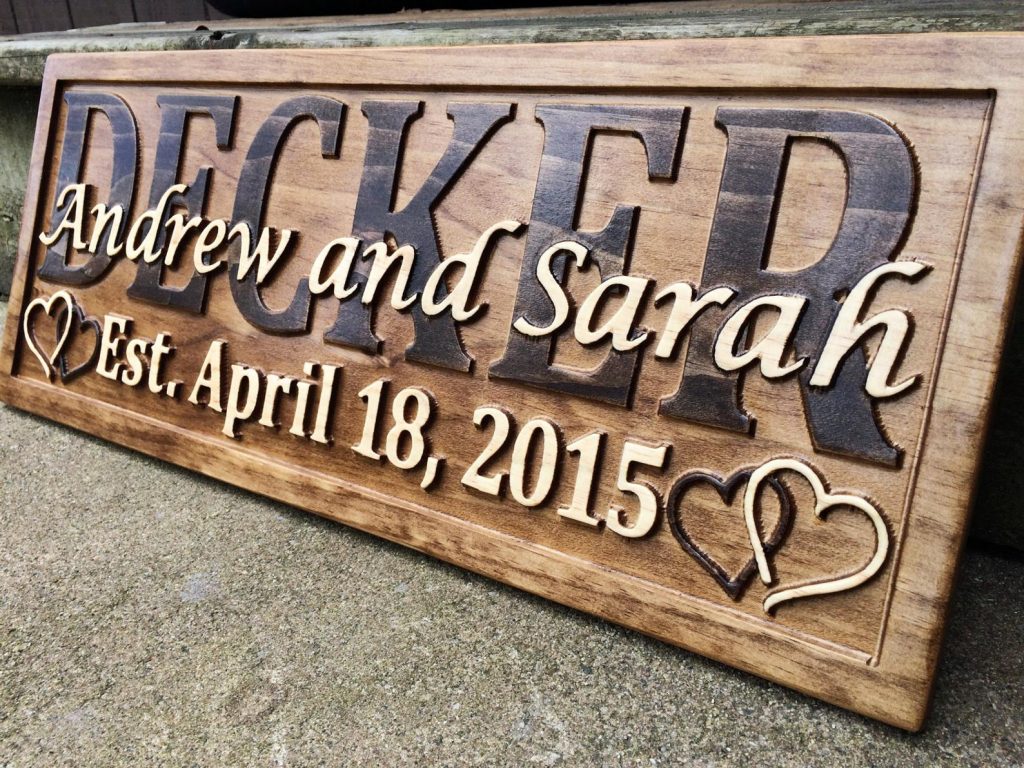 4. Personalized Whiskey Barrel – DIY Whiskey and Rum Kit
Do you know what makes a great 5th Anniversary gift? One that allows you to drink together so that you fall in love all over again like you did the night you got wasted at the local bar. This personalized whiskey barrel allows you to make your own whiskey and rum at home just like they do in fancy distilleries.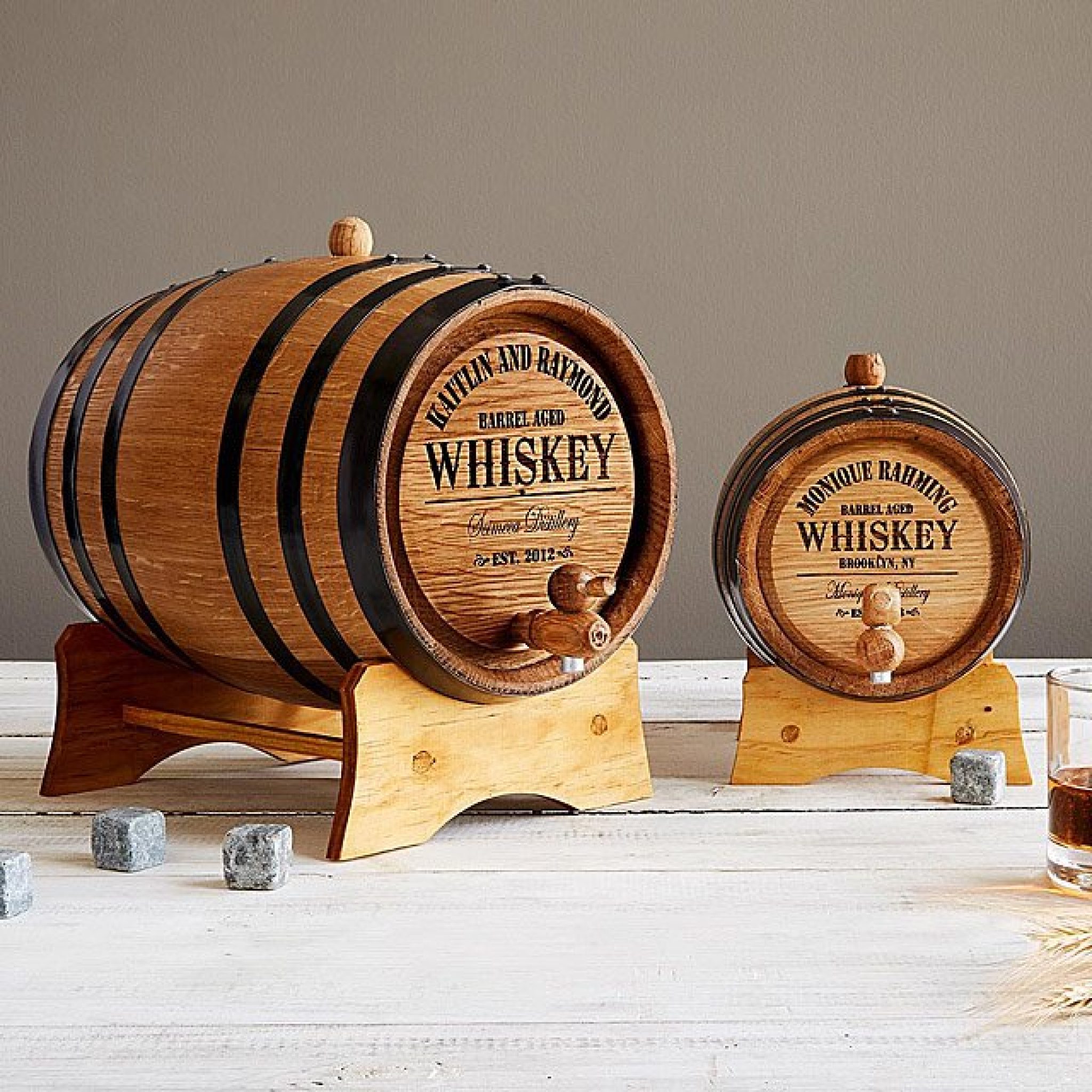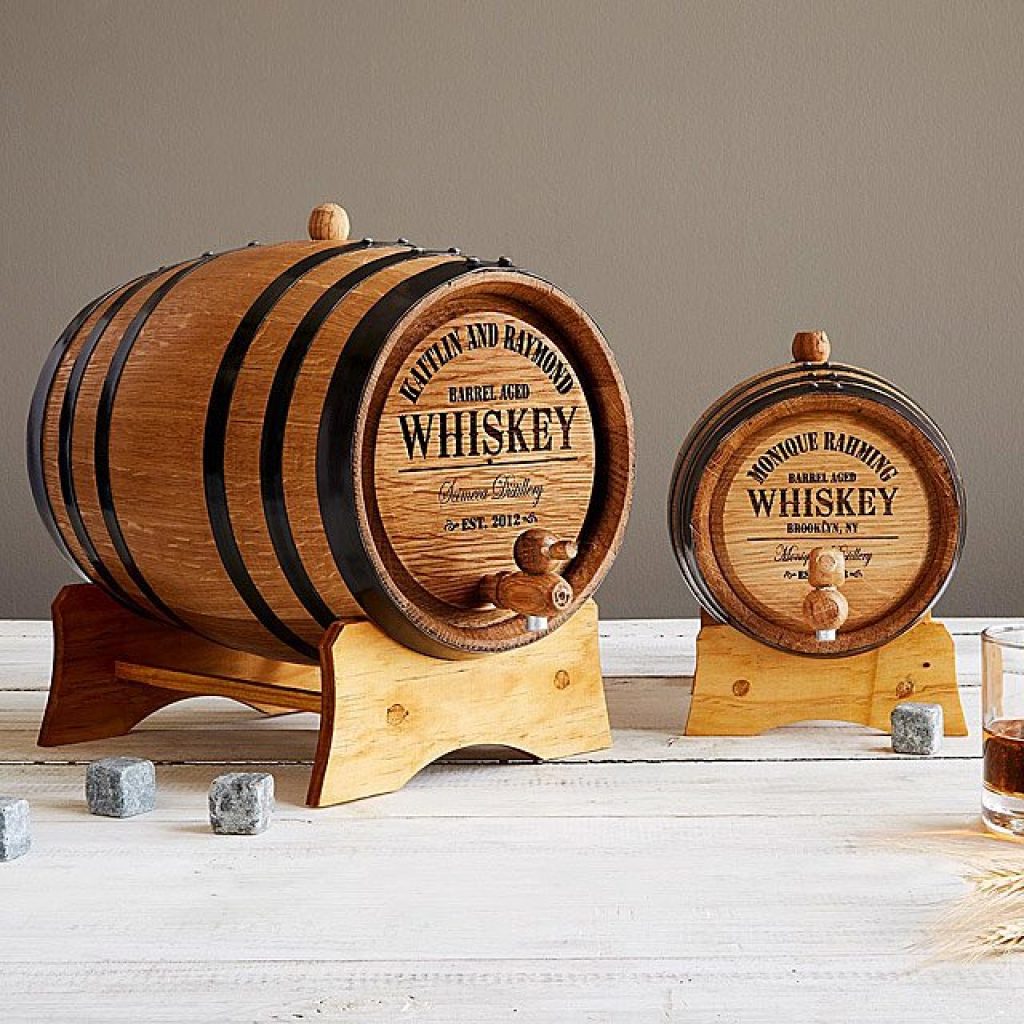 5. Sound Wave Art of Vows or Wedding Song
Use your vows or your wedding song for a customized piece of art. You can just use the sound waves alone or impose them on your wedding photo. It is one of the most sentimental 5th Anniversary gift ideas you can find and it will look great on your wall. It is available in many styles, sizes, and colors to fit any décor.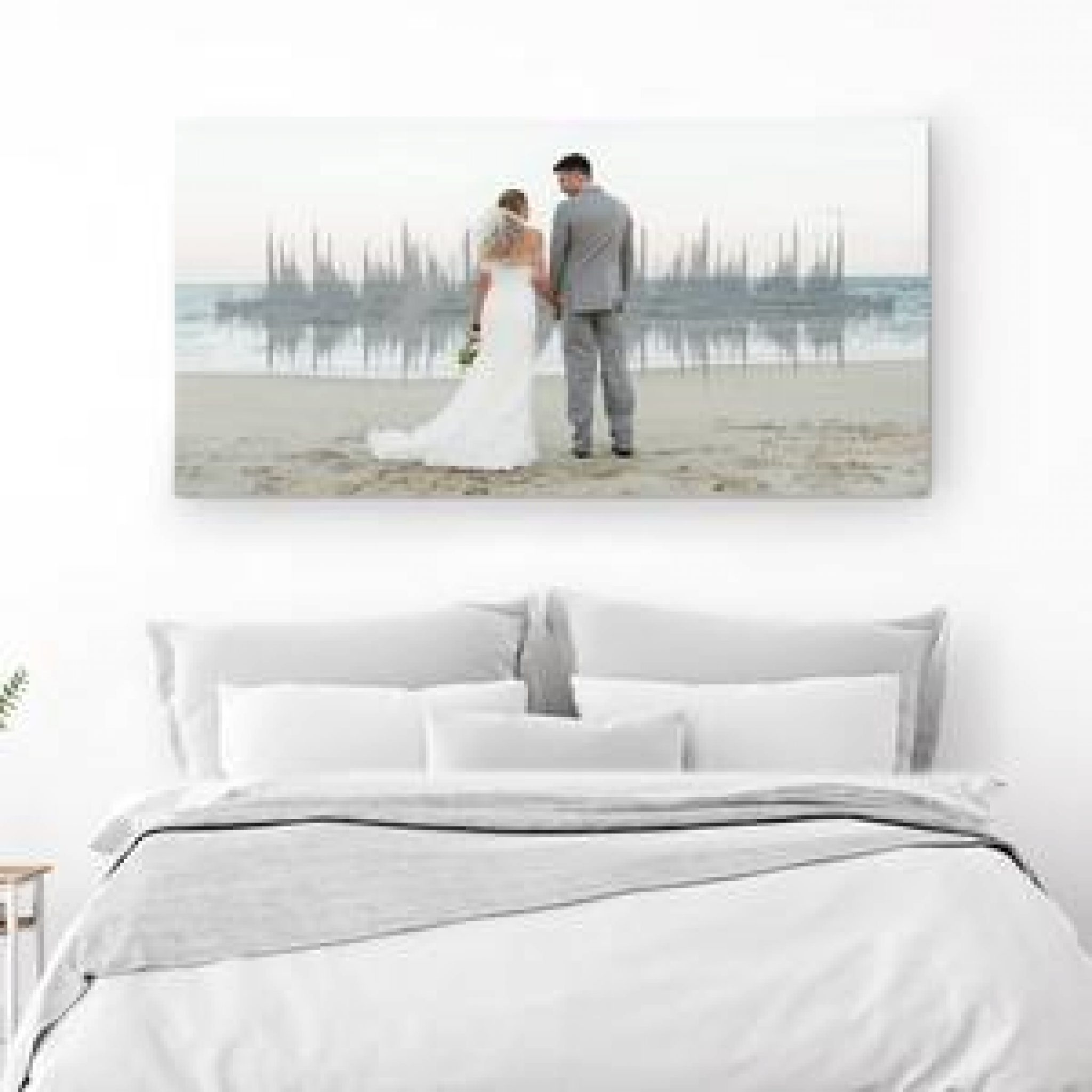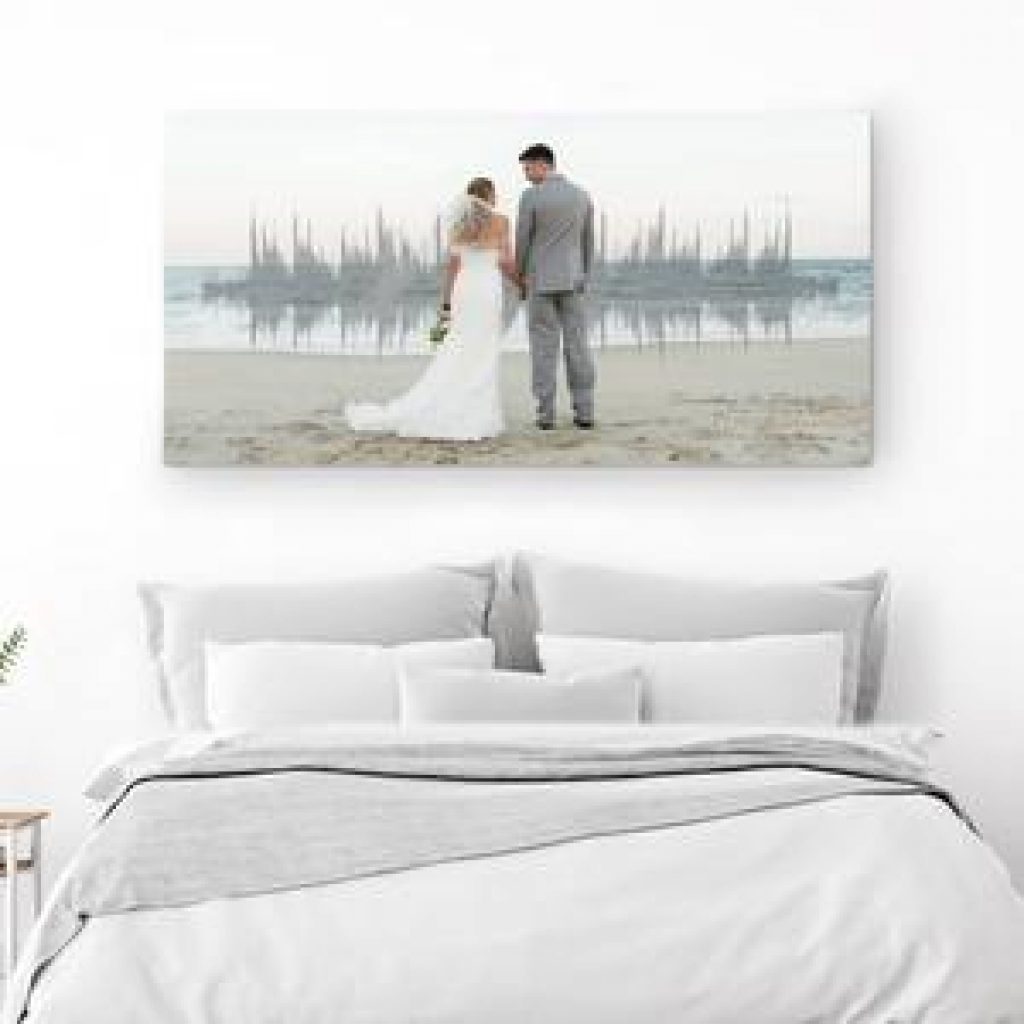 6. Personalized Wooden Swing
This is an adorable way to remember the day you confessed your love for one another. Hang it in your yard for years to come… or get a little weird and hang it in the bedroom. Both options are fun!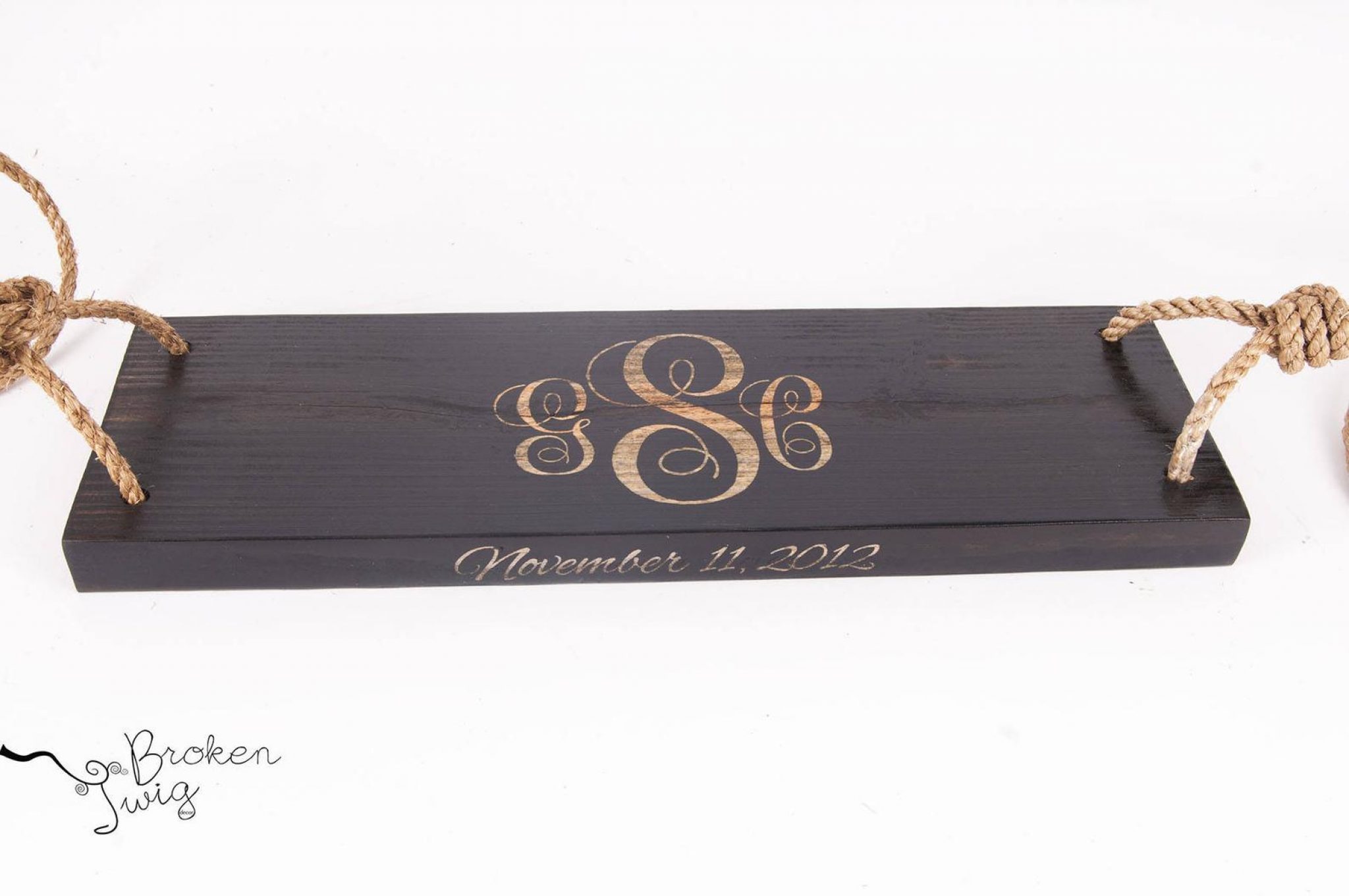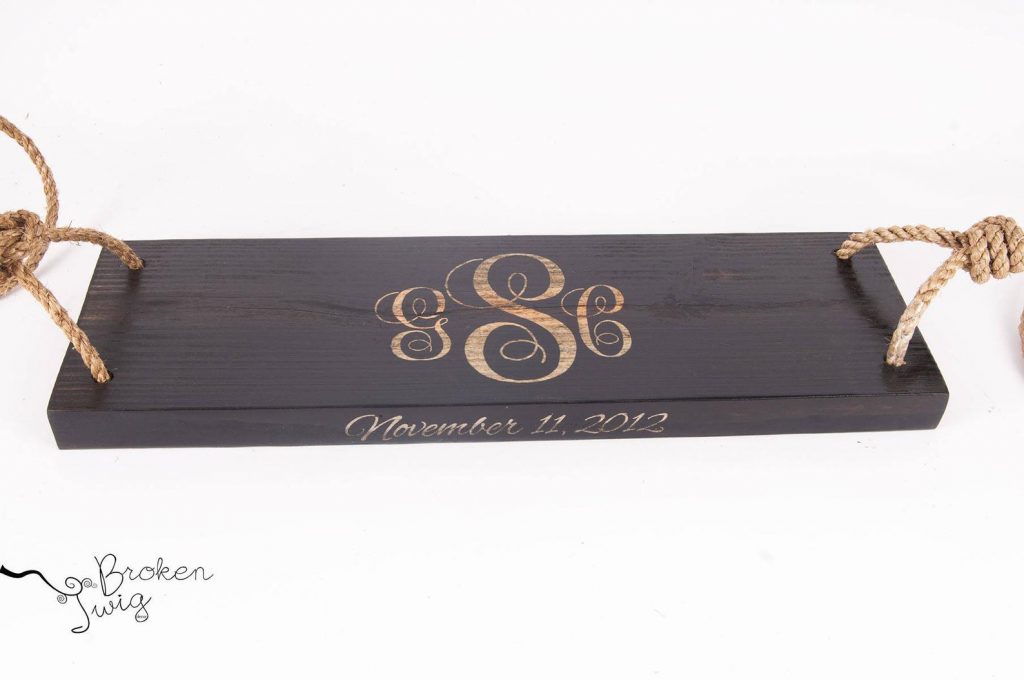 7. Whiskey Glass Set
Help your husband improve his man cave. This distinguished whiskey glass set comes in a beautiful personalized wooden box, two glasses, 6 whiskey stones to keep his beverage cold, tongs, 2 eco-leather coasters, and a velvet bag to protect the cubes.
8. Personalized Photo
This personalized photo is technically on canvas, but they take your picture and print it on a wooden textured background to give it that rustic feel. It is a beautiful way to display your wedding photo (or any of your favorite pictures) on the wall and you can add your names and the date.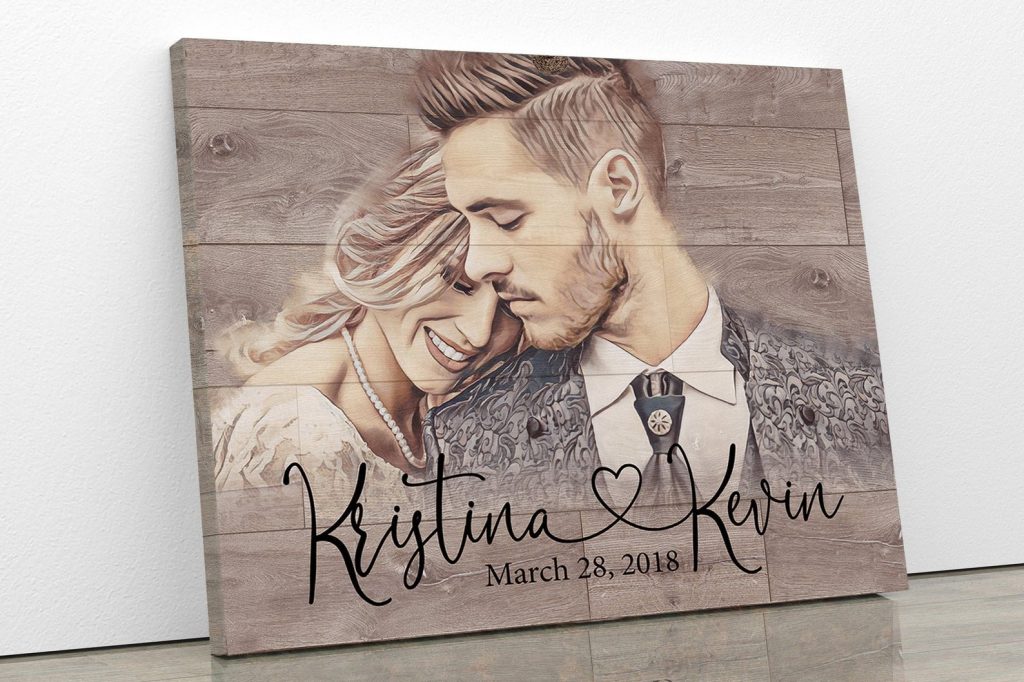 9. 3D Wooden Train Puzzle
If your significant other likes to put things together, then they will love this 3D train puzzle. I bought this for my husband and we had a great time assembling it together. It comes in wood sheets that you pop out the pieces and the instructions tell you how to put it together step by step. So fun!
10. Wooden City Map  
Celebrate your 5th anniversary with this wooden map of the city where you proposed, where you got married, where you honeymooned, or where you live. It's available in many finishes to match your décor and several sizes to choose from.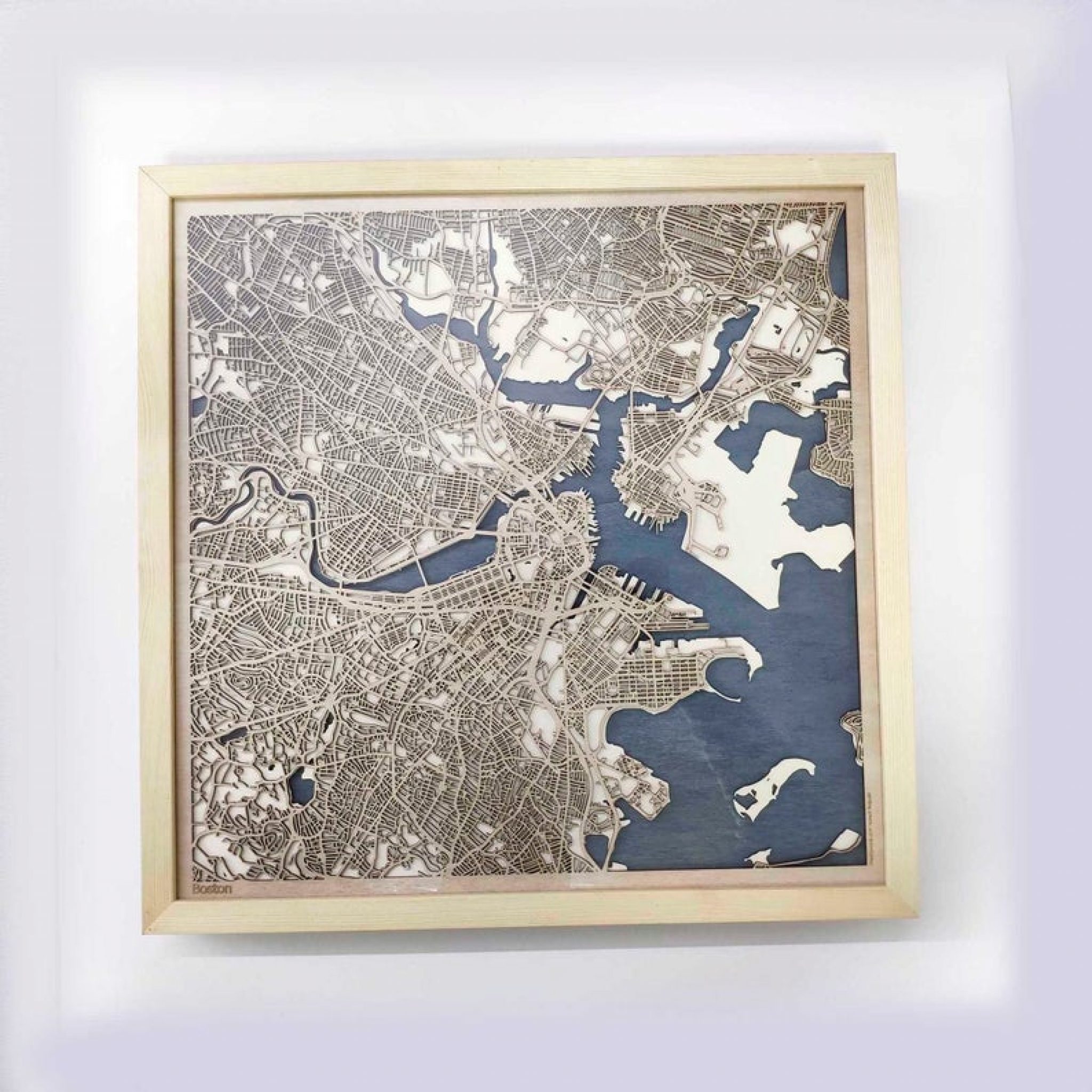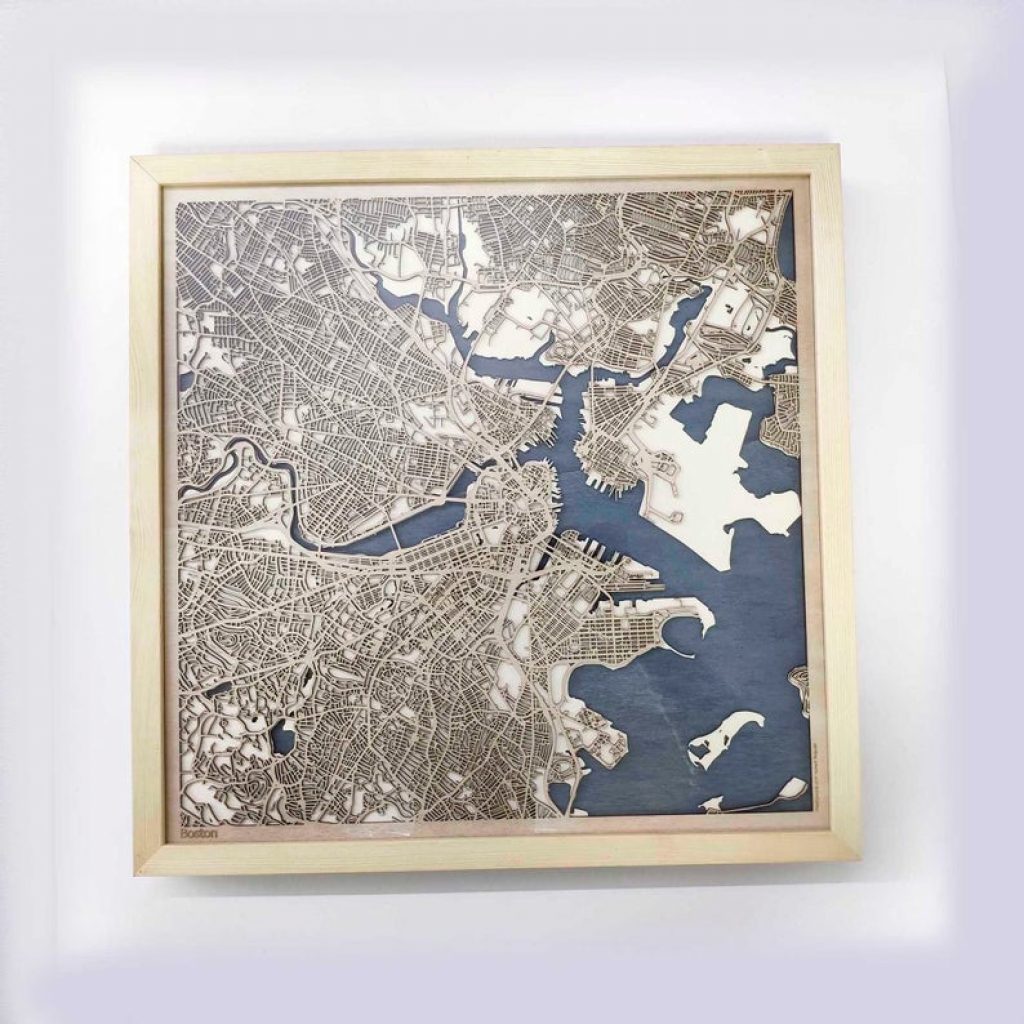 11. Personalized Cutting Board
Available in many sizes and different types of wood, this personalized cutting board is almost too pretty to use… but you can. You will no longer want to hide your cutting board in a cabinet when it's not in use. Instead, you will want to proudly display it for all to see.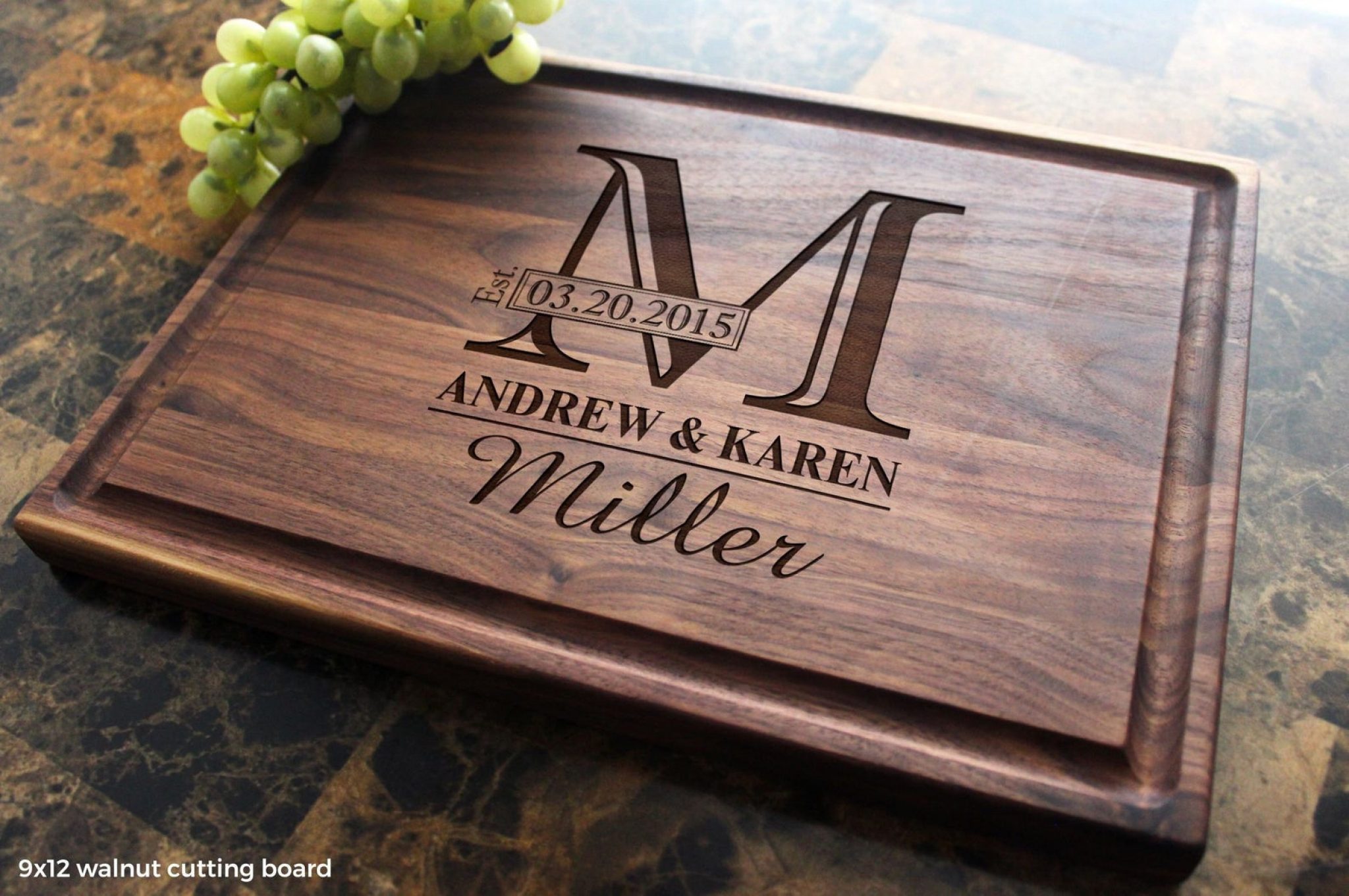 12. Personalized Wooden Bottle Opener, Cheers to 5 More Years
If you are looking for personalized 5th-year anniversary gift ideas for those who like to drink beer, then this is it.  It is customized with your names and the date of your wedding, which is extremely helpful when you drink too much beer and your spouse asks you if you remember the date of your wedding.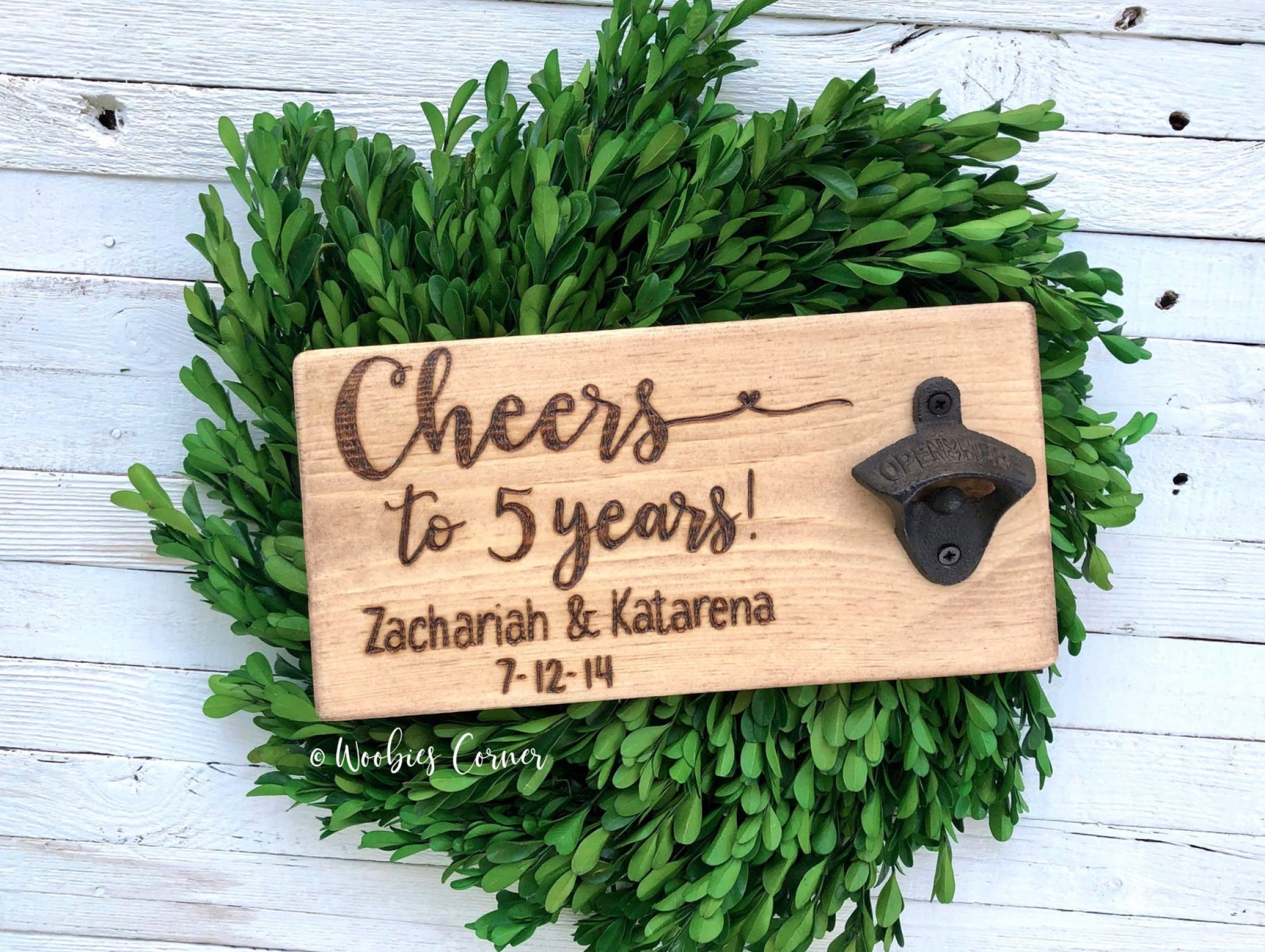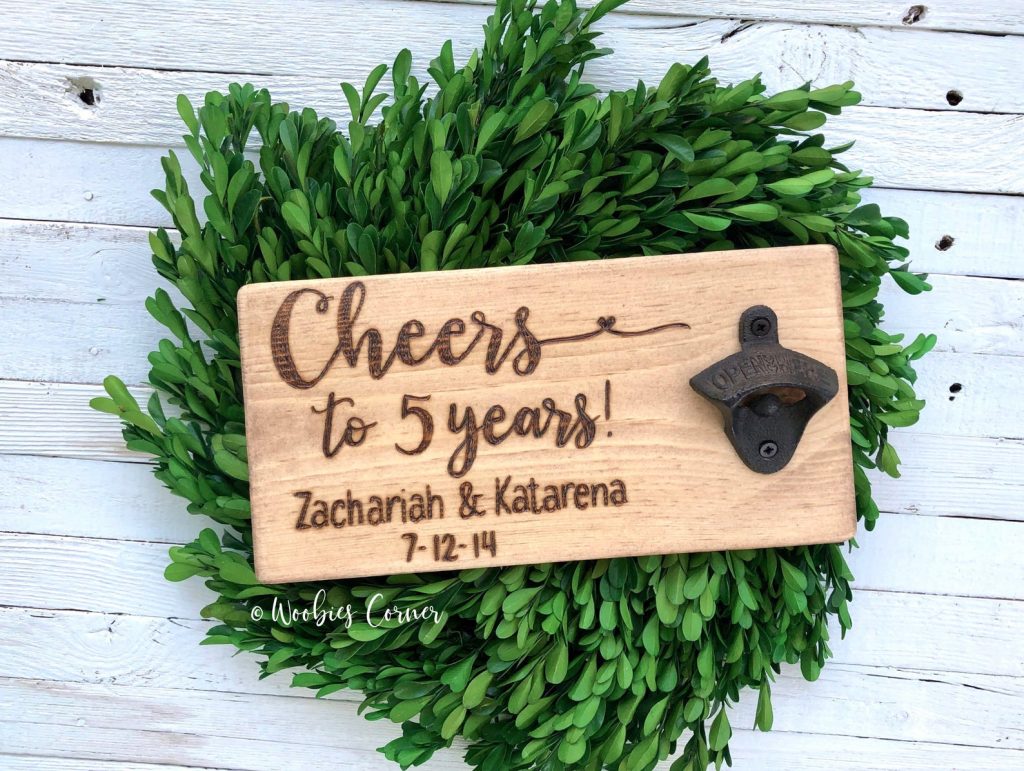 13. Personalized Wooden Recipe Book
Do you know what's great about giving your wife this personalized wooden recipe book?  She will love it because it's beautiful, but she will also be able to save her best recipes and cook for you.  So, it's kind of a win-win when it comes to anniversary gifts for her.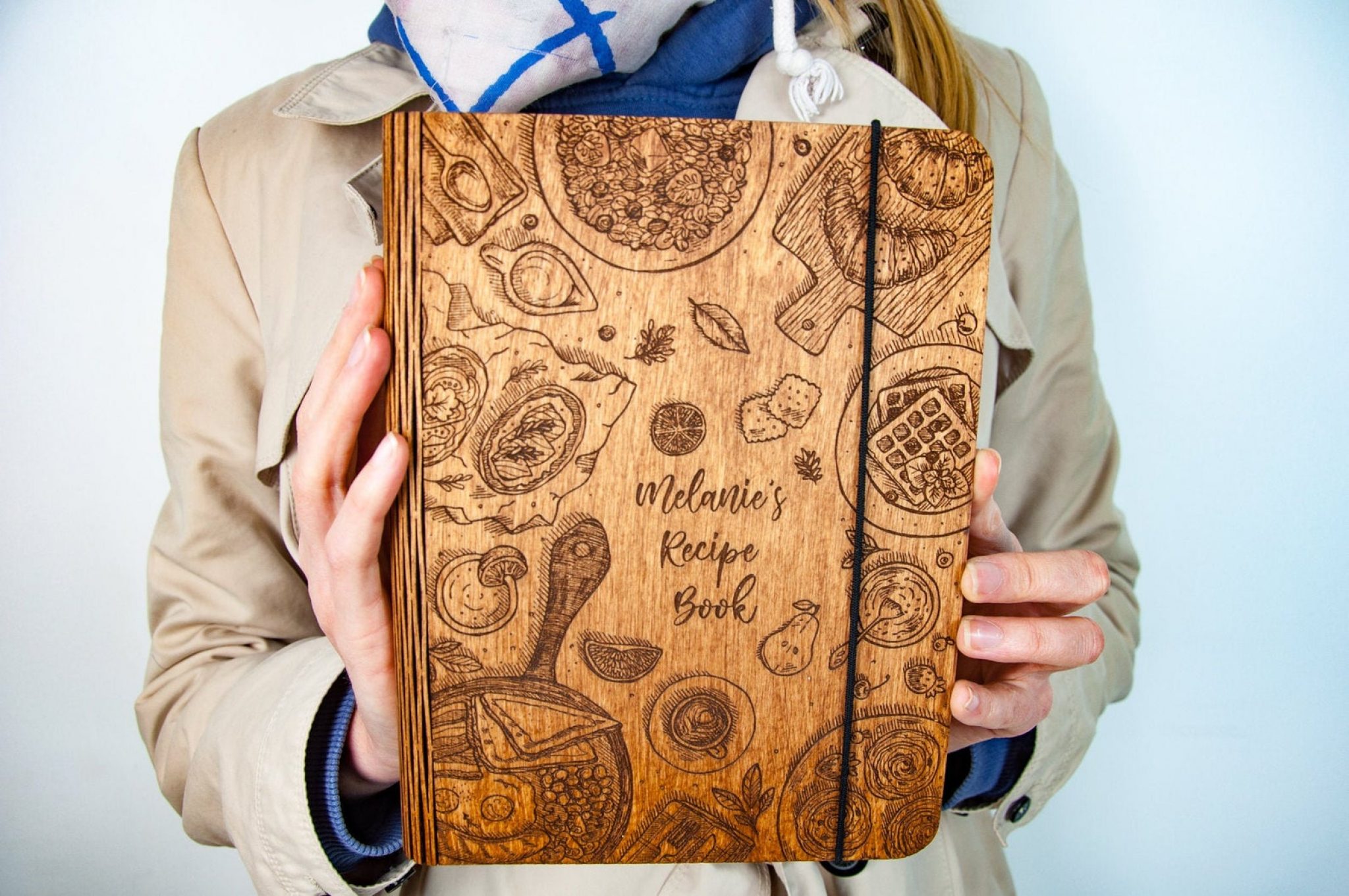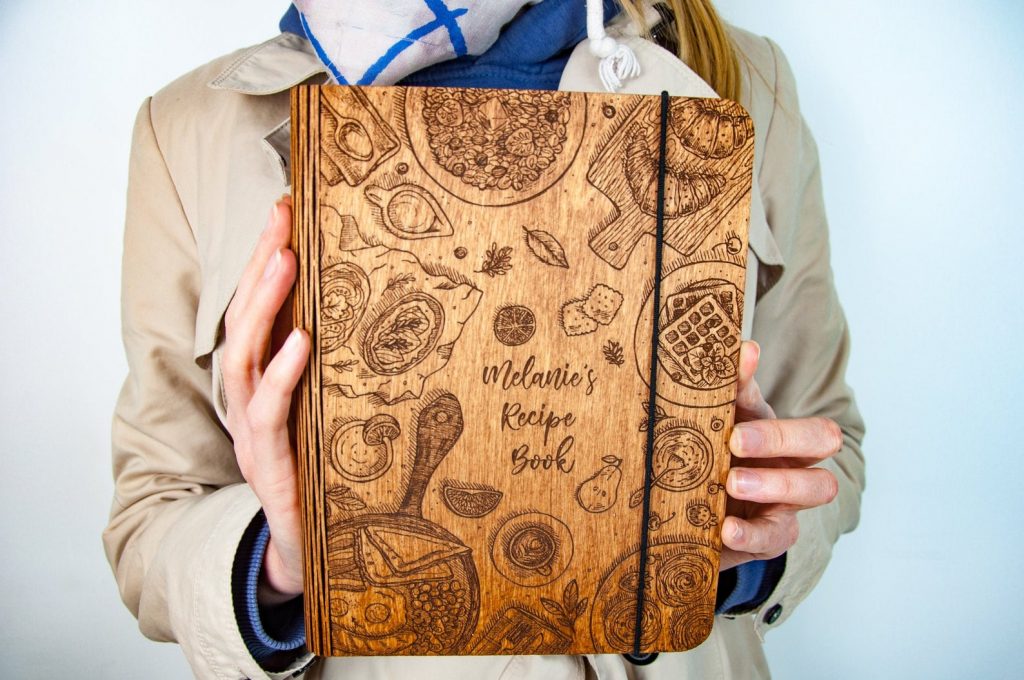 14. Personalized Hearts Connect Four
Playing together bonds your love even stronger. So, celebrate the wood anniversary with a little competition. This personalized game is similar to Connect Four, but you can customize it with a loving message, names, or a date.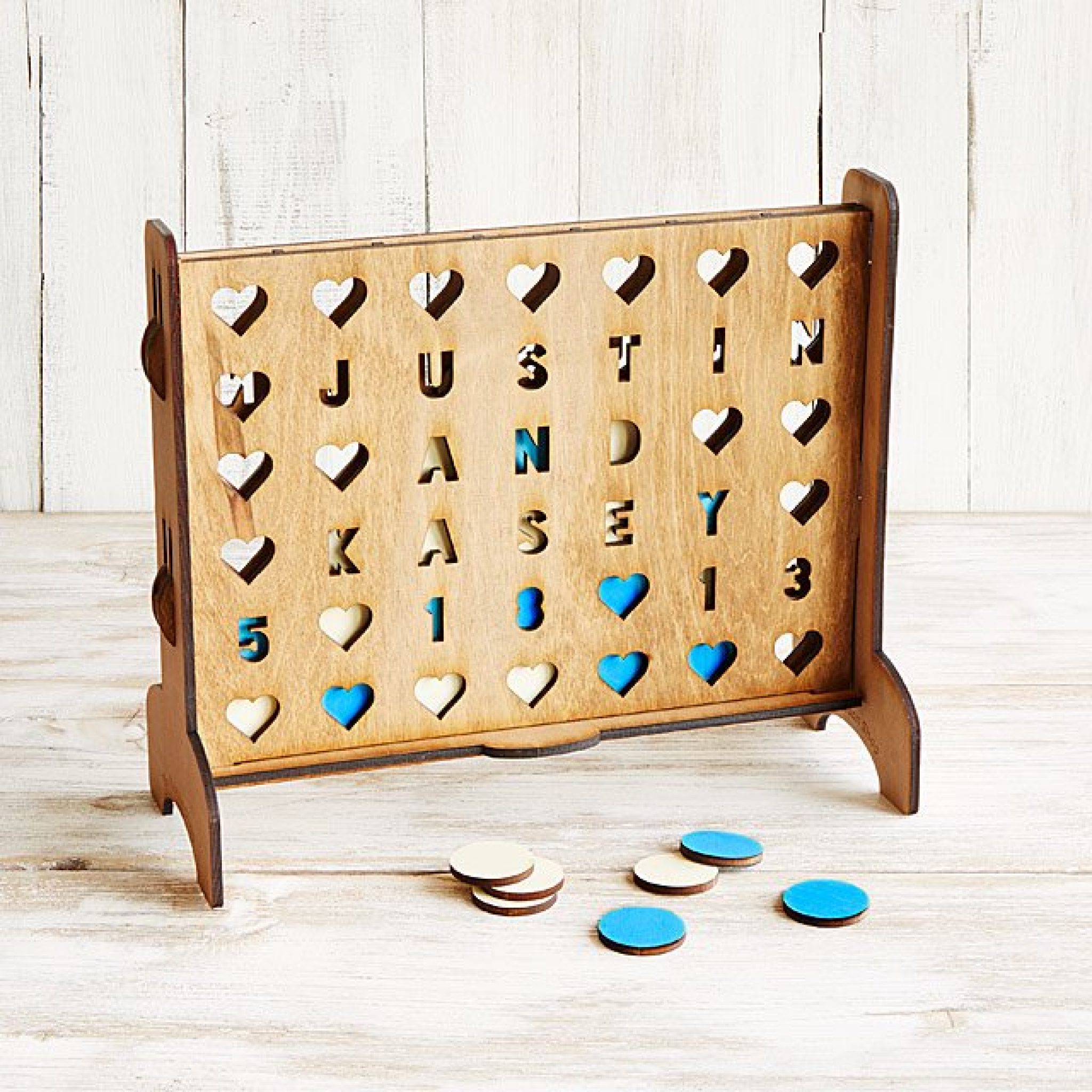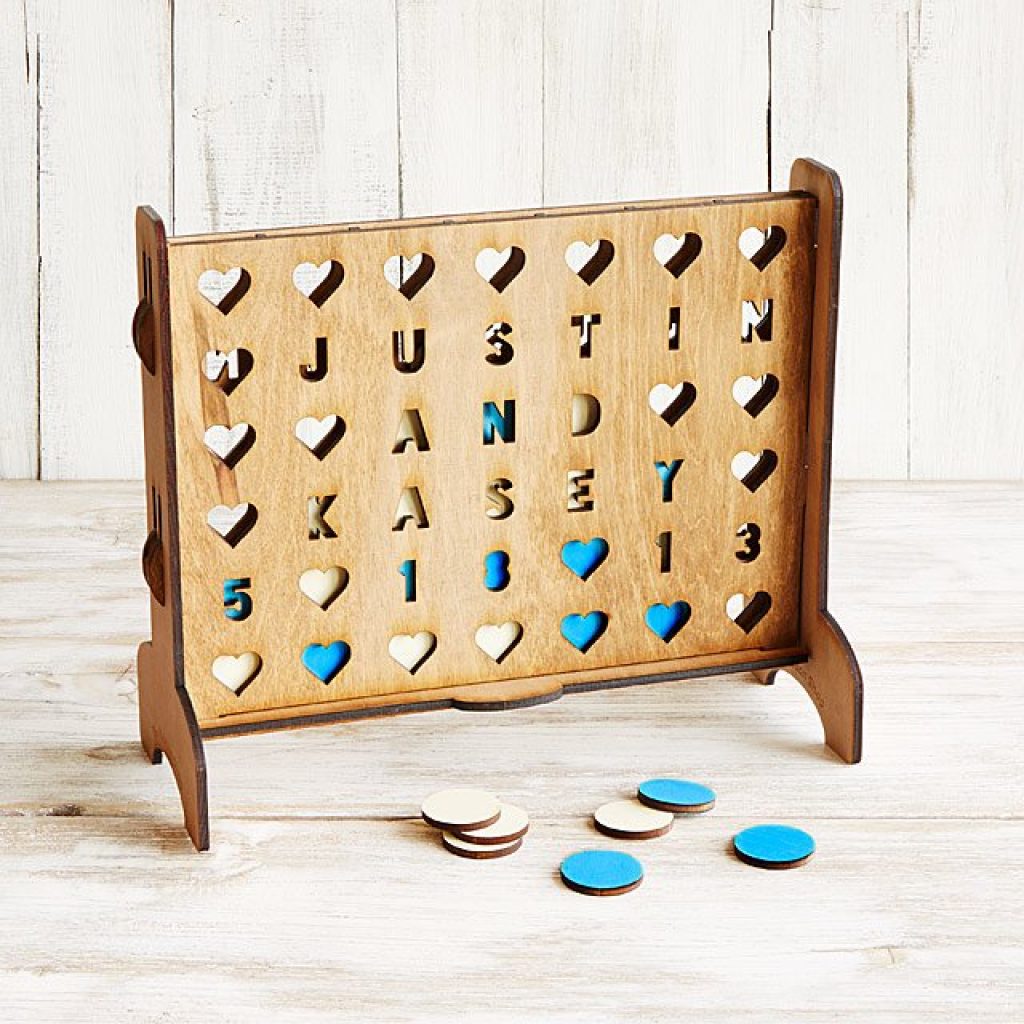 15. Personalized Wooden Photo Album
This gorgeous personalized wooden photo album is a great way to celebrate 5 years of marriage by looking through old photos. Perhaps give it to your sweetie for them to fill out or pick the photos together as a way to bond even deeper.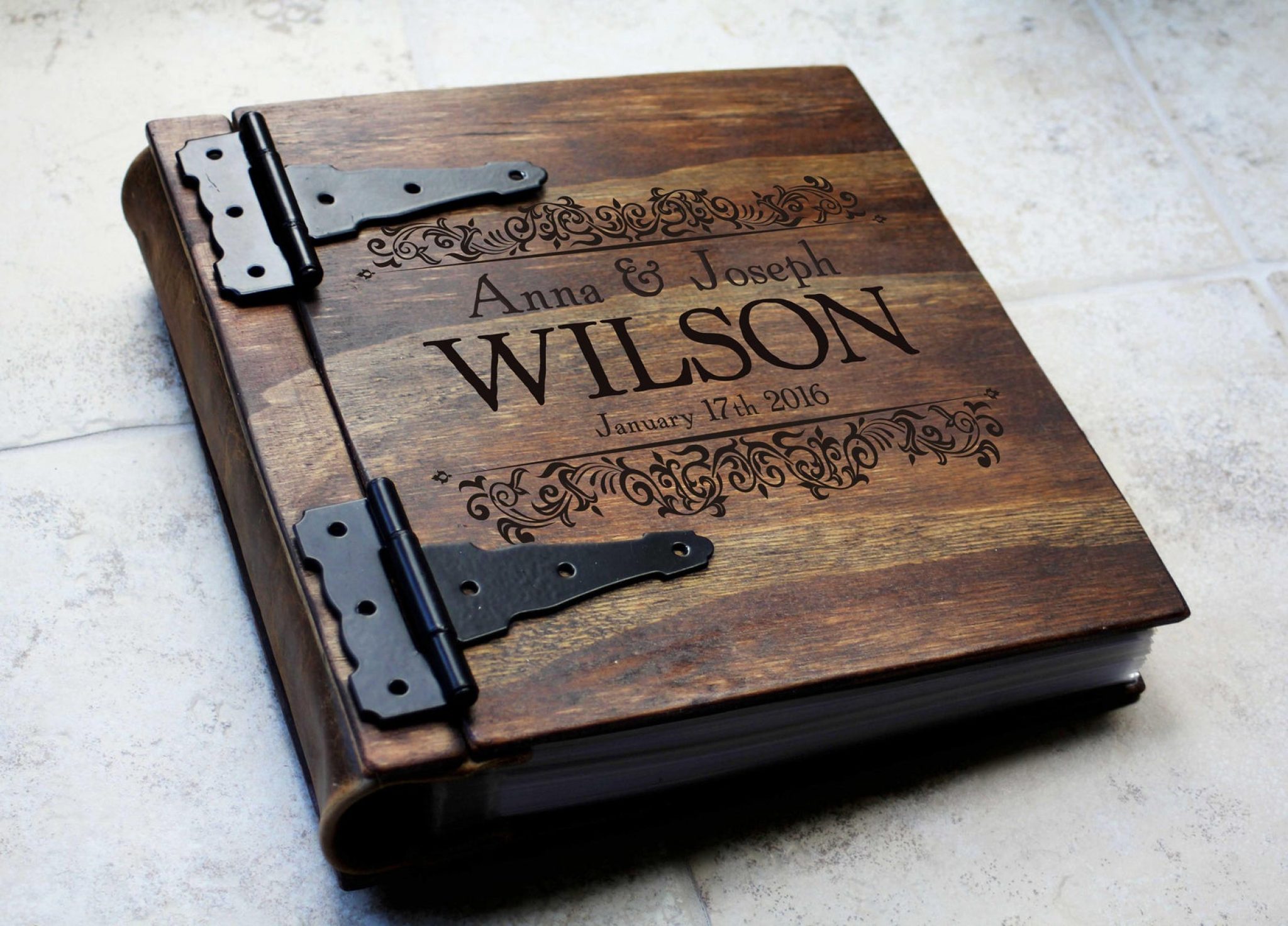 16. Personalized Cornhole
Romantic 5th Anniversary gifts don't have to be boring. This personalized cornhole game brings romance to a tailgate party or BBQ. It also includes the beanbags (any color you choose) that can be used while playing the game or to throw at your spouse when they try to beat you at cornhole.
17. Personalized Coasters
Now you don't have to struggle to remember your wedding date when you get these personalized wooden coasters. They come in various styles and they will prevent you from getting drink stains on the table which could help you stay married for another 5 years.
18. Personalized Wooden Puzzle of Where You Got Married
Get a customized map puzzle of where you got married 5 years ago, or where you went on your honeymoon, or where you fell in love. The possibilities are endless and romantic! The puzzle will capture an aerial view of any location (I mile north to south and 1 ½ mile east to west), and it's made of 3mm thick wood. It is 300 pieces and is 12 ¼" x 18 ½" when assembled. Doing puzzles together is a great bonding activity and it will look great on the wall if you decide to mount it.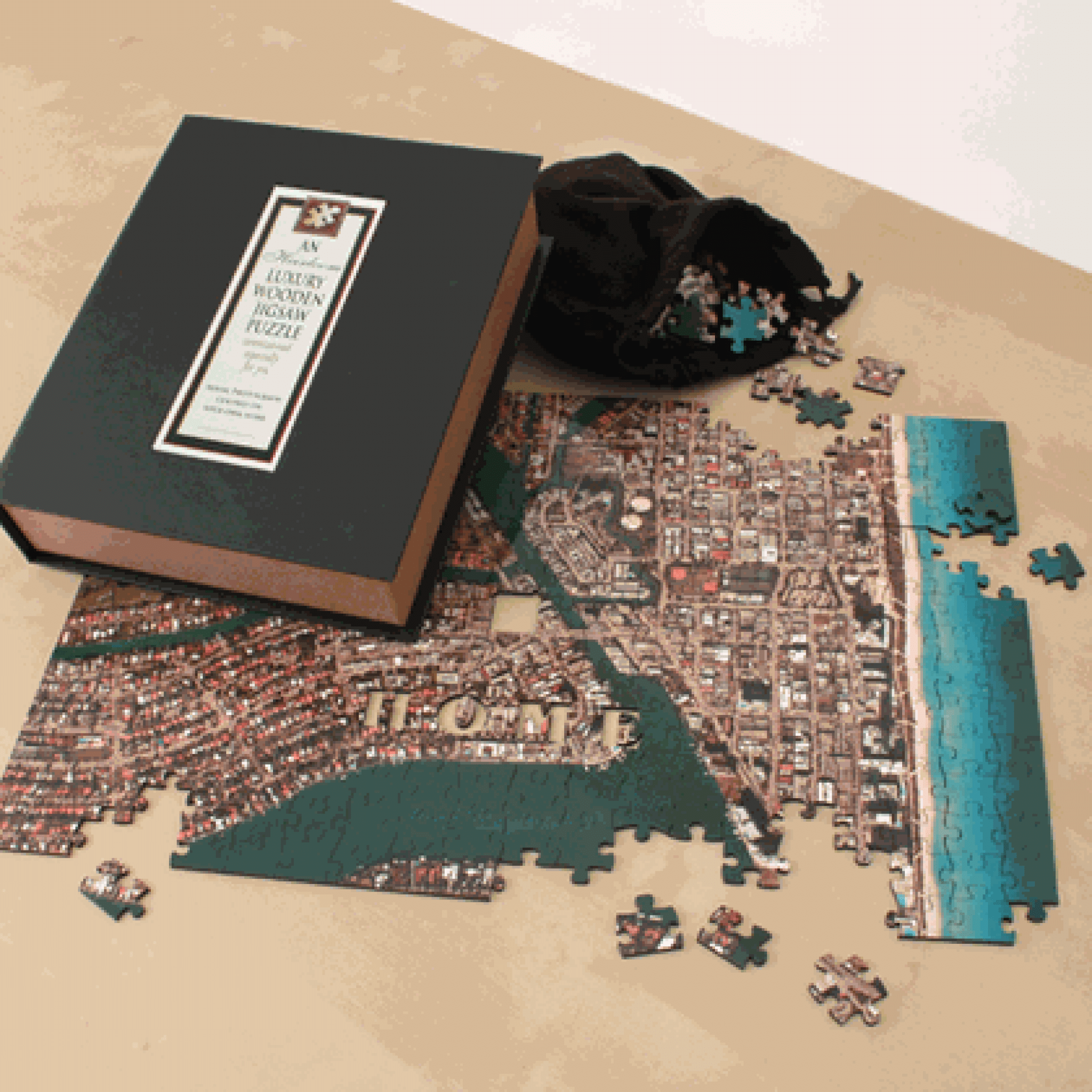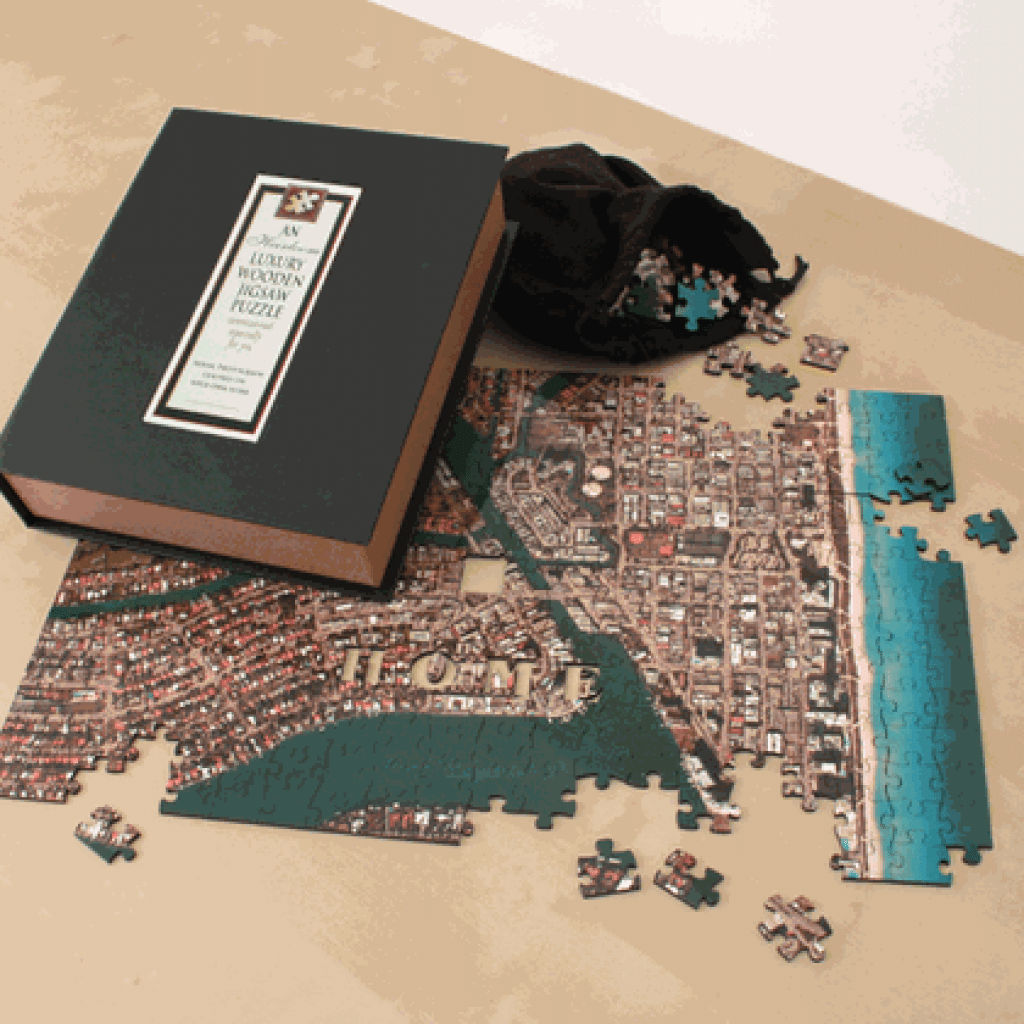 19. Bathtub Caddy
After 5 years of marriage, you sometimes just need some alone time and there is no better place to be alone than in the bath tub. This bathtub caddy will allow her to relax with a glass of wine and watch a video on her tablet or read a book while she regroups. Once she is done, she will have love back in her eyes and will be ready to celebrate your 5th anniversary together.
20. Wooden Pens for Writing Anniversary Love Letters
Not only are these pens wooden so they check off the requirement of a 5th anniversary gift, but if you give them to your spouse, they will hopefully write you love letters with them. Or maybe they will just write you a to-do list. Either way, they look cool.
21. Jewelry Box
By now, your wife has probably already accumulated a few pieces of jewelry so give her this beautiful wooden jewelry box to keep her prized possessions. It is 15" so it is big enough to hold her biggest diamonds.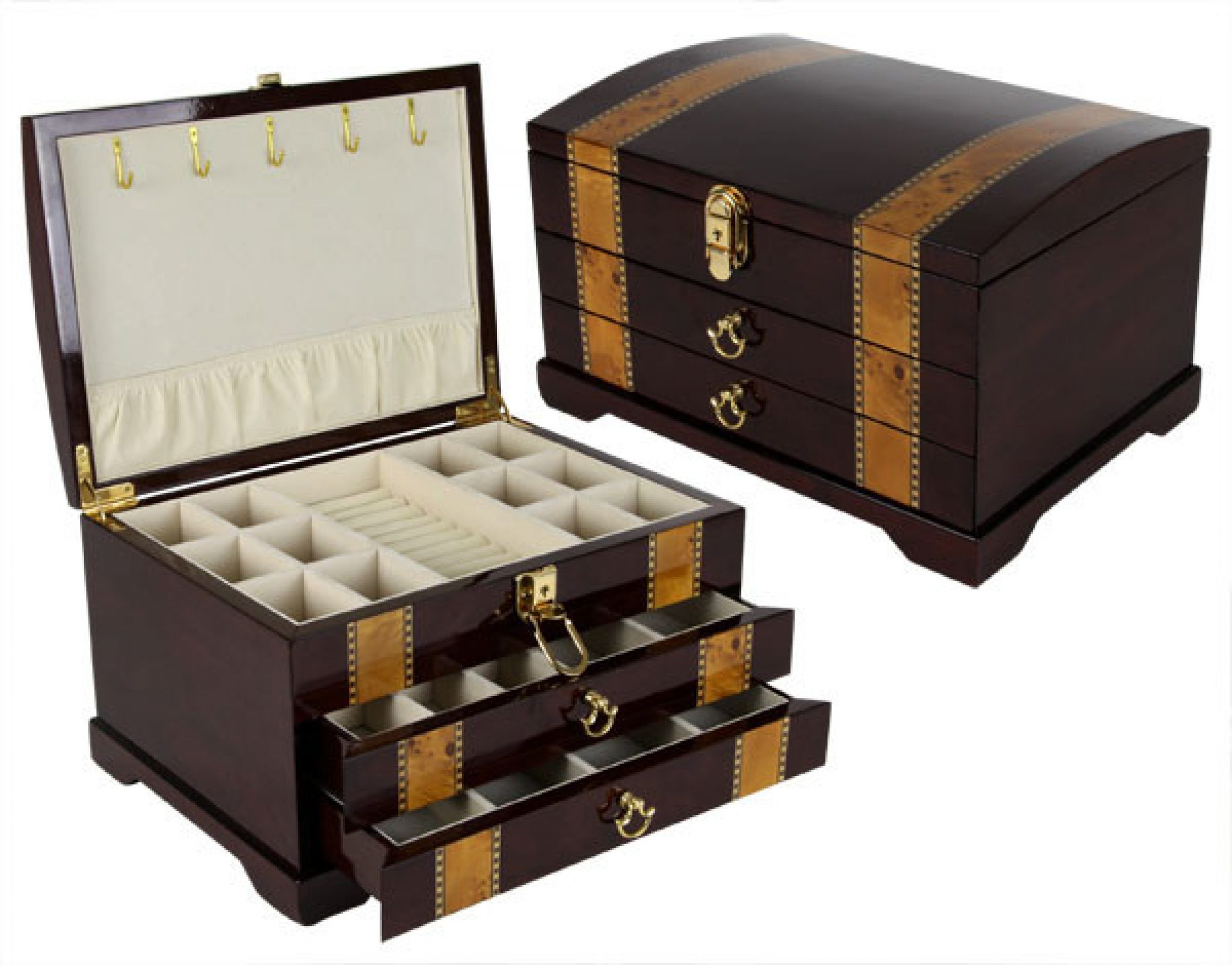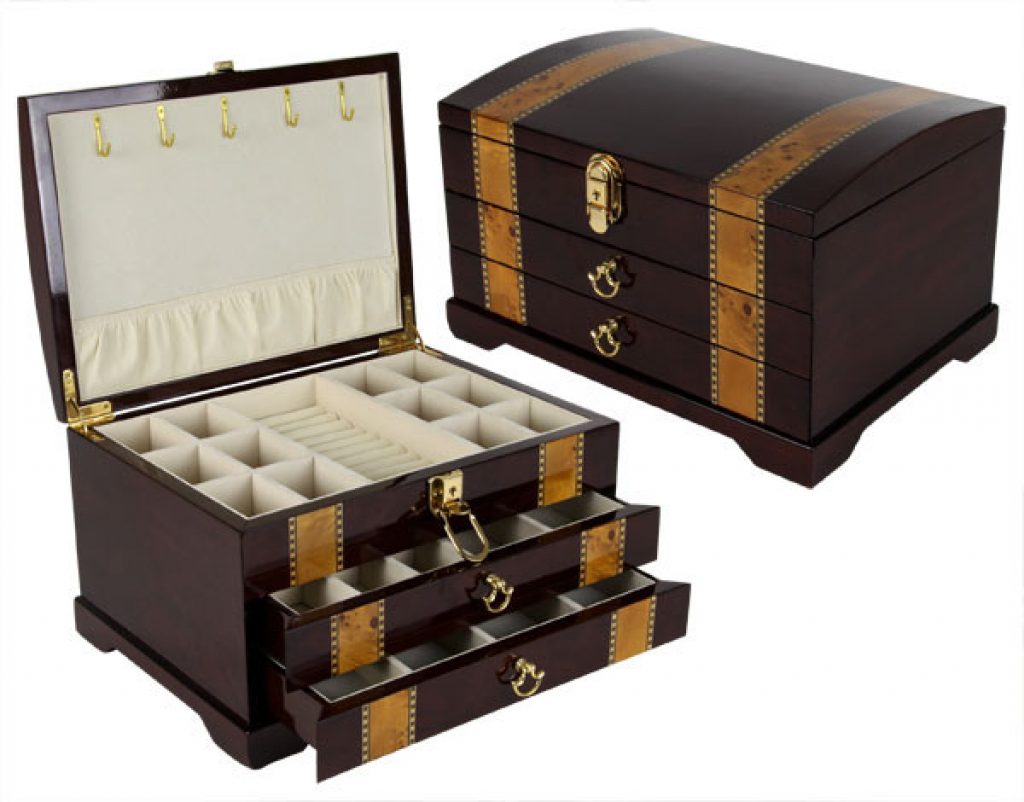 22. Cigar Humidor
Every cigar aficionado needs a place to store their cigars so they don't go stale. This cigar humidor can be personalized with a name so others know to keep their cruddy hands off of their stash. It's the perfect place to hide those stogies you smuggled in from Cuba.
23. Chopsticks
5th Anniversary gift ideas don't always have to be over the top. If you are looking for something smaller to show your love, then these wooden chopsticks are a great option. They come with 5 pairs of chopsticks in various woods so you can eat sushi at home together.
24. Constellations of the Sky the Day You Married
Ok, this isn't exactly wood. But it is made out of paper and paper comes from wood so that should count. Plus, it is so romantic that we just had to include it. You send in the date and time you got married and they print out the sky as it was on that day. You can personalize it with your names, date, longitude, latitude, and a romantic saying. It doesn't get any more romantic than that.
25. Personalized Guitar Pick
If you are married to a music lover, then these personalized wooden guitar picks may be for you. You can also order it as a necklace or keychain.  They are available in many different kinds of wood, and they are fully customizable. Every time he plays the guitar, he will think of your love.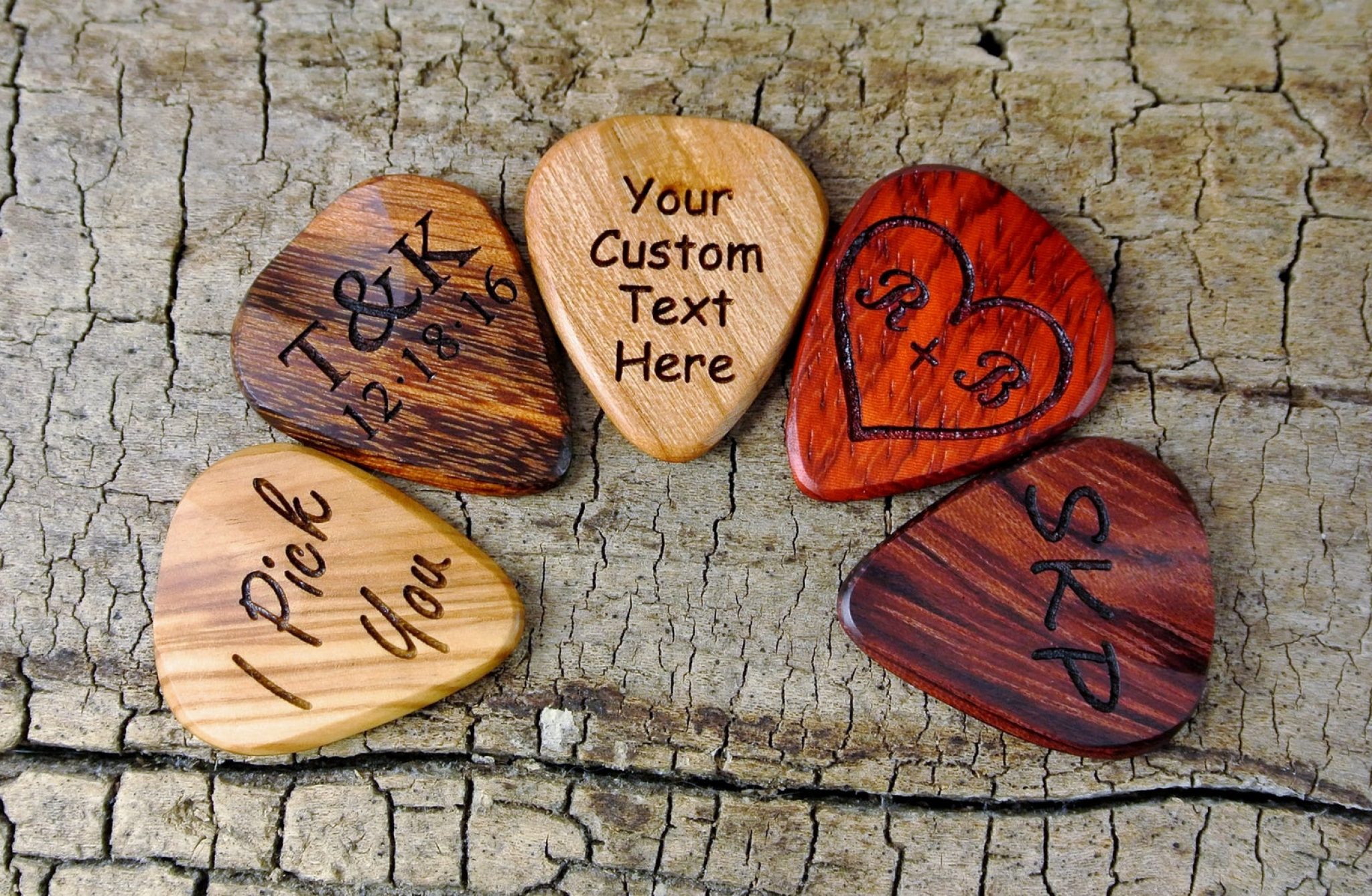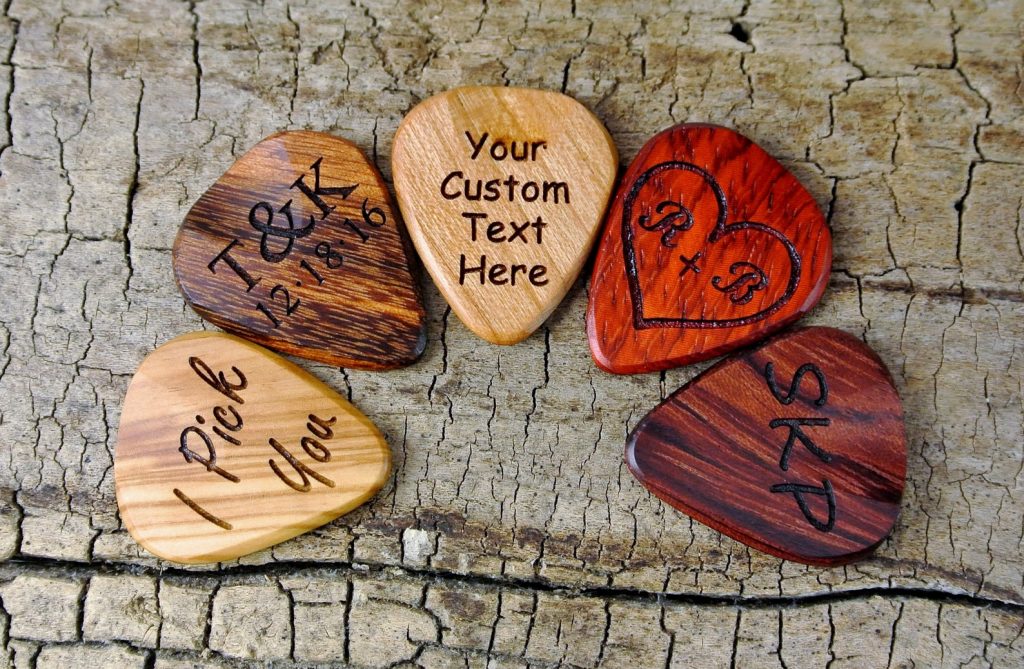 26. Personalized Wooden Cufflinks
5th Anniversary gifts can have a subtle hint of wood to honor the anniversary tradition. These wooden cufflinks are personalized with the wedding date and both of your initials. They are high quality and made of walnut and sterling silver.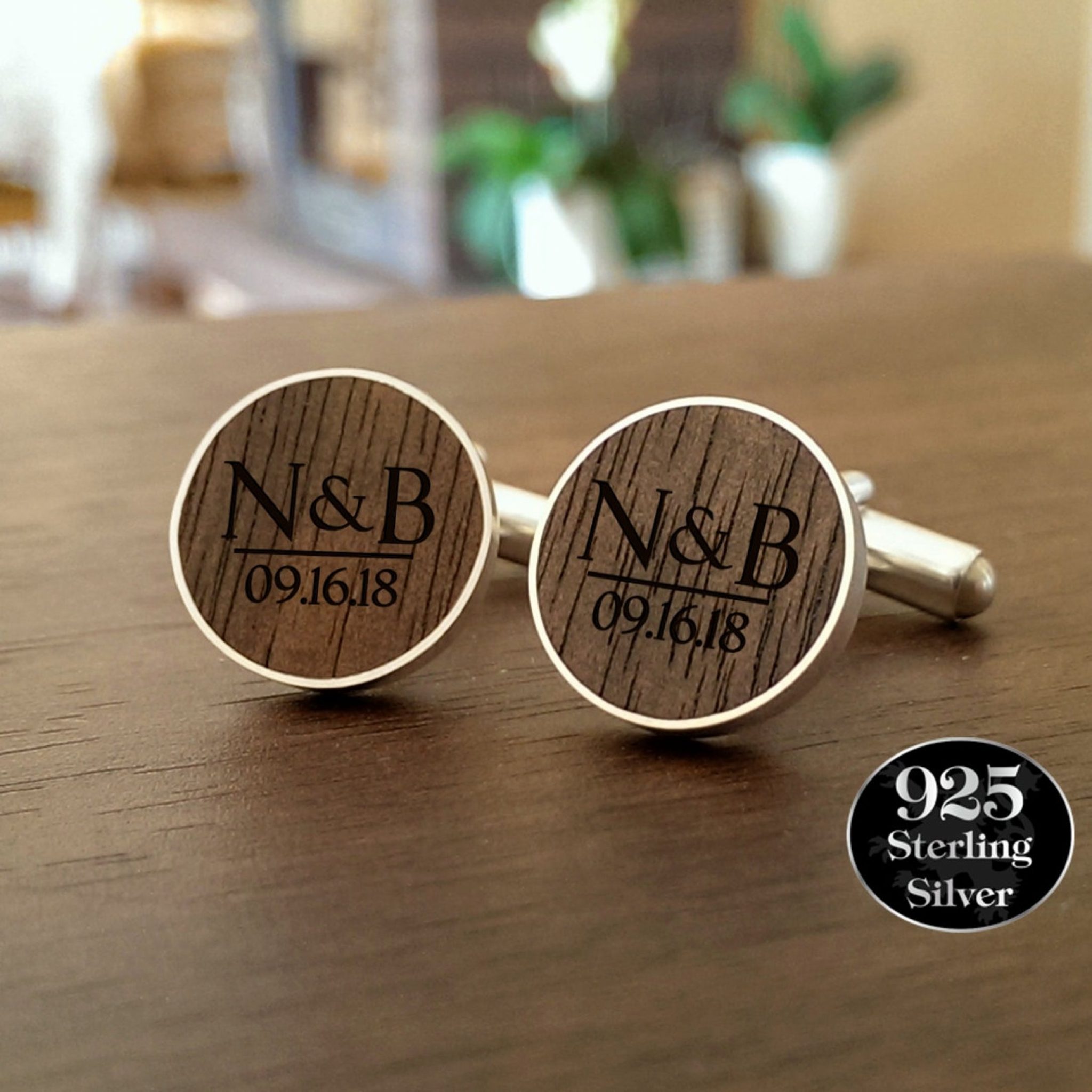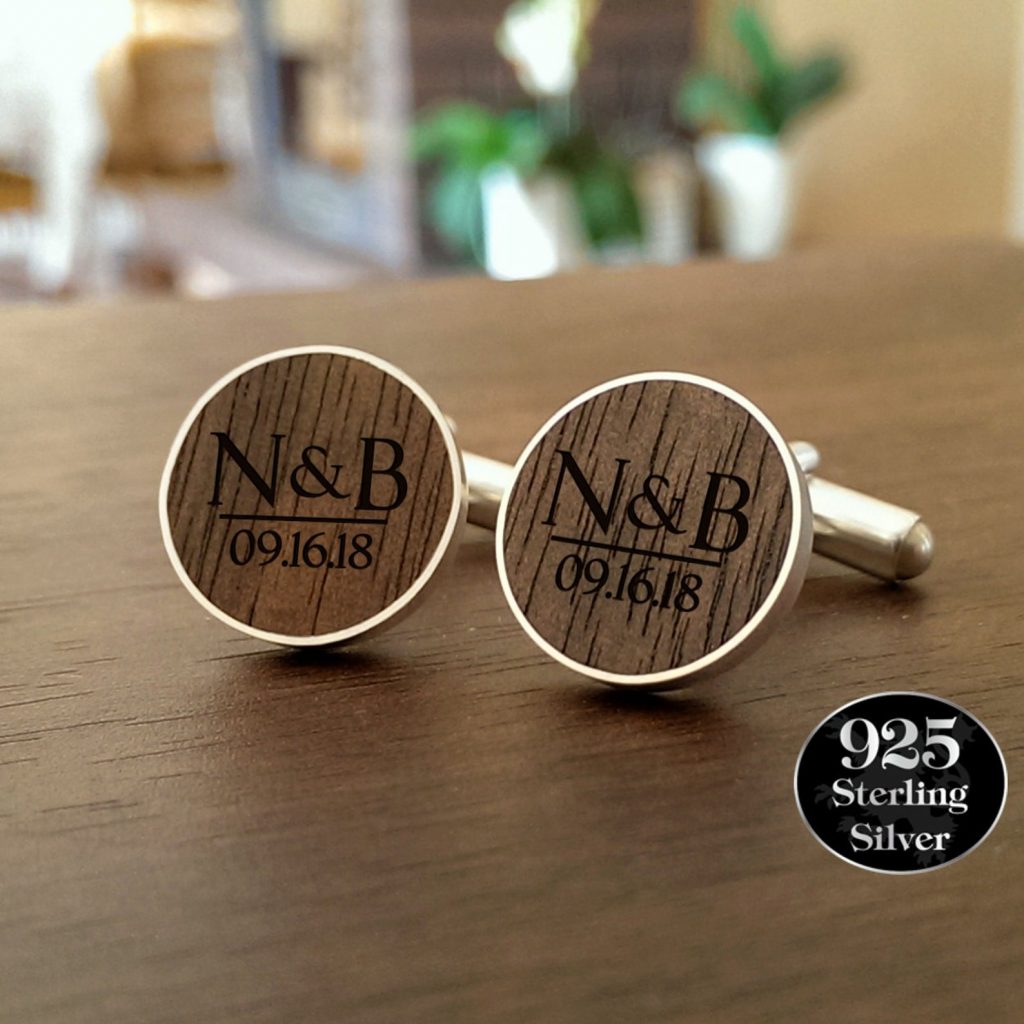 27. Whiskey Barrel Ring
Your spouse will think of you every time they look at their hand. This beautiful ring is made of wood, silver, and rose gold, and is available in many colors and styles and is even great for men and women.
28. Personalized Wooden Clock
This personalized wooden clock adds a beautiful rustic décor.  It comes in various sizes from 24" to 36" and is available in many finishes and styles and it even tells you what time it is.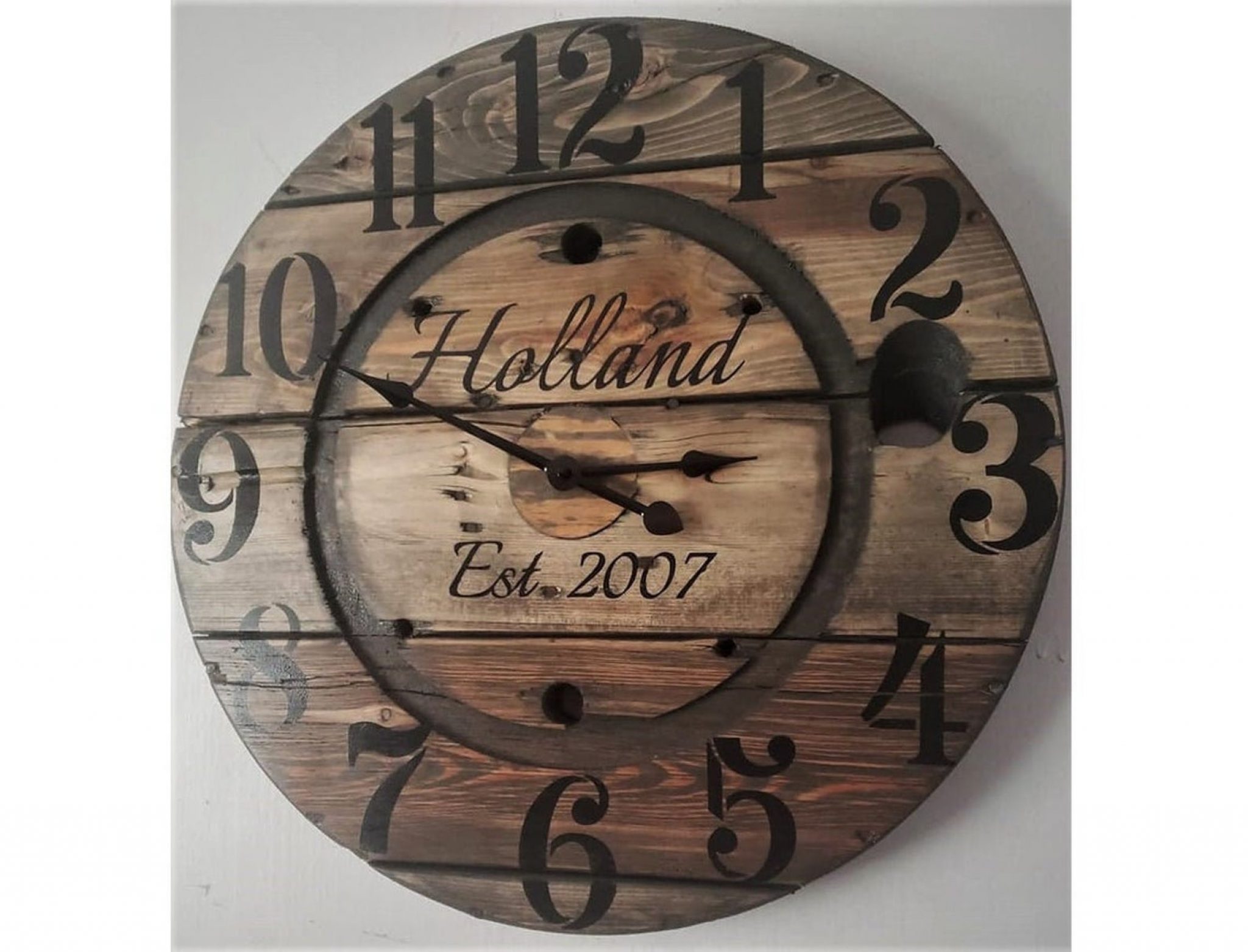 29. Personalized Wood Coordinates Sign
We have this sign and it looks so cool. It has the latitude and longitude of where you got married, your name, and the year you got married. Since wood is the 5-year anniversary gift tradition, it fits in well and looks great in any home.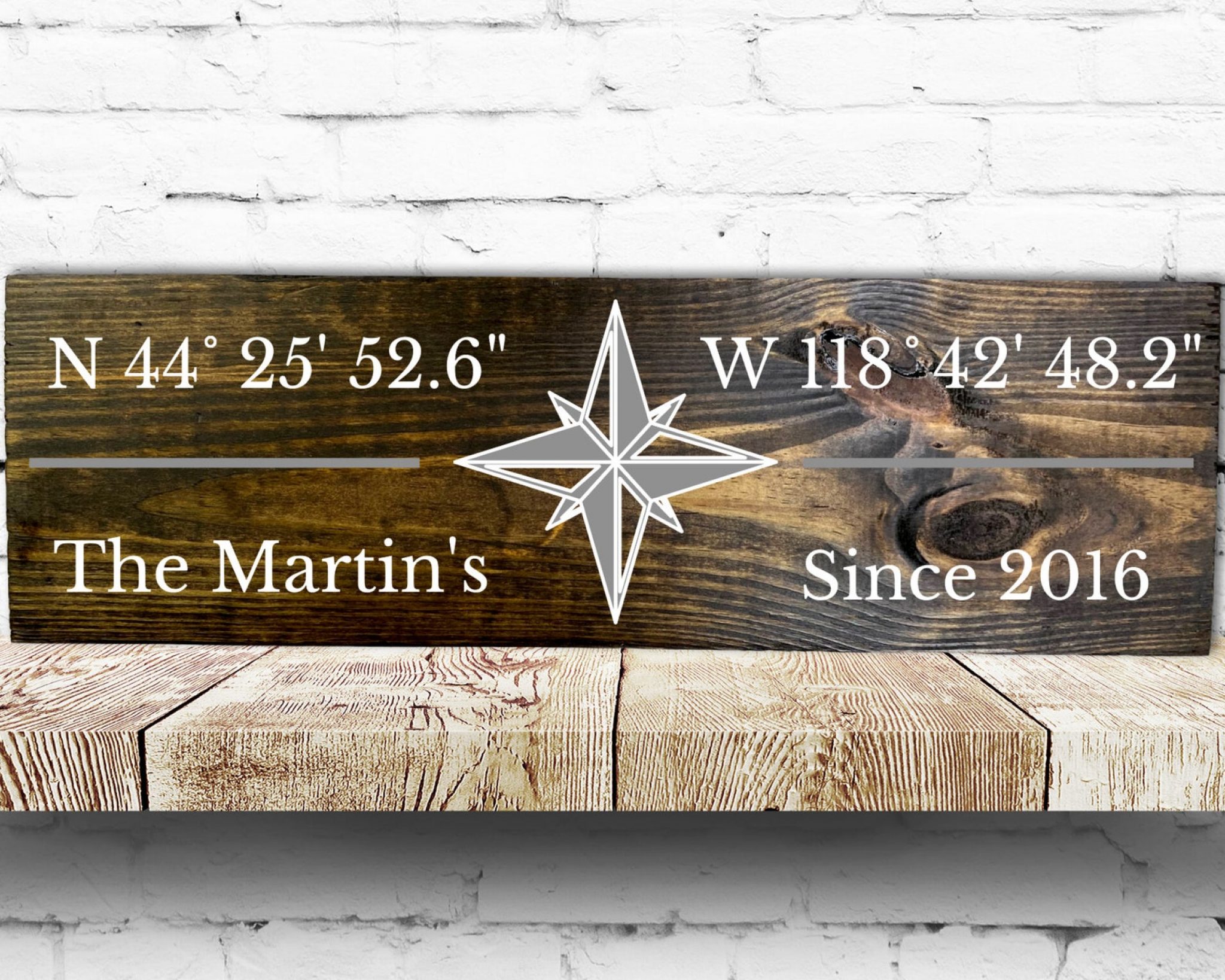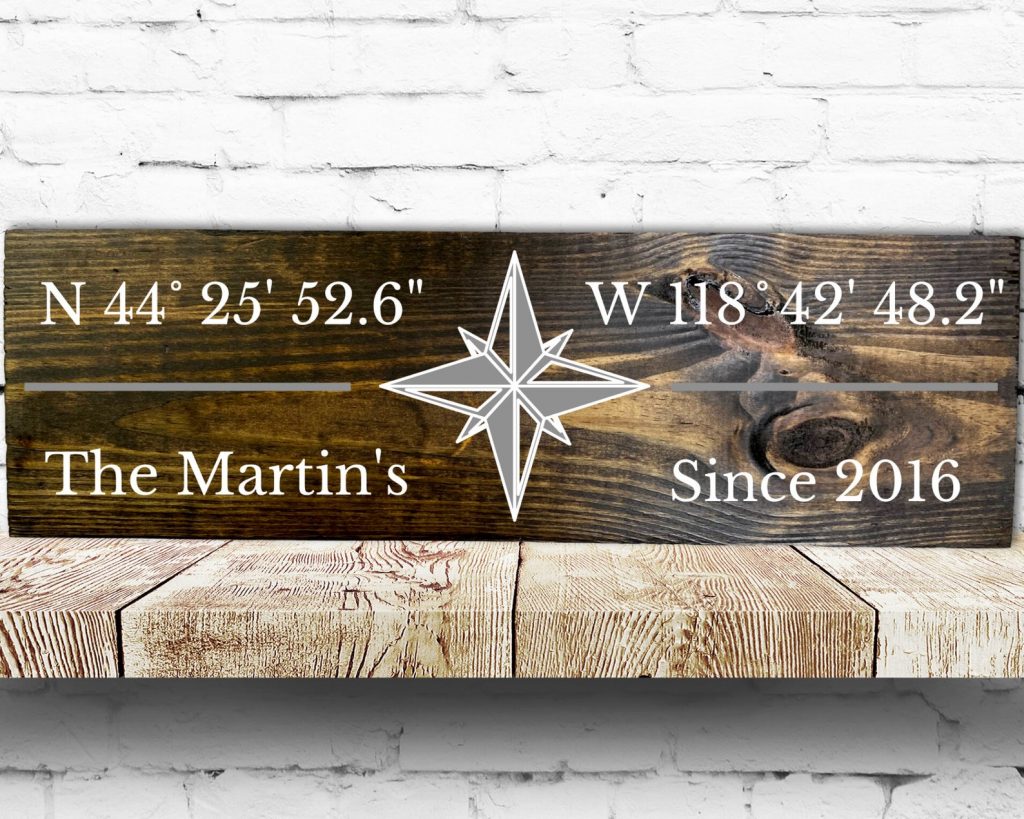 30. Wooden Watch
This gorgeous watch has 7 wood colors to form a cool looking pattern. They use exotic woods such as ebony, zebra wood, red sandalwood, and more. The different colors in the band allow it to match any outfit so you never have to take it off. It even tells you the day of the week which comes in handy for those of use who always think it's Sunday.
31. Picnic Basket
This romantic gift can be shared together. Nothing says romance like a picnic, and this picnic basket comes with everything you need for a picnic for two; wine glasses, plates, cutlery, salt and pepper shakers, a waterproof blanket, napkins, and a bottle opener.
These were our favorite 5th Anniversary gift ideas, but we are constantly adding more ideas to our section on Gifts for Couples. Or check out our Gifts for Men or our Gifts for Women.
Be sure to follow us on Facebook for daily updates for unique gifts.