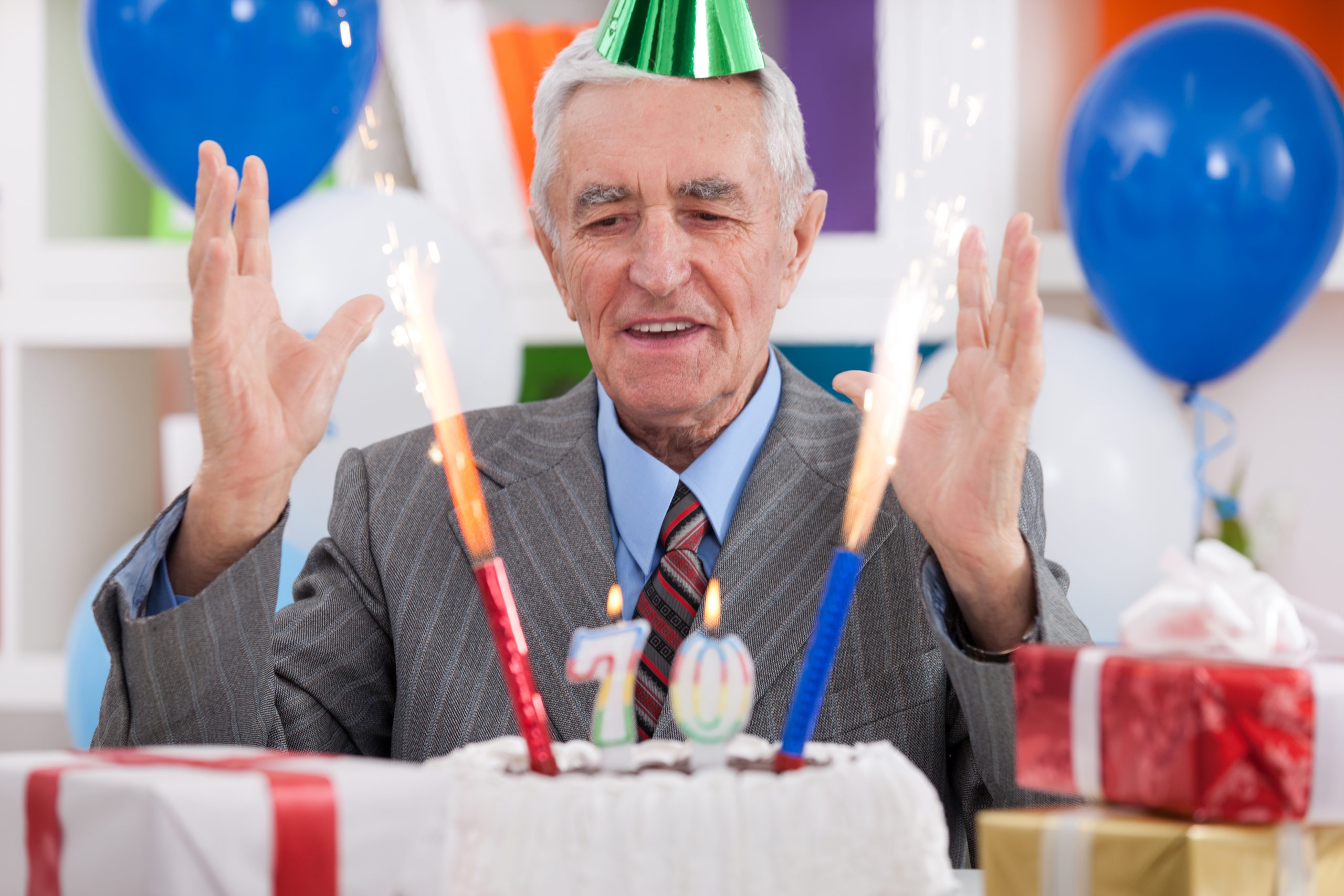 When it comes to gifts for a 70-year-old man, it can be hard to find the right gift. 70 is the new 40 these days so the typical old man gifts of the past aren't always the right option anymore. Some 70-year-old men prefer relaxing on the couch, but others want to travel and conquer the world. The other thing about coming up with 70th birthday gifts is that 70-year0old men often already have everything. But we searched the internet for the 40 best birthday gifts for a 70-year-old man who has everything… Here is our list.
Related: Gifts for Men
Personalized Whiskey Decanter Set
This personalized whiskey decanter set is perfect for the distinguished older man because it screams sophistication. It comes with a decanter, 4 glasses, 9 whiskey stones to keep his drink cold, and a wooden gift box. You can have it engraved with a title/nickname, name, and date. Plus, he might even share a sip when you come to visit. For more alcohol-related gifts for 70-year-old men, check out our Gifts for Drinkers section.
OrthoFeet Orthopedic Moccasins
As we get older, body parts start to hurt. You can throw out your back just by looking at the tv wrong. So, one of the best 70-year-old man gifts is something that comforts their body. These moccasins are supportive and super soft so they are great for those with plantar fasciitis, sensitive feet, diabetes, neuropathy, bunions, hammertoes, foot pain, and more.
Related: Gifts for Women n Their 70s
Knife Making Kit
Once you retire, you can get bored with all of that time on your hands. You can only watch so many reruns of the Wheel of Fortune before you want to stab yourself in the eye. Well, this kit makes that easier by allowing you to make your own knife with your very own hands. It includes everything you need to make a beautiful, one-of-a-kind knife.
Related: DIY Kit Gifts
Whiskey of the Month Club Subscription (Scotch, Bourbon, Gin, and Tequila also available)
Once you retire, you don't have to wake up early for work anymore, so why not day drink. This Alcohol of the Month Club curates the best bottles from world-class independent distilleries to ensure you get the best booze. They have clubs for whiskey, bourbon, scotch, gin, and tequila.
Related: Subscription Gifts
Complete Starter Guide to Whittling
Ok, so the Complete Guide to Whittling might seem like the ultimate hillbilly old man gift, but whittling is actually fun. It gives you step by step instructions to make toys, sculptures, and trinkets out of sticks and twigs. Don't knock it until you try it.
Digital Picture Frame
Grandparents love their grandkids but don't get to see them as much as they want. With this digital picture frame, you (or the entire family) can send pictures straight from your smartphone to the picture frame. It's a great gift for grandpa to see what you are up to so he doesn't worry as much.
Fishing of the Month Club Subscription
When it comes to 70th birthday gifts for him, we often think of old man gifts but that doesn't necessarily mean gifts for grandpa to enjoy on the couch. 70 is the new 40 these days and oftentimes, they love getting outdoors to enjoy their hobbies. If fishing is one of those hobbies, then this Bass Baits Monthly subscription is the way to go. Each month, they will receive a box of top-quality lures, bait, and other surprises to help them reel in the big one.
Campfire Caramelizer
If your dad loves hanging around a BBQ or campfire, then gift him this campfire caramelizer. It is one of the coolest things I've ever seen! You heat it over a flame and then you quickly dunk it into any beverage such as beer, hot chocolate, cider, etc.. It reacts with the sugars and makes it have a smooth texture and deeper flavor without changing the temperature. It's especially yummy with craft beer!
Hand Therapy Set for Seniors
This hand therapy kit helps improve circulation, reduce arthritis pain, and increase mobility and strength. It will get your senior hands back into tip-top shape so you can open your own bottle of pills!
Customized Historical Family Portrait
I bought this customized historical family portrait for my husband and it was a huge hit with the whole family. You can include one person or 20+ and you can add kids, babies, and pets. You even get to pick the background, poses, and clothes, so it is fun to see your family come to life in a royal setting. You send a picture of the people you want in the photo and they create it for you. You can even send individual pictures of people and have them put into one so it's great for families who don't get together for yearly portrait sessions. Gifts for grandpa don't have to be old man gifts, because this is great for anyone of any age.
Related: Unique Personalized Gifts
Personalized New York Times Puzzle
Celebrate the day he was born AND give him something to do when he is bored. This 500-piece puzzle can be made with any date. As you put it together, you can see what was on the front page the day you were born, the day you got married, or any other memorable date.
Golf Ball Rangefinder
If you are looking for gifts for a 70-year-old man who loves to golf, this golf ball RangeFinder helps them find their ball and it tells them the distance so they know which club to pick. It is compact and it can spot a ball measuring up to 540 yards away but if your dad is hitting balls that far, then he better join the senior tour right away.
Steak Branding Iron
This steak branding iron lets you brand your meat so everyone knows you are the grill master. It is fun to do and it's one of those gifts that nobody would think to get for themselves because they probably never even heard of it.
Digital Doorbell
Anyone over 70 knows what an effort it becomes just to get off the couch to answer the door. In fact, I've hated doing that chore since I was about 45. But this digital doorbell fixes that! It allows you to see who is at the door from the comfort of your couch and you can even talk to that person through your phone. It has smart technology that knows when it is an actual person or just a squirrel so it doesn't bug you every time birds fly by. Plus, you don't need a subscription for this one!
Flying Experience
One of the best 70-year-old man gifts are gifts of experience. Help him check off his bucket list with a flying experience; take a glider ride, soar above the clouds in a hot air balloon, learn to fly a Cessna, fly in a biplane, or be a daredevil by skydiving. This company has many adventures all over the country that soar through the air.
23andMe DNA Ancestry Kit
23andMe is my favorite DNA ancestry kit. We tried a few of them and 23andMe gave the most information. You simply spit in the given tube and mail it back in the self-addressed box and they send you a detailed report about your ancestry composition, genetic diseases you carry, and wellness reports that tell you if you are predisposed to have a certain body type or allergies. You can also choose to connect with relatives you didn't even know you had. I have dozens of distant cousins that I never even knew existed. I personally know many people who have been diagnosed with something through 23andMe. It's also so fun to learn you are 30% Mongolian when you thought you were Irish.
TV Enhancing Chair Speaker
As you get older, your hearing starts to go… or maybe we just master the ability to ignore people. This TV enhancing chair speaker makes a great 70th birthday gift because it helps you hear the TV even when there are other people talking in the room. It allows you to increase the volume so you can hear it without blasting out your spouse who is trying to read. It is designed to fit over your couch, chair, recliner, or headboard.
Gin and Vodka Infusion Kit
This is one of those gifts for older men that can actually be given to anyone over the age of 21. I love this gin and vodka infusion kit. It is marketed for use with gin, but you can use it with any liquor. It has 12 exotic botanicals sourced from around the world; juniper-berries, pink-pepper, lavender, cardamom, cubebs, and more. It is so fun to create your own specialized booze for your bar!
Related: Gifts for Men in Their 50s
Shiatsu Neck and Back Massager with Heat
This deep tissue shiatsu massager makes a great 70th birthday gift because it loosens your muscles and works the kinks out of your neck and back and let's face it… things hurt as we get older. This massager is comfortable, adjustable, uses heat to penetrate deeper, and even comes with an adapter to use it in the car. You can either let it rest on your shoulders and let it do its thing, or you can place your hands in the straps and apply more pressure. It's the closest thing to a real massage.
Personalized Family Tree
If you are looking for sentimental gifts for a 70-year-old man, check out this personalized family tree poster. It has spaces to write information about his relatives; name, date of birth, death date, and where they were born. It comes with two in case you make a mistake while filling it in or if you want to keep one for yourself and it's a great way to document your family before nobody can remember.
Wine of the Month Club Subscription
If dad or grandpa loves wine, then take a look at this Wine of the Month Club. Each month, they send two bottles of hard to find, premium wine from award-winning, boutique wineries around the world. You can choose white, red, or one of each. And the best part is that he will probably give you a glass when you visit. They also have monthly clubs for cheese, olive oil, chocolate, beer, and more.
Heated Gloves
Nobody likes having cold hands but it's even worse if you have arthritis or poor circulation. These heated gloves have 3 settings that are easy to control, waterproof, and windproof. Plus, they have touch screen compatible fingertips that allow you to work your phone while wearing them. So, whether he is chopping wood, mowing the lawn, skiing, ice fishing, or sitting on the porch with a cold beer, his hands and fingers will be toasty warm.
Driving Experience
Boys will be boys at any age, so gift him a driving experience where he can race a Ferrari, Nascar, Indy car, or other fast-moving macho vehicles. They have driving adventures all over the country to help dad check off another item on his bucket list.
Related: Gifts for Car Lovers
Customized Historical Portrait on Their Pet or a Horse
If you're looking for funny gift ideas for a 70-year-old man with a sense of humor, then get him this customized historical portrait on a horse or on his pet dog, cat, gerbil, etc… The website shows a portrait with a horse, but I recently had two of them made and asked the artist to substitute the horse for my daughters' tiny dog. It was a hilarious gift that they loved. You can get a digital file or have it made on a poster or a wrapped canvas. The artist is really easy to work with and made changes until it was perfect.
Related: Personalized Gifts
Steak of the Month Club
If you are looking for an extravagant gift for a 70-year-old man who loves meat, then the Meat of the Month club is the way to go. Actually, this is great for anyone of any age who likes meat. Each month, they ship filet mignons, top sirloins, New York strips, and more.
Prism Lazy Glasses
Some 70-year-old man gifts are funny at first and then you realize they are actually genius. This is one of them. These prism glasses (also known as Lazy Glasses) allow you to read or watch TV while you are laying flat without having to move your head. You can even wear them over your reading glasses. I seriously want a pair.
Making Poor Man's Guitars
This is a great gift for 70-year-old men who like to create stuff. My grandpa used to find weird items around town, make something out of them, and then sell them at the flea market. We used to giggle at him for doing it but it made him happy. The Making Poor Man's Guitars teaches you how to take found items and turn them into cigar box guitars, frying pan banjos, and other DIY instruments that can actually play when you are done. For those who are retired, it gives them something to do with their hands and keep their mind alive.
Cigar Of the Month Club Subscription
Sure, smoking is bad. But who are we to tell grandpa he needs to stop? He's lived this long, so let him be. Thi cigar of the month club is the absolute best cigar subscription out there. Each month, you receive top of the line, premium cigars. They were rated #1 cigar club for 7 years in a row.
Cigar Humidor
Speaking of cigars, this personalized cigar humidor will allow you to store up to 50 of your favorite stogies so they stay as fresh as the day you smuggled them in from Cuba. This humidor allows you to personalize it with your name so everyone knows to keep their fingers off your stash.
Local Scenic Cruise
As we get older, we start to appreciate experiences with loved ones more than material items. It's those moments that make life worth living. These local scenic cruises offer ideas for everyone; champagne brunch cruises, whale watching, sunset cruises, dinner cruises, wine tasting cruises, sailing, gondola rides, and so much more. They have cruises all over the country so there is surely one near you.
Booze and Vinyl: A Spirited Guide to Great Music and Mixed Drinks
This is one of my favorite gifts to give. Whether you are looking for 70-year-old man gifts or gifts for young guys in their 20s, this is amazing. It pairs cocktails with the best albums of all time. It has cocktail recipes that complement the music's mood, imagery in the lyrics, or connect the drink to the artist.
Luxury Shaving Kit
Back in the day, men used to go to the barber for a nice, clean shave. Nowadays, they have to do this hard task all on their own, risking their lives from bleeding to death from a cut. This kit comes with that frothy, foamy shave cream that the barbers used to use to give them a bit of nostalgia and a clean shave.
Heated Massage Mat
This heated massage mat relaxes your body from head to toe. It has 5 Massage Modes, 4 selective massage zones, and 3 Intensities to make your body feel like you are 25 again. It is easy to move it and you can use it on a bed, floor, couch, or chair.
1,000 Places To See Before You Die
Don't pull the life support yet until you have a chance to read 1,000 Places To See Before You Die. You need to make sure you see all of these places before you move on to be with your ancestors. It has the best hilltop villages, deserted beaches, wine trails, coral reefs, hidden islands, castles, museums, opera houses, sacred ruins, and more.
Monocular Telescope
This monocular telescope is compact and allows you to see 12x further. It is great for watching sports, bird watching, hunting, hiking, concerts, camping, watching wildlife, and travel. It will feel like you have a front row seat wherever you go.
Foodie Subscription Box
Everyone eats food and so you can never go wrong with sending this top-notch food subscription box. Items include stuff like garlic pickles, peanut butter chocolate bars, cocktail mixers, truffle popcorn, and chipotle hot sauce.
Tushy Bidet
This gift might seem super weird but it is amazing. It you can't splurge for the $5,000 bidet, this Tushy Bidet is what you need. When you get older, it's sometimes harder to reach places, but this thing reaches all of your nooks and crannies so you are sparkling clean. Really, everyone needs this… not just 70-year-old men.
NutriBullet Personal Blender
Many times, as we get older, we realize we better start taking better care of ourselves so we start making smoothies and juices in order to make up for all of the partying we did when we were younger. This personal sized NutriBullet blender is easy to blend your smoothie and then take it with you and it makes it easy to add a little vodka if you aren't done partying yet.
Heated Insoles
Nobody likes getting cold feet. Once your toes start feeling frigid, it makes your whole body miserable. These rechargeable heated insoles will keep your feet warm even when you're in freezing temperatures. Just slide them into your shoes and you will think you are living in Hawaii.
Nostalgic Candy

Reminisce about your life as you snack on candy from your childhood. It's so sweet, you will think you are 10 years old again. It will bring back innocent, carefree, sugar-filled days.
Whiskey Glass Set
Let grandpa relax with his bourbon with this whiskey glass set. It has 6 stainless-steel chilling stones, 2 glasses, a velvet bag to protect the stones for years to come, tongs, coasters, and a beautiful wooden gift box.
For more gifts for a 70-year-old man who has everything, check out our Gifts for Men section. Or check out our gift guide for Gifts Ideas for Retirement.
Be sure to follow us on Facebook for daily updates of unique gifts for the whole family!