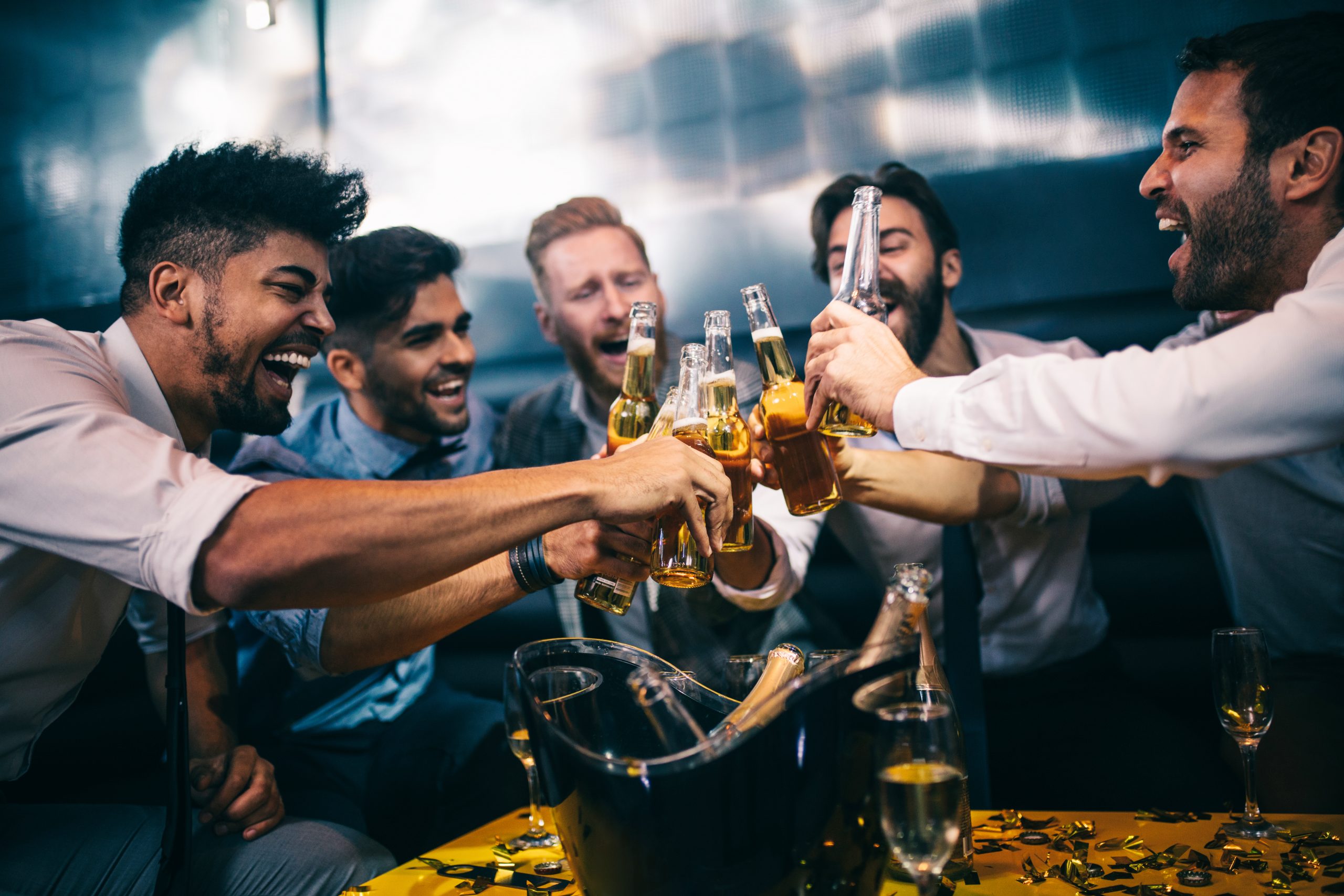 Guys in their 20s are at a great age because they no longer have to do their homework and be home in time for dinner. They are no longer teenagers and finally men, so finding gifts or 20 something guys can be fun. Some guys like to drink, some guys like working hard, and some guys like taking adventurers around the world. Some are even all three. So, whether you are looking for a 21st birthday gift for your boyfriend or a 25th birthday gift for your son, we have it all. Here are the best gifts for 20 something guys who are sons, husbands, brothers, grandsons, or friends.
Related: Gifts for Men
1. DIY Make Your Own Beer Kit
You no longer have to wait in long lines to get into the neighborhood bar when you can make your own beer at home. This DIY Make Your Own Beer Kit has everything you need to make your own brew. It only takes 30 minutes of time and will be ready to drink in 3-4 weeks and you can choose between Stout and Lager.
2. Gentlemen's Box Subscription
The best gifts for 20 something guys who want to become gentlemen are gifts that help them grow as a man. Each month, they send you premium items based around tech, fashion, and lifestyle. Items in the past have included a watch, socks, cocktail mixers, BBQ gear, whiskey decanter set, scarf, and more. You get a big bang for your money because each box is worth way more than the price. They have subscription plans that start at $35 a month.
3. uKeg Go Pressurized Beer Growler
This pressurized, portable beer growler allows you to take beer with you on the go and keeps it cold and bubbly all day. It has a setting that you can choose how much carbonation you want depending on the type of beverage. It is great for beer, cocktails, apple cider and more.
Related: Gifts for Drinkers
4. Car Lights
Car lights let you turn your car into a moving disco on wheels. They have 16 million color options but I'm not sure how they do that, because my Crayola box only had 64 colors in it. The controls are easy to change the colors or you can sync it with your music so the colors dance to the music.
Related: Gifts for Car Lovers
5. Drunk Stoned or Stupid Game
This hilarious game is played with 4+ people and not for the easily offended. It comes with cards that everyone votes who the card resembles the most. Example of cards are "Who is most likely to wake up with a half-eaten burrito in their bed?", "Who will make out with anyone?", and "Who gets a popcorn bucket out of the trash just to get free refills?". By the way, all of these things are me.
6. Race Car Experience
What guy in his 20s doesn't like fast cars? Give him the experience of driving a Nascar, Indy car, Formula car, or a ride-along with a professional racer. It will be an experience of a lifetime that he can brag about for years to come.
7. Drone
This mini foldable drone has a camera and video camera so it takes great videos and pictures. It can zoom in 4x, so it is so clear that you can spy on your neighbors. Or, it is fun to have it film you doing something awesome like skateboarding or doing a keg-stand.
Related: Gifts for Techies
8. Hungover Cookbook
This is more than a gift for a man in his 20s. I think anyone who drinks needs to have this. It not only has recipes for helping your hangover, but it has mind quizzes to see if you are hungover or if you are just still drunk.
9. Beer Chiller Sticks
Sometimes, beer just isn't cold enough. Drop beer chiller sticks in the freezer or a bucket of ice. Once they are cold, pop them into your beer and screw on tightly, and then instantly, your beer is ice cold. They are great for BBQs and tailgate parties or for just sitting out by the pool.
10. Signed Memorabilia
Let's face it… Men of all ages love sports so men in their 20s are no different. This site has a ton of sports memorabilia signed by your favorite athlete. They have items from baseball, soccer, football, hockey, and more. Basically, every sport worth watching.
11. World's Hottest Chocolate
At 9 MILLION Scoville Heat Units, this is the hottest chocolate bar in the world. The chocolate bar has 12 squares and you can either do the 12-minute challenge where you attempt to each one every 60 seconds or compete with a friend to see who can eat the most. Either way, you're going to need to take the day off because it will hurt so bad.
12. Mixology Dice
The Mixology Dice make it fun to try new combinations of cocktails. They are printed with a spirit, sugar, liqueur, citrus, fruit, herb, spice, and bitters, and you roll them to see what kind of cocktail to make. It is fun for amateur drinkers, professional bartenders, and everyone in between. Whether you are looking for 21st birthday gift ideas for guys or gals, this is a fun option. They also have Foodie Dice for those more interested in food.
13. Manscaped Crop Essentials – Ball Grooming Kit
Manscaped Crop Essentials keep your nether region smelling nice even when it's 100 degrees out and you've been stuck in the same pants for 4 days. It has a body wash, ball deodorant, and a ball toner to keep the fellas looking nice.
14. Personalized 21st Birthday Flask
Ordering cocktails in a bar can get expensive, so give this as a 21st birthday gift so they can sneak in their own booze and not get charged for it. It can be personalized with their name, occasion, date, and more to make it look even more classy.
15. Scratch Off Map
This scratch-off map is one of the best gifts for young men who love to travel or those who want to start traveling. You scratch off a country or state after you visit. I have this and after I scratch off the places I've been, I stand back and look to see which area on the map has been neglected. That's how I decide where to go next.
16. Beer of the Month Club
The best 21st birthday gifts for guys are the gifts that keep giving. This beer of the month club has been rated #1 for 7 years in a row. Each month, they send you 12 full-sized bottles of hard to find, premium craft beers from boutique breweries across the country.
17. Kitchen Sink Backpack
This backpack does it all. Whether the young man in your life is going to college, working a 9-5 job, or scaling a mountain in the outback, this backpack can handle it. It has space for a laptop or other gear and enough clips and pockets to hide your stash so the cops will never find it.
18. That's What She Said Game
Just because a guy is in his 20s doesn't mean he has to instantly grow up, so gifts for 20 something guys can be immature and fun. That's What She Said is similar to Cards Against Humanity except the answers are double entendre so you try to make everything sound naughty. It is hilarious to play with friends and you won't stop laughing.
19. Breathalyzer
This is one of those gifts for a 21-year-old man that may help them stay out of jail. When you are in your 20s, you are still trying to learn how much you can drink before you black out and forget your own name. This breathalyzer is compact and fits on your keychain and it not only tells you how drunk you are but it also tells you how long it will take to sober up.
20. Manual to Manhood
Of all of the gifts for 20 something guys, this is one that they all probably need. It teaches young men how to do stuff that is not taught in school but is even more important, such as, how to change a tire, how to cook a perfect steak, how to tie a tie, how to plan a date, how to write a resume, and more. It will help them succeed in love and life.
21. DIY Kombucha Kit
This kit has everything you need to brew your own kombucha at home. Buying kombucha at the store can cost over $3.50 per bottle so it is much cheaper to make your own. But it is also more fun and it tastes better because you can add different flavors.
22. Gas Pump Liquor Dispenser
This liquor dispenser looks like an old-time gas pump and is just fun to have. It makes a great 21st birthday gift for guys. You pour the liquor in it and dispense it through the hose and it is a great conversation starter.
23. Nintendo Switch
Many guys in their 20s love gaming and the Nintendo Switch is one of the most popular gaming systems. It's fun and will keep him entertained for hours on end. If he is seriously into gaming, then check out our gift guide on Gifts for Gamers.
24. Giant Flask
Sometimes size matters and when it comes to flasks, we believe you should 'go big or go home'. At a whopping 12", you can carry enough liquor to share with friends so you all can get blackout drunk. I know that doesn't sound very classy, but you can personalize it with your name, date, and occasion so that makes it ok.
25. Oculus Virtual Reality Gaming Headset
The newest virtual reality headset can take gaming to the next level. You will think you are literally inside the game whether you are fighting the enemy, flying a fighter jet, and finding your way through a maze. Sometimes, it's even better than reality.
26. Hot Air Balloon Ride Experience
Talk about checking something off of your bucket list. This company has hot air balloon rides all over the country so you can soar through the air and feel the wind in your hair. They also have experiences such as flying an airplane, racing a car, beer tastings, and more.
27. Secrets for Your 20s
Our 20s are filled with heartbreak, career disappointment, and financial struggles, but this book let's you know you are not alone. It is broken up into sections that allow you to read it as a book, read certain sections when you are struggling with that topic, or open it daily for an uplifting tidbit of knowledge.
28. Beard Grooming Kit
This ultimate beard grooming kit will keep the hairiest man well-groomed with beard conditioner, beard shampoo, beard oil, beard balm, beard brush, beard comb, Scissors, storage bag and an E-Book. It has jojoba oil, argon oil, and vitamin E to keep your beard smooth and sexy.
29. Tipsy Tower
Tipsy Tower is similar to Jenga but way more fun. It has 35 games in one to help get the party started. It takes a family game and turns it into the ultimate party game. Each of the blocks has a rule written on it and you have to follow it while playing.
30. Apple Air Pods Pro
If you don't mind forking out more money for gifts for 20 something guys, then go for the Apple Air Pods Pro. They have noise cancellation so you can ignore everyone around you or a transparency mode to be able to hear what people are saying about you. And you only have to say, "Hey, Sir" in order to connect with her.
31. Man Meets Stove
Man Meets Stove is a comedy cookbook for young men who have never cooked anything without a microwave. It gives you the skills to impress the ladies and let's face it, that's the whole point of your 20s anyway. It has recipes such as Drunk Broccoli, Grilled Cheese Sandwich Three-Way, Chicken and other Vegetables, and Wake Me Up Before you Go Go Brownies (Caffeinated Brownies). Each recipe is done with a song dedication and will make you laugh.
32. Bluetooth Beanie with Headphones
This beanie hat allows young men to listen to music without anyone knowing and you don't have to worry about headphones falling out of your ears. With 20 hours of music playback, you can jam to music all day and night, and your head will be nice and cozy.
These were the best gifts for 20 something guys, but we find new stuff daily. If you want more ideas for gifts for young men, check out our section on Gifts for Men. Often, men in their 20s are into gaming, so if that is the case, check out our gift guide on Gifts for Gamers.
Be sure to follow us on Facebook for daily updates on unique gifts for the whole family.