Nomadik Box Review, July 2020 – Camp Kitchen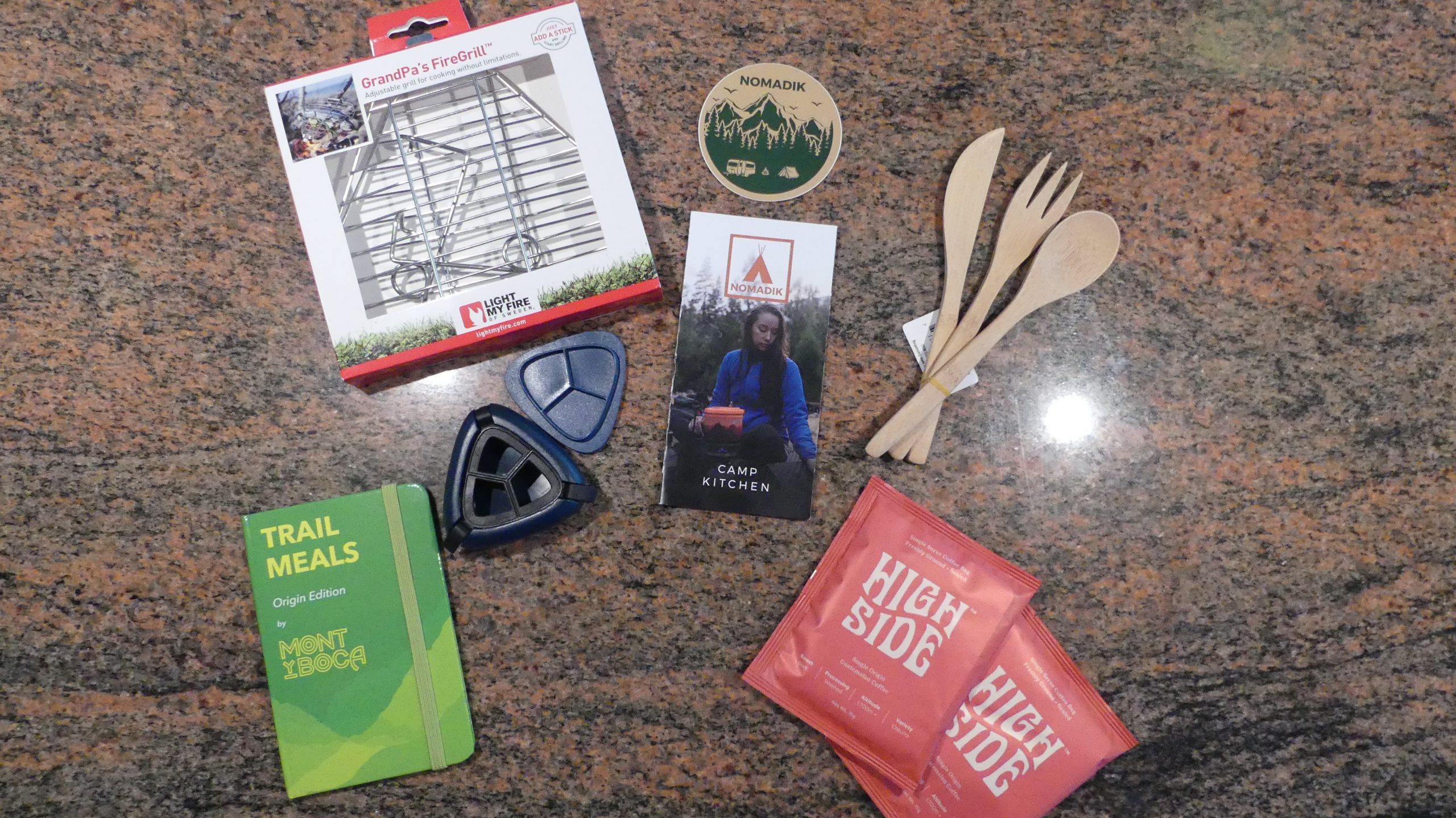 This is about my 6th Nomadik box review and this one had some fun items in it. Nomadik is a subscription Box for outdoorsy people who like to hike, camp, climb, or just escape to the woods. The theme was Camp Kitchen so we obviously had to attempt to review it in a tent in the backyard.  Unfortunately, it is 90 degrees with 90 percent humidity so that lasted about 3 minutes until we had to move it indoors. Here are the fun items in the July 2020 Camp Kitchen Box:
High Side Guatemalan Coffee
It came with 2 packs of High Side Guatemalan Coffee and each one was in a single-serve bag similar to a teabag so it was easy to brew.  Just boil water and drop the coffee bag into the cup and you will have fresh-brewed, hot coffee in less than 5 minutes.
Trail Meals Pocket Recipe Book
The Trail Meals Pocket Recipe Book had surprisingly yummy recipes in it. I wanted to make the Jambalaya or Thai Tom Yum Noodle Bowl but I desperately needed to go to the grocery store so we didn't have all of the ingredients. Each recipe only requires a handful of ingredients and less than 30 minutes to prepare, so they are easy to do while camping. Since our cupboards were bare, we decided to make the Honey Siracha Popcorn. It sounded absolutely disgusting to me because I don't like sweet and salty together, but it was surprisingly good. I will definitely try the other recipes once I get to the store.
Bamboo Utensils
The Bamboo Utensils come with three utensils that are smooth so you don't get splinters and they are dishwasher safe. They are compact so they don't take up valuable backpack space. They are stain-resistant, heat resistant, and BPA and Phthalate free.
Light My Fire Salt and Pepper Plus Bio Container
The Light My Fire Salt and Pepper Plus Bio Container holds three different spices so you don't have to sacrifice flavor while camping. Once you put the spices in the compartment, there are little holes on the side to sprinkle your spice. We didn't see them at first so we were just opening it and dumping it. But the holes make it much easier.
Light My Fire GrandPa's Firegrill
The Light My Fire GrandPa's Firegrill makes it easy to cook meat and veggies over an open fire. You just find any stick and clip it onto the grill and insert your food. It allows you to turn it to cook on all sides for easy heat distribution. I actually didn't see the clips at first so we had a hard time keeping it on the stick when we did our video review, but then my husband showed us how to clip it afterward. That would have been handy to know. (our Youtube video review is below)
Overall, this box was really good. I will definitely use the recipe book again and we have already used the Firegrill over our BBQ.
Each month, you receive about 5 items valued at $50-60, and subscriptions start at just $29.99 and it is fun to open them each month. My family members keep begging me to send them to them and they are more outdoorsy than I am, but I just enjoy getting to try stuff out each month so I am keeping them. So, be on the lookout for another Nomadik Box review coming soon!
For a 10% discount, use code: GIFTERWORLD10 at Nomadik.
For more gift ideas for outdoorsy people, check out our Gifts for Outdoors and Sports section. Or for general unique gift ideas, check out our Gifts for Men or our Gifts for Women.
Be sure to follow us on Facebook for daily updates on unique gift ideas for those who have everything.