Nomadik Box Subscription Review (April 2020) – Outdoor Gear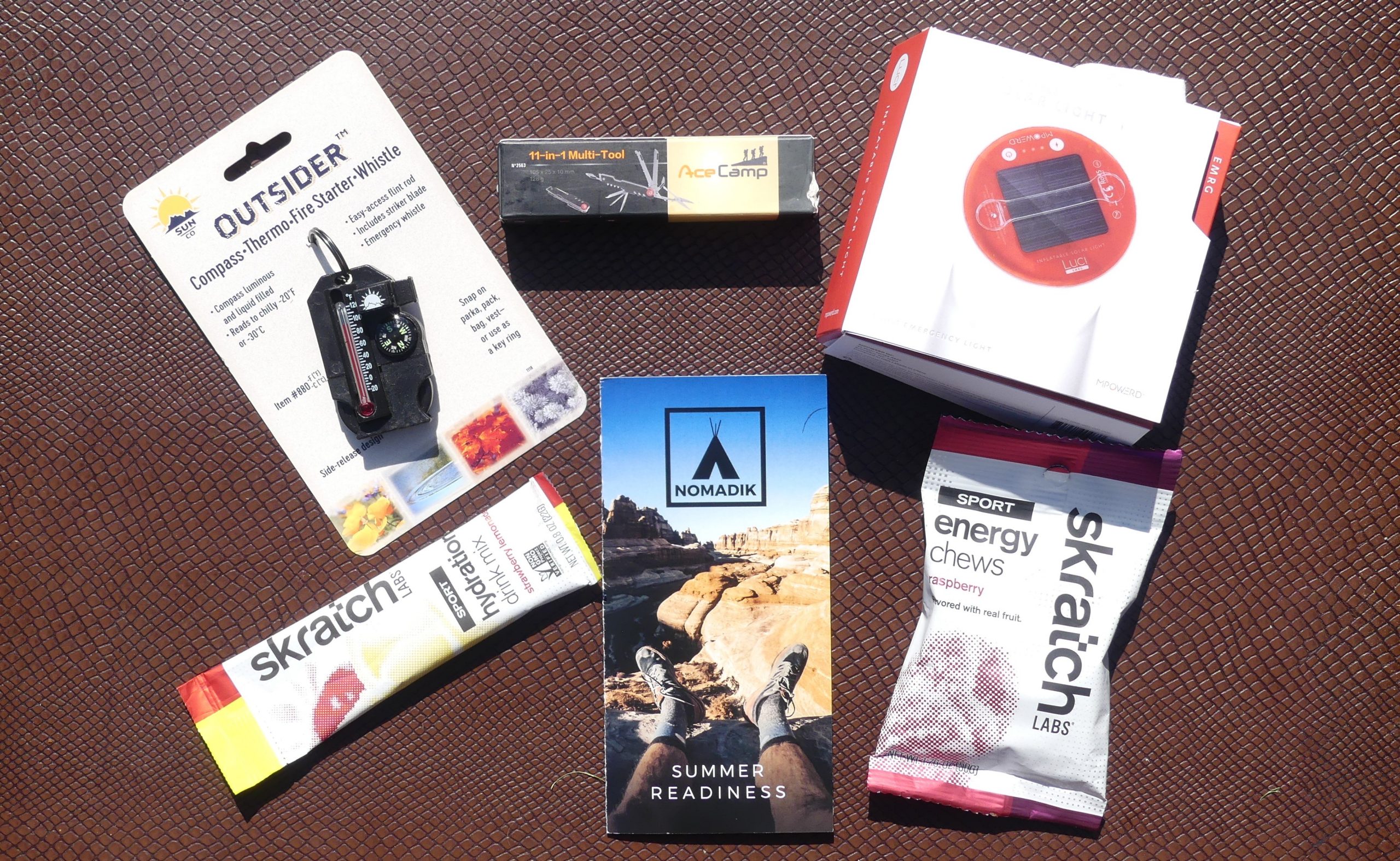 The Nomadik Box is a subscription for outdoorsy people; hikers, campers, climbers, survivalists, and more.  They sent me three boxes to review and so far, I'm impressed. The items were fun, unexpected, and interesting to learn about.  Many of the items have already come in handy!  
April's box came with 5 items. Energy chews, hydration drink mix, solar-powered waterproof light, 11 in 1 multitool, and a Firestarter/compass/thermometer.
The Energy Chews were raspberry flavored and tasted nice.  They were similar to a fruity candy but they have lots of vitamins in them. My family devoured them within minutes them so I only got to taste one.
The Hydration Drink Mix tasted great with water AND with vodka, so if you are a drinker, it has a dual purpose. I used half of it with water as the directions stated, but then I really enjoyed my Hydration Cocktail. I figured it would prevent a hangover since it was so hydrating.
The inflatable, waterproof, solar-powered light was my favorite thing in the box. You blow it up, and the sun charges it.  It has various lights to choose from; light solid white, bright solid white, blinking white, flashing SOS red light, and a sexy solid red light.  You can use it as a flashlight, ambiance light, room light, or to signal for help and since it is waterproof, you don't have to worry about it getting wet and breaking.  Plus, it floats!
The 11-in-1 multitool features a knife, saw, scissors, can opener, bottle opener, flathead and Philips screwdriver, nail file, small pick, thread loop, and a corkscrew. They are well made and seem to work and I have already used the scissors and corkscrew.
The Compass., Thermometer, Fire Starter, Whistle combo tool is handy to have. I tried to start a fire, but I am not very good at stuff like that. It was definitely sparking, but I was afraid to hold the kindling too close. I am sure an outdoorsy person could do it with no problem. The thermometer reads temperatures down to -20F. Why anyone would be outside in that weather is beyond me, but I'm sure this would be handy to have. I like to stay in 80+F weather, but I'm a wimp.
I love opening the Nomadik Box each month because it is like Christmas each time. The quality has been good and they are varied products each month.  You can choose to just order one box, but I love the idea of the subscription for anyone who loves the outdoors.
For a 10% discount at Nomadik, use code: GIFTERWORLD10
For more unique gifts for those who love the outdoors, check out our Outdoor and Sports Gifts. Or take a peek at our Unique Gifts for Men or Unique Gifts for Women.
Be sure to follow us on Facebook for daily updates of awesome gifts!