Nomadik Outdoor Gear Box Review – Welcome Box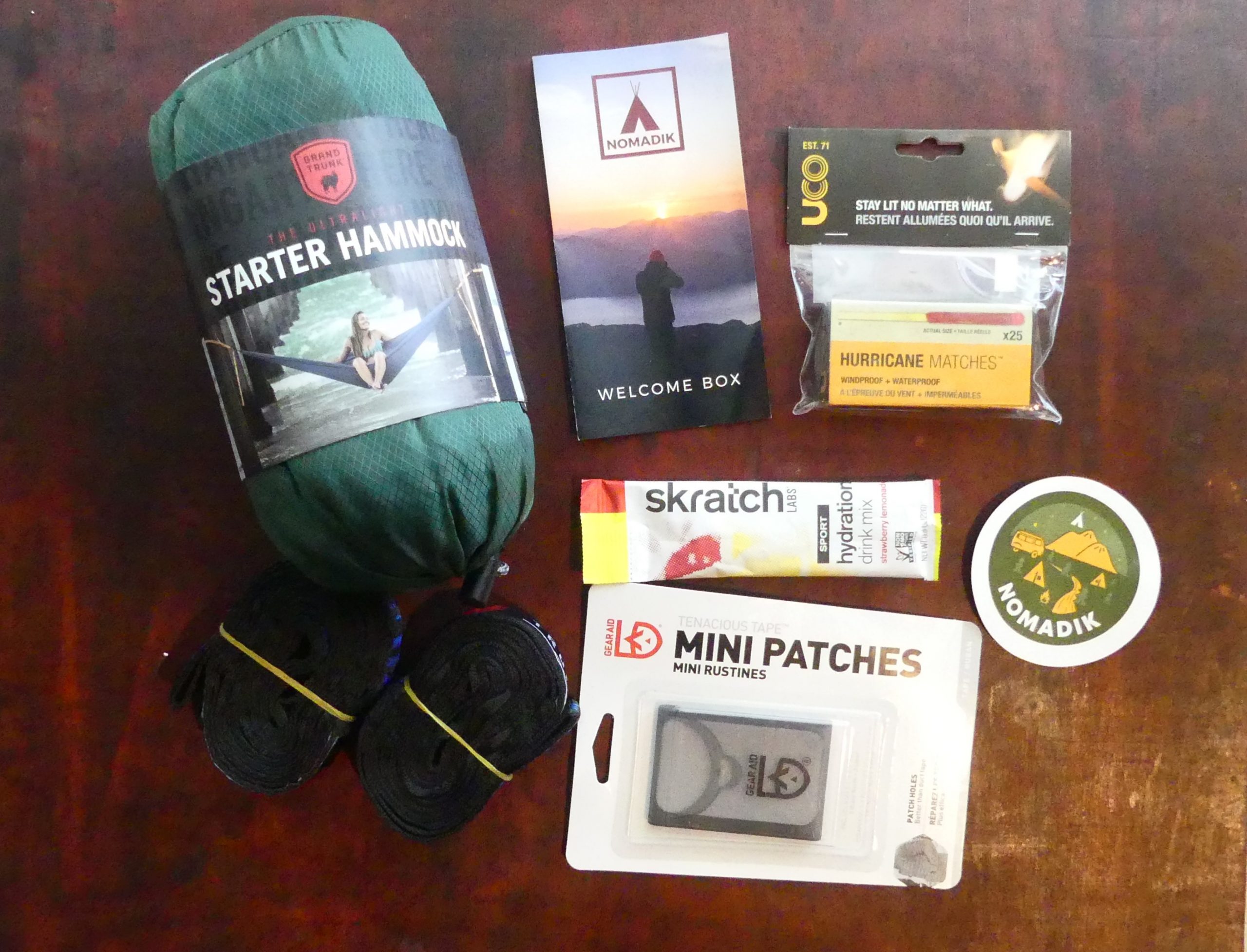 I've been subscribing to the Nomadik Outdoor Gear Box for about 6 months, but I think this one was my favorite!  Each month, you receive various items to use outdoors for camping, hiking, climbing, or just sitting in your yard.  They just started doing a Welcome Box, so this is the box all new customers will receive first.  This box came with a hammock, gear patches, hurricane matches, and a hydration drink mix. (our video review is below)
We were so excited to get a hammock because we had been wanting one for a while. We moved out of a condo into a house right before the pandemic hit so we finally have a yard. I giggled when we opened the hammock because I figured there was no way we would be able to figure it out, but I was so wrong. It was super easy to hang and it took less than a minute. Now that we know what we are doing, it takes about 30 seconds. It comes with straps that wrap around the trunk of any tree and clips to attach it. Easy-peasy!
Skratch Labs Hydration Mix
We've actually had this in a few boxes now and I love to mix it with vodka. It is supposed to add electrolytes back into your body, so I figured it would prevent a hangover before I even get one. You are supposed to use it with water, but why not think outside of the box.
I normally like to personally use each item in order to give you a true review, but I couldn't find anything that needed to be repaired. They are waterproof and washable and you can use them to repair backpacks, rafts, tents, jackets, and more. They came in a handy little box to make it easy to throw in your backpack.
These things are super cool!  First of all, they are huge.  They are about the size of a birthday candle and they look like a professional firecracker or bomb or something. They are waterproof and windproof so that was a bit of an issue when we were in the house and couldn't figure out how to put it out.  These are definitely outdoor matches.  The flame is big and hearty and you would be able to start a fire with them even if you were in the middle of a storm.  If I ever go on Naked and Afraid, I'm bringing these.
I have enjoyed receiving the Nomadik Outdoor Gear Box every month. It is always exciting to open it to see what goodies are in it, but receiving the hammock was the best. Since opening this box, it has been used every day. I can't wait to see what comes next month!
For a 10% discount, use code: GIFTERWORLD10 at Nomadik.
For more gift ideas for the outdoors, check out our Gifts for Outdoors and Sports section. Or for other gifts, check out our Gifts for Men or our Gifts for Women.
Be sure to follow us on Facebook for daily updates on unique gifts for those who have everything!