Nomadik Outdoor Gear Review, "Fix It", August 2020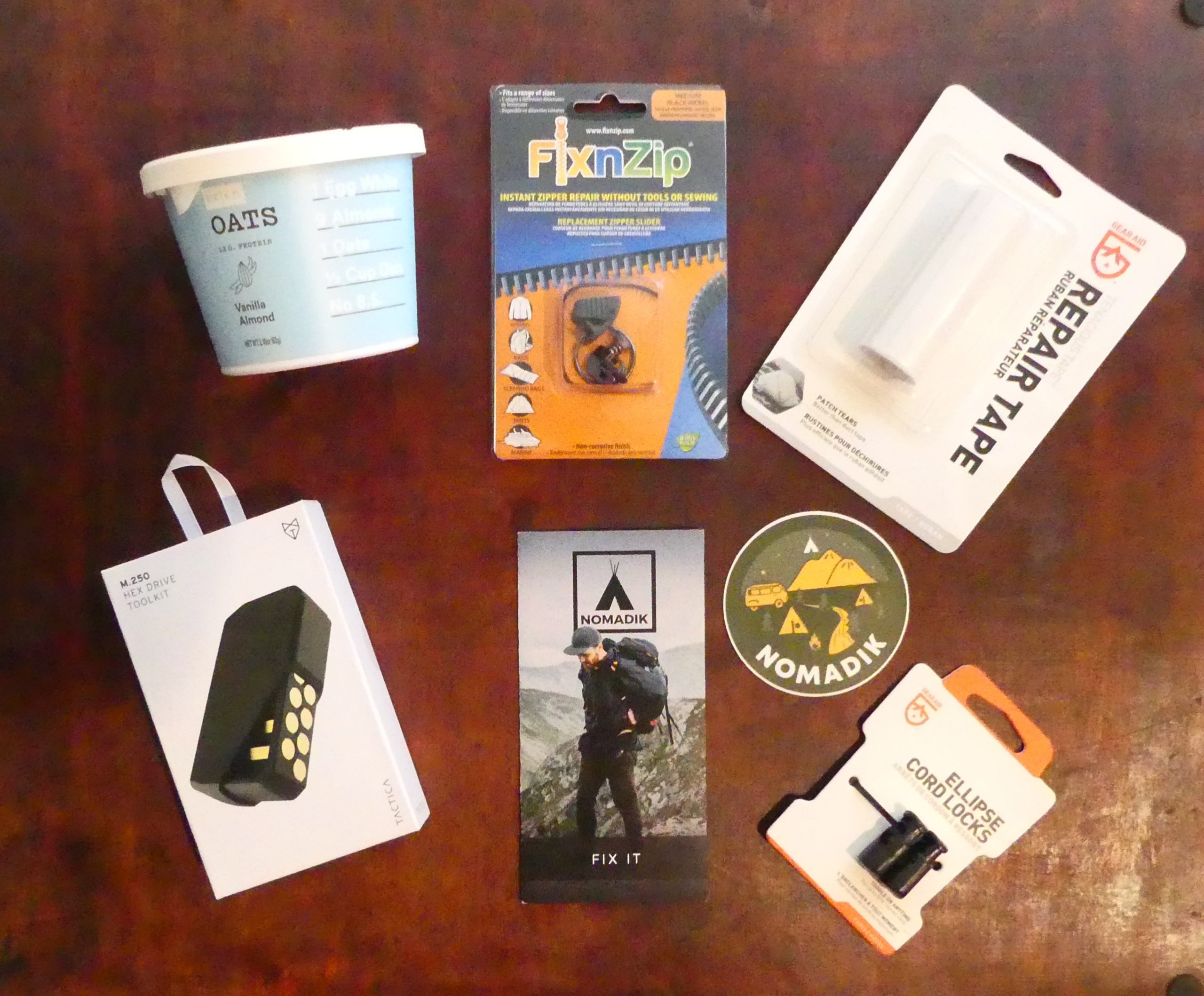 I have been subscribing to the Nomadik Outdoor Gear Box for about 8 months now and I continue to enjoy it each time I open it up.  It is the perfect gift for the outdoorsy person; hikers, climbers, campers, and more. Normally when I do a review of a product, I ensure I try each item, but this month's theme was "Fix It" and I couldn't find anything to fix.  But I am sure I will use these items at some point, so I will keep them in my camping box for the future. (coupon code and video review at bottom)
The August 2020 box included a hex drive toolkit, zipper repair kit, repair tape, cord locks, and the best oatmeal I have ever tasted. Here is my review of each item:
Tactica Gear M250 Standard Hex Drive Toolkit
This Hex Drive Toolkit is compact and can attach to your pants or your pocket like a beeper from the 90's. Because it is so small, it is easy to throw in your backpack to have it with you for emergencies. It's one of those tools that everyone needs. When one of my dear friends saw it, she kept telling me how much she wanted one so I was super nice and gave it to her. Karma points should be heading my way.
FixNZip Zipper Repair
This zipper repair kit can fix sleeping bags, tents, coats, luggage, and more. It's probably too sturdy for your gala gown unless you gained a ton of weight during the pandemic and you need something stronger, but it is perfect for any outdoor gear.
Gear Aid Repair Tape
This ultra-strong tape can fix even the oldest gear. It goes on clear, so you won't even know there was ever any damage. You apply it, wait 24 hours, and then you can even throw it in the washing machine!
Gear Aid Ellipse Cord Locks
You know those cord locks that disappear from your favorite sweatshirts all of the time? Well, these can replace them with no effort at all. I even used them to tighten a mask that was a little too big, so you can really use them on anything.
RX AM Vanilla Almond Oats
I am not a health nut and I usually shun people who eat stuff like this. It looked entirely too healthy for me and I thought my body would go into shock from all of the vitamins but it was so DELICIOUS! It seriously was the best oatmeal I have ever had and has 1 egg white, 9 almonds, 1 date, 1/3 cup oats, and no BS so you know it is good for you. And with 9 grams of protein, it will keep you full for hours.
Normally the box has items I can use right away, so this box was a little different, but it was still fun.  If you are looking for a gift for an outdoorsy person, the Nomadik Outdoor Gear Box is for you.  You can buy one box or get a subscription and each month they send you supplies such as hammocks, tents, socks, bags, gear, and more.
For a 10% discount, use code: GIFTERWORLD10 at Nomadik.
If you are looking for more outdoorsy gifts, check out our Gifts for Outdoors and Sports section. For other gift ideas, check out our Gifts for Men or our Gifts for Women.
Be sure to follow us on Facebook for daily updates on unique gifts!