Raddish Cooking Club for Kids Review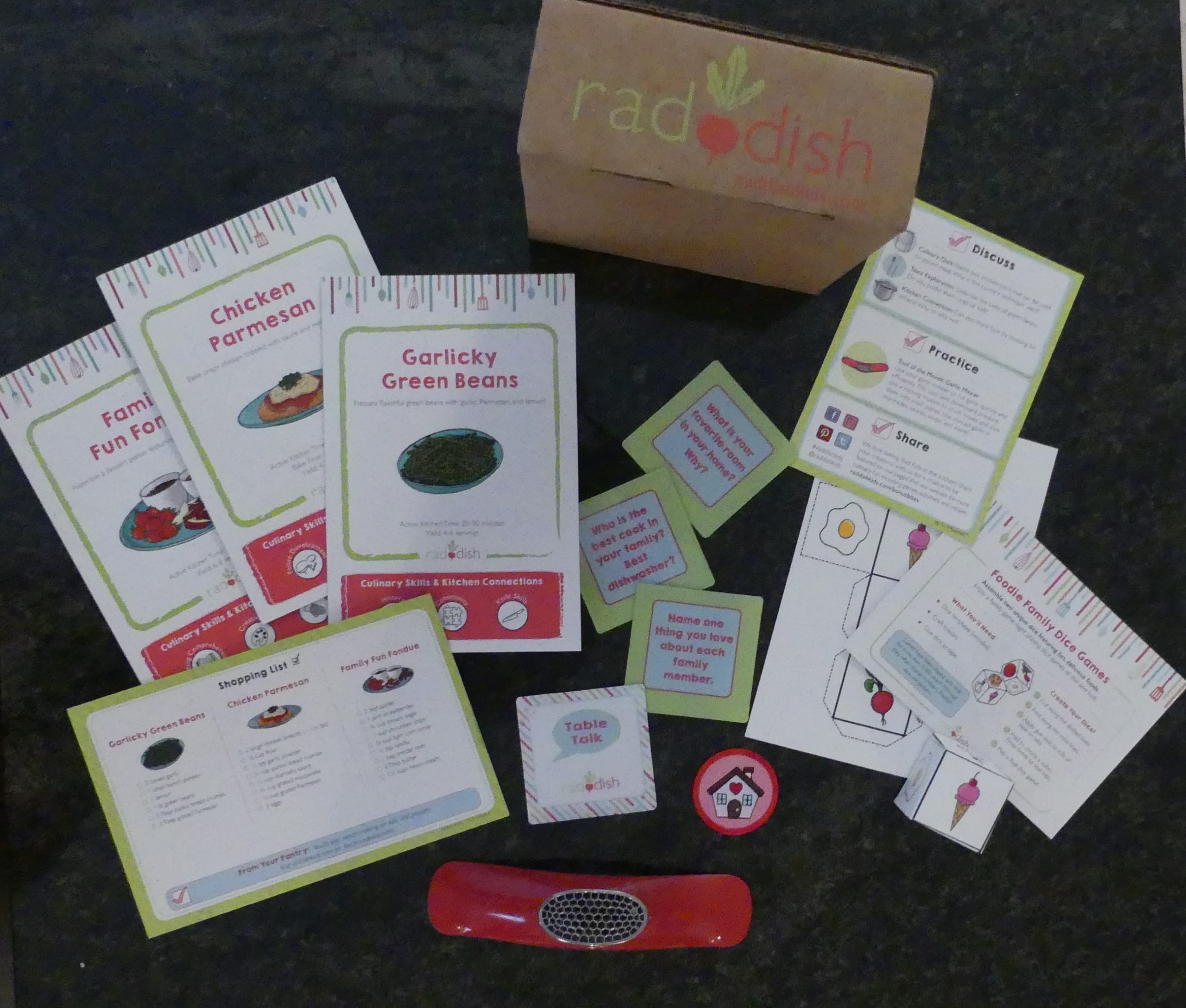 I can't cook to save my life so I was excited to get this Raddish Cooking Club for Kids in the mail.  Since a child probably could beat me on Chopped, this seemed like the perfect fit for me to learn. Is it possible I could learn to cook and not poison my family? Each month, Raddish sends a box designed for kids to learn to cook.  It has a patch to iron onto your apron or chef's coat, a tool for the kitchen, recipes, games, cooking tips, word puzzles, fun facts, jokes, table talking cards, and more.  I don't have small children, but since I am a newbie in the kitchen, this seems appropriate for me.  Here is a review of the items we received this month… (video review of me attempting to cook at the bottom of this article)
I have never heard of a garlic mincer so it took me awhile to figure out what it was. It looked like the world's smallest strainer or maybe one of those foot scrapers when you get a pedicure. But once we realized how to use it, it changed my life! Where has this thing been my whole life? I eat a ton of garlic so this makes it easy to dice it.
Each month, you receive a patch to put on your apron and this month was a patch of a cute little house. My husband was obsessed with it for some reason. You would have thought he found a new TV in the box, "How cool is this!"
This month's Raddish Cooking Club Box came with three recipes; Garlicky Green Beans, Chicken Parmesan, and Family Fondue. So far, we made the green beans but will do the other recipes next. Each recipe card is laminated to keep it safe for years and contains pictures of the ingredients and pictures for each step so young chefs don't need to be able to read. Plus, the green beans turned out delicious, so if I can do it, even a 5-year-old child can do it.
Once you cook your meal together, it's time for some more family bonding. The Table Talk cards help by giving you conversation starters, such as, "What game is the most fun to play as a family?", "Who is the best cook in the family and why? Who is the best dishwasher?", "Name one thing you love about each family member", and "What is your favorite room in the house and why?".
Fun Facts, Tidbits, Puzzles, Games, and Jokes
Every page you look at has interesting facts about the healing history of garlic, family fun night activities, dinner etiquette, jokes and more. This box came with a dice game that you cut out the cardboard dice and put them together and then it gives you several ways to play the game. Plus, you can log-on and they have more fun activities to download.
The Raddish Cooking Club Box for Kids is a great way to get the kids involved with cooking and eating better since they will be excited to eat what they make and it is a great family bonding tool.  It is also great for adults (like me) who struggle with boiling water.
For more ideas for gifts for kids, check out our Gifts for Kids and Teens section or our Gifts for Foodies for food-related gifts for all ages.  One of my other favorite sections is our DIY Kit Gifts section for DIY activities you can do alone, with your family, or with friends. They make a great bonding experience!
Be sure to follow us on Facebook for daily updates of unique gifts for those who have everything.