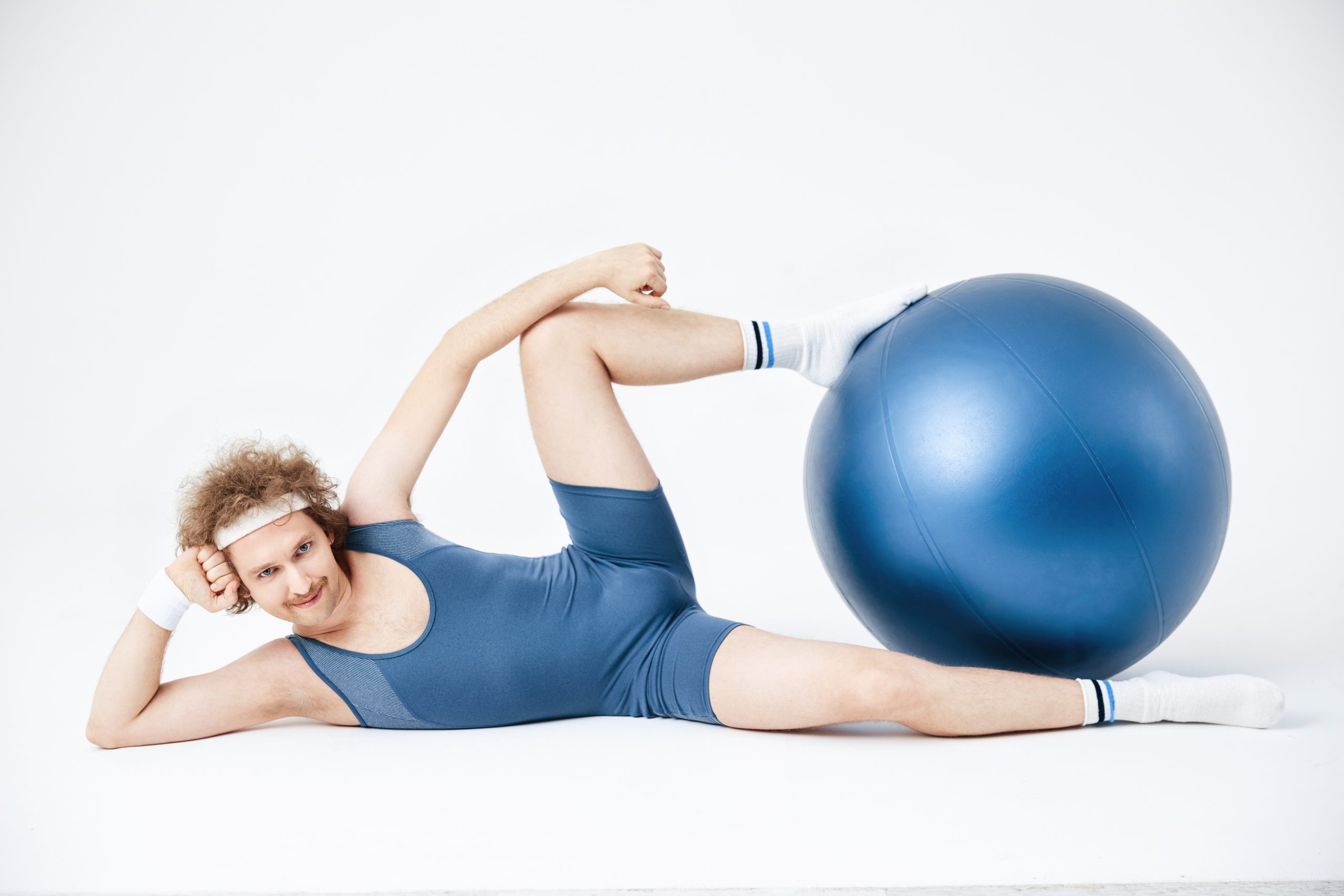 Let's hear it for physical fitness! There's nothing like constant exercise and strenuous body movement to keep our human machines in healthy, working order. Sacrificing one's body, testing one's endurance, and general panting is a terrific way to extend one's lifetime. Or would be, if we didn't get winded just thinking about it. Frankly, it sounds horrible.
Oh, just kidding, Olympians. Exercise is great. But if you have an exercise-obsessed friend or family member who's got a gift-worthy occasion coming up, you may experience some mental strain trying to think of a fitness gift that shows you support their efforts at physical exercise and would love to help them achieve a statuesque physique, in as passive of a way as possible.
To help you find the perfect exercise gifts for your friend, we remained in a stationary sitting position for six hours to type up summaries of the best gifts for gym rats and fitness lovers.
---
The Best Gifts for Gym Rats Who Love Workout Tools
By far, the most extensive category of cool fitness gifts for your workout-addicted friend are gadgets, devices, and wall installations that help them with some of the various physical movements and demands an exercise routine is comprised of. These gifts for gym rats all have key roles to play in the home gym, and almost nowhere else.
EdgeCross-X Intense Total Home Gym Set
Devotees will tell you there's no exercise routine more punishing or rewarding than high-intensity cross-training. It combines the simplicity of the movements people perform every day with the sadistic brutality of an over-caffeinated drill sergeant for a total body workout. This box of stern-looking workout tools includes a bar with spherical ends, a detailed exercise mat, three different resistance bands, a balance wheel, a pair of handles, and online access to training videos that will instruct, inspire and insult.
Pulse Vibrating Foam Roller (under $80)
This rechargeable massage device tells pain and fatigue to go find somebody else to pester. It's a cylindrical device made from memory foam, studded with vibrating cushions, and programmed with eight adjustable speed settings. Roll on top of it to loosen up and soothe muscles in your legs, arms, and torso, increasing circulation and speeding workout recovery. It may look like a dill pickle that's been inflated and turned into a cyborg with tire rubber and a speedometer, but sometimes that's what you need.
PULLUP & DIP Portable Pull Up Dip Bar
This spider-like appendage fastens to a tree for use in workouts that incorporate pull-ups and dips. Simply fold it up and walk or drive to your favorite local park. Then head to a tree, attach the device firmly around the trunk, and start your choice of over 35 full-body exercises while playing children and park bench sitters gawk in either respect or concern. For those who haven't conquered self-consciousness, you can also use it on the walls of your house, but that's not as fun to picture.
TRX All-in-One Suspension Training
This collection of straps, hooks, and anchors can be attached to any operating door in your house (well, probably not the sliding glass door) to put the full force of a TRX suspension-training gym in your entryway. Designed by a veteran of Navy SEAL for complete physical workouts in limited spaces, these ropes and straps are taut, resistant, unrelenting, and frankly a little belligerent. They'll help you do over 300 blazing-energy exercises in any location that's got a ledge.
Squat Magic Home Gym Workout
When it comes to a full-body workout, this device knows squat. This interactive plunger uses Squat Assistive Technology (S.A.T.) to help exercisers power their way through dramatically effective squat exercises. Just align the base, sit down on a discreet cushion at a 5-degree angle to the floor, and start squatting, letting the built-in resistance push you back up for repeated reps. It's good for creating chiseled abs, core, legs, thighs, and buttocks. Can also be adapted for use as an ejector seat.
Power Press Push Up Board System (under $65)
Everyone knows how to do push-ups, but not everyone does them correctly. They just put their palms face down in any old position and start heaving like oil drills. That practice ends now. This floor device comes with a pair of grips and strategically positioned holes. Insert the grips into corresponding, color-coded holes to get a fuller workout on specific muscle groups. No more flailing around on living room carpets, area rugs, or holding cell floor mats like a crazy person.
Florensi Yoga Wheels (under $65)
Yoga is far more challenging than it seems when we're enjoying a whole-milk latte with chocolate biscotti and observing other people do yoga from a safe distance. Developing balance and flexibility doesn't just happen overnight. This gift package of three different-sized, padded wheels helps the aspiring yogi adapt and train their body into some of the most effective positions and poses in the yoga regimen. With their responsive pliability and body weight support up to 500 pounds, these rings will give you no excuse not to claim you're into yoga.
SPRI Slide Board (under $50)
SPRI sliders are flat discs that you attach to the bottom of your shoes to effectively perform lunges without crashing into furniture. Their biggest drawback is that they don't work on carpet, so you can theoretically only use them on kitchen, bathroom, or meat locker floors. That's why this flat surface with end stops was created, so you can turn any living room, family room, bedroom, or library into an accommodating and fully functional room for lunge-o-matic activity.
Gorilla Bow Portable Home Gym Resistance Bands and Bar System
The Gorilla Bow is an all-in-one resistance band and bar device that takes its inspiration from the bows and arrows of swashbucklers like Robin Hood and Katniss Everdeen. It's amazingly versatile, allowing exercisers a convenient and compact way to perform bench presses, weightlifting, squats, deadlifts, and lunges. With its lightweight and easy portability, the Gorilla Bow can extend your physical capability dramatically. According to the Amazon customer question section, it is not suitable for hunting guinea fowl.
Tech Tools Punching Boxing Bag (under $65)
The punching bag is a time-honored piece of equipment found in dozens of old-time boxing training facilities filled with scrappy bruisers from the sticks and cigar-chomping trainers who squawk a lot. This portable, adjustable punching bag — it's actually more like a ball — offers would-be fighters a portable and resilient device that gives them the same intense training at home, nowhere close to the clichéd dialogue of the last three Rocky movies.
Terra-Core Balance Trainer
This fitness gift is crazy. It's a multi-purpose balancing device that can be used as a bench, a stepper, a push-up facilitator, a squat assistant, and probably a hostage negotiator. The Terra-Core is filled with air, giving it a "safe and unstable platform," a phrase which reminds us of Thanksgiving dinners for some reason. It works with resistance bands and free weights which, again, remind us of Thanksgiving dinners. Comes with links to free apps that demonstrate the many forms of assault this seemingly humble device inflicts.
Ikonfitness Pull Up Bar (under $60)
The Ikonfitness Pull Up Bar is another device that connects to doorframes to allow exercise fans to easily perform pull-ups in their own homes. Unlike other such devices, the Ikonfitness doesn't use pansy grip hooks or feeble guard pads that buckle under the pressure of weight and damage door structure. Rather, it uses manly grip brackets and hyper-masculine guard pads to absorb weight safely and securely. Build your muscular prowess without ruining easy access to your closet.
Bona 5 in 1 Push Up Ab Roller (under $40)
This grip-on device does so many things it gives us a headache just thinking about it. You can remove the wheels, so it provides a solid base for push-ups on the ground. Or you can put the wheels back on for punishing lunges and fluid body rolls. It's a push-up bar, a core slider, an ab roller, and a leg roller all in one object that looks like a defibrillator for black bears.
Ab Roller Wheel (under $30)
This deluxe workout package contains several pieces of equipment, but the star of the show is a single wheel with bars protruding from the sides. Used in conjunction with the included resistance bands, push-up bars, jump rope, and knee mat, the wheel helps you contort your abdomen in a back-and-forth motion that encourages physical development. The other items can be used with the wheel or served a la carte.
TANGRAM Smart Jump Rope (under $40)
Let's face it: Most jump ropes are pretty stupid. They don't move unless you make them. They don't keep track of anything. They can't hold their own in conversations about literature. The TANGRAM jump rope, however, is so smart it deserves a scholarship. It connects to a SmartRope mobile app so you can keep track of a bunch of important workout information, like calories burned, workout time, and jump count. It automatically unlocks rewards for certain levels of accomplishment. It knows the difference between "there," "their" and "they're." What we're saying is this jump rope is one smart cookie.
Justcool Resistance Bands Set (under $30)
These resistance bands stand up in the face of autocratic regimes and institutional injustices! Errr… sorry, our mistake, they're not for that kind of resistance. Instead, these color-coded bands offer various levels of physical resistance, the countering force that turns a low-level, low-energy workout into a brutal display of force. These bands can be used for standing pull-ups, arm curls, leg sidesteps, Pilates, all sorts of things. Vive la résistance!
Champs MMA Boxing Reflex Ball (under $20)
This "why-didn't-I-think-of-this" device attaches to the head of aspiring boxers or people who just want to look like them. Affixed to the belt is an elastic band with a ball at the end of it. The boxer then punches at the ball, which flies off and returns back in unpredictable directions. That's right: It's essentially a paddleball game, minus the paddle. But it helps fighters develop the hand-eye coordination and reflexes they need to survive 15 rounds in the ring, or any other emotionally explosive situation.
Joyfay Unisex Fitness Jump Shoes – Kangaroo Shoes
These so-called "kangaroo shoes" turn virtually any flat surface into your own personal trampoline. With a pair of extra-springy attachments attached right to the soles, these shoes add extra calorie-burning, balance, and vertical leap to otherwise earthbound exercise routines. They also increase posture, auxiliary muscle development, and the chances of breaking a coffee table.
Whirly Board Spinning Balance Board and Agility Trainer
The Whirly Board's something of an American success story. It's a balance board with half a bowling ball affixed to the bottom, and a pair of smaller, billiard-sized half-orbs pasted to the sides. It serves several functions of a creative workout, including balancing, spinning, core training, skateboard training, and more. It can also be used as a platform for those who are thirsty for a little adventure when they're standing up at their work desks.
Bona Fitness Adjustable Ankle Weights (under $25)
Ankle weights do the same things as wrist weights: They add weight to your ankles. That extra weight isn't just for laughs. It comes in handy as a passive form of resistance, which can make walking or jogging more impactful by being more difficult to do. Bona's adjustable ankle weights are made of stretchy fabric and heavyweight belts to give your feet the sensation of strenuous alpine mountain climbing as you're going to get the mail.
StrongBoard Balance Board
This portable balance board is supported by springs, the wonder metals that make people and/or objects bounce. The StrongBoard cunningly uses springs as a way to shore up one's sense of balance and coordination by making them feel like they can topple over at any moment, an accident they then fight to prevent by shifting their body weight appropriately. It's all very scientific. The SpringBoard is suitable for many exercises that involve tensing up core muscles and struggling to remain upright, which pretty much covers all exercises.
---
Cool Fitness Gifts for Gym Lovers Who Love Workout Facilitators
Sometimes it's hard to get motivated for a workout. Your friend may need a coach, device, food energy, or some other form of inspiration to get them off the couch and into the action. These cool fitness gifts for gym lovers all inspire, encourage, or threaten your friend to engage in physical activity.
Stack 52 Quick Sweat Fitness Dice (under $20)
Stack 52 has combined the heavy discipline of full-body workouts with the thrill of shooting craps in a dark alley with this unusual workout aid. Designed by an award-winning military fitness expert, the Fitness Dice are an effortless way to stage a different mini-workout any time of day or turn exercise into a game. Cast the 36 dice for a different workout challenge every time for all your body parts. It's like full contact Yahtzee or Dungeons & Dragons with real-life consequences.
Insanity Base Kit & DVD Workout
Shaun T's Insanity Workout is the most pathological physical program you can subject your body to. It will crush your sloth like a ladybug and turn you into a combination human being and utility knife in just 60 days. But you can't just choose Insanity. You need guidance and discipline. This Insanity kit contains 10 DVDs, one for each cruel dance of death in the Insanity workout routine, along with a crazy calendar, a delirious fitness guide, and a psychotic nutrition plan. This is one of those cool fitness gifts that will make your friends cuss like a sailor.
Hammacher Schlemmer Personal In-Home Fitness Trainer
For the best exercise results, it's always preferable to have your own personal fitness trainer. But they're not always at your beck and call. They have lives of their own and a couple of errands they have to run. That's why Hammacher Schlemmer has installed a virtual personal trainer into a 32", high-res touchscreen that you can hang on your wall like an over-stimulated Warhol portrait. Choose from yoga, Pilates, cardio, strength training, or Zumba routines, insisted upon you from world-famous celebrity trainers. If you are looking for high-end gifts for gym rats, this is for you!
HIIT Interval Workout Game (under $40)
From the same military drill sergeant who invented the Stack 52 fitness dice comes this ingenious board game that turns a communal workout into the most physically draining Monopoly night imaginable. HIIT stands for "high-intensity interval training," and the HIIT Game's objective is to force players into competitive, physique-blasting exercise routines for points and intrinsic rewards. Suitable for all exercise stages and workout skill levels, the HIIT game is like Twister without the complicated contortions, heavy drinking, or lost dignity.
Stealth Core Trainer and Game Apps – Play a Video Game While Planking!
Planking is one of the most demanding exercises in the modern fitness routine, complicated by the fact that nothing really happens when you're planking. You just stay there. It's a staggeringly effective exercise, but duller than being on hold with the cable company. This portable gaming system changes all that, turning the stoic act of core training into a competitive sport with a moving board, a smartphone, and simulated space invaders. You'll have so much fun you'll forget that you're staring at the floor. This is one of the best gifts for gym rats you can find!
The Fit Boxx Subscription
We're big fans of subscription boxes. Each month you get a package in the mail, which is thrilling in itself, that contains a collection of surprise gifts all related to one of your personal interests. The Fit Boxx is for exercise enthusiasts, a monthly shipment containing active apparel, supportive devices, and consumable items that help with daily workout routines. Past items have included t-shirts, protein bars, socks, tape, ice packs, grunting sounds, sweat glands, and muscle cramps.
Jacked Pack Subscription
If you are looking for a gift for a fitness freak who loves to try new potions, this is for them. This monthly subscription box delivers a veritable cornucopia of dietary supplements to enhance and improve your workout. The Jacked Pack contains sample sizes of drinks, bars, mixes, powders, and substances we assume are digestible. All of them supply a wealth of nutrients, amino acids, vitamins, and other bodily material that we know do something beneficial. Some reviewers claim they even taste good. That is entirely beyond the point.
Coros APEX Premium Multisport GPS Watch
No single item has transformed the exercise industry like the wristwatch. It's easier than ever to monitor your heart rate, workout time, burning calories, or irritability with a simple clock face affixed to your hands. The Coros APEX GPS wristwatch is built exclusively for workout fans. It helps build custom workouts, plans your jogging trails, measures your remaining energy, tells you when to drink water, wakes you up, alerts you to oncoming weather conditions, and complains about the lack of parking in the gym garage. It is great for running, hiking, swimming, skiing, stair-stepping, doing triathlons, and more. Garmin also has a smartwatch designed for those who only run.
---
Workout Accessory Gifts for Gym Rats
Technically, these items add nothing to your friend's workout routine. They're stagnant and unnecessary. But your friend may have this weird hierarchy of needs that insists on the possession of one or more of these items to complete their workout ritual. Just smile, nod, say you understand and get them one of these unique gifts for people who like fitness.
CamelBak Mil-Tac HydroBak Hydration Pack (under $50)
Dehydration is the sworn enemy of physical activity. But nobody wants to stop their workout in mid-curl to swig water from a do-nothing plastic thermos that doesn't understand you or your fitness goals. The CamelBak hydration pack is a backpack-like pouch that holds 1.5 liters of water, connected to your mouth via a tube and a mouthpiece. Now you too can draw upon a portable reservoir using the same technology camels have used for thousands of years. I like to use mine for wine.
Ewedoos Yoga Mat Bag (under $20)
It's never a good idea to show up at yoga class with a loose mat. A floundering, flapping yoga mat is a sign of poor self-discipline. And before you ask: No, wearing it around your shoulders like a shawl won't fool anyone. That's why this yoga mat bag is such a necessity. It corrals your yoga mat into an enclosed but flexible space. It also has pockets for a smartphone, water bottles, and smaller things like wallets or purses, which in turn hold other items themselves. The containment possibilities boggle the mind.
Training Mask 2.0 (under $80)
Face masks are all the rage right now! Jump into the craze with this respiratory accessory that simulates a high-altitude environment during your exercise routine. Outfitted with something called "pulmonary resistance," this mask puts your lungs through the same exacting workout as the rest of your body, strengthening your diaphragm, lung elasticity, and capacity. This mask also promises to shore up your endurance and make workouts longer. Go from your bank robbery straight to the gym without missing a step.
Bose SoundSport Wireless Earbuds
You can't have just any old set of headphones or earbuds when you're exercising. You need speakers that resist the twin threats of sweat and flying off your head during periods of forceful movement. These earbuds are made by Bose, who are famous for their top-end speaker systems in living rooms and closed quarters. These earbuds are made especially for active people and come with Bluetooth connectivity, extra resilience, and comfortable ear placement. They also let you change playlists or sound sources just by looking at them hard.
AfterShokz Xtrainerz Bone Conduction MP3 Swimming Headphones
These waterproof headphones employ an open-ear design, which means they don't go straight into or over your ear like normal headphones. What's freaky about them is that they use "patented bone conduction technology" that conveys audio through the wearer's cheekbones. That's all fine and well, but "bone conduction technology" reads like one of those conspiracy theories. One where the government implants a receiver in your face to beam subliminal messages. So go ahead and wear them while you're swimming to play your mp3s. Just don't come crying to us when you find yourself becoming a trained assassin and you don't remember how it happened.
URPOWER Running Belt (under $20)
We're all familiar with the humble fanny pack, which helps people keep their items together in a style that's hands-free and more than a little silly-looking. Athletes need something a bit more rugged and multi-functional, which is why URPOWER makes this running belt. It holds smartphones, keys, cash, and two water bottles. It also has an open port for headphone cables. Designed for durability in physically demanding situations, it is a fanny pack not to be trifled with.
Lifeproof Lifeactiv Armband With Quickmount (under $50)
The Lifeproof Lifeactiv Armband is the heavyweight champion of armbands. It mounts your smartphone securely, snugly, and with a little bit of attitude. It grabs onto your upper arm like an aggressive friend or a suspicious border guard. It lets you operate your smartphone while you're working out without complex motion or hostility. If armbands were dogs, this would be a tenacious pit bull that holds your smartphone.
For more ideas for the best gifts for gym rats, check out our Gifts for Sports and Outdoors section. For other gift ideas, look through our Gifts for Men or our Gifts for Women sections.
Be sure to follow us on Facebook for daily updates of unique gifts for your whole family!