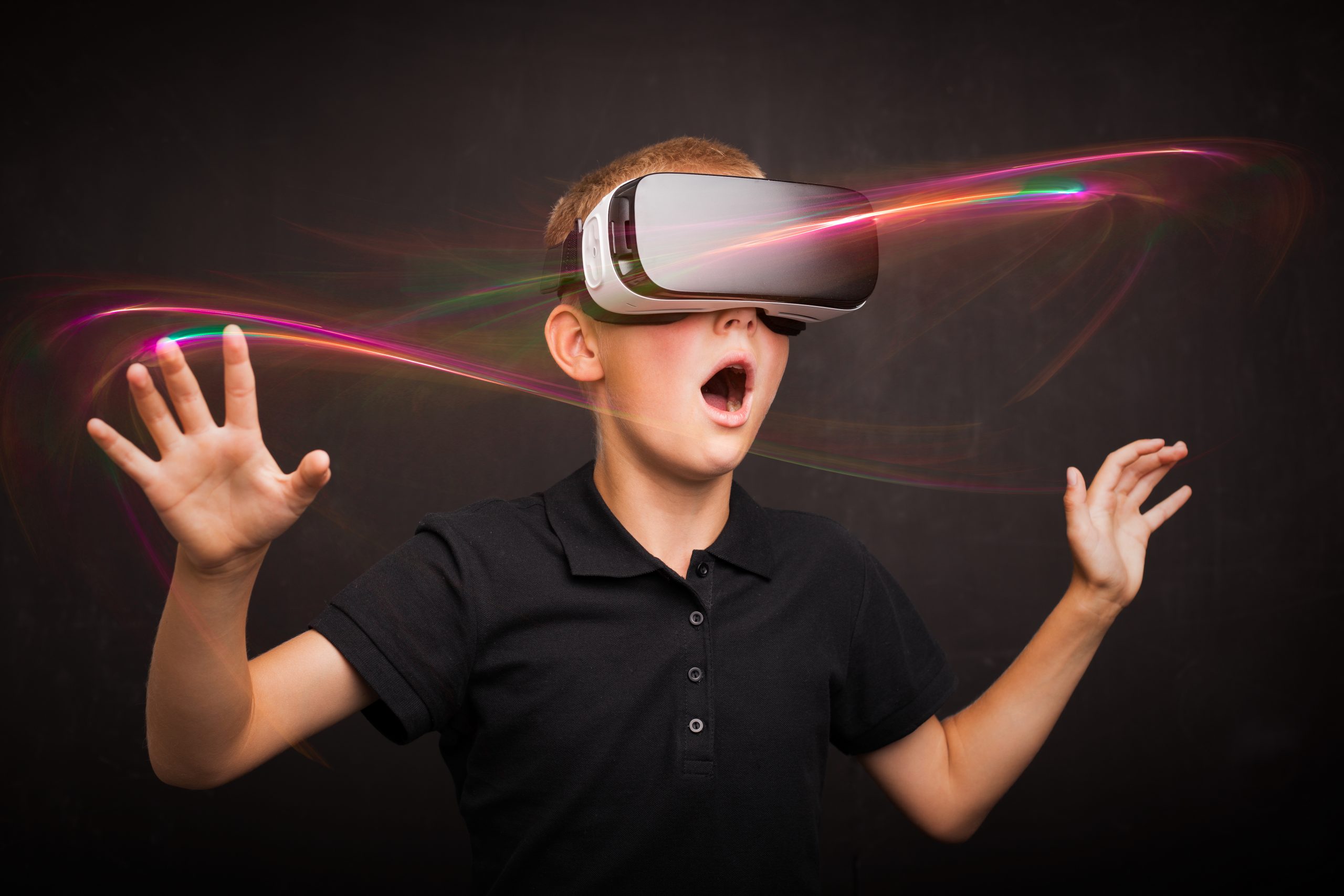 Teenagers can be especially difficult individuals to shop for. It's not always possible for terminally unhip adults to know exactly what kind of gifts teenagers really want, or which items will be the most successful in our attempts to buy their love.
Technology can save the day. Teenagers are the ultimate barometers for trends in consumer tech and are constantly on the pulse of the latest developments and devices. In fact, teenagers' embrace of technology tends to run in inverse proportion to aging adults' utter dream of technology. Although that's helpful when we're enlisting their help in trying to program the VCR, it can be an obstacle when searching for the perfect tech gift.
This guide presents some of the best tech gifts for teens that they will find both useful and, to some limited extent, even fairly cool.
(What? Nobody uses VCRs anymore? Stop, Father Time!)
---
Productivity Gift Ideas for Tech-Savvy Teens
When we adults were teenagers, sometimes our parents burst into our bedrooms and demanded to know "What are you going to do with your life???" We didn't know. We suspect modern teenagers don't always know what they want to do with their life either, but whatever it finally is, they'll do it with better tech than we had. Here are some of the tech gifts for teens that, when they finally decide, will help them get things done.
Victure Portable Photo Printer
Today's kids don't understand the appeal of old Polaroids: the clack of the camera, the drooling out of photo paper, the fairly useless shaking of the picture, and the gradual appearance of a bleached-out, awkward photo. But they can come close to that experience with this Bluetooth-compatible, 3"-by-3" portable printer. The Victure prints between 30 and 40 full-color prints on a single battery charge, spitting out beautiful digital images onto specially crafted photo paper that takes 90 seconds to develop. Shaking not required, but not discouraged either.
Rocketbook Smart Notebook
Prove to your teenagers that writing in cursive is alive and well with this reusable, fully connectable notebook. This extremely cool device comes with special pens and 36 dry-erasable pages. The Rocketbook app lets users organize, scan, and share writings and drawings with productivity apps and cloud storage via their smartphone cameras. A fantastic way to expose teenagers to the time-honored arts of shopping lists, vague Post-It notes, and cocktail napkin sketches without cramping their style.
SNAPTAIN WiFi Drone
Share the addictive thrill of surveillance of your neighbors with your teenager. The SNAPTAIN is one of the most user-friendly drones on the market: one-touch activation, voice control, flawless video transmission, and full smartphone integration make it a foolproof way to observe secret meetings, alarm groups of small children and enrage older folks who have been warning us about the robot invasion for decades. Not recommended as a substitute for healthy relationships or pets.
MYNT 3D Pen
Let's face it: Writing and drawing on flat surfaces can get pretty mind-numbing and one-dimensional. MYNT liberates the pen from the line-ruled prison of the spiral notebook and lets it live, baby, live. This extraordinarily cool stylus uses high-tech filaments to let teenagers build 3D objects, using roughly the same motor skills required to squeeze toothpaste — maybe with just a touch more finesse.
Gyroor Hoverboard Warrior
Give your teenager the gift of stand-up mobility with the latest in hoverboard technology. This two-wheeled vehicle is extra responsive to body shifts, maxes out at speeds of nearly 10 mph, can handle weights of up to 265 pounds, and comes with a built-in music speaker so your kids can create the perfect soundtrack for weaving in and out of slow-moving traffic. Take your teenager's pair of legs to the next level, because walking is for chumps.
Vector Robot by Anki
Remember those imaginary friends your kid had when they were in pre-school? Now that they're teenagers, you can turn those friends into an actual, solid object with Anki's one-of-a-kind vector robot. With help from Amazon's party animal Alexa, this voice-controlled robot does all the things a normal person would do without all the clinging neediness. This robot can stream music, answer questions, dance, tell jokes, turn on lights, issue reminders, and stare blankly into the void and you can code it to do much more.
ELEGOO Mars 3D Printer
For too long, 3D printers have been exclusively made for tech super-companies, crafty inventors, military departments, and talented but bored astrophysicists. ELEGOO frees the 3D printer from those gilded cages with this budget version that's perfect for enterprising teenagers. With the jaw-dropping ELEGOO CHITUBOX system, your kids can produce creative art that has height, width, and depth. It can even print objects offline for when the internet gets a little too real.
KODAK Printomatic Instant Camera
We're happier than ever to see Kodak re-emerge in the photography marketplace with a product that's relevant to young people. Their Printomatic camera uses specially-made Kodak Zinc paper to produce instant hard-copy photos on the go — no need for additional computers, devices, cables, or even much forethought at all. The full-color, 2"x3" photos this camera produces come with adhesive backs for use as stickers, in case your teenager wants to add a little life to your windshield.
---
 Entertainment Tech Gifts for Teens
Amusement is important. For teenagers, sock puppets aren't enough to generate hours of entertainment. Now those sock puppets need their own social media accounts, Twitter handles, and YouTube short-form video series. Here are some of the latest entertainment tech gifts for teens to keep them occupied for hours.
Oculus Rift S VR Gaming Headset
When it comes to virtual reality gear, there's no better-known brand than Oculus. They're constantly improving in their efforts to produce VR technology that launches teenagers into completely new worlds where taking out the trash and homework are quaint relics of an unenlightened past. This PC-powered headset gives them access to Oculus's huge catalog of all-consuming games, retina-blowing graphics, newly redesigned touch controllers, and improved ergonomic design teenagers are always demanding in Reddit forums.
DropMix Music Gaming System
From the creators of classic games like Rock Band and Dance Central, the DropMix system offers a series of activities and games centered around music mixing. Each device comes with a set of genre-based music cards that teenagers place in a certain sequence to create outstanding pop music mixes and engage in some sort of competition based on said mixes. The DropMix console offers all the thrills of being a DJ without the disappointing after-party or having to beg the club owner for payment.
St. Noire Alexa Board Game
We've gotten to know Amazon's Alexa fairly well over the last few years. While she seems helpful enough, there have been times we wished she'd loosen up a little and try and enjoy life. Your teenagers can help drag Alexa out of her shell with this Clue-like cinematic board game in which players try to solve a small-town murder. Alexa powers the gameplay herself, prompting the search for clues, suggesting possible suspects, channeling dialogue, and finding 24-hour donut shops.
ELEGOO UNO R3 Project Smart Robot Car Kit 
Maybe your teenager isn't quite ready to assume the great responsibility of auto ownership. To hold them over, let them manufacture their own robotic-powered car with this comprehensive builder kit. This package comes with about a million small parts and a tutorial on making a fully operational remote-controlled mini-car. It's not quite the same as the romance of the open road, but the insurance premiums are a lot cheaper.
EasyGo Inflatable Movie Screen
Now having a big-time cinematic experience is as easy as inflating a swimming pool raft. This 14' movie screen can handle both indoor and outdoor viewing parties. With the included rope and tent stakes, you and your teenager can create an alfresco movie theater in the backyard or a san souci indoor cinema in the living room in less than two minutes. Comes with an automatic air inflator to protect your lungs and lips.
HIKEP Karaoke Machine
Yep, karaoke's still a thing. The national pastime through which we commoners display our talents, drown our inhibitions and jeopardize our dignity is still very much with us. HIKEP's Bluetooth-compatible kit turns your teenager's smartphone into the most dynamic karaoke joint in your house. It's lightweight and portable in case there are remote locations your teenager wishes to inflict music upon and provides up to six hours of battery-powered playing time. Includes a wireless mic which, we're sorry to inform you, works perfectly well.
Hearing Things Game
Hasbro has found a way to combine home entertainment with the important life skill of lip-reading with this unique game. It's very simple: Players slip on noise-canceling headphones, then try to guess what their game partners are saying from a collection of over 600 hilarious phrases on 150 cards. Sayings include random sentences like "Pigeons like to cuddle," "The baked potato burned her tongue," "Painting class starts today," and "Hmmm… mh-hmm, mh-hmm." Hours of fun and/or exasperation.
Nintendo Switch
If you haven't been keeping up with video game consoles for the last few years, here are a few pointers: Pong is passé, Space Invaders are gone, and Mario has turned into an international icon without ever having to form even one complete sentence. Also, the Nintendo Switch is the rising prince of gaming systems: a handheld marvel that syncs up neatly with HDMI devices and plays hundreds of exciting games. It comes with two attachable game controllers in case your teenager has developed a social life.
Portable Planetarium
All of us spent time as teenagers lying on our beds, staring with a melancholy glaze up at the ceiling, wondering what idle dreams and potential tragedies await us in the future. Our teenage kids do that too, but now they have something to look at besides bland white stucco. Hammacher Schlemmer's Portable Planetarium projects a dense field of stars and nebula straight onto the ceiling of a darkened room, reminding your kid of the vast expanse of space and the folly of human accomplishment. Have a nice day!
RC Motorized Sailboat
Is your teenager a budding seafarer? Do they see themselves as future captains of yachts, motorboats, or hastily constructed canoes? Whet their appetite for the wet life with a remote-controlled, miniature sailboat. They can't actually board it, which we admit takes a little of the shine off, but they can stick it on a lake and manipulate its every turn with a handheld device like a capricious and spiteful nautical god, a skill that could ultimately prove handy.
---
Wearable Tech Gifts for Teens So They Look Cool
With the onset of self-consciousness, teenagers tend to worry about their personal appearance. Clothes and wearable objects take greater importance. The modern teenager must not only have something to wear that promotes their image and makes them look good — it must also download music and charge up a smartphone. Here are some of the latest items of wearable tech gifts for teens that will make them feel cool.
Apple Watch
James Bond only fantasized about wristwatches like this one. Apple Watch collects all the facets of contemporary existence and squeezes them all into wristwatch form. The features of the Apple Watch are so numerous that it's practically its own person: texting, calling, timekeeping, GPS, music playing, the all-knowing Siri, multiple color options, fitness tracking, and because teenagers are all about constant health monitoring, blood oxygen measurements and pulse-checking. And the best part… it is available in lots of colors!
XIKEZAN Bluetooth Beanie Hat Headphones
Combining the immense fashion appeal of scruffy knitwear with modern music technology, the XIKEZAN beanie hat lets teenagers listen to their favorite songs for up to 20 hours on a single battery charge. When linked to their Bluetooth-enabled phone or music device, this hat delivers their favorite playlists through powerful speakers woven directly into the ear area of the cap. It also comes with a free set of gloves that don't play music but work great on handrails.
Laptop Backpack with USB Charging Port
The backpack has long been lauded for its storage capacity, mobility, and easy strap-on application. Now it can charge electronic devices. This backpack contains an insane amount of room for laptops, books, pencils, water bottles, moist towelettes, small pointing devices, and eyedroppers. On top of that, it has an external USB port your teenager can use for charging their favorite gadgets on the fly. Without having to look for an external plug, now the only outlet your kid will need is a creative writing class.
KAMRE Sunglasses Camera
Sunglasses have long been the epitome of cool, but KAMRE has turned them into the most convenient HD video camera on the market. These Terminator-like shades record about 1.5 hours of video footage on a single charge, with crystalline audio and full compatibility with Windows and Mac. Your teenager can now be their own, self-contained movie studio without ever having to reveal that haunted, desolate look in their eyes.
Tayogo Swimming Headphones
With capacity for up to 2000 songs, these waterproof headphones are must-haves for teenagers who like being underwater but can't stand the super-boring audio ambiance. They're also ideal for use with bathtubs and Jacuzzis. The Tayogo headphones come with "bone conduction speakers," which allow the listener to hear both their favorite music and sounds from the external environment, including sirens, speedboats, and lifeguards who are a little too enthusiastic about their jobs.
Bose Frame Audio Sunglasses
Everybody who knows anything about audio knows that Bose makes some of the best speakers around. Your teenager can now experience the deep, dulcet qualities of Bose audio in sunglasses format. With classic frames and discreetly tinted lenses, these sunglasses play up to 3.5 hours of music on a single charge and have an integrated microphone for incoming phone calls. Imagine the hours of fun you'll have watching your teenager bob their head in what appears to be total silence. If Bose is too expensive for your blood, check out the Inventiv brand version HERE.
Pixel Backpack
In continuing efforts to make the backpack more than just an empty sack waiting to be filled with trinkets of our souls, behold the Pixel Backpack. Along with its core function of holding stuff, this backpack contains a 9.5″x9.5″ pixelated display that shows videos, streamed TV, or images with the help of an app. For maximum viewing quality, it should be removed from your teenager's back.
COWIN E7 Noise Canceling Headphones
The inner world of the teenager can be a very compelling and creative place. The last thing it needs is somebody's jackhammer blasting into its privacy. That's why your kid needs noise-canceling headphones, and why the COWIN E7 is the pair you want to drop money on. It's got comfortable ear cushions, a 30-hour battery life, Bluetooth compatibility, and the buffers and layers your teenager needs to keep the outside world at bay. Should the isolation finally catch up with them, it also has a mic for phone calls. Available in many colors!
---
Necessary Tech Gifts for Teens
Not every tech gift generates the same level of excitement as, say, a robot, a gaming system, or a backpack that shows movies. Occasionally tech gifts for teens can be necessary instead of something they play with. Here are a few functional tech gifts for teens they actually need.
Vproof Selfie Stick
Granted, selfie sticks are to smartphone cameras what fanny packs are to waistlines, but despite their inherent silliness, they're still very much in popular use. Vproof's selfie stick is the one to get. It expands to 26 inches and collapses to 6.5, and works with iPhones, Samsung Galaxys, and other brands. Most significantly, it uses Bluetooth to turn the selfie stick into a shutter control device, snapping pictures with the mere touch of a button without having to mess with the smartphone and mess up the perfect pose.
VANKYO Burger 101 Projector
The visions and dreams of teenagers are too expansive for dinky smartphones or laptops. The VANKYO Burger 101 Projector sets those images free. Compatible with basically any piece of technology you throw at it, the Burger 101 turns your nearest blank wall into a 1080P HD, 1920×1080 resolution TV screen. It's perfect for getting the most out of movies, TV shows, sports, games, and other entertainment. Because it's so massive, the manufacturers don't recommend using it for PowerPoint. Break that to your kids gently.
XDesign 10W Wireless Charger
Wires are for the weak. They look like squid-ink pasta and take a gazillion hours to give smartphones enough charge to watch one episode of The Walking Dead. XDesign has sent those snakey little beasts into the abyss with this 100% wireless phone charger, suitable for all the most recent iPhone and Samsung devices. The 10W takes almost half the time to charge phones than those puny, joy-draining, hopelessly outdated charging cables.
Ring Light and Tripod Stand
This device seems like it has an overly specific purpose, but it's the perfect accessory for teenagers who spend a lot of time making content for YouTube or TikTok. Using a tripod stand, this device holds a smartphone camera firmly in place, surrounding it with an adjustable, luminescent ring that provides a consistent, sufficient amount of light for good-quality video. So if your teenager keeps a video diary complaining about their parents, take pride that it'll be well-lit.
ORETECH Smartphone Screen Magnifier
Is your teenager tired of peering into smartphone screens that make all the people look like little ants? Broaden their perspective with this ingenious screen magnifier, which turns the cramped quarters of any mobile phone screen into a ravishing, 12-inch video palace. The ORETECH uses HD zoom optical technology to amplify video content to respectable ratios, turning your teenager's Candy Crush into a Candy Massacre in no time flat.
LE LED Strip Lights
Nothing saps the life out of a room than light bulbs that come in only one color. Turn your teenager in a supreme master of hue control with these super-adhesive strip lights that change color with a remote device. With 16 assorted color options, your teenager can change their bedroom-slash-cell into an ice palace, a hot pink inferno, a sunny yellow garden, a frosty rain forest, or an upper-echelon convenience store at the stroke of a keypad.
For more gift ideas for tech savvy teens, check out our Tech Gifts section. Or check out our Gifts for Teens and Kids.
Be sure to follow us on FACEBOOK for daily updates of unique gifts for your whole family!