Unique Gifts for Horse Lovers and Equestrians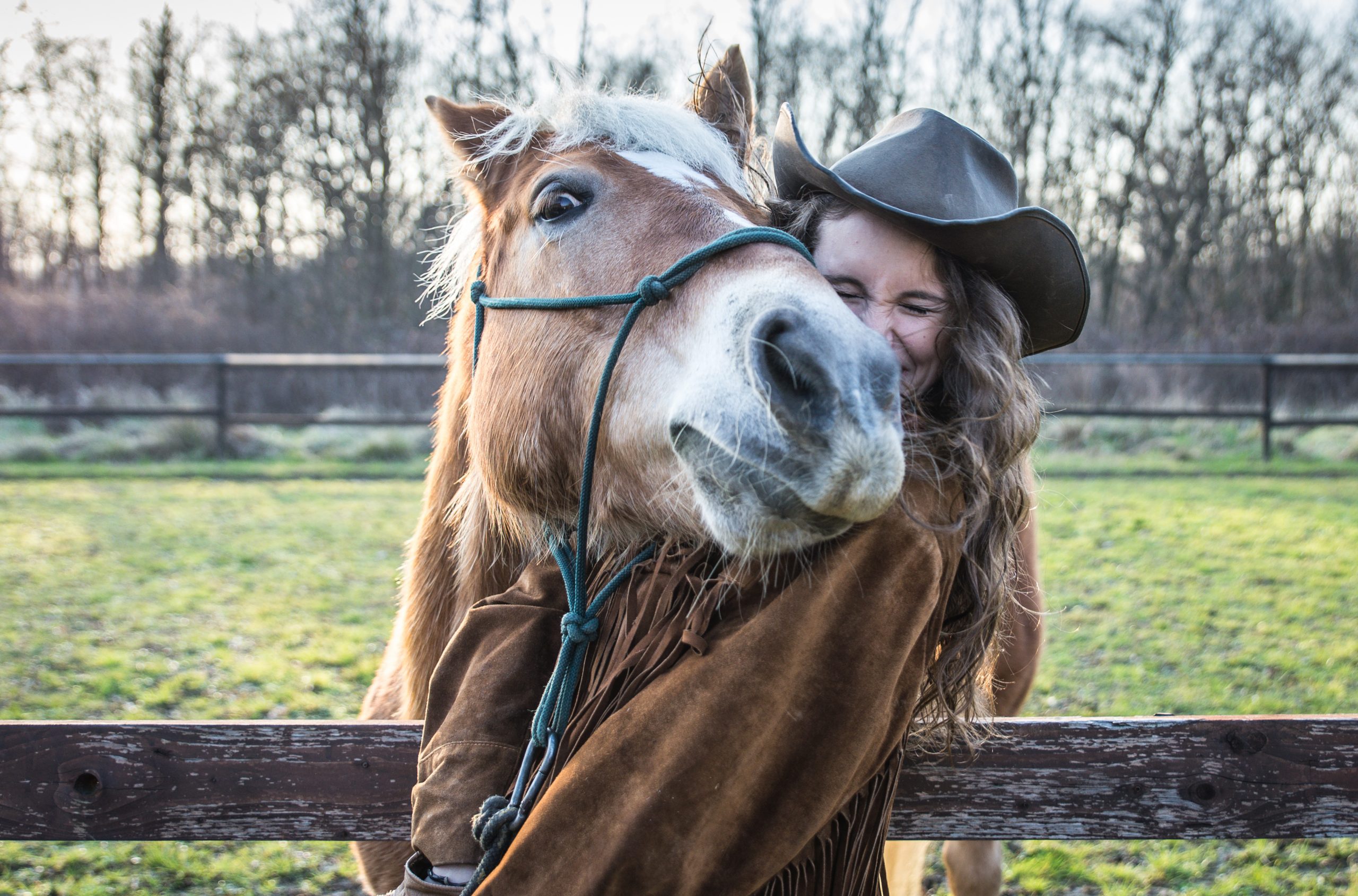 What creature in the animal kingdom has more mystique than a horse? None, that's what. Horses have commanded our daydreams since we were little children. They gallop across fields, they race on oval tracks, they seat urban police workers who don't like to drive.
Equally as mysterious are the people who love horses. Not that it's weird, because a lot of people do. But horse affection is such a defining trait that it can be difficult to find the right horse lover gift ideas for these horse fanatics. They probably already have saddles, reins, feeding troughs, and bridles. What can horse-gnostic folks possibly add to their horse-lovin' friends' lives that will be distinctive, entertaining, unique, and not at all strange?
Fortunately, we have some modest examples of horse related gifts to share with you. These will add a horsey touch to their daily lives. Every time they look at these horse lover gifts, they'll think of — well, honestly, they're going to think of horses, but then they'll think of you. Probably you sitting on a horse. Let's begin:
---
Horse Lover Gifts for Horse-Centric Home & Kitchen Items
Celebrate your affection for the equine way of life with these common, everyday objects and gadgets, made with the horse uppermost in their creators' minds. You, or your steed-loving friends, will enjoy being surrounded by constant reminders of the existence and nobility of the horse. You may be perceived as a little obsessed, but you can live with that because these horse lover gifts will look great in any equestrian's home.
Horse Sweat & Leather Scented Candle (under $25)
This candle made from soy wax is advertised as smelling like "horse sweat and leather" but a few sources have assured us this is a positive thing. They've insisted we not get hung up on the use of the phrase "horse sweat" to sell a product. It's a distraction, they say. After all, the Etsy site calls horse sweat a "sweet, grassy fragrance." Fair enough. This is clearly outside our realm of experience. But it will take more than this for us to give up our candles that smell like donkey spit.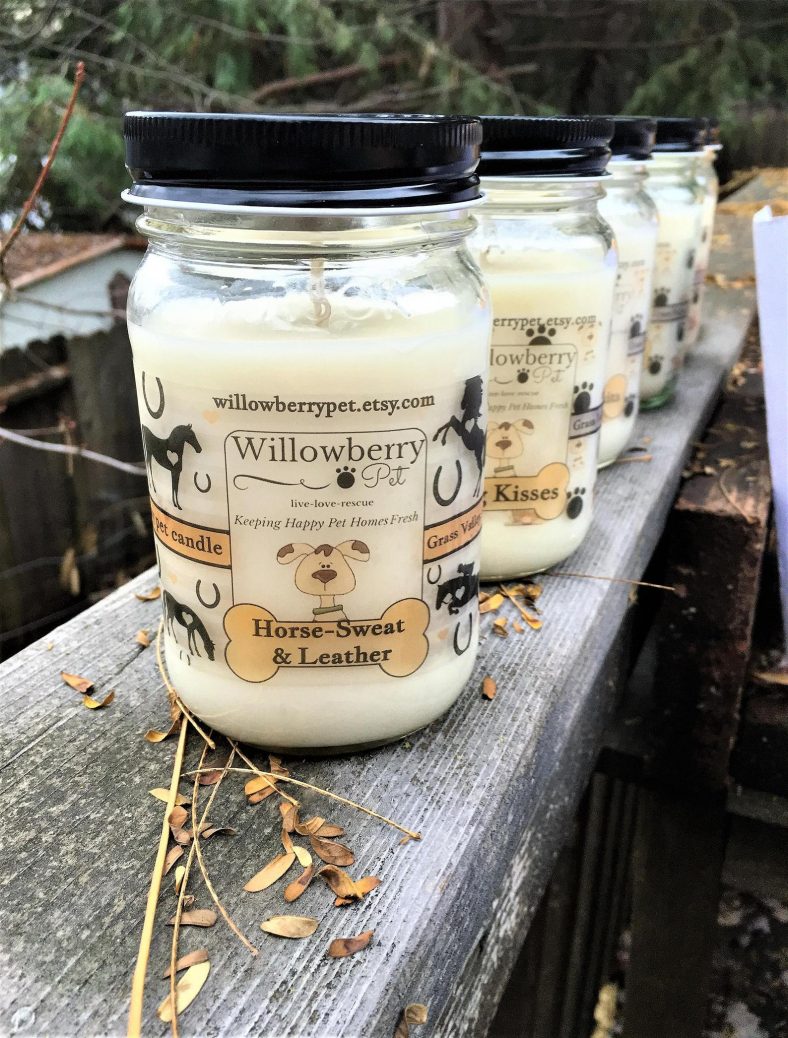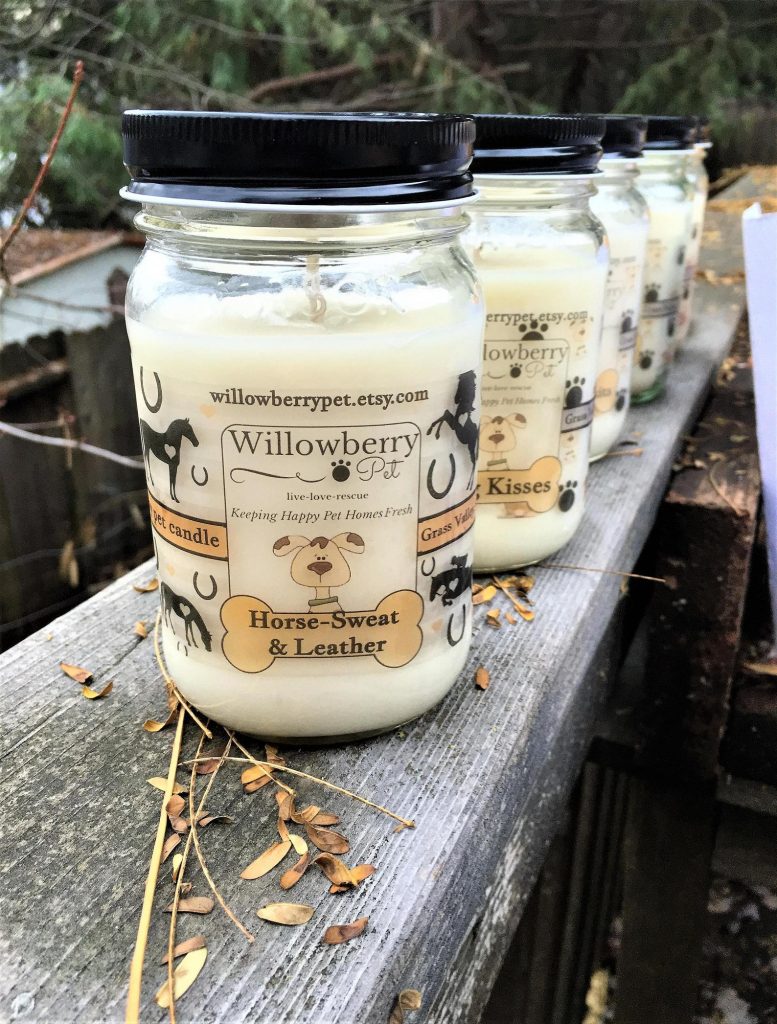 Horse-Shaped Gold Bottle Stoppers (under $70)
Apparently, there's this brand of bourbon called Blanton's, and every bottle of their product comes with a distinctive, gold bottle top shaped like a horse and rider. To get a bottle of Blanton's some people must take out a second mortgage or sell their RV. But you can also just get the bottle tops by themselves without the bourbon, in limited-edition sets of eight. They're still relatively expensive for bottle tops, but they stop bottles like nobody's business and look great doing so. (note: it doesn't include the display stand but you can get it HERE.)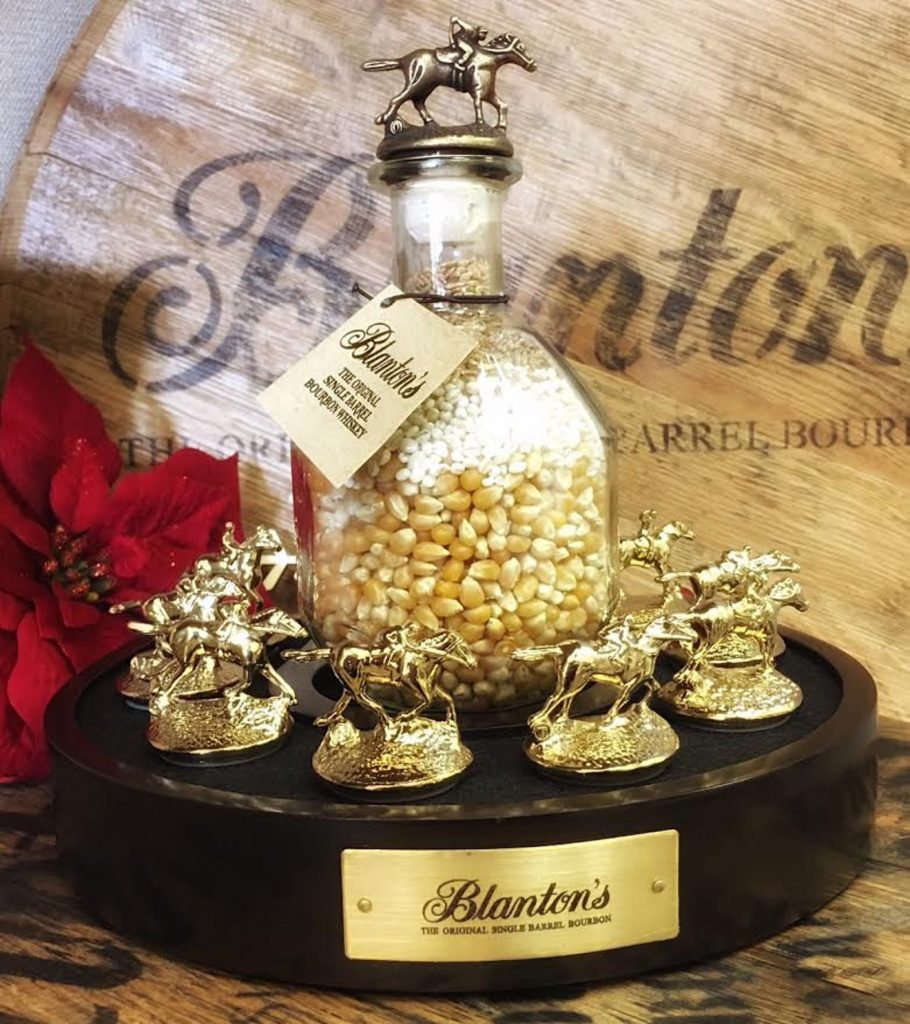 Personalized Horse Portrait Engraved on Wood Cutting Board
Chopping up celery is a pretty thankless task, but doing so on a high-quality wooden cutting board with your personal text and a picture of your horse on it turns it into an event. Choose the wood that speaks to you from a selection of maple, cherry, walnut, elm, or oak. Describe the message you want to be engraved and send it with a picture of a horse. A short time later, you'll get a wooden cutting board in the post, beautifully crafted with your personalized text and an etching of your horse. The next time you mince garlic, you'll think of Ol' Rusty. Mainly because you'll be mincing garlic on top of his snout.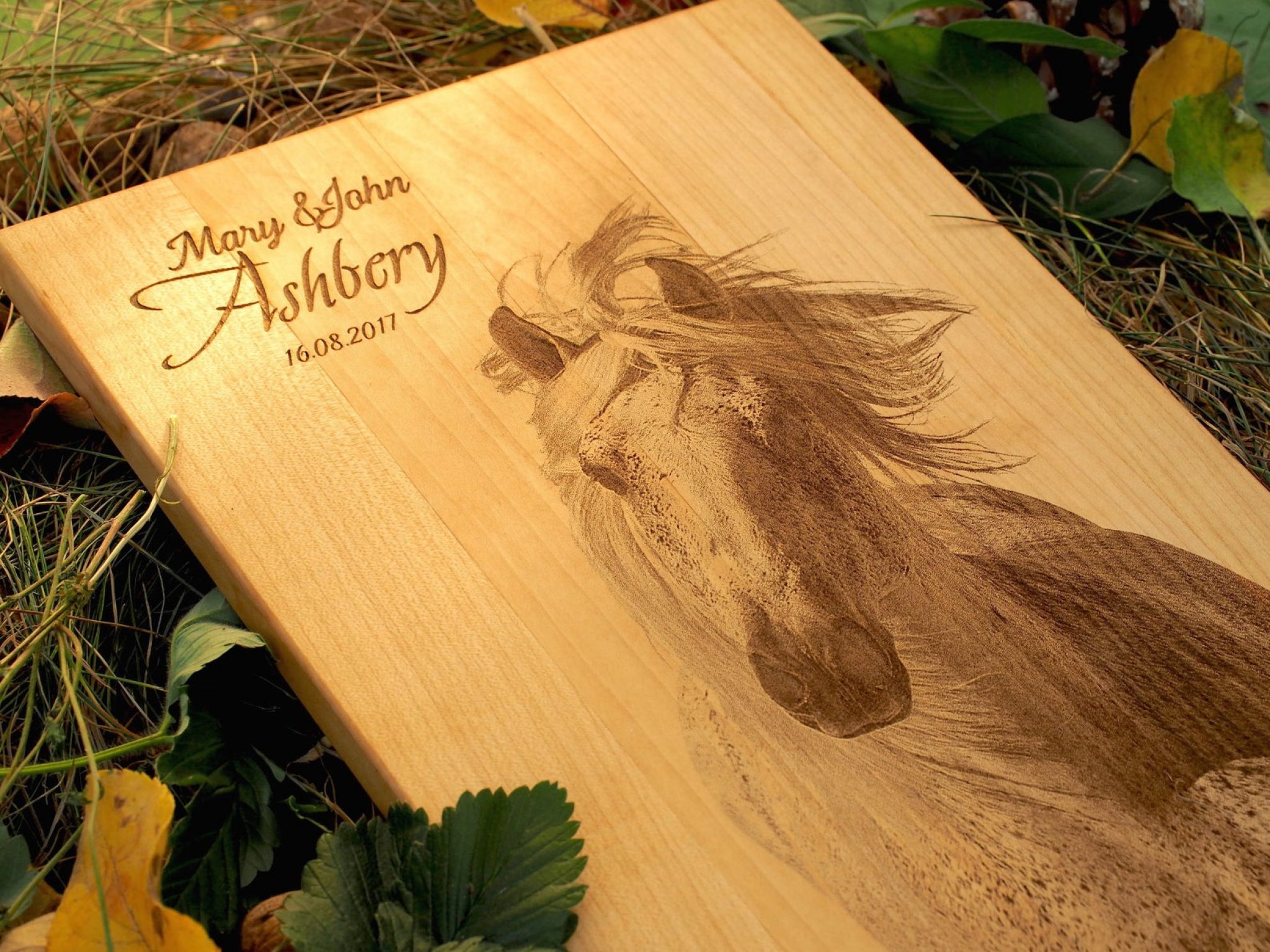 Rustic Custom Name Horseshoe Boot Rack (under $100)
When your scattered collection of boots can use a little frontier law and order, put your money down on this boot rack constructed entirely from horseshoes. This clever contraption holds between one and four pairs of boots, held in place by "brand new" horseshoes. The rack also comes personalized with a name or message you wish to impart to guests who have, for whatever reason, demanded to see where you keep your boots. A perfect horse lover gift for the ranch hand who has everything except a clue about how to organize footwear.
Cowboy Boot Wine Bottle Holder (under $30)
When the cowboys who forged the frontiers of the Old West needed someplace to put their wine bottles, they made do with what they had. They didn't have wine cellars. They didn't have personal sommeliers. They didn't have those funny straw baskets that go over bottles of chianti. You know what they had? They had boots. This gift for horse lovers honors the tradition of cowboys who stored their wine in (actually, on) customized boots, held in place with a divot near the toe and a strategically cushioned top. Now you can corral your dogies and let your Chardonnay breathe with the same footwear. At last.
Horseshoe Countertop Metal Rack and Wine Bottle Holder (under $45)
While we're on the subject of Western archetypes trying to figure out where to stow their wine, which we could do all day, let's talk about this horseshoe-based getup. It's basically six cast-iron horseshoes welded together in a clover-like shape so that they're able to hold three bottles of wine. It adds a nice rustic touch to your countertop or bar cart. If your favorite cowboy is not into wine — which our fact-checkers have just now told us may be the case, thanks guys — it can also be used for beer, whiskey, or other similarly shaped liquid dispensers. (For a larger version, check it out HERE)
Aluminum Metal Horse Food Service Tray (under $30)
This multi-purpose holding and carrying device is crafted with several horse-related images in relief. It's perfect for serving prepared food or storing loose items that might be scattered around your home or office. To be absolutely clear, although we're calling it a "horse food service tray," it is not intended for use in serving food made from horses. That's just flat-out cruel. That's sick. It's disturbing you'd even think about that. Possums, on the other hand, are fair game.
Saddled Horse Table Lamp (under $70)
Everything about this lamp screams "horse." It's quite beautiful. It's got a boulder-shaped base, atop which rests a horse gently pawing its surface. All this resolves into a lamp stem fashioned after a tree trunk, terminating in a light bulb socket, covered by a rustic, heroic, earthy fabric shade. There's also a switch, which you use to turn the light on and off. That's a feature on most lamps. This exquisite piece comes with a light bulb included. Indeed, the saddled horse table lamp may — dare we say it? — be the greatest horse-themed lamp ever made.
3D Horse Table Lamp (under $25)
Well, hold your horses. This may be the greatest horse-themed lamp ever made. Don't get us wrong; the last horse-themed lamp we just discussed is great. But this device takes horse-themed lamp technology to a whole other level. It's a 3D lamp, shaped to look like a horse that's having navigation issues within The Matrix. It's LED-powered and mini-sized, perfect for use as a nightlight in your child's room. On top of all that, it shines light in seven assorted colors. "Wait — including cyan?" you ask. "Yes," we respond, "including cyan."
Leather Horse-Embossed Notebook (under $35)
By and large, horses are not known for their command of the written word. It's not their fault. It's a biology thing. We can't begin to explain it. But if they could write, we're quite sure they'd get a lot of use out of this leather-bound notebook, embossed with a stunning line sketch of a bucking horse. With its protective cover, strap, and fancy gold pen included, this book is ideal as a travel diary, sketchbook, journal, or scratchpad. Your horse still can't write with it. They might eat it, though.
The Horse Encyclopedia (under $40)
Written by Elwyn Hartley Edwards, this weighty tome contains all the information about horses you will ever need and much that you won't. You'll learn about all the different horse breeds "from Friesians to Thoroughbreds." You'll learn about horse-related activities like polo, racing, and show jumping. You'll learn about horse culture. You'll learn about taking care of a horse. You'll learn what makes horses tick and what ticks them off. It's also got pictures of horses, so you don't have to make a mental image from scratch.
---
Horse Lover Gifts for Equestrians Who Love Games
Horses are great to ride and race, but they're uniformly lousy at board games. Especially the ones that require players to move tokens around boards, toss dice, or make bids. But you and your friends can have hours of fun with these horse-themed games, while your horse quietly sits alone in their stable and jealously broods. So here are some horse lover gifts for equestrians who love games.
Horse-Opoly Board Game (under $30)
It's amazing how many variations on the Monopoly® game have found their way to the shelves: Star Wars Monopoly®, Game of Thrones Monopoly®, Lord of the Rings Monopoly®, Les Misérables Monopoly®, Meet The Press Monopoly® — it's almost as if they're running out of original ideas! At any rate, Horse-Opoly is the latest iteration of the world's favorite trading game. Instead of "buying" streets, building hotels, and privatizing railroads and utilities, players raise horses. It's all fun and games until the horse gets sent to jail for securities fraud.
Herd Your Horses Board Game (under $25)
Fun for you and your family, friends, or cellmates, this adventure-based board game promises to "experience life from the horse's or the rancher's point of view." It's a journey-oriented game centered around a horse named Denver — a plucky, modern girl with attitude to spare — and the rest of her horse posse, including her whip-smart foal Blaze. They contend with a rancher — gritty, hard-bitten, possibly hiding a secret past. Players create their equestrian saga by throwing dice, moving tokens, and picking up instruction cards. It's not about whether you win or lose. It's about the horses you meet along the way.
Horse Racing Game (under $100)
Recreate the thrill of the racetrack and teach your kids all about parimutuel betting with this exciting game played with dice, playing cards, chips, tokens, and some kind of pegboard-like surface. We're not going to pretend to understand all the rules or course of gameplay. It seems a little complicated. However, with its walnut veneer game top, we're amused to learn that (as of this writing) the game is currently Amazon's 370th top-selling "cutting board." So in case the whole game-playing thing doesn't work out, you still have yourself a multitasker for the kitchen. Everybody wins.
---
Stylish Horse Lover Gifts: Horse-Centric Art and Jewelry
With its natural majesty, regal figure, and powerful bone structure, the horse is an animal that lends itself over to beautiful art quite easily. Or, as you're about to find out, you can steal its hair to make personalized jewelry. Here are some great art and jewelry items that exploit horses.
Custom Breyer Horse Made to Order 9 Inch Traditional Figure
This is the ultimate unique gift for horse lovers… An extraordinarily talented artist in West Virginia makes faithful, exactly scaled replicas of your favorite horse. The process is simple: Send them a picture of your horse in an action or resting pose, and within a couple of months, you receive a 9-inch action figure replication of your horse. We really don't know what else we could add, except for this actual disclaimer: "PLEASE NOTE: Winged horses and other elaborate models will require an additional fee."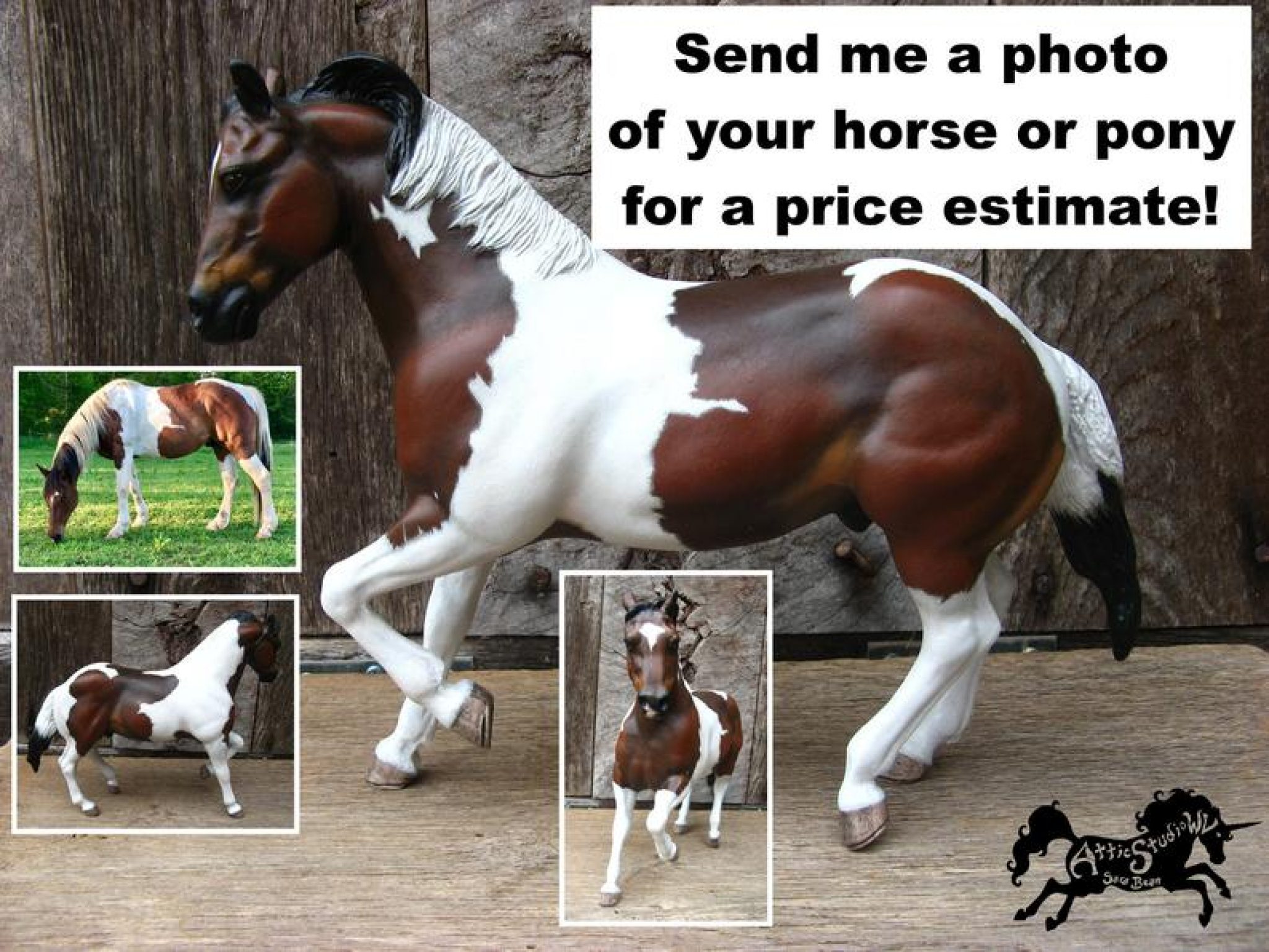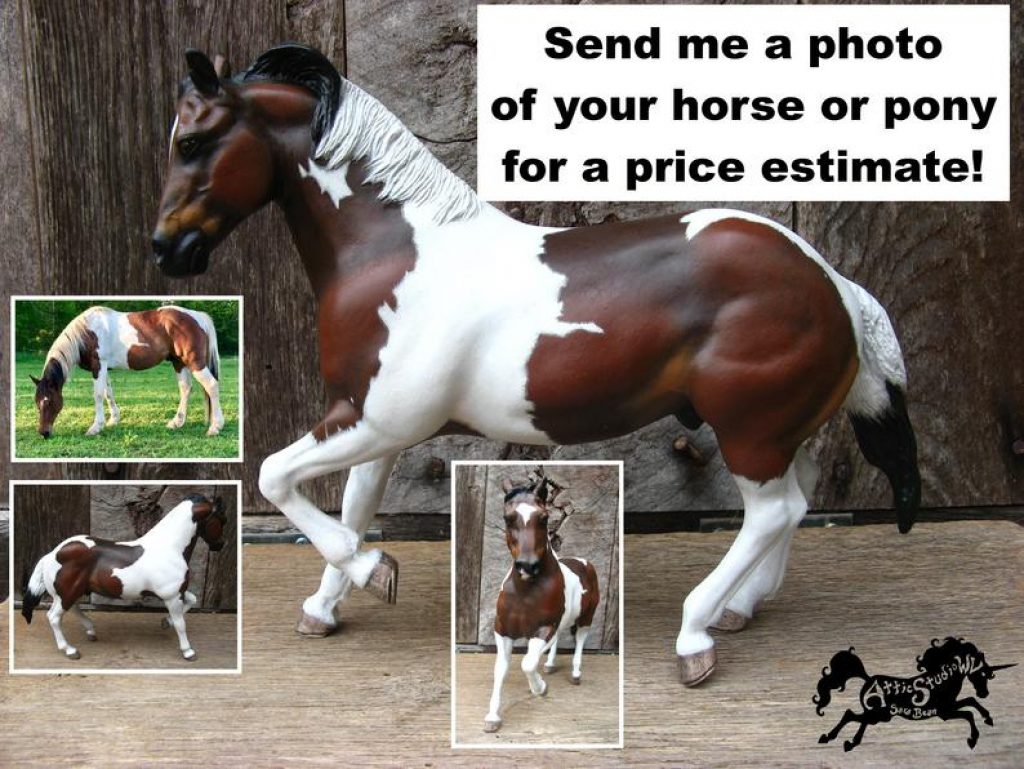 Personalized Horse Name Art Print (under $80)
Stick with us on this one: This clever piece of artwork spells out your friend's name (or other text) with pictures of horses and other Western-themed images posed to resemble letters of the alphabet. For example: the letter "D" is represented by a belt buckle; "F" is taken from a portion of a fence; "U" is depicted with a horseshoe; and so on. There's an 11-letter limit on each custom order, so longer messages like "SEABISCUIT CHEATED" won't work.
Custom Horse Portrait
The artists at Paint Your Life create stunning paintings of your horse (or other pet or person), using pictures that you send to them. You can even send pictures of people and pets in separate pictures and they will combine them. You can order straight from their website by choosing from certain options and uploading your horse picture. No more subjecting your horse to prolonged periods of awkward posing for amateur art students, half of whom are probably going to major in business administration anyway.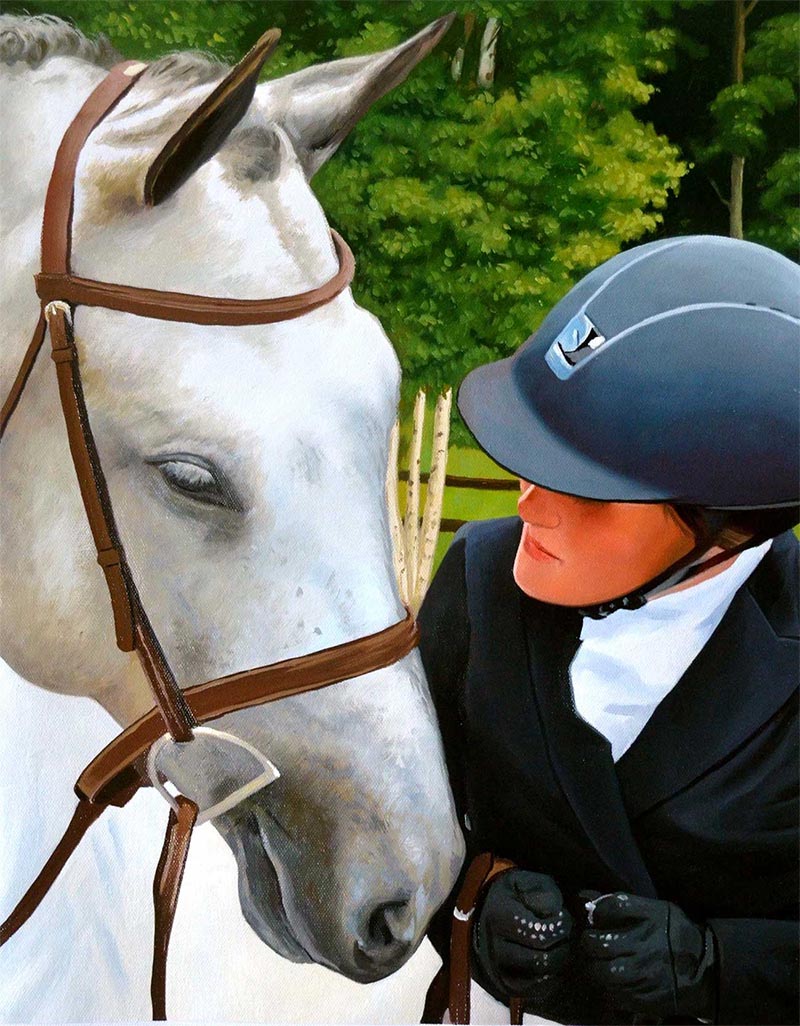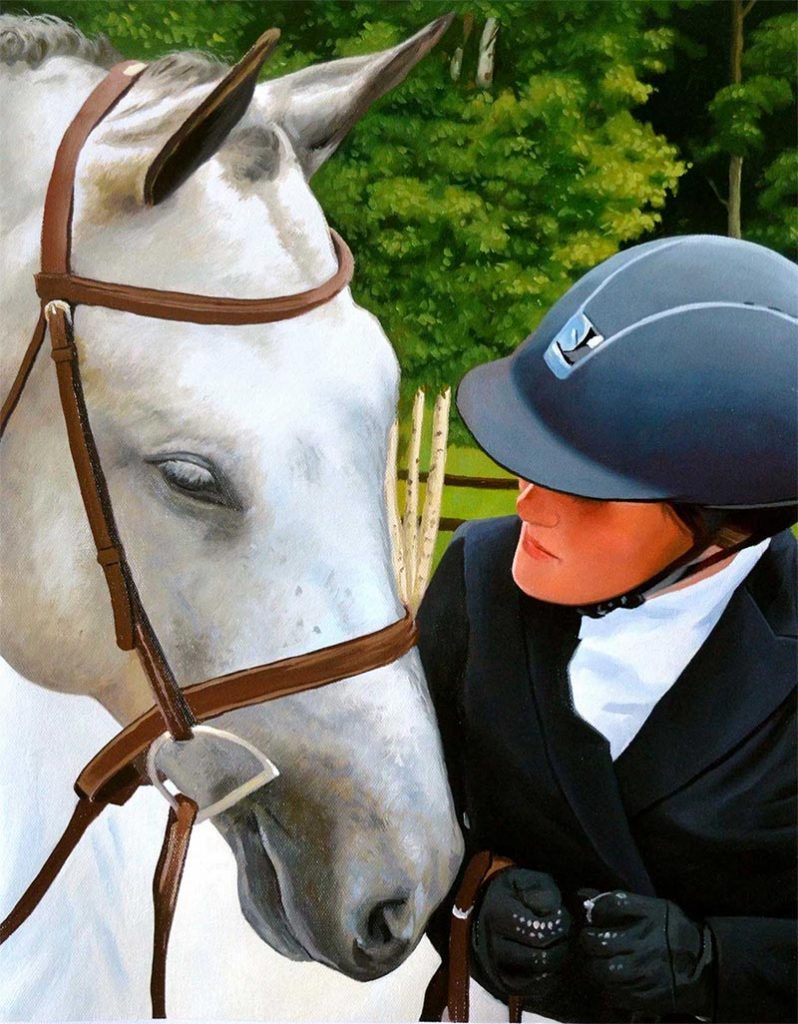 Personalized Historical Portrait of You Atop Your Horse
This. Is. Brilliant. The artist who makes this horse gift will make a picture of you sitting on your horse. No big deal, right? Wrong. These aren't just ordinary portraits. They're historical renderings, recreated in Renaissance or Victorian style. In other words, you can order a print of you dressed up like Napoleon, George Washington, William Shakespeare — any historical figure you want — riding atop a gallant steed. (you can even have yourself painted on top of your cat!!) We're seriously thinking about getting one of these every month. How do you feel about Rasputin? Churchill? Nixon? Borat? We value your feedback.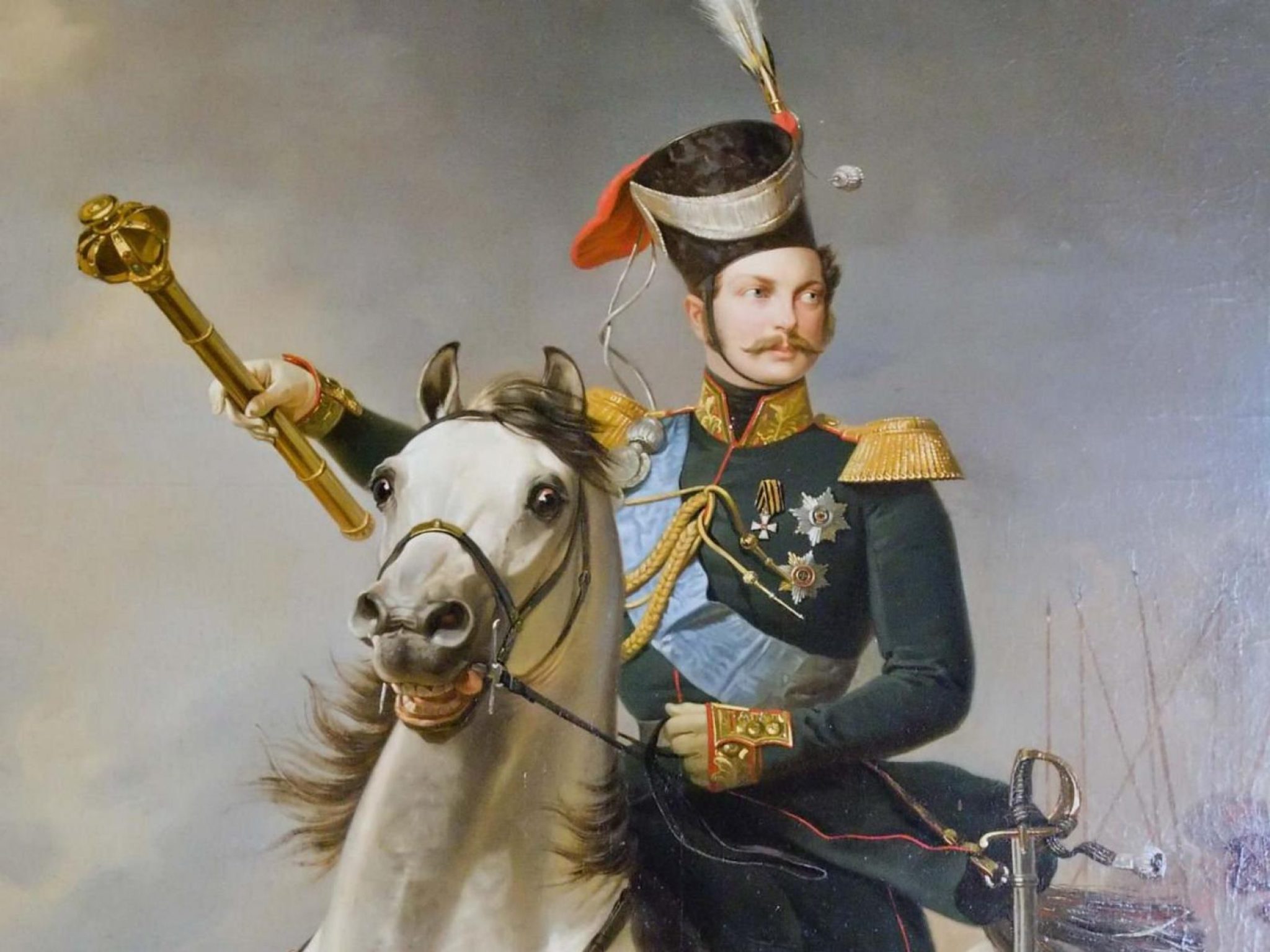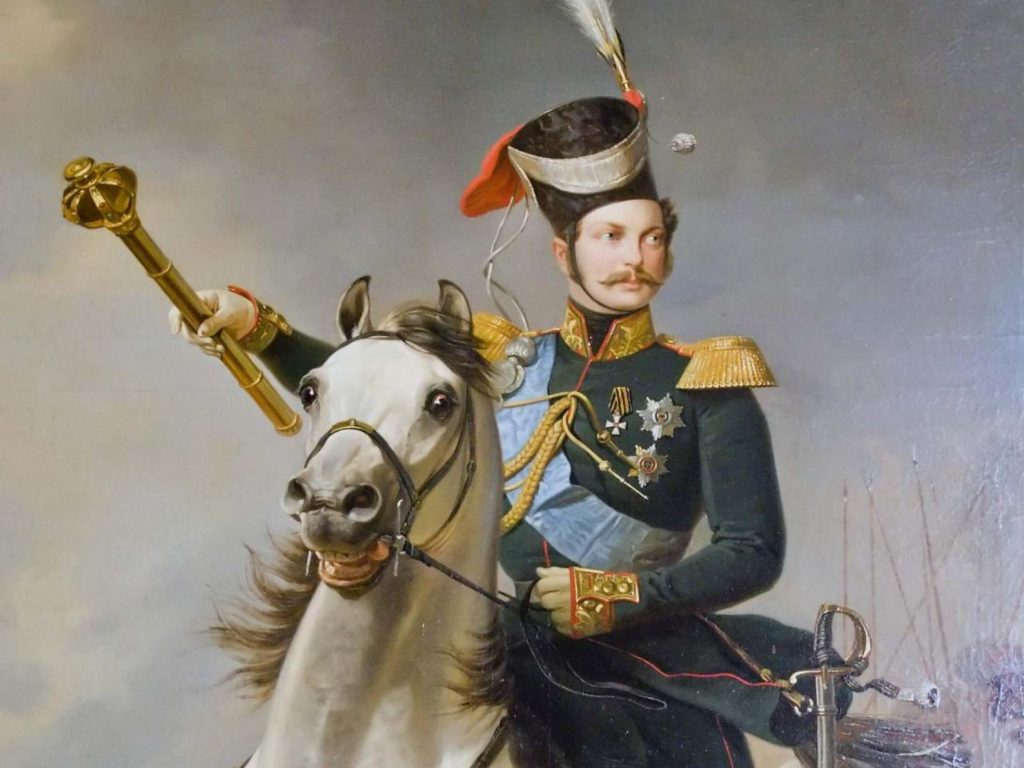 Horsehair Pottery
What we have here is a horse head sculpture. That in itself is not unique. Surely, you think, there's a twist. You are correct. The twist is that each sculpture comes adorned with actual hair from a horse, which you supply yourself. You're to sneak into your horse's stable and, using whatever method works best for you, procure at least 50 strands of hair from your horse. You then send it to the sculptor, who incorporates said hair into their artwork. You know, the more we talk about this process, the less crazy it sounds. Perhaps that says more about us than the gift.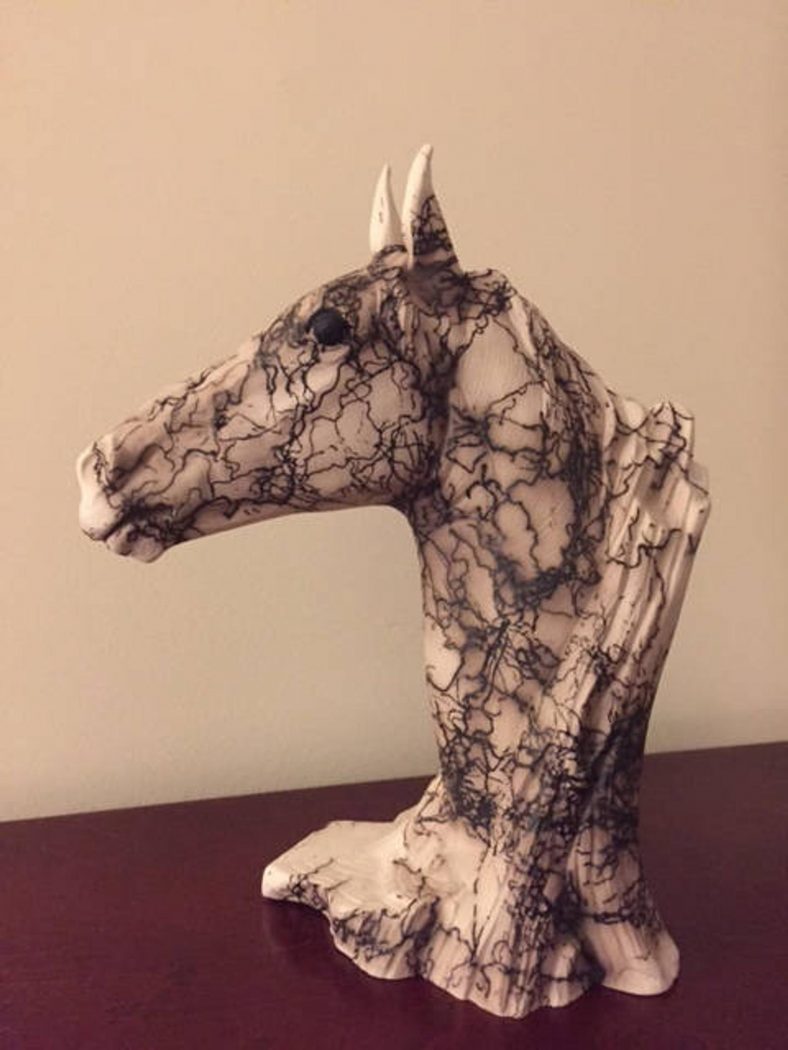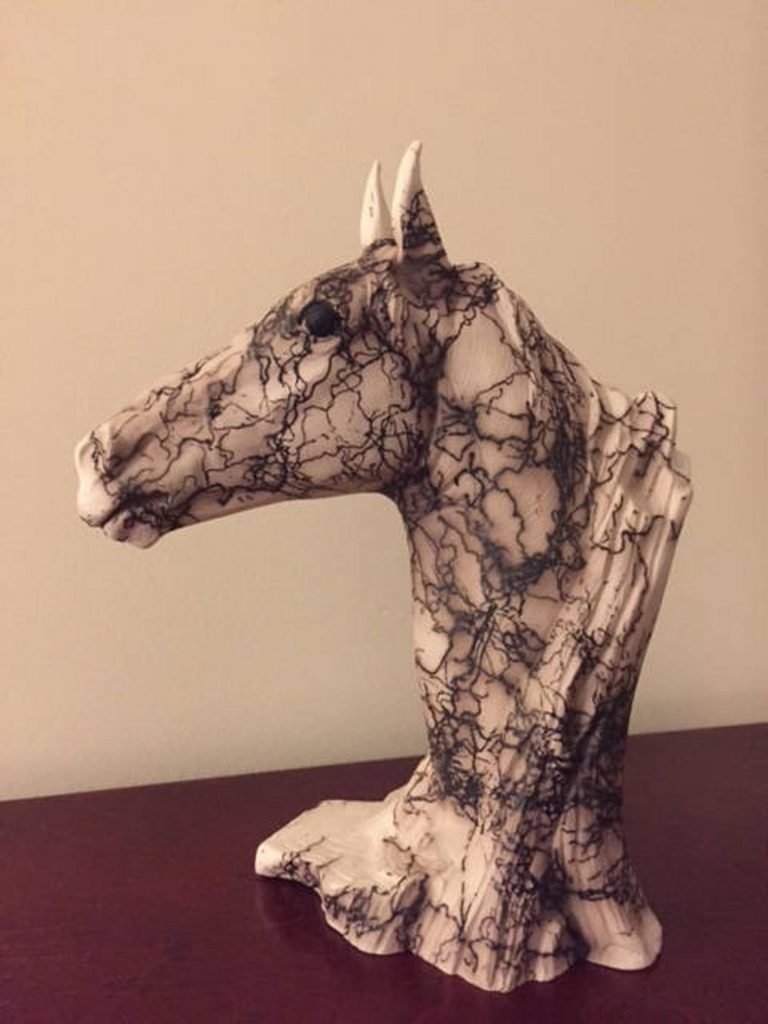 Custom Horsehair Pendant
Once again, this item requires you to send a sample of your horse's hair safely and humanely. After you do, the artist creates an attractive pendant that showcases your horse's hair in a lovingly crafted shape. Hearts seem to be popular. It's a perfect way to show the outside world the depths of your equine love, not to mention the fact that you occasionally lurk in stable shadows with a pair of scissors and a Ziploc bag.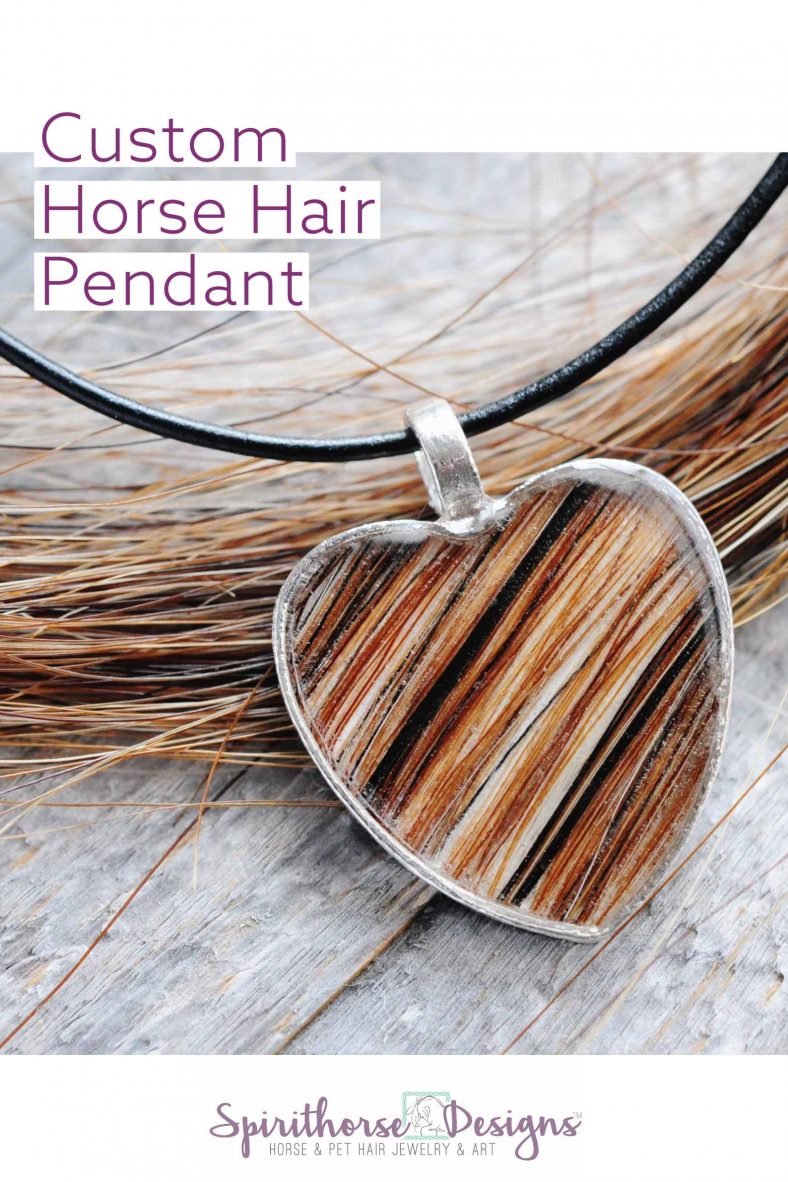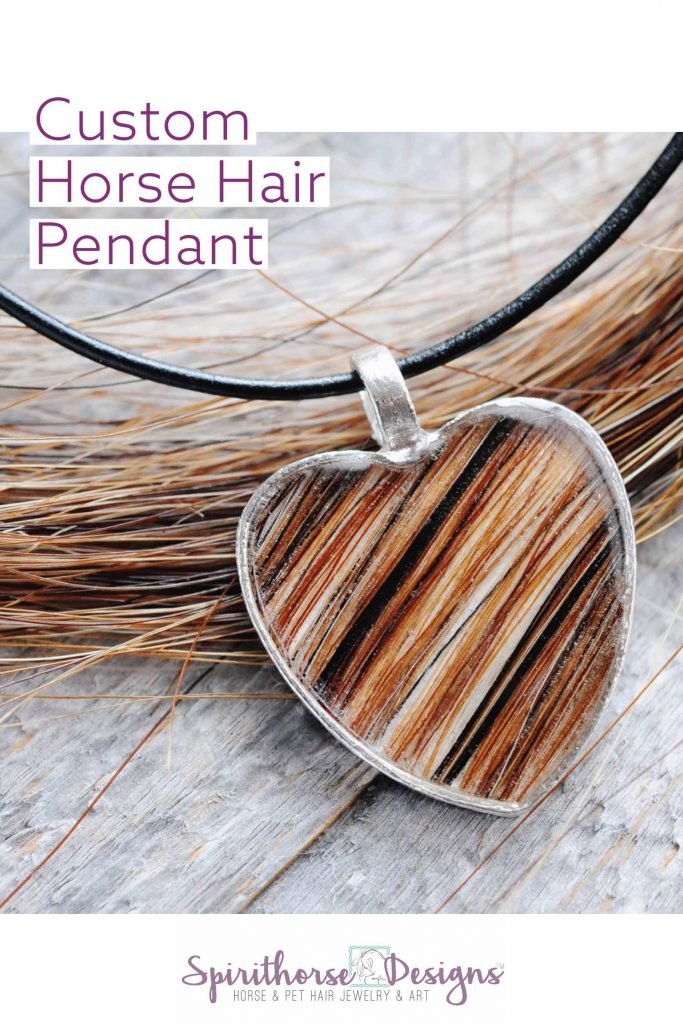 Horsehair Bracelet (under $40)
You thought we were done with the whole horsehair theme, didn't you? "That's it," you said, "they've emptied the crates. There's absolutely no way they can come up with other products that require one to grab a sample of horsehair. It's simply not possible." Joke's on you, smart guy: We have bracelets. Bracelets that feature strands of horsehair intricately twisted and crafted into a rope-like shape, along with a hand-stamped, personalized charm. Once again, you have to get the hair from the horse yourself, just like you did with the horse head pottery and pendant. Gosh, you're stealing a lot of hair from your horse. You're probably making them paranoid.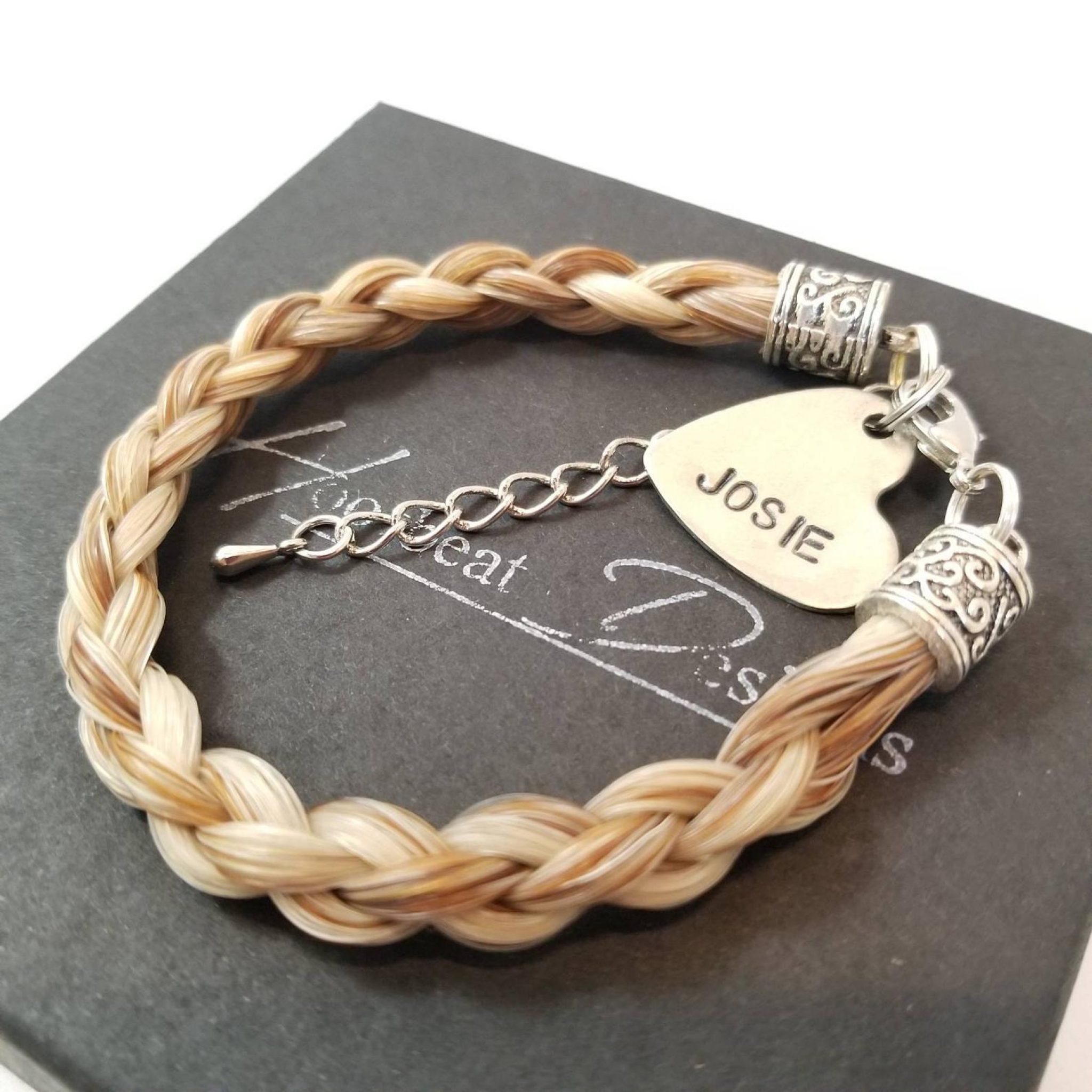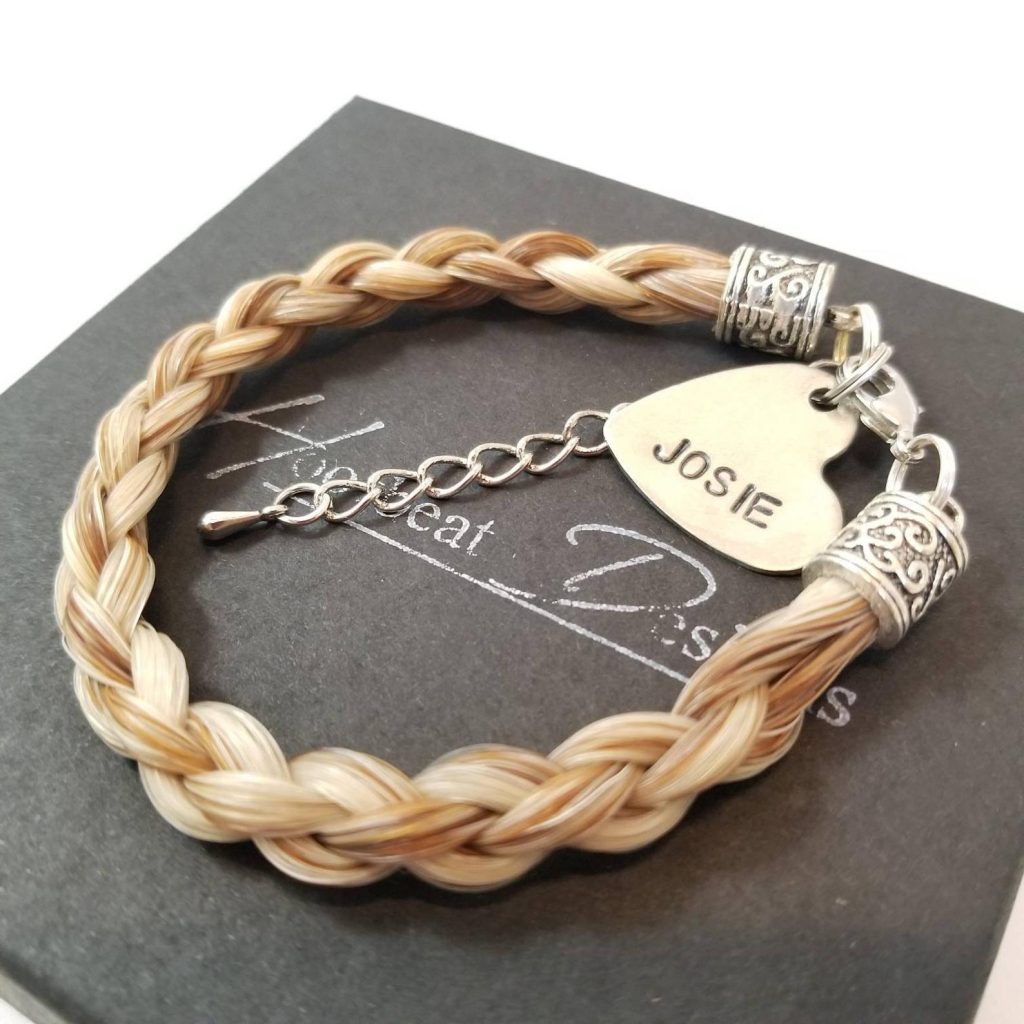 Horse Riding Patent Prints
These pictures lovingly recreate the original submissions to the US Patent Office for riding saddles, bridle bits, and stirrups. These decorative showpieces bring a sense of horse-centered entrepreneurship to an otherwise uneventful wall in your home or office. Your favorite modern cowboy or cowgirl will be swept away in their minds to the horse-dotted landscapes of the New West, or at least the bureaucratic stuffiness of a crowded government patent office.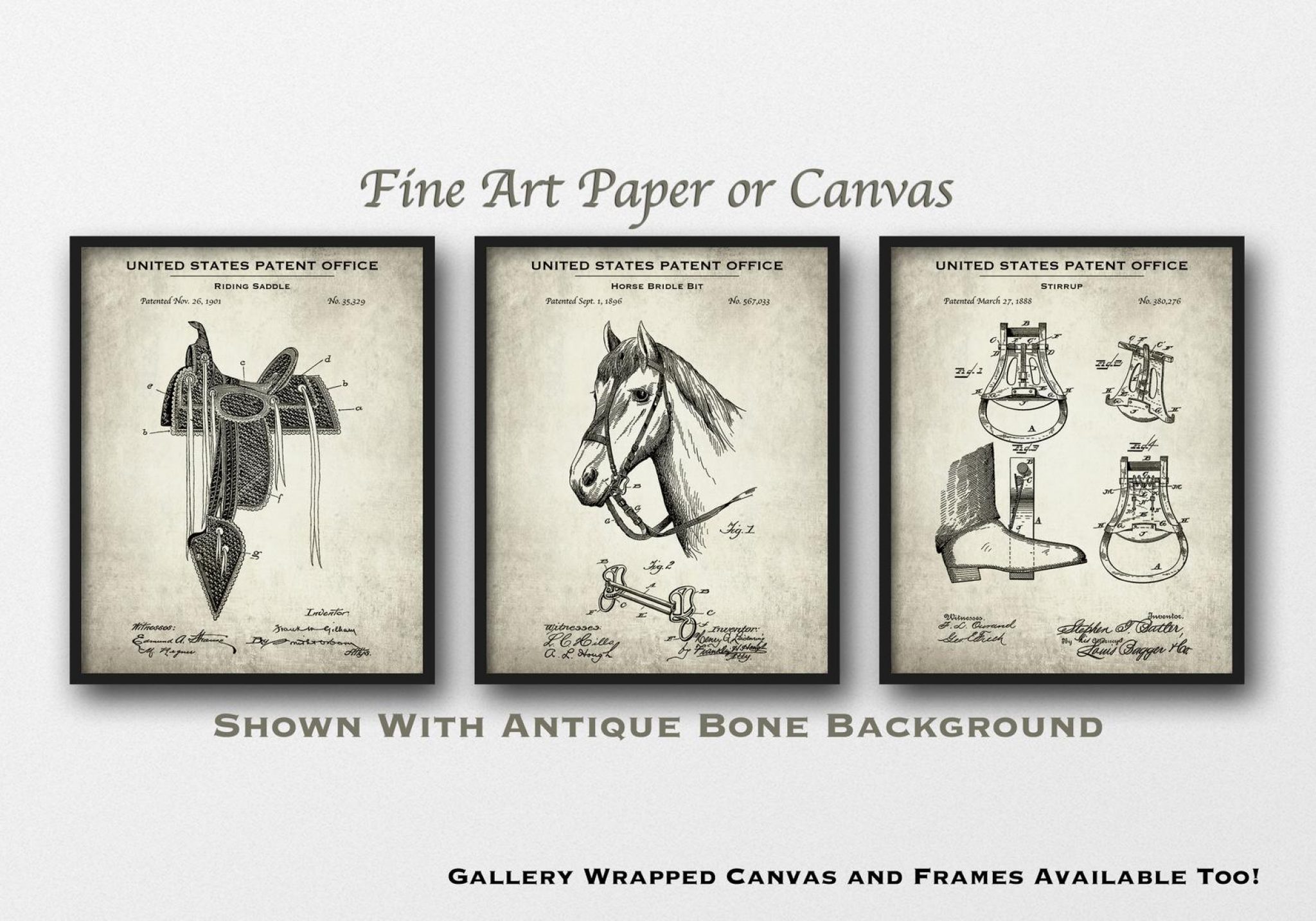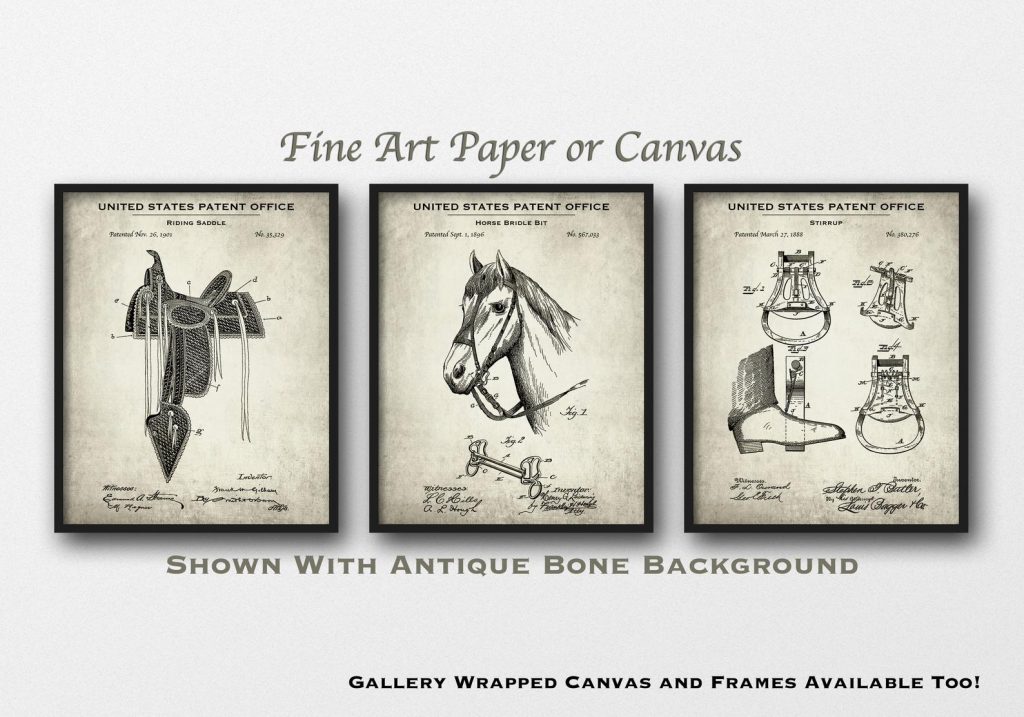 ---
The Best Gifts for Horse Owners
These horse gifts are for people who actually own horses, not just think about them 24/7. They'll help you take care of your horse's most pressing health and beauty needs, which are myriad. So here are our favorite unique gifts for horse owners:
Heart to Horse Box Subscription
This equine-centric, monthly package is the bringer of new items that horses and the people who love them are sure to enjoy or get some tangible benefit from. Some of the proceeds are donated to horse rescue charities, which is great. A typical box may include grooming products, blankets, apparel, brushes, riding gear, probiotics, tack, utility bags, sprays, backpacks, horse-shaped cookie cutters, leather polish, items that look like they drape over horses, and discount coupons for the unlikely event that the box items fail to meet all your horse-related needs.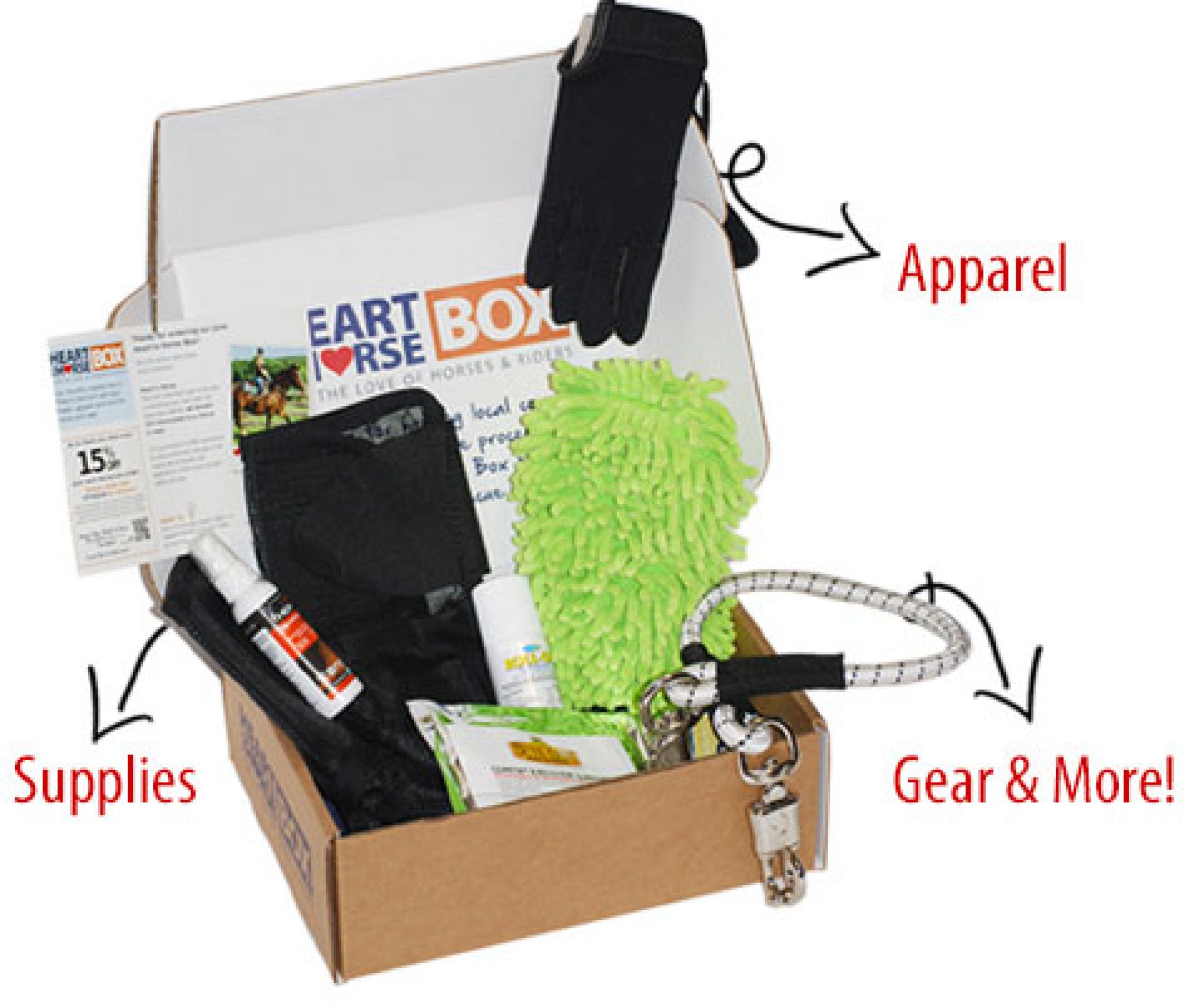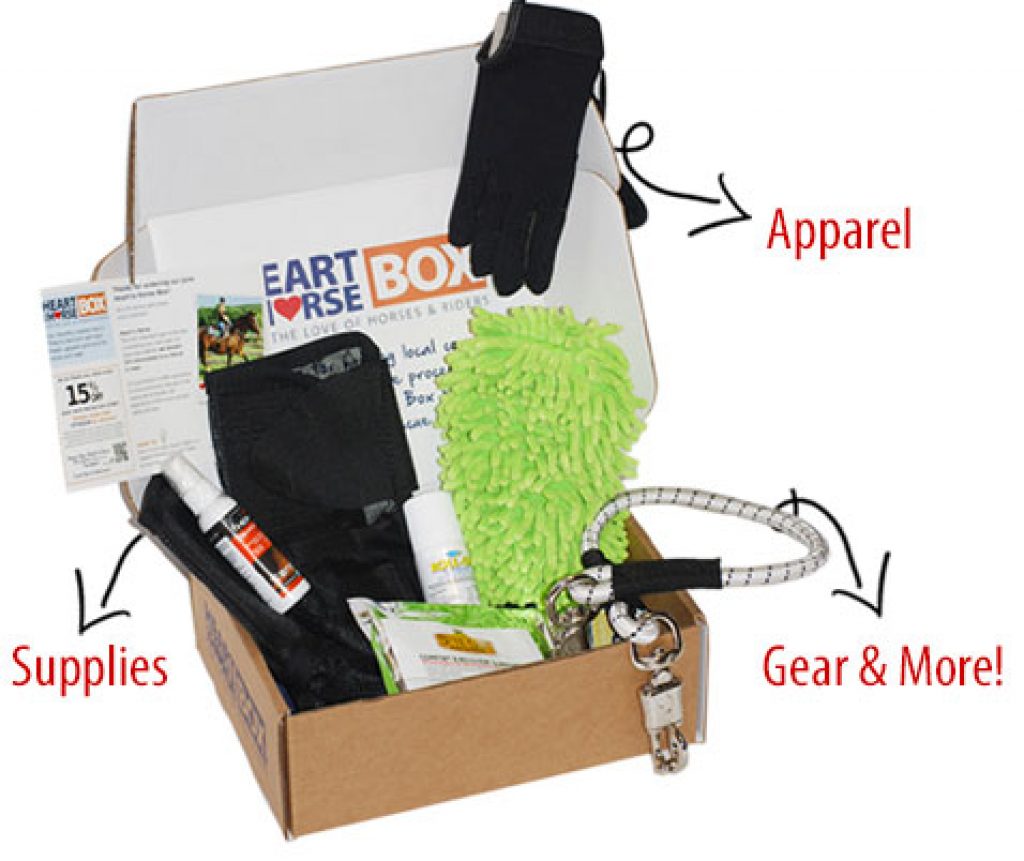 LaLa Young Equestrians Box Subscription
If you are looking for horse lover gifts for young girls, then this is for you… Geared specifically toward elementary school-aged girls, this box delivers several trinkets each month that are sure to delight, enliven, or interest youngsters who have a passion for the equine arts. Kids will be inundated with items celebrating the existence of horses, including necklaces, keychains, brushes, books, bracelets, toys, lead ropes, keychains, socks — everything except feeding troughs, hay bales, and horseshoe nails, which they could probably get at Circle K anyway.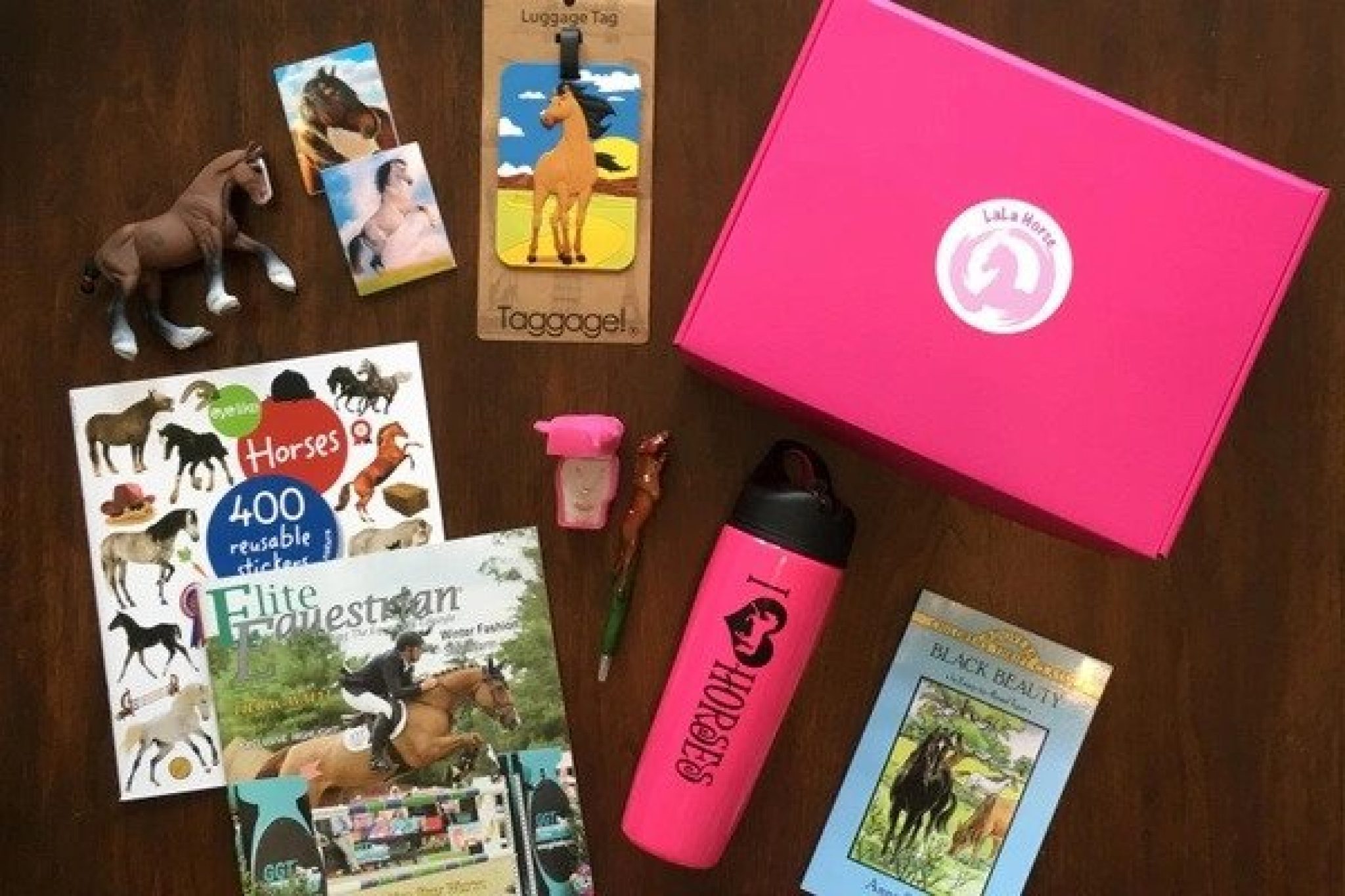 Weaver Leather Grooming Kit (under $45)
No horse likes to go out in public with an unconditioned mane or a dirty snout. It's a matter of pride. Keep your horse from becoming a social pariah with this 7-piece grooming set. Includes a face brush, a mane and tail brush, a dandy brush, a sweat scraper, and a hoof pick, along with a tote to hold them all. Forget about sending your horse to a pricey beauty salon or pedicurist — this equine beauty regimen is all they need.
If you didn't find anything on this list of horse lover gifts, check out our section on Gifts for Women or Gifts for Men.
Be sure to follow us on Facebook for daily updates on unique gifts for the whole family!