Unique Man Cave Gifts They Will Want to Show Off to Their Friends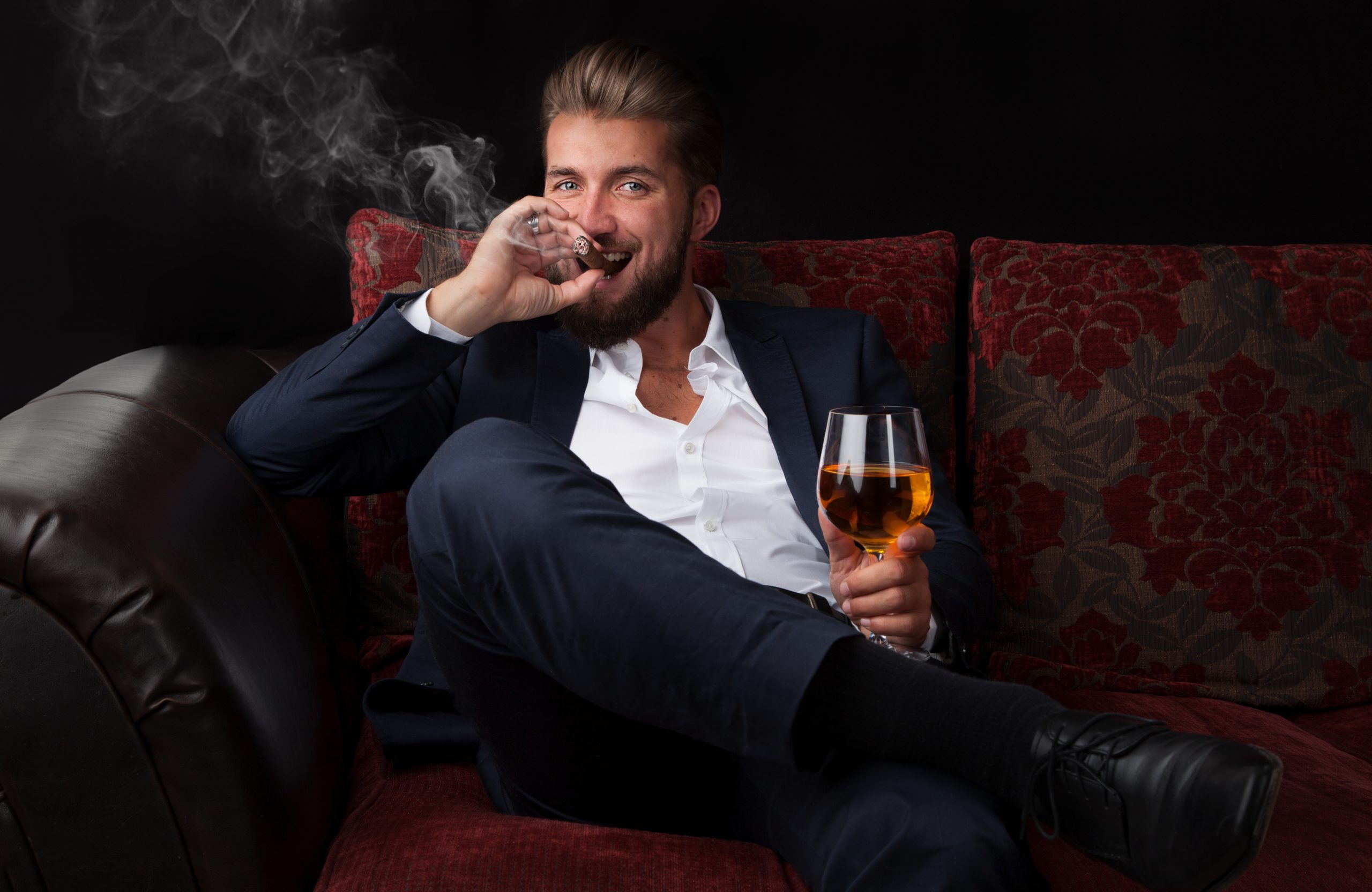 The man cave is much, much more than a converted basement in a nondescript suburban home. Indeed, it's a safe place for the caretaking of those unique fixations of the classic American male: sports, television, games, electric guitars, cigars, smoked meats, loaded revolvers, repressed insecurities about "performance issues," and drinking. Lots and lots of drinking.
But no man cave gets by merely on basic architecture and ratty old couches. They must be curated and accessorized, just as much as a fine china collection or a Victorian tearoom — just with more assertive, masculine equipment rather than lace doilies.
If you have a friend or relative whose man cave needs a tweak or two — or even a complete, top-to-bottom renovation — some of the items in this feature will make great additions to the man cave that they'll never forget. Even if they go to their man cave primarily to forget, here are some man cave gifts they will love.
---
Man Cave Gifts for the Bar
We all know the primary activity that goes on in man caves, and it's not reading classic literature or making quilts. It's drinking. No contemporary man cave is complete without a bar stocked with fine alcohol brands and state-of-the-art mix-making supplies, though we expect some will be happy with passable canned liquor and infrequently cleaned glasses. Here are some can't-miss man cave gifts for the drink-serving setup.
Wilshire Engraved DiMera Argos Whiskey Decanter Set
There's a chance — maybe not a huge one, but a chance — that your male gift recipient wants to turn his man cave into a classy establishment. No neon beer signs, no centerfolds, no sports team logos. This set of whiskey conveyance devices (decanter, glasses, cooling stones, and a box) comes with your intended's name lovingly engraved upon each surface. It's a great gift for giving a sense of luxury to a room full of inflatable furniture and empty nacho plates.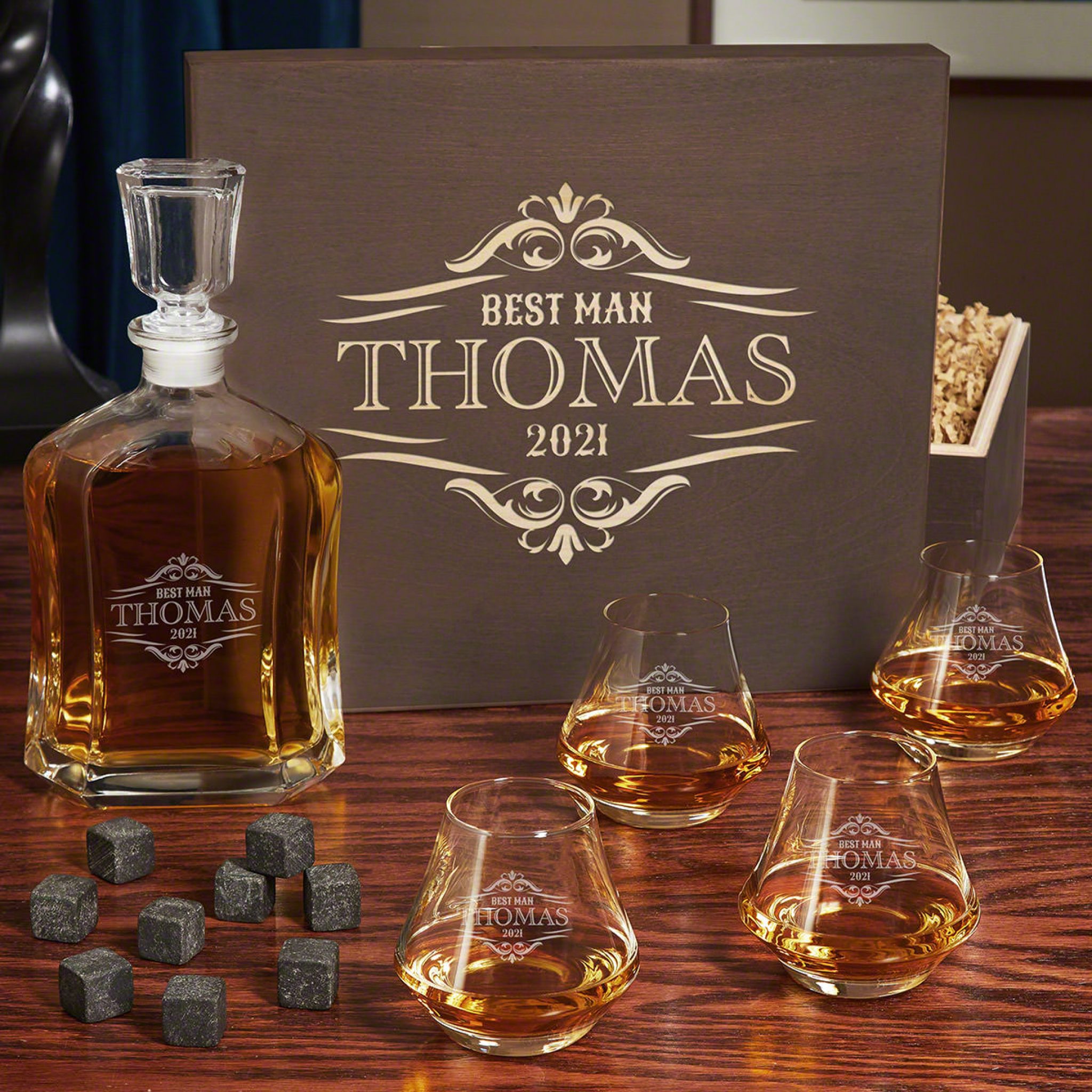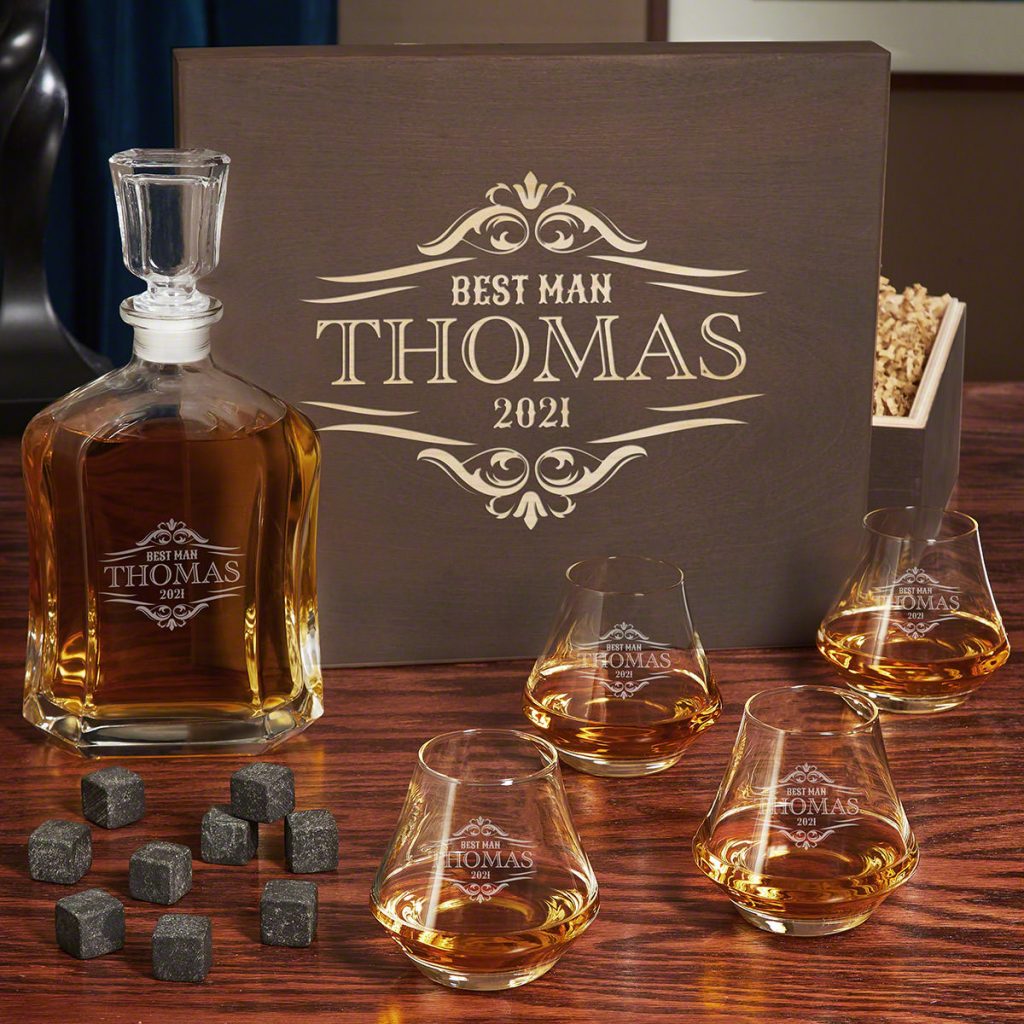 Wall-Mounted Beer Bottle Openers
Small beer bottle openers easily get lost in the organized chaos of a man cave, and most dentists don't recommend using your teeth as a substitute. Problem solved with this wall-mounted beer opener, made with the latest beer-opener technology and personalized with a monogram. Clean-up's a breeze thanks to the small receptacle at the bottom, which catches the dislodged bottle caps before they fall to the floor, so your man can collect and trade them with his friends.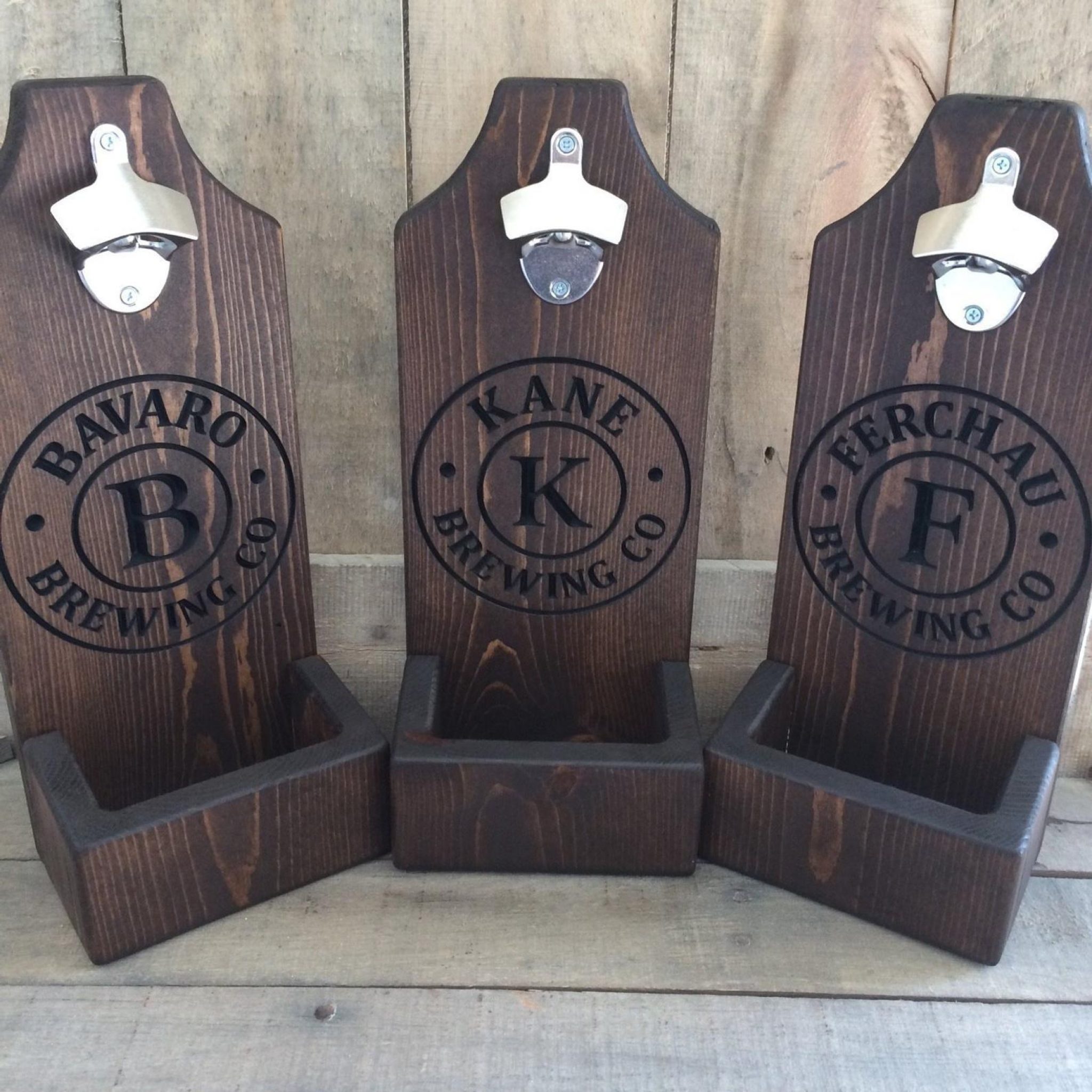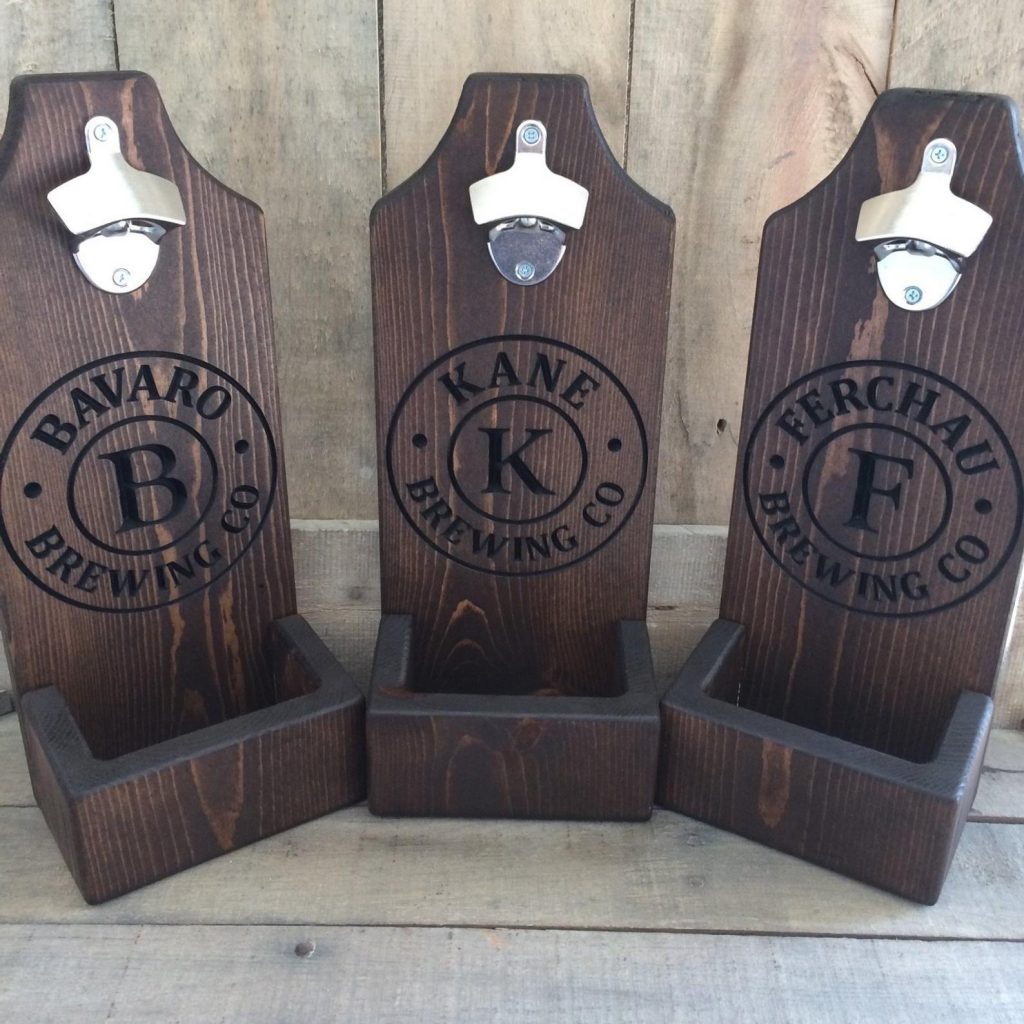 Personalized American Oak Whiskey Aging Barrel
Whiskey needs to be aged before you drink it. The most common method of aging whiskey is to leave it in an oak barrel, like this one. It comes in five sizes between 1 and 20 liters, is personalized with your gentleman friend's favorite logo and/or information, and is suitable for either storing store-bought whiskey or making one's own spirits. Simply pour your alcohol in the barrel and ignore it for anywhere from a few weeks to a couple of years, which is easy to do in the shielded reality of a man cave.
16th Century Italian Replica Globe Bar
Now your guy friend can enjoy spirits just like the 16th-century explorers did with this combination liquor holder and globe of the world (not actual size). Imagine your man and his friends standing around the globe, dreaming of unknown frontiers, planning international spice trade routes, then opening the globe and grabbing themselves a 40-ounce serving of malt liquor. Buon Viaggio!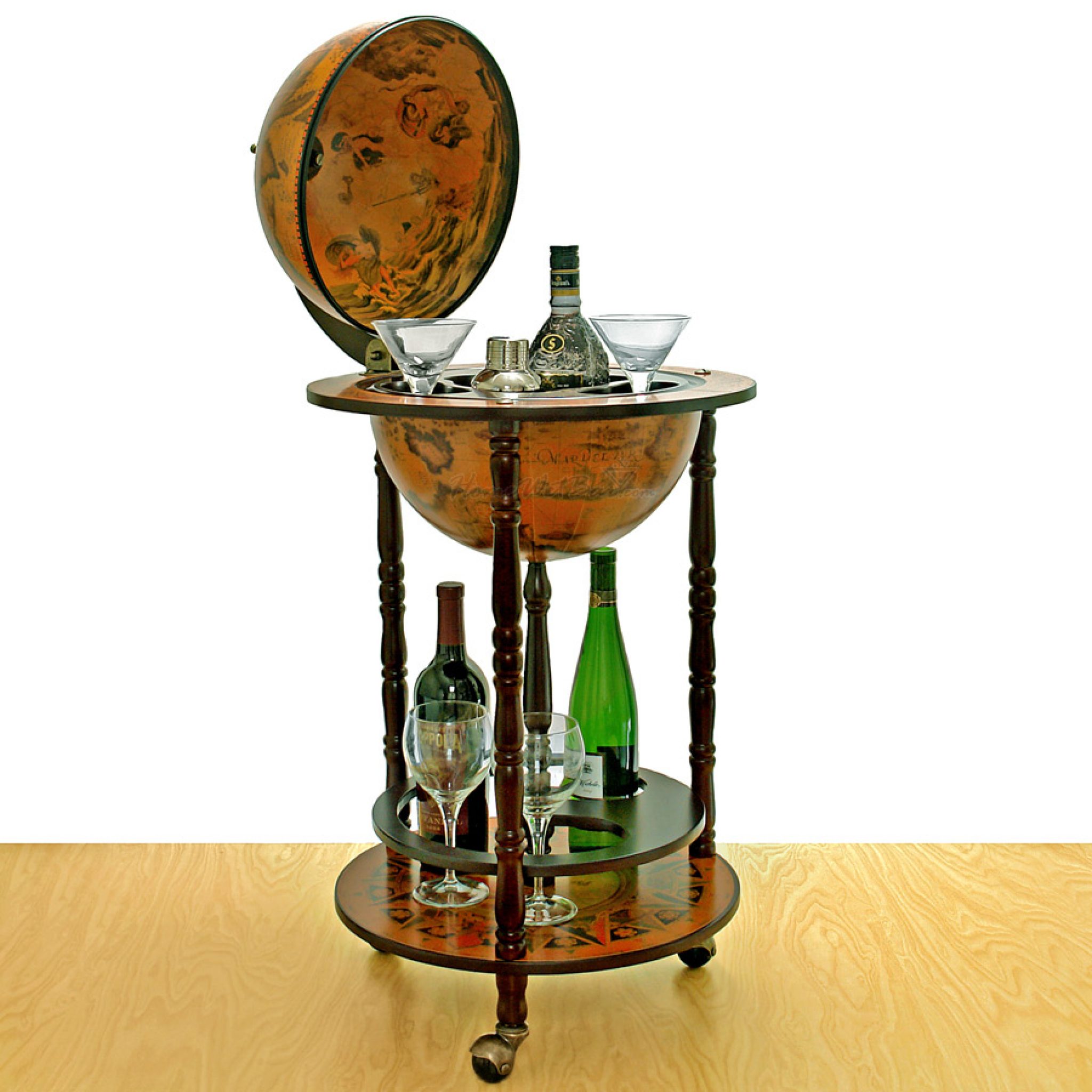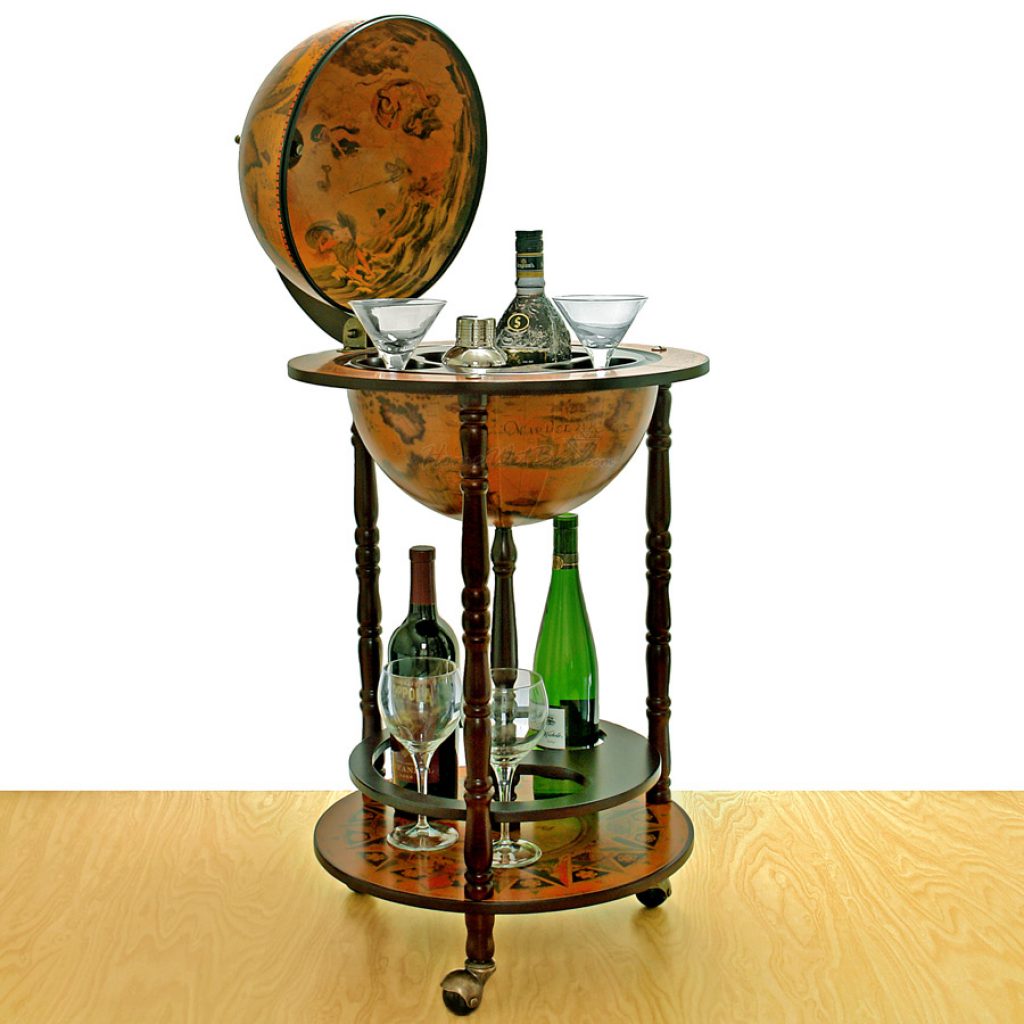 Montana West Resin Shotgun Shells Coaster Set
Finally, a safe and sane way to combine alcohol and firearms! Made from hand-cast resin stone, these fashionable drink coasters replicate the shape and style of discarded 12-gauge shotgun shells. Place your drink on the coaster and watch as it fiercely and jealousy protects wooden tabletops from the scourge of wet-glass stains with the tenacity of a hot-headed Old West deputy. Also suitable for making your daughter's would-be boyfriend nervous.
Wooden Murphy Whiskey Bar
This handsome piece of furniture combines the space-age technology of fold-out Murphy beds with the scientific principles of fixedness. When properly installed on the face of a man cave wall, it simply looks like a barn door that has been purposely misplaced. Open it up, though, and your man-thing will find three separate compartments designed to hold liquor bottles, glasses, and any other items that could use some private "me-time."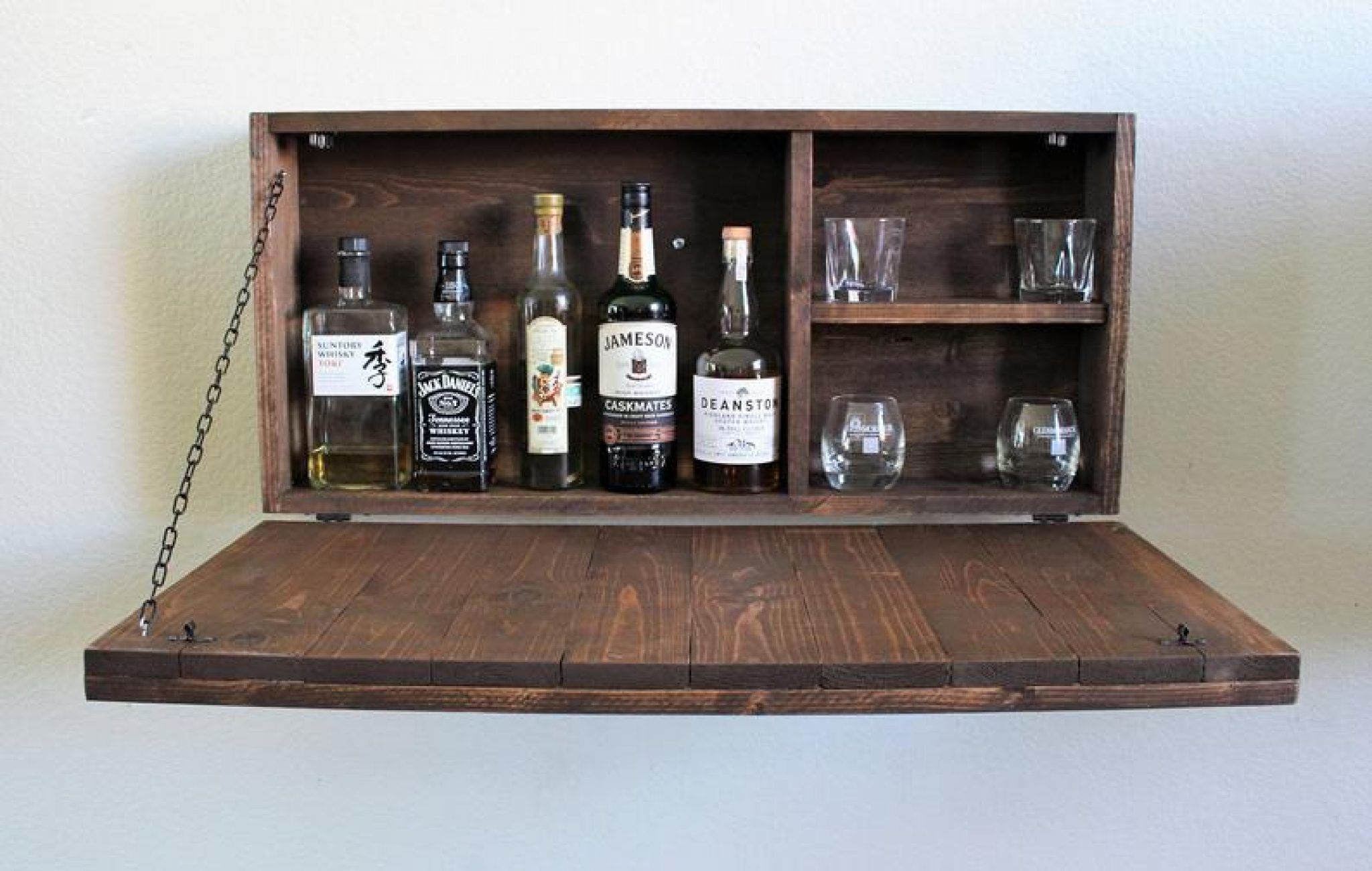 Marquee Personalized Insulated Ice Bucket
Help your guy win the war against melting with this personalized, fully functional ice bucket. Its easy-to-follow instructions: (a) Remove lid. (b) Insert ice. (c) Replace lid. (d) Find something else to do, trying not to think about the state of the ice too much. (e) Realize you'd like a beverage and that you'd prefer it cold. (f) Return to the ice bucket. (g) Remove lid. (h) Place still-cold ice in drink. (i) Replace lid and enjoy drink. Yes, it's old-fashioned, but sometimes the traditional way is the best.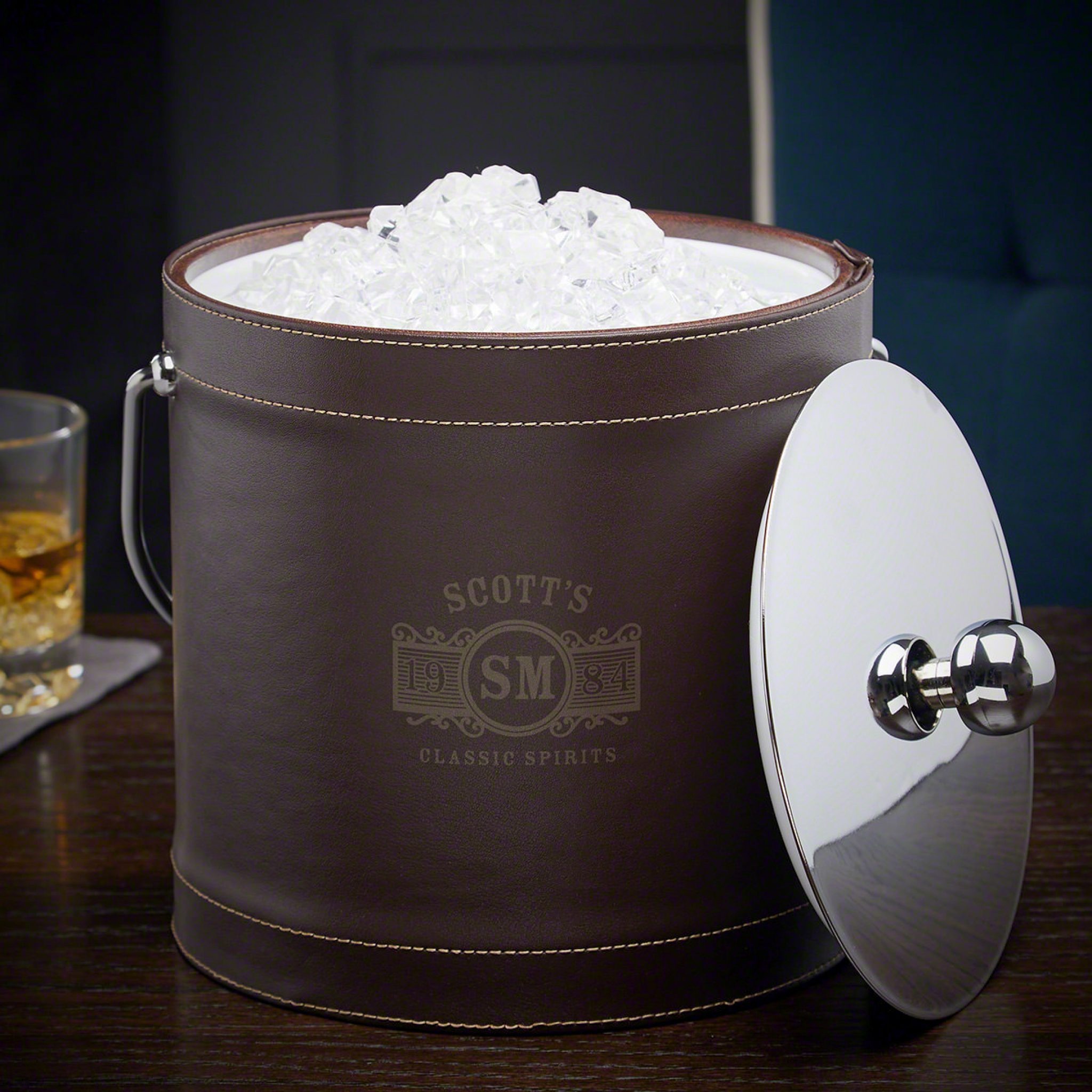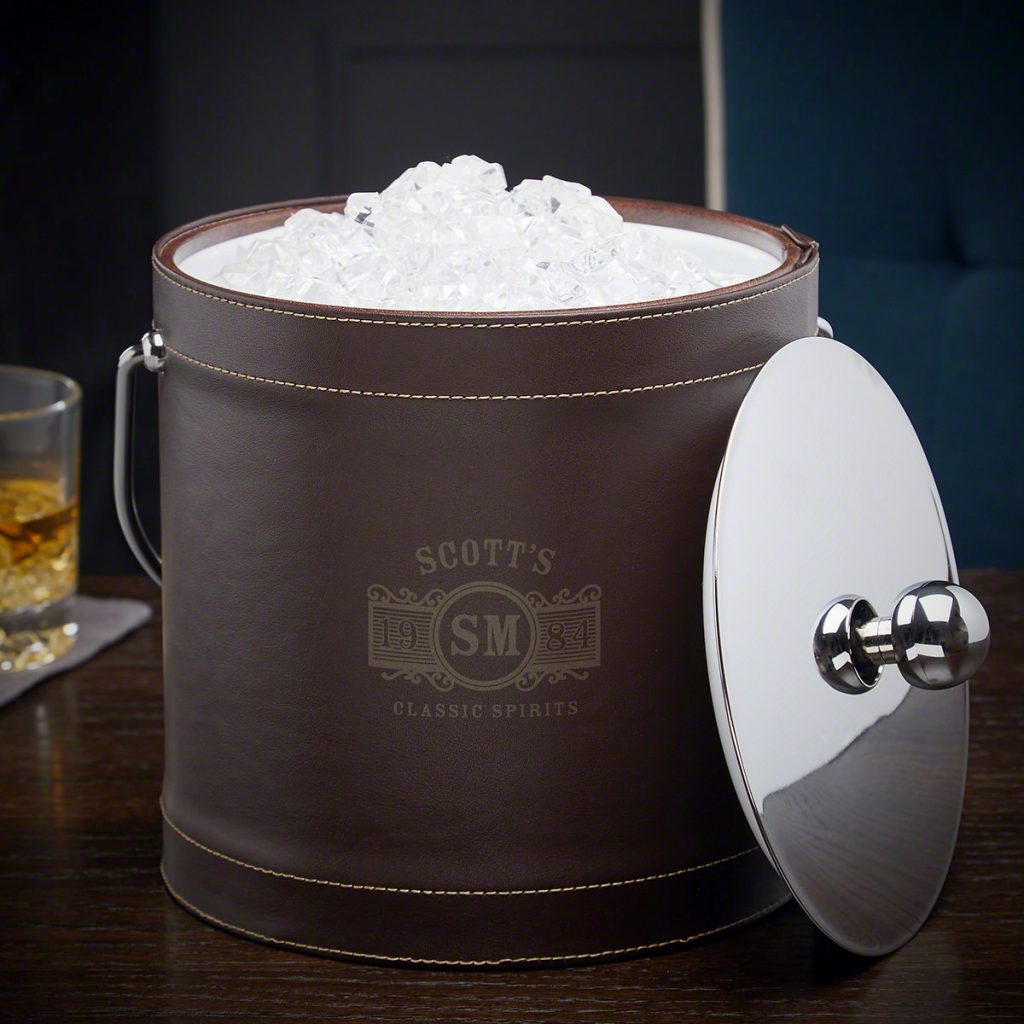 Marshall Amp Compact Fridge
Marshall stack amplifiers have been the gold standard for live rock and roll for nearly half a century. Now, the folks at Marshall have coupled their equipment's iconic look with the trend of preserving perishable food. This dorm-sized refrigerator calls to mind the awe-inspiring, raucous rebellion of rock and roll while keeping blended coffee drinks and Caesar's salad cool and fresh. This perfect gift for your male friend who still hasn't gotten over his high school Zeppelin cover band's breakup even replicates the knobs of a Marshall amp that actually go up to 11.
Gin Alcohol Infusion Kit
Left untreated, gin tastes like throbbing pain. But slowly mingling with natural flavors like juniper, hibiscus, rosemary, orange peel, lemongrass, and rose petals turns plain gin into a mega-floral taste explosion. This kit includes two empty bottles, 12 cylinders full of herbs and spices, a steel funnel, and filters for your male recipient to make his own blend of alcohol and kick-ass botanicals. Also works with vodka.
Fire Extinguisher Mini-Bar
Give your man's man cave the outward appearance of disaster preparedness with a mini-bar in the shape and style of a classic fire extinguisher. This storage compartment and obvious metaphor contains enough room for one large bottle of liquor and a few emergency supplies, such as shot glasses and corkscrews. A nifty gift for firefighters, fire chiefs, and recovering arsonists.
Wall-Mounted Liquor Dispenser
Help your friend remove the guesswork out of pouring liquid with this hangable liquor dispenser with capacity for three bottles of hooch for their man cave bar. Install each bottle upside-down onto a spigot. When your friend has a hankering for a drink, they simply push up on the bottom lever with the glass of their choice, which causes precisely 25 milliliters to spurt out. All the convenience of a hamster cage water bottle with none of the wood shavings.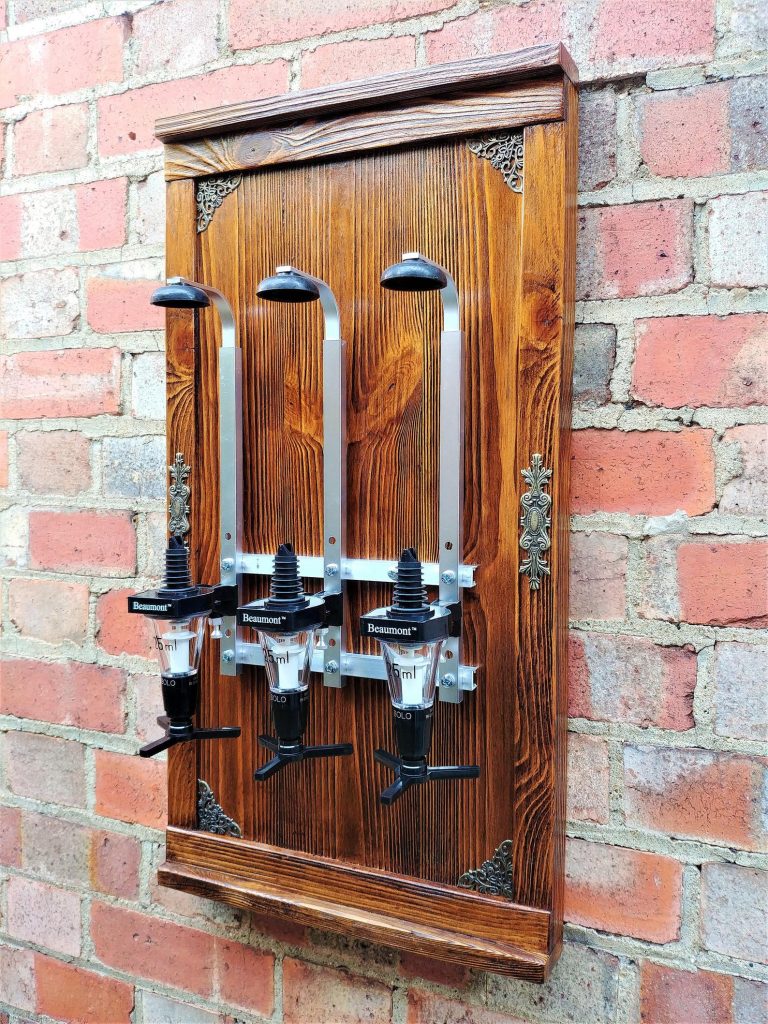 ---
Man Cave Ideas for Décor
Sure, your friend's man cave works just fine with bare walls and a couple of carpet remnants. But it's even better when it's turned into an attractive, manly fantasyland. These man cave gift ideas will bring accents of class and artistry to the sturdy confines of the man cave. They reflect those masculine obsessions of strength, refined aesthetics, fraternity, and — well, booze. Most of these decorative items get right back to the booze.
Custom Beer Tap Handles
A man cave is a place where many people go to forget who they are for a while. But in case that forgetfulness goes on a little too long, these custom-made tap handles will help them recall themselves whenever they feel like having a beer. Fashioned from top-quality dark walnut and emblazoned with their name and the message of their choice, these beer-tap handles are wonderful ways to reaffirm identity while soda-jerking a brewski.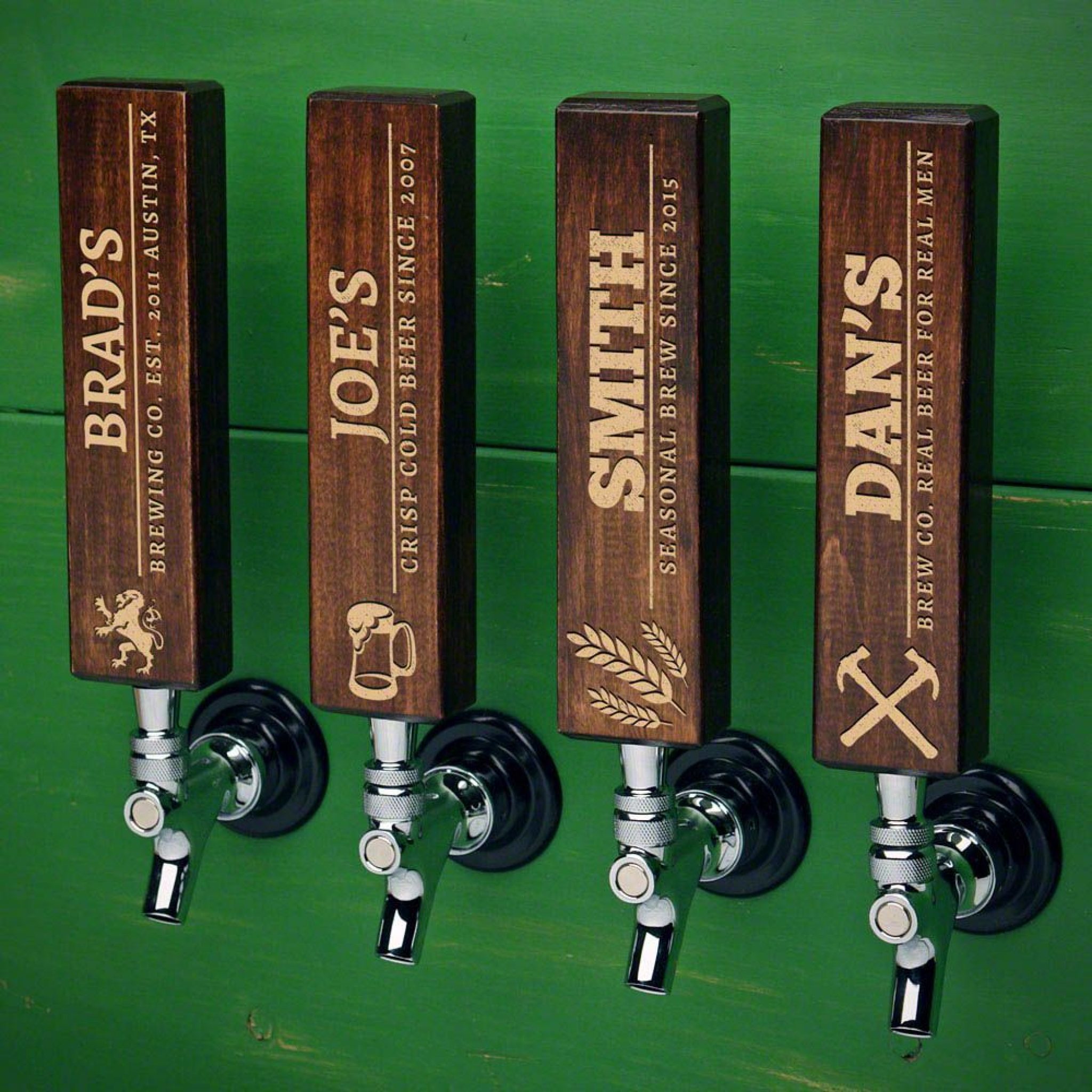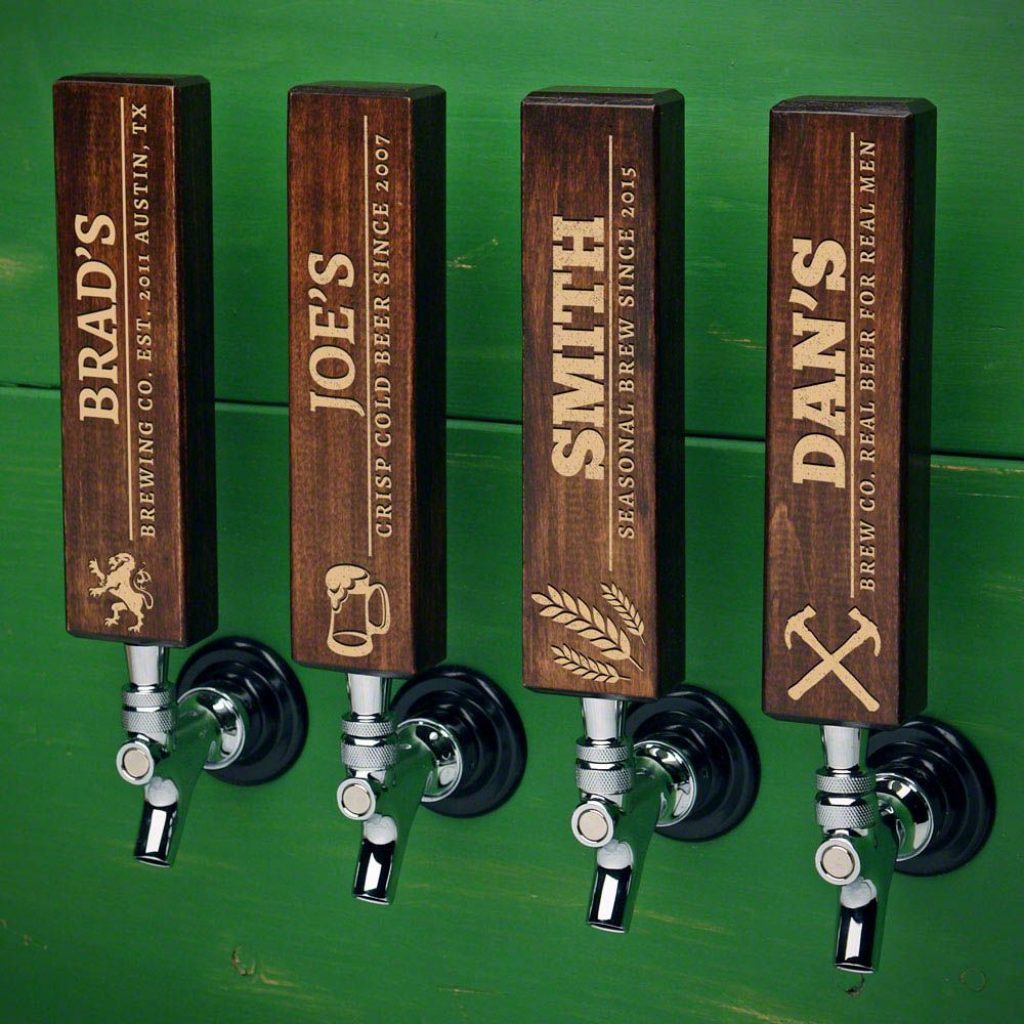 Jack Daniels Whiskey Room Custom Bar Wall Decor
This handsome plaque adds a sense of personality to any man cave, bar, underground bunker, or panic room. It replicates unique details relative to your gift recipient, fashioned after the style of the label on a popular brand of whiskey. We can't say exactly which one, but it rhymes with "whack spaniels." Hang it up on the wall to mislead friends into believing that there's a distillery somewhere on the premises. Hours of deceptive fun!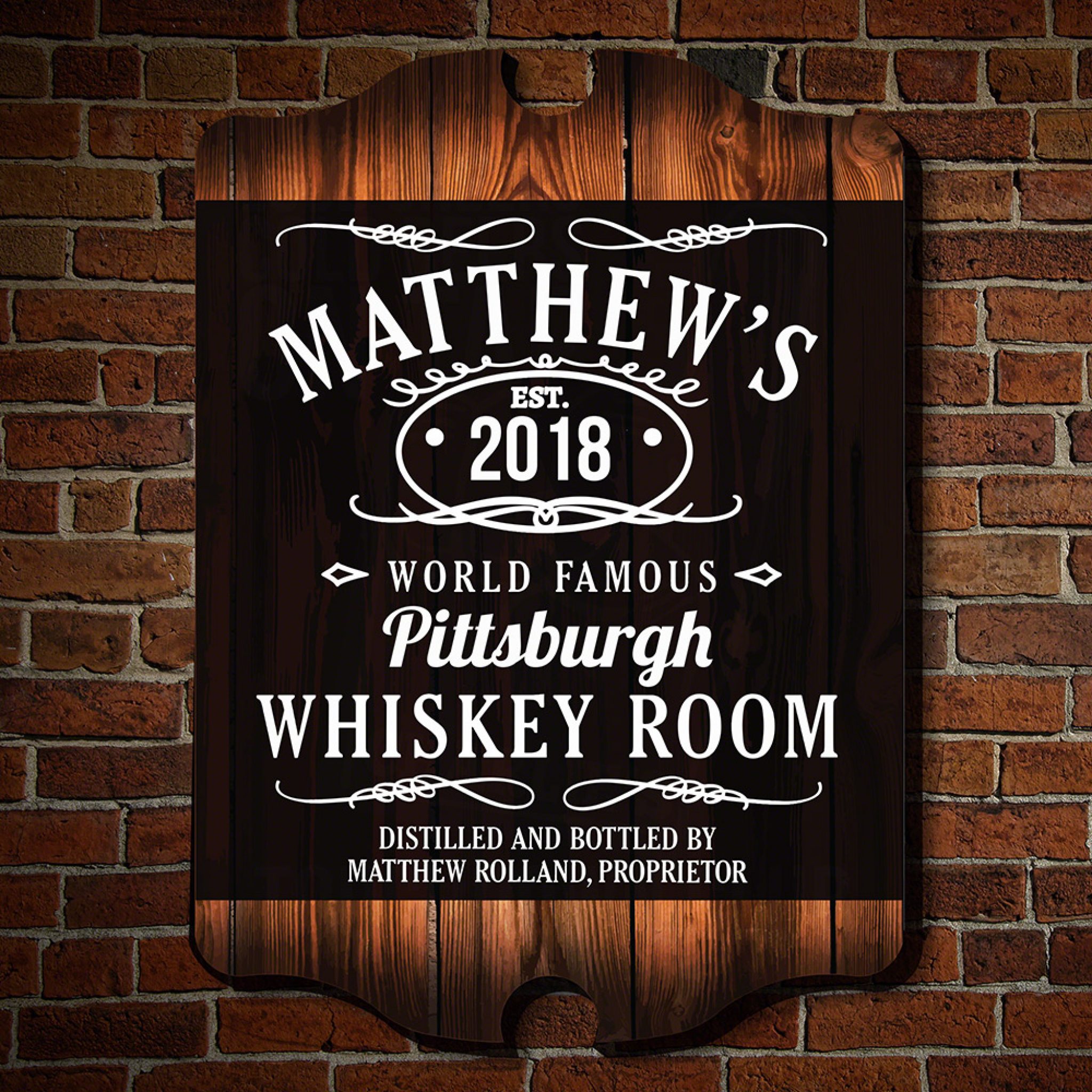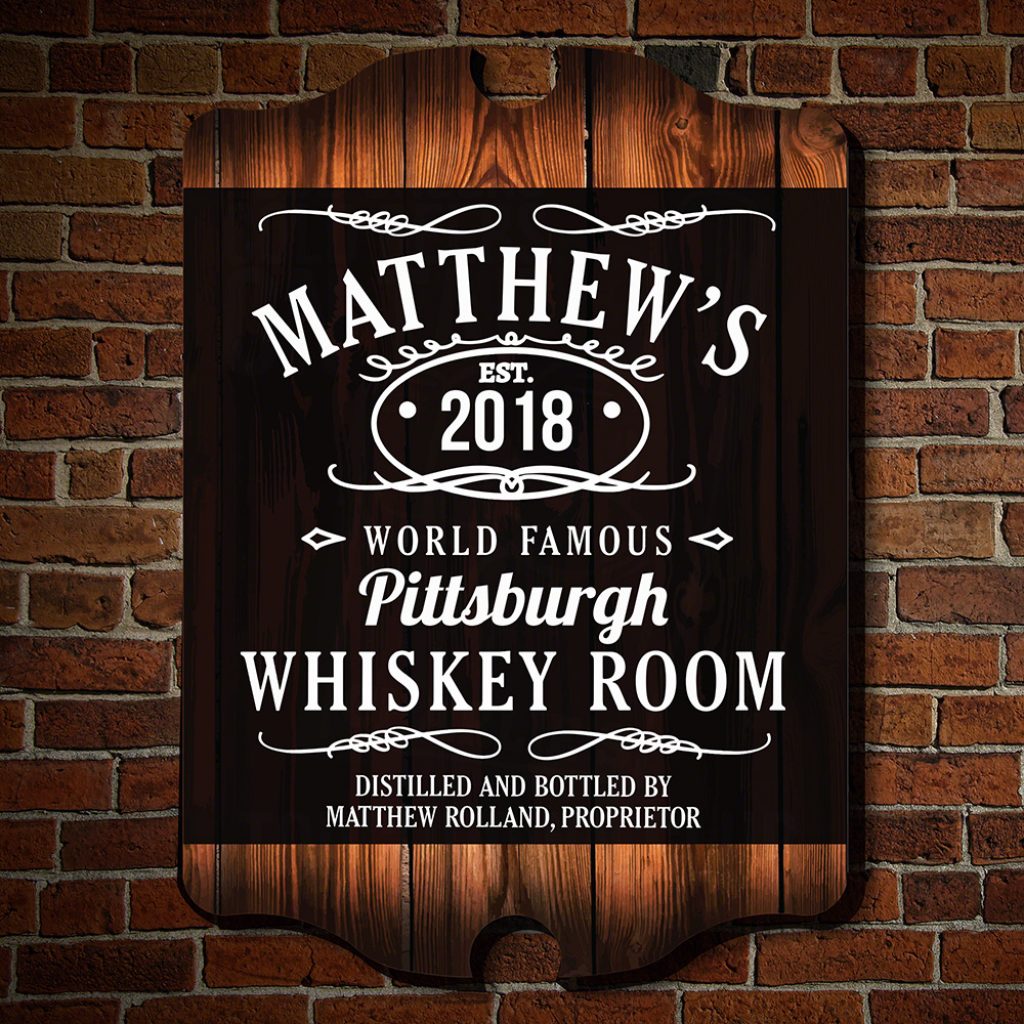 Whiskey Barrel Wall Clock
Give you pal's man cave the gift of time-telling and disused containers with this hanging clock in the style of a printed whiskey barrel top. Modeled after the authentic barrels of various world-famous distilleries, these devices give a revived sense of purpose to furloughed barrel tops by giving them new, useful existences as clocks. Like a good many male cave dwellers, they're rustic-looking and round.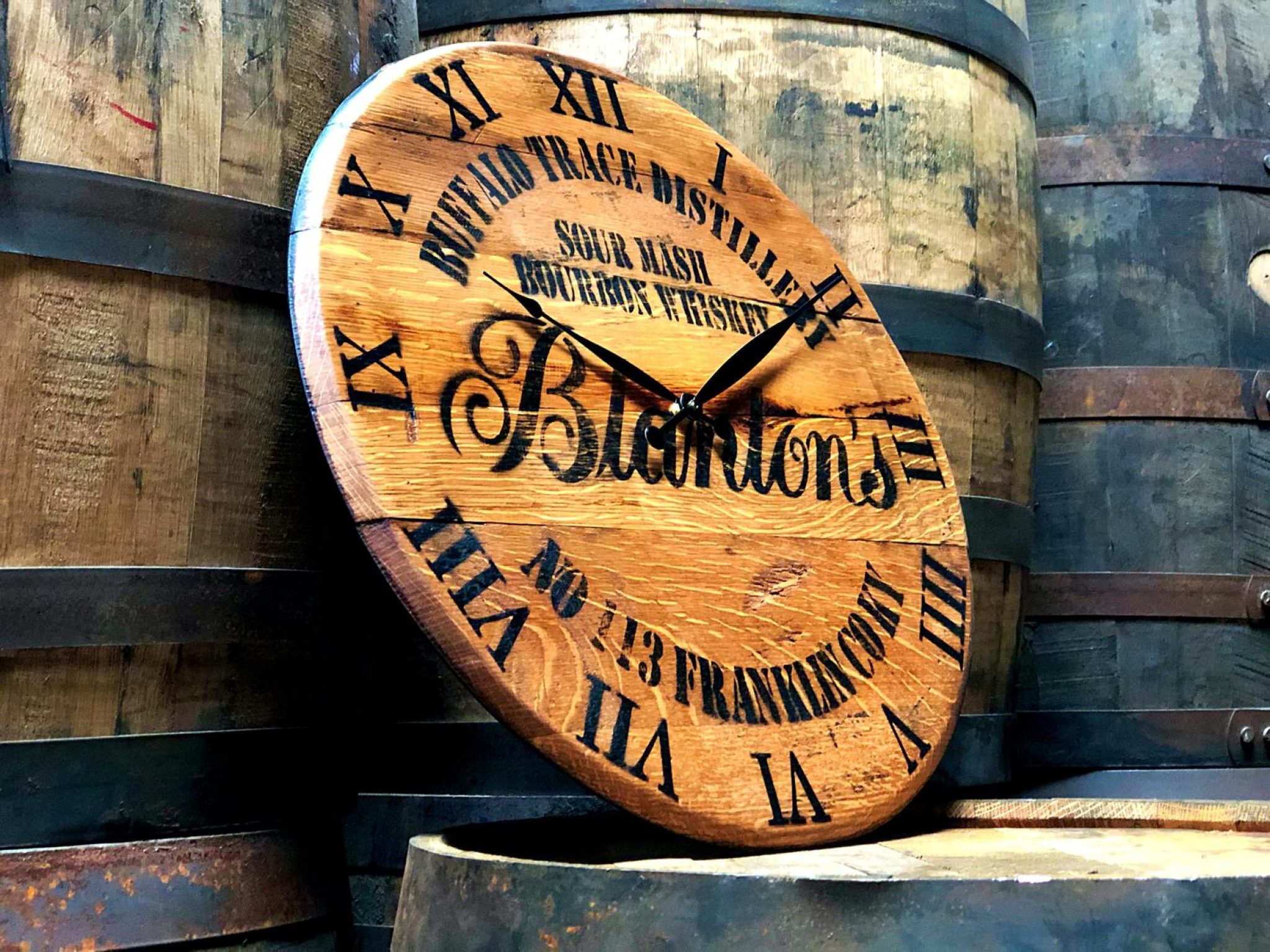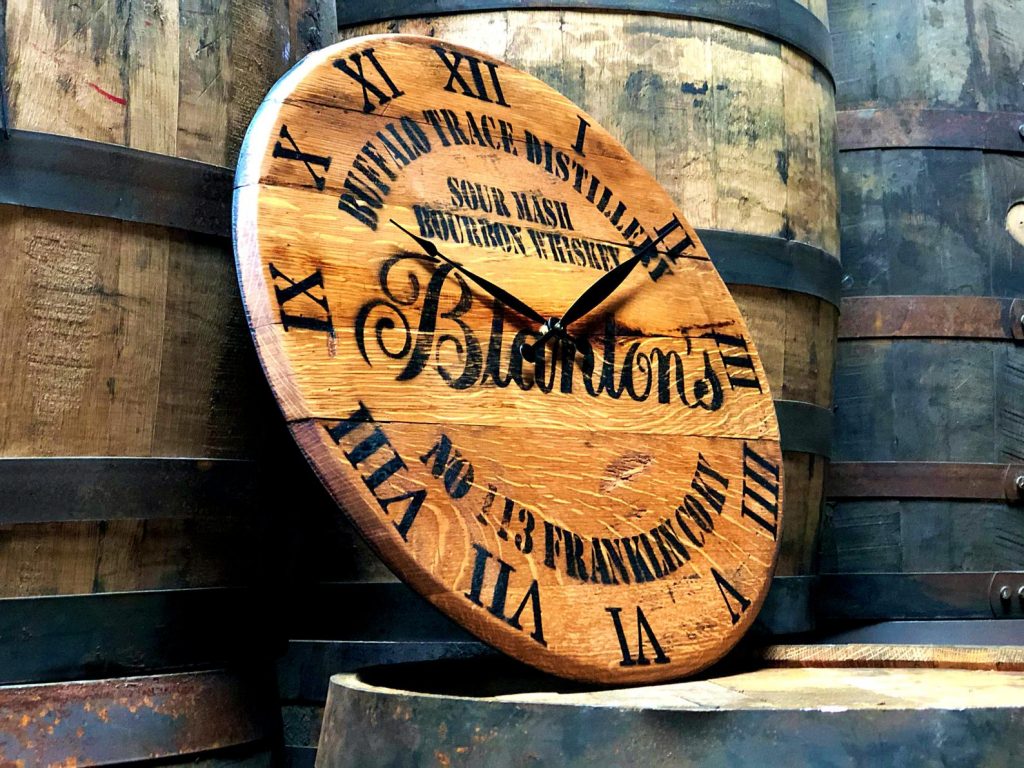 Gun Decanter
Do you know someone who loves guns and liquor but hates the mess? Next time your friend's man cave hosts visitors who want a drink, make 'em reach for the skies with this stylish liquor decanter shaped somewhat unnervingly like a Colt revolver. It may look like a remorseless bringer of death, but look inside the gun and there's nothing but sweet, life-giving booze, spilled out at the twitch of a trigger. Includes four shot glasses just in case the point isn't totally clear.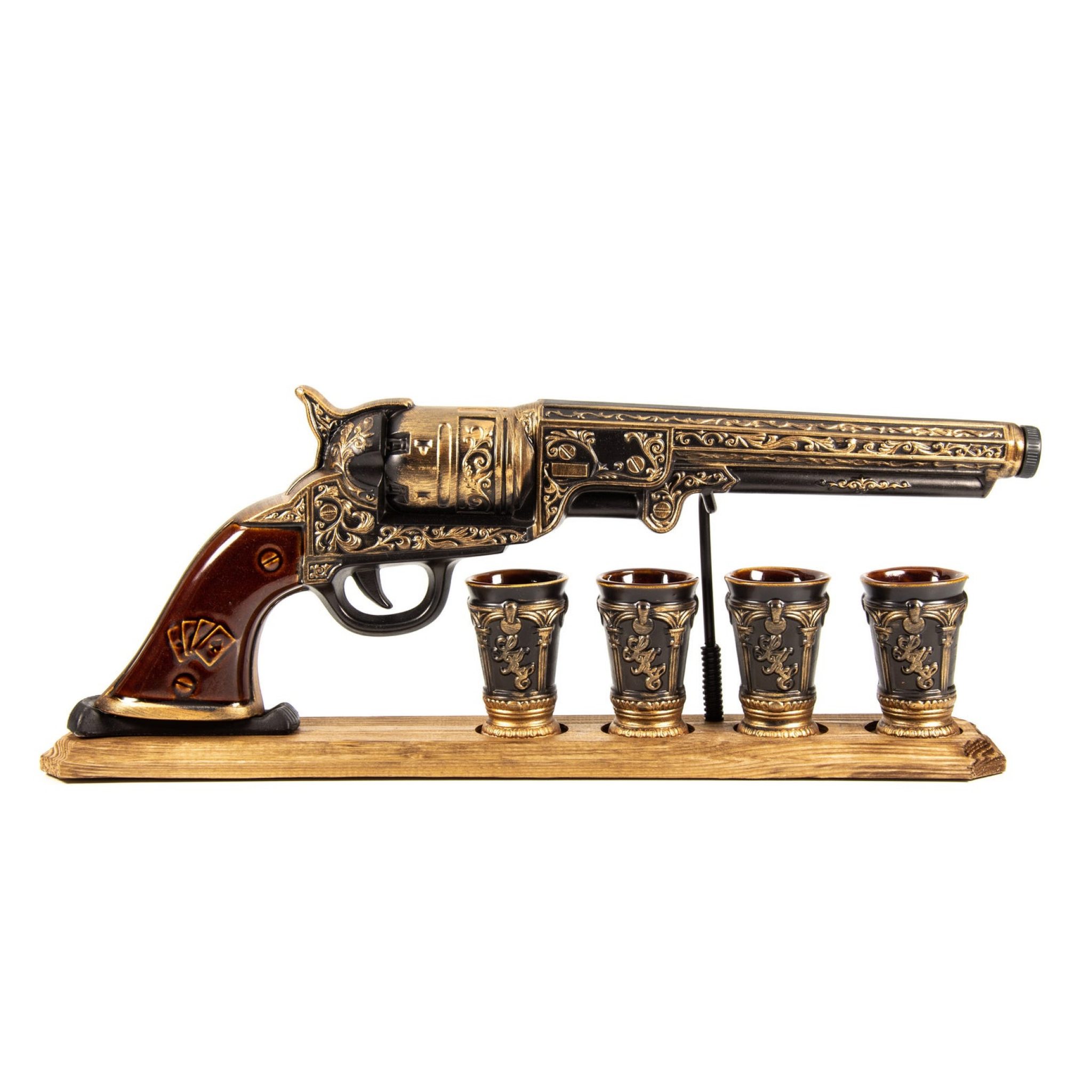 Ultimate Cigar Reference Guide Poster
One of the few man cave gifts in this guide that has nothing to do with drinking, this wall hanging instead addresses its flammable equivalent of hyper-masculine consumption: the cigar. This poster contains everything potential smokers need to know about cigar sizes, colors, shapes, construction, fillers, and smoke time. Now your friend can learn everything they need to know about cigars without consulting a shady sports bookie or an over-confident hedge fund manager.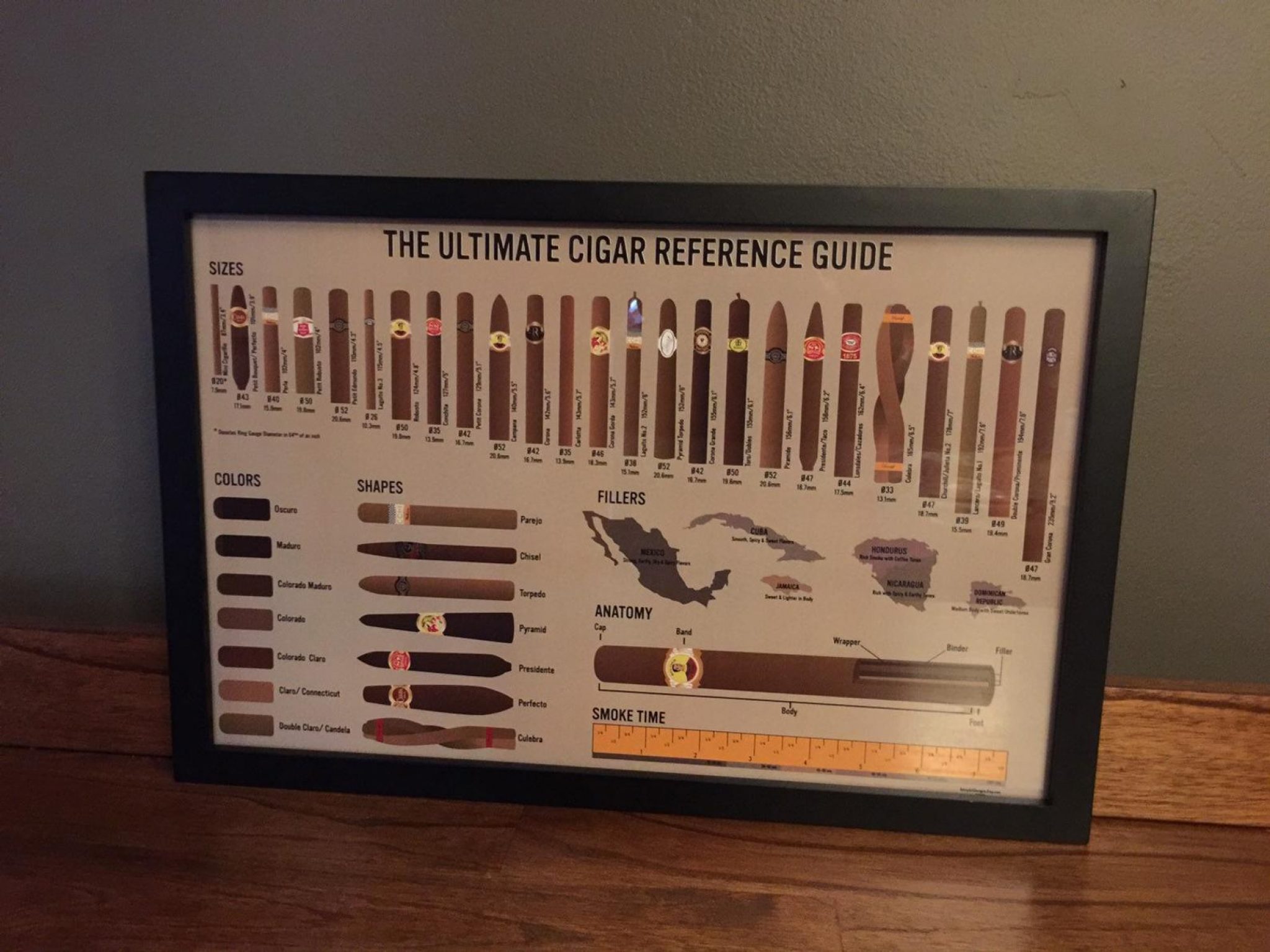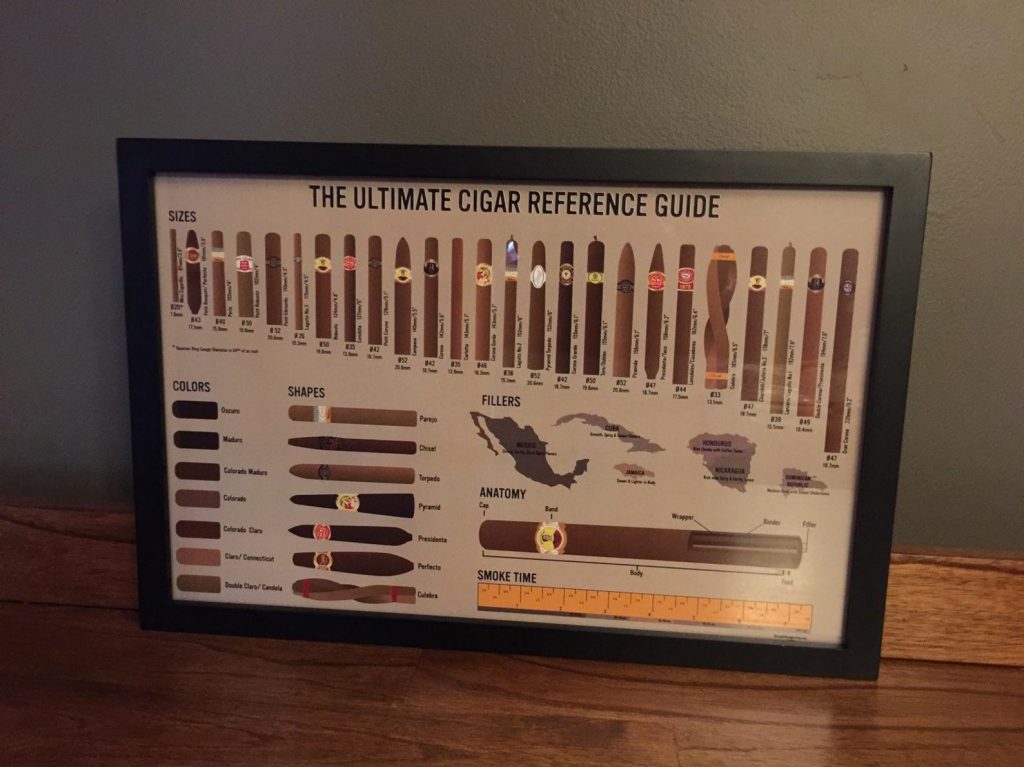 USA Beer Cap Map
Turn your friend's usually disposable beer bottle caps into a handy way to remember where Wyoming is. This beautiful hunk of wood in the shape of the continental United States (sorry, Alaska and Hawaii) includes 50 fitted holes that are perfect for containing used bottle caps. The idea, we believe, is for the bottle caps to come from beers made by small craft breweries to show off your friend's advanced and adventurous palette. But if they just want to fill it up with 50 Coors Light bottle caps, we suppose that's acceptable.
Vintage Oak Wine Barrel Bistro Table & Bar Stools
This useful fixture was a functioning wine cask in a former life, but now that it's retired from the grape biz it wants nothing more than to help you sit and store your liquor. This handsome barrel looks great in any home bar and has a rustic feel.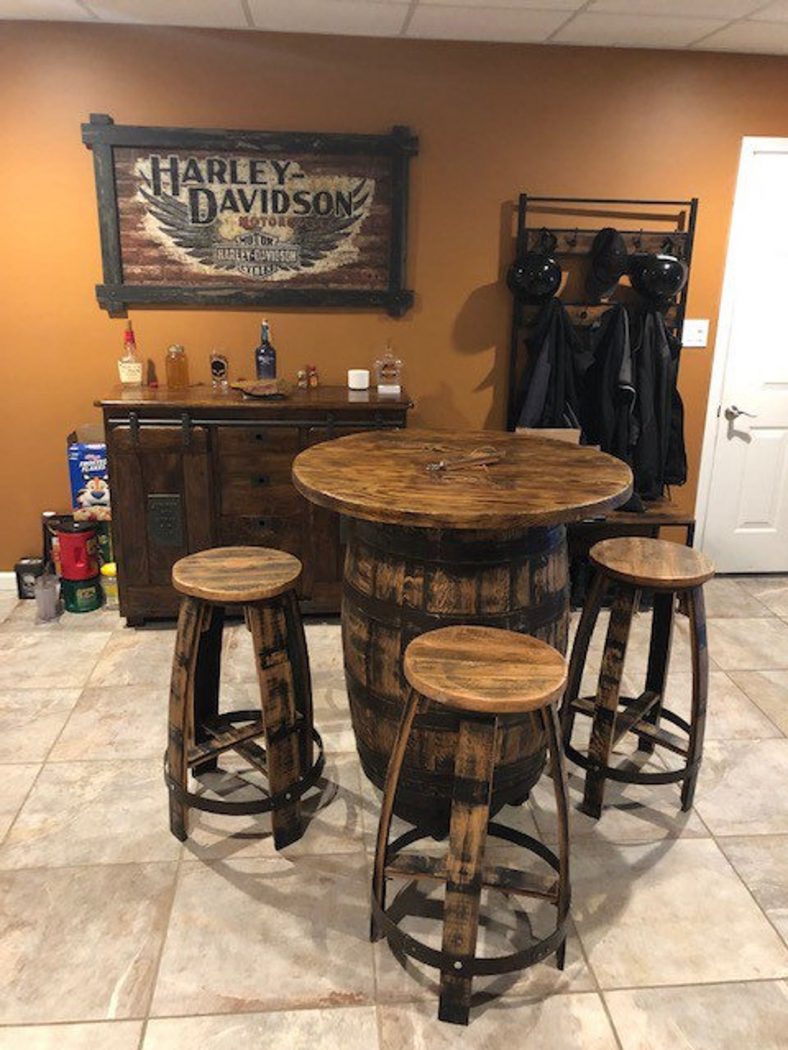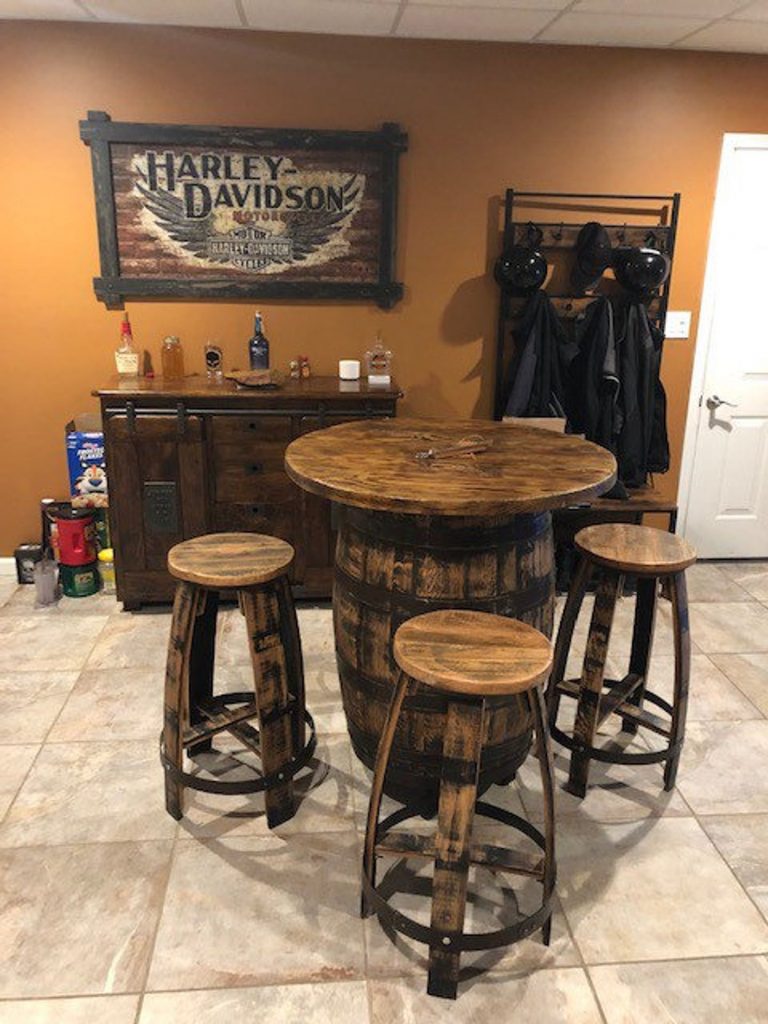 Vintage Gun Patent Art Poster Prints
Capture the compatible spirits of American innovation and weaponry with these lovingly redrafted drawings of guns based on original submissions to the U.S. Patent Office. These skillfully made pictures show the inner workings and complicated constructions of six different guns, including small pistols, long rifles, and semi-automatic bringers of mass mortality. Make your friend's man-cave wall a classic tribute to American craftsmanship with an underlying sense of dread.
Vintage Beer Patent Art Poster Prints
Celebrate centuries of brewing magic with these replications of beer equipment patent submissions. These drawings show the construction and inner workings of history-making devices used in the making, storing, and dispensing of beer. Includes diagrams of Louis Pasteur's brewing tanks, V.H. Chatten's tappable kegs, W.C. King's beer mug, G. Schmidt's cold-pressure beer barrels, and something invented by L. Baeppler that says it's a "beer-cooler" but frankly looks more like a beer-barrel catapulting device.
Steampunk Cigar Humidor
You can't just leave cigars exposed to external environments where the ravages of moisture, contamination, and thermal decay sap them of their tobacco mojo. You need a humidor, so you can store cigars in an enclosed, humidity-controlled box, preserving their freshness, potency, and youthful vigor. This solid-pine cigar humidor is crafted in the artistic style of steampunk, which means it's festooned with gear-shaped decorations and speaks in a Victorian-era British accent if you listen hard enough.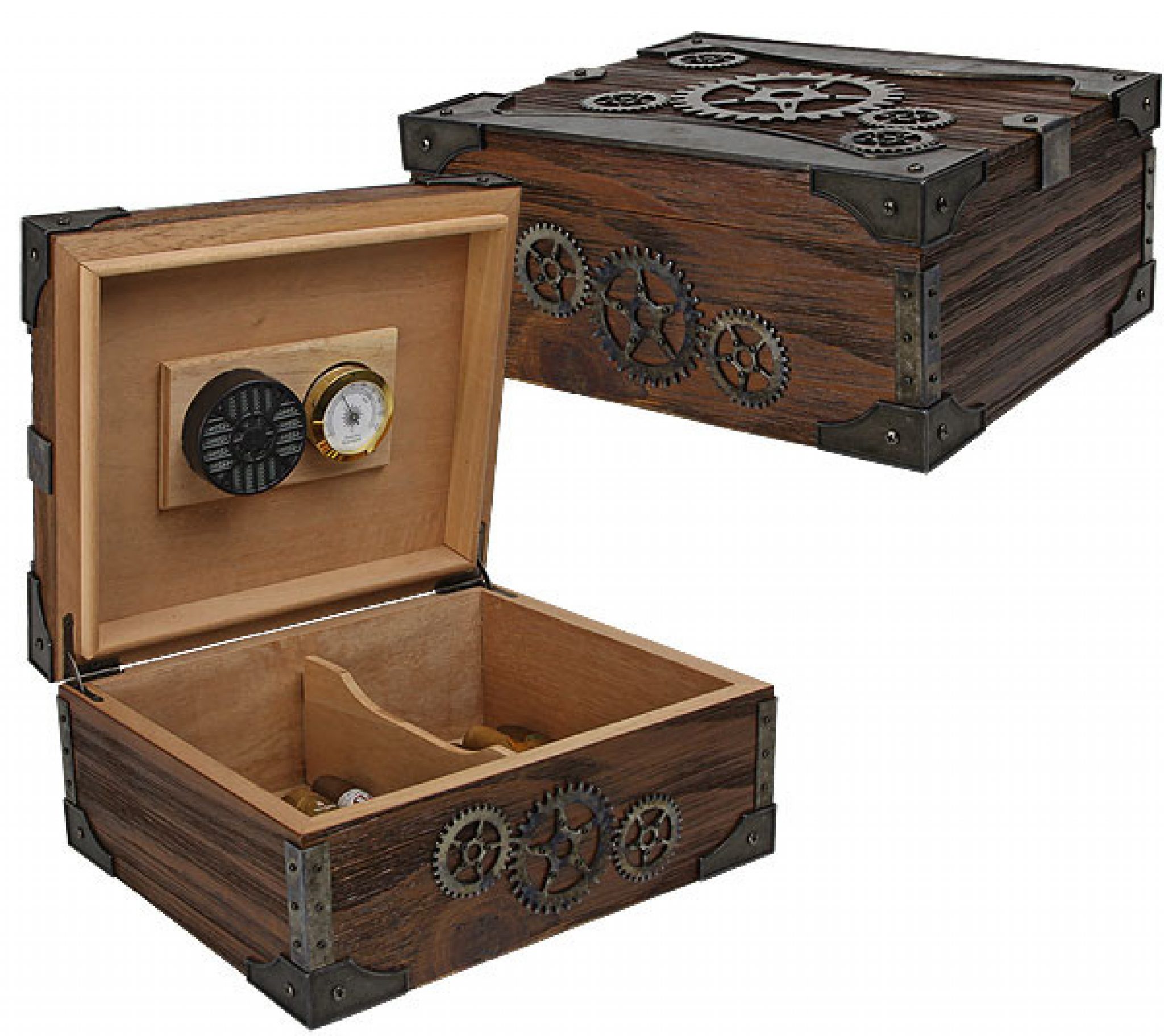 Man Cave Gifts for Entertainment
Again, we ask: What happens in man caves? Socratic debate? Stamp collecting? Pillow making? Of course not. Man caves are for watching sports events on television, shouting and hollering, indulging the male inner child, and playing mainly mechanical games that require very little in the way of strategizing. All these man cave gifts turn the lifeless man cave into a virile den of leisure.
TV Backlight LED Strip Lights Kit
A man cave without a TV is like a stretch limousine without a TV. And a TV without a strip of lights to surround it in an other-worldly aura is nothing more than a picture box with news tickers. Prevent this hellish scenario from happening with this easily assembled LED backlight apparatus that bathes the perimeter of a flat screen in a glow in your choice of colors. It gives a celestial, almost holy shine to viewings of American Ninja Warrior or WWE SmackDown.
Knock Knock Couch Guest Book
Who's that total stranger reclining on your friend's couch? Where did they come from? What do they want? Save your friend hours of mind-numbing detective work and interrogation with this guest register that they insist everybody sign before so much as moving a throw pillow on their man cave couch. This guest book has 112 pages in the form of… uh, a form, where visitors fill out the time, check off the activities they partake in, and enter other crucial data pertaining to their furniture occupation. You can never have too much information.
Frankenstein Light Switch Plate
Bring a gothic horror sensibility to otherwise bland light switches with this lovingly crafted switch plate, designed to resemble Dr. Frankenstein's "throw switch" from his monster-creating laboratory. Every time your friend turns his light on or off, he'll feel like he's playing a wild-eyed God, blasphemously marshaling control over the creative and destructive forces of life and death. Now that's a light switch plate.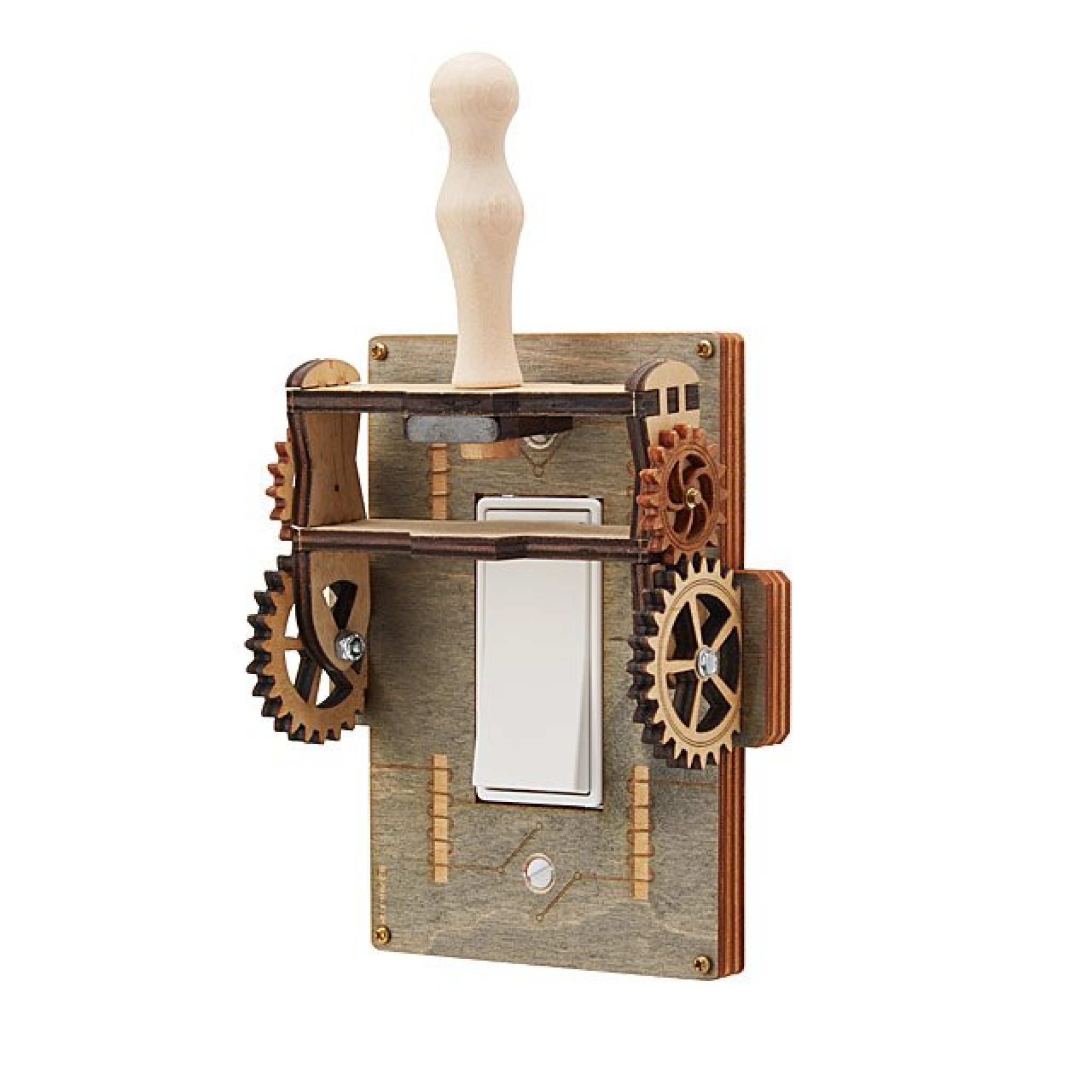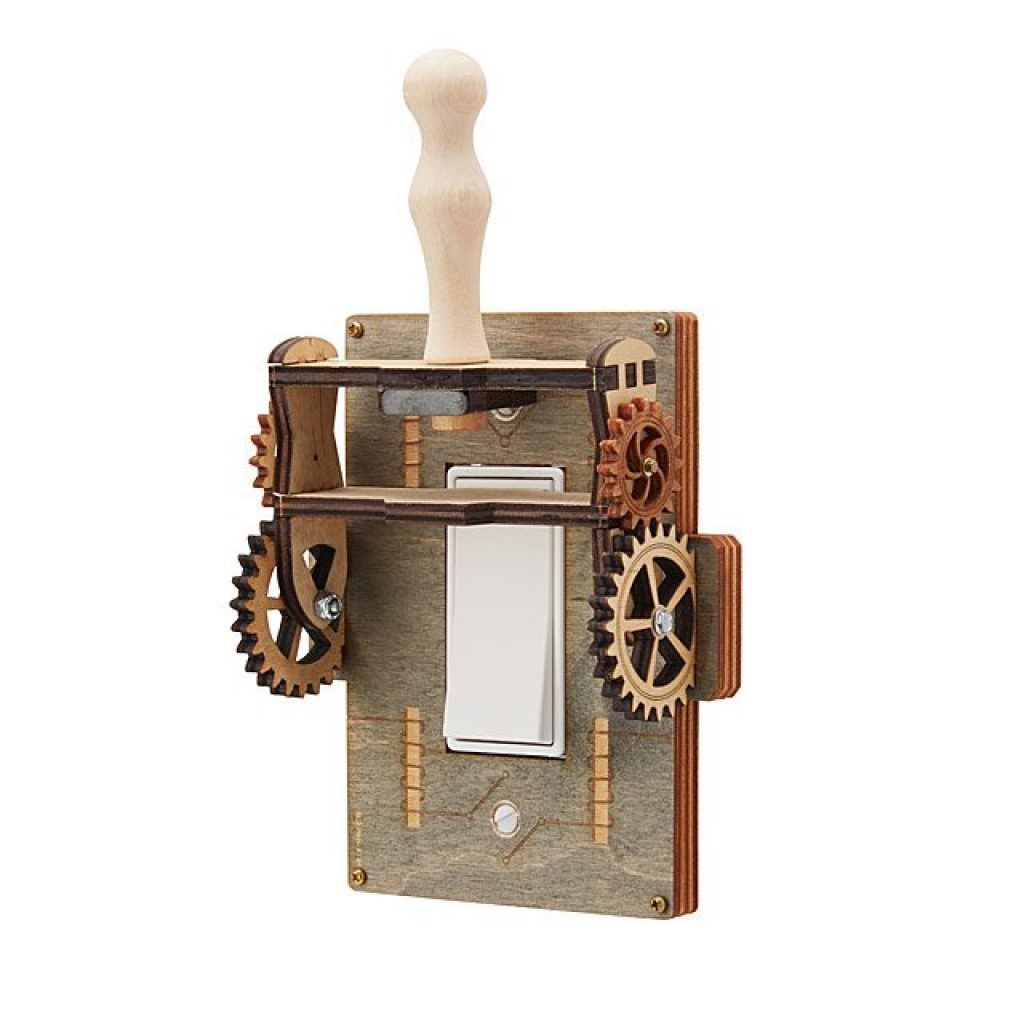 Steampunk Guitars
There's a gentleman in California who makes custom three- or four-string guitar instruments out of steampunk-friendly casings and components. All joking aside, these are beautiful pieces of equipment that will instantly become the centerpiece of any man cave they occupy. More than mere art, these are actual, playable musical instruments that give an entirely new meaning to the phrase "heavy metal." This is a unique man cave gift that is truly one of a kind.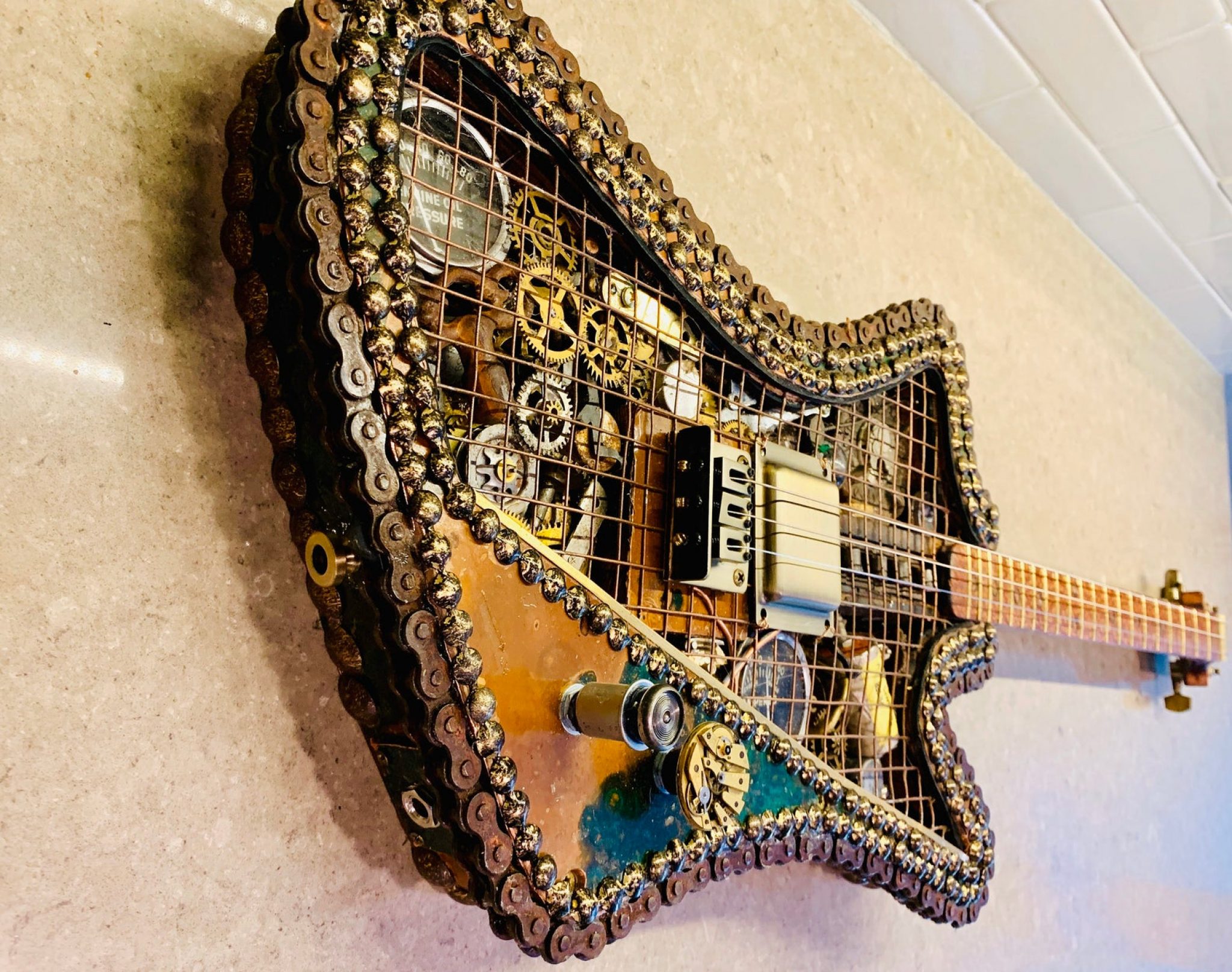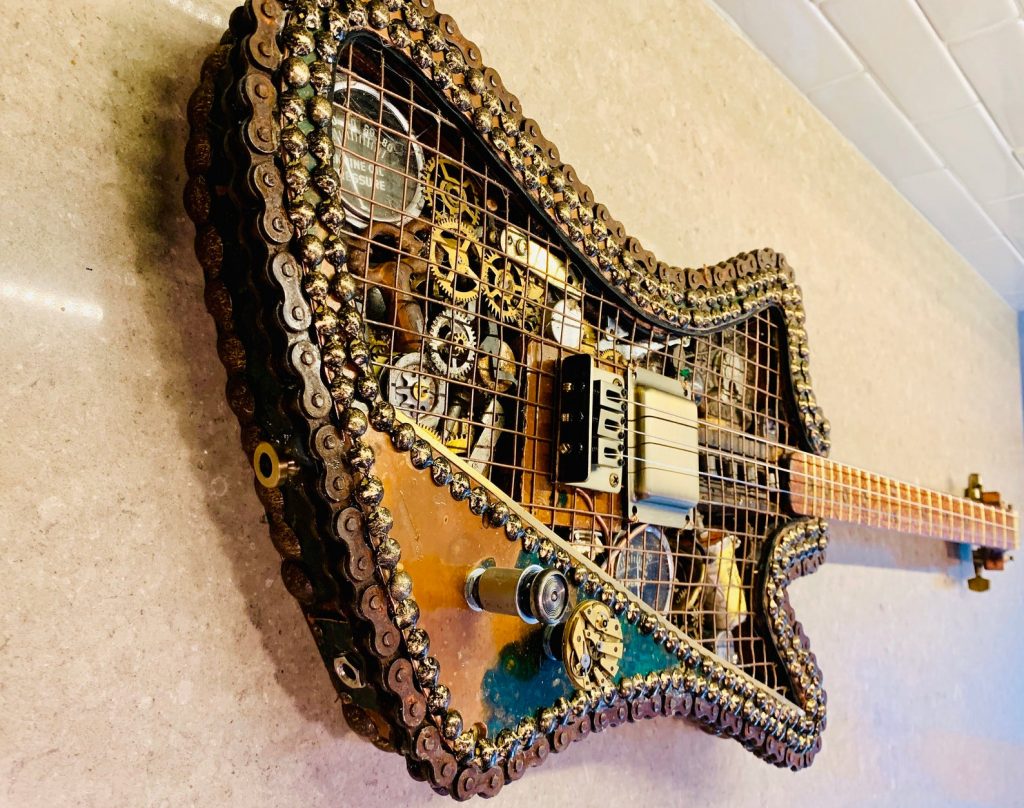 ESPN EZ Fold Indoor Basketball Game
Throw down a hardwood challenge on shag carpet with this foldable, arcade-style basketball game from ESPN. Two players go head-to-head as they chuck miniature basketballs into nets over a prescribed time limit. Automatic LED scoring keeps track of who's ahead and who comes out the victor. The winner is then offered a year-long contract with the New York Knicks, who frankly need all the help they can get at the moment.
Barrington Collection Bristle Dartboard and Cabinet Set
No man cave is complete without projectiles hurtling toward a wall. Take care of that pressing need with this wall-hanging dartboard set, laid out with two cricket scoreboards, LED lighting, six darts, and a dry-erase marker. Once your friend gets a spirited competition going, his man cave will feel like an honest-to-gosh local pub where inebriated people are trusted with flying sharp objects.
Abco Tech Indoor Golf Putting Green
Bring the tense, competitive thrill of the golf course to your friend's man cave, without the brisk fresh air or revivifying scent of freshly mown grass. This indoor green with two holes helps man cave dwellers master their putts in perfect concentration and silence. Its portability also lets aspiring putters practice their shots away from the man cave — it works just as well in their living room, bedroom, office, den, carport, DMV office, courtroom, or church.
Checkers Shot Drinking Game Set
Turn the old-fashioned, grandfatherly game of checkers into a madcap, drunken brawl with this checkerboard set, outfitted with 24 shot glasses taking the place of the standard game pieces. The idea, in case you've been living in a… well, a cave, is for each player to drink from their shot glass game pieces once they're "captured." Half the shot glasses are clear, and the other half are frosted so players can tell them apart during competition. But honestly, when this game set is used as directed, neither side's likely to care after about 15 minutes.
Booze & Vinyl: A Spirited Guide to Great Music and Mixed Drinks
This spirited and fun book by André and Tenaya Darlington pairs popular cocktails with classic music albums, going all the way back to the 1930s and through the present day. It's a combination history of both cocktails and music, linking classic concoctions with masterworks by everyone from Frank Sinatra and Johnny Cash to Joni Mitchell and David Bowie. Unfortunately, it doesn't tell what cocktail to have while listening to the Chronicles of Narnia soundtrack. We're guessing a cosmopolitan.
Man Cave Gifts That Are Beer Keg Urinals
Finally, there's the ultimate, quintessential addition to a man cave that transcends all categories. It's not a bar supply. It's not a decorative item. It's not an entertainment piece. It's all three of those things in one compelling, sanctified construction. It's the ultimate winner of all of the unique man cave gifts!
It's a beer keg that's been turned into a urinal.
Stainless Beer Keg Urinal
This is it. This is the man cave's crowning accessory. The hidden altar at which your male-oriented guests will offer their supplication and respect. It represents both the creation of beer and the terminus of its journey, so it's got that whole "circle of life" thing going on. When you want your bathroom to defy the limits of time, space, and dimension, this is what you need. It will add vitality and awe to your man cave in constant, steady streams.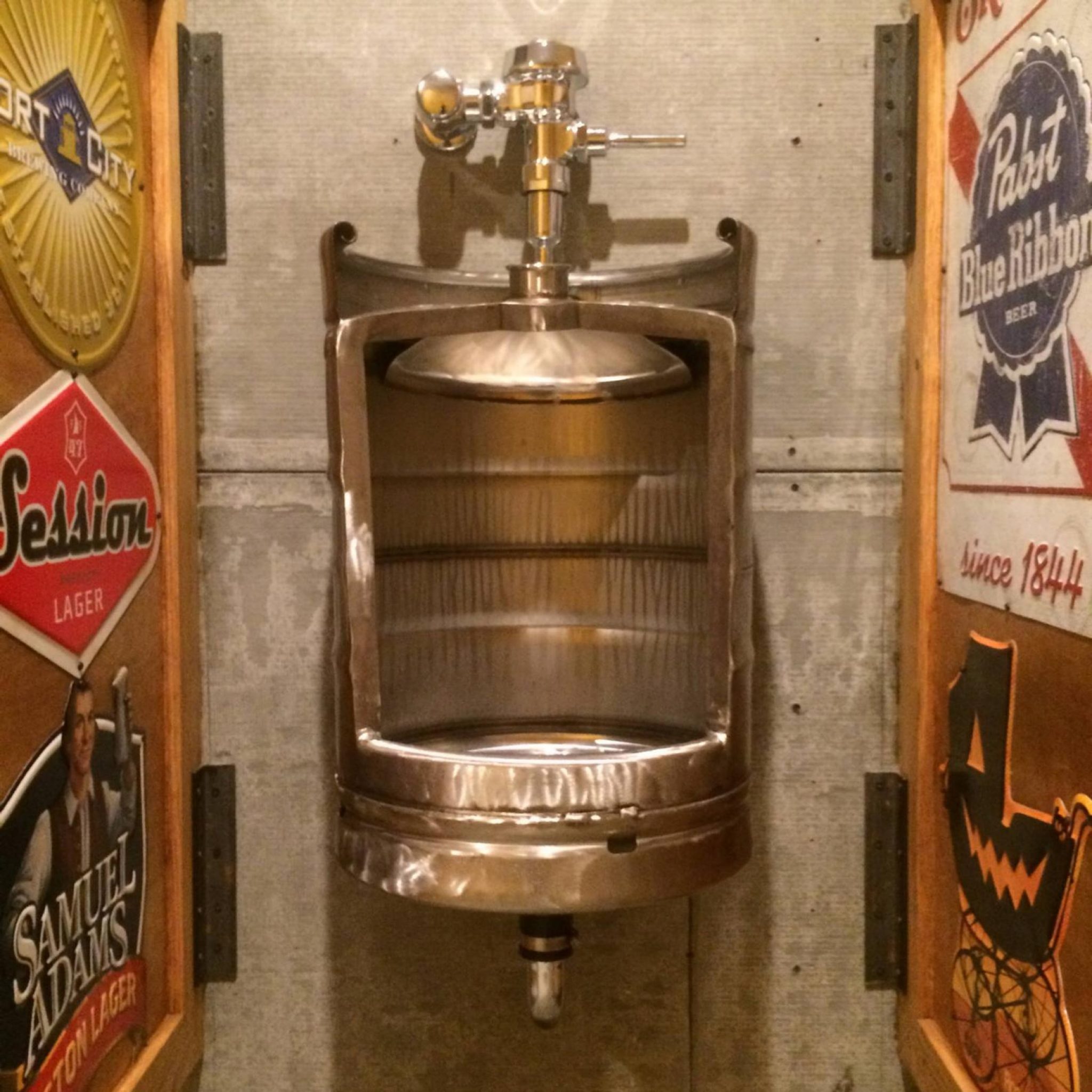 For more man cave gifts, check out our Gifts for Men section or our Gifts for Drinkers. I'm sure they will inspire you for many man cave ideas.
Be sure to follow us on Facebook for daily updates of unique gifts for the whole family!