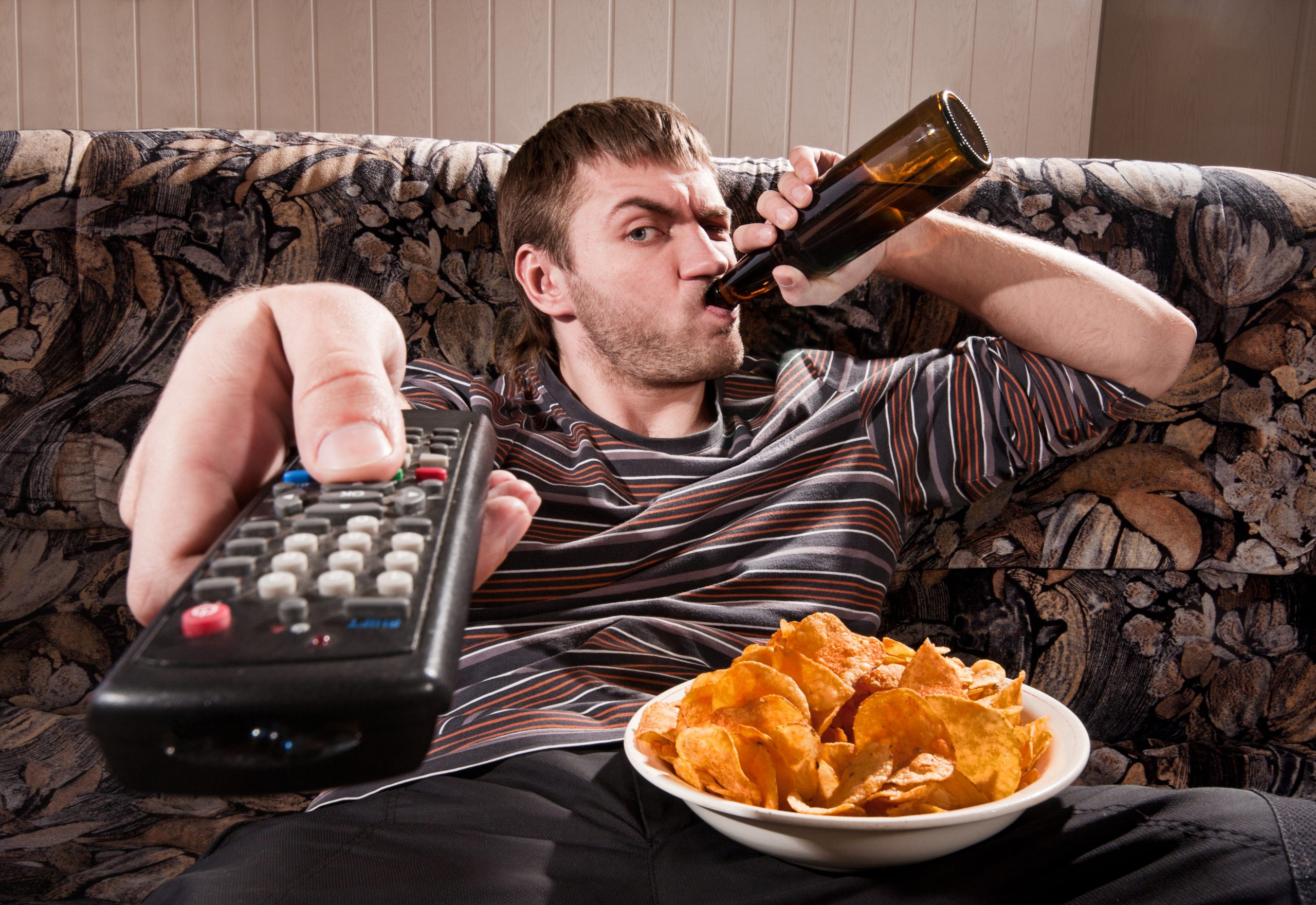 Couch potatoes are misunderstood and unfairly disdained. Slackers, they call them. Unmotivated. Lazy. Prone to flopping. We disagree. They're simply conservationists. Why expend all that energy when Netflix, NASCAR, and Mario Bros are willing to come to you? That's why we've assembled this gaggle of the best gifts for couch potatoes.
These are fantastic gifts for homebodies who squeeze every drop out of their default rest mode. These gifts will help them enjoy, improve, maybe even derive some meaning from their horizontal tendencies. These aren't just gifts for lazy people — they're gifts for those who drive the future. Preferably with a game controller and cheese puffs nearby. Onto the gifts!
Big Blanket: The Biggest Blanket Ever Made
A couch is more than seating. It's an atmosphere, a world within a world, a paradisiacal state of being. A dinky little throw blanket or limp bath towel isn't going to cut it in this Shangri-La. You need a giant, all-encompassing, behemoth big blank like this one when you're looking for gifts for couch potatoes. It's a staggering 10 feet by 10 feet (the biggest blanket you can find), enough to cover you, a few close friends or relations, and a few stray animals. Or you can build the best blanket fort in the world. Available in 14 colors. For more gifts you can enjoy around the house, check out our Gifts for Home.
Movie Scratch Off Posters
These gifts for the couch potato are perfect for giving your couch-bound movie marathons a bit of structure. Each tube comes with three hangable posters bearing the names of 600 classic movies. After you've finished watching one of them, get up from your couch (*shudder*), find the movie on the poster, scratch off its name, and reveal a picture underneath. Repeat 599 times.
Couch Potato Guestbook
The life of a couch potato is often perceived as being anti-social. Where is it written that you can't have people come over and share your couch? Turn it from a self-contained unit of isolation to a destination with this guestbook. Have your friends sign in, document their experience, write down their thoughts and dreams, and more. Also perfect for giving detectives proof of someone's whereabouts.  When it comes to funny lazy people gifts, this is the way to go. For more gifts for homebodies that have a sense of humor, check out our Funny Gifts.
Microwavable Bootie Slippers
Are your lounge slippers just phoning it in these days? Wearing out, getting holes, leaving your feet cold? It's time to take your bootie game out of the bush league and into the championship. These couch potato gifts are the slippers you're looking for. They provide warmth to all parts of your feet. When they need more heat, just stick them in the microwave. In a few minutes, you'll have slippers of fire (just not literally) with a lavender scent. They make a great gift for a couch potato who enjoys a little pampering. For more gifts that pamper you, check out our Health and Beauty Gifts.
Make Your Own Weed Edibles Kit
Some couch potatoes enjoy a bit of the leaf. Please don't make us say what kind of leaf. You know. That leaf. No, not maple. You're impossible. Look, these gifts help you make your own cannabis edibles:  Weed gummies, marijuana chocolate, reefer rice cereal treats, whatever delivery platform you prefer. The company's motto is "Infuse, Eat, and Enjoy," which is to say the process is so easy, even a baby could do it. No, wait… don't let the baby do it! Oh, let's move on. For more do-it-yourself gifts, check out our DIY Kit Gifts.
Popcorn Gift Set
This box of popcorn-centric gifts for lazy people gives you access to the entire popcorn spectrum. It's got five different jars of popcorn seasoning, including cheddar, chili lime, caramel corn, and hipster sriracha. It also has three different popcorn breeds:  Your standard fluffy white, ruby red, and a sweet tri-color blend. We didn't even know those kinds of popcorn were legal, to be honest. For more food-related gifts for couch potatoes, check out our Foodie Gifts.
Harry Potter Magic Wand Remote
Change channels like a sorcerer with this Protean Charm! This novel remote control is so easy to program, even a Death Eater can do it! Turn your volume down without having to use a Reductor Curse! Then turn it up so loud even the Grindylows can hear it! Everyone in Gryffindor will stand in awe, and anyone who doesn't have this device will just be a Squib! (There, have we proven we read the books yet?)
Chunky Knit Blanket
Chunky blankets are beautiful monstrosities. They're heavy, soft, plush, and, of course, chunky. This most luxurious of gifts for homebodies measures 300 square inches of foreboding ease and succor. Slip under the cover of one of these benevolent overlords and feel yourself being taken to new, comfortable, nearly religious highs. You may never be seen again. Available in many colors.
Beer of the Month Club
Sure, you could go on the road if you wanted to discover new and different beers, but you'd have to leave your couch, which would defeat the whole point of this article. Better to have the brews come to you. With this subscription, you'll get 12 gifts of hops, yeast, and mash from microbreweries across the USA. You get four different brews every month (three bottles of each).
Wine of the Month Club
Or perhaps they are a sophisticated couch potato, one who likes to sip classy, boutique-made offerings from premium vintners while playing Mortal Kombat. Here's a deal for you: Two different gifts of fermented grape product at their doorstep every month. You can choose red wines, white wines, or a combination. They're selected by an "independent advisory board of wine professionals," who we hope work from home.
Couch Gaming Desk
Love multi-hour gaming sessions but hate having to scour your couch cushions for controllers, cables, or house pets? Seize the day with this faux leather desk designed for the stationary videogame professional. It accommodates a keyboard, mouse, and controller. It has 6 USB ports and support cushions on the side. It's ergonomically sound so you won't throw your back out in your lurch for glory. Makes a great gift for couch potatoes who love gaming.
Cell Phone Holder
Being a couch potato means freedom. But what good is freedom if you're still using hands to hold a cell phone? Resolve that indignity with this ingenious device. It's good for any situation where you need your hands for something else, but it's especially useful when you wear it around your neck while reclining on your couch. It's like a necklace with a purpose.
Giant 6-Foot Beanbag
Beanbags have come a long way since the 1970s, with their mushy chaos, spine-twisting, and leaking Styrofoam balls. Now they're sophisticated and mature. This fantastic beanbag, which is called the Cocoon, adjusts to either a chair or a flat, bed-like surface. It's still got all the foamy comfort that makes a beanbag special. They'll feel like they are reclining on a cloud. Maybe they should take up the harp…
Massage Chair
One hitch about being a couch potato is muscle inactivity. Left unstimulated for too long, you'll lose one of life's most precious gifts: Body mass. This electric neck and back massager can help. It provides a rolling, heated massage to your neck, back, shoulders, and other valuable body parts. Just sit on it and feel the tension evaporate. It combines several different styles of massage, including shiatsu (gesundheit!).
Laptop Desk
The ironic thing about laptops is that laps aren't ideal surfaces to put them on. They're not always balanced or level. This very first-world problem comes with a solution…this desk. It's got a pillow cushion underneath that conforms to the position your lap takes. It also has storage components and an anti-slip bar, with enough room for any size laptop, or these old devices we understand were called "books."
Pocket Projector
Back in the old days, when couch potatoes wanted to project something on the wall, they had to use clunky projectors that spooled two reels of film and took up half the floor space. These days, you just need this tiny cube that can indeed fit into a pocket. It's compatible with anything with an HDMI output or adapter. It's portable, so you can use it to show content anywhere: Outside, bedrooms, courtrooms, ER waiting rooms, your ceiling so you can lie flat— dream big! It's a great gift for tv lovers.
Cup Cozy Pillow
As we move further into a post-table society, we need smaller items that will do all the things tables do, like hold beverages. This pillow fills that niche. It has three slots for placing beverages within easy reach. It works just as well as a central point for remote controls, snacks, playing cards, keys, napkins, fingernail clippers — anything small enough to fit. But it positively slays at holding beverages.
Bamboo Sofa Arm Tray
Here's another device that will prove useful in this post-table utopia we're trying to construct. This makes use of the lowly sofa arm, which up until now has only been good for supporting human arms. This tray is made of solid, eco-friendly bamboo and conforms to sofa arms of all shapes. It's got a rubber underside, so it won't slip around, and a silicon top so whatever you put on it stays parked.
Bose Noise Cancelling Bluetooth Headphones
These Bose Bluetooth-connecting headphones bring the noise, but only the right noise. They deliver phenomenal sound with deep, rich bass. They play music, movies, TV shows, phone calls, anything sound-related. But they also cut out that environmental noise like passing cars, yelping animals, industrial explosions, and hungry children that get in the way of your BTS playlist or Fast & Furious binge. If Bose headphones are too expensive for your blood, THESE are under $100 and they work great too.
LED Essential Oil Diffuser
Who has time to tend to an aromatic garden anymore? Sit back and let this orb do the job. It's a spectacular-looking globe that diffuses essential oils while offering a planetarium-worthy LED light show at the same time. You'll be tranquilized by the soothing aromas and hypnotized by the ever-changing lights. This is what America's all about.
LED TV Backlights
If you measure TV satisfaction only by what you see onscreen, you're not being your best self. You also need to see the colors seep out of the TV and onto wall surfaces. That's what these light-based gifts for lazy people do. They give your TV an aura. An aura that gives a spectacular glow and can even be programmed to pulse to music beats. Anything less is just a box with a picture of Ellen on it.
Echo Dot
It's the smart speaker that changed the way we hear music, listen to podcasts, and find recipes for chicken marsala. The Amazon Echo Dot connects with streaming services and internet radio stations and plays music at your behest, making it one of the ultimate gifts for couch potatoes. It also sets alarms, gives you the weather, and answers whatever trivia questions happen to cross your mind. It's Alexa's world — we're just living in it and nagging her for sports scores.
 Prizm Lazy Glasses
Nothing gets in the way of the couch potato ethic like craning your neck or head. It's a horizontal lifestyle. And shifting your body just so you can read or watch TV is going to mess up the whole arrangement. These special glasses restore the delicate balance by letting you lie completely flat and read a book or watch a show without so much as a flinch. You can also wear them over your glasses so you can comfortably read a book while lying flat.
We hope these gifts for couch potatoes inspire you to reach out to your favorite upholstery connoisseur. These gifts will no doubt bring joy, elation, and comfort, which may very well inspire them to get up and embrace you. Then again, probably not.
For more gifts for lazy people, check out our Gifts for Women or our Gifts for Men.
Be sure to follow us on Facebook for daily updates of unique gifts for your friends, family, and pets.