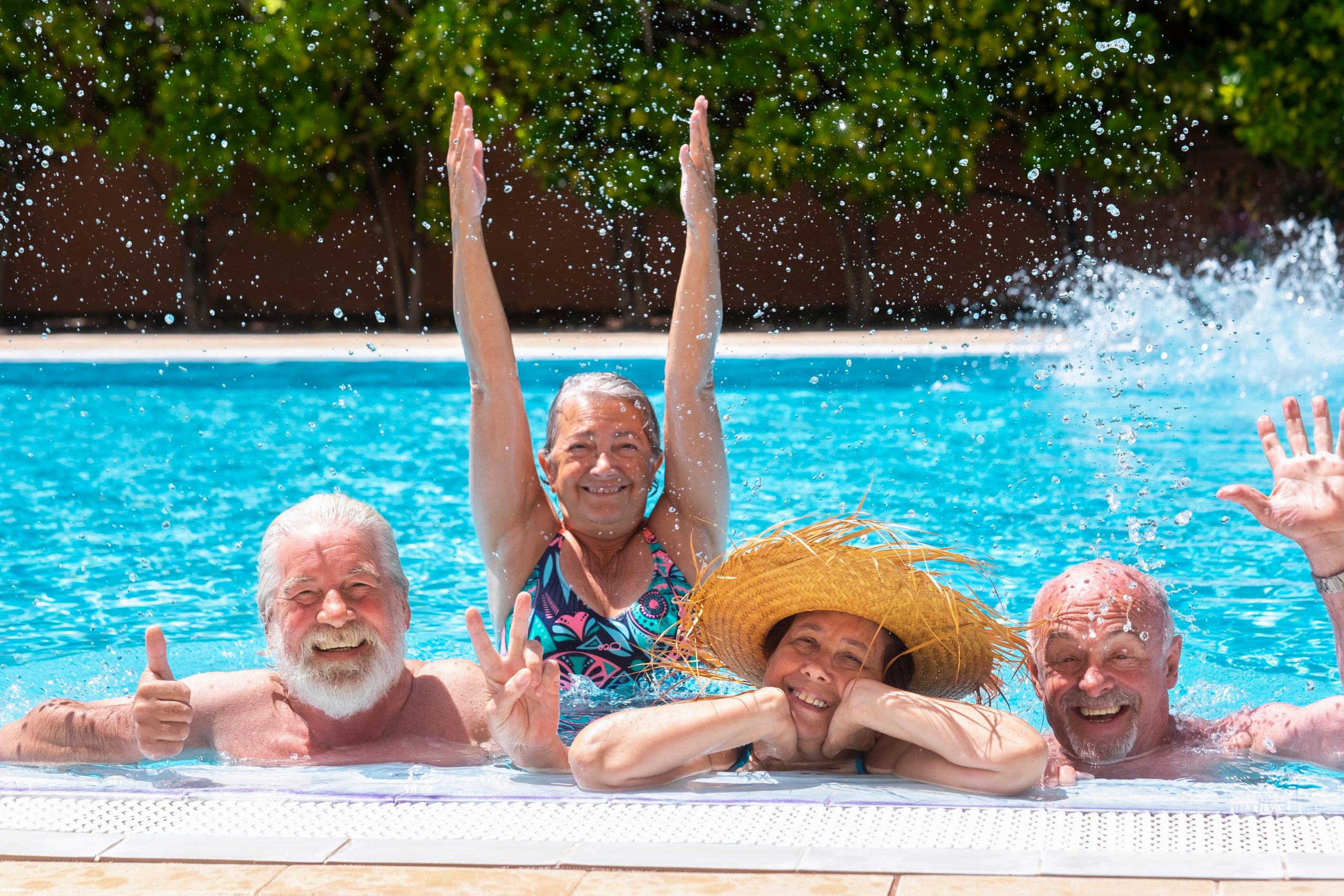 It's important to find the absolute best gifts for pool owners because you want to get invited back for their next pool party. These pool gifts are great for pool party gifts, pool housewarming gifts, or just pool supplies that come in really handy for any pool owner. So here are our absolute favorite gifts for the pool whether they like to relax around the pool or throw wild pool parties.
---
Related: Gifts for Beach Lovers
---
Freezable Chilling Tumblers
These cups are not only shatterproof so you don't have to worry about broken glass, but you can freeze or refrigerate the cups in order to keep your drinks at the perfect temperature. Pop them in the freezer to keep your white wine a perfect 45 degrees or pop them in the refrigerator to keep red wine at the perfect wine cellar temperature or 65 degrees. Of course, you can also use them with cocktails, soda, juice, bourbon, or anything else in a liquid form. These are one of my favorite pool gifts for pool owners. You can never have enough of these!
---
Related: Hostess Gifts
---
Personalized Beach Towels
Available in many colors, these fancy beach towels look great while lounging around the pool. Get them personalized with their name so they don't have to share. It is a handmade Turkish Peshtemal towel so it absorbs water well and dries quickly, and it takes up very little space so you can take it to the beach or on a picnic, and it is super soft.
---
Related: Personalized Gifts
---
I Pee in Pools Hat
If you are looking for a pool party outfit, I would start with this funny hat that says, "I pee in pools". It's enough to make people question if they should swim near you and that is enough to make me laugh. It makes a funny gift for pool owners and it comes in many colors.
---
Personalized Floating Wine Glasses
Swimming pools and drinking alcohol go hand in hand but glass around the pool is a no-no. These floating wine glasses are made of plastic so they won't break and you can get them personalized with names or with a monogram. they can float in water or you can stick them in the sand at the beach or in the backyard for a BBQ. Plus, they come in many fun colors to choose from.
---
Related: Gifts for Drinkers
---
Personalized Beverage Tub
Pool owners can never have enough beverage tubs to help keep party-goers hydrated. This personalized beverage tub is a hefty 5 1/2 gallons so it's big enough to hold lots of beer, wine, and ice. Beverage tubs make one of the best gifts for pool owners who like to entertain.
---
Related: Hostess Gifts for a Weekend Stay
---
Waterproof LED Lights
We have about a dozen of these and want to get more because they are so cool. They are completely waterproof so you can use them in your pool or jacuzzi (or even your bathtub if you are afraid of the water). We also put them in our plants around the pool to give it that extra disco look. They have 13 colors and 4 color-changing modes to set any mood and they add a great ambiance for any pool party.
---
Personalized Ottoman Serving Tray
Available in many types of wood and various sizes, this ottoman serving tray works great for bringing cocktails out to the pool party or BBQ. The large size is 25 inches so it's big enough to carry your drinks and a rack of ribs. And since it is customized with their name, nobody will try to steal it.
---
Related: Gifts for People Who Entertain
---
Stainless-Steel Wine Glasses
Let's face it… after a few glasses of wine, we tend to get a bit clumsy, and pools and glass don't mix. These stainless-steel wine glasses are shatterproof to prevent people from stepping on broken glass in a drunken stupor. For more unique gift ideas that are alcohol-related, check out our Gifts for Drinkers section.
---
Insulated Stainless-Steel Cocktail Cups
If pool owners really drink a lot, then they will need something a little sturdier than a typical wine glass. These cocktail cups are shatterproof, they keep your drink hot or cold, and they have a lid. It is kind of like the adult version of a sippy cup so they make great gifts for pool owners who like to drink in the pool.
---
Floating Wine Glasses for the Pool
These look like regular wine glasses, but they easily float in the pool and won't break. Nothing ruins a pool party like broken glass. Ditch the cheap-looking red plastic cups and go with this classic look.
---
Copper Beverage Tub
This double-walled stainless steel copper beverage tub has a great chill time, it won't form condensation, and it looks gorgeous. It makes one of the best gifts for pool owners because they always need multiple ways to keep beverages cold all day in the sun. It is also available in other colors and styles.
---
4-in-1 Swimming Hammock Floats
I have 6 of these and I still want more, because you can't have enough of these cool pool floats. I tried several other brands that look similar and the others were horrible. These were the only ones that lasted and were comfortable. You can lay on them, sit like a chair on them, or straddle it like a horse. They are so comfortable and everyone loves hanging out at pool parties relaxing on them. They are great for adults and kids for summertime fun.
---
Personalized Shark Coochie Board
Sure, you can get them a fancy personalized cutting board, but this is a pool party. Since sharks like water, we figured it fits a bit better. This Shark Coochie Board makes fun of the fact that people never know how to spell charcuterie and many people on Facebook have actually called it a Shark Coochie Board. Hopefully, none of your friends did that. For more gifts that make you laugh, check out our Funny Gifts section.
---
Solar Powered LED Wind Chimes
As a pool owner, I can assure you that we spend almost every night sitting out by the pool, and things that light up pretty are a must. These wind chimes charge in the sun during the day and light up beautifully at night to create a soothing atmosphere.
---
Floating Drink and Snack Holder for the Pool
I use this floating drink and snack holder in my pool and it is surprisingly sturdy. It has several holes to hold cans, bottles, snacks and more. There are also holes for your iPad and phone in case you always want them nearby.
---
Personalized Stainless Steel Wine Glass
These stainless-steel wine glasses keep your beverage at a constant temperature for 4 hours. I've never taken 4 hours to drink my wine because I'm more of a guzzler, but I still want these. The engraving makes them personal and they look a bit classy. These are unique gifts for pool owners who are sophisticated.
---
Neutral Buoyancy Watermelon Ball
This unique pool ball allows you dribble, kick, bounce, and pass this ball 10 ft underwater due to its near neutral buoyancy. You can play with it in pools, lakes, or ponds and it is unlike any other type of ball. Most balls float to the top so you can't play with it underwater, but the Watermelon Ball allows you to pass it to your friends underwater, dribble it underwater, and it makes water sports so much more fun.
---
Insulated Wine Canteen
This triple-walled insulated wine canteen holds an entire bottle of wine and keeps it at a constant temperature for 24 hours. It's shatterproof so it is safe even after you end up finishing a couple of bottles and start falling down so they make a great gift for a pool party. Plus, they come in many colors so you can get one for everyone at the party!
---
Personalized Pool Towels
These personalized beach towels make a great gift for water-loving friends. They are great for the pool, beach, or lake and you can be assured nobody will steal your towel. Plus they have your name splattered all over it which helps in the event that you forget your name. And they have many styles to choose from.
---
Personalized Photo Face Beach Towel
If you are looking for a funny pool gift, give them a personalized beach towel covered in your face, their face, or their pet's face. The best thing about this pool towel is that nobody could steal it because your face is on it and that would just be weird.
---
Personalized Adult Drink Pouches
Feel like a kid again with these adult drink pouches. They are reminiscent of the classic Capri Sun pouches that we all enjoyed as kids, but these can be filled with any boozy concoction. You can use them with hot or cold beverages and they hold 17 ounces of your favorite cocktail. They are available in many colors and are reusable so your bad drinking habits are actually helping the planet.
---
Inflatable Movie Screen
Watch movies while you party in the pool. This inflatable movie screen is great because you don't have to run a noisy fan while you are trying to watch a movie. You just inflate it (takes about 2 minutes) and then screw the cap closed. You can also view the movie from the front or the back, which the other screens don't do. It's a bit pricey (over $300), but if you are looking for a high-end pool party gift, it is worth it.
---
Floating Drink Dinghy
You no longer have to worry about having to swim to the side of the pool or back to the beach to get your cocktail when you have floating drink holders. You simply clip the drink holder to your wrist (or to your life jacket if you are chilling on the lake) and your drink will always be at arm's length.
---
Personalized Wooden Pool Sign
This sign is completely customizable so you can have it say, "The Smith's Pool", "The Bernstein's Bar", or even "The Johnson's Party House". The sky is the limit! It's a unique gift for pool owners and you can feel confident that they don't already have one. Plus, if people pass out by the pool and wake up hours later, the sign will help them remember where they are. This is one of the best pool housewarming gifts.
---
LED Cube Chair
These may be a little pricey because you buy each piece separately, but if you are wanting an extravagant gift for a pool owner, then these look super cool. It has 16 colors of lights, can support 300 pounds, and has 10-12 hours of battery life to last the entire time of most parties.
---
Floating Solar Pool Lights
These pool lights charge in the day and shine bright at night. They are durable and can be used in the pool or you can hang them in the garden. You can set them to change colors and each one can be set at a different color rotation. These are the absolute best gifts for pool owners because you can never have too many of them. They look great at pool parties.
---
Bluetooth Pool Speaker with Lights
This waterproof speaker can be used in the pool, jacuzzi, bathtub, or anywhere else you want to hear music. It is so waterproof, that it can be submerged up to 3 feet for 30 minutes. It charges quickly for hours of play and it has a microphone so you can even take your calls through it.
---
Personalized Cutting Board
Ok, this one is not specifically a pool party gift, but as a pool owner, I can tell you that this would be super handy. We eat outdoors almost every night and we have people over to hang out by the pool often so this makes it easy to bring out appetizers or charcuterie. It's one of the best pool housewarming gifts you can find.
---
Floating Card Game Set
Play poker or Go-Fish in the pool! This floating card game set comes with an inflatable 31" poker table, two hammock chairs with cup holders, and a deck of waterproof cards. Bungee cables connect the table to the chairs so your game doesn't float away, but you can disconnect them to use the chairs alone.
---
Floating Beer Pong
If you are going to a wild pool party, don't go empty-handed. This floating beer pong game is one of the best gifts for pool owners who like to drink a lot. These are the pool owners who still think they live in a Frat house and they might do keg stands in the middle of the day.
---
What Makes the Best Gifts for the Pool?
No matter what gift pool lovers receive this season, one thing is for sure – they'll be ready to plunge in and make a splash! Pool owners love to invite people over for a dip, so entertainment items are always a hit. So, if you're looking for a gift for your favorite pool enthusiast, any of these items will put a huge smile on their face – and make for some seriously fun days in the sun!
For more gifts for pool owners or pool party gift ideas, check out our Gifts for Men section or our Gifts for Women.
Be sure to follow us on Facebook for daily updates of unique gifts for the whole family.