Unique 7-Year Anniversary Gifts and Personalized Copper Gift Ideas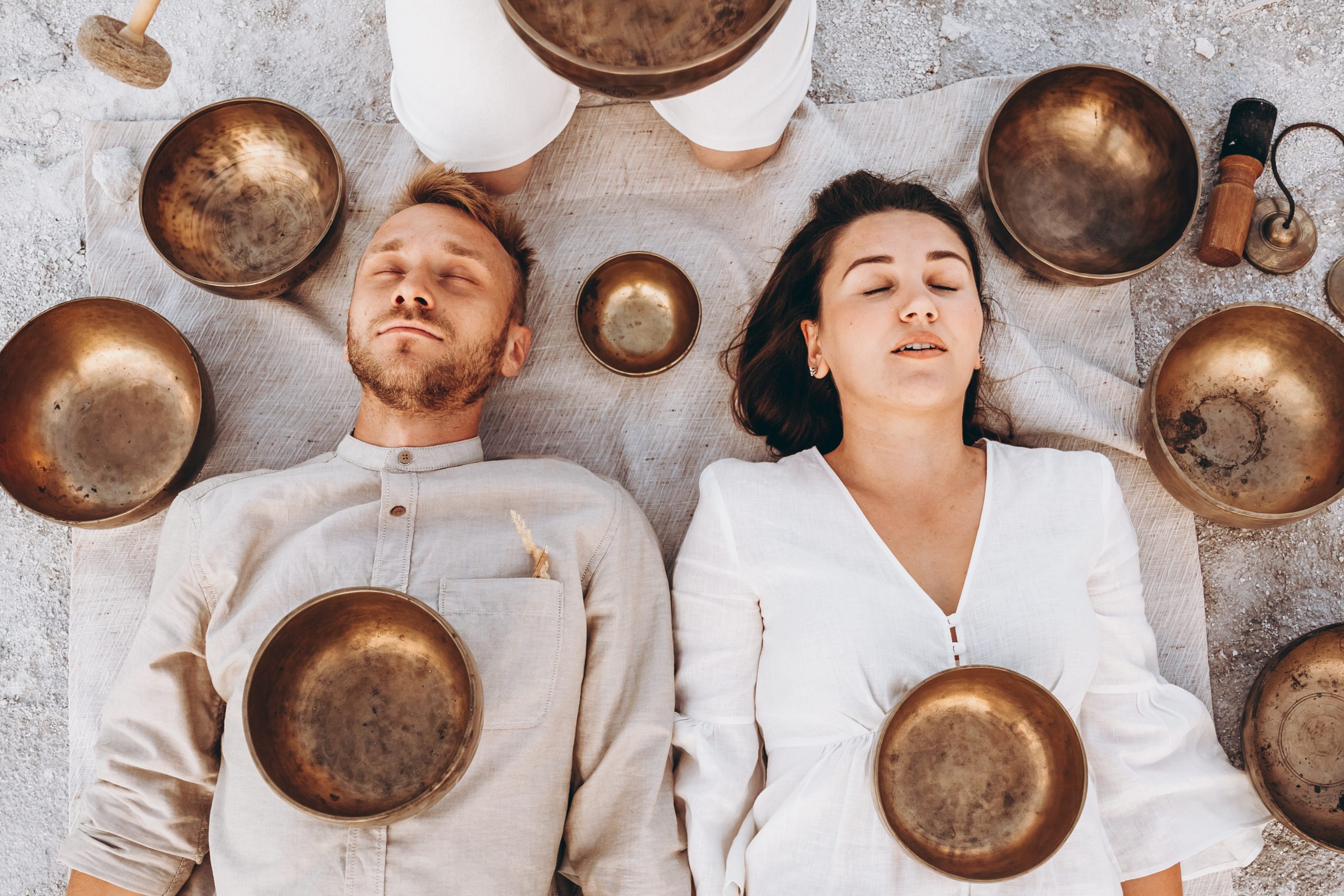 According to tradition, there are specific items you should buy for 7-year anniversary gifts. Historically, these anniversary gifts would be copper items. That's right, the same material they still (for some reason) make pennies from are the kinds of gifts you're supposed to get for a couple who has stuck it out for as long as Parks and Recreation did.
Copper anniversary gifts aren't always the easiest to find in the modern era of plastic and fiber optics, though. We've assembled some of our favorite gifts for 7th-anniversary couples to guide you, whether they're gifts for your own better half or some of your favorite married friends.
Related: Anniversary Gifts
Copper Champagne Chiller
A flat, warm bottle of champagne turns any celebration into a depressing rumination on the inevitable decay of the human experiment. Forestall that sad non-event with this champagne chiller. Stick your cold Dom or Moet into the chamber, screw on the top, and tote the whole get-up to your next picnic, party, date, family reunion, Battle of Hastings reenactment, or skydiving excursion. Your love may be hot, but your Cook's Brut is still cool.
Related: Gifts for Drinkers
Copper Patina Bowl
When you leave certain metals exposed to natural elements over a long time, they form a patina: A blue-greenish film that's the result of oxidation. The visual effect of a patina is marvelous, even if you understand that it's essentially a form of decay. These copper tray gifts feature a unique turquoise accent, and they look lovely on a tabletop. They'll hold your keys, spare change, jewelry, stray breath mints, and anxiety medication.
Copper Birdbath
Commemorate your love and take a stand for avian hygiene with this fully functional solid copper birdbath. Adorned with an iron twig that wraps around the stake, this subtle yet stunning bowl adds a touch of refinement to your lawn or garden. It also gives your skittish airborne friends a judgment-free zone in which to conduct their bathing duties. Hand soap and loofa not included.
Related: Gifts for Couples
Copper uKeg Carbonated Growler
You know how good beer tastes when it comes straight from the tap? You can get that experience with every beer you have, whether it's a seasonal microbrew or that cheap canned stuff you keep around for security. Just get a copper growler like this one. It keeps beer pressurized and carbonated for weeks, dispenses it with ease, and seriously boosts your steampunk cred.
Tibetan Singing Bowl
Calm your lover with a Tibetan singing bowl so that your marriage can last another 7 years. Singing bowls are great for meditation, music, stress relief, and chakra healing. We just think they look pretty.
Copper Fireplace
Does your love still burn like a raging fire in an unsupervised campground? Make the metaphor a (safer) reality with this stainless-steel, copper-painted outdoor fire pit. You can set it up in your backyard or on your patio, but it's also portable enough to take anywhere. It features a mesh screen, as well as a 26-inch poker to control your fire or to make a very strong argumentative point.
Copper Bartender Mixology Set
This copper set for your household's mixologist features ten 7th anniversary gifts that they'll need to whip up the perfect elixir. They're kept together with a handsome mahogany stand. These gifts are eye-catching, shining additions to your family's indoor or outdoor bar set-up. They include a shaker, corkscrew, a mixer, a pourer, a strainer, a jigger, a muddler, and other items that could also be the names of Batman villains.
Pirate Telescope
The couple that spies on immodest neighbors together stays together. This vintage-style pirate telescope is the perfect medium for that. It's a completely operational, three-tube lens made of solid brass. It comes inside a wooden chest engraved with an anchor on top, suggesting a deep interest in nautical ware. With this classy item at your disposal, you'll spend happy evenings watching that strange couple's "Tupperware parties" from a safe distance. It's not only one of the more unique 7 year anniversary gifts, but it is also a 7th-anniversary date idea.
Personalized Copper Beverage Cooler
The gang's all coming over to watch synchronized swimming and play horseshoes, and they're going to want ice-cold beverages nearby. Tame those animals with this copper beverage tub. You can get either a 15- or 25-quart container, complete with your name, brand, or other personal message inscribed on the side. It's rust-resistant and leak-proof, so it won't age unattractively, either.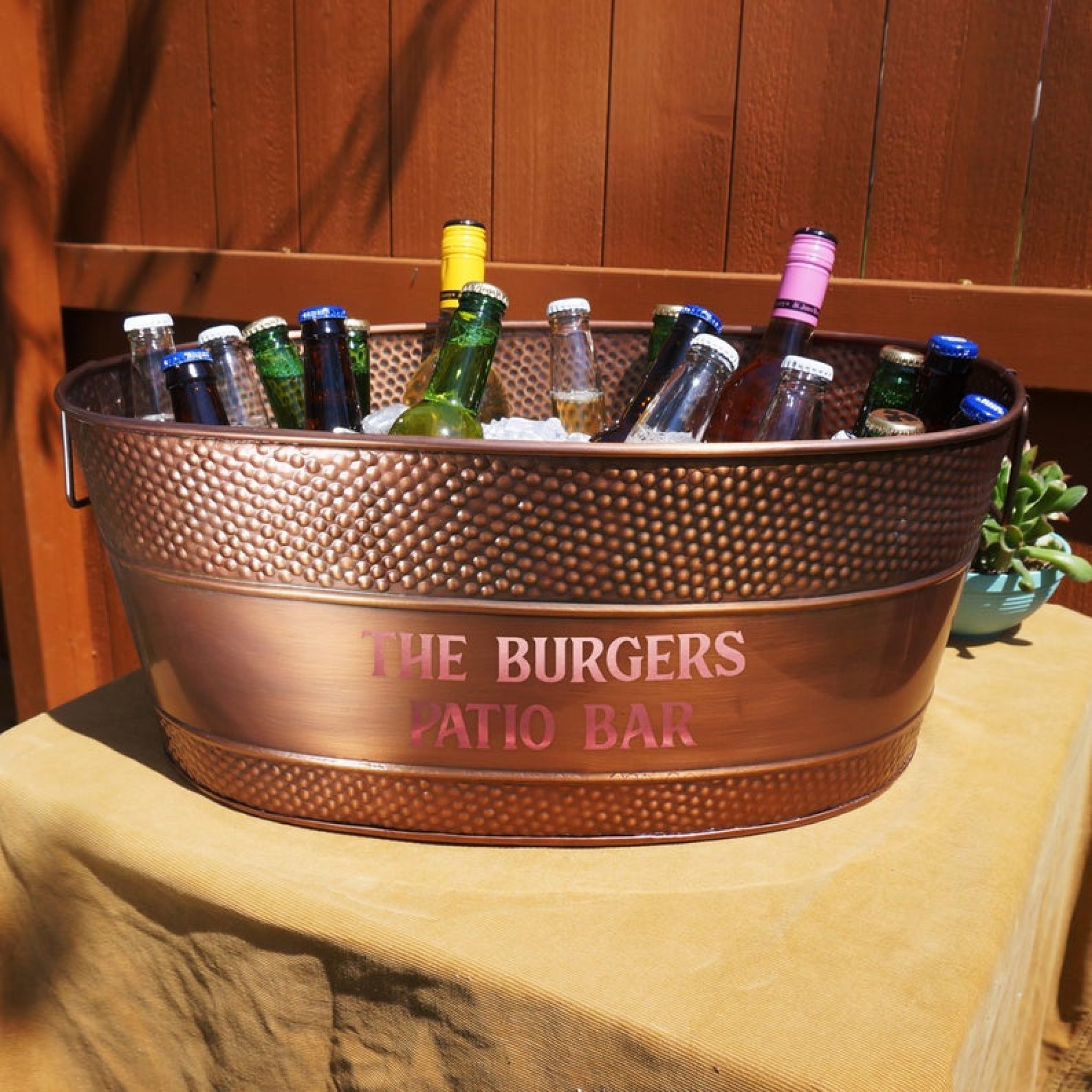 Soundwave First Song Wave Art
What was the first song you and your partner ever danced to? "Three Times a Lady" by the Commodores? "We Belong Together" by Mariah Carey? "Killed by Death" by Motörhead? Whatever it was, turn it into a visual representation of your special and/or weird bond with this copper sound-wave replication art. Send the artist the name of your special song, and they'll return its unique audio pattern etched in copper before you can say "Lemmy lives."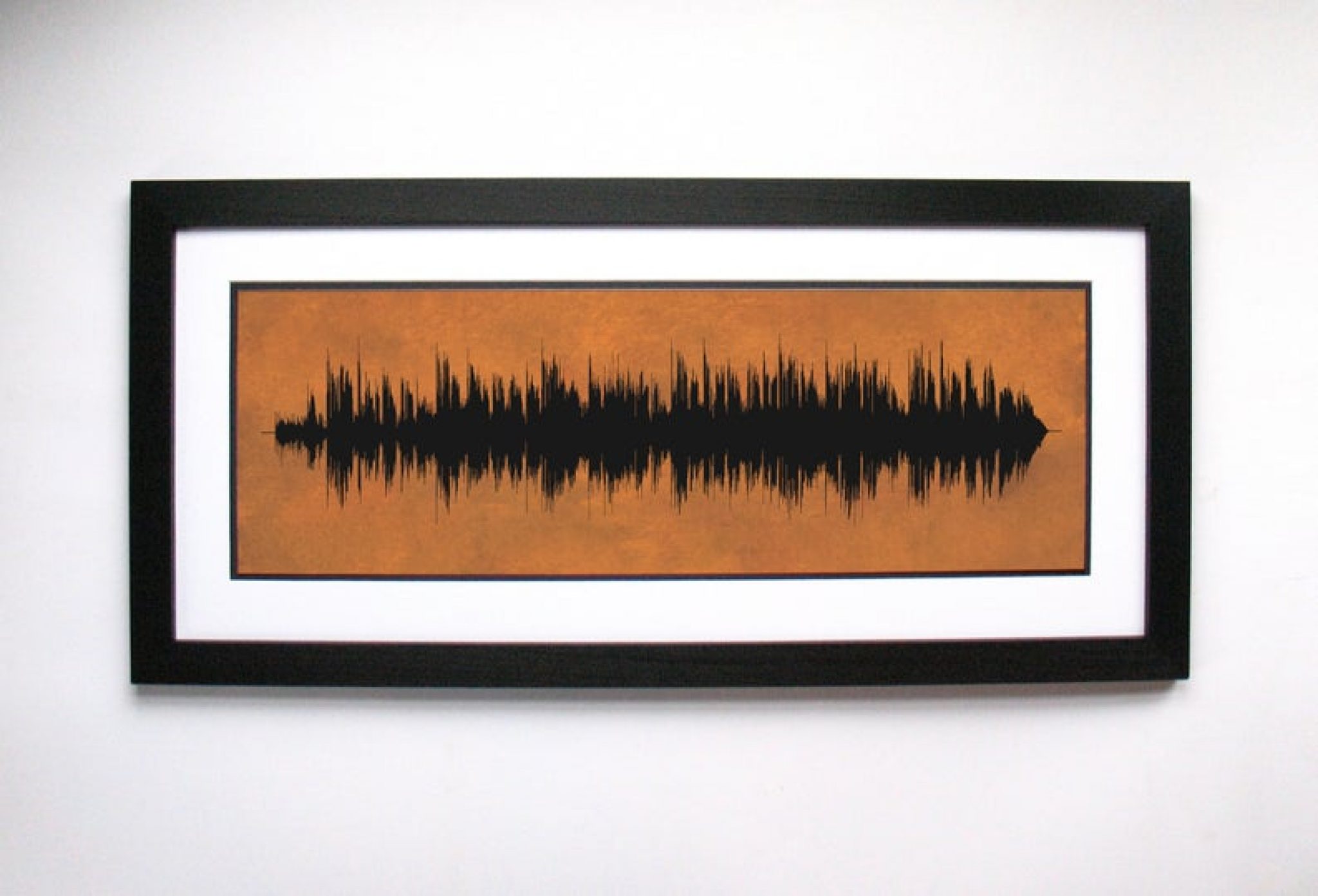 Personalized Copper Colster
Turn your ordinary 12-ounce can of suds into a Nordic ice weapon with this customized copper Colster. This 7th-year anniversary gift is manufactured by the fine folks at YETI, the Cadillac of portable drinkware. No matter what brand of beer you put inside this koozie — which is etched with your name or initials — it will prevent your beer from even thinking about becoming lukewarm.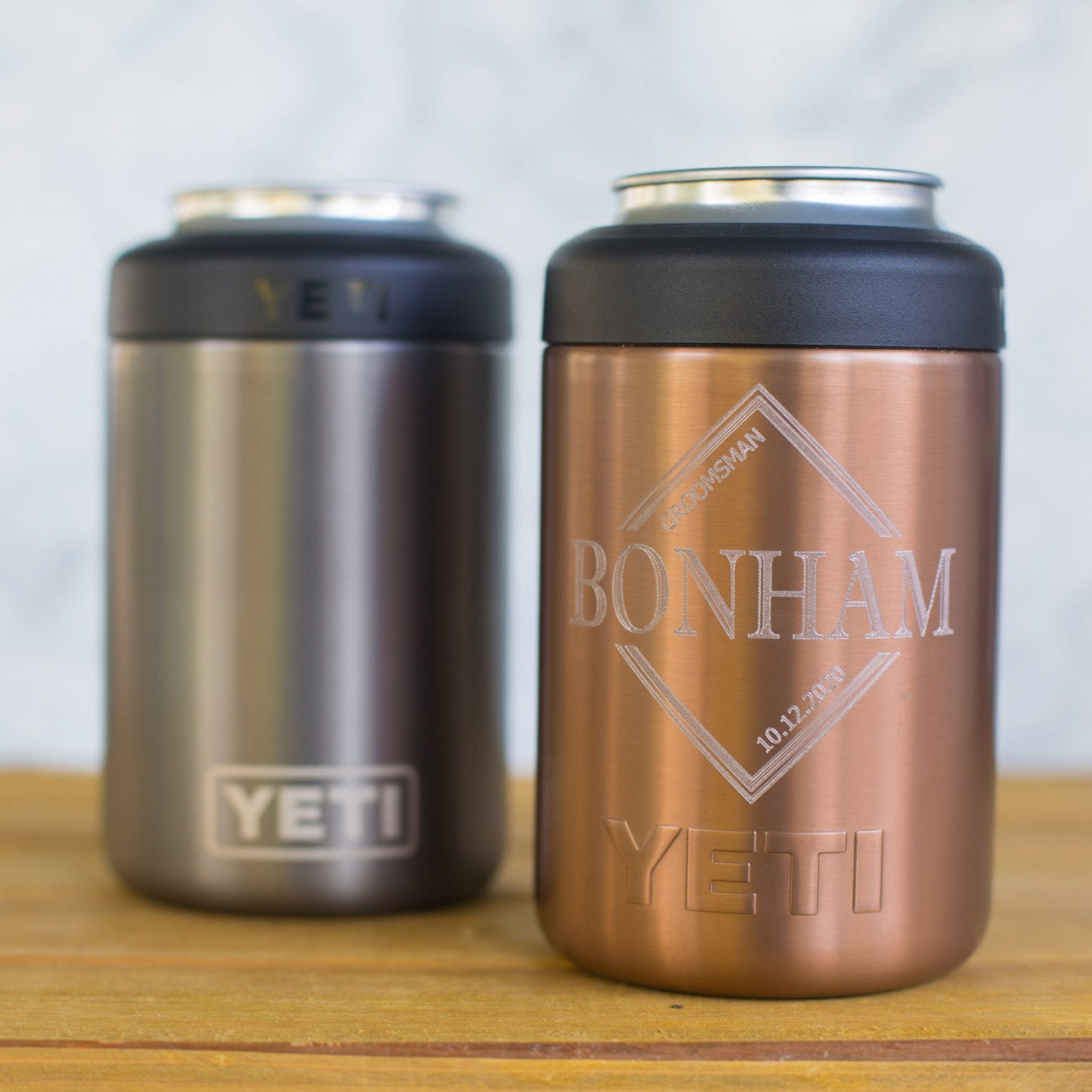 Copper Ice Bucket
As you may have surmised by this point, a whole lot of copper anniversary gifts are built for the arduous tasks of containing and controlling liquid refreshments. This one's an ice bucket, that classic relic of hotel rooms and poolside cabañas. Put bottles or cans of your favorite libation(s) inside, fill the bucket with sweet, life-giving ice, and you're ready for a spirited round of lawn darts.
Wine Chiller
Hot wine is a scourge to humanity, a mocking affront to everything sacred. It's a silent killer that has derailed and defamed Sunday brunches, clandestine trysts, goat barbecues, and PTA meetings. Stop the insanity with this copper wine chiller. It will hold your wine in almost suffocating coolness, keeping it safe and sound from the twin ravages of heat and decay. Also works with champagne.
Photo on Copper
Elevate your favorite JPG to something more substantial by slapping it on a canvas made from pure copper. These Etsy artisans will carefully transfer whatever photo you submit onto a copper plate, inscribe a personal message of your choice, frame it, and send it back to you as a gorgeous 7th wedding anniversary gift. Please be careful which photo you submit. The one you want is probably not in the "Frat Party" folder.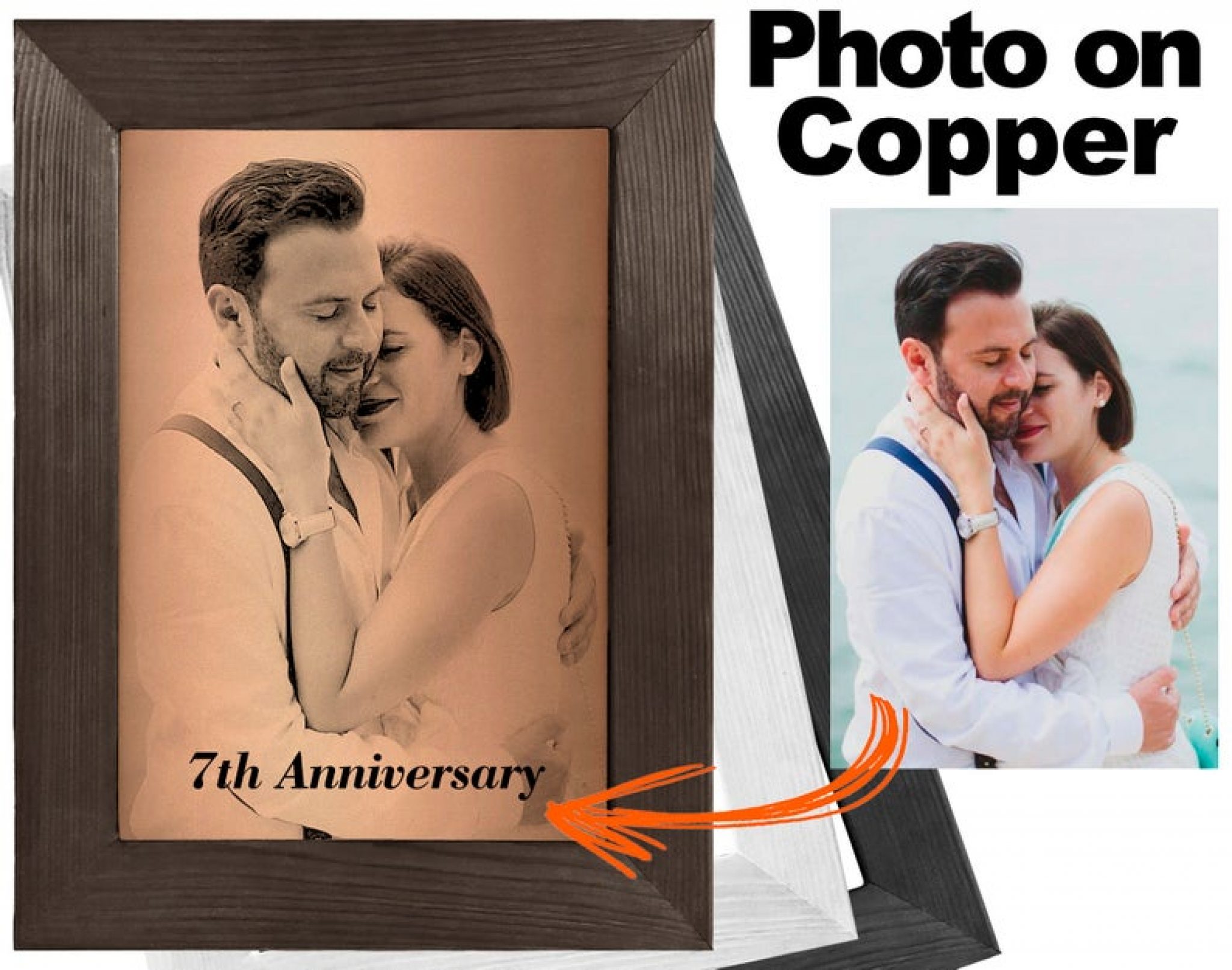 Personalized Copper Cufflinks
We're telling you, the cufflink revival is in full effect. People from all walks of life are warming up to these shiny studs that say so much more than a discreet plastic button does. At your next formal or semi-formal occasion — be it a wedding, a business meeting, a funeral, or a tax audit — make sure you have these bold copper anniversary gifts, hand-stamped with your initials. You'll be the envy of tailors and accountants everywhere.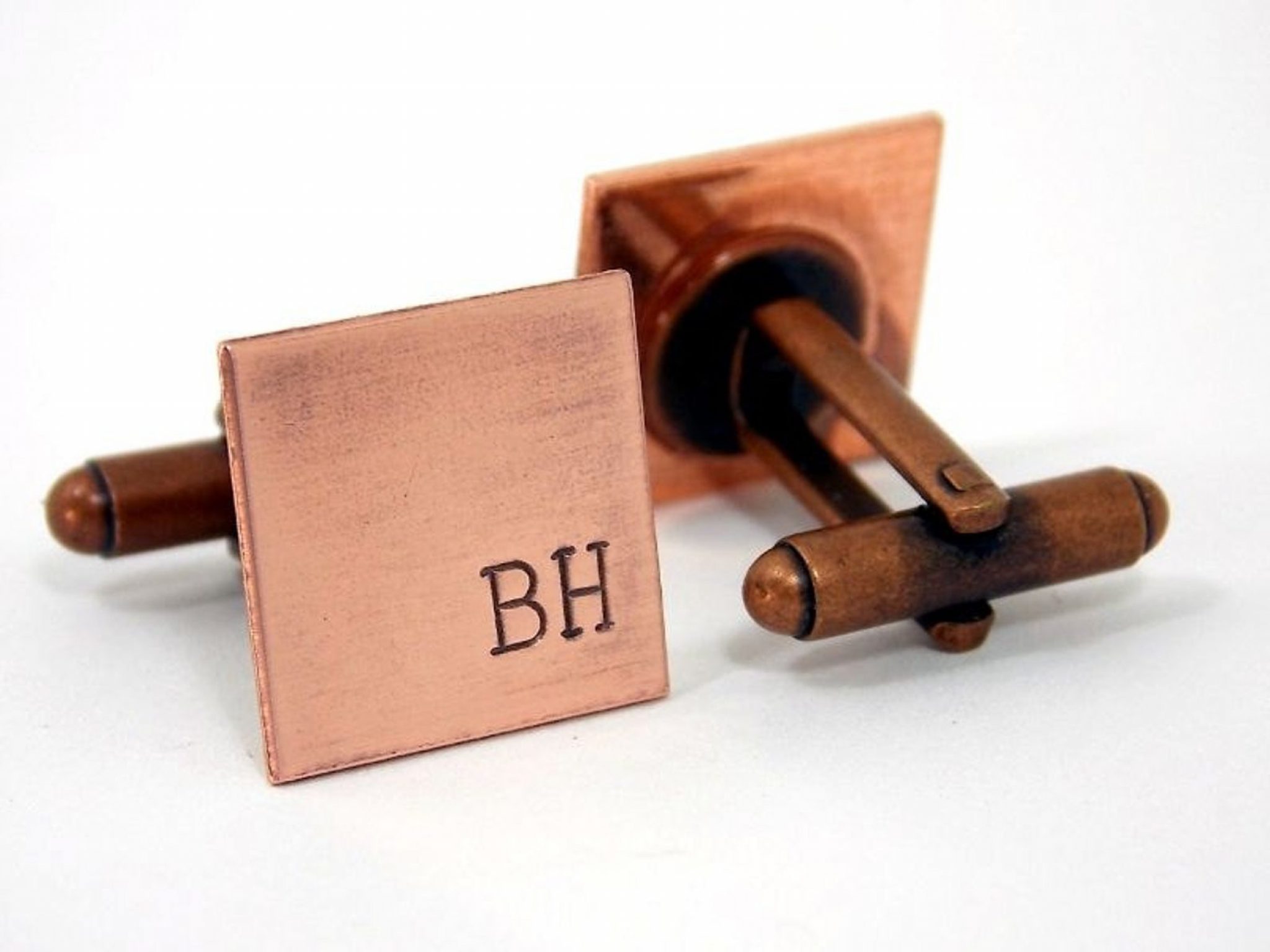 Personalized Copper Cuff Bracelet
Speaking of cuffs, this personalized cuff bracelet is the perfect choice for someone who has a lot of things to say and wants to say it in copper. The artisan allows you to order a customized message of up to 120 characters in length, which is mind-boggling. It's still a comparatively short message, but considering the medium, it's practically War and Peace for the wrist.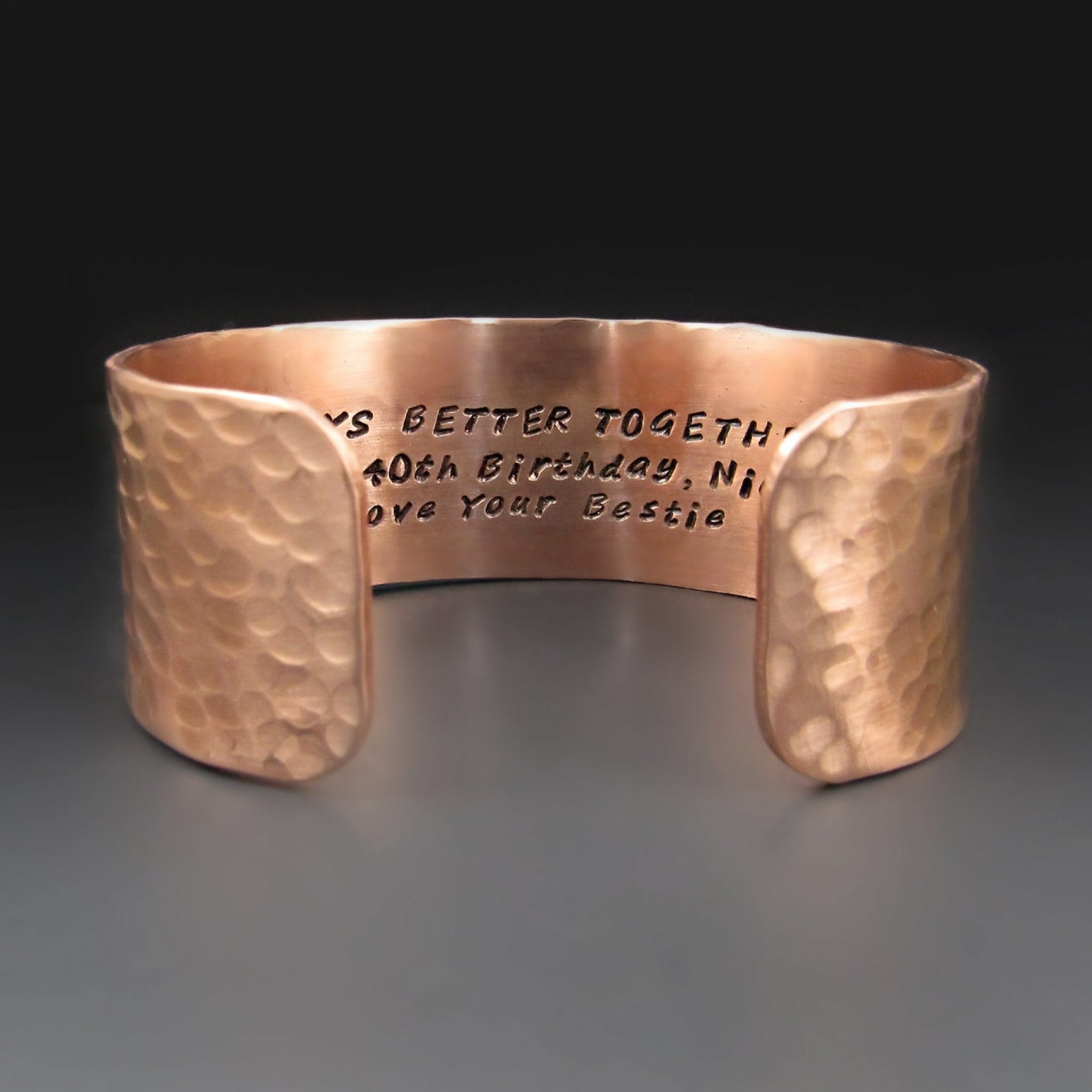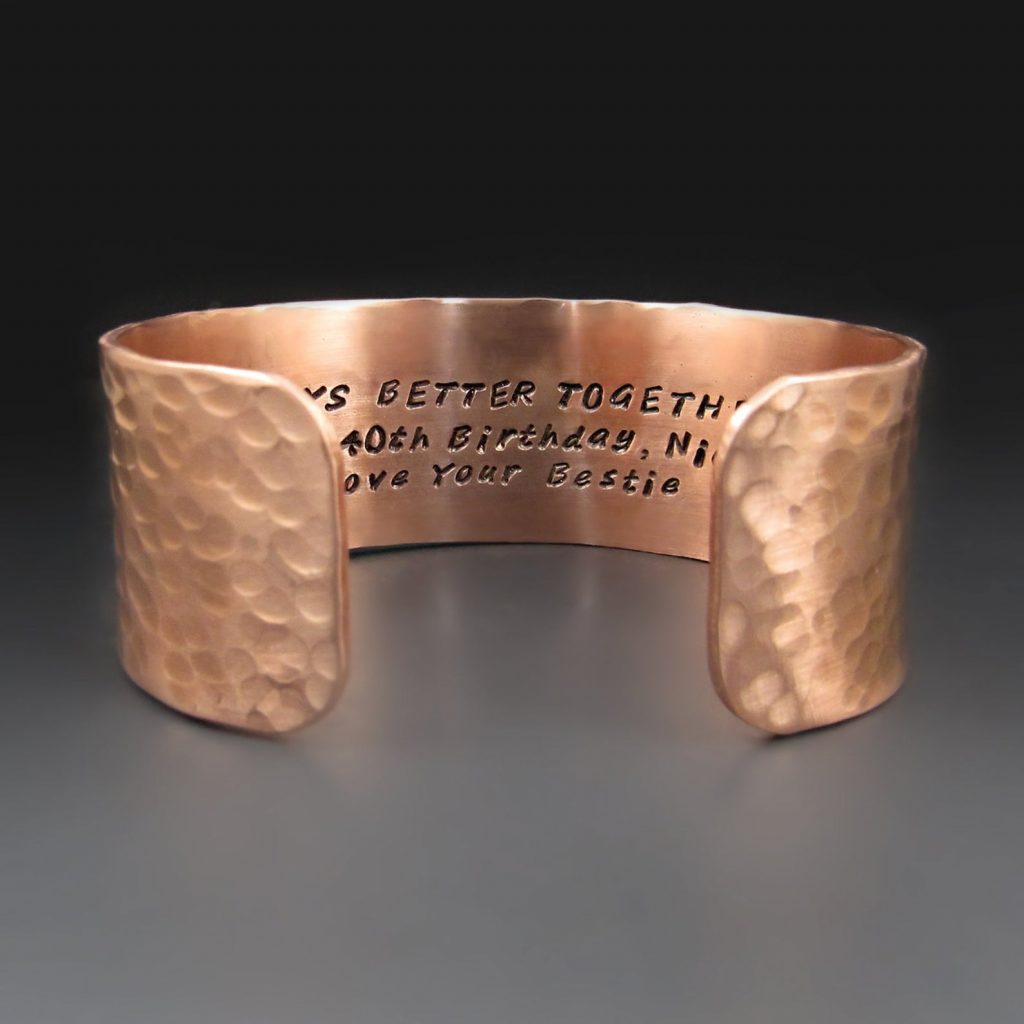 Copper Water Bottle
There's something very different about this water vessel. It's made entirely out of copper. According to researchers, drinking water that's been left in copper overnight can result in several unusual benefits. These may include weight loss, microbial balance, better digestion, even advanced brainpower. We can verify absolutely none of these claims. We can however verify that the bottle looks a lot cooler than a Thermos, which may be enough.
Copper Sheet Music of Your Wedding Song
Back in our day, we used to play music by reading little balls with stems across some specially ruled paper. It was called sheet music, and by gum, we liked it. This Etsy artist turns your favorite piece of sheet music into a beautiful copper piece of art, so go through the attic and dig out your old copy of "Welcome to the Jungle" from that month you took guitar lessons.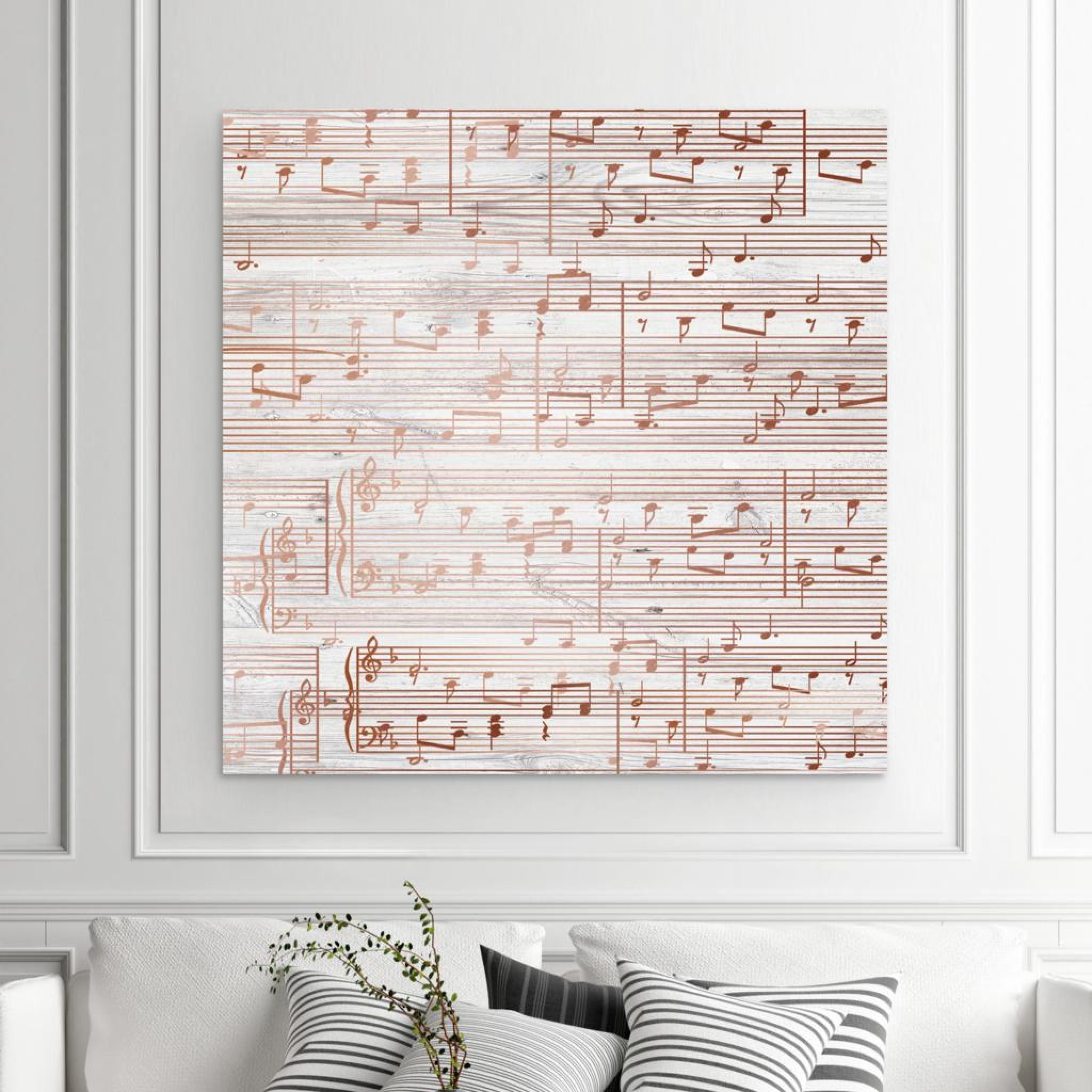 Personalized Bullet Pen
The pen might be mightier than the sword, but it's no match for a bullet. This most unique of 7th anniversary gifts brings the two pointy things together for the first time. It's a writing instrument made from a real bullet that was actually fired in real life from a machine gun by a U.S. military serviceperson. That next letter to the editor about needing more crosswalks by the mall will have that extra power behind it.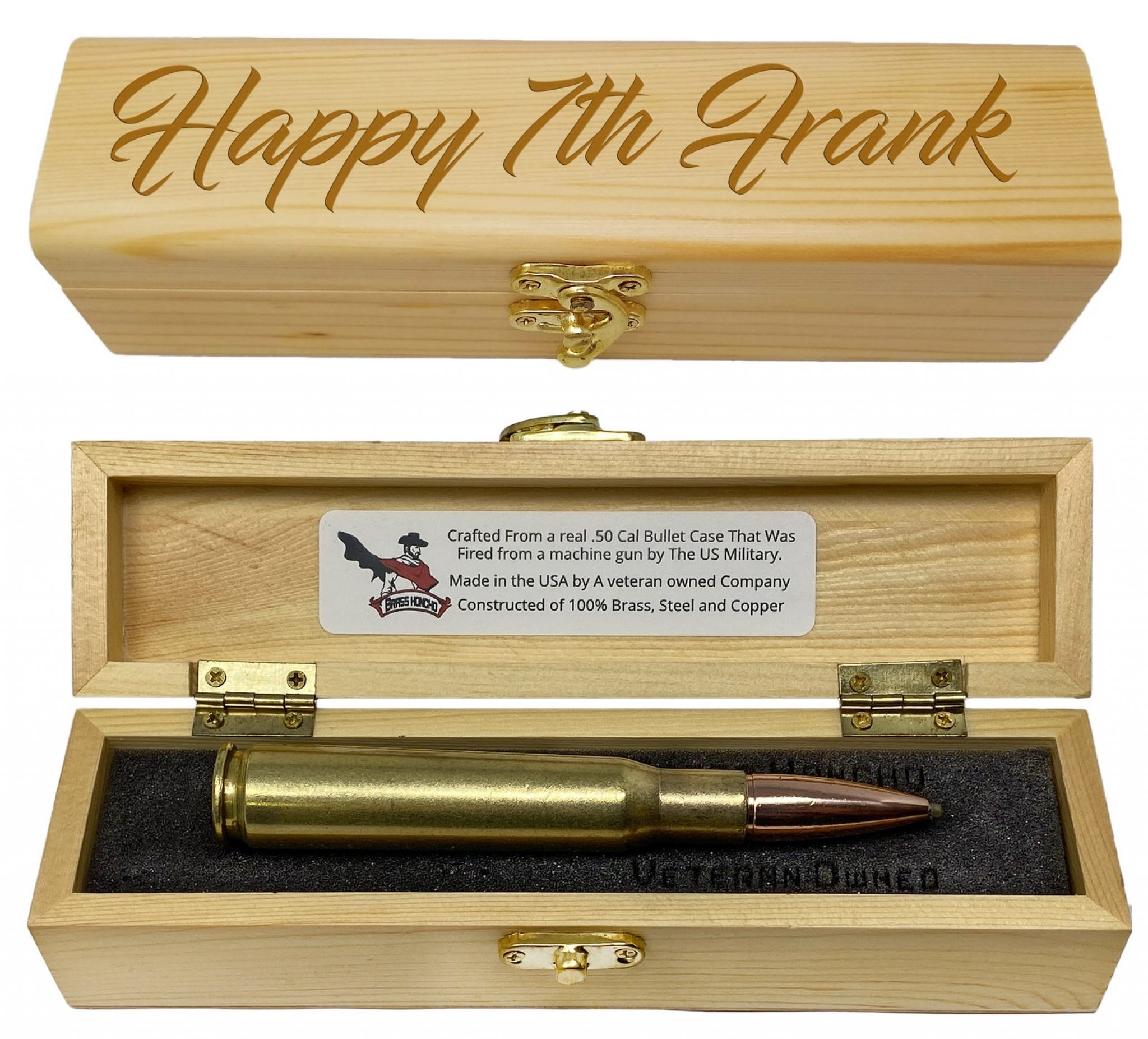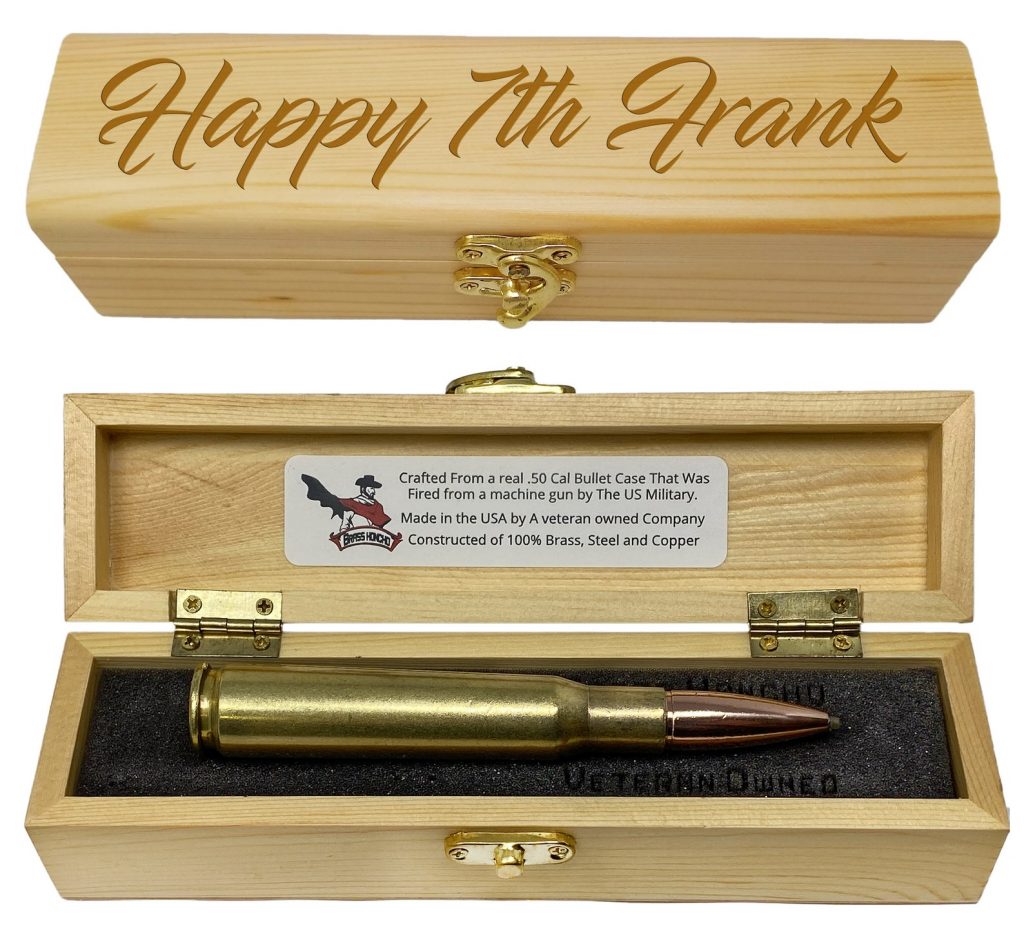 Copper Wine Glasses
These etched wine goblets are perfect 7th-anniversary gifts. They're made of stainless steel and copper-plated. The etchings are elegant and bring classical sensibility to every sip. When you clink them together, they make a gentle tone that serves to say, "Seven years in, the bells still ring for our undying love." So, get a box of gas-station hooch and toast away! They make a great 7th-anniversary gift for couples who hang out by the pool often because they are shatterproof.
Copper Moscow Mule Mugs
Many adult beverages, like martinis, have specific glassware associated with them. But none is more important to drinking integrity than the copper mug you need to drink a Moscow Mule, that vodka-ginger-lime libation that was actually invented in New York. This set of 7th Anniversary gifts includes four such mugs, along with shot glasses, straws, coasters, and recipes, so your Moscow Mule will remain cooler than a software hacker at election time.
Soda or Beer Can Cooler
This beer cooler features a vacuum-insulated, double-walled, stainless-steel, copper-coated construction that keeps beer bottles or cans cold for hours. It also has a sturdy, effective beer bottle opener. Inside the cooler, armed sentries keep watch on the temperature, military technicians keep the cooler cells brutally efficient, career diplomats negotiate any dispute between cooling forces, and chaplains try to take care of coolants' spiritual needs. It's one of those 7th anniversary gifts that just keeps on giving.
Personalized Copper YETI Tumbler
YETI is the brand name people demand when there are floods of cold liquid facing the impending threat of room temperature. These personalized YETI tumblers not only keep your drinks colder than a stare from a disappointed parent, but they also come engraved with your own personalized message or commemoration. Needless to say, they make great 7th wedding anniversary gifts and look fabulous on the shelf next to the harpoon.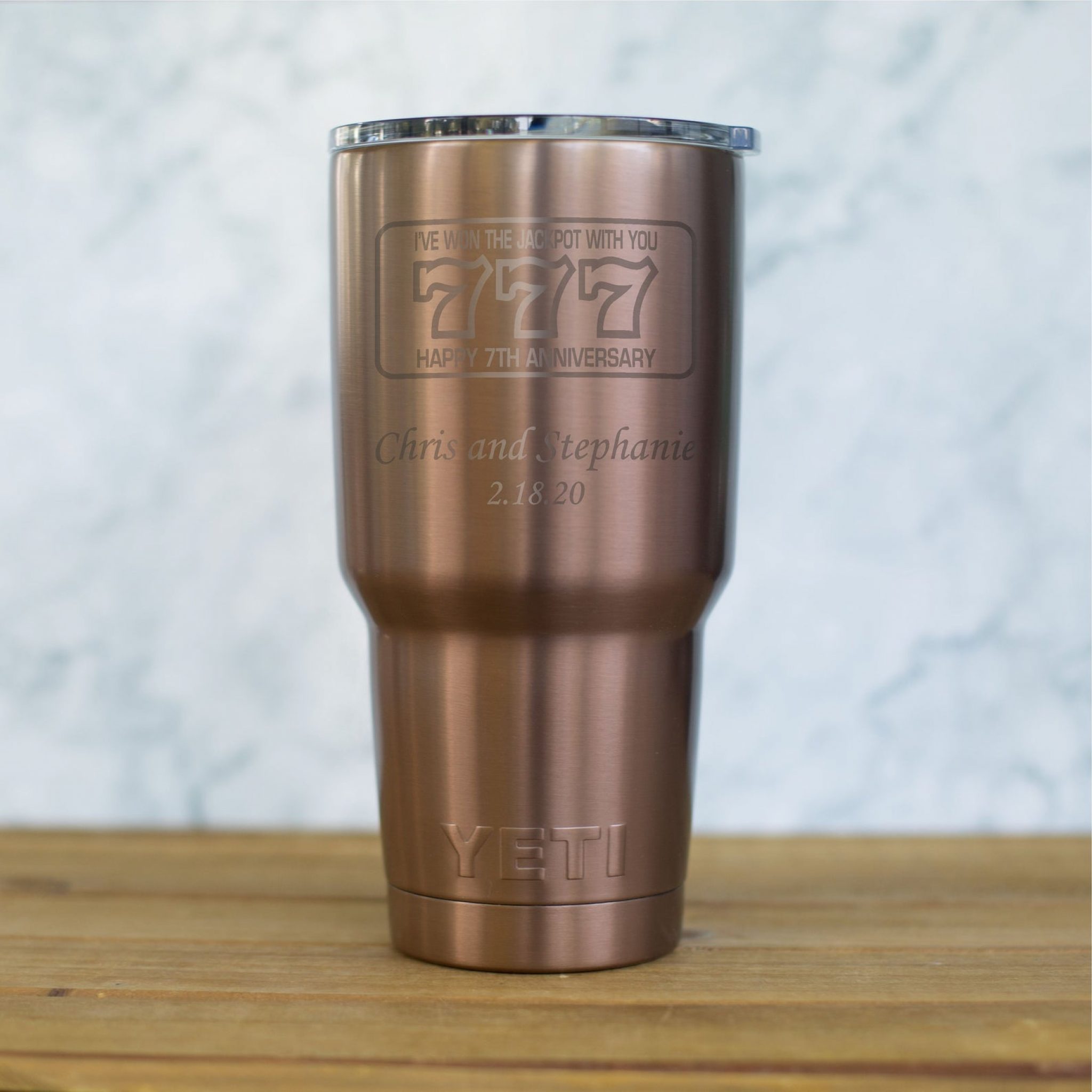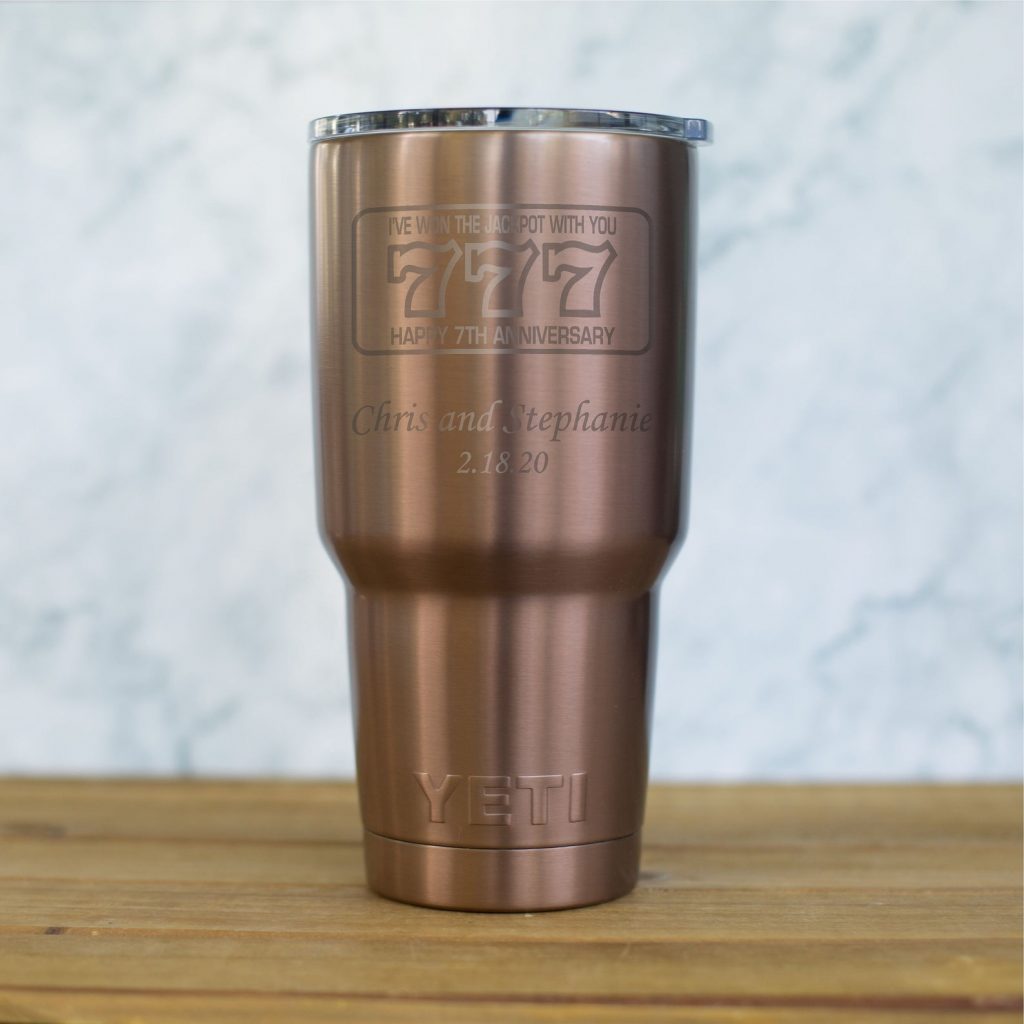 Personalized Copper Money Clip
Paper money was all the rage just last millennium. Right now, it may seem like everyone just has a debit card, an implant, and an Amazon account, but when they need a milkshake immediately, they still reach for their cold hard cash. This money clip will keep that cash securely bound and orderly, for those moments when you're trying to get information from a reluctant witness.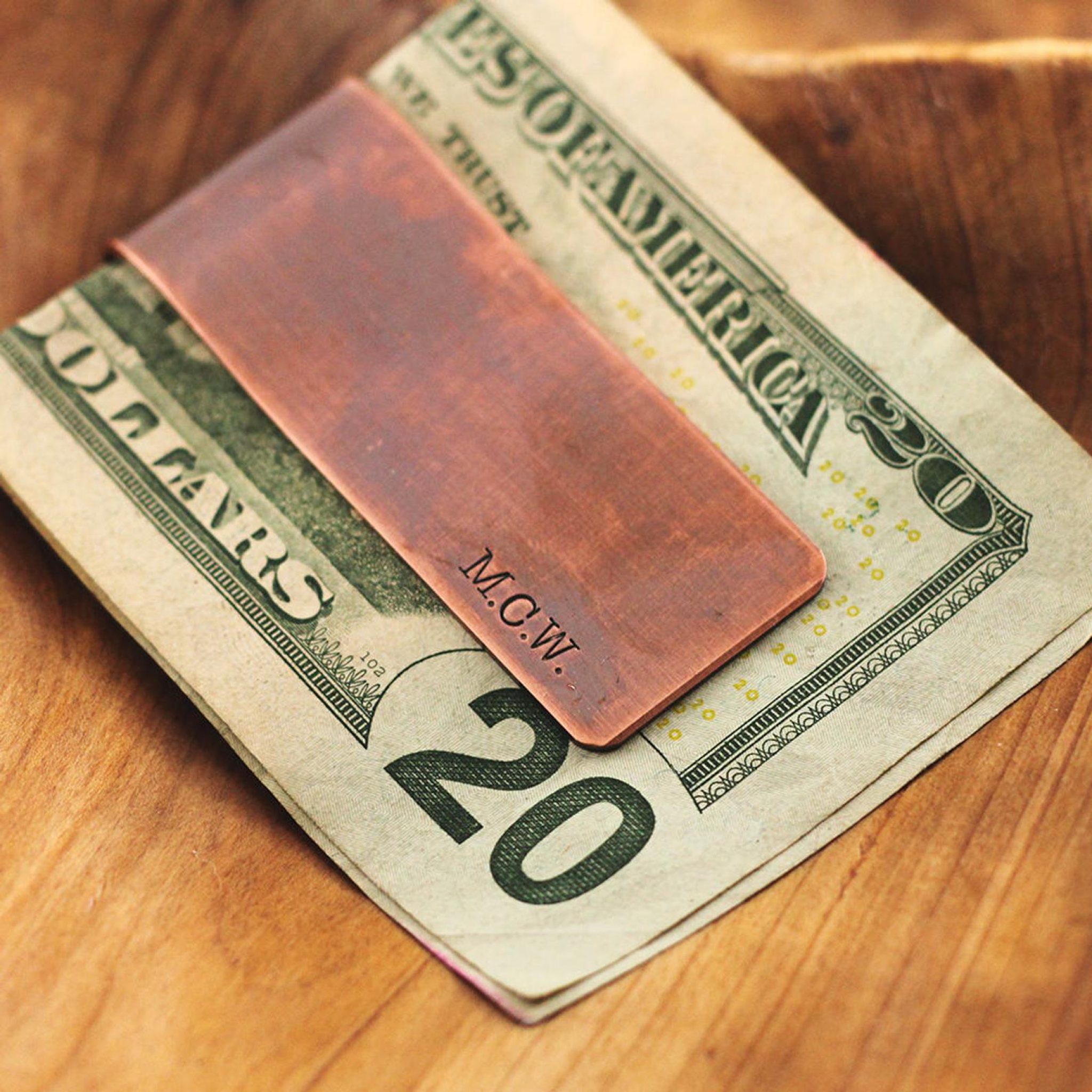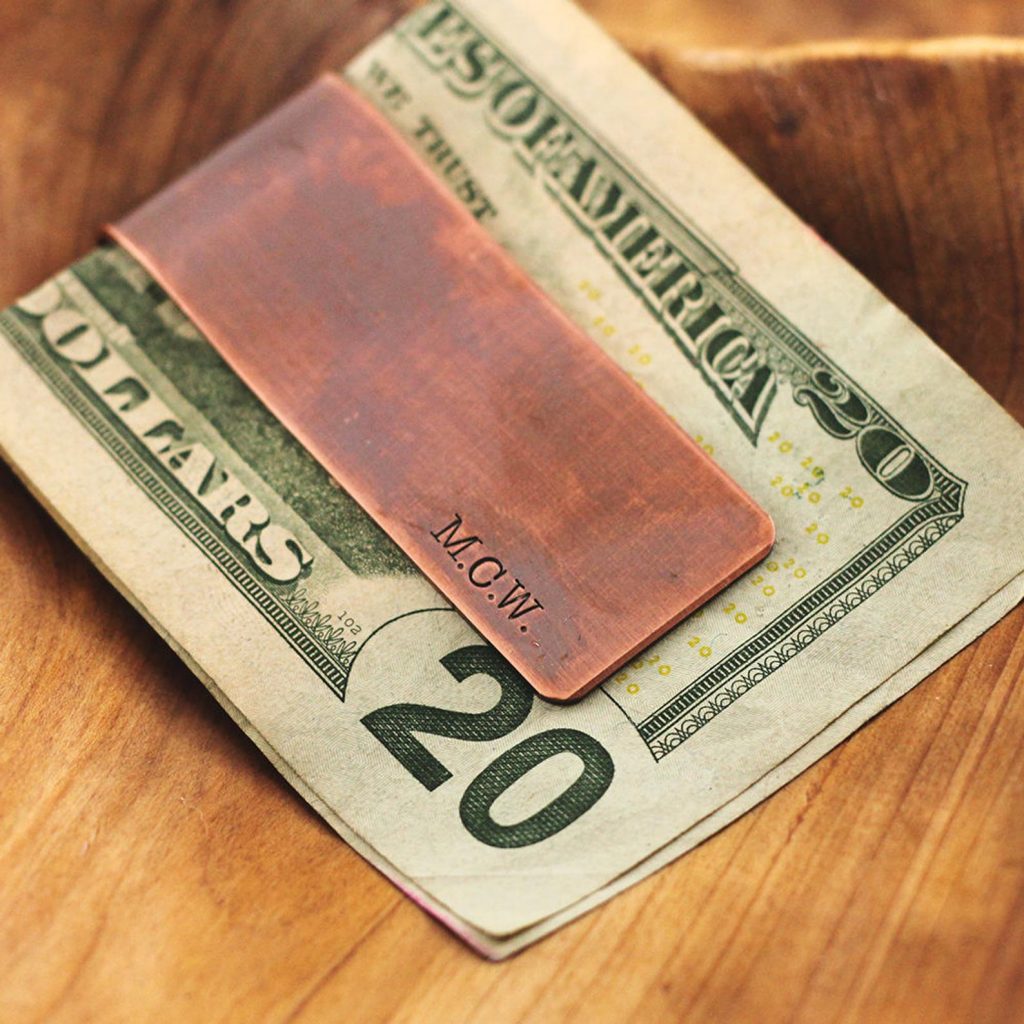 Wool and Leather Valet Tray with Copper Grommets
Do you come home from a hard day's work and just throw your keys, change, smartphone, disposable lighter, and taser device on an end table? You're missing a golden (well, copper golden) opportunity to drag your life out of chaos and into order. This valet tray can help immeasurably. It's made from real Italian leather and Merino wool (which is also a 7th-anniversary tradition). Also, in keeping with the theme of this anniversary, it's got solid copper rivets and grommets.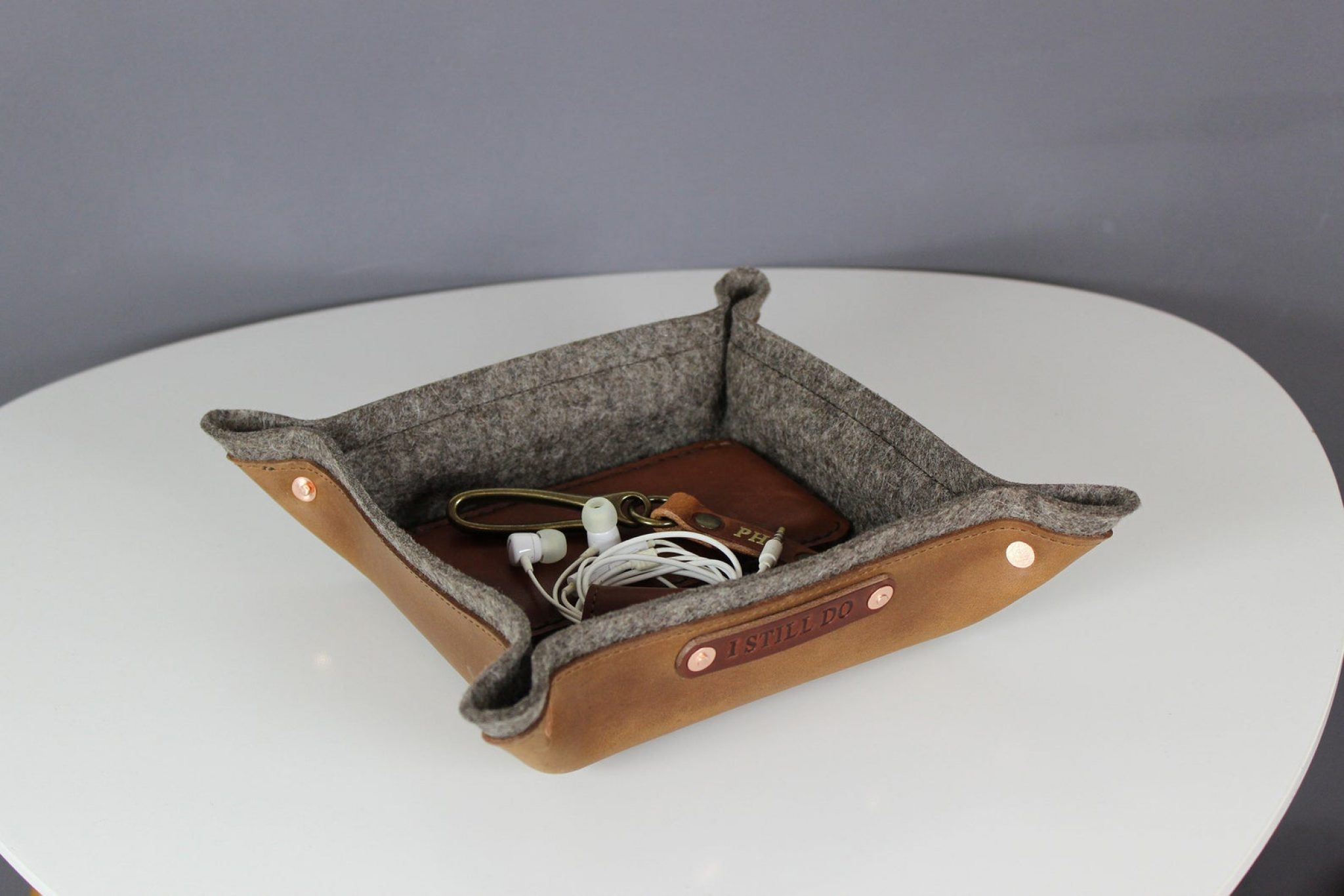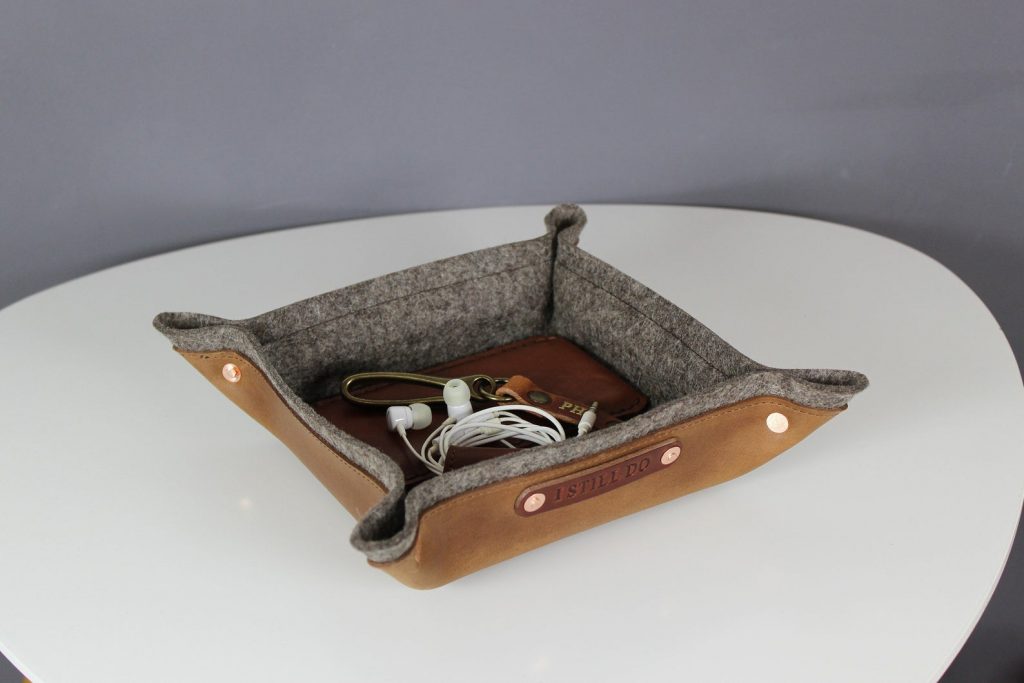 DIY Ginger Beer Making Kit
Ginger beer is a key ingredient in those Moscow Mules we mentioned a few gifts ago. But you can't get it everywhere. Besides, homemade brews are usually far better. This easy-to-use kit helps even the clumsiest of culinary oafs turn out a batch of organic ginger beer in about a week. You get standard-issue copper service mugs and capacity for 32 cocktails, so be prepared to lie down for a while.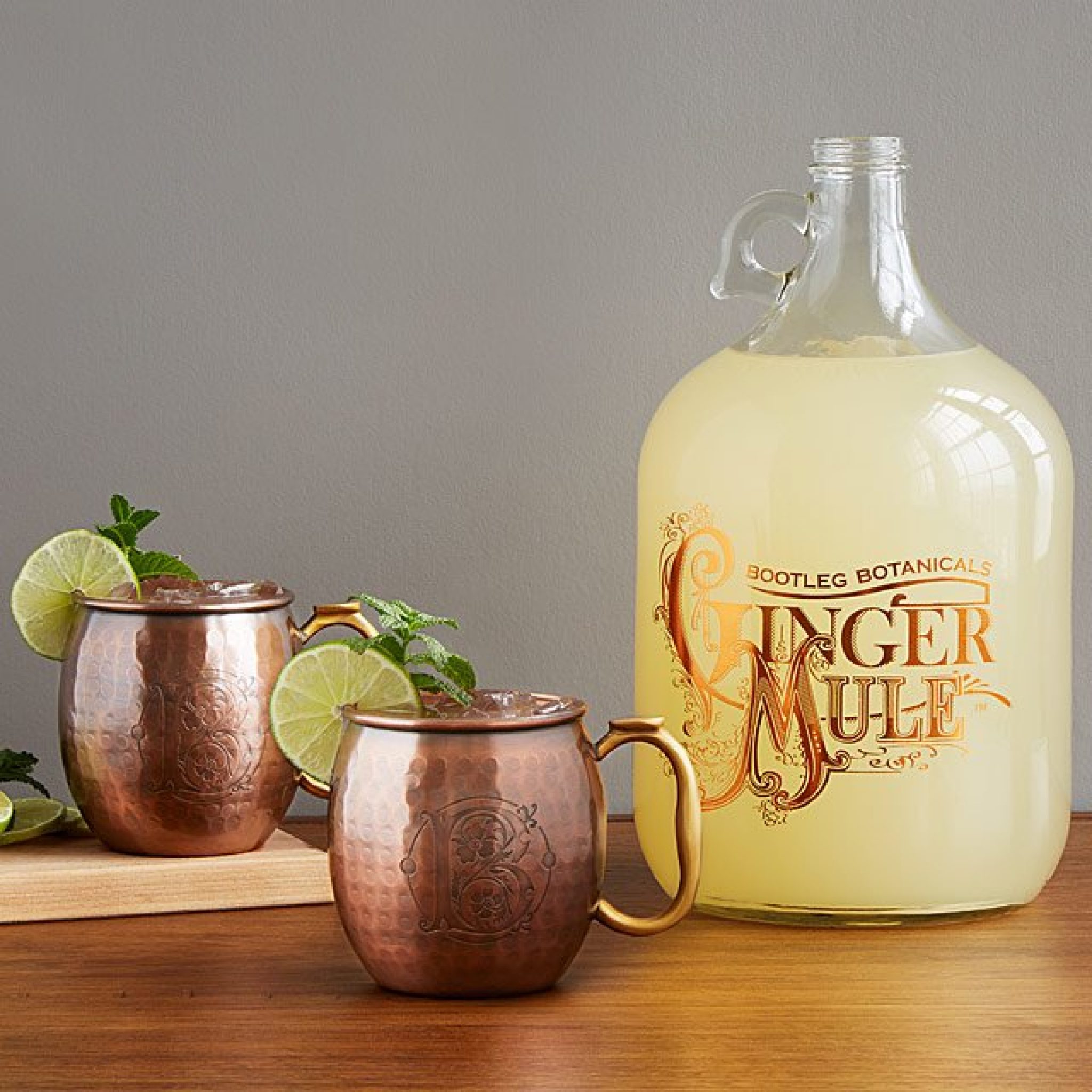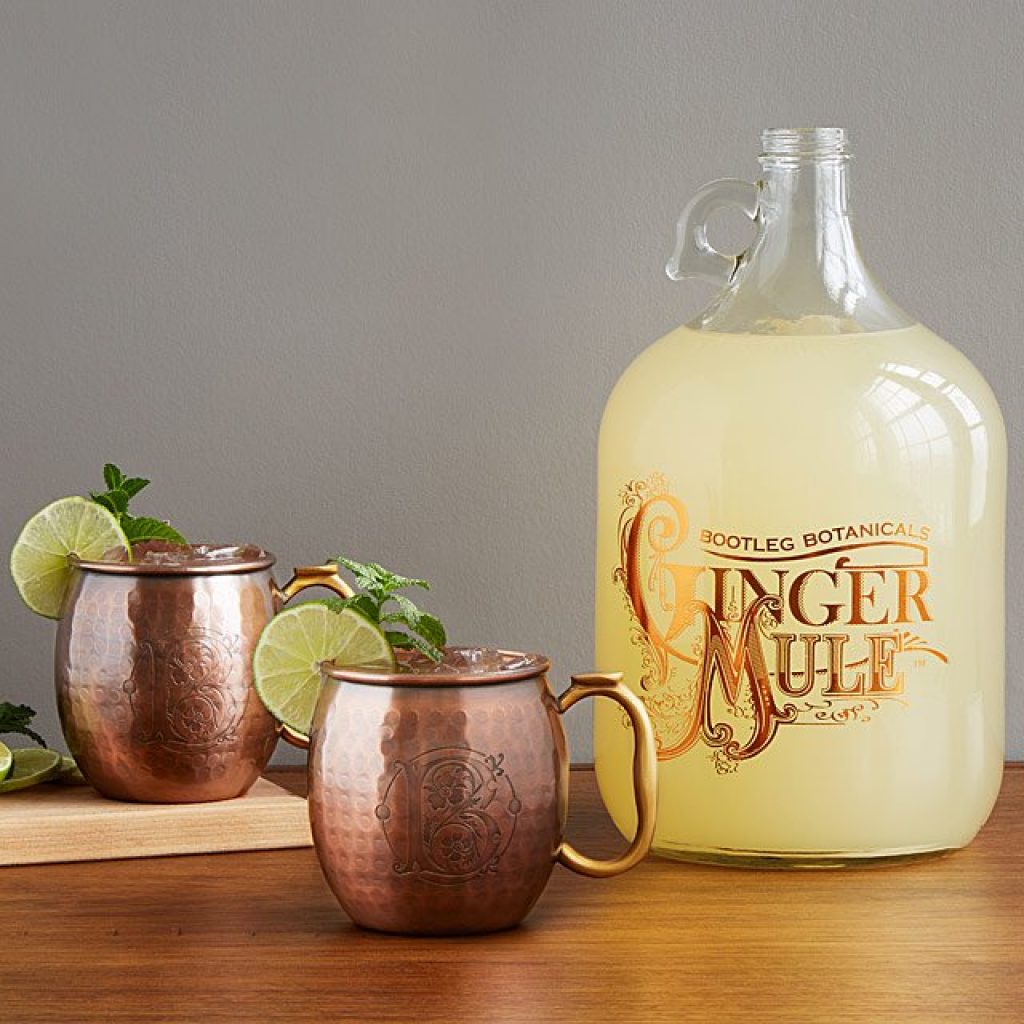 Personalized Copper Family Sign
This lovingly crafted wall sculpture is one of the most perfect 7th year anniversary gifts. It features your family's names in a playful cursive font, a protruding 3D tree with bendable branches, and small figurines parked at the bottom-right. You can get it made for just you and your partner, or for as many kids as you have…up to eight. (And if you've actually had eight kids over these seven years — well, nicely done, folks. Nicely done.)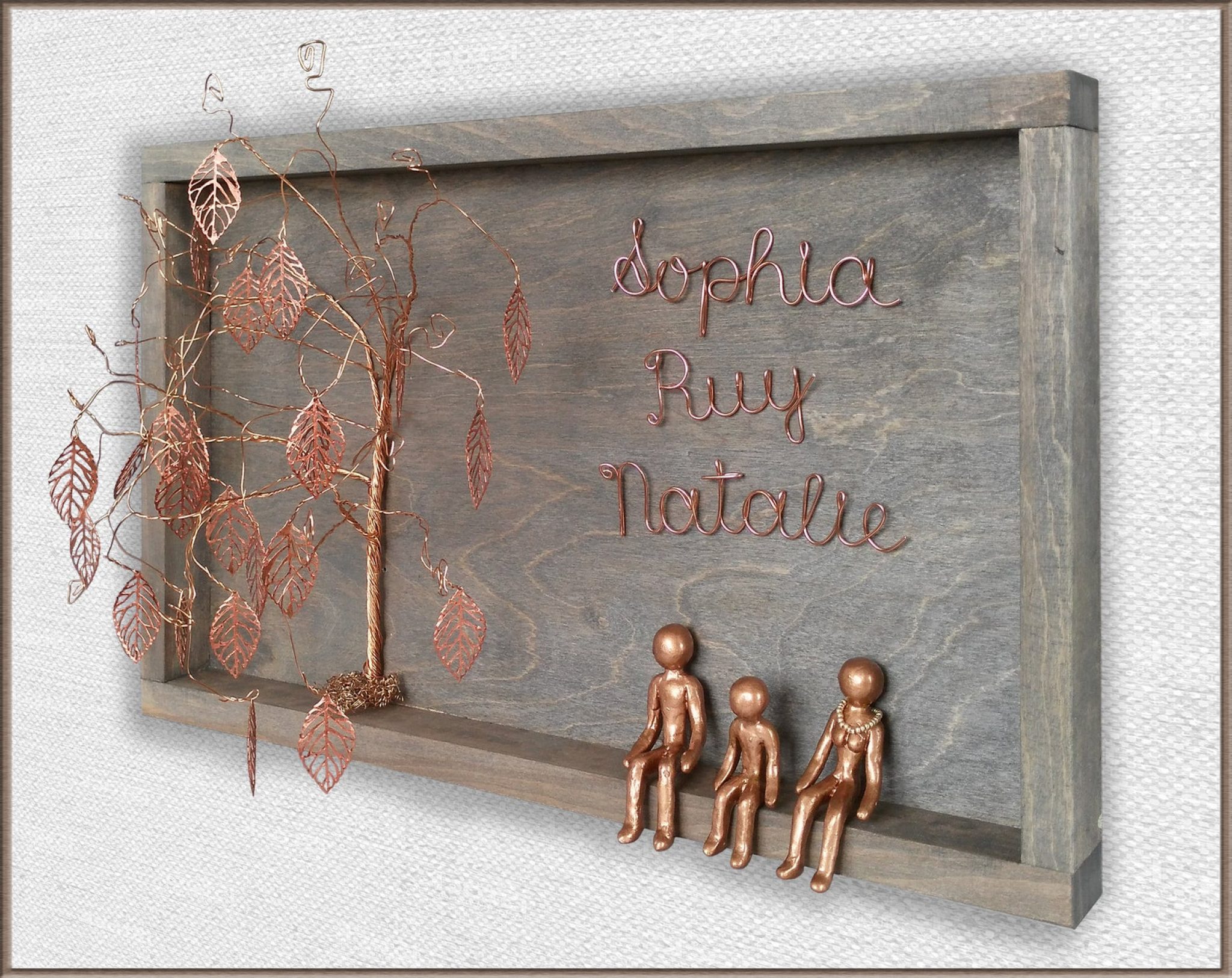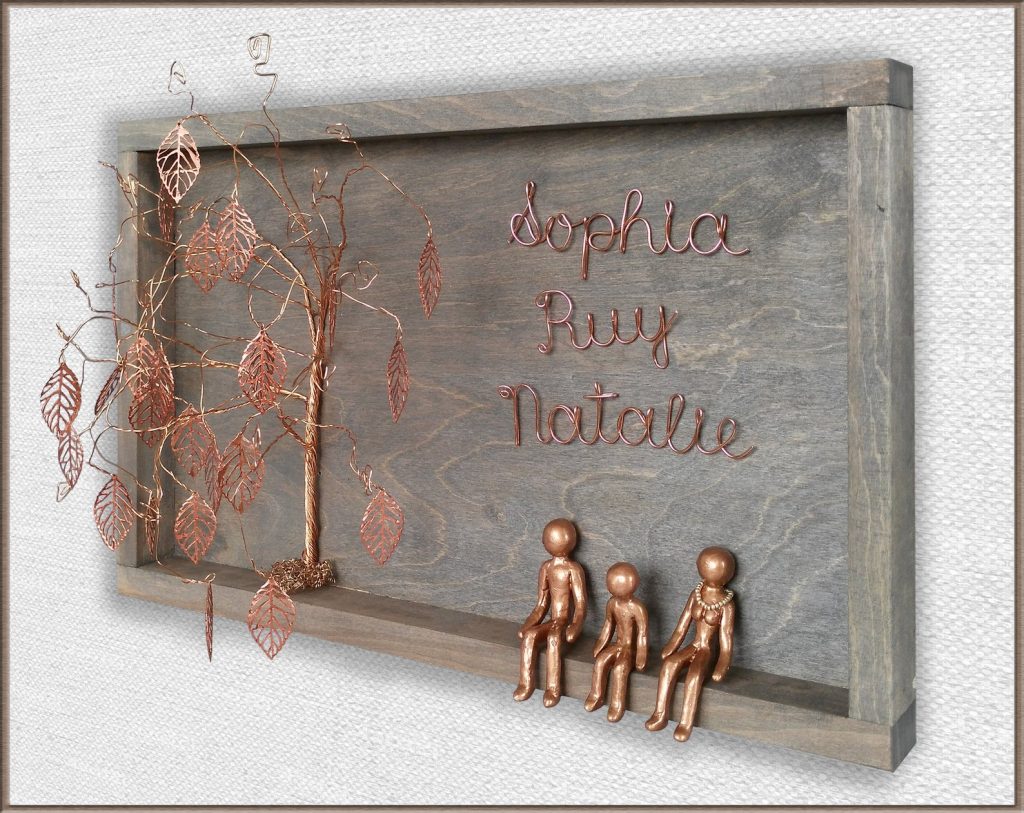 Custom Engraved Copper Compass
It's all too easy to lose your way in this crazy, mixed-up world. When that happens — well, in all honesty, you'd probably need therapy, but if we're being literal about losing one's way, then a compass can help. This copper compass includes an engraved, personalized message. From the looks of it, it can be a pretty wordy one. Maybe directions back home from the interstate or something even more inspirational.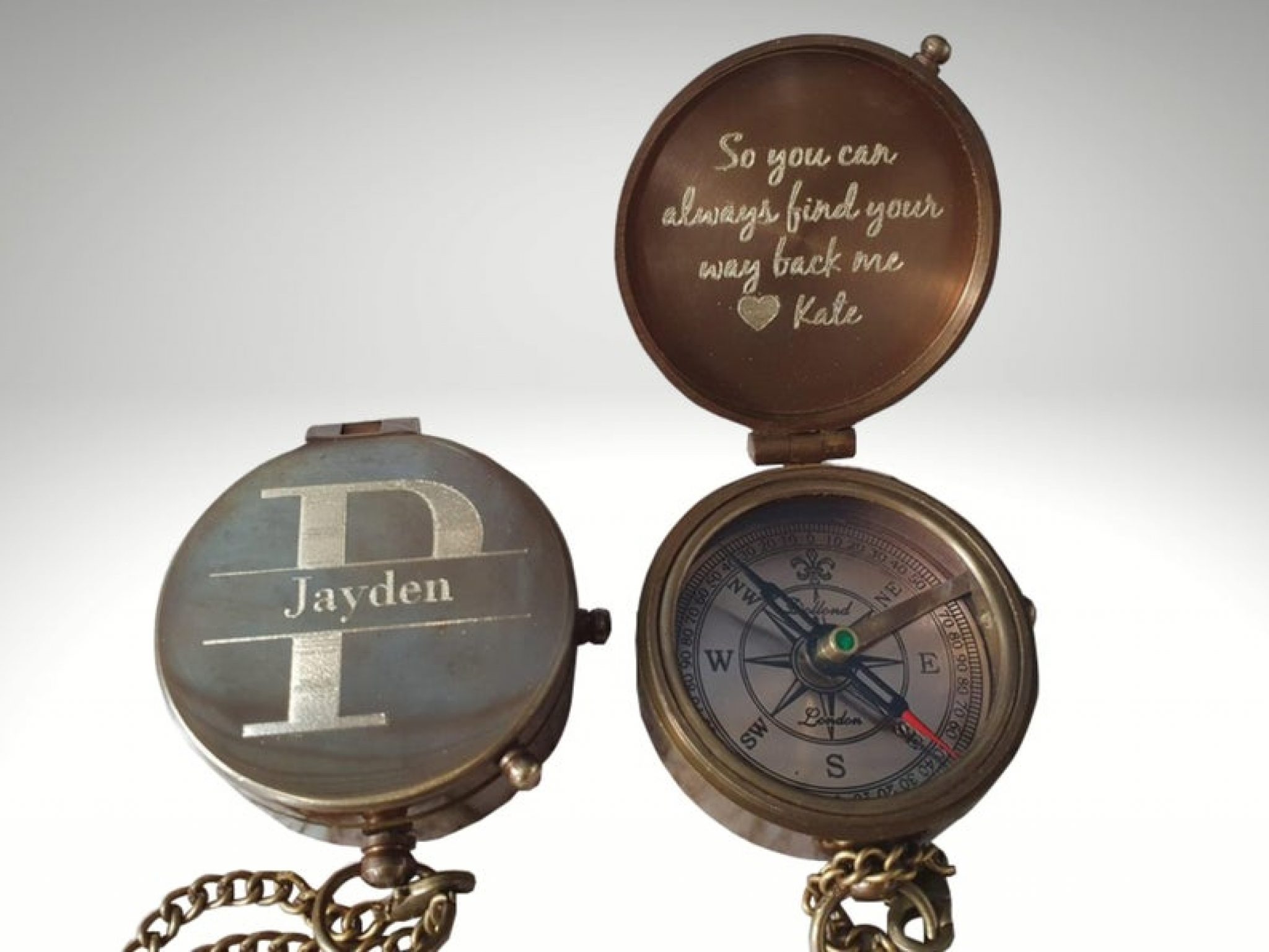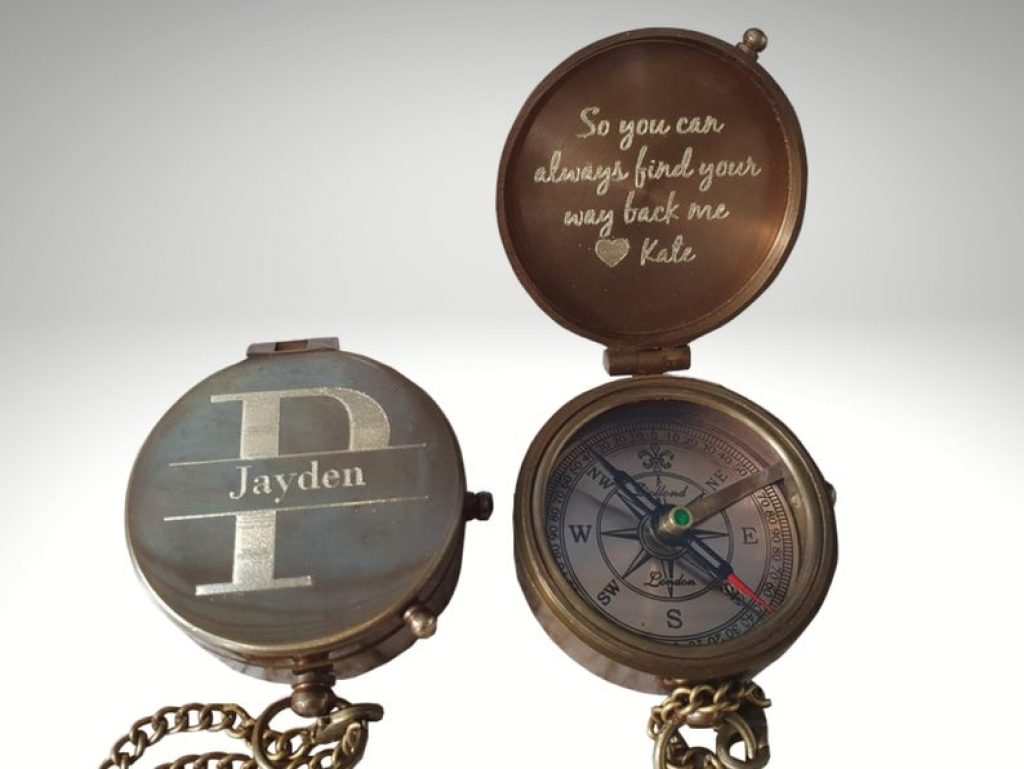 Personalized State and Song Lyrics Art
This is one of the nicest-looking gifts for 7th-anniversary couples we've seen. It's a copper-colored paper cutout of a U.S. state (or Canadian province) on top of song lyrics of your choosing. We're not entirely sure of the connection between the two unless it's like the state of Oklahoma backed by the lyrics to "Oklahoma!" But what about, say, the state of North Carolina backed by the words to "Quinn the Eskimo"? To each his or her own, we guess. Now that we think of it, you are probably supposed to use your wedding song and the state where you were married.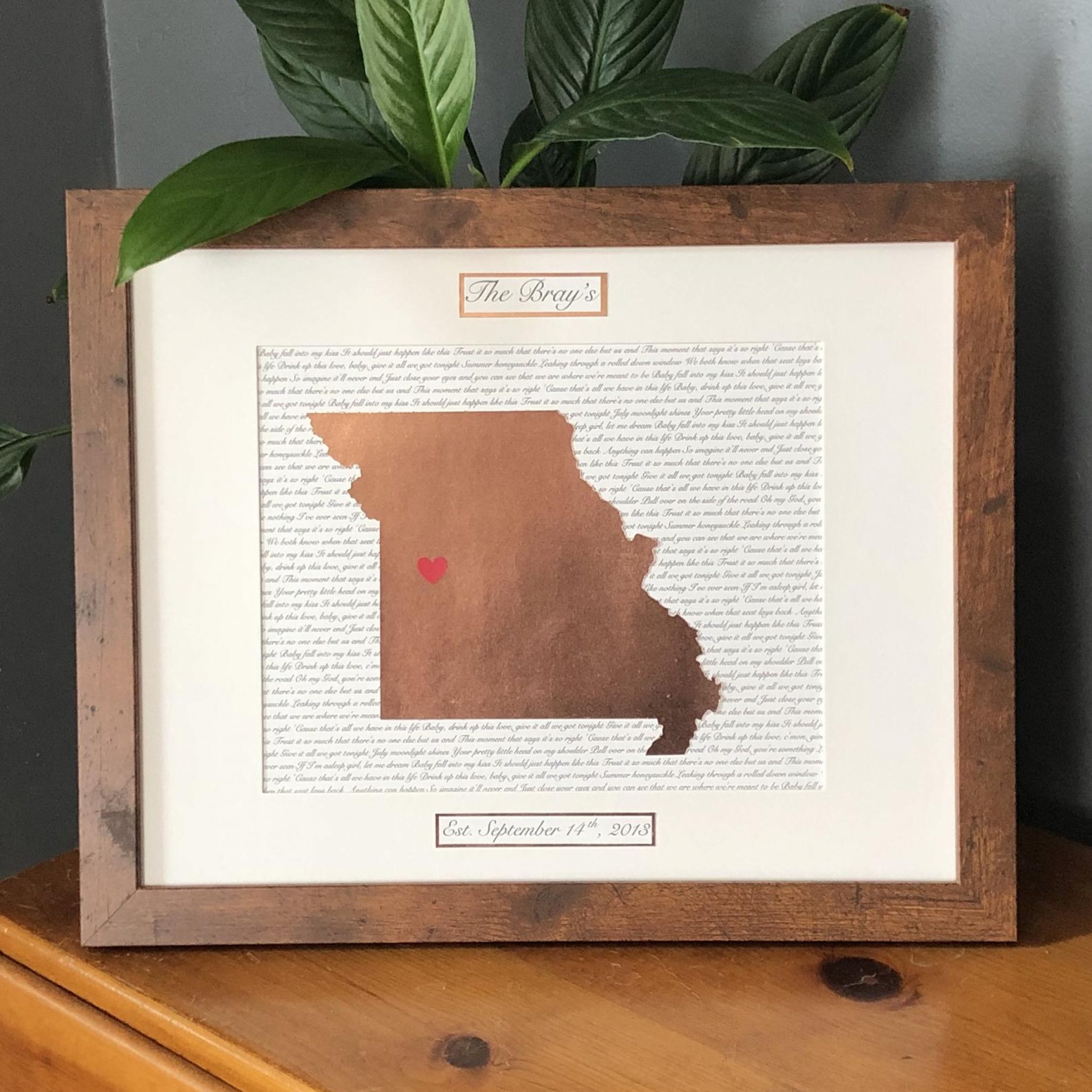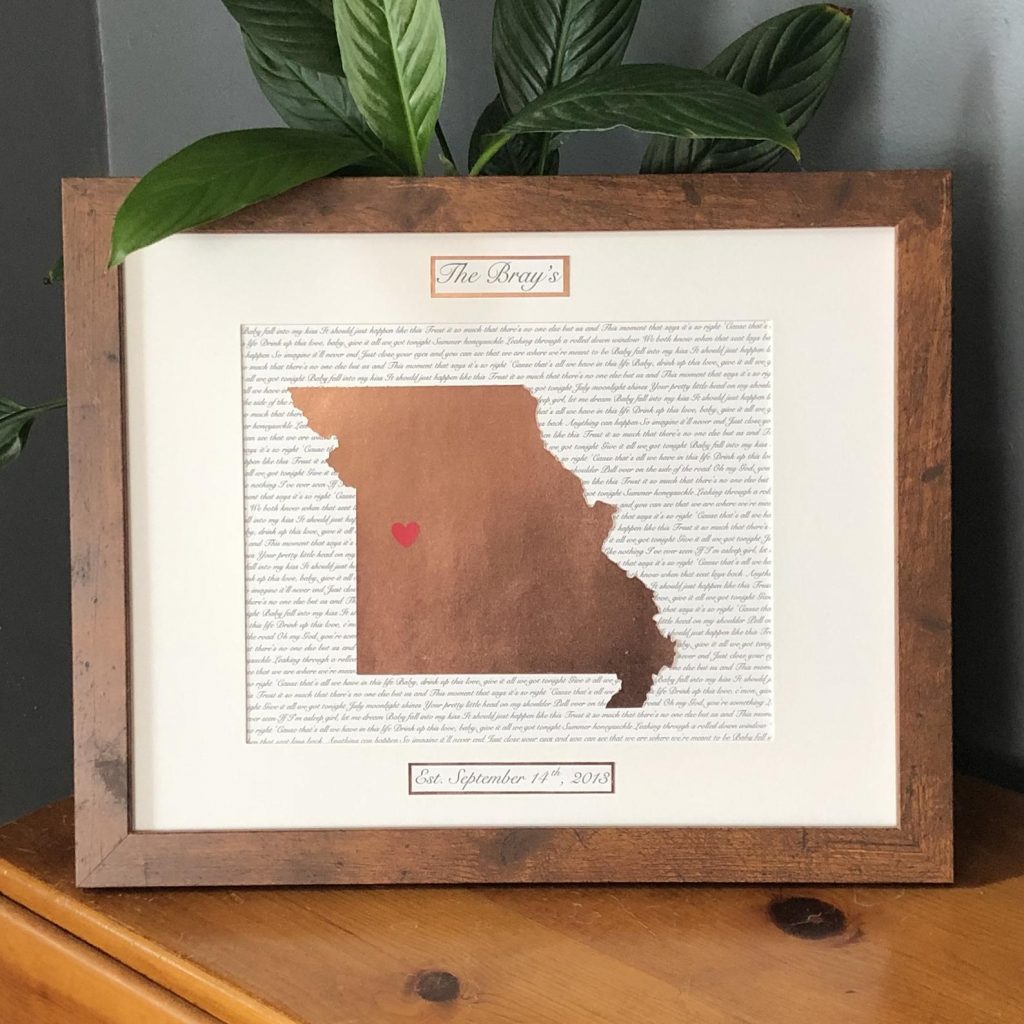 When you give your favorite 7-year couples one of these copper anniversary gifts, send them our congratulations. And heads up: The 8th year gifts are supposed to be bronze, so start melting down those Olympic medals.
For more 7-year anniversary gifts, check out our Gifts for Women or our Gifts for Men.
Be sure to follow us on Facebook for daily updates of unique gifts for everyone you know.