Unique Gifts for Firefighters / Firefighter Gift Ideas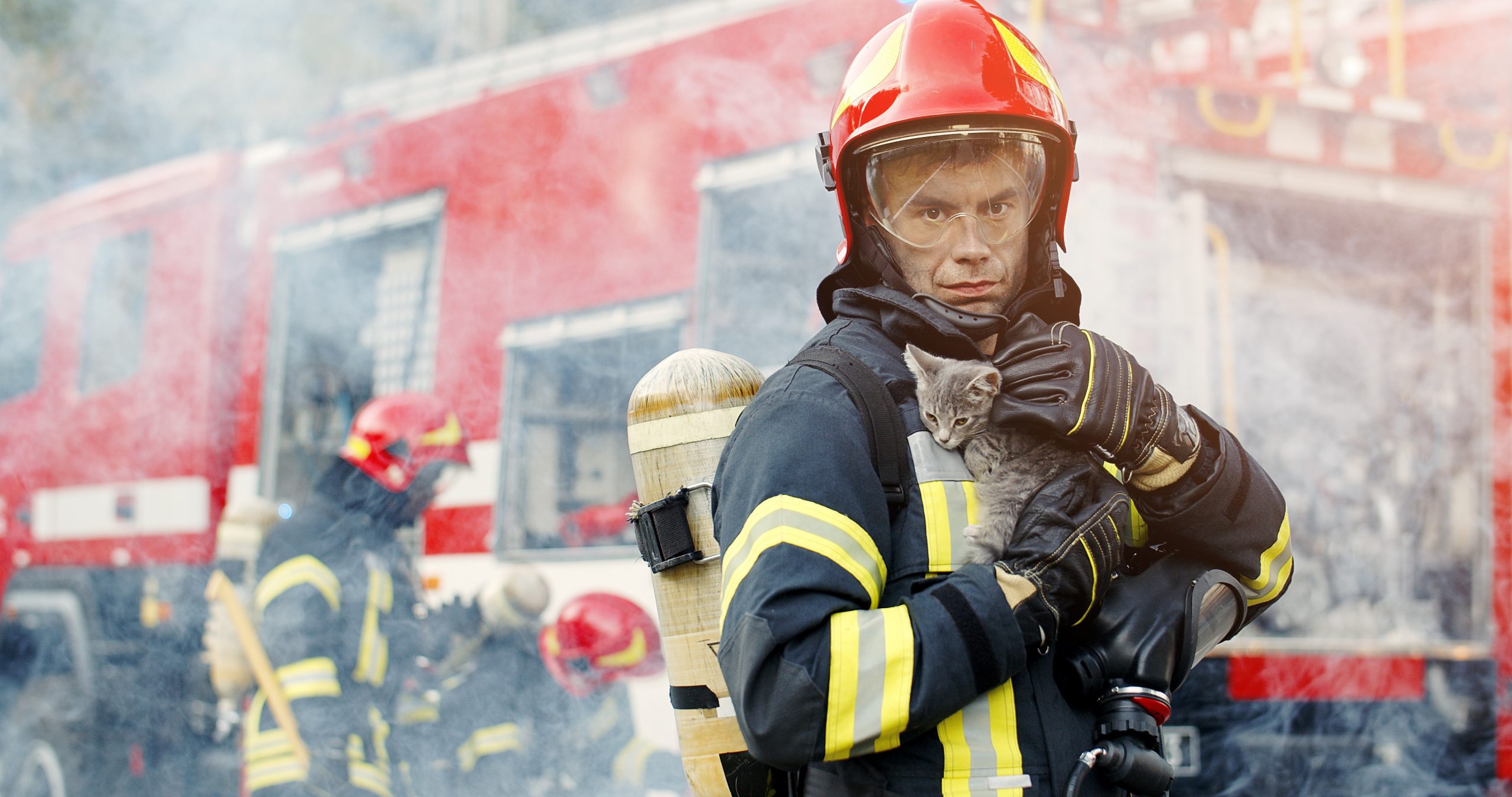 Firefighters are true heroes. They're possibly the bravest breed of humans on earth. They deserve so much more than routine, uninspired firefighter gifts. That's why we've scoured the internet to find the best of the best unique gifts for firefighters, and we present them herewith.
Whether they're hand-crafted gifts of art, personalized gifts for firefighters, incredibly useful firefighter equipment gifts, or novelty firefighter gifts that have something to do with alcohol, these gift ideas for firefighters will set off alarms of gratitude and sirens of affection.
Personalized Firefighter Caricature Portrait
Highlight your firefighter friend's best features with this caricature drawing. Simply send a photo of your favorite firefighter, offer some basic personal details about their occupation, hobbies, or interests, and soon, you'll receive a high-resolution picture file depicting them in detail so glorious you'll swear you were reading a back issue of MAD Magazine. Funny personalized gifts for firefighters are great for firefighter retirement gifts also.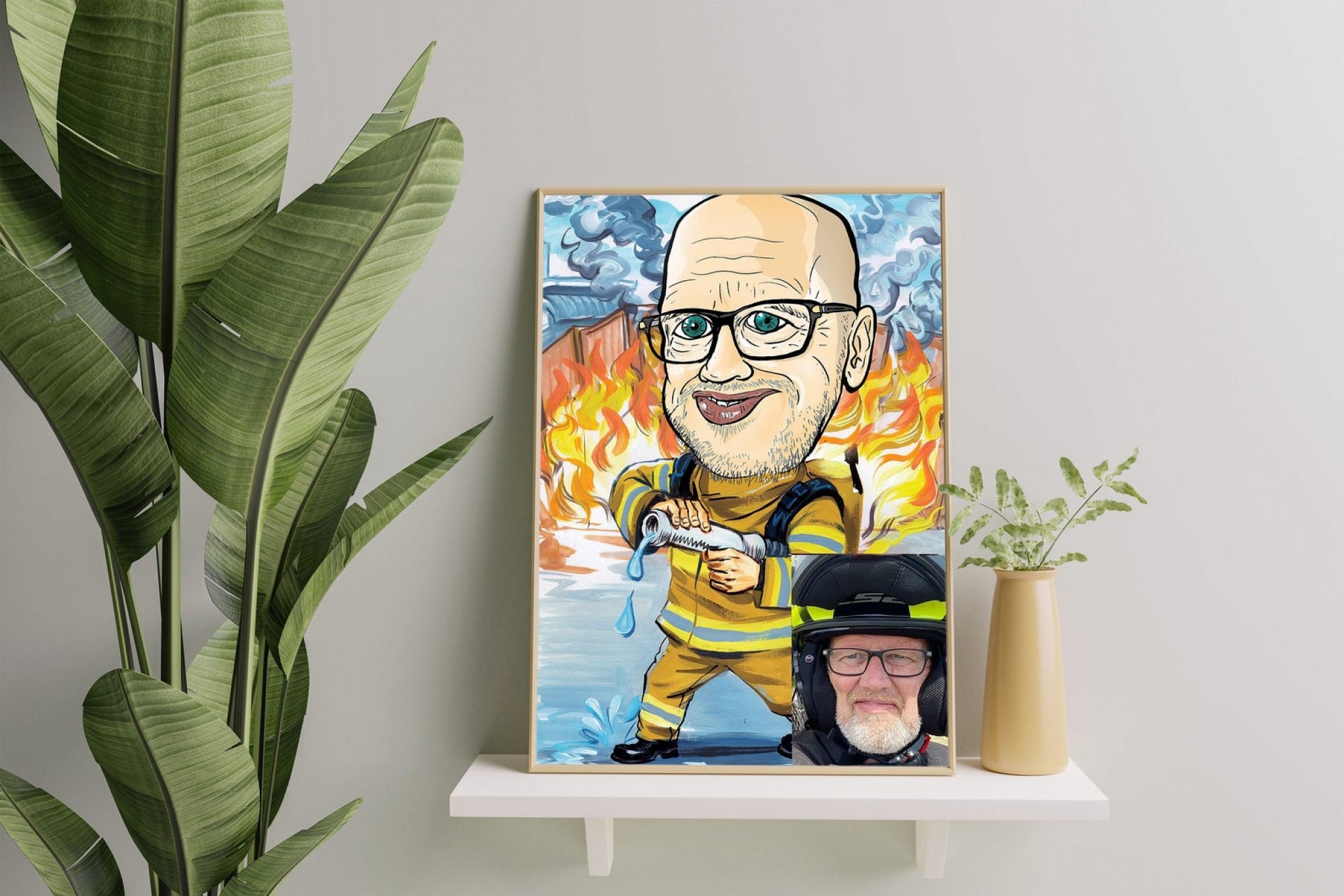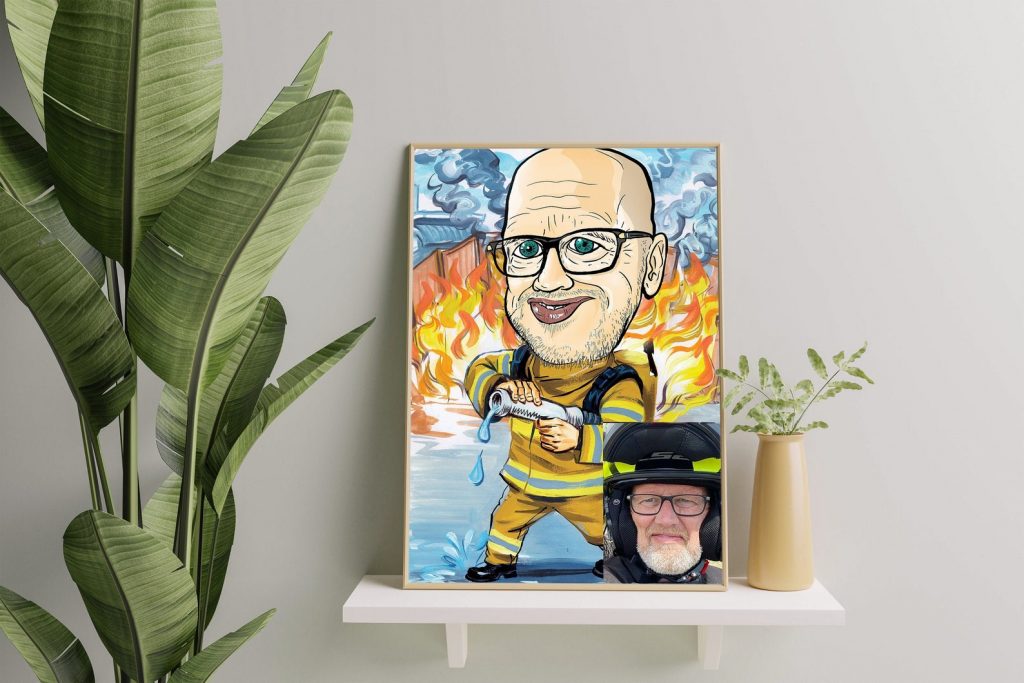 Personalized Firefighter Whiskey Decanter Gift Set
At the end of a long hard day, there's nothing a firefighter likes more than to come home, put their feet up, crank up some tasteful but stimulating music, adjust the fit of their smoking jacket, and enjoy a sip of distilled spirits. Support this lifestyle choice with these whiskey-centric firefighting gifts: A decanter, some glasses, and a personalized wooden box to keep them all organized.
Related: Gifts for Drinkers
Fire Extinguisher Mini-Bar
The next time you want to put out the fires of boredom, pry open this mini-bar in the shape of a fire extinguisher. It securely holds a large bottle of whiskey, bourbon, scotch, or whatever Jägermeister is. There's enough space for a couple of glasses and a few accessories. Unfortunately, in case of a real fire, it's fairly useless unless you want to make the fire bigger…. Although, after a few drinks, you probably won't care. For more alcohol-related unique gifts for firefighters, check out our Gifts for Drinkers section.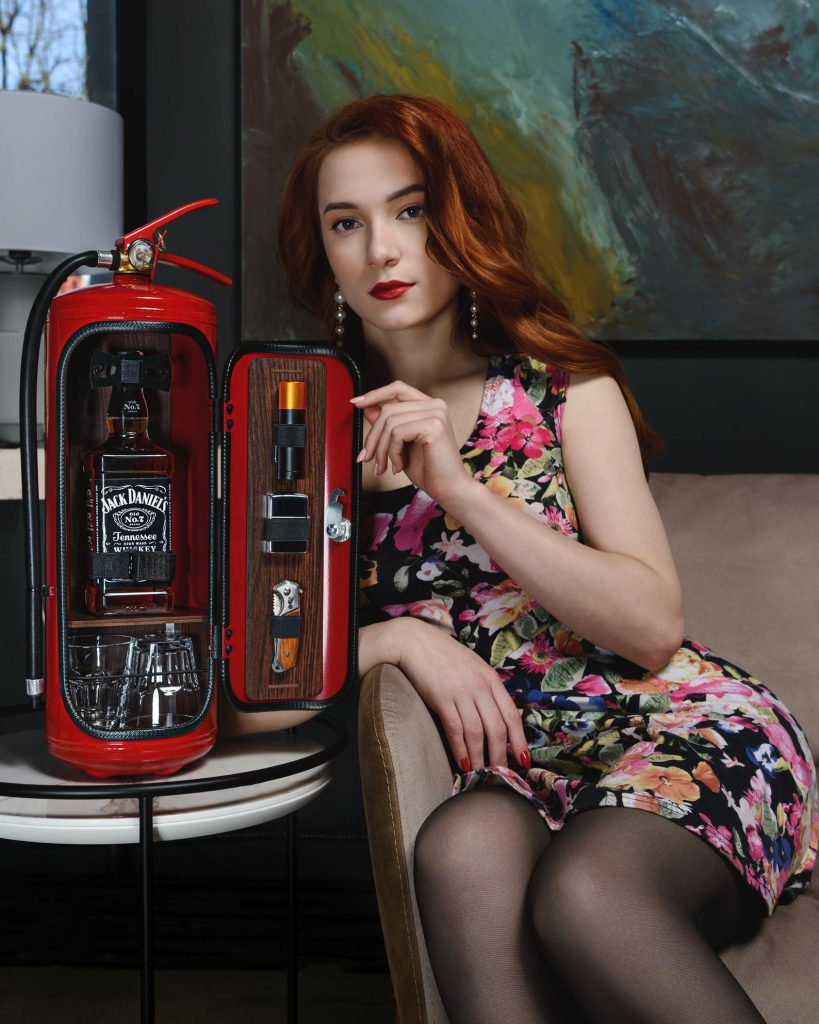 Related: Man Cave Gifts
Personalized Firefighter Glove Strap
With all the tools and gadgets firefighters need to bring with them to every emergency, they need to conserve as much pocket space as possible. That's why they use glove straps, which attach to their belts and hold their gloves together. We've just learned this by Googling "firefighter glove straps," though if you search for that on the dark web, you'll also get some very interesting photos in return. These glove straps are the best gifts for firefighters who want to protect their not-so-delicate hands.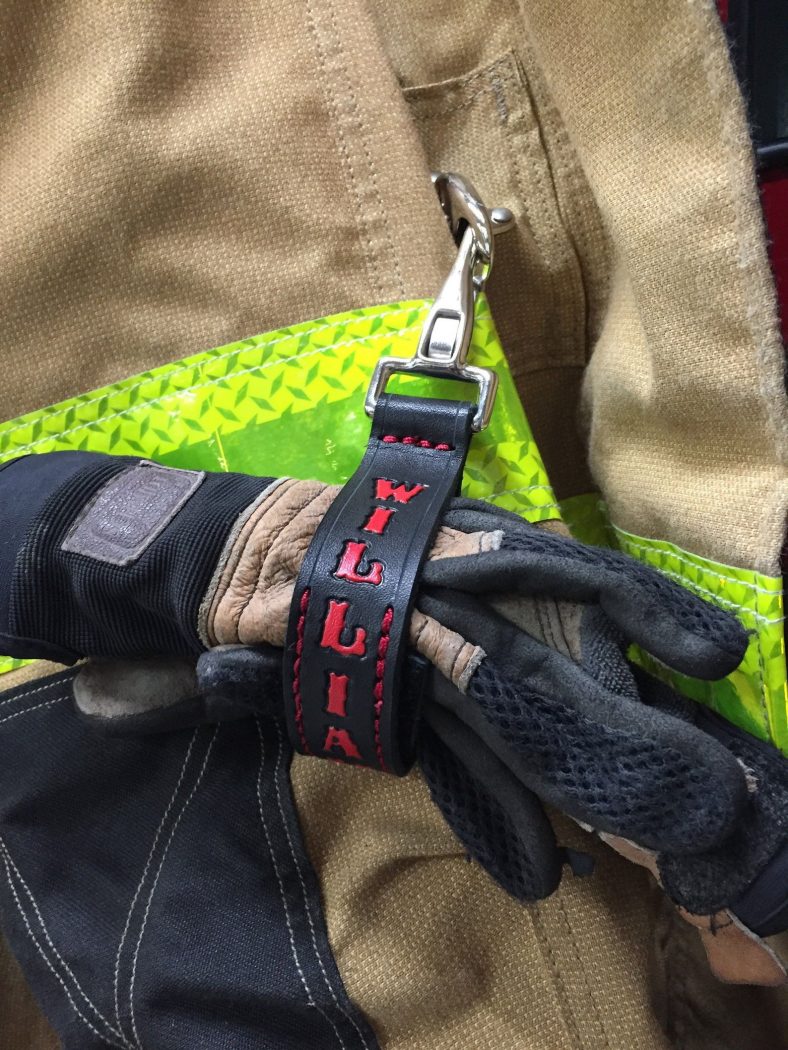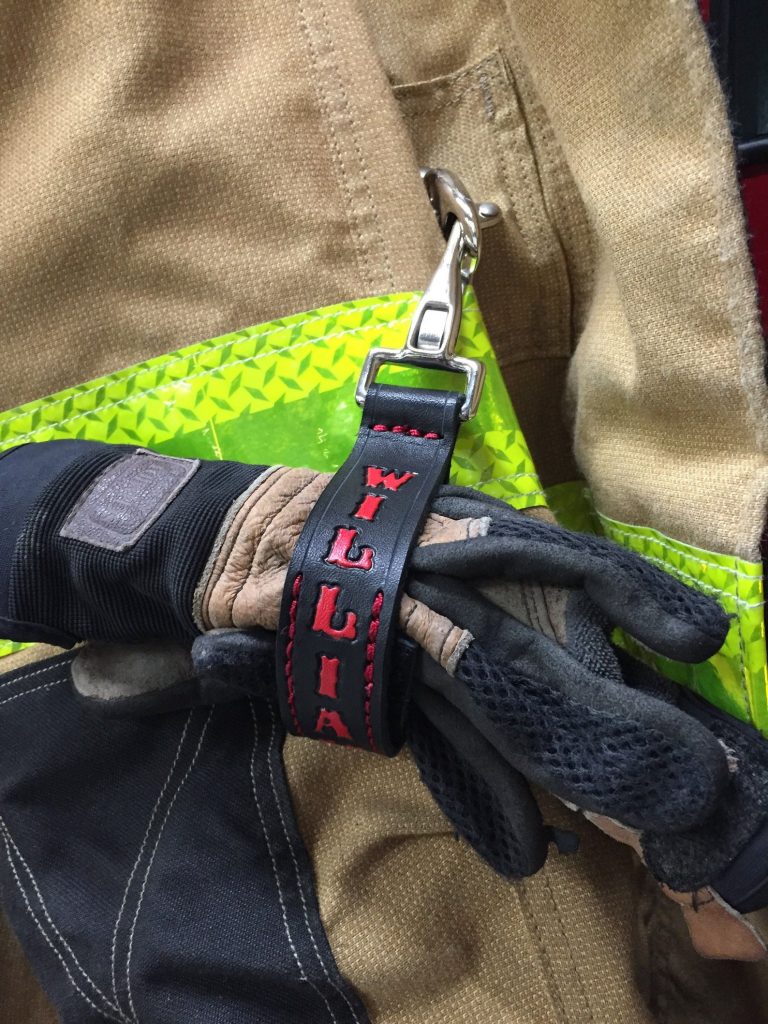 Firefighter Birdhouse
Give your avian friends an inflated sense of heroism by luring them into this firefighter hat birdhouse. It's roomy — at least for birds — and is just waiting for them to accessorize it with a nest, eggs, maybe a wet bar, and one of those expensive home entertainment centers. Hang it off a tree limb and watch the feathers fly. The back door, for reasons unexplained, has a doorknob. It is one of the most relaxing firefighter gifts out there.
Related: Gifts for Environmentalists
Personalized Photoluminescent Face Shield Label
Firefighters often have to plunge through the dark of night to battle blazes. It's only too easy in those tense situations to forget who they are, let alone who everyone else is. That's why this personalized, glow-in-the-dark label can come in handy. Stick it on a face mask, use it as an armband, or tape it on the back. These firefighter gifts are also useful at EDM concerts and campouts with strangers.
Personalized Pet Firefighter Portrait
Are you ready for Fido and Mr. Whiskers to get up off their lazy butts and start contributing to society? Drop a hint with this inspirational, customized portrait of your dog, cat, horse, hamster, or giraffe in full firefighter gear. One glance of themselves in this admittedly unlikely profession and your pets will be screaming to be enrolled in firefighter school. Unless it's a cat, in which case they'll just sniff arrogantly and go back to their issue of The New Yorker. Personalized gifts for firefighters are the best, and when you can add a little humor, it's even better.
Related: Personalized Gifts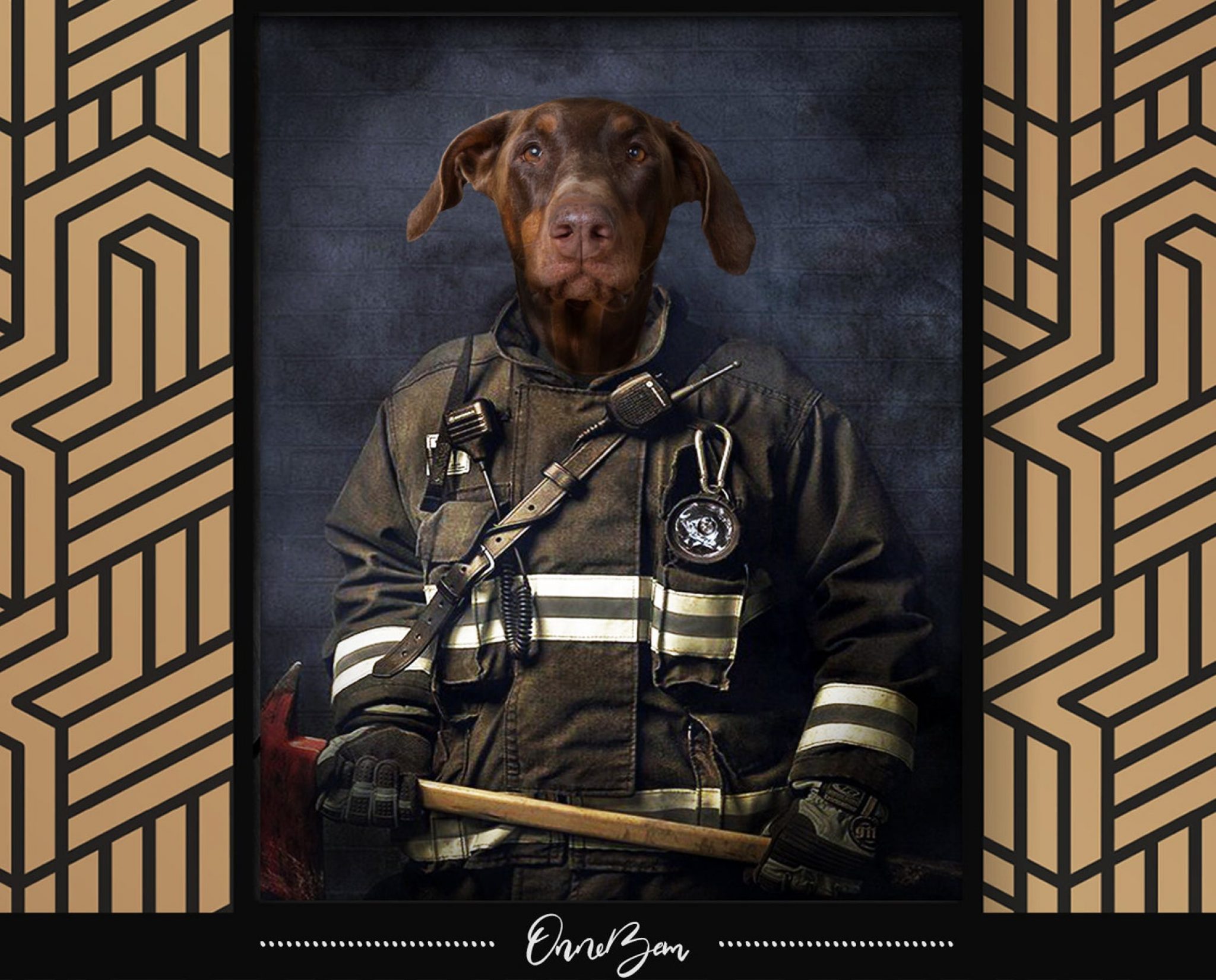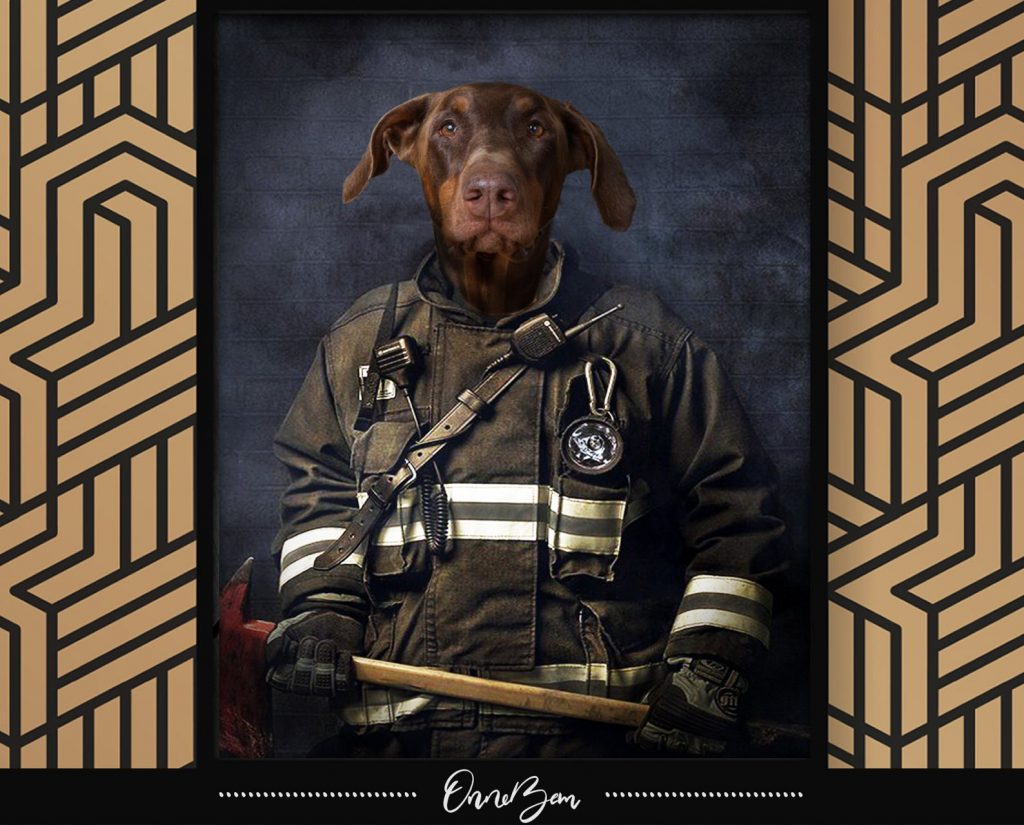 Firefighter Drink Dispenser
If you are looking for the most unique firefighter gift you can find, then look no further. This firefighter drink dispenser is handmade out of pipes and has a rustic, steampunk, one-of-a-kind style. It looks great in a bar, man cave, kitchen, or at the station to enjoy after a long night.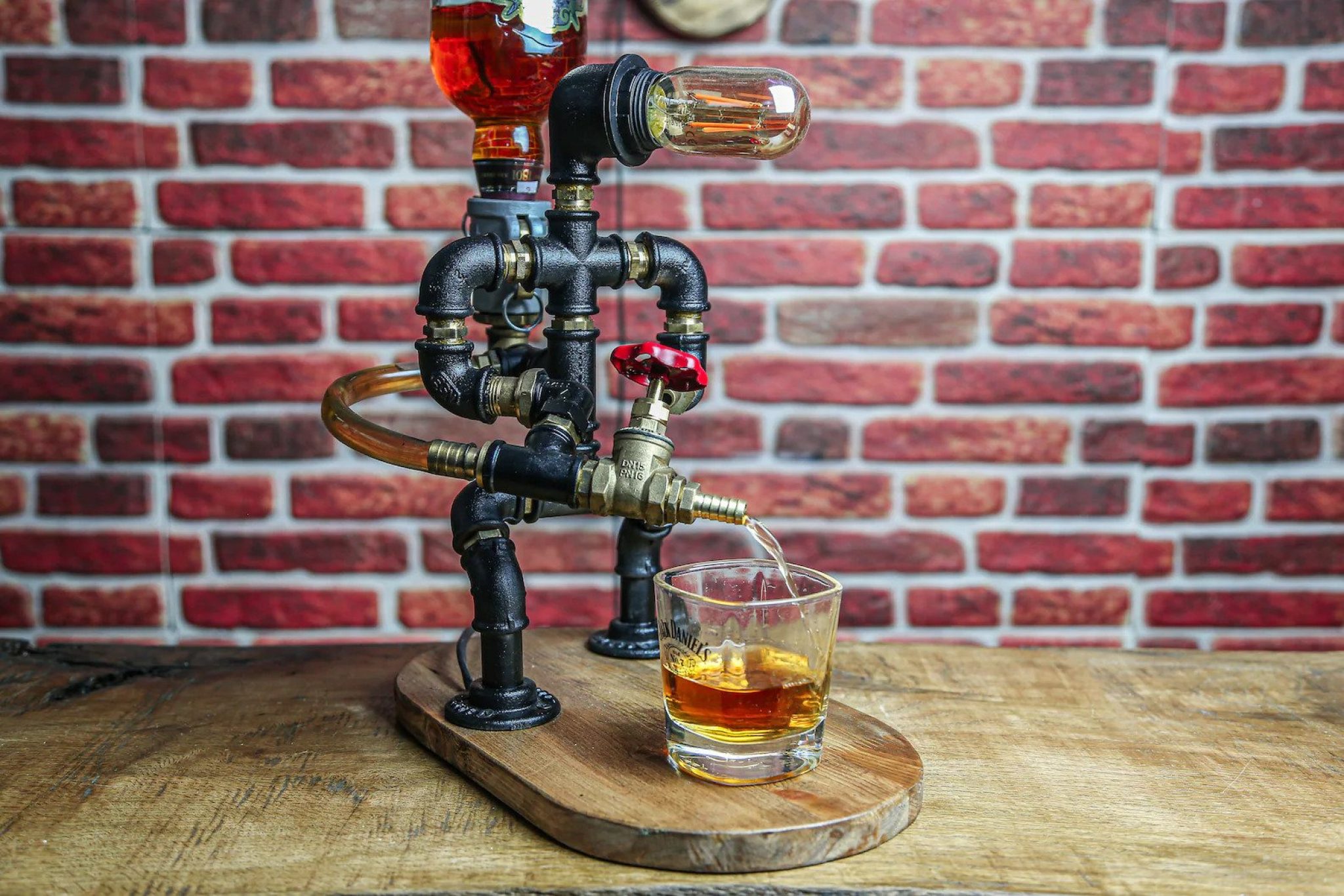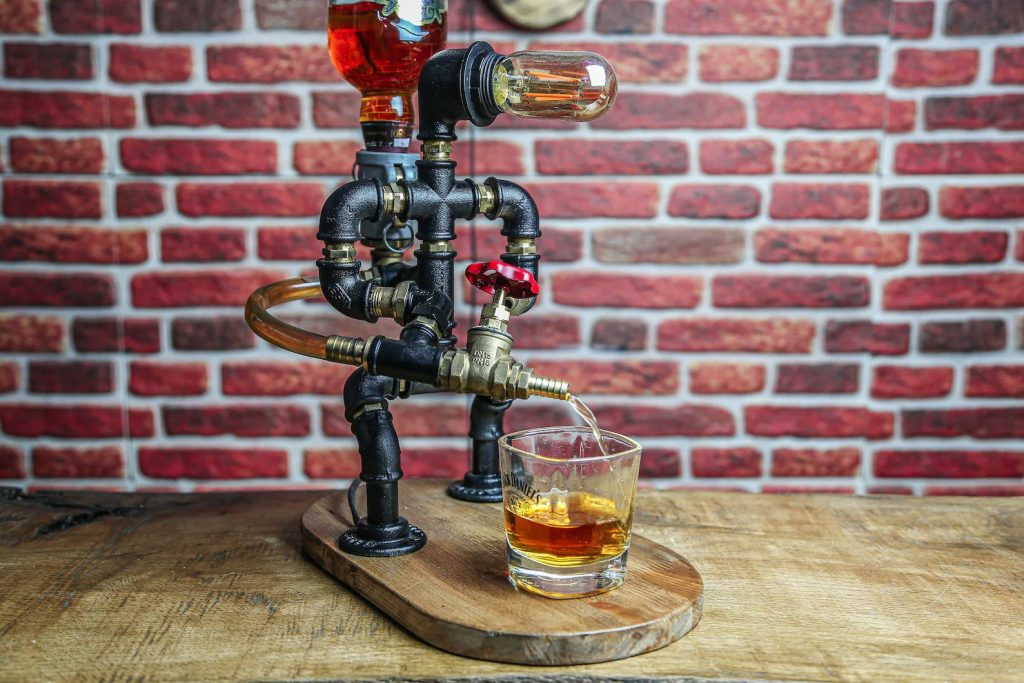 Personalized Firefighter Cutting Board
Make your favorite firefighter recall their bravery and service while they're slicing up honeydew melon with this customized cutting board. Fashioned from maple, walnut, or sapele, this personalized firefighter gift comes engraved with your firefighter's name, number, shield, unit, or the firefighter insignia that means the most to them. It's one of the best gifts you can get for a firehouse kitchen, as it provides a steady base to open up a can of pork and beans. For more customized gifts, check out our Personalized Gifts section.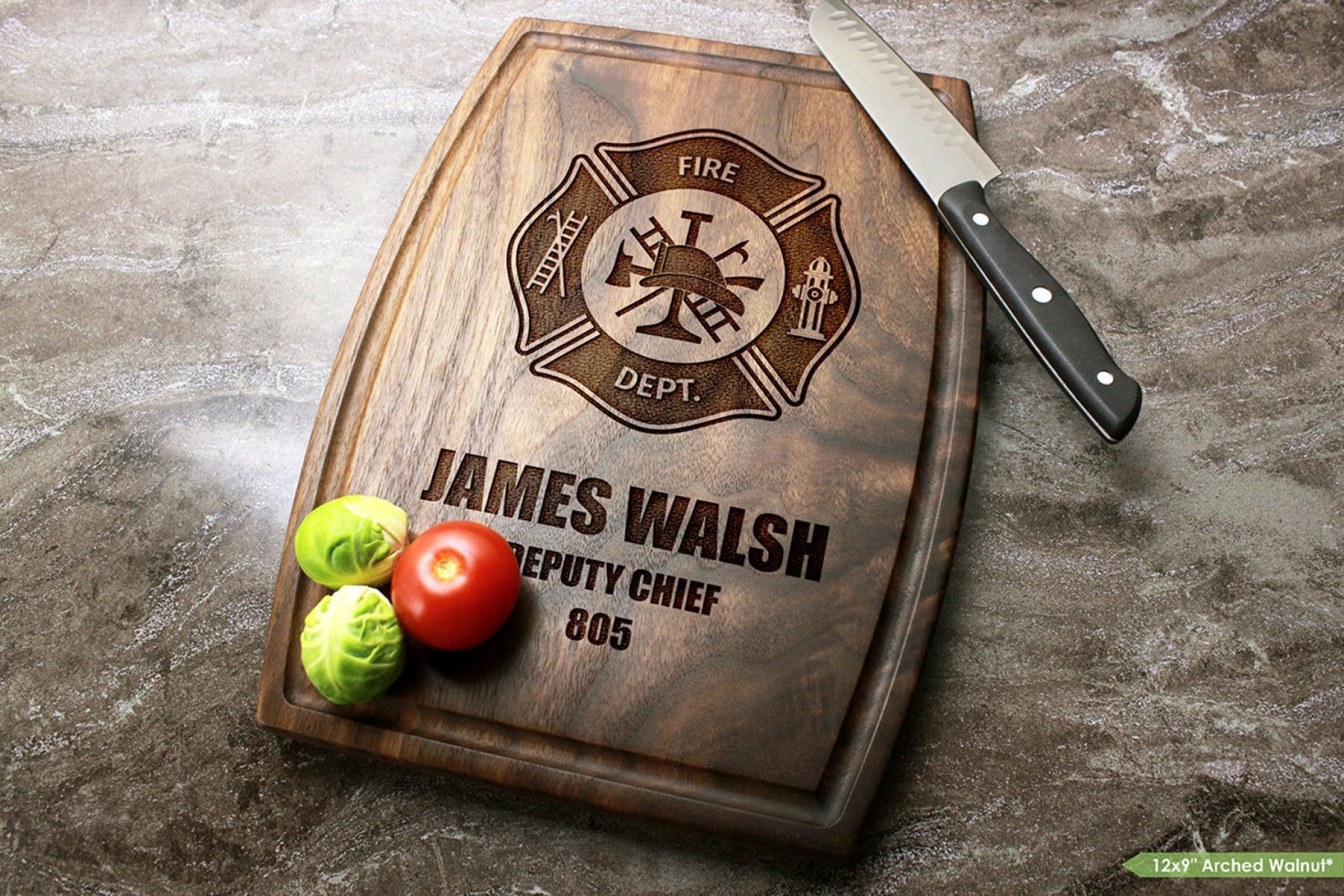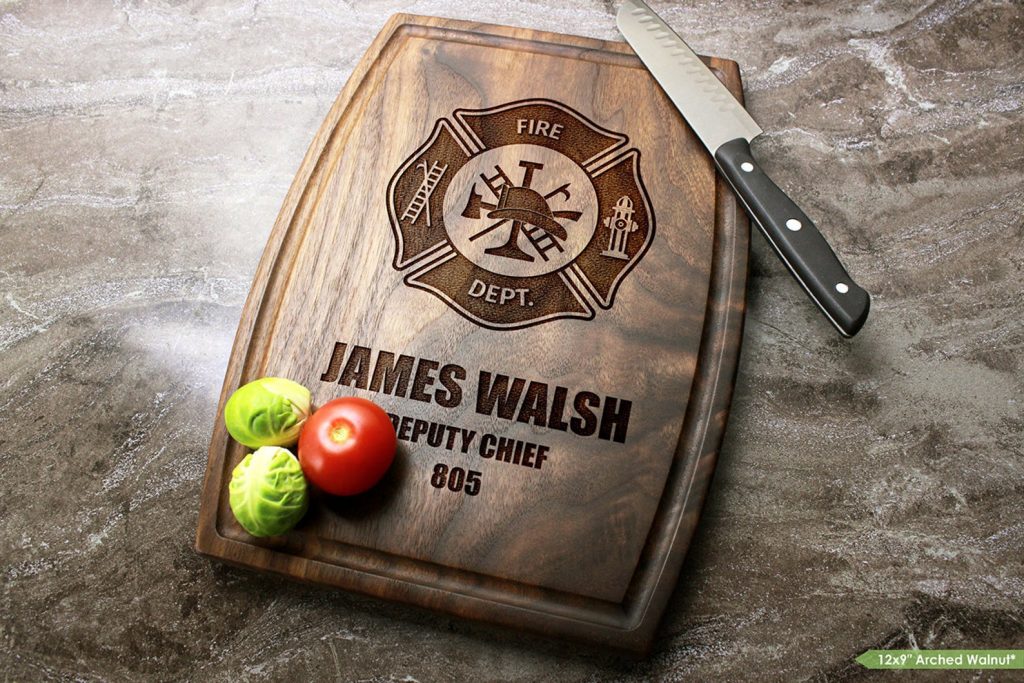 Related: Retirement Gifts
Personalized Firefighter Axe
A firefighter without an ax is like a barista without a milk steamer. Don't send your hero out without this serious-looking hatchet, laser-engraved with their name, number, rank, or any other identification that might be appropriate. At a comparatively lightweight of 2 pounds, it may not be the ax of choice for some of the heavier-duty jobs a firefighter faces, but it can at least slice some cheese, look great on a wall, or settle a few arguments.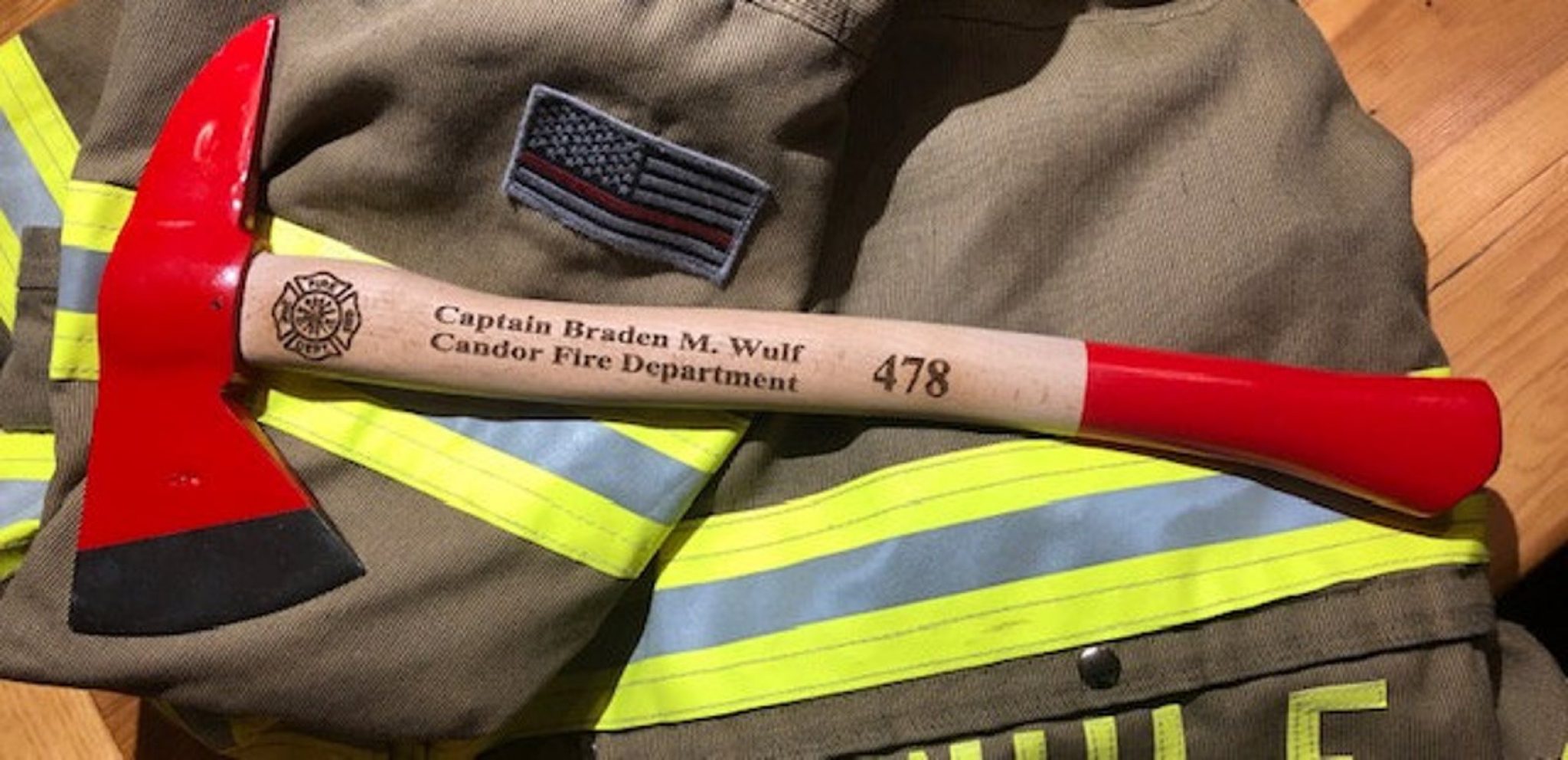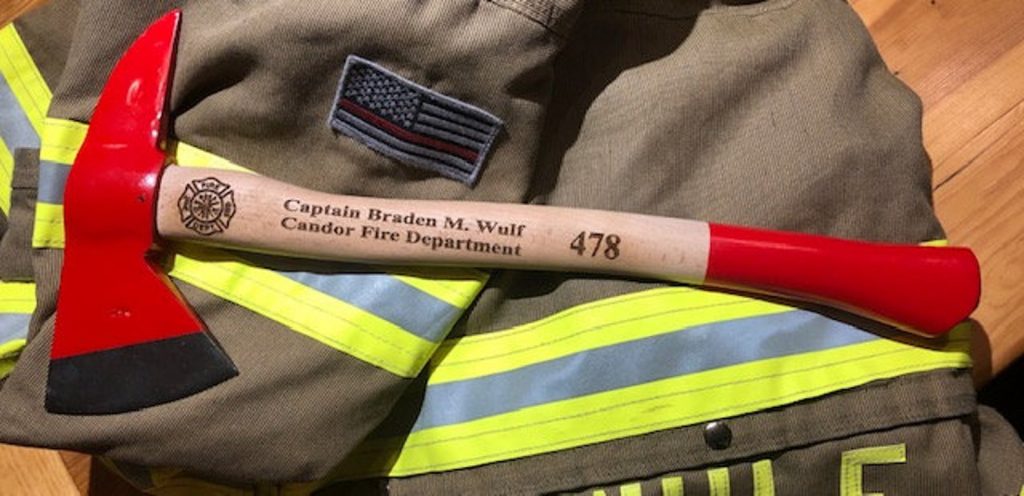 Jerky of the Month Club
Sing the praises of jerky! This compact, portable food product provides a quick pick-me-up for all sorts of on-the-go professionals: Firefighters, cattle rustlers, military pilots, policemen on horseback, and insurance agents who've somehow found themselves stranded in the Australian Outback. This subscription box brings different gifts of "artisan jerky" every month. Put the power of cured, dried meat in your firefighter's pockets. For more food-related unique gifts for firefighters, check out our Gifts for Foodies.
Personalized Firefighter Blanket
Firefighters pull long shifts, which require them to stay overnight and sleep in fire station bunkers. It's not quite as dreary as it sounds, but it's a nice idea to make the situation at least a little more personable. For example, you could give them this heavy-duty, personalized blanket. It will give your firefighter personalized comfort while they sleep through the night…at least until someone wakes them at 3 a.m. to get their nephew out of a tree.
Fire Hose Bottle Opener
When they are used according to directions, fire hoses emit life-saving water at very high pressure. This fire hose, on the other hand, is more metaphorical when it comes to delivering liquid: It opens bottles. It's one of the best gifts for firefighters who seek housewares that reinforce the mechanics of their profession as they crack open a Miller High Life.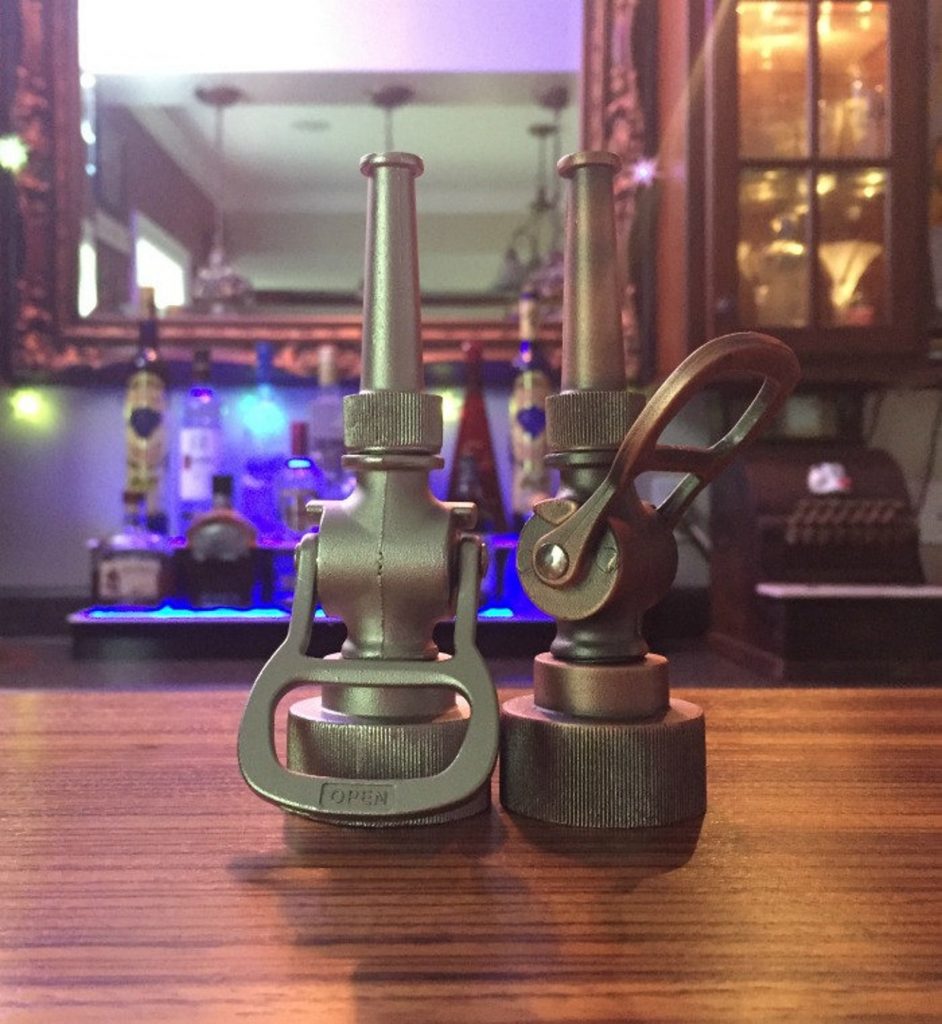 Firefighter Pen
This pen has everything. It's got heft. It's got weight. It has a Maltese cross. It has a pen clip so it will stay in lapel pockets. It's got ink. It comes in a protective box with a Maltese cross on the outside and another one on the inside lining. It has a slightly threatening countenance. This pen is not to be trifled with and will write out shopping lists with unquestioned authority. It's one of the most useful firefighter gifts!
Personalized Firefighter Can Cooler
Things can get extra-warm around firefighters. That has something to do with the whole thing about fire being "hot," or whatever. But their favorite beer or soda shouldn't follow that trend. With this one-of-a-kind can cooler, it won't have to. Wrap this personalized sleeve around a standard 12-ounce aluminum can, and their favorite beverages will remain cool even as the rest of the world is embroiled in fiery chaos. They also have beer can cozies made out of fire hoses HERE.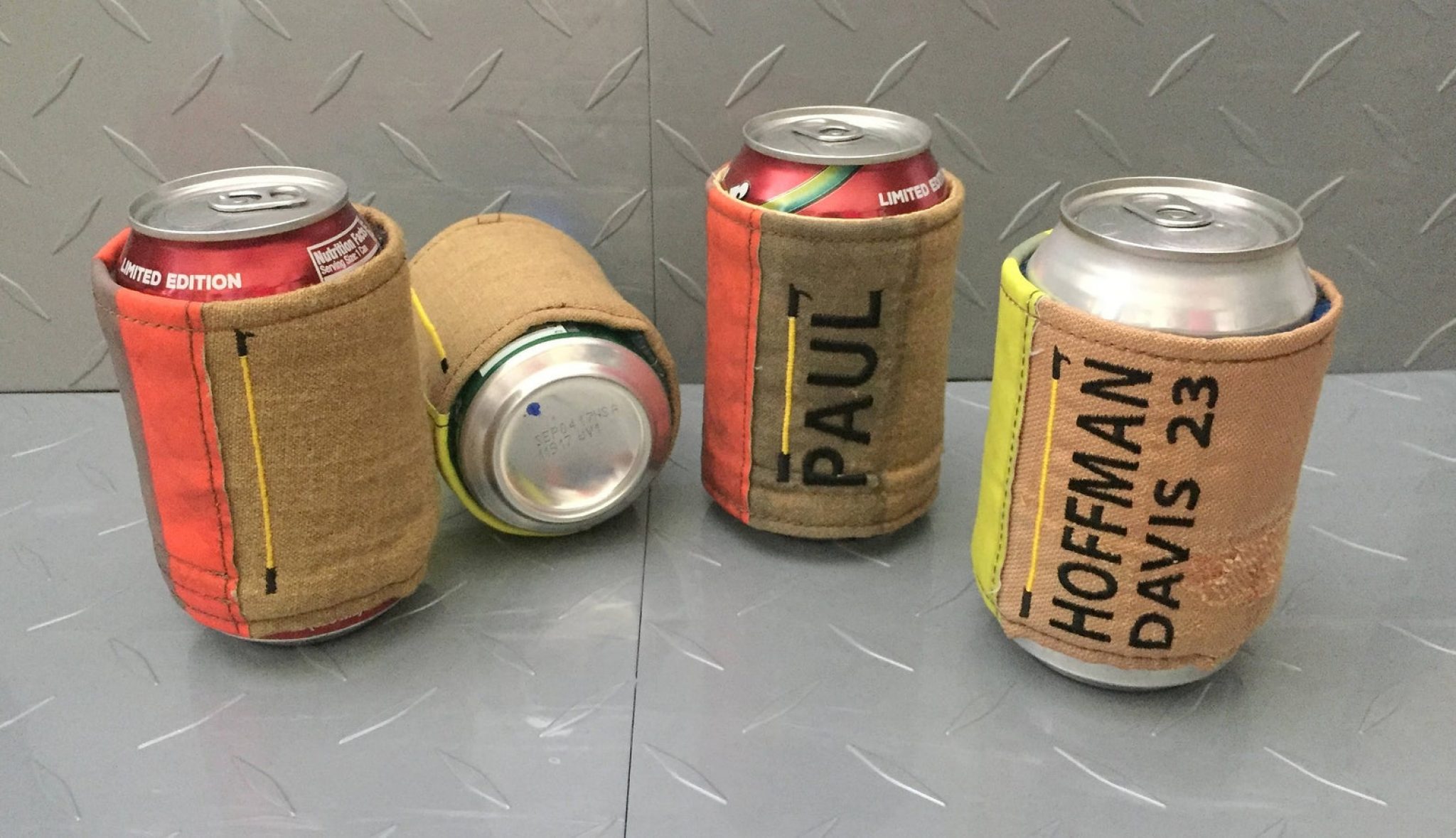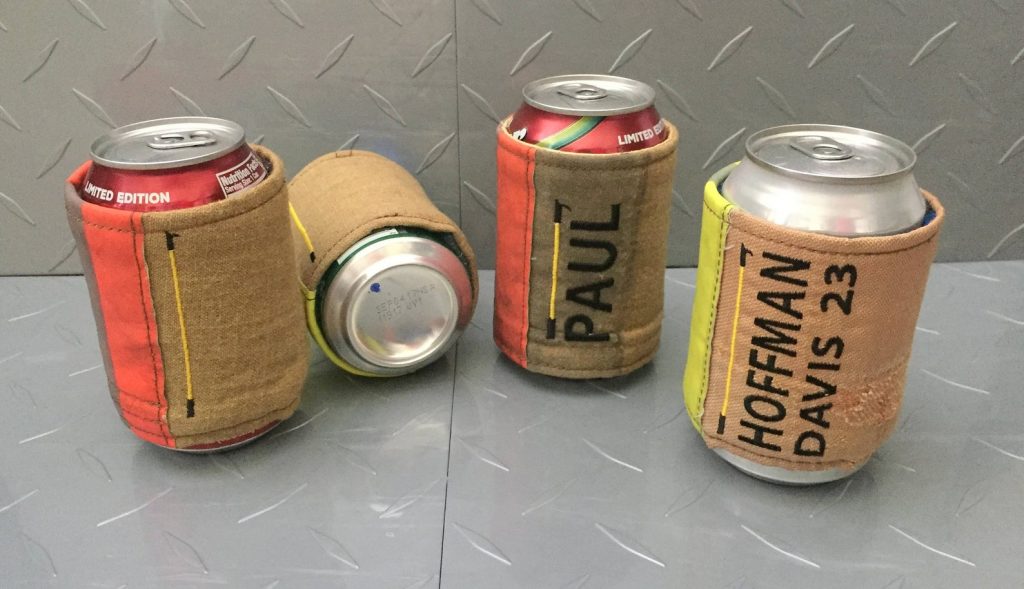 Personalized Firefighter Bag
Firefighters know more than anyone else how important carrying bags are. Without them, they'd have to hire someone else to tow their equipment around in a cart or a wagon. That seems a little impractical, especially in skyscrapers. Now that we've established that bags are important, get your hero this deluxe bag, personalized with their name and yet another Maltese cross. Available in many colors.
Personalized Firefighter Sign
What can we say about gifts as eloquently simple as this? A person's name, printed over a red background with a (you guessed it) Maltese cross, stretched out on a canvas over a wooden frame. It's then hung on a wall, where it will serve as a constant reinforcement of the person's identity and professional accomplishment. That's something you just can't get from a Chia Pet. Order yours today!
Wooden Firefighter Sign
This is one handsome piece of art. The makers take individual slats of wood, stain each one, then assemble them into an American flag. (Note the thin red line in the middle — very nice touch.) Then they engrave an axe over the slats and fashion the stars section with the omnipresent Maltese cross. This seriously makes us question why we wasted our woodshop classes on jewelry boxes no one uses. This is one of the most beautiful gift ideas for firefighters.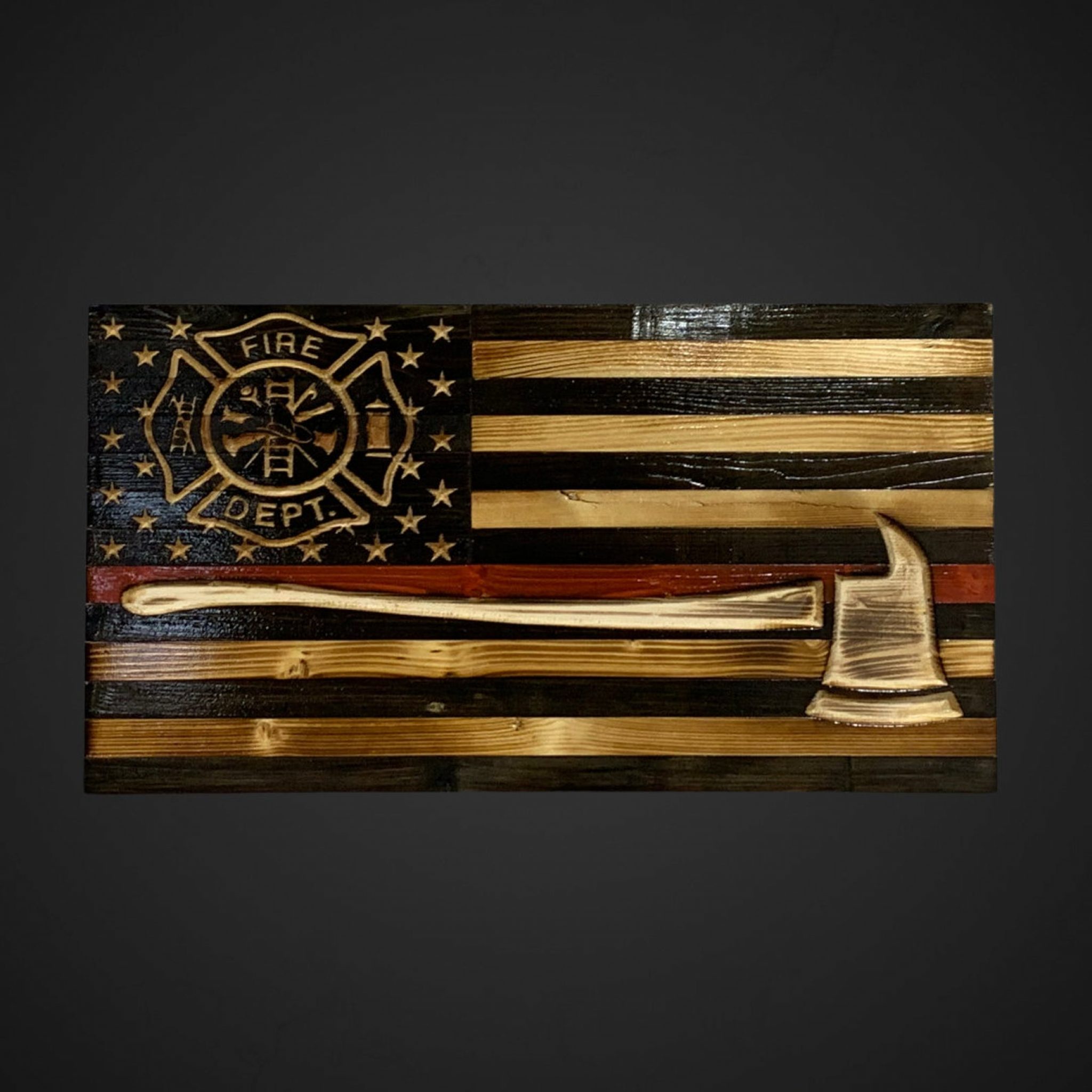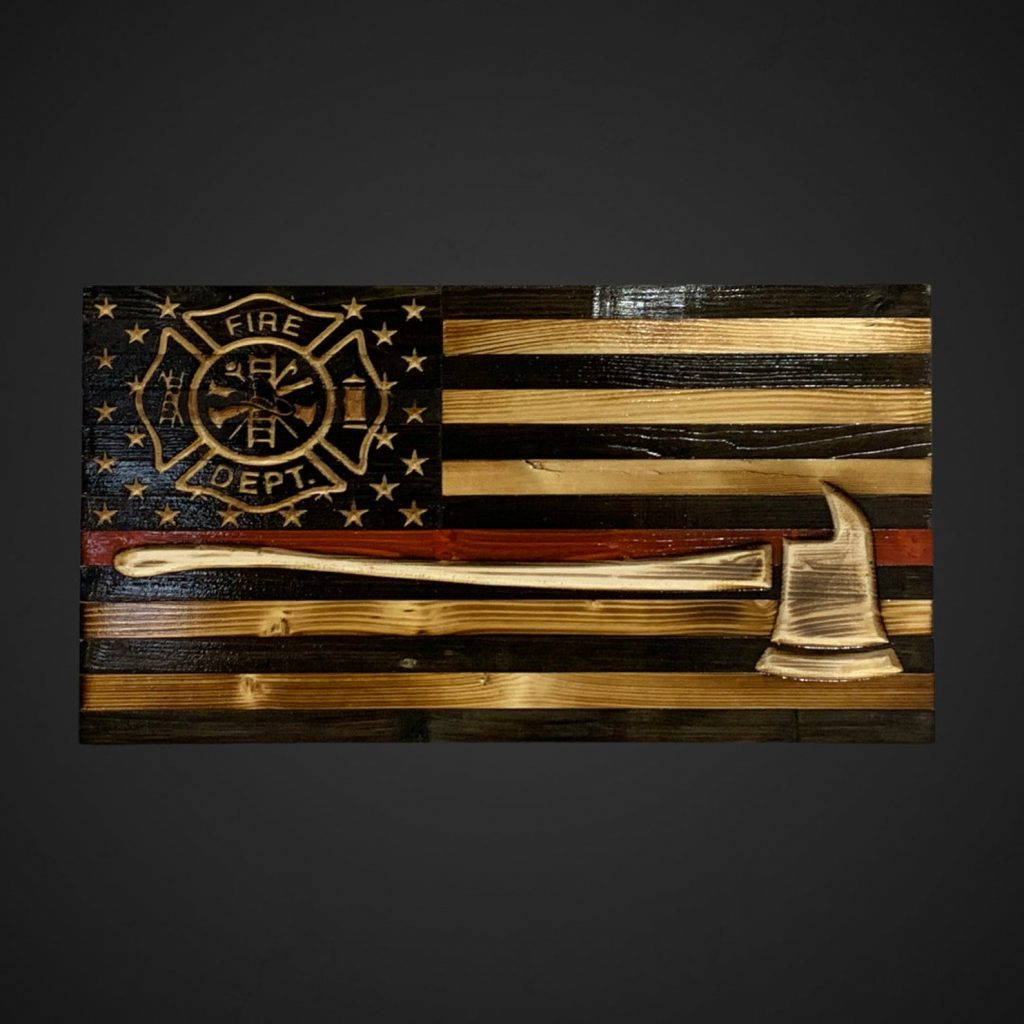 Personalized Leather Guard to Protect Mask
These personalized gifts for firefighters were invented by an actual New York City firefighter. It's secured by four powerful magnets, making it strong and adhesive, yet easy to remove. These stunning, leather, personalized face mask guards will make your favorite firefighter's self-contained breathing apparatus the envy of the entire unit.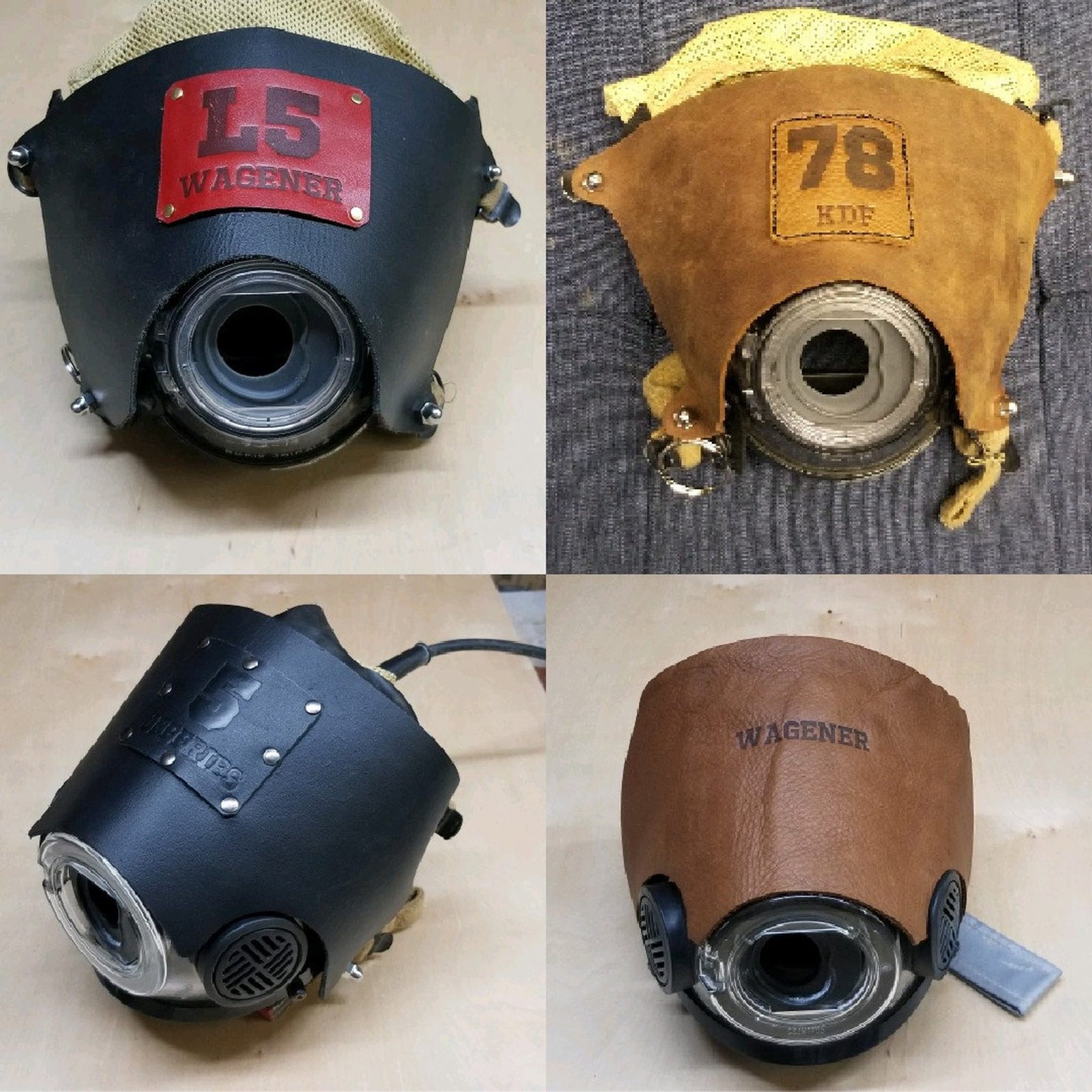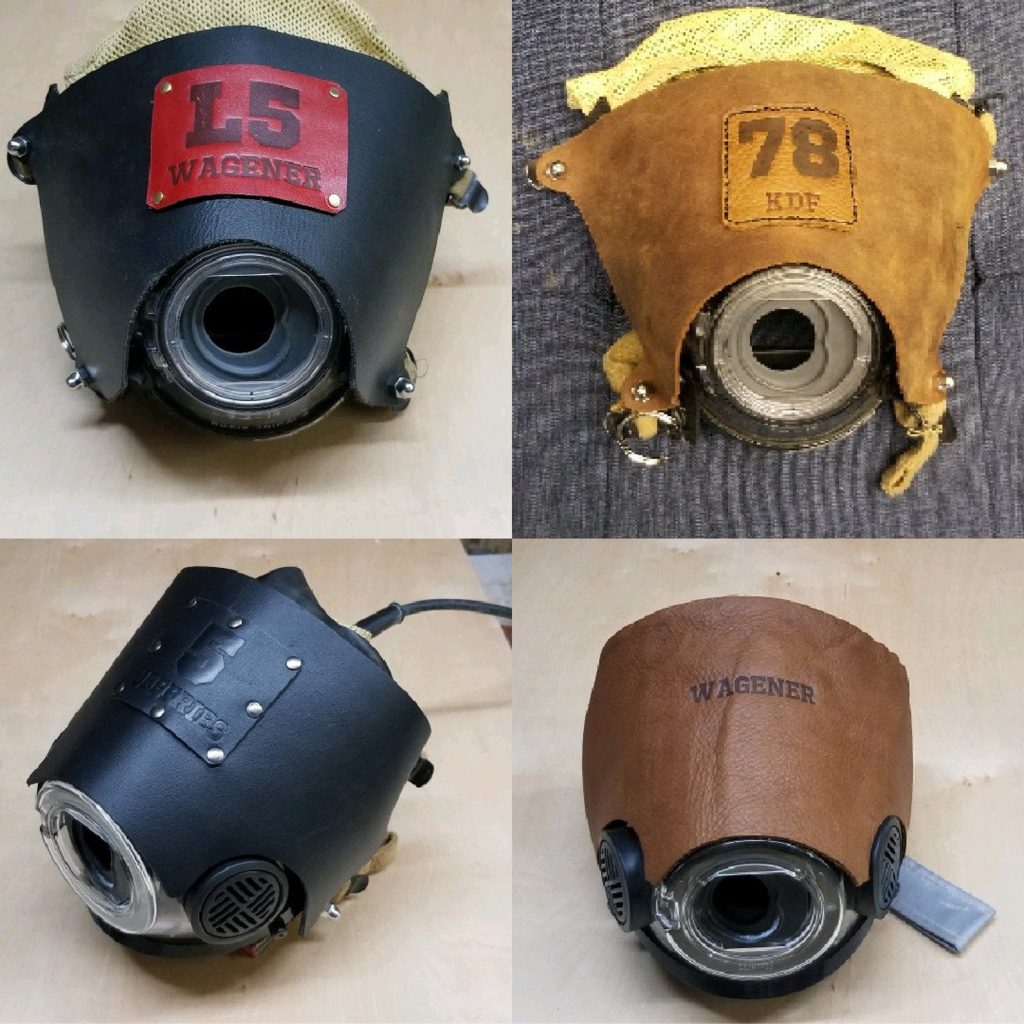 Personalized Firefighter Bottle Opener
This is a bottle opener you can hang on the wall. It comes personalized with your firefighter's name and number, along with a meticulously crafted flag with the thin red line. Any time they open a Mr. Pibb or a chocolate Yoo-Hoo, they'll be reminded of their selfless service in moments of unspeakable danger. What other firefighting gifts can do that?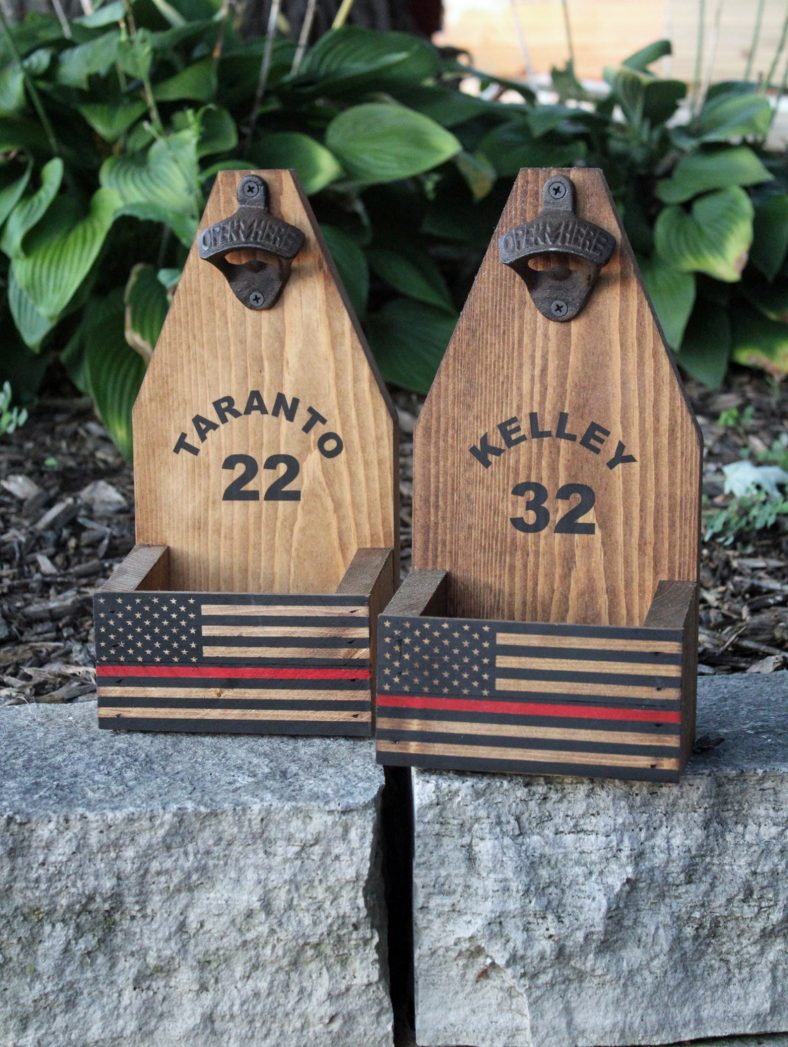 Firefighter Beer Cap Map
We've been going on about the Maltese cross in this article, but it really is an attractive piece of symbology. This gift makes it functional as well. It holds a bunch of disused bottle caps and saves them for posterity. Otherwise, the caps would be carelessly tossed in a wastebasket and condemned to retirement in obscurity. What inanimate object would like that? This is also one of those unique gifts for firefighters that can be used as a 5th Anniversary Gift since it is wood.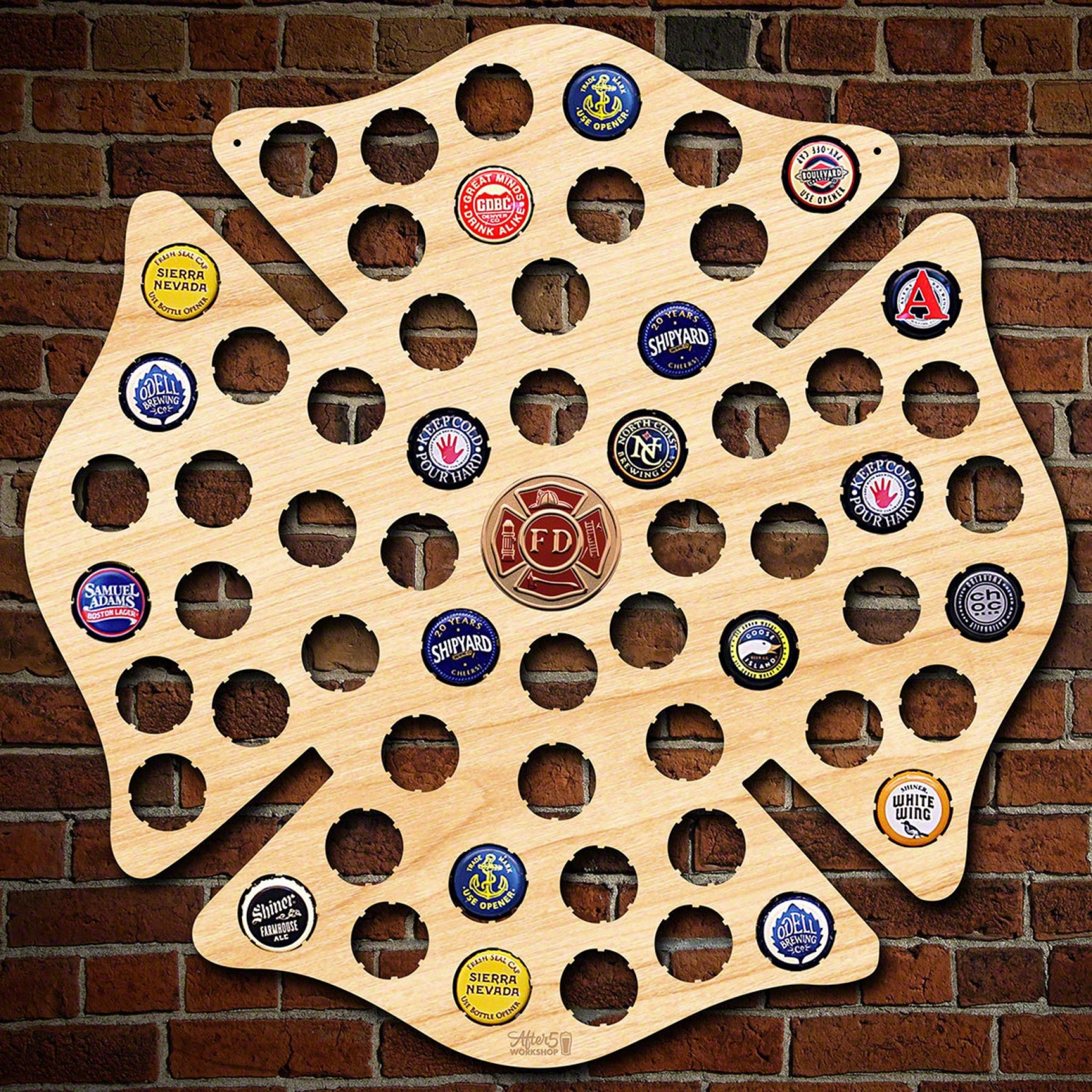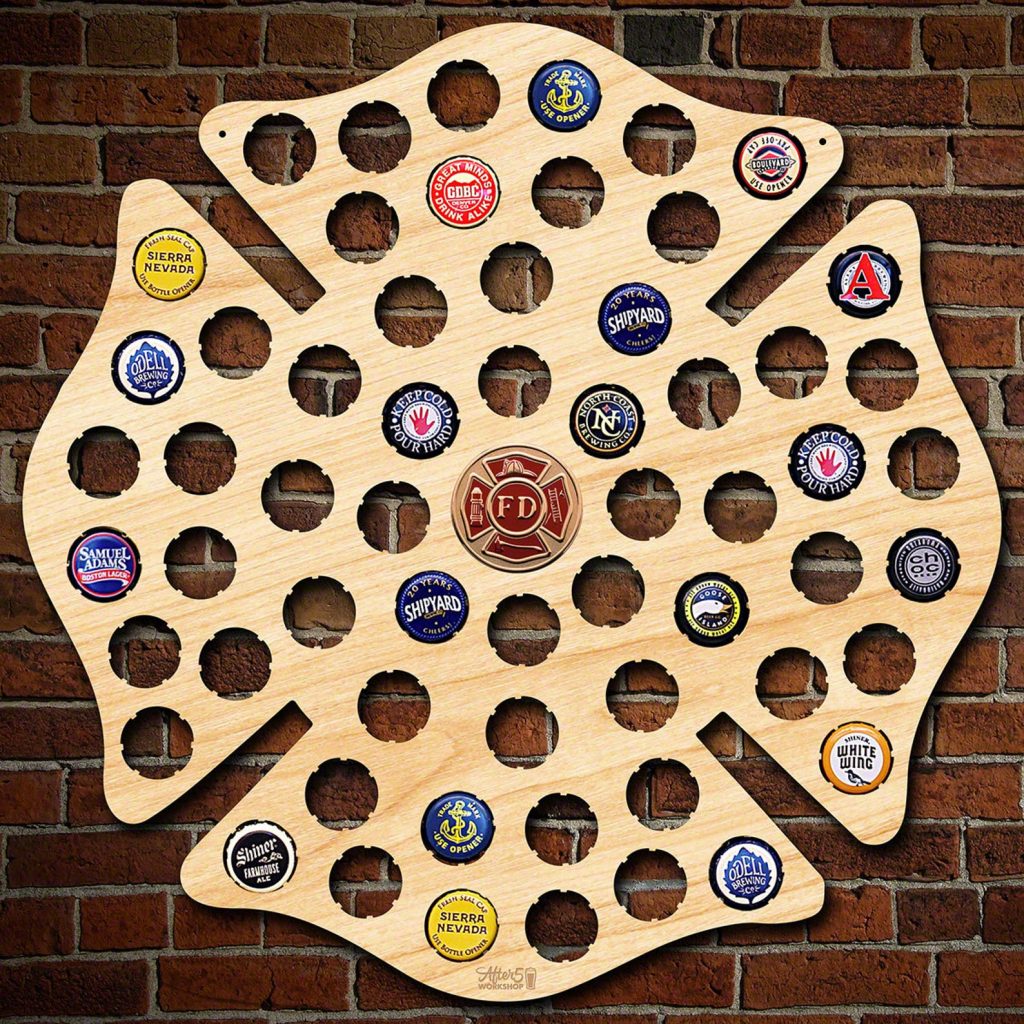 Fire Department Dart Board
Long shifts at the firehouse without much action can get pretty dull without games. But not every firefighter is a fan of Hungry Hungry Hippos or Candyland. That's why we suggest darts, which test both their hand-eye coordination and ability to control lethal projectiles. This stunning, firefighter-themed dartboard is designed like a red-and-gold firefighter badge and comes complete with all the numbers and landing spaces of a less meaningful dartboard. Available in many styles.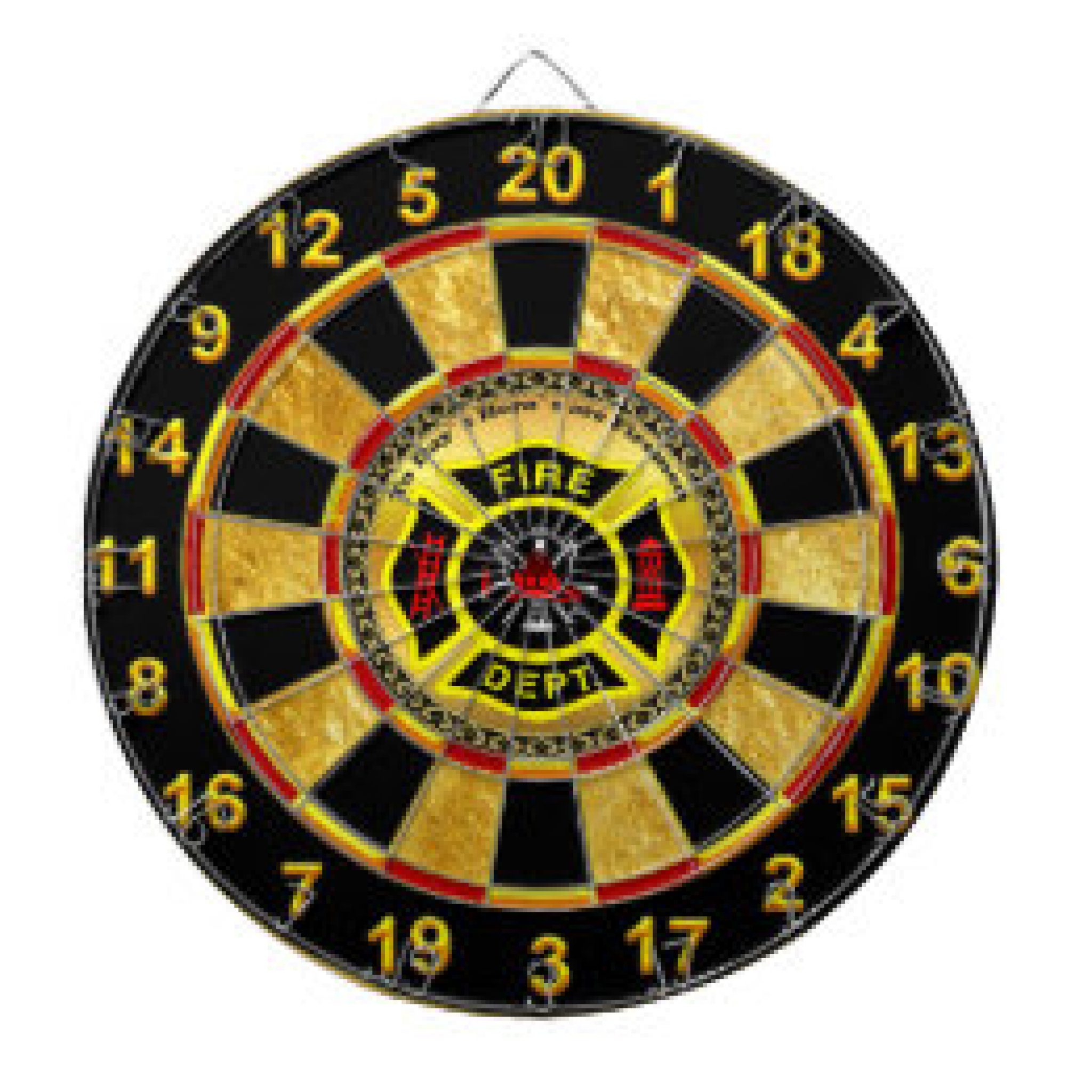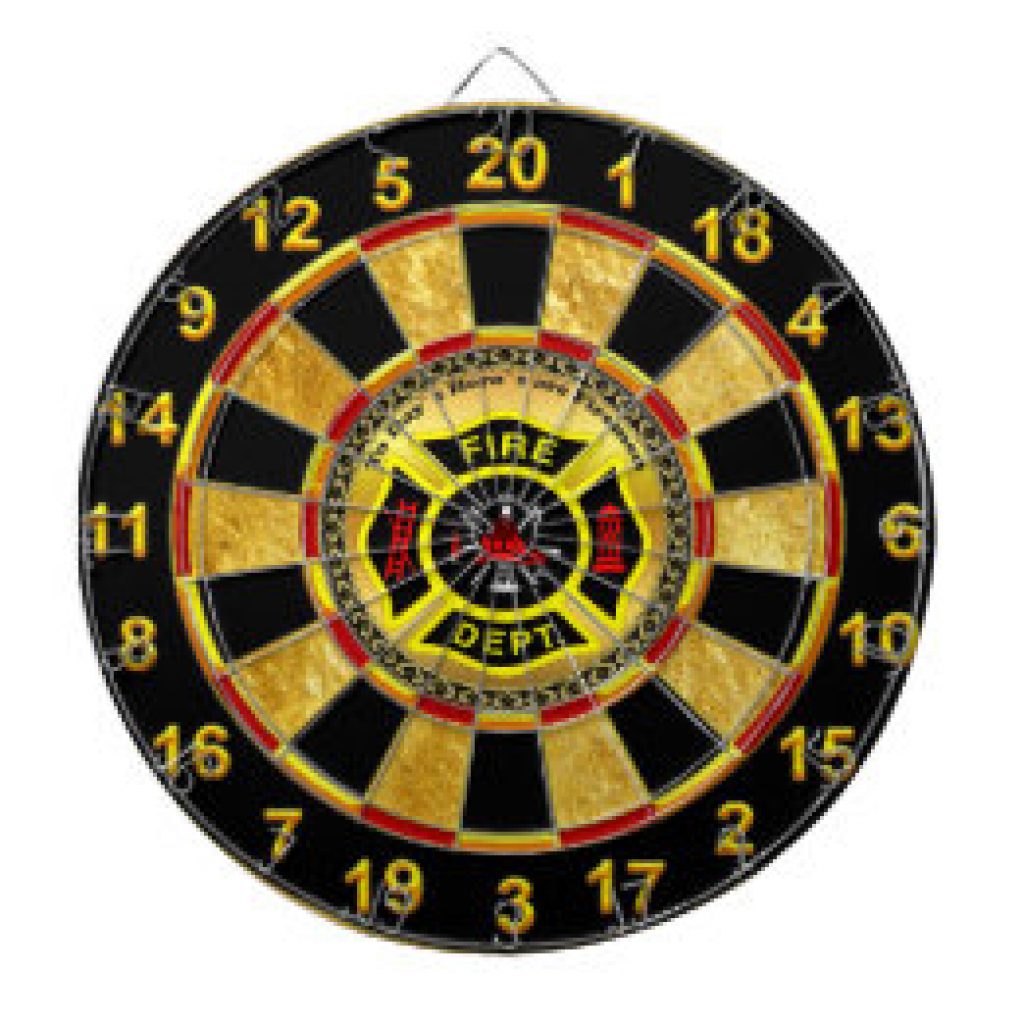 Fire Hose Flag
This is one of the most unique gifts for firefighters we've come across. It's a reproduction of the American flag made from discarded fire hoses. They're stained and secured within a sturdy wood frame, for a truly impressive effect. This is awesome and leaves us kind of speechless.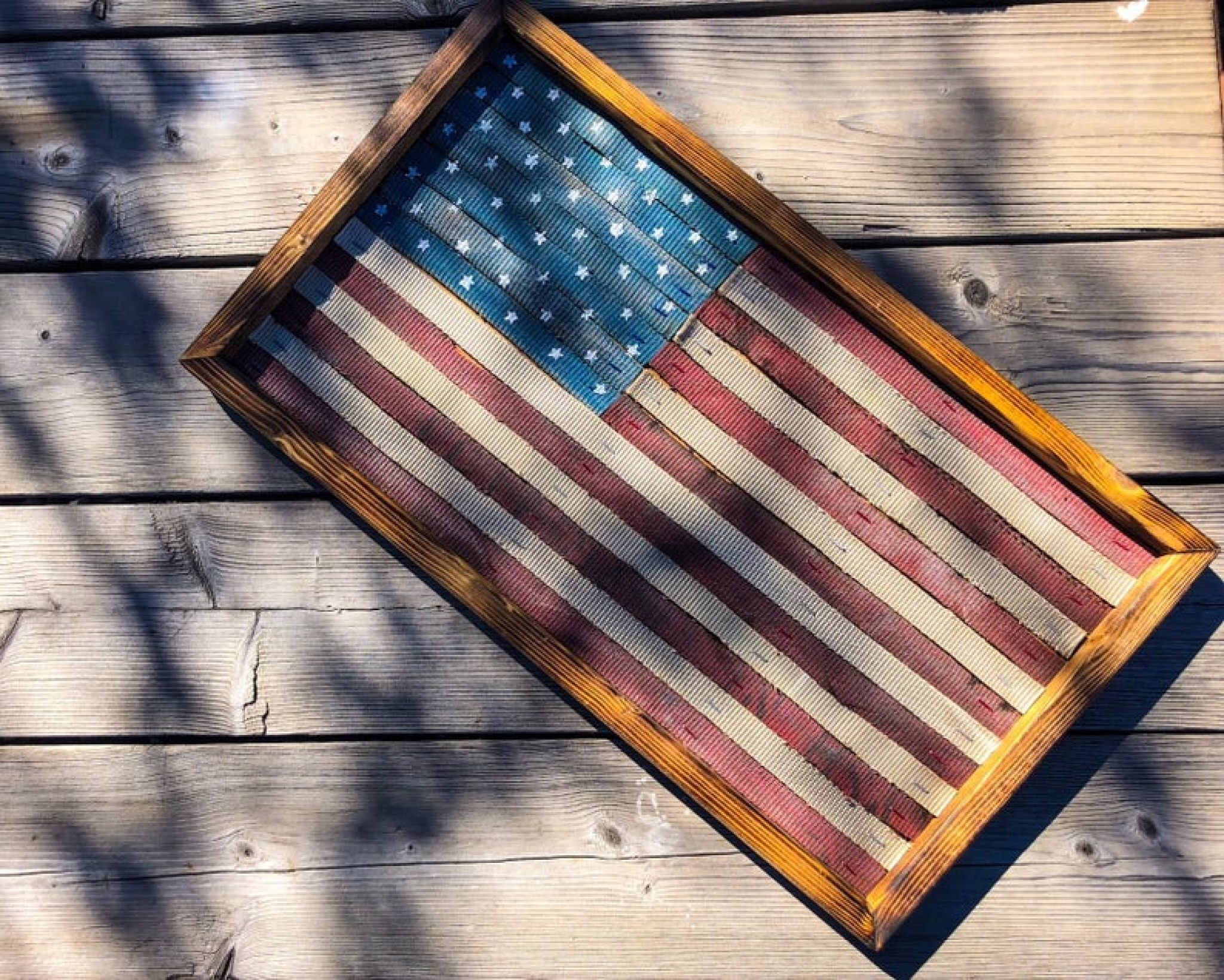 Fireman Patents
Adorn your firefighter's personal space with these 6 patent-themed artwork gifts. They're reproductions of the original patent drawings for essential firefighter equipment: the safety helmet, the fire hydrant, the axe, something called the "wrecking tool," the fire truck, the helmet, and the "water tower fire truck safety appliance," which is a self-consciously nerdy way of saying "ladder."
Fire Alarm Flask
Ever get that urge to pull a fire alarm even when there's not a fire? Just to see what happens? We can tell you from experience and court appearances that it's not a good idea. But it's fine to do it with this fire alarm because it's actually a flask that holds your distilled spirit of choice. It's the perfect way to solve personal emergencies, or potentially create more.
Personalized Firefighter Retirement Sign
Know a firefighter who's about to hang up the hose? Whisk them off into their golden years with this customizable, two-piece firefighter sign. The top part is bedecked in Old West imagery and playful but positive text ("Fires Quenched — Pets Rescued — Calamities Dealt With"). The bottom comes customized with your retiree's name, unit, retirement date, or other text. When it's time to extinguish a career, this is one of the best personalized gifts for firefighters for retirement.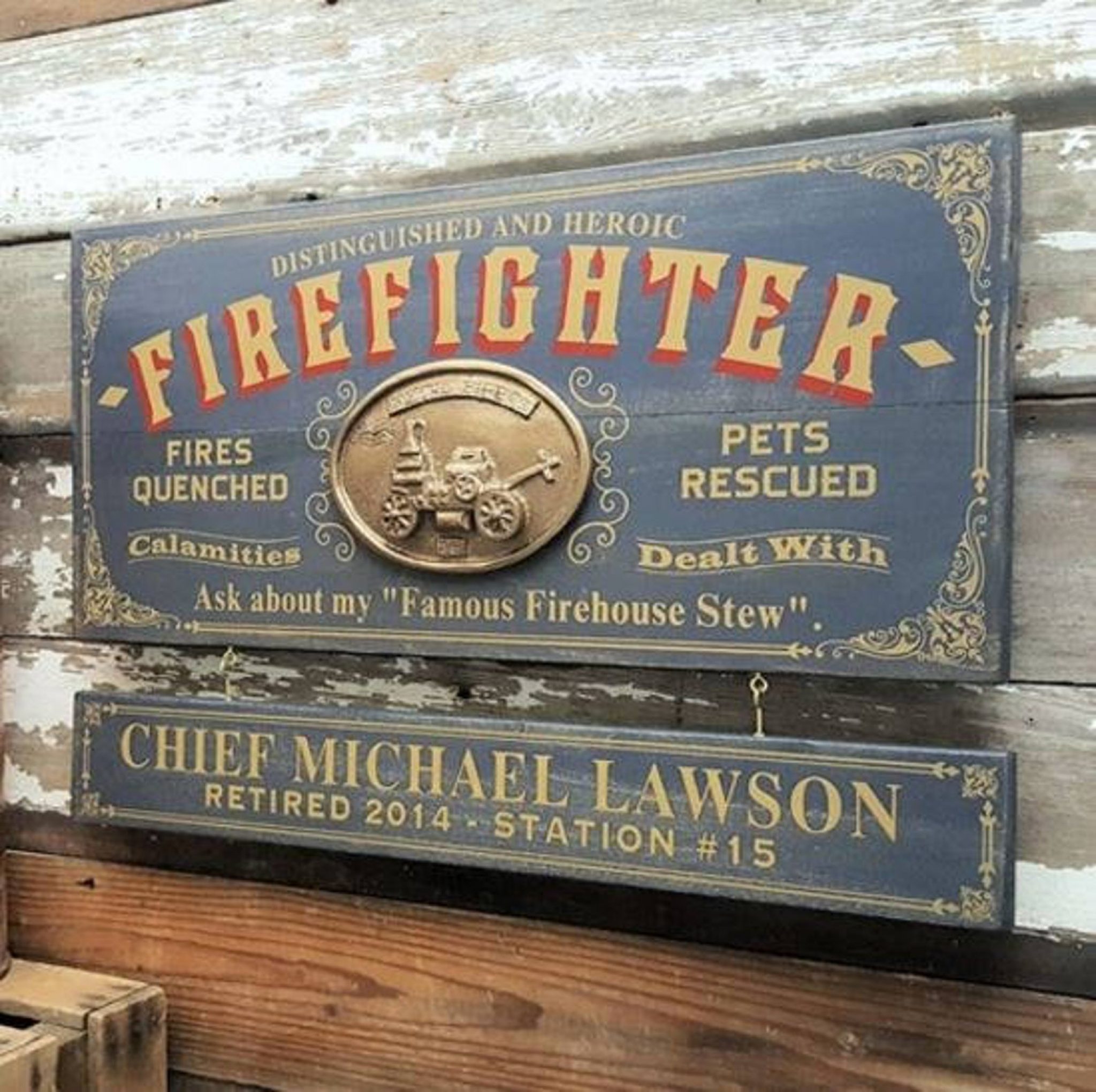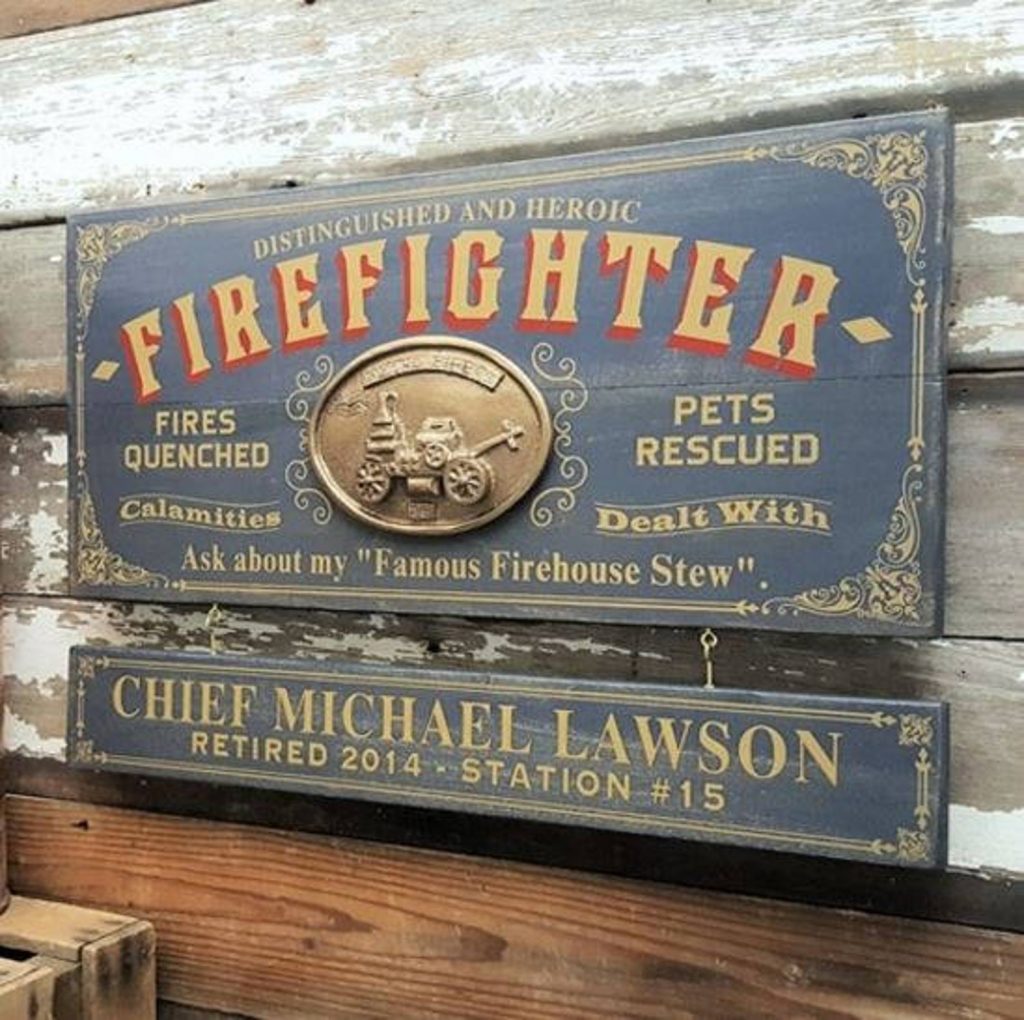 What Makes The Best Gifts for Firefighters?
Firefighters are heroes so show them how much you appreciate them by picking something unique. Personalized gifts are perfect because they are items they probably don't already have. Whether you choose a fire extinguisher mini bar or a personalized fireman portrait, or anything in between, you can't go wrong with anything on this list.
We hope these gift ideas for firefighters inspire you to take a little extra time to think about the work they do and the sacrifices they make. It's a more dangerous job than copywriting about gifts, that's for sure, and just as sexy.
For more gift ideas for firefighters, check out our section on Gifts for Men or our Gifts for Women.
Be sure to follow us on Facebook for daily updates of unique gifts for everyone you know.