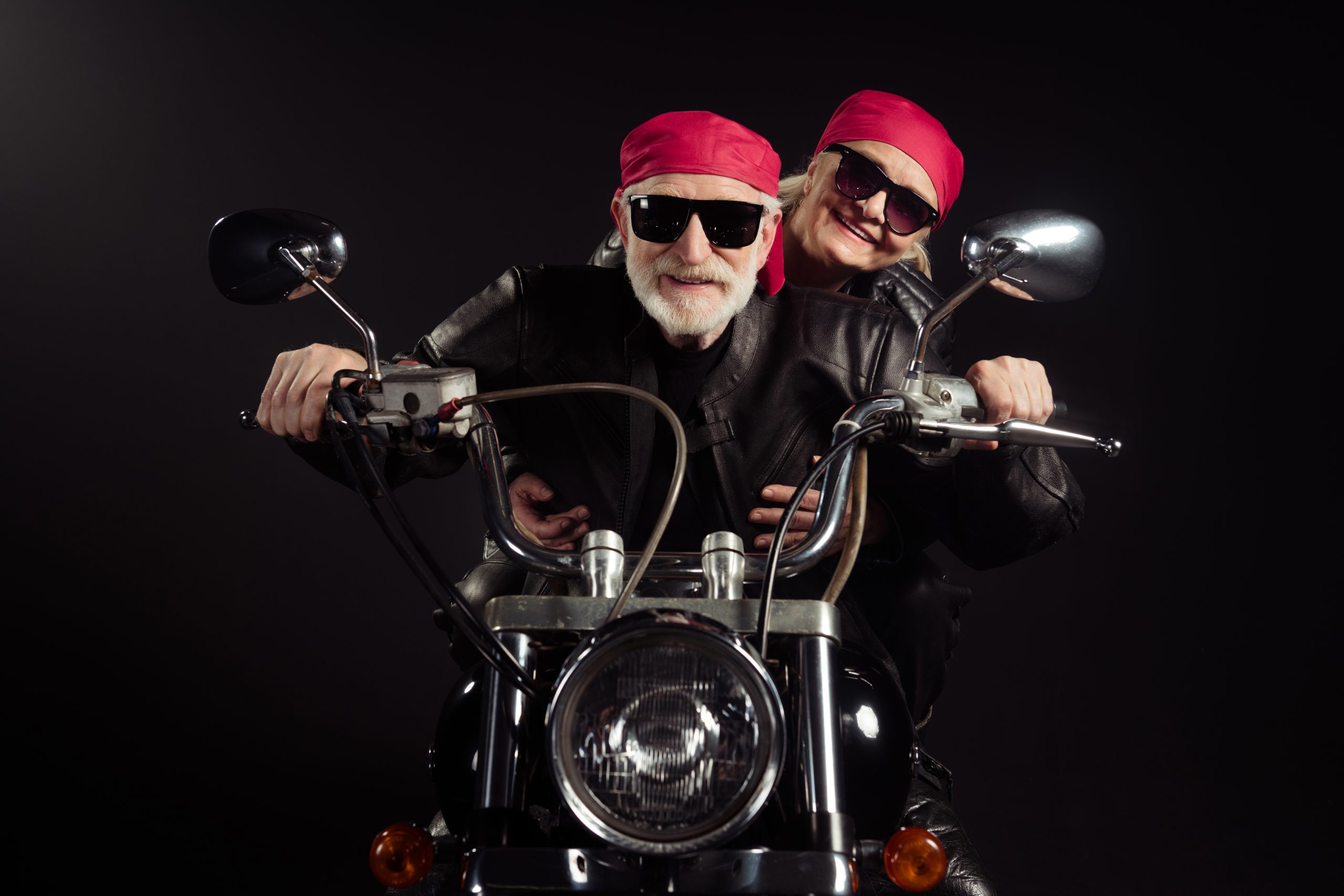 Thinking about motorcycles conjures up an image in our minds. We're straddled on a seat, open-air breezing in our faces, rolling through beautiful scenery, terrified for our lives. You just can't beat it. And you also can't beat this list of the best gifts for motorcycle riders.
Whether these unique gifts for motorcycle riders are for you, your motorcycle-loving friend, their mechanics, or insurance agents, they're sure to be two-wheeled hits full of joy, functionality, or some bizarre mix of the two.
Wearable Gift Ideas for Motorcycle Riders
Bikers wear things, just like almost everybody else. Gifts that they can put on are some of the most practical gifts you can get 'em because they can show them off during Daytona Bike Week or the Sturgis Motorcycle Rally. These unique gifts for motorcycle riders are guaranteed to fit on some part of their bodies, from their head to their feet, to make them look cool and make their ride more comfortable.
Motorcycle Bluetooth Helmet
Rage down the highway with full connectivity with this Bluetooth-enabled helmet. You can connect up to 3 different riders for intercom on the road. You can make phone calls and use GPS apps hands-free. You can access your mp3 collection so you can play "I Will Always Love You" as you top 100 miles an hour. That's one of the greatest gifts of all. Plus, it comes in several fashionable colors and it looks good whether you ride an Indian motorcycle or a Harley. Tech gifts are always fun.
Motorcycle Helmet Backpack
Stop dangling your motorcycle helmet by your side like a chump. Give it a resting place when it's not resting on your head with this deluxe backpack. In addition to having enough space to hold a quaint picnic lunch of croissants and brie, it's got an external attachment that can hold your helmet in place as you saunter around the Full Throttle Saloon.
Motorcycle Helmet GoPro Mount
We don't know how the gang from Sons of Anarchy managed without this mounting mechanism for the GoPro camera. With just a few simple screw twists and gentle encouragement, this device makes it easy to install the GoPro video recorder on the front, top, or side of your helmet. Now you can easily record your journey through the Sturgis Motorcycle Rally for your video travel journal, online posts, or court depositions.
Touchscreen-Friendly Motorcycle Gloves for Men and Women
Sure, your knuckles need protection while you're tearing down the road. But it's a drag to have to take your gloves off just so you can use your smartphone to watch American Chopper. That's no longer a problem with these leather motorcycle gloves. They offer a strong defense against the elements, and their thumb, index, and middle fingertips work on any touchscreen device.
I Don't Snore Socks
These socks come with a message. That message is "I Don't Snore — I Dream I'm a Motorcycle." It's printed across the bottom of the socks, which means people will only see it when you're reclining with your feet perched on a footrest. A curious way to promote your message, but we don't judge. We're too busy dreaming we're lawnmowers. They are a cheap and funny gift for motorcycle riders.
Heated Motorcycle Jacket Liner
This is one of the most ingenious motorcycle rider gifts we've come across. This liner goes under your jacket and uses your motorcycle's battery to keep you warm while you're on the road. With a remote control and 7 heat levels, it keeps your back, chest, arms, and neck warm as you roll across the frozen tundra in search of a warm cup of cocoa with marshmallows.
Accessory Gifts for a Motorcycle Rider
Some of the best gifts for a motorcycle rider are actually gifts for the motorcycle itself. Outfit your favorite bike with one of these biker gifts. It'll thank you for it.
Water Resistant Motorcycle Bluetooth Soundbar Speaker
Now you can enjoy the sound of music on your bike without having to hire a mariachi band to follow you around in a pickup truck. This water-shaming speaker mounts on your motorcycle's handlebars. Assembly is a breeze. With Bluetooth connectivity and a USB power charger, you can take to the highways and byways, streaming Born To Be Wild as you go.
Motorcycle LED Kit
Turn your two-wheeler into the hottest disco in town with these ultra-modern, colored LED lights. These strips curve to conform to any motorcycle's distinctive shape (whether you have a Harley, Kawasaki, or a scooter) and stay on even when it's raining or snowing. With the included remote control, you can set your lights to pulse and throb to the beat of the music you're playing. These lit-up gifts are perfect for making an entrance at the Las Vegas Bikefest to the tunes of Ezy Rider.
Motorcycle GPS Tracker and Alarm
The Monimoto GPS tracker gives you one of the best gifts of all: peace of mind, brah. It protects your motorcycle against theft. Easily concealable in several places on your bike, the tracker can last up to a year on a single battery charge. When some miscreant tries to steal your bike, the tracker rings an alarm on your smartphone. It displays the exact location of your bike so you can track it down. It might even hurl insults at the thief and make candid remarks about their mother.
Motorcycle Crate for Motorcycle Owners
This incredible box contains a bunch of handy gifts and tools to keep you or your favorite motorcyclist prepared on the road. It's got a battery jump-starter, a screwdriver, several wrenches, a tire pressure gauge, a mini-ratchet (with an extension, thank you very much), electrical tape, baling wire, enough Allen wrenches to build an entire IKEA, some pliers, a pouch, and some awesome moist towelettes. And don't forget the crate. What's a bunch of motorcycle gifts without a crate?
Motorcycle Phone Mount
Just because you're on a motorcycle doesn't mean you shouldn't have the same smartphone mounting capabilities that cars, RVs, and Sherman tanks have. This device hooks on to your bike's handlebars. It holds onto your smartphone like no tomorrow, its shock-absorbing qualities keeping it safe and secure. Made from the finest-crafted rubber and silicon, it works with phones of all sizes, styles, and dispositions.
Tool Kit for Harley Davidson Bikes
The CruzTOOLS Speedkit is specially designed for Harley-Davidson bikes. It's a compact, zippable, extra secure pouch that keeps all the tools together without you having to plead with them to get along and it easily fits in your saddlebag. It's got a screwdriver, wrenches, a tire pressure gauge, some pliers, enough Allen wrenches to build a second IKEA, some screw and socket bits, and oodles of nerve.
Artistic Gifts for Motorcycle Riders
The motorcycle provides a powerful, romantic image in the minds of the world. It's easy to see why it's a favorite subject for art gifts. Here are some of the best gifts for motorcycle riders that can spice up walls, ceilings, or sensible table units, from personalized gifts to unique art.
Personalized Pin-Up Portrait on Motorcycle
This clever, customizable artwork imposes the human face of your choice atop a World War II-era pin-up woman on a motorcycle. For an additional fee, you can change the motorcycle to any model you want or you can change the background from a war tank slithering across an empty battlefield to a war tank slithering through the Rolling Thunder Bike Festival. Or a war tank slithering across an empty battlefield with the Eiffel Tower in the distance. The choices are endless.
Motorcycle Wind Chimes
Now every time a gentle spring breeze wafts across your garden of peonies and daffodils, you'll think of motorcycles. This hanging, decorative set of wind chimes comes with a miniature motorcycle mounted on top. That's a wise design move because an actual-size motorcycle would have been unwieldy at best. It works exactly the same way wind chimes without miniature motorcycles do. Just hang it up, sit down, and wait for the wind to clang the chimes together. If you're short on time you can use a hairdryer.
Personalized Biker Cartoon Portrait
Nothing beats a unique, personalized gift for a motorcycle enthusiast. Send in a picture of yourself and a loved one, and after some deliberation, they'll send back a cartoon rendering of the two of you riding a red motorcycle, either digitally or printed on wood. It's a fun and fanciful gift, but we have an issue with the fact that you're not wearing helmets. Please. Safety first.
Personalized Portrait of Pets on a Motorcycle
Alternately, you can get a digital picture of two of your pets riding a motorcycle. This is far, far better than letting your pets actually ride a motorcycle. First, they'd have to get a license. And it can't be just any driver's license; it has to be a special one for pets who drive motorcycles. Then you have to buy them helmets that fit their heads. And don't get us started on insurance. No, no, a thousand times no. This picture is the way to go. It makes the perfect funny gift for motorcycle enthusiasts who love their pets.
Personalized Motorcycle Name Sign
The personalized name sign trend has firmly landed in the motorcycling world. This decorative wall art (as opposed to non-decorative wall art) spells out the owner's name or brief message in a series of images. Each image is a motorcycle element photographed to represent a letter of the alphabet. There's an 11-letter limit, so unfortunately longer messages like, "IF YOU'RE READING THIS, YOU'RE TOO CLOSE" are a no-go.
Personalized Motorcycle Sign
Tell the world you've gotten married and you have an affection for motorcycles with this handsome personalized motorcycle sign. Made for couples celebrating recent nuptials or anniversaries, this sign spells out your last name in big, upper-case letters. It also includes the first names of the couple in script-like letters and displays the date of marriage in a discreet, sensible serif font. Finally, to drive the point home, there's a motorcycle in bas-relief in the lower-right corner.
Harley-Davidson Motorcycle Patents
Harley-Davidson is the General Motors of motorcycle companies, inspiring fierce brand loyalty and a certain cockiness across its fan base. More than that: They came up with this whole motorcycle thing in the first place. To get them made, they needed to file patents that showed pictures of their crazy idea. These wall art gifts replicate three such patents from 1919, 1925, and 1993. Just looking at them gives us awesome gratitude for innovation and saddlebags.
Push Pin Motorcycle Map
This is one of the neatest biker gifts you can get for a motorcyclist who's traveled interstates and backroads looking for America. It's a big, wooden map of the US, on which your friend can stick motorcycle-shaped push pins (sold separately) to show every place they've visited on their bike. Just one glance and they'll fondly recall that lake near Blue Ridge Parkway, that bridge off of Beartooth Highway, that mesa in New Mexico, that truck stop in Texas, or that Froggy's Saloon In Daytona Beach. You can even pick the type of motorcycle you want on the map; Harley Davidson, Kawasaki, Ducati, Indian, Triumph, and more.
Harley-Davidson Motorcycle Patent Lamp
Harley-Davidson is the Procter & Gamble of motorcycle companies, inspiring playful catcalls and silly, toothy grins across its fan base. More than that: They came up with this whole motorcycle thing in the first place. Wait, weren't we just talking about this? We were, weren't we? Well, it bears repeating. Anyway: Patents. They had to file patents. This is a replica of one such patent, presented in lamp form.
Fun & Drinking Gifts for Motorcycle Riders
Motorcyclists can't always be on the road. Sometimes they have to park, get up, and enjoy some leisure time. These biker gifts help motorcyclists enjoy the slower moments of life.
Motorcycle Journeys Through North America
Often, when we straddle ourselves upon the seat of our motorcycles, we know where we're going: the supermarket, the coffee shop, the bike parts store, vespers, whatever. Sometimes, however, we need ideas. Author Dale Coyner has collected some fantastic ideas for the Great American Road Trip in this book. Whether you want to see the majesty of Yellowstone, Yosemite, the Grand Canyon, the Appalachian Mountains, or the La Brea Tar Pits, this book will get you there.
Personalized Whiskey Glass Set
When your motorcyclist gets off the road, perhaps they like to sit down in their study, adjust the amber lighting, sip their favorite whiskey, and reflect on the nature of existence. This personalized glass set will help with at least one of those things, possibly two. It's a handsome wood box with their name and motorcycle art on the cover. Inside is a glass, also with their name and a picture on it, plus three whiskey stones to stave off the menace of ice-based water dilution.
Harley-Davidson Patent Wall Beer Bottle Opener
Harley-Davidson is the Dunkin' Donuts of motorcycle companies, inspiring Broadway show tunes and speaking in tongues across its fan base. You've already seen the patent wall art. You've already seen the patent lamp. But neither of those Harley-Davidson gifts will prepare you for the future of patent-based art forms: The Wall-Mounted Patent Beer Bottle Opener. This sucker opens bottles like you wouldn't believe. It even has a tray for discarded bottle caps if that trip to the wastebasket feels like too much to deal with right now. It allows you to drink enough beer to practice for the 'Biggest Beer Belly Contest" at Laconia Motorcycle Week.
Harley-Davidson Whiskey Decanter
We all understand by now that Harley-Davidson is the end all be all of motorcycle companies. So, it's no surprise that they also have one of the world's greatest logos, perfect for holding large amounts of liquid refreshment (when it's three-dimensional, that is). This set of logo-powered Harley-Davidson gifts includes a seriously great whiskey decanter, two etched whiskey glasses, and two black leather coasters. You'll never put whiskey in a FedEx logo again.
Harley-Davidson LEGO Kit
Harley-Davidson is the Arby's of motorcycle companies, inspiring watery mouths and fever dreams across its fan base. LEGO is just as world-famous and beloved for its interlocking building toys. It was just a matter of time before these two fell into each other's arms. This LEGO Creator Expert package contains over 1,000 pieces to build your own tabletop Harley-Davidson Fat Boy. Not a single detail is missing, from the wheels and handlebars to the exhaust pipe and handy storage compartment.
Motorcycle Wooden Puzzle
Ugears has upped the game for both motorcycle fans and puzzle assemblers. This low-slung, futuristic motorcycle leaps straight from Mad Max: Fury Road into your heart. It may be challenging to put together, but there's a big payoff when you're done: It actually runs, scooting up to 3 meters with the miracle of modern rubber band technology.
Hopefully, you found the perfect biker gifts after reading the list of best gifts for motorcycle riders. For more biker gift ideas, check out our Gifts for Men or our Gifts for Women.
Don't forget to follow us on Facebook for daily updates of unique gifts for the whole family!