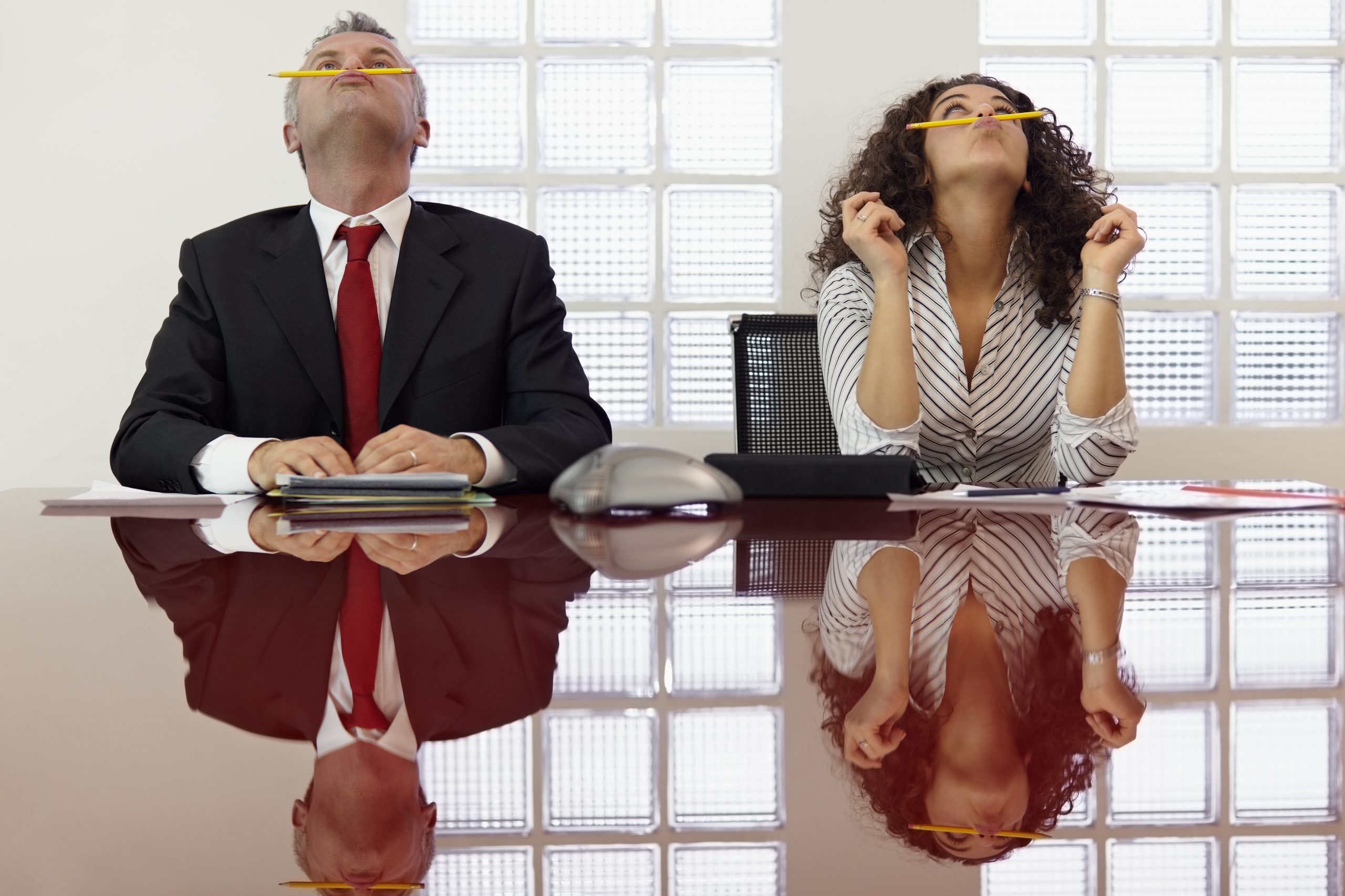 Your coworkers are usually the people you see the most in your life.  You work side by side for 40+ hours a day, you hang out in the breakroom together, you go to lunch together, and sometimes, you may even sneak off for happy hour to gossip about an annoying colleague or your boss.  When a peer (or boss) leaves a company, it changes the office dynamic and it will never be exactly the same.  If your coworker is leaving you behind, give them something to remember you by. If it is a farewell gift for your boss, then it might help them remember you the next time they need to hire someone. Going away gifts for coworkers can be fun, practical, unexpected, personalized, or funny.  So here are the most unique parting gifts for coworkers to make them want to stay.
If you don't see anything below, check out our Coworker Gifts section for more gift ideas.
Personalized Caricature Portrait – Signed by All Coworkers
If you are looking for a going-away gift for a coworker or boss from everyone in the office, why not get a custom caricature portrait made of them and have the team sign messages around the edge. It's personal and sentimental and something your coworker friend will cherish forever… Plus, it's funny so it will bring a smile to their face.
"Work Will Really "Succ" Without You" Going Away Gift
You get it? Work will really suck without you, but there is a succulent. Haha. I'm impressed with the tongue in cheek of this cute office goodbye gift. It also comes with a candle and fancy matches, so if the plant dies, they can just light it on fire. Your coworker friend will enjoy it whether they are moving on to a better job, retiring, or just going on maternity leave.
Personalized Wooden Notebook
Why make notes on a boring yellow notebook when you can have a fancy, personalized wooden notebook? It's available in many colors, types of wood, and types of paper so it is great for note-taking, recipes, sketching, or journaling. Your associate will appreciate using it at their next job, or if they are retiring, they can use it to sketch, write a novel, or write down their favorite recipes. Check out our Personalized Gifts section for more customized going away gifts.
Personalized Lollipops
If you are looking for going away gift ideas for coworkers when YOU are leaving, then why not leave them with something sweet with your face on them? These lollipops can be customized with pictures or logos, so if you are leaving due to retirement, use a picture of yourself enjoying a margarita on the beach… just to rub it in.
Farewell Guest Book Poster – Signed by Entire Team
If you are looking for parting gifts for a coworker from the entire team, have everyone sign a message from their heart to the recipient. The sign can read, "Farewell", "Retired", "Good Luck", and more and there is plenty of space for the whole team to sign something unless you work at Google. It's personal and heartfelt.
Cooper's Cask Coffee
With Americans drinking 400 million cups of coffee per day, it's a safe bet that your associate will appreciate receiving coffee as a goodbye gift. Cooper's Cask Coffee is one of the best and this gift set has four flavors from Sumatra, Kenya, Ethiopia, and Rwanda, and it is available as whole beans or ground beans. The taste is out of this world…. Well, technically, it's from this world, but it's from other countries. Check out our Foodie Gifts for more food and beverage-related going away gifts for coworkers.
Going Away Plaque for Your Boss
If you are looking for a farewell gift for your boss, pick something that flatters them because you never know when you will need a recommendation letter. It can be engraved on the back or have the entire team sign the back for an extra touch. It reads, "A truly great leader is hard to find, difficult to part with, and impossible to forget". For those of us who have ever had a horrible boss, this especially rings true.
Mini Desk Zen Garden
Once your coworker friend moves on to another gig, who will help keep them calm when you aren't there to help? A new job often comes with working overtime and additional stress. Give them this Desk Zen Garden so they can become one with the planet as they rake the sand and ponder the existence of their belly button.
Our Friendship Is Like This Candle…
Some coworkers you get pretty close with. You spend most of your life together and may even sneak out for happy hour together on your way home. For those coworkers who have become more than just someone to gossip with at the water cooler, this hilarious candle says it all, "Our friendship is like this candle. If you forget me, I'll burn your f*cking house down". Or, if you want one without the naughty language, check HERE.
"You Are Dead To Us" Personalized Frame
I didn't even see the hidden message in this frame.  At first, it seemed like a super sentimental and sweet farewell gift because it reads, "We can't believe you are leaving. This place will be so dead without you. To us, you are irreplaceable and will be very missed."  But, if you only read the large letters, it says, "You are dead to us", which made me laugh and want it even more.  You can customize it by changing "us" to "me" if you want it to be from one person, and it is available in many colors and sizes. And you can customize a message at the bottom.
Coffee Mug Warmer
Your coworker friend will never have to worry about cold coffee again. This coffee cup warmer keeps your coffee at a constant temperature all day so you never have a 3 pm slump again. It works with any cup or mug. Just put your mug on it and it automatically turns on. Lift the cup and it automatically turns off. It's so simple, you can get it to work even before your coffee has kicked in.
Personalized Mousepad with a Staff Picture
Make sure your coworker doesn't forget about you by giving them a mousepad with the coolest coworkers in the world on it. Sure, they may move on to their new job and have some decent coworkers there, but nobody will be able to gossip with them at the water cooler as you do.
Himalayan Salt Lamp
When you turn on this lamp, the warmth from the bulb causes the salt to release negative ions which promote overall calmness. This comes in handy for those with a stressful job or a coworker going on maternity leave. But not only does it relax you, but it gives off a beautiful glow so you will look prettier to your peers.
"Chance Made Us Colleagues" Coffee Mug
Let your colleague know you appreciate them (even though they are leaving you) with this coffee mug that says, "chance made us colleagues but the fun and laughter we share made us friends". It even comes with a matching lid and a spoon to stir a little Kalua into their morning cup of joe.
Countdown to Retirement Timer
We all long for the day when we can walk off the job and never look back. This retirement countdown timer will count the days for you and you can start early because it can be set for over 28 years in the future. You simply enter the date and time you are planning to retire and it counts down until the day you are drinking a margarita on a beach in Tahiti.
TopLive Padfolio Portfolio Case
This is the most useful portfolio case I've ever seen. Made with high-quality PU leather and reinforced stitching, it comes with a clipboard, document sleeve, a zipper for post-it notes or receipts, card slots, phone holder, cable organizers and so much more. Plus, it comes in many colors so your peer will look like they have their life together at their next job.
Personalized Whiskey Decanter Set from the Whole Team
If you are looking for farewell gift ideas from the whole team, this personalized decanter set is classy and says, "hey, we know you are sad you are leaving us, so drink up". It is pricier than the other gifts on this list, but sometimes, you need to show you care, in case it's your boss and you want to get hired again.
I Wrote a Book About You: A Fun, Fill in The Blank Book (Have Coworkers Fill It Out Together)
Have everyone in the office fill in a page and sign it so your coworker knows how much they are appreciated. It has guided prompts such as, "If I could give you a trophy, it would be for ___", "If I could sing you a karaoke song, it would be ____", and "I'm really grateful that you ____ so much." It's a sentimental going away gift that your coworker will take to heart and probably shed a tear or two.
Essential Oil Diffuser to Reduce Work Stress
This essential oil diffuser works as aromatherapy, a humidifier, and a cool looking light. It has 7 LED light colors and 2 misting modes so you can set the mood to fit you. Essential oils are known to improve mood, help with sleep, reduce stress when your boss drives you crazy, and they just smell good so fellow employees will enjoy visiting your office.
Desk Punching Bag
If your coworker is heading off for bigger things, then their new job will probably come with more stress. If the other stress relieving gifts above don't help, then help them release that stress on this punching bag so they don't go crazy and end up on the news. It can attach to any surface so stress relief is always within reach.
Personalized Pen and Case
Show how much you care by having well-wishes written on this personalized pen set.  Or, be snarky and tell them they suck for leaving you alone at your job. It is available in several types of wood and can be personalized any way you want.
Reusable Smart Notebook
This is one of the most useful going away gifts for coworkers we have seen. You write notes in the notebook and within 15 seconds, you can upload it to Google Drive, Dropbox, Evernote, Box, OneNote, iCloud, and email. In order to erase it, you use the pen eraser or a blow dryer and then you can use the page again and again and again.
"I Survived Another Meeting That Should Have Been and Email" Mug
We've all been there. You sit in a 2-hour meeting that is more torturous than being interrogated at Guantanamo Bay and nothing is accomplished. They spend an hour just explaining the reasoning behind why they chose to have a certain brand of toilet paper in the bathroom. Seriously… most things can be an email these days.
Mini Buddha Board – Paint with Water
This is another great going away gift for a colleague to help center them while they are having a stressful day. You dip the brush in water and paint it on the buddha board. Once the water evaporates, you can paint something else. Use it to paint pretty trees to calm your soul. Or, use it to paint, "my boss sucks" and know the evidence will disappear and nobody will ever know.
"Good Luck Finding Better Coworkers Than Us" Candle
For coworkers who have become close friends who use humor to get through the daily grind while working in neighboring cubicles, this candle says it all. Good Luck Finding Better Coworkers Than Us is the perfect send-off. There is also a Mug on Amazon with the same quote HERE.
Engraved Mirror
If you are looking for sentimental going away gifts for a woman you work with, then this engraved mirror is a great choice. It reads, "Behind you, all your memories; before you, all your dreams; around you, all who love you; within you, all you need.".
Mini Desktop Golf and Pen Set
For the fellow employee who loves golf, this mini desktop golf set allows them to play golf at their desk while haphazardly listening to a work call that should have been an email. And when they aren't attempting to putt the balls into the hole, the mini clubs are actually pens that write… As pens should do.
For more going away gifts for coworkers, check out our Gifts for Men or our Gifts for Women section.
Be sure to follow us on Facebook for daily updates of unique gifts for everyone!