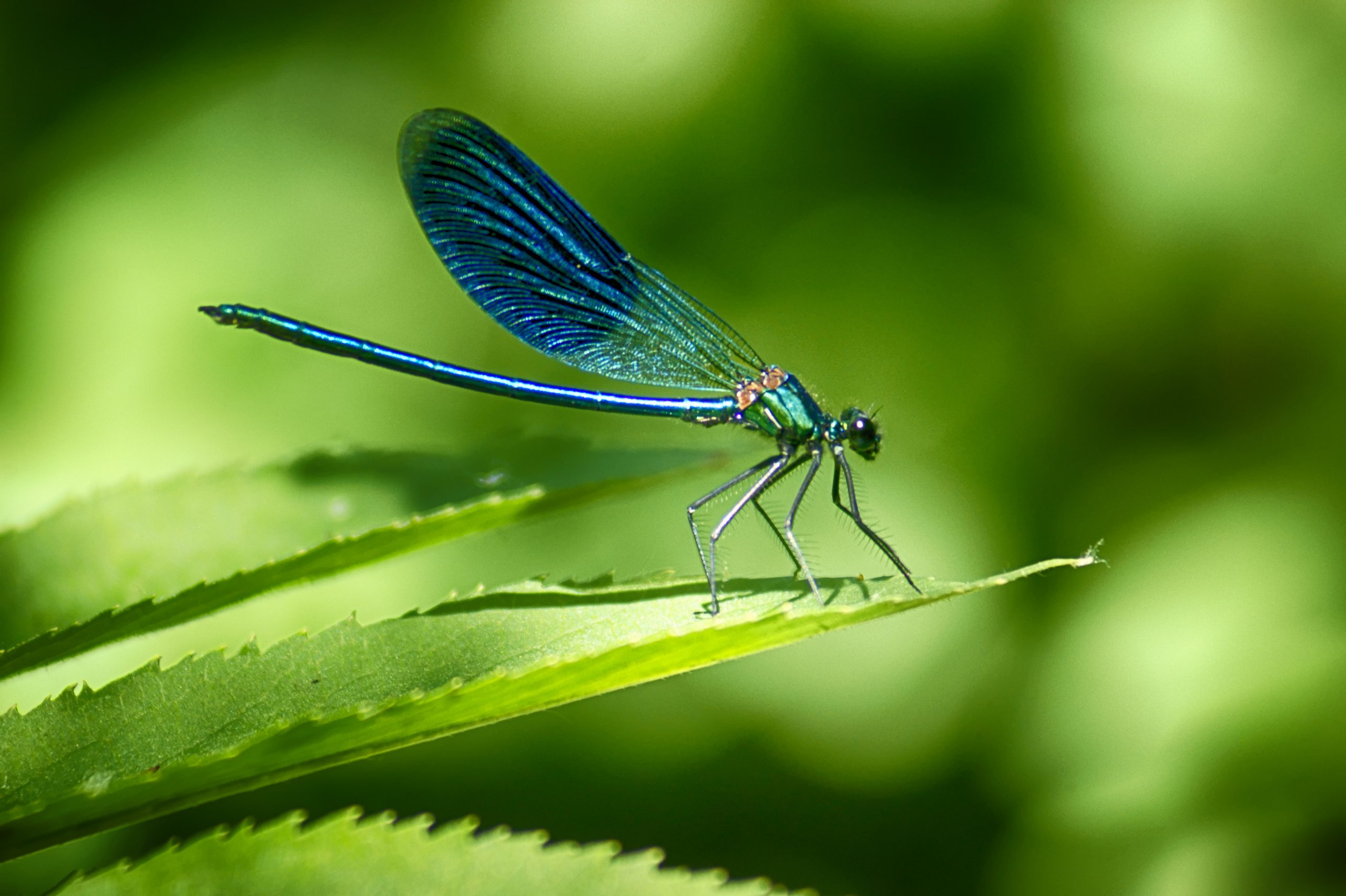 What is it about dragonflies that makes them so enchanting? Perhaps it's their eye-catching color and iridescence, their agility in flight, the association of dragonflies with lazy summer days, or the fact that they form the shape of a heart when mating. Whatever attracts us to these delightful insects, they've long appeared in art and artifacts, and today there's no shortage of dragonfly gifts perfect for lovers of the Odonata order of insects.
How can you find the perfect dragonfly gift for the family member or friend in your life who's obsessed with these graceful skeeter eaters? There are all kinds of options to consider, from personal items, to dragonfly décor, to puzzles, and more so we compiled the best dragonfly gift ideas you can find.
Dragonfly Shadow Lantern
Is there a better way to fall asleep than with a soothing nightlight that casts dragonfly silhouettes across your bedroom walls? This handmade, made-to-order, wooden light box, compatible with replaceable LED tea lights, is among the most unique gifts for dragonfly lovers.
As a bonus, a portion of proceeds from each sale goes toward planting trees in U.S. National forests, creating habitat for dragonflies and other wildlife.
Personalized Dragonfly Metal Pen or Glasses Case
This chromed-out case, which features a 3D dragonfly emblem, may look like a prop from a sci-fi movie set where humans worship their dragonfly overlords. But it's actually a caddy for reading glasses, fancy pen sets, or keepsakes like your stash of stolen diamonds or microfiche containing your top-secret egg salad recipe.
Customize this beautiful case with a meaningful quote engraved on the back or a personal message that lets your loved one know you care.
Dragonfly Wind Chimes
In the bright light of day, the dragonfly ornaments on this lovely windchime look crystalline as they spiral downward.
When the sun goes down, it's a different story, as each of the six dragonflies alight in a rainbow of individual colors, including brilliant red, orange, yellow, green, blue, and purple.
For magical dragonfly décor, this solar-powered set of wind chimes delights the senses with visual and auditory appeal.
Dragonfly Boots
You can't go wrong with these super-fly, 7-hole, Doc Martin style combat boots. This Boho boot features a flowery, mandala pattern motif paired with prominent dragonfly graphics at the ankles and they are super comfortable. Get them for the girly goths and dedicated festival-goers on your dragonfly gift list.
Personalized Dragonfly Wine Tumblers for the Pool
It's a known fact that ladies love shiny stuff, right? Okay, women are not raccoons, but that doesn't mean they can't get girly with gifts that sparkle.
Bring on the bling with these 12-ounce tumblers that offer tons of options for customization. Choose your lady's favorite color and add her name or a saying of her choice.
With resilient construction and a clear lid, these adult sippy cups prevent breakage and spills, making them perfect for poolside day drinking.
Dragonfly Microwavable Heated Aromatherapy Pad
Whether you've spent the day sitting at a desk, chasing toddlers around the house, or dealing with the stresses of visiting in-laws, you've earned a little me-time, and the best way to relax is with this dragonfly heated aromatherapy pad.
Perfect for those who love dragonflies and hate muscle tension, this posh heating pad filled with flax and rice comes unscented or infused with an essential oil of your choice.
It can be nuked or frozen, depending on needs, and the cover is removable and machine washable.
Personalized Dragonfly Cutting Board
Cutting boards don't have to be fancy, but there's no reason they can't be, especially when given as gifts. This cool cutting board comes in bamboo, maple, or walnut with options for small (6"x9"), medium (9"x11"), or large (10"x14") sizing, or a 7"x13" paddle style.
With an intricate, laser engraved dragonfly design and the option for personalization, this is one cutting board that's not only functional, but could double as dragonfly décor.
Dragonfly Wine Bottle Stopper
Some wine connoisseurs keep their vino locked up in cold storage and only bring it out for special occasions, which is crazy. Other, more generous souls always have a bottle or two open to sip with meals or serve to friends.
Give the liberal wine lovers in your life the option to upgrade their libations with a washable wine bottle stopper in metal and rubber that features a dragonfly graphic. That Merlot on the counter never looked so good!
Personalized Etched Wine Bottle with Dragonflies
Do you have a friend who chooses wine by the design of the label rather than the variety of grape or expert ratings? If you're horrified by this random selection process, the perfect gifts await.
With custom etched wine bottles, you can add dragonfly graphics and personalized text to a bottle, providing an eye-catching display, then teach your friend how to choose vintages that dazzle the palette, not just the eye.
Dragonfly Oil Diffuser Necklace
Anxiety can be a real B (and not the kind you find in a bonnet). As dragonfly gifts for her go, this necklace outdoes itself.
It offers not only a delicate, drop-dead gorgeous dragonfly design in premium silver-plated copper, but also the opportunity to relax with a tiny lava stone that absorbs and diffuses calming essential oils. Comes with a luxe, 24" snake chain.
Outdoor Dragonfly Lantern
Garden parties are made magical with the presence of actual dragonflies humming about, but since you can't count on these winged divas to make an appearance, you'll simply have to bring your own.
Outdoor lanterns are awesome gifts for anyone who likes to entertain in the backyard throughout the summer, or even year-round.
Waterproof, solar-powered, and designed to cast a whimsical dragonfly design on tables, decking, or walls, this lantern is a must for anyone who loves to commune with nature in their outdoor oasis.
Dragonfly Sneakers
Cook kicks can make the perfect gifts for dragonfly lovers dedicated to fun and funky footwear. With these hand-painted Chucks, your gift recipient won't likely have any embarrassing twinsie moments—OMG we wore the same shoes!
Custom illustrations including colorful dragonflies, moons, and stars, are sure to stand out from the crowd. Label patches on the back sport designer Akuaduulza's logo.
Personalized Dragonfly Nightlight
Most adults have long since gotten over their childhood fear of the dark, but that doesn't mean they can't still enjoy the soothing glow of a nightlight.
The most thoughtful gifts not only observe a person's interests, but feature some form of personalization. This nightlight scores on both points with a glowing, acrylic dragonfly, as well as the name of the person you're gifting it to.
Personalized "Easily Distracted by Dragonflies and Wine" Coffee Mug
Everyone can use another mug, be it for morning java or a totes casual cuppa afternoon rosé. Girl, it's wine o'clock somewhere!
As dragonfly gifts for her go, this mug serves as a fun little stocking stuffer or just-because present, especially when you customize it with her initials, first name, or nickname.
Personalized Metal Dragonfly Sign
Whether you're looking to boost a boujee backyard, announce a family name at the front door, or spice up interior décor, this metal sign definitely falls under must-have dragonfly decor gifts.
Laser-cut from heavy-duty, 14-gauge steel, this sign comes in an assortment of colors and features an intricate dragonfly design. Easily add custom text, such as a family name and a year of establishment, or a short, personalized message.
Dragonfly Wind Spinner
The search for gifts dragonfly-lovers will go gaga over is at an end with this shiny piece of garden art in powder coat American steel.
The dragonfly center is surrounded by 10 concentric rings spun on an axis, so when the wind hits it, the whole kit and caboodle rotates, catching and reflecting light at every turn. It's a beautiful and dynamic addition to any outdoor space and looks great as dragonfly decor.
Tiffany Dragonfly Lamp
Tiffany is known for upscale, Art Nouveau pieces, and dragonfly décor is a standard of their timeless style. This desk lamp mimics a climbing vine with a stained glass flower shade hanging down, adorned with dragonflies.
With dimensions of 21" in height and 6" wide at the base, this lamp can literally fit anywhere, from the mantel, to an end table, to a small work desk, and the weighted base prevents tipping.
Luminous Dragonfly Bookmark
A bookmark could be as simple as a slip of notepaper, a ticket stub from a movie or sporting event, or a braid of hair cut from your own head (weird, but you do you).
It could also be significantly cooler, especially when it comes to gifts for readers. A good example is this resin-covered metal bookmark.
It features a feather that marks the page, adorned with dragonfly and ball ornaments on a chain meant to hang outside the spine of the book. Does it glow in the dark after absorbing light? Yes, it does! Bonus – it's not human hair.
Dragonfly Tie
An obsession with the raddest insect on the planet isn't the exclusive purview of the fairer sex, and since men have few opportunities to accessorize, patterned ties featuring dragonflies make for great gifts.
This one, in a classic gray, white, and yellow color combo, features a tight pattern that reads geometric from afar, but reveals the dragonfly detail up close. It adds flair without losing that masculine edge.
Dragonfly Tumbler
This 20-ounce tumbler delivers a stained-glass-like effect with a graphic image on the outer shell, which features a dragonfly, lotus flower, and lily pads floating on a rocky streambed.
The 18/8 stainless steel inner sleeve won't rust, corrode, or transfer flavors, and the anti-leak, BPA-free, flip-function lid makes sipping without spilling a cinch. Leave your stain stick at home when you head out the door with your morning tea.
Dragonfly Bird Feeder
Unless you want to live with a horde of maddening mosquitos, it's going to be hard to attract dragonflies to your yard. However, with gifts like this adorable bird feeder, you can invite other winged creatures in.
Measuring 11"x13", this feeder features a metal dragonfly atop a daisy-covered vine, with a bowl for birdseed below. It's a cute, all-you-can-eat buffet that's literally for the birds.
Wooden Dragonfly Puzzle
Puzzles aren't just a great way to focus your mind and find your happy place – the right ones can also become beautiful additions to your décor.
Jigsaw puzzles that offer upscale, artisan appeal are the perfect example, as evidenced by this colorful feast for the eyes. With just 107 pieces, it's easy to assemble in an afternoon, and the diminutive size (just under 7"x9") means it can be displayed on a coffee or end table indefinitely.
Dragonfly Coloring Book for Adults
What do you get the lady who has it all? How about a moment of Zen?
There are plenty of dragonfly gifts for her, but if she's already got wine glasses, scarves, and accessories galore, consider an adult coloring book that lets her set aside her worries for a while and focus on putting pen (or crayon) to paper. The intricate drawings offer untold opportunities for creativity and calm.
Dragonfly Lantern
This handmade, wooden light box from LuminariumDesigns comes in sizes ranging from mini (2"x2"x4", LWH) and medium (3"x3"x8"), to large (6"x6"x12"), tall (6"x6"x24"), and more.
You can choose from plug-in or candlelit options, with boxes designed to hang or rest on a flat surface. Best of all, each lantern features several dragonfly cutouts on each side to cast luminous insect silhouettes on surrounding walls.
Glow in the Dark Dragonfly Garden Stakes
Dragonflies exist in the natural world, and some of the best dragonfly memorial gifts reflect this state of existence.
With a rust-proof metal frame housing colorful glass body and wing pieces, these garden stakes are a joyful addition to flower beds, planters, and outdoor living spaces, in general.
For yard art that adds a bit of whimsy and a bushel of personality, these ornaments do not disappoint, especially when they start to glow at dusk.
Dragonflies and Damselflies
Even if you like dragonflies, it's easy to mistake them for their smaller cousins, damselflies.
If you're looking for fun and educational gifts for dragonfly lovers, this beginner's guide makes for a great compendium that doubles as an eye-catching coffee table book. With lavish photography and facts about all 39 species of dragonflies and damselflies, it's as gorgeous as it is informative.
Dragonfly Silk Scarf
Tying scarves in fun and intricate knots and swirls has become the stuff of TikTok, Insta, and Pinterest gold. If you know a lady who's started to add this classic finishing piece to her everyday ensembles, you couldn't pick better gifts than soft, silk scarves.
This stunning design, featuring large-scale dragonflies hand-painted on a background color of your choice (black, blue, burgundy, green, and more) is 55 inches in length, offering plenty of opportunities to loop, tie, ruffle, and basically copy all of the hottest knots on social media.
Dragonfly Wine Glasses
Does your wine-loving friend constantly lose stemware to ham-fisted friends? Are you the clumsy culprit behind these losses? It's time to show your favorite hostess you care with stemless dragonfly tumblers that are far less likely to wind up as party fouls.
For specialized gifts for dragonfly lovers, choose glasses etched with a sophisticated dragonfly motif she's sure to adore.
Dragonfly Car Aromatherapy
Most car air fresheners that you clip in the AC vents are underwhelming (read: ugly) plastic cubes that may make the air sweeter, but stand out like a sore thumb. In design, form follows function, but that doesn't mean you have to forego a lovely design to make your car smell like lemon or lavender.
This blingy medallion with a dragonfly front features replaceable felt pads that you can douse in a few drops of your favorite essential oil to keep the cockpit smelling fresh and inviting.
Dragonfly Friend Ornament
It's all too easy to take your friends for granted. That's why it's so important to tell your favorite people how much they mean to you with fun friendship gifts.
This ornate dragonfly charm isn't just for decorative purposes – it also sends the message "thanks for being an amazing friend." Literally. It's written on a charm that hangs off the tail.
Dragonfly Window Sun Catcher
The reason a dragonfly catches the eye as it zips across the sky is its bright, iridescent body and wings. This suncatcher ornament captures that very quality with stained glass wings and a colorful, beaded body.
A breathtaking example of upscale dragonfly décor, this piece goes perfectly in a window or on display in a garden, where it's sure to bounce light like the insect it represents.
Dragonfly Sunglasses
A fly pair of shades definitely imparts a cool vibe, and these dragonfly sunglasses are totally fly, thanks to wing-like lenses. With dozens of hues to choose from, you have plenty of options for the hip friend unafraid of donning a unique accessory to make their next social post Instamazing.
Dragonfly Puzzle
Thousand-piece puzzles aren't for the faint of heart, but for advanced puzzlers, such gifts offer challenging appeal. This round, intricate, Zentangle design delivers meditative vibes with a colorful palette that's a joy to behold. Great for a solo or group activity so it makes a great gift for a dragonfly lover.
Dragonfly Memorial Wind Chimes
Dragonflies, like butterflies, symbolize transformation and rebirth. In life, it's not uncommon for family and friends to move on to new chapters in life, but that doesn't mean they leave the love they feel behind.
Remind your loved ones who are far away that you're always with them, with memorial dragonfly gifts like these memorial wind chimes.
With so many enchanting attributes, it's no wonder people love dragonflies, and you can show you pay attention to their interests with dozens of options for dragonfly gifts with major crossover appeal.
Whether you're shopping for wine lovers, avid readers, or outdoor enthusiasts, there's something for everyone in this charming array of dragonfly gift ideas.