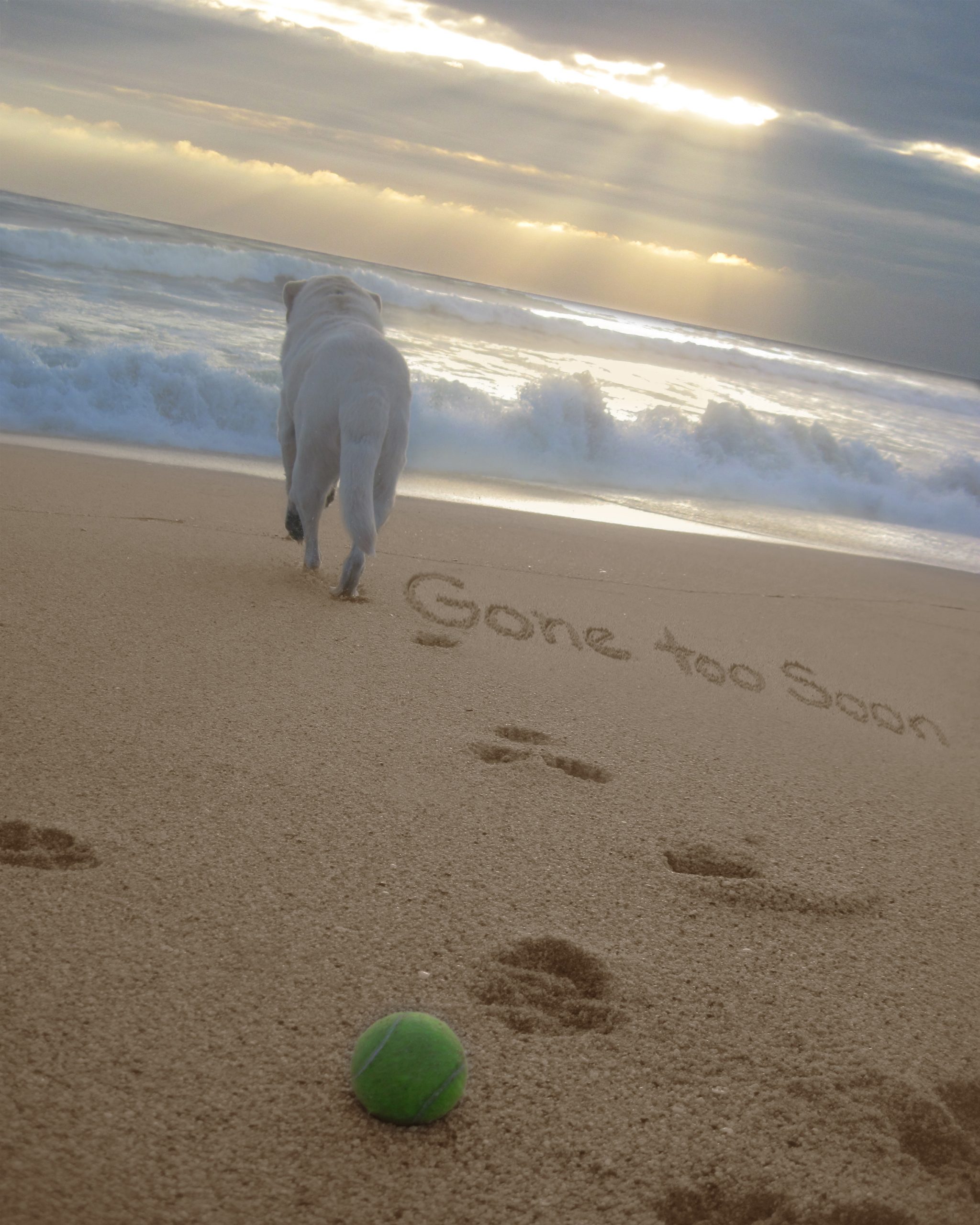 Losing a dog, cat, horse, guinea pig, or other pet can be truly devastating. Sometimes even the smallest of pet sympathy gifts can make a big difference to someone who's grieving. But coming up with unique gift ideas for someone who has lost a pet can be a tough task. You've probably researched "pet loss gifts" and "pet sympathy gifts" over and over. How do you know what kind of gift is appropriate?
We've scoured the world—and by that, we mean the world wide web—for some of the best sympathy gifts for those suffering the loss of pets. Choose one of these pet sympathy gifts to console your friend(s) in their time of need.
Personalized Engraved Pet Necklace
Send the artists at LONAGO Jewelry a 600 x 600-pixel photo of your pet and a brief message. After they spend some time in the workshop, the jewelers will send back a custom pendant that's an exact replica of the beloved pet in pendant form and with your submitted text engraved on the back. According to their sales page, along with dogs and cats, they'll also make pendants for a pet lion (shout out to Tiger King). This is a truly unique gift for pet loss.
Pet Memorial Wind Chimes
Your friend or family member will think of their darling pet every time the breeze blows with this customized set of wind chimes. They're held together by a paw-shaped, cast-metal piece bearing the name of the deceased pet and a brief poem titled "Pawprints Left By You." They also come with a smaller, paw-print-designed "drop" pendant, the back of which is blank and has room for optional engraving, as well. Functionally, they work the same as ordinary wind chimes do, but with a touch of lovely melancholy.
Pet Sympathy Succulent Gift Set
These loss of pet gifts are designed with the mourner in mind—a few gentle items of self-care to help take the edge off the devastating loss of a pet. The centerpiece is a succulent plant in a white ceramic pot. The plant is chosen at random by the merchant. Other items include lip balm, scented candles, optional bath bombs, bubble baths, or miniature teddy bears.
Plantable Dog Bone for Dog Sympathy Gift
One of the more unusual but most appropriate pet sympathy gifts on this list are these bone-shaped pieces of recycled paper laced with Chinese forget-me-not seeds. Your grieving friend can bury one of the ten included bones somewhere in their yard and let nature take its course. Within a few weeks, beautiful flowers will appear on the spot. The gift also comes with a personalized message and a poem on each bone, although these can't be read while underground.
Pet Memorial Candle
Scented candles are godsend gifts for people seeking to alter or align their moods through the magic of aromatherapy. These custom candles burn in the scent of soy vanilla and come with the option for a personalized message. If you buy two of these for your friend, you'll get a third candle to keep for yourself. However, we do not suggest scanning the pet obituary column to find additional recipients.
Customized Portrait on Your Pet
Does your friend remember when they were a bratty little kid and tried to ride the family German Shepherd like it was a horse? The artists behind these customized portraits want to indulge these fantasies to the extreme. They can make a portrait featuring a mock image of your grieving friend dressed up as their favorite historical leader (à la Napoleon) and riding atop a horse-sized portrait of their pet. The pet doesn't have to be a dog; it could also be a cat, a hamster, a gerbil, or (it should go without saying) a horse.
Dog Memorial Candle
This bone-shaped dog memorial comes with a candle votive. When lit, the candle represents the eternalness of memory and the indomitable spirit of light. When unlit, it represents the lingering stillness and melancholy of absence. When turned upside down, it represents not reading the instruction manual correctly. Also comes with an inscription.
Personalized Pet Portrait Ring
This is one of the most unique pet memorial gifts we have seen. This jeweler takes the photo or scanned image you provide and turns it into a rather lovely ring. Conceivably, this picture could feature the head of your friend's dog, dog, or horse (or any pet), or else the bottom of its paw, which, as you've learned from this article, seems to be a popular thing now. Alternately, it can be a writing sample or a fingerprint, but those are beyond the scale of this whole piece.
Personalized Pet Memorial Pillow
This custom-made throw pillow includes a picture of the beloved pet, their name, and your choice of two colors and six commemorative phrases. Available in three different sizes, this lovely, cuddly gift for pet loss is perfect for couches, beds, loveseats, or recliners. Memorialize a lost loved one right on the spot where they once lay, played, and most likely shed a lot of hair.
Signs from Pets in the Afterlife
After pets die, they may try to send their earth owners messages through various means, including but not limited to bedroom visitations, dreams, moving objects, clouds, and license plates. This book will instruct your mourning friend on how to receive and interpret these messages, as well as whatever action items they may need to take.
Pet Photo Stepping Stone
This is one of the more unusual pet sympathy gifts on our list. A pet photo stepping stone comes in a D.I.Y. project package with everything grieving pet owners need to make an honorary memorial of their beloved furry friend. It comes with concrete mix, custom plastic molds, letter stamps, and some lovely gemstones to place around a picture of the departed.
When finished, the stepping stone can be placed near a garden, a tree, or somewhere else around the house as a loving memorial.
Paw Print Pet Memorial Stone
This miniature headstone is shaped like a paw, which is how it got its spot on this list of pet loss gifts. It's weather-resistant and suitable for outdoor placement, but it's also small enough to fit on an indoor shelf. This paw-some headstone has space for a photo of the deceased pet as well as a respectful poem that any pet would have been extremely flattered to hear.
Pet Collar Keepsake Picture Frame
This unique art item houses a picture of your friend's late pet just as normal frames are designed to do. However, it also has a nine-inch space to showcase a small or medium-sized dog or cat collar right below the photograph. This might not be the best choice if your friend's buddy was an avid collar chewer.
Cremation Pet Urn
People who have their loved ones cremated usually either scatter the ashes in a field or in the ocean. The other popular option is to keep the ashes around as a token of remembrance. If your friend plans to hold onto their beloved pet's ashes, the perfect pet loss gift is something your friend can store those ashes in. This beautiful brass urn with a pair of paw prints etched on top is paw-fect. It also has a threaded screw top design so nothing bad happens when your friend's other pets (or children) inevitably knock it over.
Pet Memory Box
Sympathy gift ideas for someone who has lost a pet should help your friend remember their (unforgettable) furry friend. That's why a memory box is great for keeping all sorts of momentos related to a beloved dog or cat gone to the Rainbow Bridge. It even comes with a custom laser engraving of the deceased pet's name and years of life. Your friend can preserve their pet's memory with a place to hold their pictures, leashes, collars, toys, balls, bowls, and even tiaras.
Personalized Pet Grave Marker
This high-quality granite headstone comes in a variety of colors and personalization options for placement on or near a pet's resting place. You can choose one of ten simple, heartfelt messages that sum up your friend's emotional connection to their fur baby in a meaningful, concise way. Depending on the design you choose, the grave marker can also be festooned with flowers, paw prints, bones, or other decorative flair.
Mrs. Fields Cookie Tin
Cookies make some of the best gift ideas for someone who has lost a pet. Everyone likes them. They taste superb. There's no underlying, underwhelming message attached to them. The sweetness and chocolatey goodness will help your friend temporarily forget that they're beset by the porcelain jaws of devastating grief. This thoughtfully arranged tin from one of the world's most acclaimed cookie providers will help someone deal with their loved animal moving to greener pastures. Or Fields, if you will.
Sympathy Gift Basket
Of course, mourners can't live on cookies alone. That's why Gourmet Gift Baskets offers some of the most diverse sympathy food gifts in the known universe. They include chips, crackers, pretzels, meat, cheese, chocolates, breakfast pastries, cheesecake, and more. Should the proceedings start to get exceptionally morose and volatile, they also offer wine baskets and tubs of beer. And let's face it, food and booze make a great gift for pet loss.
Personalized Cutting Board with a Picture of Your Pet
For your mourning friend, sowing the seeds of memory may be especially poignant when they're chopping up mushrooms (or perhaps better, onions). With this cutting board, etched with the name and a picture of your friend's pet, the emotional experience only triples. As a cutting board, it's no slouch, made with all natural wood. Every time your friend makes a home-cooked meal, this board will stir up fond memories of their pet dog, cat, horse, or pig (although, in the last case, filleting pork chops on this board would seem just a wee ironic).
Pet Memorial Portrait
Good pet loss gifts will remind your friend of their darling pet. This is a nice, framed piece of artwork commemorating your pet's spirit and physical beauty. It's a digitally composed watercolor print generated from a picture that you give the artist, along with the pet's name in a playful font and an optional quote. The art gives the picture of your friend's dog or cat a sort of Norman Rockwell, ethereal effect, something extremely difficult to find at Petco.
Custom 3D Engraved Photo
This stunning but frankly somewhat macabre pet memorial gift is a laser-etched, 3D representation of your friend's pet fully encased inside a glass box. The company even uses this design for late children or babies. It's probably not quite as peculiar if you choose to feature a dog or cat in this piece of art, but seeing a 3D image of one's child has to be a little perturbing. It must be how Han Solo would have looked if he was trapped in that carbonite case, except younger.
Horse Hair Pendant (You can use hair/fur from any pet)
This is a see-through pendant with a lock of actual hair from an actual horse inside. You can choose from the ever-popular heart shape or other geometric shapes like ovals and squares that aren't quite so emotionally loaded. Although it's advertised as a "horsehair" pendant, we've been assured it's also suitable for hair from household pets. Of course, you'll have to snip a piece of fur from your friend's cat somehow if you don't have a lock already handy.
Personalized Pet Memorial Blanket
This is another offering from the "Pawprints Left By You" collection of pet memorial gifts, which includes the above-mentioned wind chimes. In this iteration, the sentiment comes in the form of a blanket. It's customized with the departed pet's name, another recitation of the poem, and decorative hearts and paw prints. Technically speaking, it's made of very soft and plush fleece. It will warm your friend up the same way their loving St. Bernard did, minus the drool.
Sleeping Angel Cat Memorial Statue
Working from the supposition that cats are angels on earth—rather than the stereotype of the self-contained, emotionally distant carnivores that's been popular of late—here's a statue of a sleeping cat with angel wings attached. Left to its repose in your friend's garden or somewhere in their landscaping, it will offer them a quiet, dignified remembrance of their beloved feline. Also, if their cat sees a bird, it can attack more effectively since it's got wings now.
Dog or Cat Angel Memorial Statue
But hold on, let's not leave dogs out of the discussion of celestially divine beings. This statue depicts a friendly looking canine with its own set of angel wings. Since it's become an angel, the dog has developed the ability to stand upright on its hind legs, carry a lamp in one hand and a bouquet of roses in the other. That will certainly uplift your mourning friend. Also available in a cat version.
Personalized Pet Loss Portrait
These stunning, hand-painted portraits are taken straight from old photographs of your friend's dog or cat. The detail and meticulous craftsmanship are frankly kind of amazing. They're almost like Presidential portraits of the late pet, were there are not certain archaic restrictions still in place about animals running for President. When it comes to gift ideas for someone who has lost a pet, this portrait is one of a kind.
Personalized Pet Sympathy Photo Cube
Help your mourning friend keep cherished memories alive in cube form with this stylish photo holder. It comes with the pet's name and a brief, inspirational message inscribed on the top. Your friend can display four different 3 x 3 inch photos of their pet. For variety's sake, we recommend an action shot, an at-rest shot, a contemplative shot, and a red-carpet fashion shot.
Customized Historical Pet Loss Portrait
In bygone eras, your friend's dog could have been a king, a duke, a conqueror, or an aristocrat. So could have their cat, but cats already believe they're all those things. In either case, celebrate the inherent nobility of your friend's pet with these beautiful reproductions in which the late pet is dressed to the nines in full, detailed regalia. Be careful if you offer this unique gift for pet loss while your friend's pet is still alive because they'll probably bark or charge straight at them
For someone who's just lost their furry friend, sympathy gifts for loss of pets can be a welcome distraction from grief as well as a fond remembrance of a close, devoted, endlessly loyal family member…and also cats.
Whatever pet sympathy gifts you choose to give, be sure to make an effort to reach out when you can, too, in order to check on your friend's emotional state.
P.S. We're actually cat people. We know cats can take a joke. Well, we're pretty sure. Kind of.
For more gift ideas for someone who has lost a pet, check out our Gifts for Women or our Gifts for Men.
Be sure to follow us on Facebook for daily updates of unique gifts for the whole family.