The Best Gifts for a 40-Year-Old Woman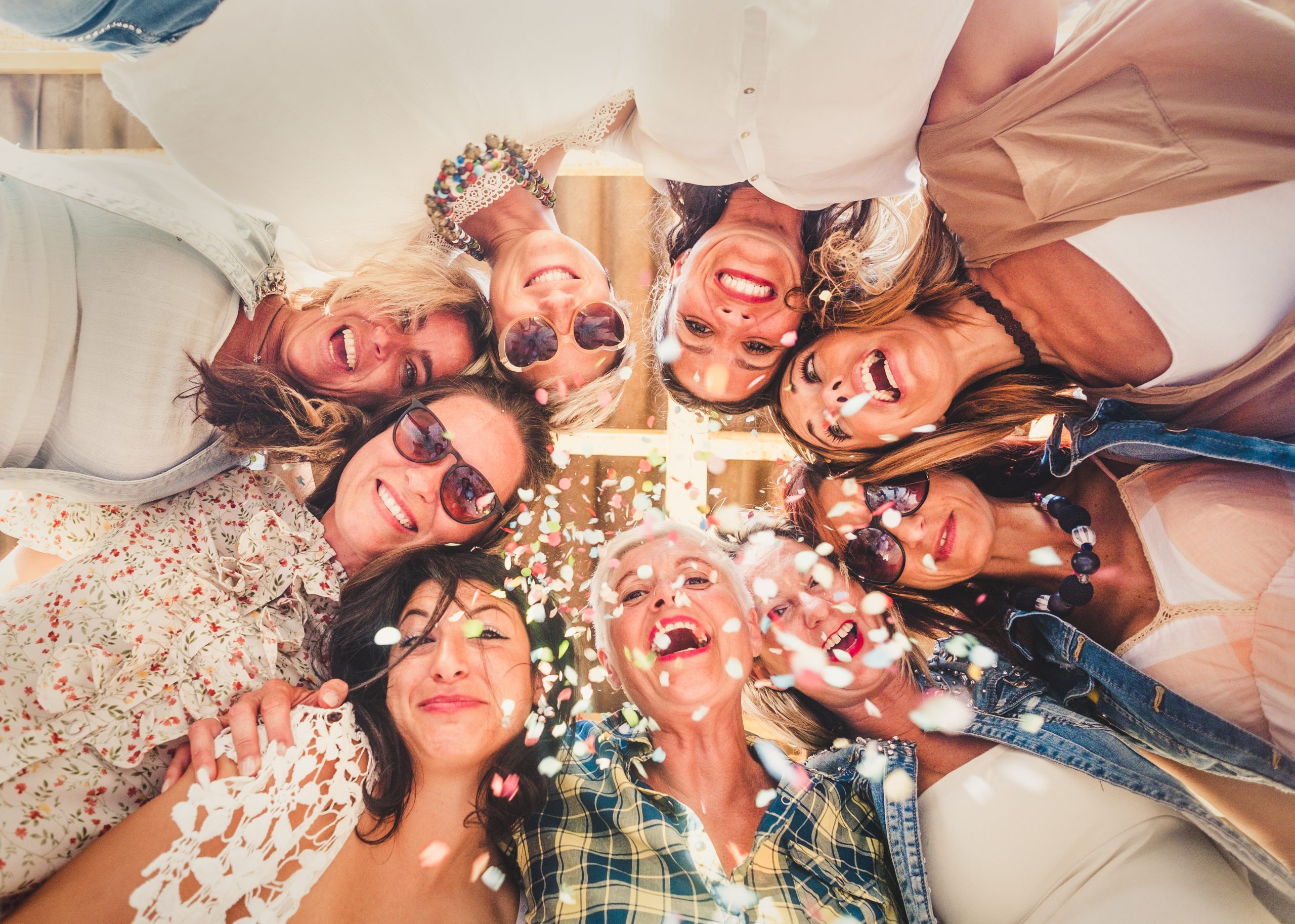 40 is just a number. It's not the biggest number out there. It's bigger than many numbers, but not all of them. Still, there are certain implications about reaching the age of 40 — none of which we're willing to get into at the risk of mass insult. But whatever they are, they come into play when it comes to finding the best gifts for a 40-year-old woman.
We've found unique gifts for women in their 40s that cover several interests that are appropriate for those on the more seasoned side of 40. We've found travel gifts, self-care gifts, self-discovery gifts, food gifts, and a suspiciously generous number of alcohol gifts. Let's show those skittish youngsters that we know how to have a good time, too! Here's a guide to some of the best gifts for a 40-year-old woman.
Related: Gifts for Women
Giant Blanket by Big Blanket
This is some killer linen. It's one of the biggest blankets allowed by the rules of nature and commerce. The Giant Blanket measures 10 feet by 10 feet for total coverage of your entire body, a few children, several pets, and possibly some stray kitchen appliances. It's softer than a philanthropist's heart and more all-encompassing than a police evidence room. Available in 14 different enormous patterns and colors and can be used to make the best blanket fork ever imagined.
Alcohol Infusion Kit
After years of relying on snooty, reckless mixologists to come up with half-decent cocktails, why not take matters into your own hands? The Aged & Infused home infusion kit includes dehydrated fruits and spices in handsome bottles make a great gift for women in their 40s. Choose from spiced orange, blueberry lavender, strawberry jalapeño, spicy pineapple, or raspberry rose. Just add the spirit of your choice, wait for a week, and you'll have a homemade cocktail you didn't have to endure a hipster to get. Do you know what makes the best gifts for a 40-year-old woman? Anything alcohol-related, because by now we know how to numb the pain with a little booze. For more alcohol-related gift ideas for women in their 40s, check out our Gifts for Drinkers section.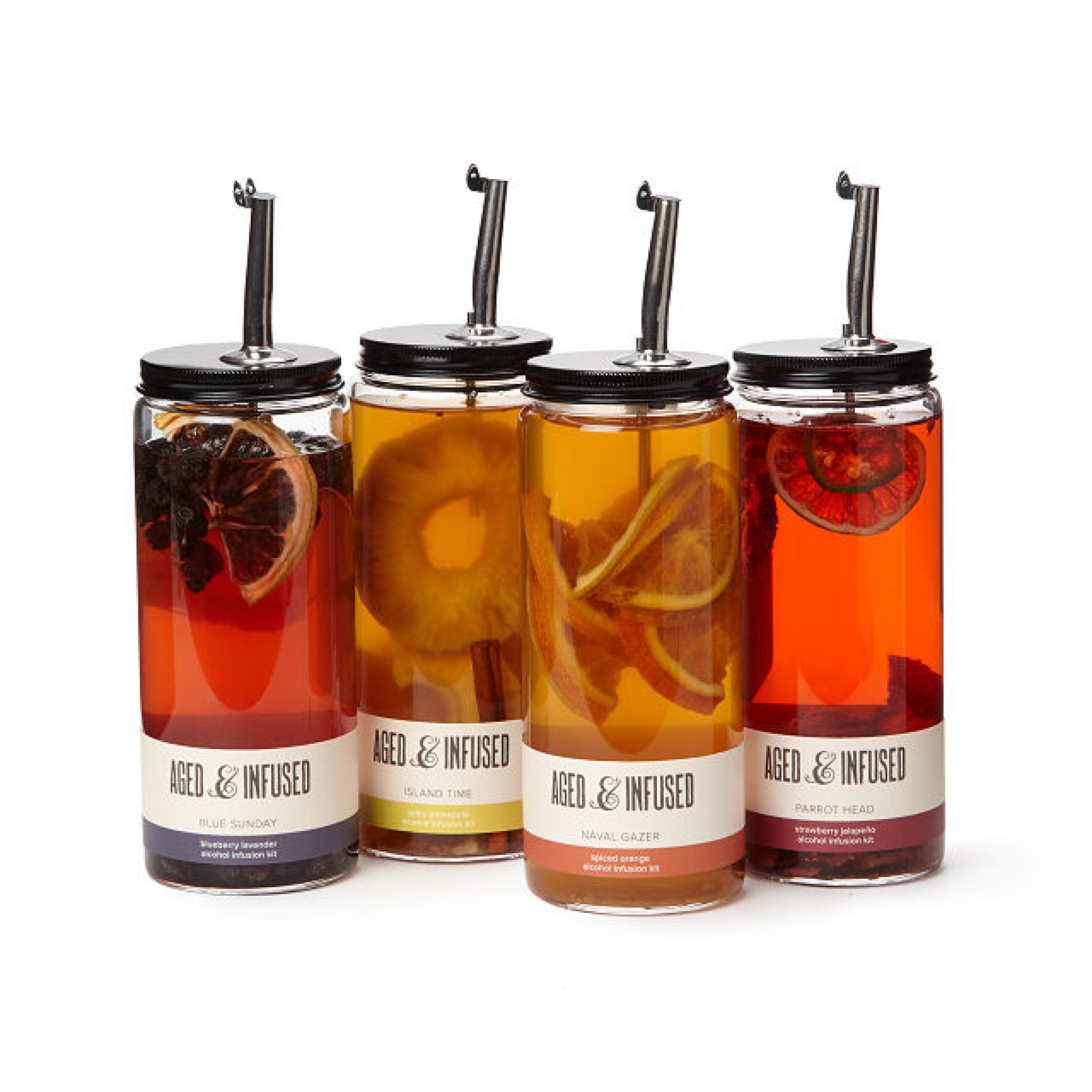 Paraffin Wax Machine for Hands and Feet
One of the ultimate gifts for a 40-year-old woman who is a body-care enthusiast is this machine because it contains everything you need to cover your hands and feet in paraffin wax. Before you ask, paraffin wax makes your hands and feet softer, makes them look younger, and it feels incredible. But you have to melt it down first, which this machine does with panache. It includes thermal gloves, a brush, a spatula, and protective equipment galore.
Related: Relaxation Gifts for Women
Self-Care TheraBox Subscription
Don't go out into the mean streets of the suburbs just to find yourself some decent self-care products. Let them come to you. The TheraBox sends you a box of gifts every month, generally aligned toward health, beauty, maintenance, and overall improvement. You'll get items for aromatherapy, bath time, skin and body care, beauty tools, and relaxation. You'll also get a "happiness activity," which we can confirm after intensive research is better than an "agony activity." Self-care items make great 40th birthday gift ideas for women.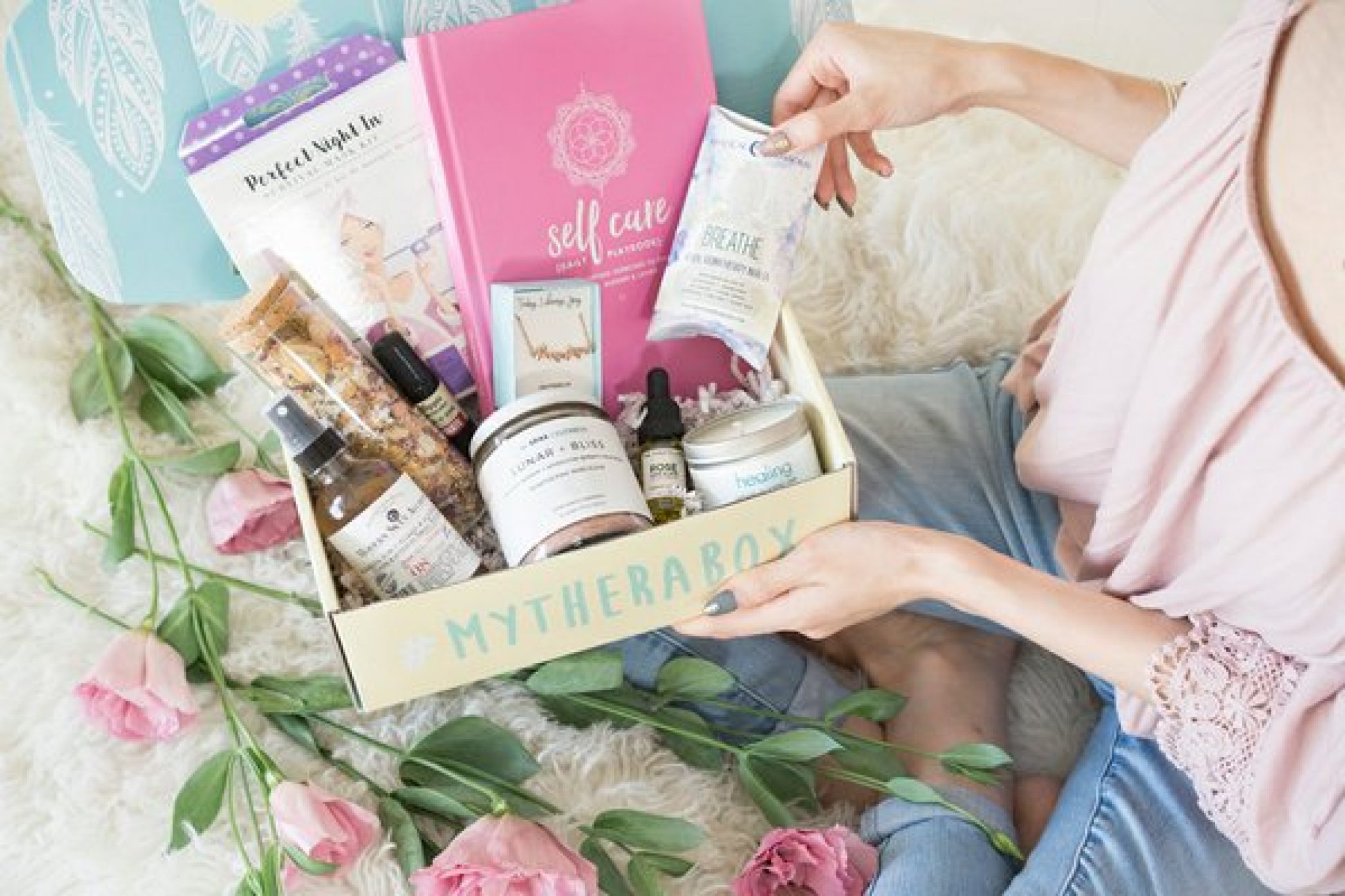 Gourmet Oil Dipping Spice Kit
Dipping crusty bread in gourmet olive oil is one of life's greatest simple pleasures, right up there with unicycling and sorting recyclables. This brilliant spice kit is a life-hack for getting the flavors of the world onto your dining table via your bread. It has ingredients and recipes for olive oil dips inspired by Rome, Tuscany, Marrakesh, Provence, and Madrid. Hopefully, they'll come up with something for Cleveland someday. For more food-related gifts for women in their 40s, check out our Foodie Gifts.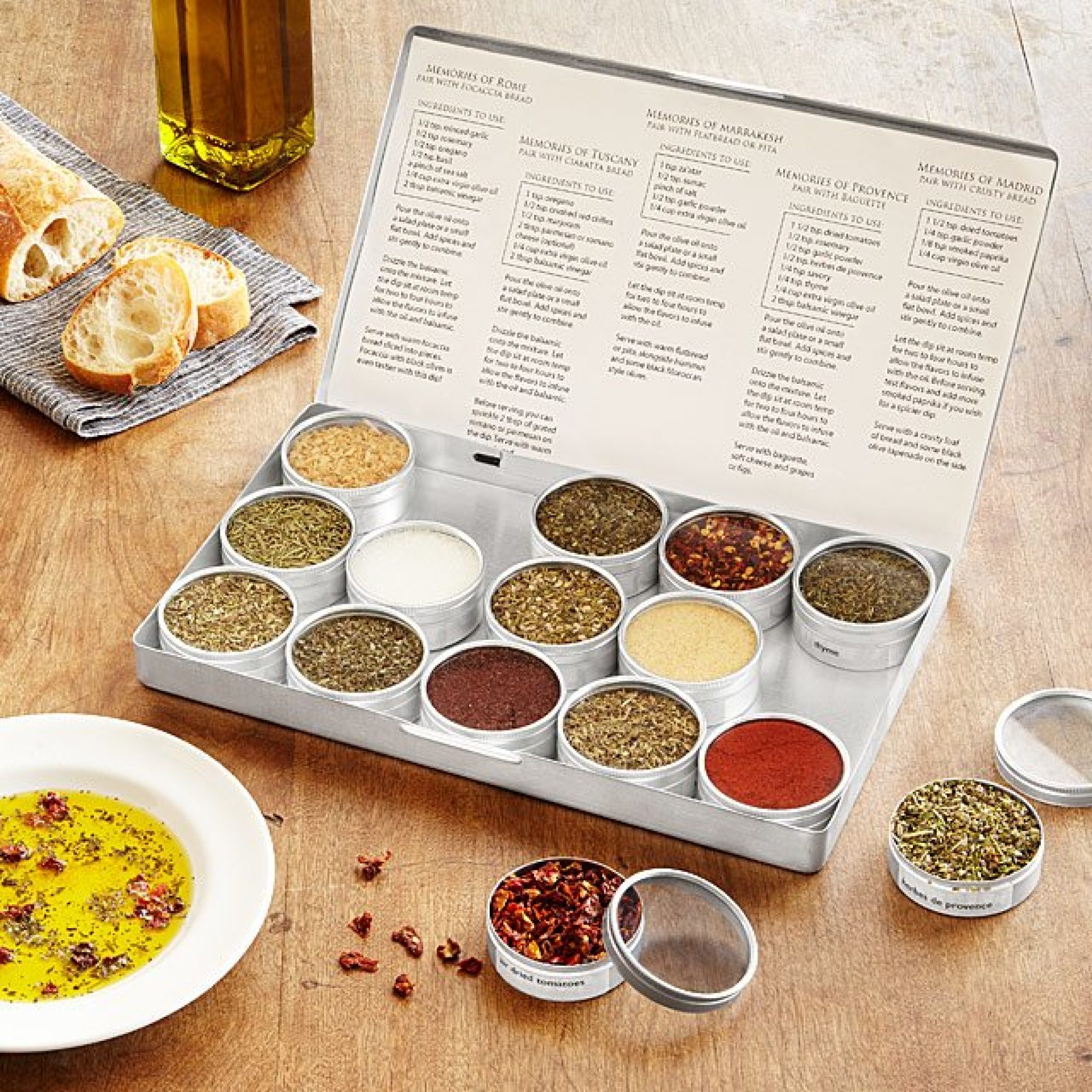 Related: Gifts for Chefs
Cocktail of the Month Club by Shaker and Spoon
Take your cocktail game to the place that sportscasters with deep jowls call "the next level" with this subscription box. Every month, you'll get everything you need to make 3 different cocktails, except the liquor. The recipes come from the most accomplished bartenders around. You'll get bitters, mixers, syrups, garnishes, spices, and complete instructions. Each box has enough supplies to make 12 cocktails, so that should last at least 3 hours.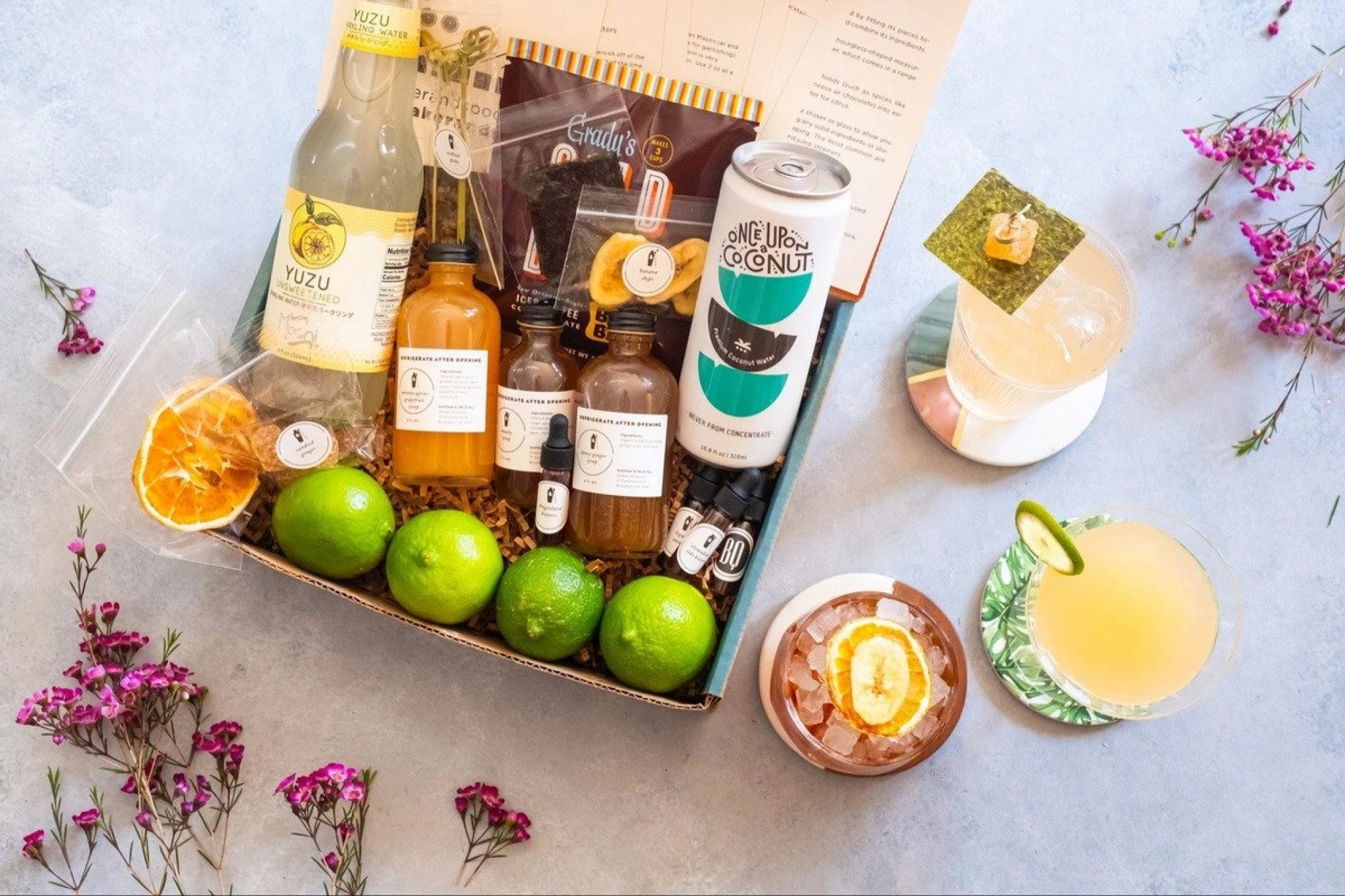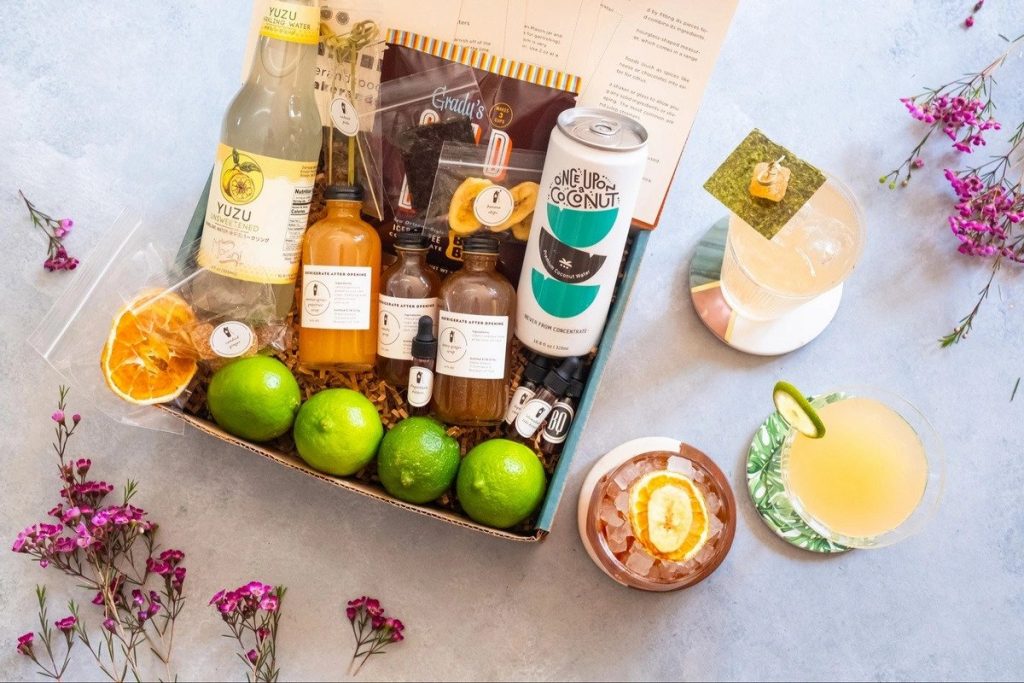 Shower Steamers
Finally, some gifts that are like bath bombs for vertically-oriented people. Shower Steamers are puck-shaped pellets that come in an array of soothing, aura-generating scents. Put one on the floor of your shower, activate it with hot water, wait a minute, and step in. It's like a gentle, comfortable sauna — one that promotes relaxation, stress reduction, and physical relief. Unlike bath bombs, you won't feel like a human trapped in an Alka-Seltzer glass and they make your whole bathroom smell like a spa. And let's face it, women in their 40s have a lot more stress in their lives so these will help prevent them from wanting to slap their partner upside their head. For more stress-relief gifts, check out our Relaxation Gifts for Women.
3-in-1 Smart Bottle
Does your water bottle have dancing lights? No? We thought as much. You know what the amazing thing is? That millions of people all over the world buy their water bottles and never take the fact that they don't have dancing lights into consideration. This water bottle? Oh, it has dancing lights. It's also got a Bluetooth speaker and a light that glows when it's time to hydrate yourself. It also holds water. But we know what it's all about, don't we? Yes — dancing lights. Once women get into their 40s, we end up getting consumed with work, kids, soccer games, and life, so this bottle reminds us to drink throughout the day.
AeroGarden Herb Garden
The AeroGarden kit includes a planter, a hydroponic light, some liquid plant food, and six planting pods for curly parsley, dill, thyme, mint, and two kinds of basil. You can order refill kits for other herbs and leafy greens, too. Insert the pods, drop in some plant food, turn on the lights, and go away for a month. You'll have a healthy, indoor herb garden without even having to look at a trowel. Even women with a brown-thumb can easily grow fresh herbs.
World Wooden Map
I own this and it's my most prized possession and everyone who sees it ends up ordering it. Keep an ongoing record of all of your world travel experiences with this eye-catching wooden world map. Made from birch wood and surgical engraving skills, this 3-D map turns any blank, unimposing wall into a rustic, beautiful travelogue. It comes in four different sizes to match your needs. The package includes push pins and flags to mark every place you've visited (or want to visit), whether it's Greenland, Siberia, Luxembourg, Andorra, Seychelles, Antarctica, or less popular tourist destinations.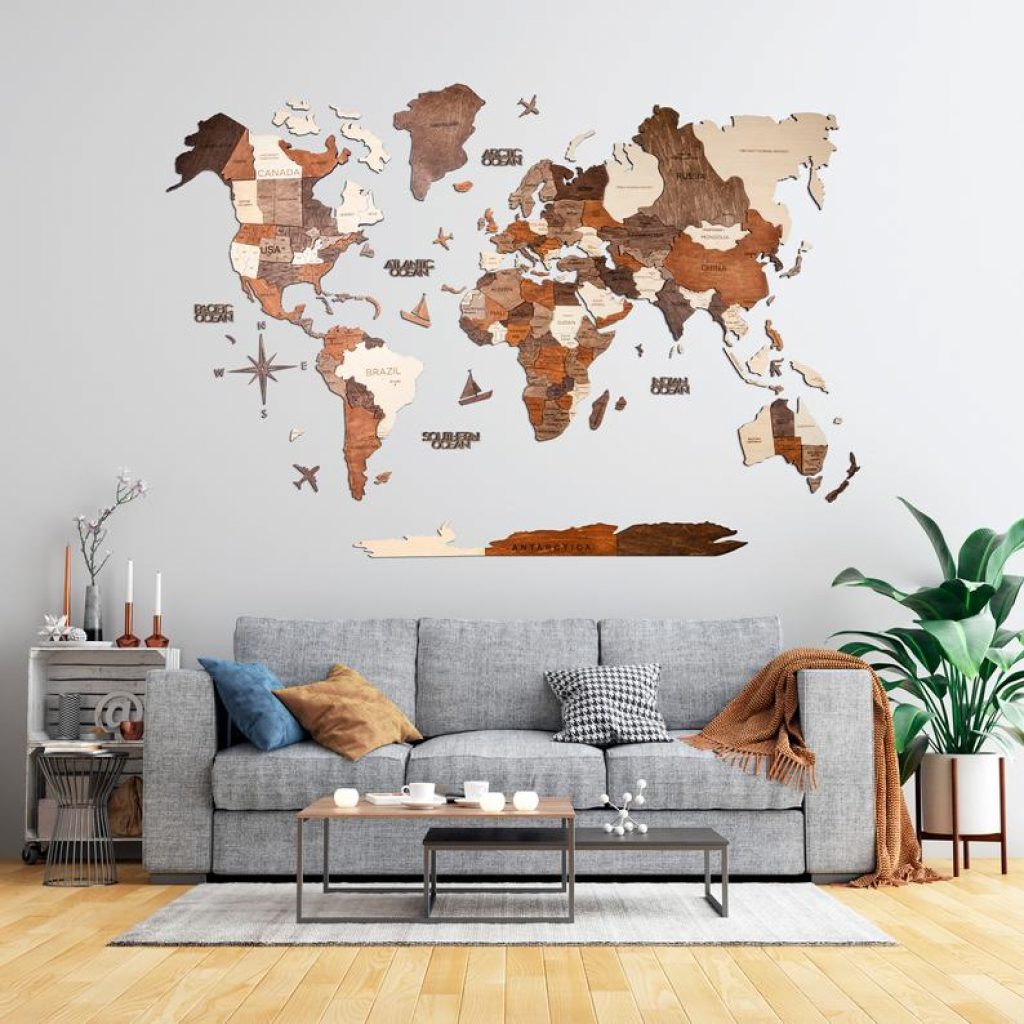 Wine of the Month Club
Whether you prefer red or white or don't care which you get, as long as the glass keeps getting refilled, the Wine of the Month Club brings the vineyards of the world directly to your doormat. Every month, you'll get 3 gifts of full-sized wine bottles from locations all over the world. These aren't your supermarket wines, either. They're rare, carefully crafted, and shrewdly selected. Each shipment also comes with reading material about the wines. This makes a great gift for women in their 40s… or women in their 50s… or any aged women, really.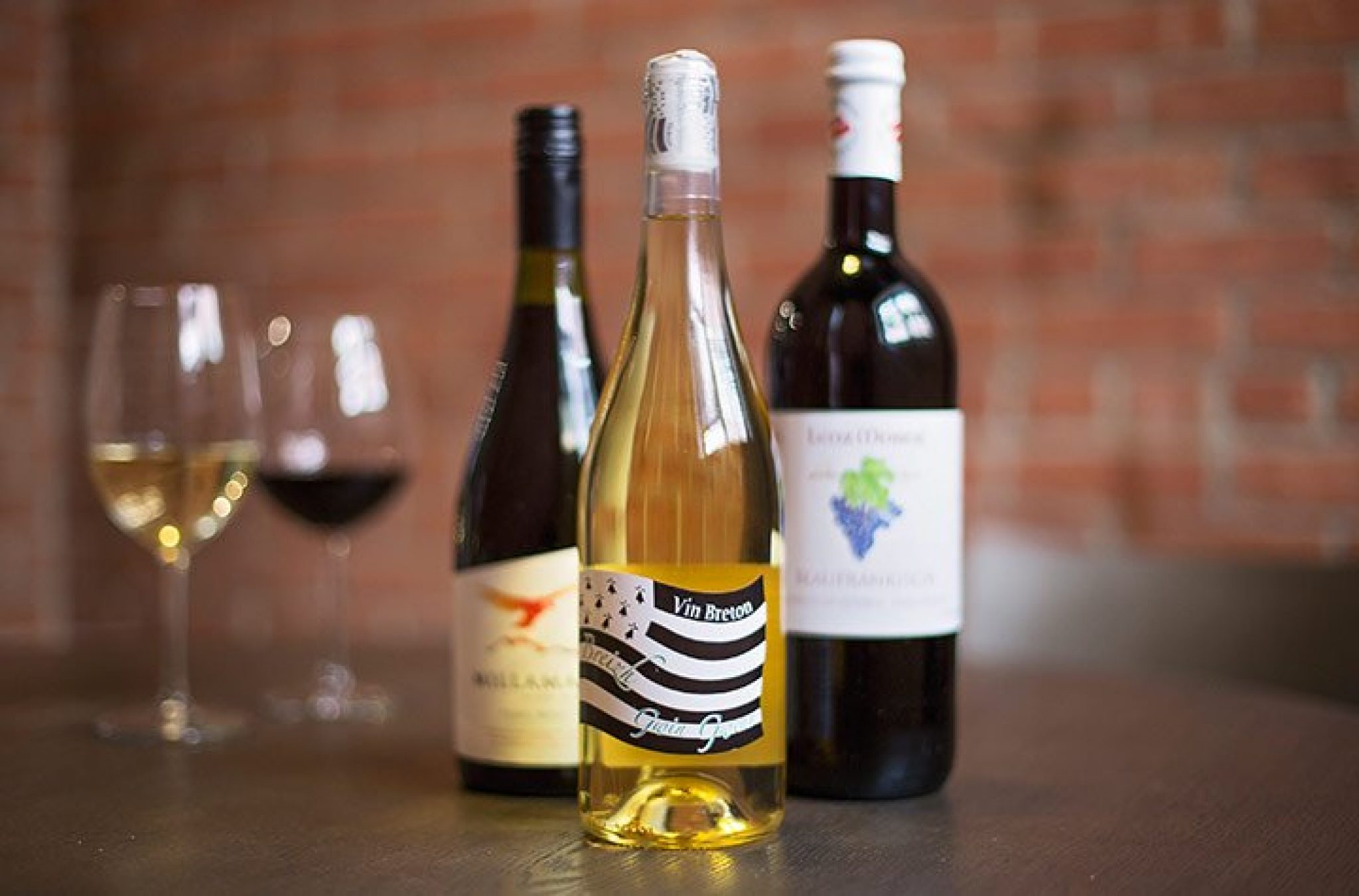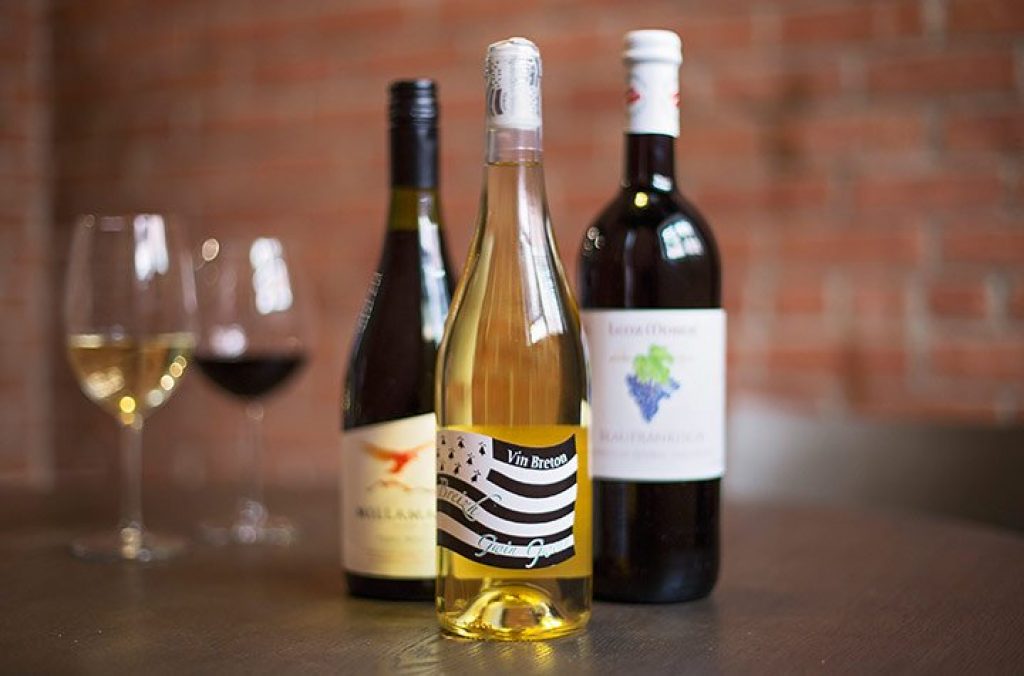 Destinations of a Lifetime
This book from the staff of National Geographic is a pictorial journey to some jaw-dropping parts of the world. Photographer Dan Westergren took breathtaking photos of "225 of the world's most amazing places," and arranged them all in this book, giving you some easy additions to your post-40 bucket list. It features stunning shots of caves, mountains, mesas, churches, canyons, cityscapes — basically all of the most wondrous places on earth. It makes a great gift for a 40-year-old woman because, by the time women are in their 40s, they have the means to travel a bit more and a desire to escape the kids.
50 States, 5000 Ideas
As if National Geographic weren't busy enough, they've also published this book of great travel destinations within the U.S.A. Each chapter is dedicated to one of the 50 states (plus, discreetly, the Canadian provinces) and the wonders they behold. You'll be whisked off to not-that-far-off places like Delaware's Chateau Country, Georgia's Blue Ridge, Niagara Falls, Oregon's Crater Lake, South Dakota's Black Hills, Washington's San Juan Islands, and Cincinnati.
Boxed Wine Dispenser
Let's be honest about your boxed wine problem. It's not so much the wine that's the problem. It's the box. It doesn't scream "carefully tended wine cellar." It screams "lowest shelf across the aisle from the motor oil." But don't give up your boxed wine habit — just disguise it! Empty the wine of wine into this beautiful, 3-liter-capacity wooden box with a spout. The ice pack inside keeps it cool and the chalkboard on the front lets you write what kind of wine is inside. I like to write, "very expensive wine". Your guests will think you got the wine from classy extraterrestrials, instead of Chad at the AM/PM. For a stainless-steel version, check it out HERE.
Bloody Mary Mixer Kit
Ahhh, the Bloody Mary. At brunch, it's second only to the overrated mimosa. At a cocktail bar, it's the second healthiest thing you can swallow, right behind your pride. And it responds very well to gourmet tinkering. That's what this mixer package designed exclusively for Bloody Marys lets you do. It contains two mixes, bitters, salt, sriracha sauce, and pickled green beans — it's one of the spiciest, sauciest gift ideas for women in their 40s.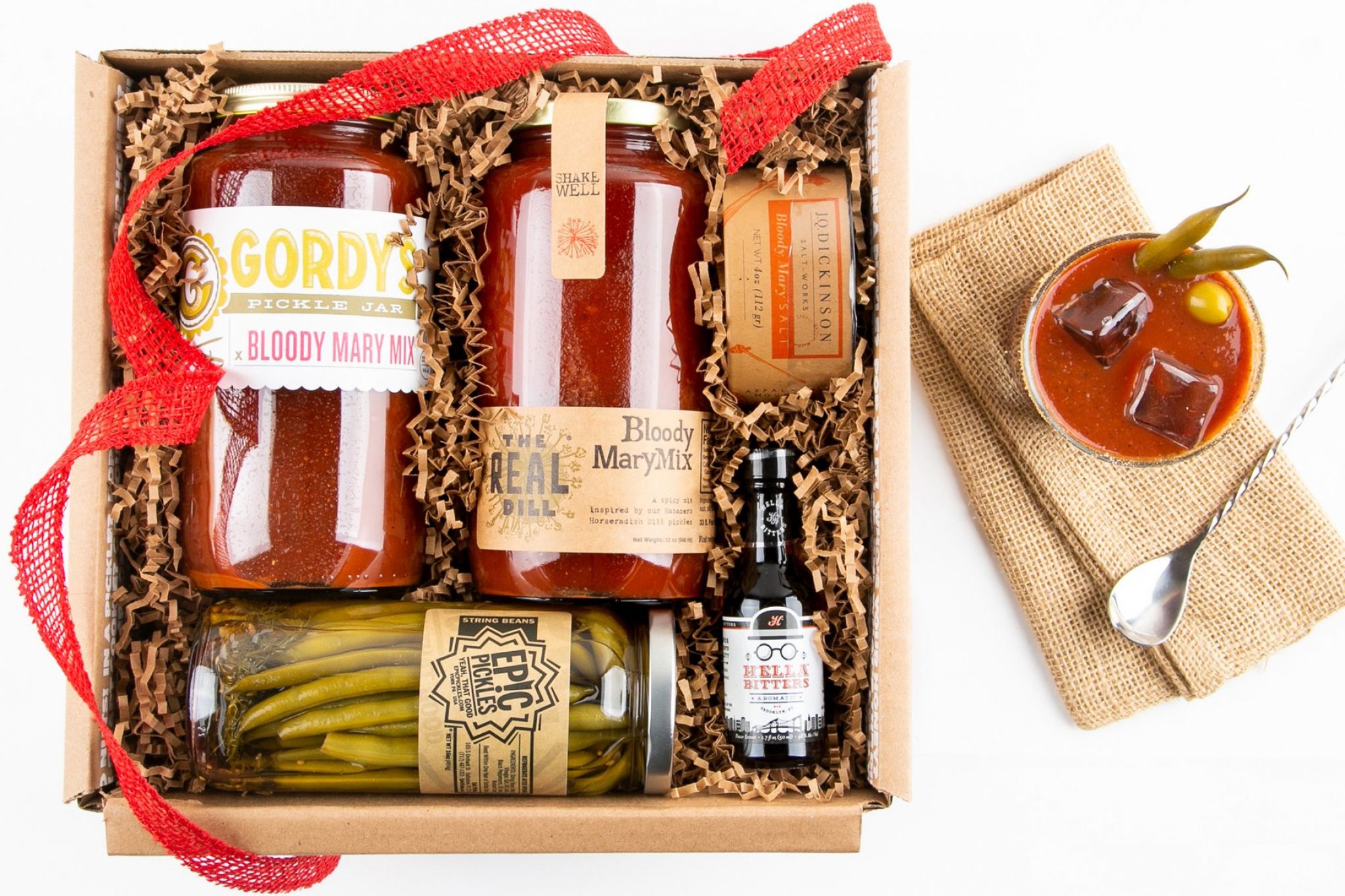 Make Your Own Wine Kit
Now you don't have to purchase a neglected vineyard to get into the art of wine-making. Forget the mortgage and get this all-inclusive wine-making kit. It contains everything you need to make a delicious batch of vino: Yeast, fruit juice, a one-gallon fermenter, transfer tubing, a racking cane, and corks. The fruit juice is made from grapes straight from Italy, so you don't have to worry about stomping your own. It is available in Pinot Grigio, Merlot, Cabernet Sauvignon, and Chardonnay.
Scratch Off Travel Map
Here's another set of wall-oriented travel maps to check off all of the places you've been to. These gifts combine the art of cartography with the magic of scratch-off lottery tickets. You'll get maps of both the entire world and just the United States. Once you come home from summering in Florence, skiing in Switzerland, business meetings in Tokyo, or transporting contraband across state lines, just scratch off the relevant place on the map(s).
Iceless Wine Chiller
If you've been chilling your wine with ice, you've been committing a social faux pas that could get you arrested in some metropolises. This stainless-steel cooler, outfitted with double walls and vacuum insulation, will get you back in society's good graces. Just stick the bottle in the chiller. It keeps the wine cold without you having to make constant trips to the fridge. It fits most bottle sizes, with the notable exception of Dom Perignon, which your butler is probably keeping cold anyway.
23andMe Kit
23andMe is the most high-profile DNA tracer out there, helping thousands of people to learn about their ancestries and health with their saliva. The 23andMe kit doesn't just tell you where you're from, though. After you spit in the tube and send it to their labs, they'll return multiple reports about your lineage, genetic predispositions to certain health problems, taste preferences, and more. It's several valuable gifts in one. Drool away!
Rocket Book Panda Smart Planner
Rocket Books makes some of the most fascinating smart notebooks in the universe. They've taken the notion of erasable, scannable, upload-able notebooks even further with the Panda Planner. It features pages of precise life-planning templates, including budgets, calendars, and motivational writings. Using the Rocket Book app, you can beam all of your pages to the cloud service of your choice, erase the book, and start over. It does not come with a panda. This is one of the best gift ideas for women in their 40s because by that age, we are working hard at our careers and this notebook makes work easier.
Universal Yums Subscription
At some point, you'll have tried every snack item in the vending machine. You'll wonder if there's a snack universe beyond the realm of stale chips and cheese nips. There is! The Universal Yums subscription box brings tasty snack gifts from all over the world once every month. You might get chocolates from Belgium, onion rings from Germany, banana coconut rolls from Thailand, or artsy regret from France.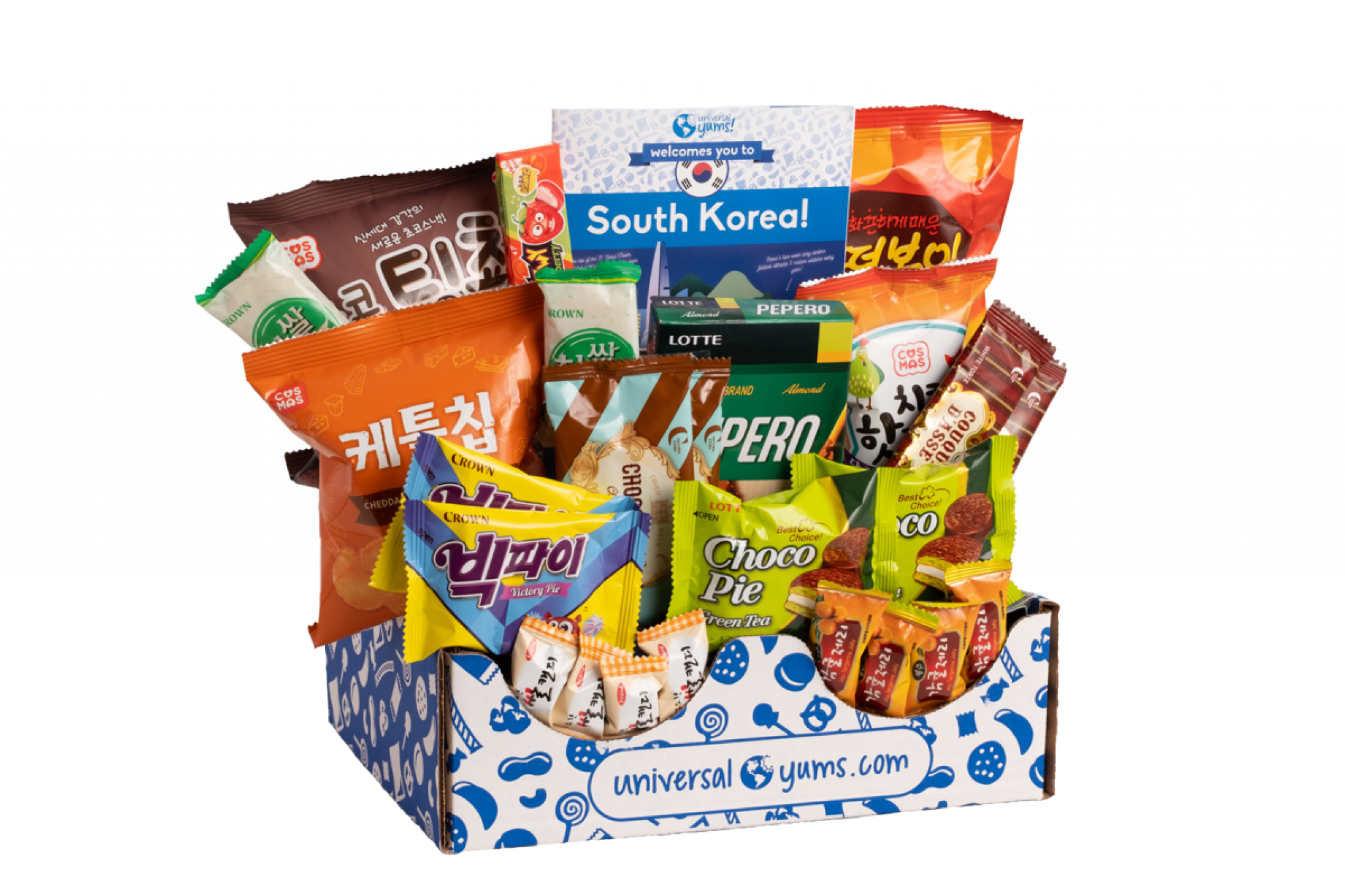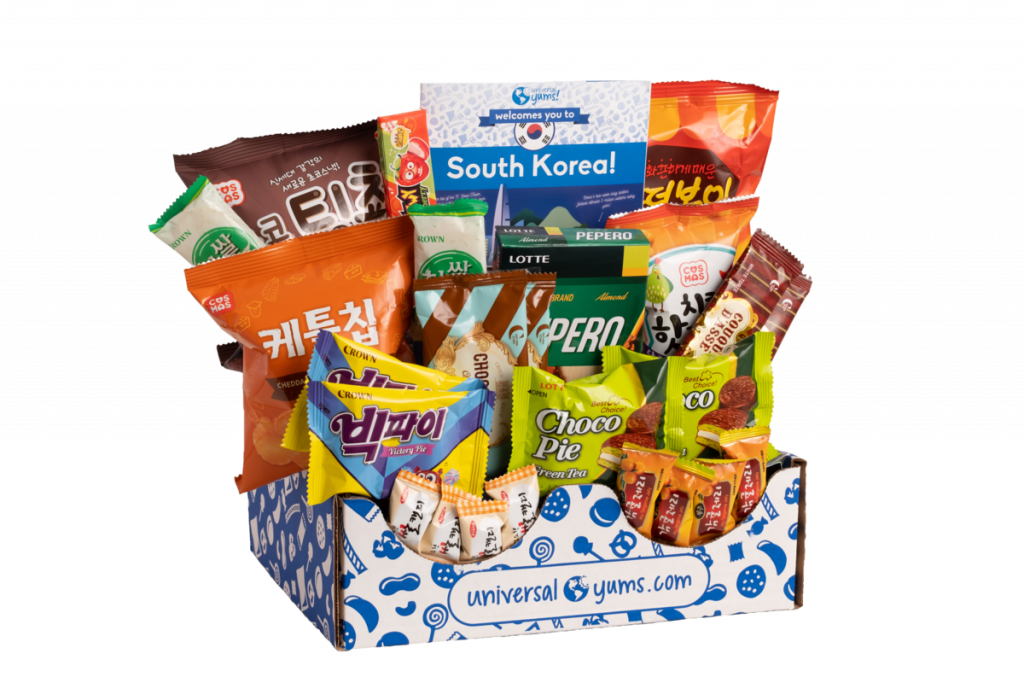 Whether you're shopping for gifts for a 40-year-old woman you know or you're looking for gifts that make your own transition into your 40s a bit easier, we hope these gift ideas for women in their 40s inspire you. Just don't ask them how old they are first. That's impolite at best. We won't say what it is at worst.
For more gifts for a 40-year-old woman, check out our Gifts for Women section.