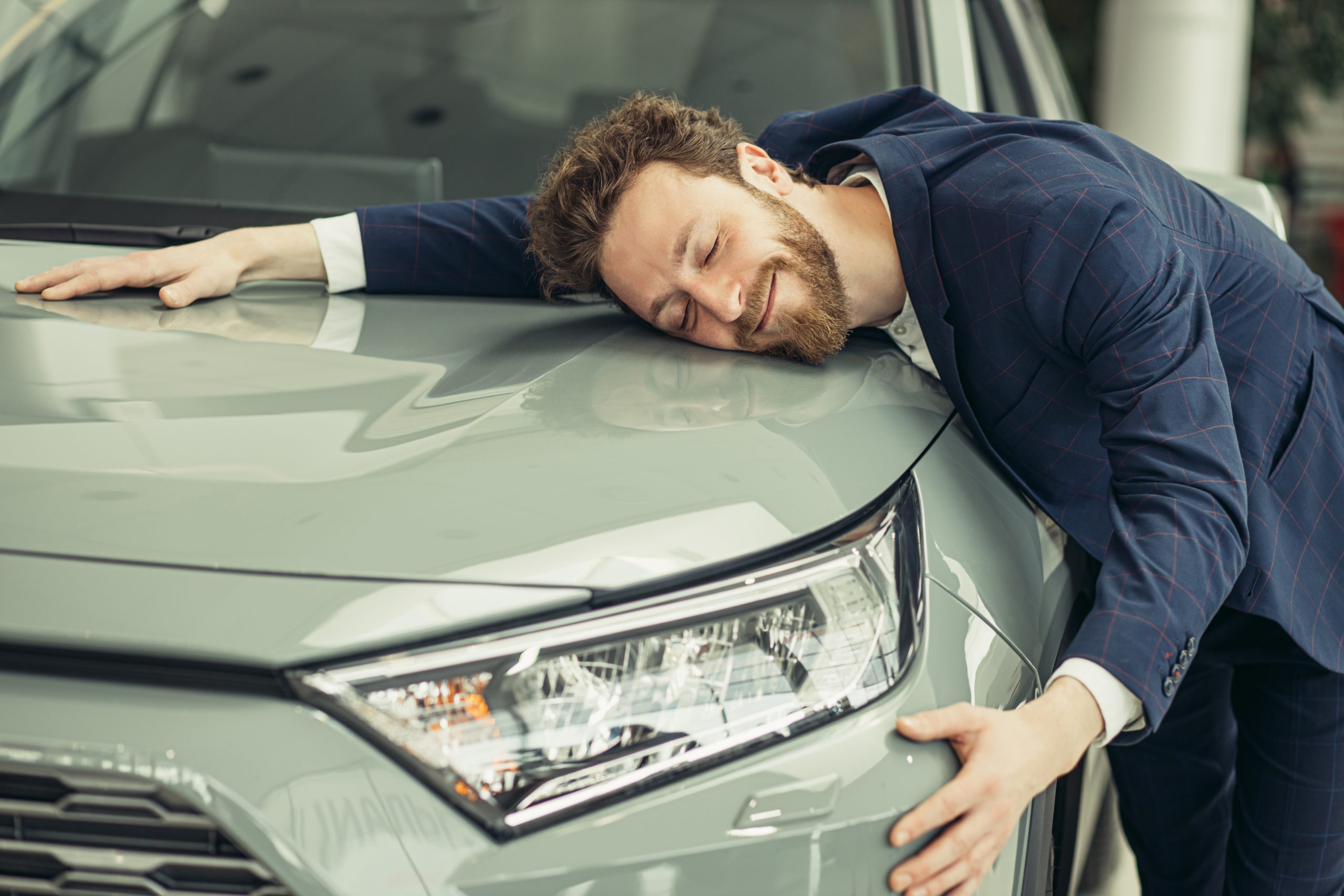 Cars are more than transportation. They're environments, mobile residences, music rooms, eating spaces, and confession booths. We take them for granted, which is an insult to the robots that put them together in the first place. That's why we think it's important to consider cute car accessories as gifts for car lovers.
We humbly offer this variety of unique gifts for Uber drivers, car lovers, pizza deliverers, busy parents, wayward truckers, mobile librarians, demolition derby racers, and milkmen who are hanging onto the past. Each of these cute car accessory gift ideas is guaranteed to make road life less miserable.
Related: Gifts for Guys in Their 20s
Car Lights
Turn your drab, uninteresting car interior into a vibrant, overpriced European disco with this set of pulsating lights. With seven "scene modes," thousands of LED lights, and the promise of "16 million colors," these unique car accessory gifts react and flash to your car stereo's music. They're designed and sized to fit any car, so order these puppies and get ready to introduce your Ford Pinto to the 21st century.
Personalized Seat Covers
Do you have a name? Do you like to see the first letter of that name with a pretty font? And would you like to see that image splayed across your front car seat? Well, this is a great time for you to be alive, because that's exactly what this Etsy artisan wants for you too. They make cute car accessories as gifts for her and him that are seat covers, steering wheel covers, floor mats, and more.
Related: Personalized Gifts
Car Essential Oil Diffuser
Getting your living room to smell like lavender or frankincense is easy with an essential oil diffuser. But what about your car? Is it cursed to reek of antifreeze and month-old French fries? No, Mario Andretti, it's not. This compact essential oil diffuser plugs into a USB port, generating killer aromatherapy vibes in whatever space you take it, including your car. Whip out the Roman chamomile and step on it. If you are looking for cute car accessories as gifts for those with road rage, this may help calm them down.
Glovebox Car Care Subscription
Why spend untold hours racing around town trying to get everything you need for car upkeep when you can just have everything sent to you? It's more wear and tear on your car. Isn't that just the least bit ironic? Have we learned nothing from Alanis Morrissette? Every month Glovebox sends you a crate of curated gifts for your automobile, like special fluids, tools, towels, and assorted gizmos.
Related: Subscription Gifts
Car Mini Fridge and Warmer
This portable storage unit is not just a mini-fridge — that would be too easy — it's also a warmer. Just plug it into the cigarette lighter that's frustrated and bereft. It's one of the best car accessory gifts for her because it can carry cosmetics, skincare, and breast milk. It's also one of the best car accessory gifts for him because it can carry soda, ketchup packets, and cuts of venison.
Related: Gifts for Truckers
Car Vacuum
Kiss goodbye those days of wrestling with those filthy, flimsy, suction-challenged vacuum hoses, unless that's your thing. This handheld, cordless vacuum is perfect for subjecting your car interior to your cleanliness obsession. It comes with a brush and one of those attachments that looks like it pries stuck dirt from a surface like a sewage worker pries up a manhole cover. Car accessories as gifts don't have to be something fancy… it can be something that just keeps your car clean.
Personalized License Plates and Frames
These very fashionable, black-and-white, leopard-skin plates and frames are exactly the car accessory gifts you need to bling your car up a little. They're monogrammed with your initials. Attach the plate to the front of your car (if it's legal in your state) and adorn the rear plate with the frames. You're sure to get pulled over for a Real Housewives of (Your City Here) audition.
Cell Phone Holder
Most state troopers will pull you over if they see you fumbling with your cell phone while driving. It's seriously dangerous and leads to thousands of accidents every year. This cell phone holder and mount holds your cell phone, leaving your hands free for picking up beverages, eating responsibly wrapped sandwiches, making rude gestures to other vehicles, and other hand-related activities. And also driving.
Bluetooth Transmitter
Nobody listens to cassettes, CDs, or radios in their cars anymore. Now all you need is a charged-up smartphone, a decent data plan, and a Bluetooth transmitter, which this is. Plug it into your hopefully unused cigarette lighter, set your FM radio to a frequency nobody else is using, pair it with your smartphone, and find a Michael Bolton playlist on your favorite streaming service. You're set.
Related: Gifts for Men in Their 50s
Personalized Car Mats
Remember those personalized seat covers a few items back? Those were great, weren't they? Not to be outdone, this Etsy artist makes something very similar, except these personalized gifts for car lovers go on the floor of your car. They have a big block letter representing your last name, overlaid with your first name scrawled in the color and font of your choice. They've got everything from statement-making serif fonts to cursive, '80s-esque, Dirty Dancing type deals.
Heated Seat Cushion
Your car's heating unit has one big limitation: It doesn't reach your rear end. Solve that problem with this seat cushion, outfitted with thermal, heated coils, specially designed for your ass. Select a temperature between 86℉ and 140℉, whatever you are most comfortable with. These cushions hook up to your car's power supply and have automatic shut-off control, so your battery won't drain if your rear isn't being warmed up. This makes a great gift for car lovers who live somewhere that gets chilly in the winter, or for those who just like their butt to feel hot.
Car Care Kit
What car gifts are in this kit? What car gifts aren't in this kit? That's the real question. It's got car wash liquid. It's got wax liquid. It's got tire gel. It's got scratch removal liquid. It's got cleaner, polish, detailer, a sponge, wipes, a mitt, and attitude. It's got everything but fuzzy dice and a political bumper sticker. We're getting dizzy just thinking about the chemical fumes from these car accessory gifts.
Car Wash Cleaning Tools
You think a bucket, a washcloth, and a Saturday afternoon without kids are going to address every one of your car's cleaning needs? Nuh-uh, Speed Racer. You need a chenille wash mitt, a water scraper, a tire brush, a car wheel brush, a mini-duster, wax applicators, a zipping bag, a stone hook that does something, magical cleaning tablets, and a bucket. Thankfully, this toolset includes all those car lover gifts.
Driving Experience
Let's face it: Your sweet AMC Pacer doesn't belong on a racetrack. It's not filling your deepest spiritual needs. Virgin Experience Gifts has the answer: One of these unique racing experiences, available in several US cities. You can race a Lamborghini, drive an Indy car, go off-roading, or be a passenger on a NASCAR or stock car speedway like Talladega, Charlotte, or Pocono — every experience except rush hour on the 405. This isn't exactly a car accessory gift, but we couldn't have an article about gifts for car lovers without a Nascar ride.
Trunk Organizer
Remember your trunk? That unit in the back of your car that's holding your spare tire, jumper cables, shirts that have been converted to hand wipes, and possibly confused relatives? It can get messy in a hurry. Keep your sanity intact with this waterproof, collapsible storage unit. It's got neatly designed compartments and side sleeves to keep your trunk organized, pristine, and uncluttered, so your relatives will have space.
Personalized Marble Car Coasters
What do your car's beverage holders say about you? They hold beverages. In a pinch, they can even hold cell phones. But they're really nothing more than functional negative spaces with no personality or panache. Until you get these personalized gifts for car lovers. These marble coasters fit in the bottom of your beverage holders, and they're monogrammed with your initials. They'll hold your Mountain Dew in one-of-a-kind elegance.
Personalized Air Fresheners
Those little pine tree air fresheners are cute in a kitschy sort of way. But let's face it: Only ironic hipsters and people in a hurry like them. This Etsy artist has stumbled on an ace idea — dangling air fresheners made from your favorite photo. Send the image straight to them, pick one of 60 scents, and soon you'll get a picture of your family reunion with that new car smell.
Custom Car Shade
Shades are great for keeping the sun's harmful rays from degrading your vinyl seats, but they're not terribly appealing in a visual sense. This Etsy artist injects a little flair into those protectors with their custom car shades. Send them your favorite picture (driving scenes from movies are especially popular), and they'll send it back to you as a functional car shade. Pro tip: Take it off while driving.
Car Visor Organizer
Your glove compartment can only offer so much space after you've put your registration, auto manual, day-old sandwiches, and weapons in it. How about your sun visor? It seems bored and lonely doing its one easy job. Give it a higher sense of purpose with this organizer, which can accommodate credit cards, pocketbooks, wallets, papers, stolen microfilm, and breath mints with sureness and resolve.
Roadside Emergency Car Kit
This panic-reducing car kit contains 156 emergency gifts for roadside repairs and first aid. Holy radiator smoke, there are so many items here: Jumper cables, gloves, reflective vests, warning triangles, a toolbox, iodine pads, antiseptic towelettes, gloves, a painful-looking utility knife, electrical tape, a flashlight — just so many things. Did they forget the cotton swabs? No. They did not forget the cotton swabs.
Car Seat Gap Filler
That gap between your car seat and your car door (or center divider) is a house of horrors. It swallows your cell phone, devours your wallet, sucks up stray potato chips, and generally has a surly disposition. This honestly ingenious device completely fills that gap — which the manufacturers cleverly call "The Carmuda Triangle" — meaning you don't have to reach down to retrieve lost items while you're driving.
Dual Dash Cam
Prove your innocence in parking lot collisions or just shoot video of a lovely drive through Bakersfield with this dash-mounted video camera. It's actually two devices: a front-facing unit and a rear-view camera. It's helpful for parallel parking. With the GPS you can track your speed and location. It's one of the best gifts for Uber drivers who have to deal with rude or violent passengers and have an active YouTube revenge account.
Car Air Purifier
Air in an enclosed space, such as your car, can get rank in a hurry. Sure, you can open a window, but the pathogens have done their dirty work. Send pollutants on a pitch-black journey to the pits of hell with this air purifier for cars. It's got a carbon pre-filter and a HEPA filter that de-fang pollen, pet dander, smoke, noxious odors, and spooky vibes.
Diamond Steering Wheel
"Good heavens! Look at that diamond-encrusted steering wheel! Did your car win the lottery and is now spending money indiscriminately?" "No, my trusted, overly impressionable friend, it did not. I merely ordered this rhinestone-studded steering wheel cover. It protects my steering wheel from harmful elements, gently massages my palms while I steer, and makes the other PTA parents think I'm arriving straight from a hip-hop video shoot." This is one of my favorite car accessory gifts for her.
No Blind Spot Rearview Mirror
Your standard rearview mirror has a couple of issues. It's small and flat. Those two factors make it useless in seeing everything behind your car. You have to crane your neck like a stunt double in The Exorcist. Turn your mirror into a panoramic funhouse with this replacement. It's convex, allowing you to see the spaces your puny standard-issue rearview mirror is in complete denial about.
Magnetic Car Mount
Forget the inconvenience and clumsiness of those clamp-based, rickety, unpleasant cell phone mounts for your car. This car mount harnesses the magical power of magnetism to hold your smartphone or small tablet in place while you drive. The mount contains six small magnets that have all agreed to co-exist peacefully, keeping your phone securely in place while you drive with nary a screw or knob in sight.
Car Speakerphone
Figure you can just call up your stockbroker on your smartphone while you're tearing up the interstate? Think again, Jeff Gordon: It's illegal. But not if you use this hands-free speakerphone. It connects to your smartphone via Bluetooth and lets you make calls using voice commands. That way your fingers stay on the steering wheel, the state troopers pass you by, and you can close that deal on Blockbuster Video futures.
Waterproof Lumbar Support Seat Cushions
These seat cover cushions are waterproof and they provide ultimate lumbar support on those long rides. They also have pockets near the floorboard for phones, keys, and your secret stash and the back of the seat has pockets for books and entertainment. And they won't prevent the heat from coming through on your fancy heated seats.
We hope these gifts for car lovers inspire you to take to the road in style, luxury, and comfort. If not, we hope these gifts will at least help you fix a flat, find your keys, or stay calm until the ambulance arrives.
For more gift ideas, check out our Gifts for Men or our Gifts for Women.
Be sure to follow us on Facebook for daily updates of unique gifts for the whole family!