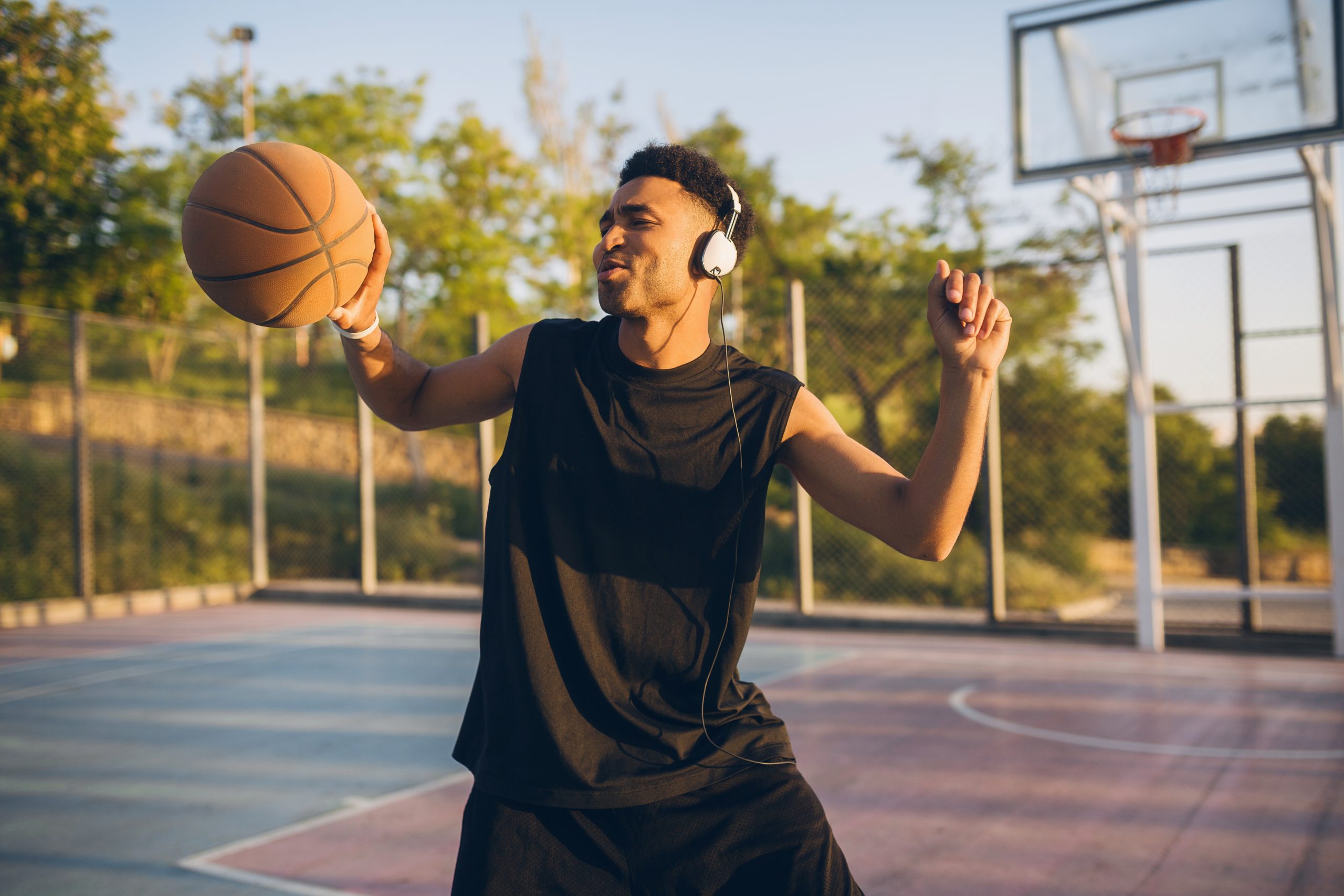 Jump shots! Lay-ups! 3-point shots! Free throws! Hand checks! Charging fouls! 3-second violations! Water bottles! Good grief, what isn't there to love about the game of basketball? If there's a man or woman in your vicinity who loves the game, you know how single-mindedly passionate they can be about it. But it isn't always easy to come up with unique basketball gift ideas for guys or girls with NBA dreams.
This guide helps you find the best gifts for a basketball player, coach, trainer, or garden-variety fanatic. Whether they're improving their game, building a team, or just trying to watch the Finals without knocking over a table lamp, these gifts play above the rim. (That's a basketball cliché. We're not entirely sure what it means, so we need to look it up.)
Related: Gifts for Men
Anti-Grip Weighted Basketball Training Gloves
Weighted resistance is the secret to productive physical workouts. It builds strength, power, and stamina. Without it, you're just flapping flyswatters. These gloves were specially designed for basketball training. The added weight builds arm muscle mass and hand dexterity, which help ballers with dribbling and passing. The anti-grip surface is intended to make handling the basketball more difficult. But you know what they say: If a basketball slips away, set it free. (They say that, right?)
Custom Basketball Caricature Portrait
Just because you only like watching basketball, doesn't mean you can't have an action shot of yourself playing the sport. If you are looking for funny basketball gift ideas for guys or gals, this is a great bet. You send in a picture and they create a picture and send you the file that you can have printed on canvas, a poster, T-shirt, mug, or anything else you want.
Related: Gifts for Sports and Outdoors
LED Rebound Sensing Super Hoop
The Super Hoop takes LED-lit backboards and nets to the next level. Anytime it senses contact, it lights up like a '70s game show. If you make a shot, the whole contraption turns green. If you miss, it turns red. If green and red aren't your things, you can set them to one of five other colors. Comes with a remote control, an AC adapter, and attitude. Great for coaches to assist with training or for any basketball player who just wants to improve their game.
Related: Gifts for Guys in Their 20s
MagnaCoach Dry Erase Coach Clipboard
Pace the sidelines and fume at the refs just like the pros with this dry-erase play clipboard. It's got a representation of a full basketball court for outlining the next play to the players in your huddle. A great choice when you want to design plays like the Pick-and-Roll, the X-Cross, the Baseline Swing, the Box Gate, the Sensible Handbag, the Furious Vicar, the Toenail Clipper, or the Reno Mistake.
Related: Gifts for Guys in Their 50s
Basketball Jump Trainer Resistance Band System
In basketball, jumping is a necessary skill to have if you want to score or block shots. We've tried diplomacy and coaxing; they just don't work. To become a better jumper, you're well advised to use these resistance bands. They hook onto your shoes and an external waistband to build strength in your legs, giving you more power when it comes to all things vertical.
LED Light Up Basketball
Just because your gym's operating hours are over and the janitor has turned out the lights doesn't mean you have to stop playing. Granted, that's probably a good idea, but technically, you don't. Give the phrase "night court" a whole new meaning with this glow-in-the-dark basketball. It's got two LEDs that make it burn up the sky as it's being tossed for an airball.
Hoops Box Subscription for Kids and Teens by Sports Box Co.
Why give your future basketball star and energy drink spokesman just one or two basketball gifts at once? Keep the dream going month after month with this subscription box, full of age-appropriate basketball gifts. A typical box may have training tools, toys, books, clothes, equipment, elastics, and other basketball gear that remind them of the game that will ultimately pay for your retirement.
Training Basketball
This basketball simulation device is smaller than regulation basketballs. This apparently makes it easier to learn how to control and dribble, because its smaller size requires the player to focus more closely. That makes sense. We wonder if that's why we have bumper cars and go-karts, or those old toy ovens or BB guns. But with thousands of 5-star reviews, you know it will make you a pro in no time.
Basketball Planter
So, it's come to this. A hanging planter made from a cut-off basketball. This is what civilization has evolved to. Frankly, we're fine with that because this is awesome. This hanging planter answers the question, "How can I honor the adrenaline rush and competitive nature of basketball and plant my ferns with the same product?" Well, you'd do it with a planter made with an actual basketball. Fortunately, one has been made, and this is it.
New York Times Basketball Book
Honor your favorite NBA team with this beautiful, customized book. Each volume features reproductions of actual sports pages from the New York Times that cover milestone moments of the franchise of your choice. Each book is promised to be at least 70 pages and has the recipient's name embossed on the cover. Perfect for celebrating the legacy of whatever team you follow — or, in case you're a Knicks fan, reminding you of your boundless sorrow.
Personalized Photo Basketball Gift for the Coach
If you play on any kind of organized basketball team, you have a coach. Otherwise, the whole team would just be hurling balls into the stands and relying on their math tutors for positive reinforcement. Let your coach know you appreciate their devotion, attention, strategizing, and snappy dress slacks with this personalized basketball gift with the message of your choice: "Best Coach Ever!" "Coach of Champions!" "We Did It!" "A 2-18 Season's Better Than Nothing!" Go team.
Dribble Stick Adjustable Basketball Trainer
The Dribble Stick looks a little docile and unimposing from a distance. But get closer and you'll realize it's no ordinary stick. It's a tool for perfecting your dribble, developing intra-dribble mobility, maintaining your dribble in the face of defenders, and generally assisting with any and all dribble-related issues you may be having. In a pinch, it can also be used to stir a cauldron.
Ultimate Basketball Trivia Book
What year was the 24-second clock introduced? Who invented the jump shot? Who holds the all-time NCAA single-season record for blocks? If you click your sneaker heels together will Larry Bird magically appear? Most of these questions — 600 to be exact — are answered in this trivia book by Sam Amico. It covers the NBA, the WNBA, the NCAA, and the ABA, but not ABBA. You'll want a Swedish pop trivia book for them.
Basketball Class by Stephen Curry
MasterClass is a truly wonderful online forum for learning all sorts of things from famous practitioners. This module is a basketball clinic from Stephen Curry, one of the best pure shooters of the 21st century. If you get a full year of MasterClass, he'll teach you everything you need to know about shooting, handling, defense, and strategy. And then you can go to Apollonia Poilâne's channel and learn how to bake bread.
Basketball Grip Strengthener Set
Basketball is all about ball control. You can't let it slip from your grasp. You risk turning the ball over or losing it out of bounds. And when that happens, the basketball might think it can get away with anything and start drawing up Ponzi schemes. This grip strengthener set includes several items that give your hands total grip mastery to prevent this admittedly worst-case scenario from unfolding.
Apple Sports Watch
From the people who brought you the G4 Cube comes this sporty sports watch. It features a brand-new sensor that helps monitor your blood oxygen. It's got an ECG app that keeps tabs on your heart. It tracks your fitness workouts and physical activity throughout the day. It streams Apple Music, it takes your calls, it's got that woman of mystery named Siri, and it even — checking our notes here — tells time.
Amazfit Fitness Watch
From the people who brought you the movie musical version of Les Misérables comes this sporty, slightly less expensive sports watch. It measures your heart rate. It assesses your quality of sleep. It's got 70 "built-in sports modes." It counts your calories, it measures your stress level, it's got that woman of confidence named Alexa, and it also — we've got to organize these notes better — tells time.
Basketball Return Attachment
Every time you successfully make a basket, the ball drops to the ground. Then it blithely dribbles away as if it doesn't care. Then you have to actually walk toward the basket to retrieve the ball. That basketball's got a lot of nerve. But this hoop attachment will take care of that insolence. It goes directly beneath the net and is curved so that it will spit the ball right back in your general area like a gumball machine.
Basketball Return Net
Driveway basketball can be a disaster waiting to happen — well, okay, a nagging inconvenience — when a ball from a missed shot goes tumbling onto the street. That's no longer an issue pertinent to your life with this net. Every time you miss a shot, which hopefully isn't often, it bounces the ball back to your general area and keeps it from rolling into the streets, neighbors' yards, or passing milkmen.
LED Basketball Hoop Lights
Those single-color basketball hoop lights that always look the same? Toss 'em. Send those useless nets straight into the trash bin. What were you thinking? These basketball hoop lights are the basketball gifts you want. They can be adjusted in 16 different colors, and let you know when you've scored, and they come with a remote control so you don't have to walk all the way from mid-court to flick them on.
Engraved Basketball for Your Son
This personalized basketball includes a rather lengthy but very inspirational message etched upon its surface. It's all about taking one's dreams seriously, believing in oneself, dismissing the limitations imposed by ignorant minds, and knowing there's always a home to return to if everything flames out. Why this message is specifically aimed at sons and not daughters, we're not exactly sure. Either way, it's a long read at the free-throw line.
Basketball Patents
You've played the game, you've watched the game, you've loved the game — now see the product specs! These basketball gifts are spiffy-looking reprints of the patents for a few of the most recognizable elements of basketball. You'll see G.L. Pierce's 1928 designs for the ball itself, some 1944 outlines of the backboard and net, 1994 patents for Nike footwear, and diagrams of the court. Wow your friends and family by instantly knowing the center court circle has a 6-foot radius.
Thanks Coach Picture Frame
You may also wish to thank your coach more traditionally, and you can do so with this autograph-enabled "Thanks Coach" picture frame. It holds a standard-sized picture, maybe a shot of actual gameplay, or a huddle, or a group portrait, or that ill-advised trip to the casino. What makes it "autograph-enabled?" The entire team can sign it with a Sharpie. That's all it takes. What will they think of next?
Signable Basketball Coach Plaque
By now your coach is flush with gifts of gratitude in the form of a custom basketball and a picture frame. While you're at it, why not really fill up his storage unit and throw in this customizable plaque? Say the thank-you message of your choice and pass it around for a group signature. That's right: This, too, is autograph-enabled.
Basketball Pillow
Now you can give your basketball dreams just a hint of literalism with this basketball-themed pillow. This cushion has a striking basketball pattern on the back and front. It's the same pattern, so that will cut down on the confusion. It's available in an array of options: polyester or cotton, zipper-less, or outdoors. It also comes in three different sizes, including two options for throw pillows, which you may indeed throw if you wish.
Personalized Basketball Name Sign
One of our favorite classifications of personalized gifts is the alphabetically-based patronymic adumbration employing strategically allocated hyper-riveted photostats. Otherwise known as the personalized name sign. This version uses close-up images of basketball-related items arranged to resemble letters of the alphabet. Pick a size, pick the word you want to spell (first names are popular), and soon it will adorn the wall of your favorite basketball enthusiast.
Basketball Laundry Hamper
Combining basketball with dirty laundry gathering simply makes too much sense to let the idea slip by. This over-the-door basketball-themed net laundry hamper makes tossing soiled and smudged clothing items irresistible and fun. Just stick it on top of the door, let the net dangle, and start tossing clothing in like there's one second left on the shot clock. You'll win the Laundry Championship. The trophy is shaped like a sock.
Insulated Basketball Lunch Cooler
Can anything stop Lunch Cooler Mania? Not anytime soon, you aficionados of portable dining. This neoprene lunch bag tote has an attractive basketball pattern on the outside. Inside, it has room for your lunch. It keeps food hot or cold for up to 4 hours. If you decide to accessorize it with an ice pack, it'll keep food cold even longer.
Basketball Wall Holder
Basketballs are great fun to hold onto. But you can't do it all day. At some point, you'll need to grab onto something else, and you'll have to have a solution for holding your basketball. #LifeLessons. Fortunately for you and your basketball, this holder mounts on your wall and holds your basketball for as long as you require — no muss, no fuss, no argument, no contractual obligations.
Autographed Basketball Memorabilia
Sports Memorabilia is the place to go for one-of-a-kind merchandise signed by your favorite basketball superstars, so if you are looking for gifts for NBA fans, look no further. Whether it's photos, posters, trading cards, or some other object with just enough surface to write on, they have the gifts hoops fans are looking for. One of their most expensive choices is an authentic game jersey worn by the Bucks' Giannis Antetokounmpo, which we assume is priced by the letter.
Basketball Furniture Knobs
These basketball-shaped knobs attach to everyday home dressers, cabinets, chests, or drawers for super-quick, reliable opening and closing action — the first time, every time. Try doing that with a tennis racket-shaped knob. Or a baseball bat-shaped knob. Or a polo mallet-shaped knob. Hey, we'll double-down: even a hockey stick-shaped knob. Yeah, that's right. We went there.
Basketball Cake Pops
Cake pops are freaking fantastic. All the luxurious mouthfeel of a velvety cake, with the convenience of an oral thermometer. (Or maybe a, you know, lollipop, wise guy. — Ed.) Desserts For Days is a New Jersey enterprise that makes cake pops in the shape and appearance of sports balls. They're selling these adorable confections by the dozen and they also have baseballs, footballs, and soccer balls. But they're not as orange.
Basketball Backpack
This backpack is being marketed as a soccer ball backpack, but there's no reason it can't be used as a basketball backpack. Or, for that matter, a football or volleyball backpack. You're only as limited as your imagination. At any rate, this is a backpack big enough to hold a basketball. It's also got a spot for your shoes. Or your cleats, or your clogs. Again: Dream big.
Personalized Spalding NBA Replica Basketball
Take to the court with this basketball with your name on it. Will it improve your jump shot? No. Will it help you grab the rebound? No. Will it give you an edge from the 3-point line? No. But it will make everyone very much aware that it's going home with you and you alone, which we suppose means it will help you prevent steals.
Kobe Bryant Basketball Nightlight
It's still hard to believe #24 is gone. Honor the spirit of one of the greatest to ever play the game with this luminous, 7- or 16-color nightlight. It comes with a soft-touch remote control, with laser etchings that give the picture a stunning 3D effect on an acrylic plate.
Kobe Bryant Championship Ring Replicas
Kobe won 6 NBA Championships with the Los Angeles Lakers. This stunning gift box contains replicas of each championship ring he won between 2000 and 2016. Each ring was created with precise 3D software and cubic zirconia jewels. It's a perfect way for your favorite Laker fan to celebrate Kobe's life.
NBA 2K22
We're sure we don't have to tell you how dominant EA Sports games are in the athletic simulation field. Nothing captures the competitive fire, physical precision, and arena concession stands like their NBA franchise. NBA 2K22 (just calling it 2022 would have been a cop-out) lets you play by yourself, with a friend, or online, with intensely detailed graphics, current or legendary players. It's so lifelike you can almost feel the sweat on their headbands.
Customizable Basketball Dartboard
"He shoots — he scores!" takes on a whole new meaning with this high-octane basketball game built for the pub sitter. It's a dartboard with targets that correspond to some kind of basketball action: scoring, passing, committing a foul, dunking, shooting an airball, and more. We'd say it covers all the bases but that's another sport. Spend hours of fun with your rivals hurling lethal projectiles into cork and collecting points. You can customize the colors to fit your favorite teams.
Basketball Trash Can
Trash can basketball. That most universal, plebeian, cost-effective of athletic pursuits. All you need is a waste receptacle, some outdated expense reports, and the will to dream. With this handmade trash can with a backboard attachment, you'll take your trash can basketball game to The Next Level. After that come the mega-contracts, the tattoos, the endorsement deals, and the multi-million-dollar mansions. Your results may vary.
GoHoops Basketball Dice Game
Love the thought of playing basketball, but have severe allergies to physical activity? Then you need this dice-powered table-top game that simulates basketball scoring. It's got a rulebook, a score pad, a travel bag, a cup, and eight 12-sided dice on loan from your local Dungeons & Dragons group. You may not be able to do a slam dunk, but you can sure slam a dice cup.
Over the Door Mini Basketball Hoop
Door-hung basketball hoops have come a long way since the days of foam balls, tiny backboards, and annoyed moms. This NBA-approved mini-basketball hoop is the real deal. It's got a see-through polycarbonate backboard, a steel breakaway rim, a killer net, and a certified NBA logo decal. It will turn any door in your home or office into a basketball arena with overpriced seats.
Basketball Arcade Game
Arcade basketball is one of the greatest arcade games ever. You actually have to do something besides pressing buttons or shifting joysticks. And now you don't have to wait until your next trip to the pizza parlor for a sporting round of arcade B-ball. The Pop-A-Shot lets you recreate the thrill in the privacy of your own abode, without having to force crinkled dollar bills into token dispensers.
The Mamba Mentality: How I Play
Kobe Bryant's 2018 autobiography is a combination of memoir, philosophical treatise, and guide to his meticulous approach to the game. Written after Kobe retired from basketball, The Mamba Mentality was acclaimed for both his thoughtful, candid writing and spectacular photographs by Andrew D. Bernstein. It's as fitting a legacy as his legendary career.
Themes for Gifts for Basketball Enthusiasts:
There are lots of different types of gifts for basketball enthusiasts that work for different situations. There are training gifts, gifts for basketball coaches, unique decor, and more. Here are a few of our favorites.
Training and Exercising Gifts for Basketball Players
Let's start out with some basketball gift ideas for guys and girls who take a more active approach to their love of hoops — one that actually requires them to get off the couch. These are gifts for a basketball player who's working hard to gain that physical and mental edge. If you're looking for something your guy friend needs to help him dominate the court, basketball training gifts will give you the hot hand. (That's another basketball cliché. We do know what it means.)
Basketball Gift Ideas for Coaches and Players
There's no "I" in "team" (although there's a "me" if you switch a couple of letters around). These basketball gift ideas for guys are for the improvement, encouragement, and celebration of your home court heroes: the players and coaches. If you're looking to boost team morale, say "thank you" to a coach, or just want to host a night-time pickup game, basketball coach gifts dominate the paint. (Another cliché. Let no one question our Google Search ethic.)
Unique Gifts for Basketball Lovers
These are unique basketball gifts for guys who need to be surrounded by the game they love on a nearly 24-hour basis. If you can't afford to send them to counseling, then at least consider one or more unique basketball gifts to keep them happy. They'll brighten up any home, office, man cave, or waiting room with a distinctive, orange-and-rubber glow. We're saying these gifts for basketball lovers are shots from downtown that hit nothing but net. (Two clichés in one sentence! Our editors will be overjoyed.)
Games and Books for Basketball Fans
Unique basketball gift ideas for guys and gals are for their leisure time when they're not watching a game. We know that time is probably more like a sliver, but man cannot live on hoops alone. These types of basketball gifts will help them pass the time with a sporting game or a good book. When it's time for your friend to kick up his feet and relax, these basketball gifts for fans are guaranteed coast-to-coast buzzer-beaters. (Bring those clichés in for a landing, team. We did it. We did it.)
For more basketball gift ideas for guys and gals, check out our Outdoor and Sports Gifts.