Unique Gifts for Hairstylists and Barbers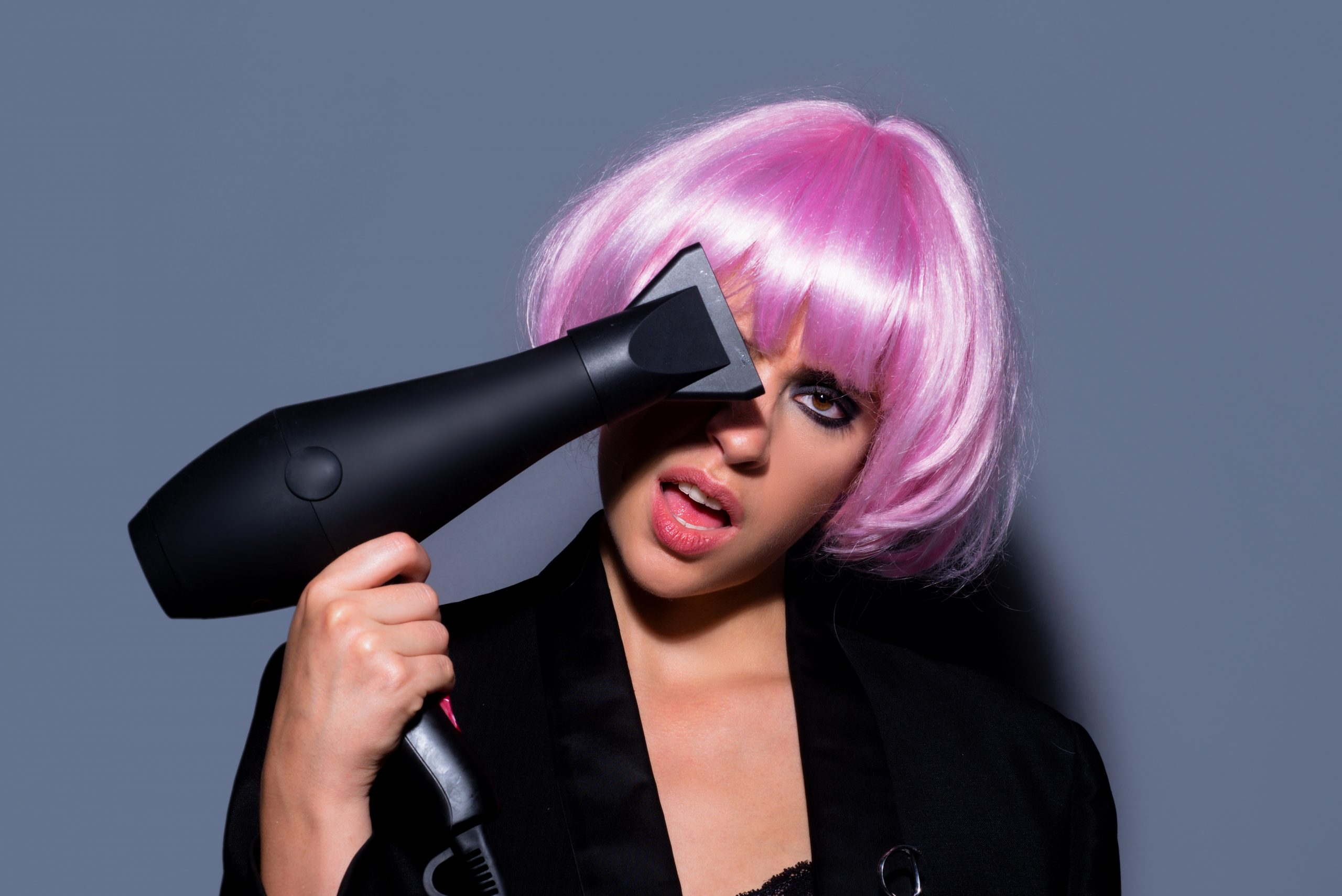 Have a favorite hairstylist? A regular barber? A dog groomer? Whatever their job descriptions, these masters of follicles deserve a little bit of holiday love. In this guide, we'll reveal some of the best gifts for hairstylists and barbers this season. Because you always want to be in the good graces of someone with scissors.
Related: Gifts for Women or Gifts for Men
Personalized Hair Stylist Caricature Portrait
Bring a bit of two-dimensional sunshine to your favorite hair stylist's nook with this custom cartoon portrait. Just send a decent image file to the Etsy artist and you'll receive a full-color digital caricature showing them in their natural habitat, armed with a hairdryer. Every time they gaze at it, they'll think of you, but hopefully won't nick the customer. It's one of my favorite personalized gifts for hairstylists.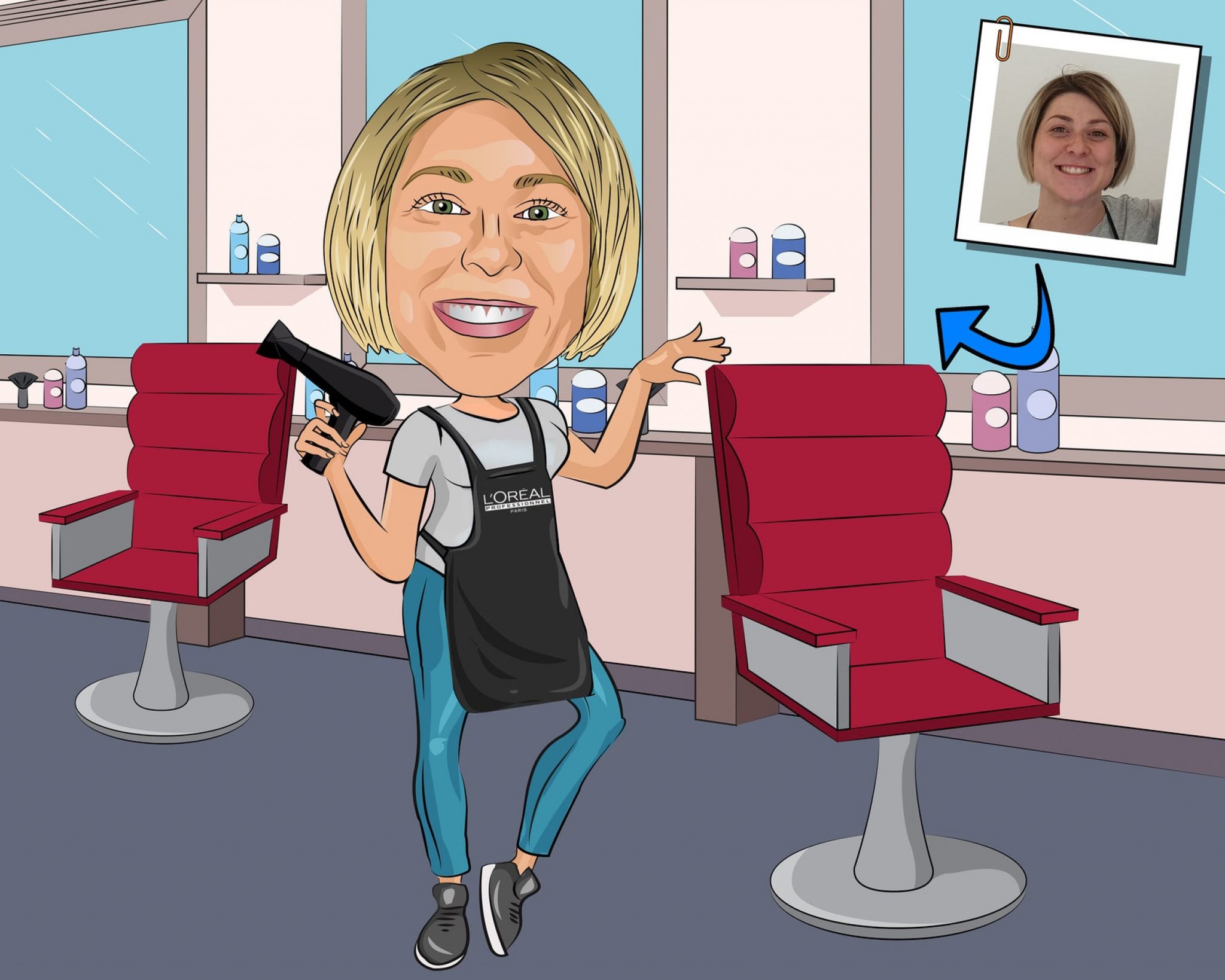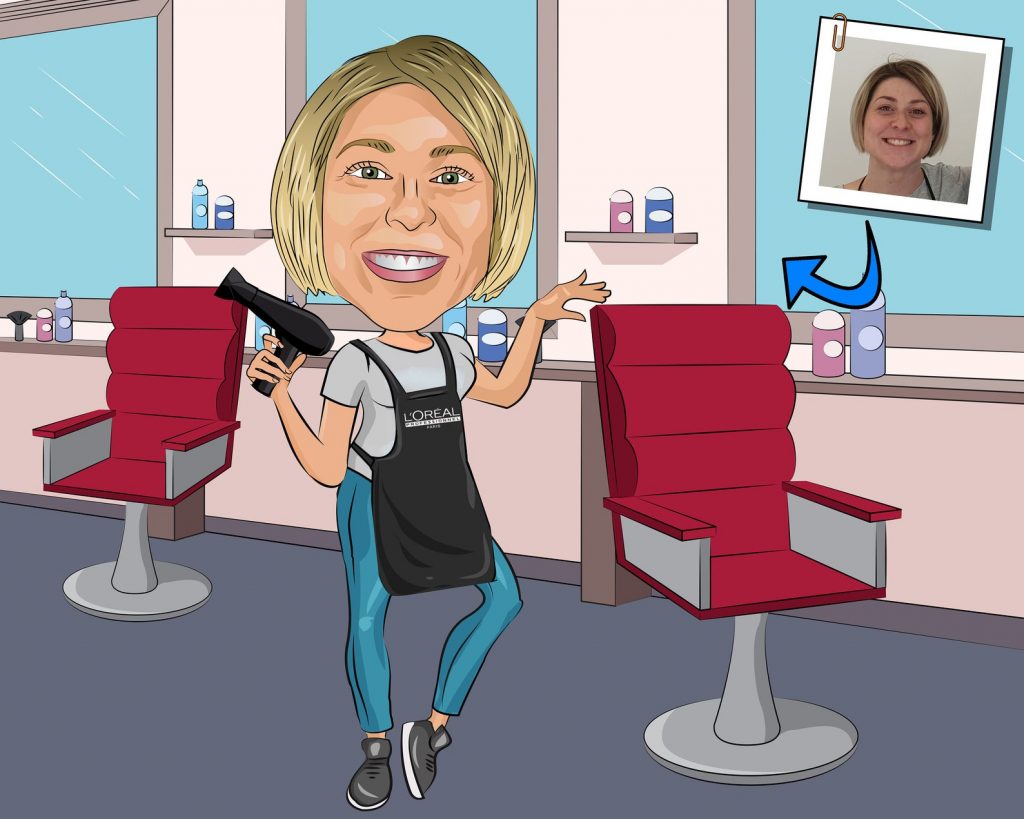 Related: Personalized Gifts
Leather Hair Stylist Scissor Pouch
Just as a plumber, an air conditioner technician or a bomb squad needs a toolbox, a hair stylist needs something to carry all their equipment in. Enter this ultra-deluxe pouch, made from the finest leather, with slots and straps for all their scissors, combs, and other beauty-related knickknacks. It's a great way to keep organized, not to mention portable for those emergency haircuts by the sea or on the tarmac. So if you are looking for useful gifts for a hairdresser, this is the way to go.
Burt's Bees Hand Relief Gift Set
Oh, brother, does a hair stylist's hands fall into disrepair after hours of whacking stray hair clumps! They crack, they dehydrate, they ache, they complain. Leave it to Burt's Bees to rejuvenate those limbs with this set of therapeutic gifts for hairdressers. It includes hand creme, cuticle cream, and a pair of cotton gloves to keep the whole procedure private.
Related: Relaxation Gifts for Women and Men
Hair Salon Stationary Vacuum
A salon floor gets so full of hair clumps that you could gather it together and make a voodoo doll. Stooping over to sweep them into a dustbin is annoying and sloppy. That's why this device is so ingenious. Simply sweep all the hair into the bottom vent, and the vacuum sucks it up into a holding cell until you have a chance to empty it. It makes a great useful gift idea for hairstylists and barbers.
Personalized Hairdresser Candle
Help your hairdresser get back to a normal, centered state of mind with this personalized candle. Choose one of ten yummy scents, pick a size, state your hairdresser's name, and soon they'll enjoy their very own combination of light and aroma in a jar with an inspirational message: "Part Artist, Part Therapist, Part Stylist, All Fabulous." Which is more uplifting than "Part Surgeon, Part Mall Cop, Part Monk, All Tired."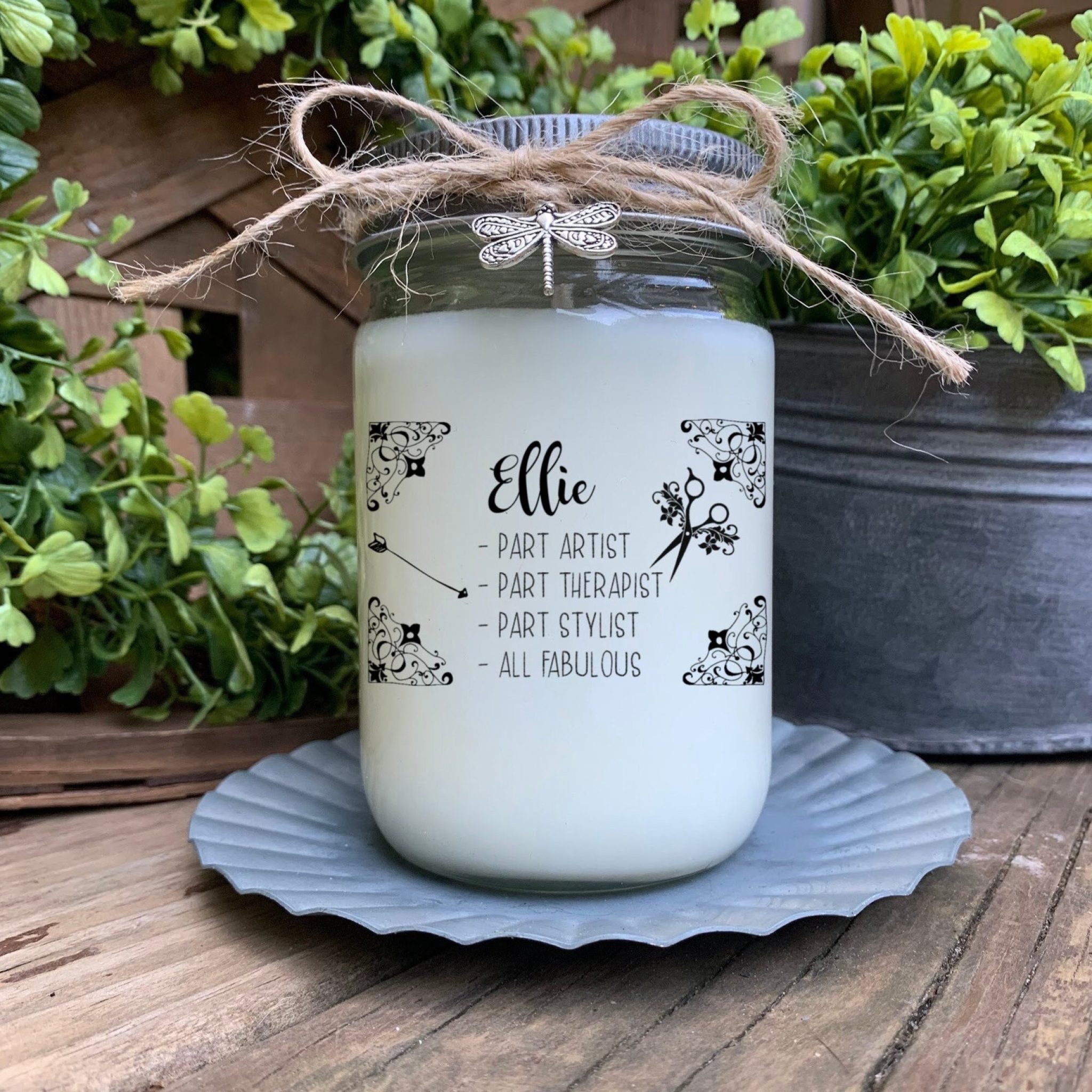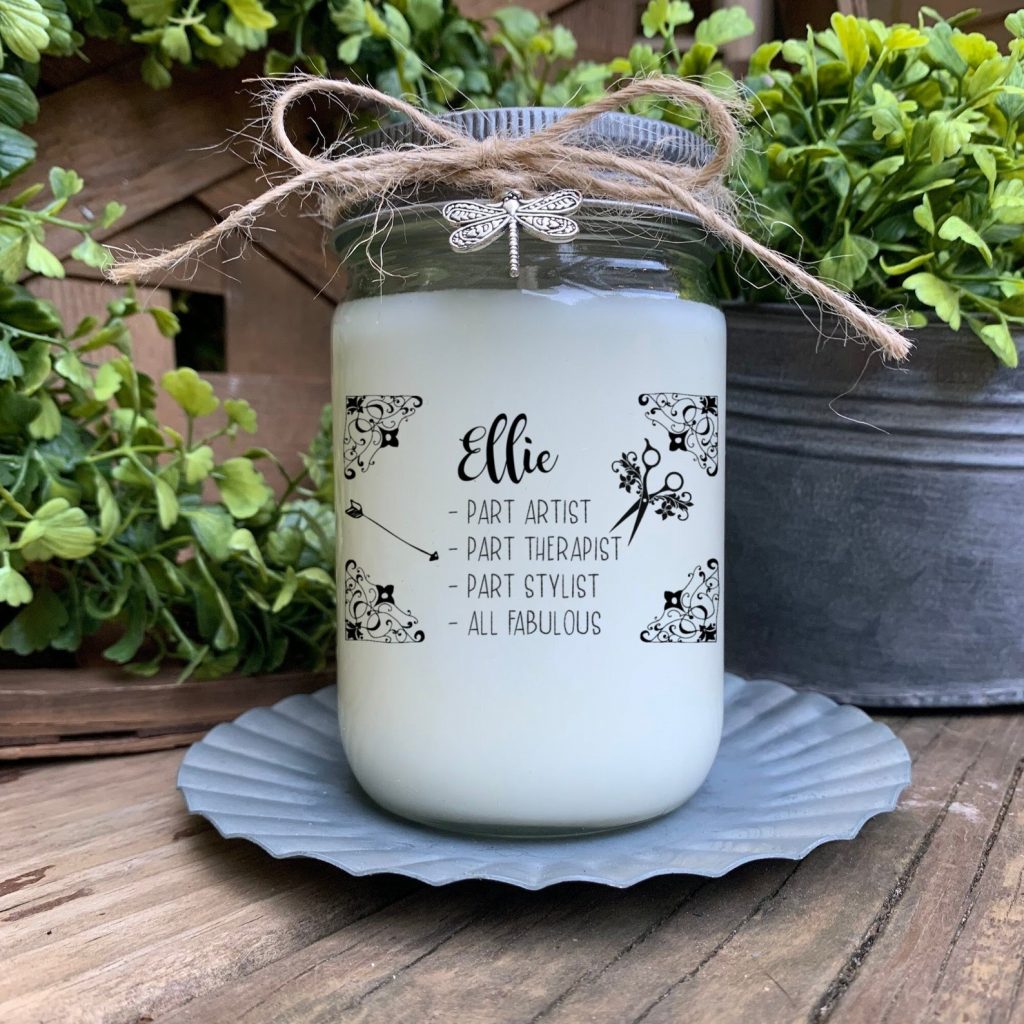 Funny Hair Stylist Wine Glass/ B*** Job Wine Glass
This wine glass contains an off-color joke that we don't feel comfortable repeating here in case our mom is reading. We will say we fell all over ourselves in riotous laughter when we read it. We imagined hairdressers doing the same. We pictured them laughing convulsively every time they filled this glass with wine, in giggle fits so uncontrollable they wound up spilling their red wine on white carpets. And that was really funny.
Related: Funny and Naughty Gifts
Leather Hairdresser Tool Bag
We've always believed hairstylists need their own version of a gun holster. Something that keeps all their tools in easy reach in case a duel breaks out. This tool bag is the closest we have ever come to realizing this vision. It's all leather, has space for every stylist accessory, and dangles off the waist in gladiatorial splendor. Your hairstylist will be the quickest draw in the strip mall with this useful hairdresser gift.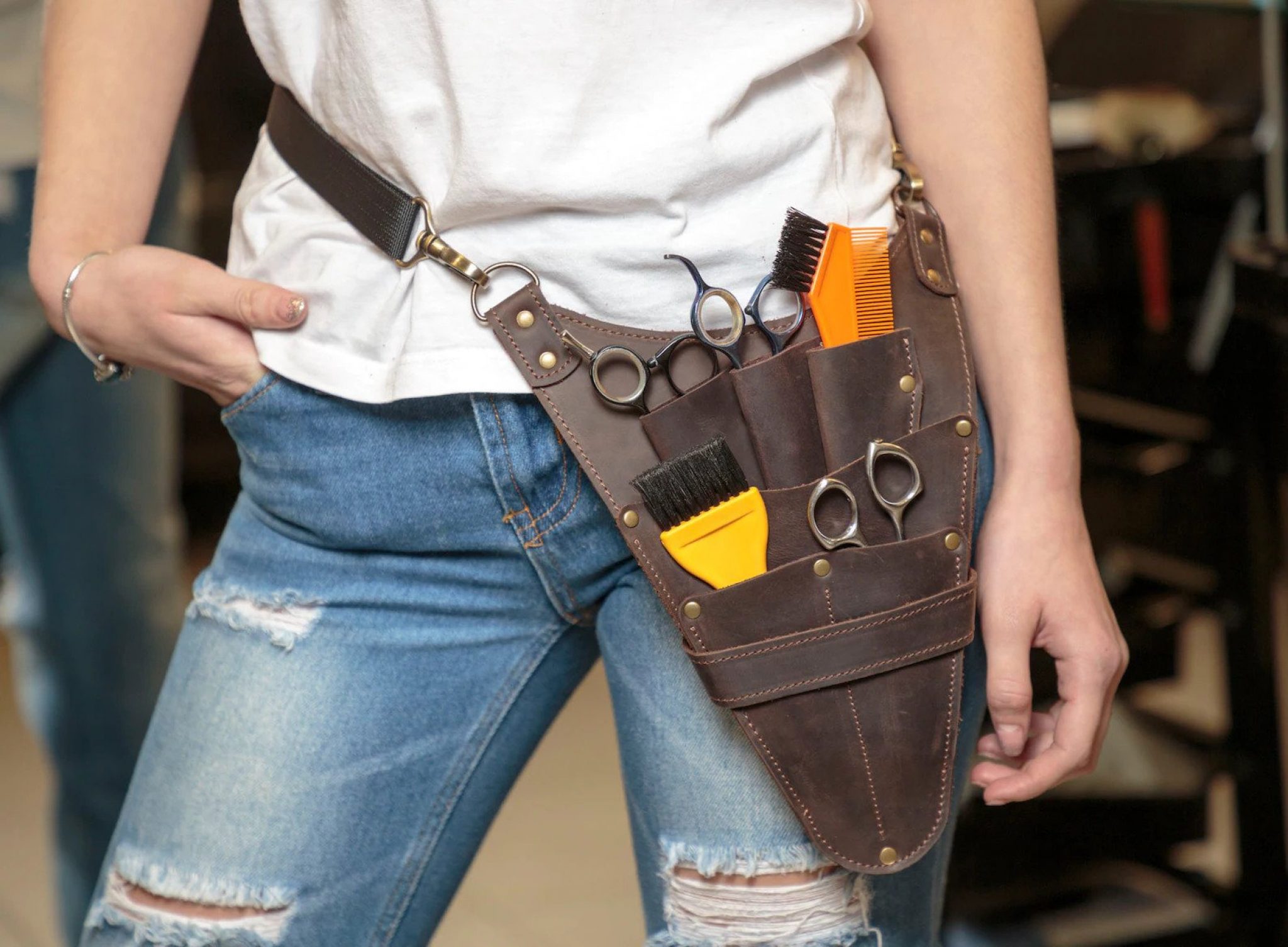 Ipsy Beauty Subscription
With this subscription box, your favorite hairdresser will receive a set of different beauty gifts every month… And they love beauty products! They include absolutely everything under the makeup light: eye shadow, foundation, skin cream, "cryo activating hydra-gel," rouge, moisturizer, lip stuff, and something rather cryptically called "Brazilian Bum Bum Cream." Really, it's the Bum Bum Cream that sends this whole package over the top for us.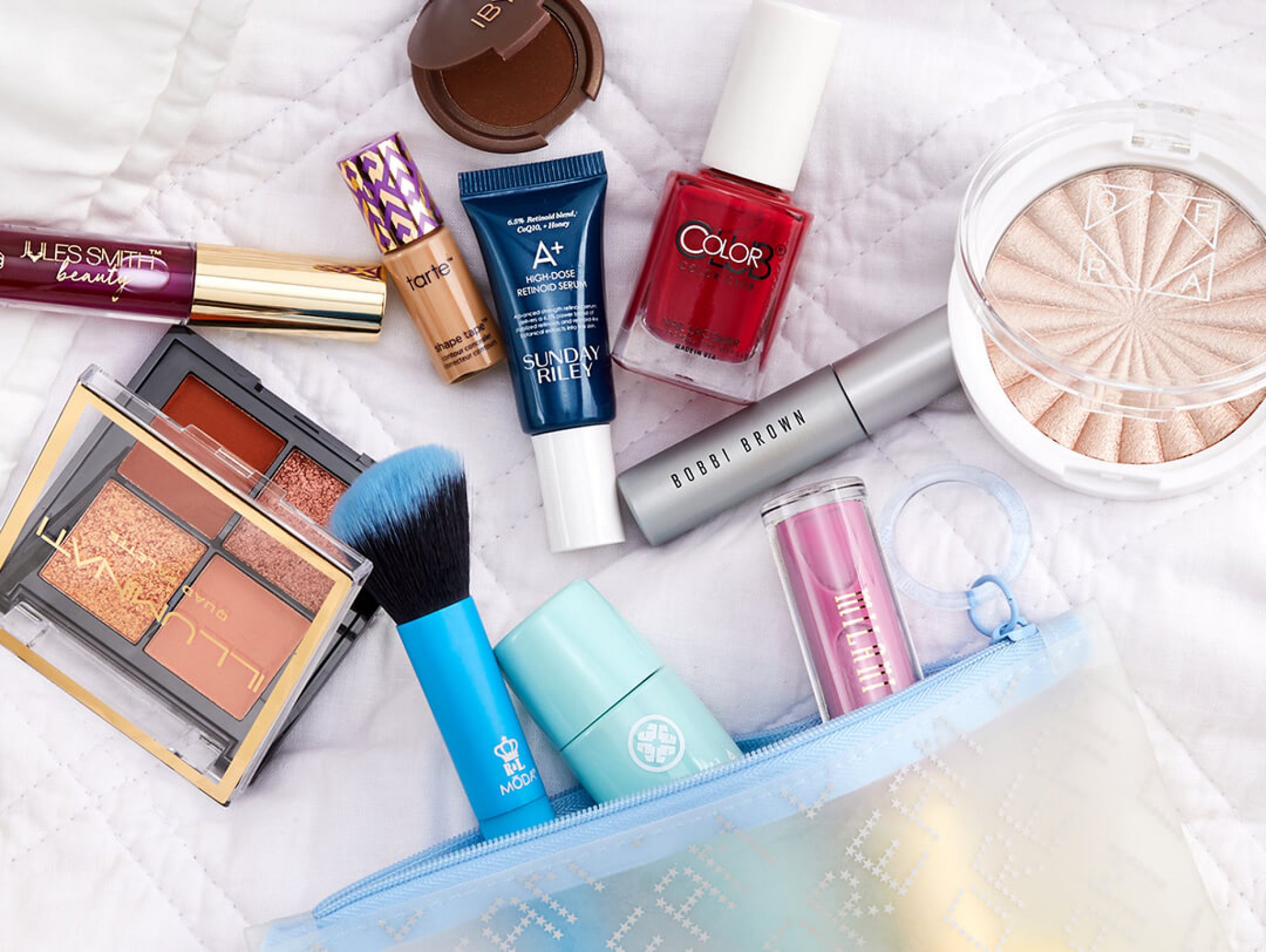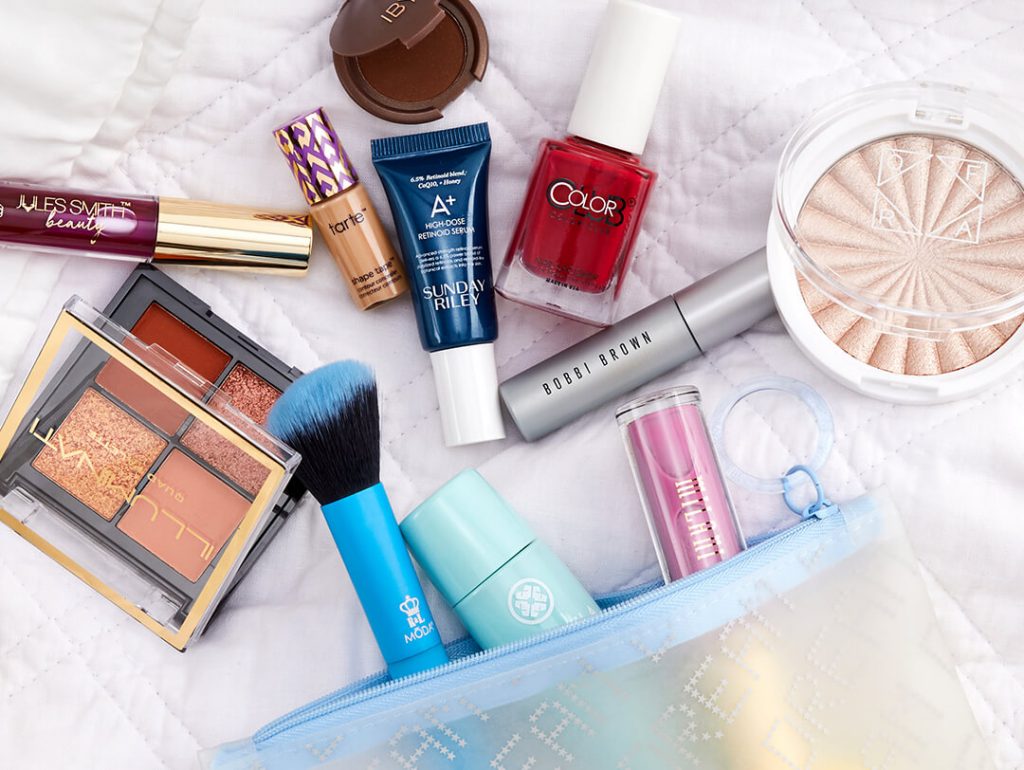 Related: Subscription Gifts
Personalized Hair Stylist Apron
Like a barbecue pitmaster or a competent butcher, any decent hairstylist needs a quality apron. This custom-embroidered get-up does the trick. It goes all the way down to the kneecaps and prominently displays a fun little design in your choice of color with the hair stylist's name etched onto it. You can get the apron in black or white. We suggest black for covering up the bloodstains.
Minute Mimosa Kit
We can't think of an alcoholic drink more suited to the lifestyle of a hair stylist than the mimosa: bubbly champagne with a tart citrus punch. This creative kit makes mimosas in a snap. Drop a sugar cube infused with strawberry, raspberry, grapefruit, or other citrus flavors into a heaping champagne glass. Watch it dissolve. When it floats to the top, your mee-mo is ready to drink. It's like Alka-Seltzer for the soul. So if you are looking for gifts for hairstylists who like to relax, then you can't go wrong with these.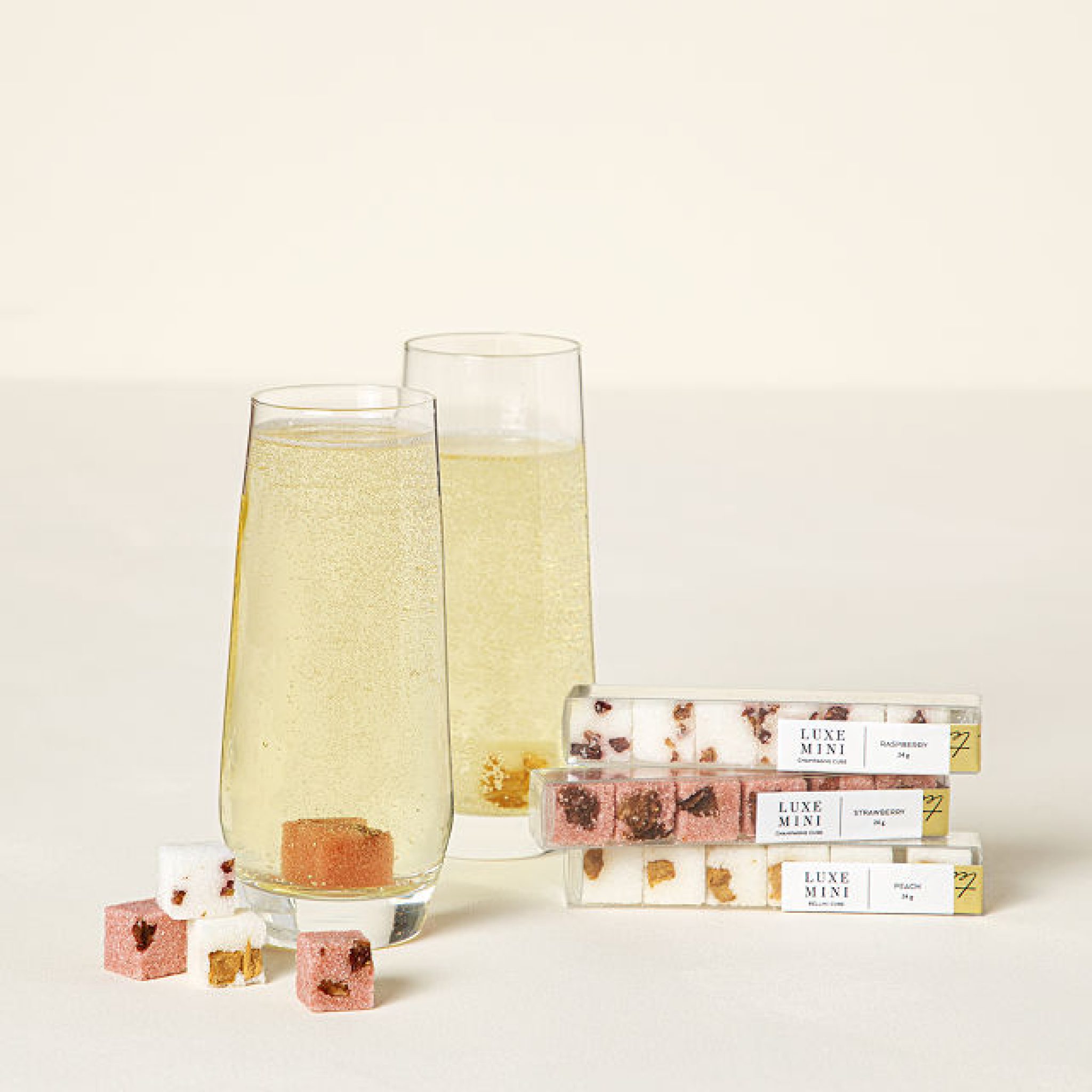 Related: Gifts for Drinkers
Heat Resistant Tool Bag for Hairstylists for Carrying Hot Styling Tools
Some of the most important tools hairstylists need are hot to the touch. These include hair dryers, curling irons, flat irons, ceramic rollers, styling wands, and a burning sense of vengeance. Now they can keep them all collected in this heat-resistant bag, which keeps them all safe from others with heavy-duty lining. Except for the vengeance, that is. No customer is safe from that.
Foot Massager
Holy shiatsu, this machine is fantastic. It's one of the most thoughtful hairdresser-slash-barber gifts you can get because they are on their feet all day. Just stick both feet in the respective foot holes and set some controls. Within seconds your feet are set upon from all sides by electronic pulses that knead, rub, roll, and otherwise mutilate tired, aching tissues. It's an experience so close to a professional spa you'll look around for a towel boy. It makes a great gift for hairstylists because they are on their feet all day.
Related: Gifts for Couch Potatoes
Wine of the Month Club
Every month your favorite hair stylist will get two bottles of premium wine. This will help them erase the memories of screaming children, petulant customers, idle gossip about neighbors other than their own, domineering supervisors, flirty mall cops, and customers in their 50s still asking for "the Rachel cut." Few gifts for hair stylists are better than numbness and forgetting.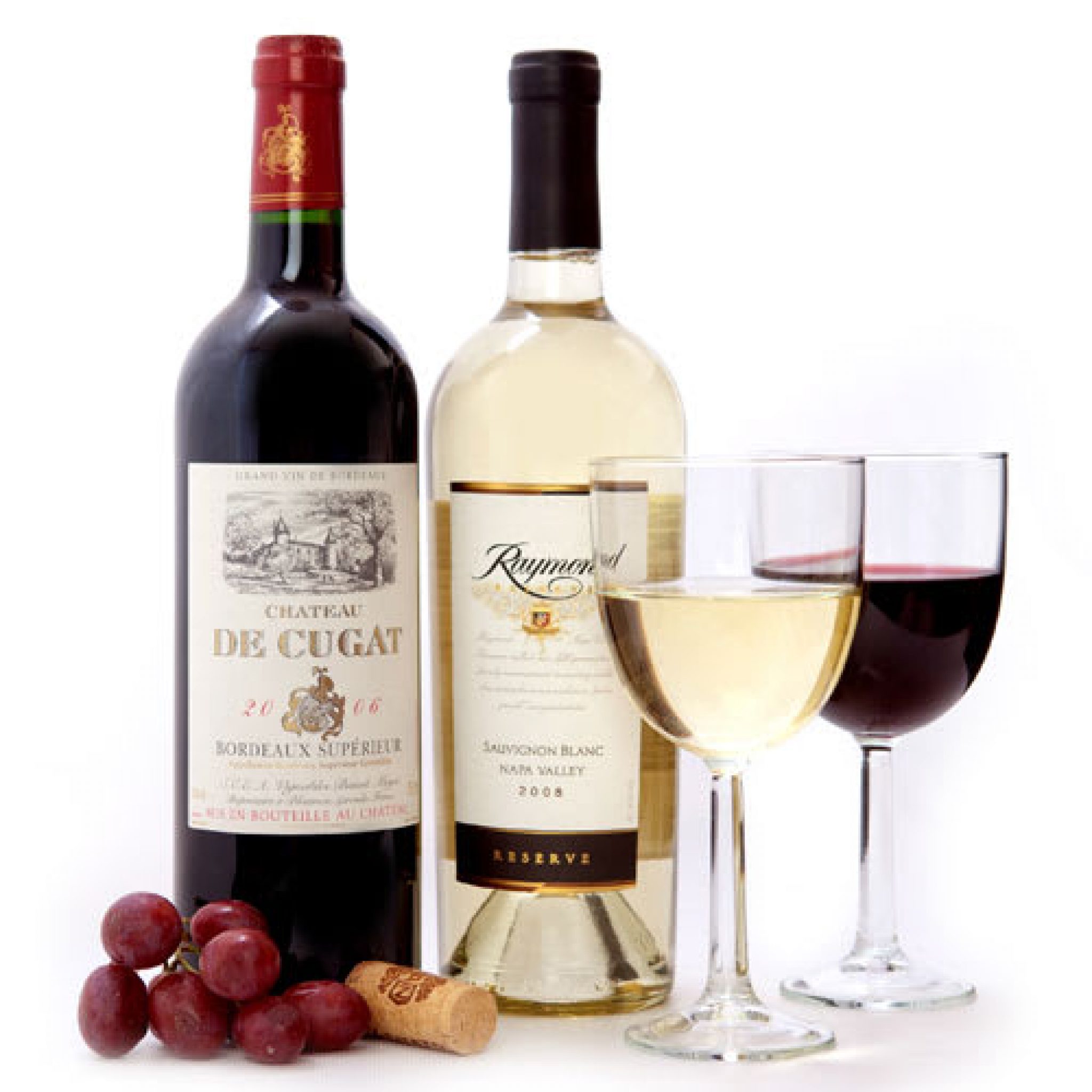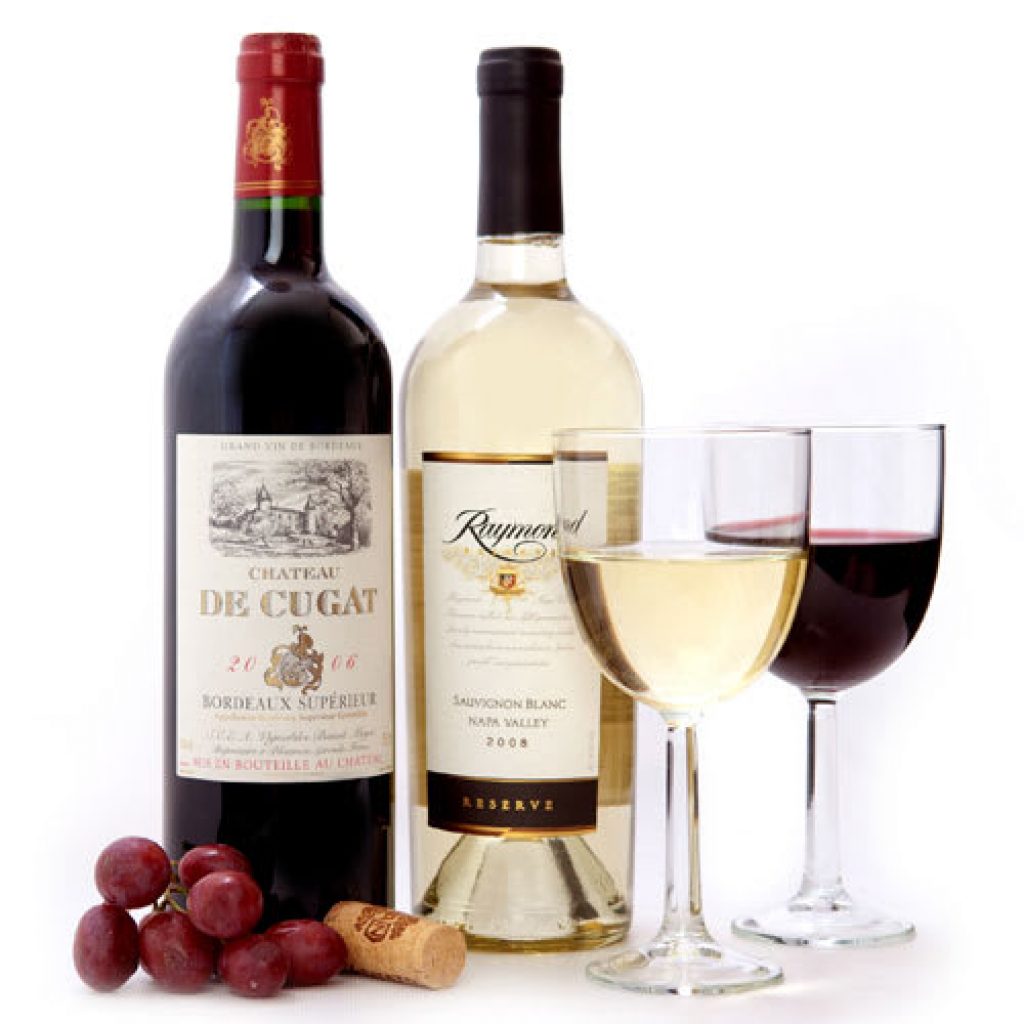 Personalized Leather Scissor Case for Barbers
This scissor case, if we're being honest, makes for the grandest display of a hair stylist's tools. Closed, it looks like any other beautiful leather box with a personalized name badge on it. But open it up and it turns into an ostentatious spread, much like a chef's knife kit at a competitive barbecue event. That's the kind of message you want to send before giving a perm.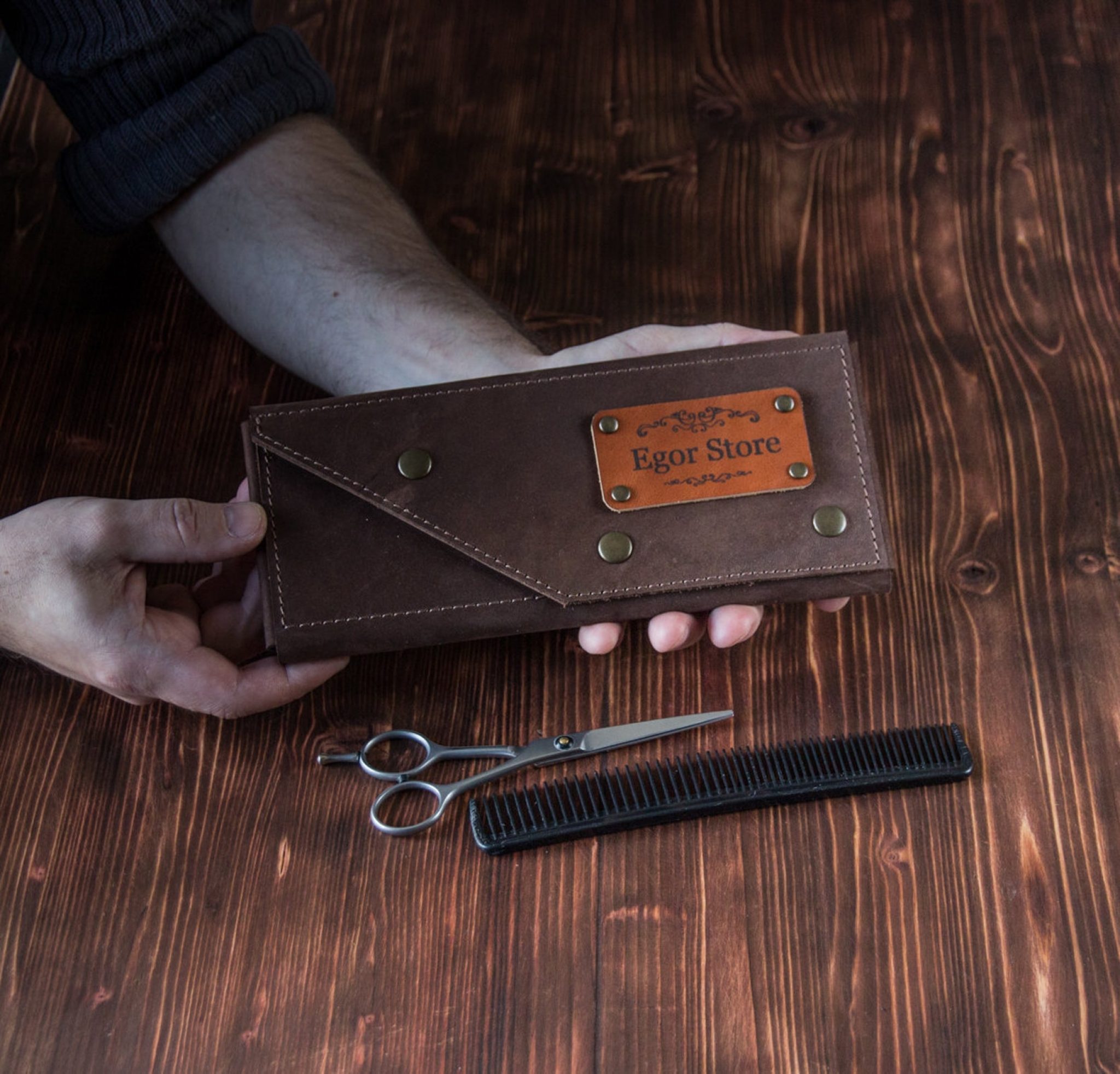 Paraffin Wax Machine for Hands and Feet
When you're standing all day whacking away at hair follicles, your feet and hands can get craggy, creaky, and painful. That's why regular paraffin wax treatments are so beneficial, and why this machine can be a lifesaver. Simply melt the wax, then encase or mummify your feet and/or hands for 20 minutes and peel the wax off. Your extremities will be softer and more supple than a part-time accountant.
Real Scissors Bracelet
This beautiful bracelet is made out of a real pair of scissors and is a great Christmas gift for hairdressers with an eye for bling. The scissors are bent to fit around your wrist to fit any size. In addition to hairstylists and barbers, the real scissor bracelet may also be a good gift for tailors, seamstresses, quilters, film editors, ransom note composers, bonsai tree sculptors, and a whole lot of medical professionals we don't want to get too specific about.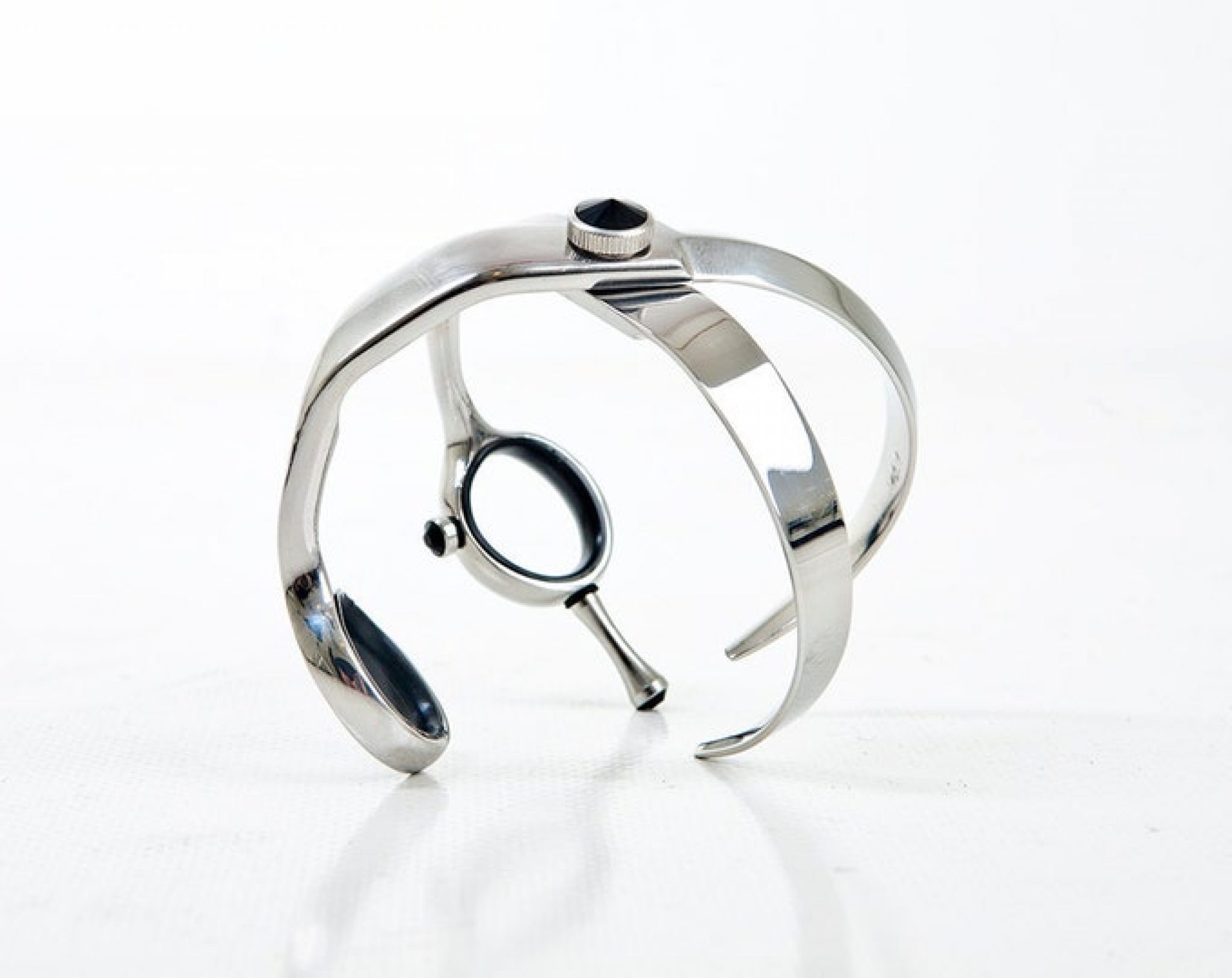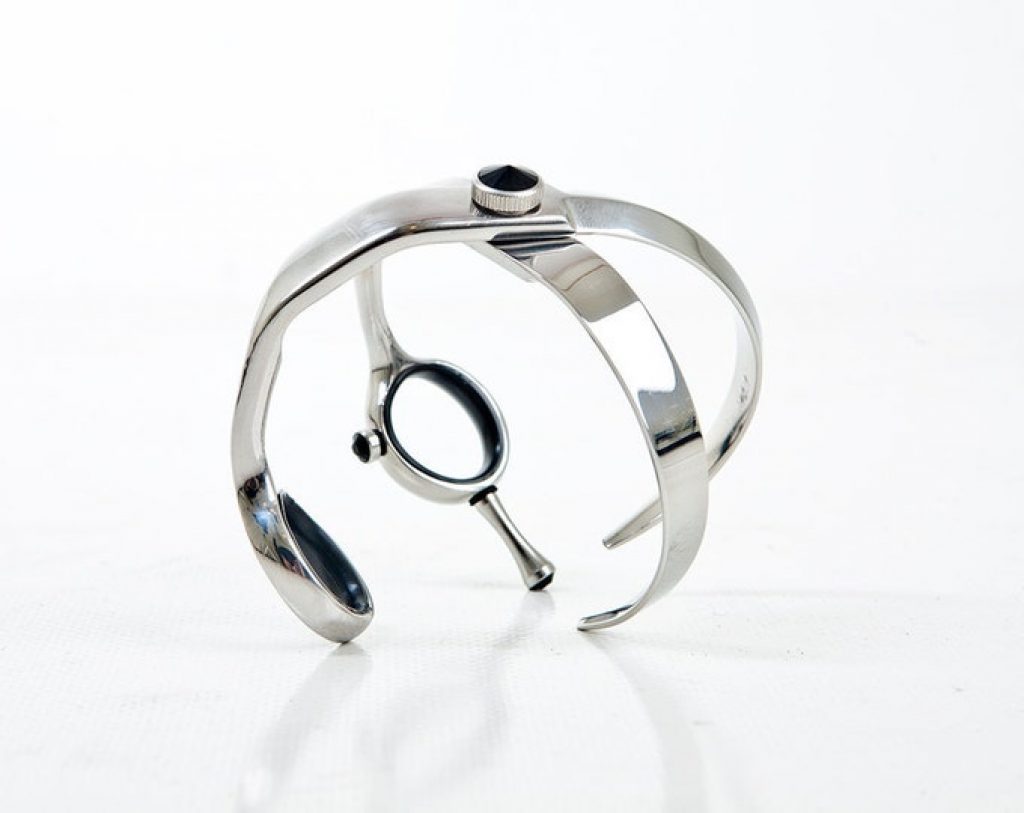 Custom Hairdresser Cartoon Portrait
It's the return of the Yellow Cartoon Character! The artist that makes this customized picture turns your favorite hairdresser into a very stylized character straight out of that long-running animated series we can't mention. You know the one. The show with the hapless dad, the long-suffering mom, and the three mischievous children who haven't aged one bit in over 32 years. It makes a great funny gift for hairdressers who have everything.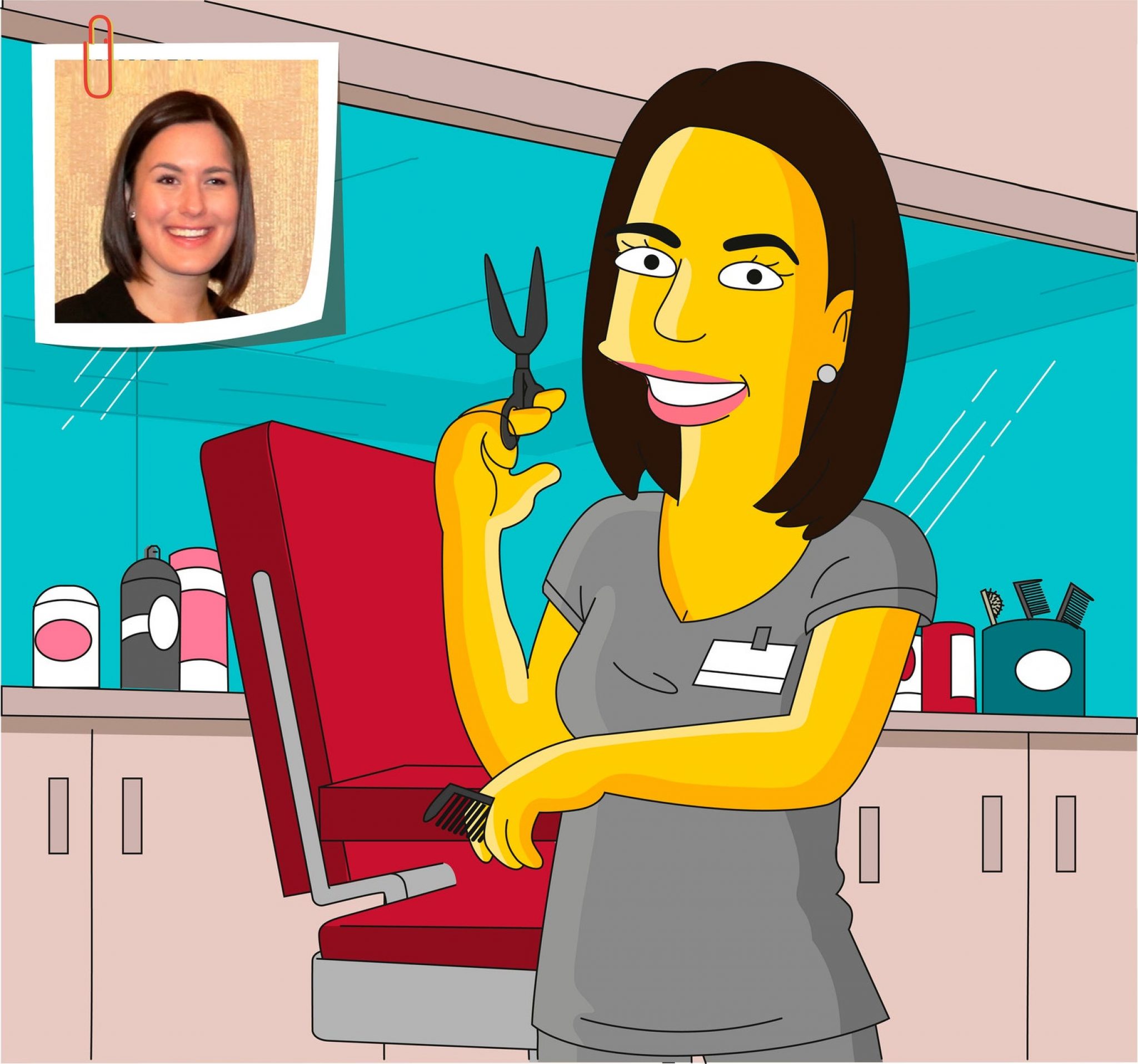 Magnetic Bobby Pin Bracelet
Now, this is one of the smartest, most practical gift ideas for hairstylists in this whole series. Wear this magnetic bracelet on your wrist, like one of those newfangled watches that measure your heart rate. The magnet holds several bobby pins in place while you snip, so you don't have to rush back over to your workstation cabinet to grab more. Also acceptable for sewing needles, hair clips, and gold teeth. It's one of the best stocking stuffer gifts for hairstylists.
Cordless Hand Massager for Hairdressers
Relieve your hair stylist's aching, tired hands with this massage instrument. It offers six levels of "pressure-point therapy," helping their snipping hands overcome muscle fatigue, arthritis, carpal tunnel, numbness, and other conditions that make their digits cry. The massager surrounds the hand completely, making the patient look like a hockey goalie with bionic parts. That's a bonus feature.
Leather Barber and Hairtylist Apron
Here's another quality hairdresser apron. This one has easy fastening buttons, an adjustable neck strap, and no less than six pockets for virtually every coiffure instrument you can dream up. One pocket, which they identify as the "large utility pocket," hovers directly over the hair stylist's chest plate. We think it's a good place for a cell phone. The other five pockets are closer to the waist and are more suitable for weaponry or chemical agents.
Acupressure Slippers
What we have here is a pair of slippers with a bunch of solid stone implements on the surface. The stones are matched to various points spread across the human foot. When properly worn, these stones will apply acupressure to these points, which over the long term can have health benefits to one's back, blood circulation, and mobility. Very important: You must only wear these slippers for 10 to 20 minutes at a time in the beginning, because they may be painful at the start as you get used to them. But they feel amazing as you build up.
Chocolate Set for Hair Stylists
These fun chocolate hair stylist gifts come in the shapes of tools commonly associated with hairstyling. Let's see — there's a blow dryer, a comb, a mirror, some curlers, and a brush. Very clever. They're also available in a variety of chocolate flavors. Give milk or dark chocolate to a hairdresser you love, or white chocolate to a hairdresser you despise.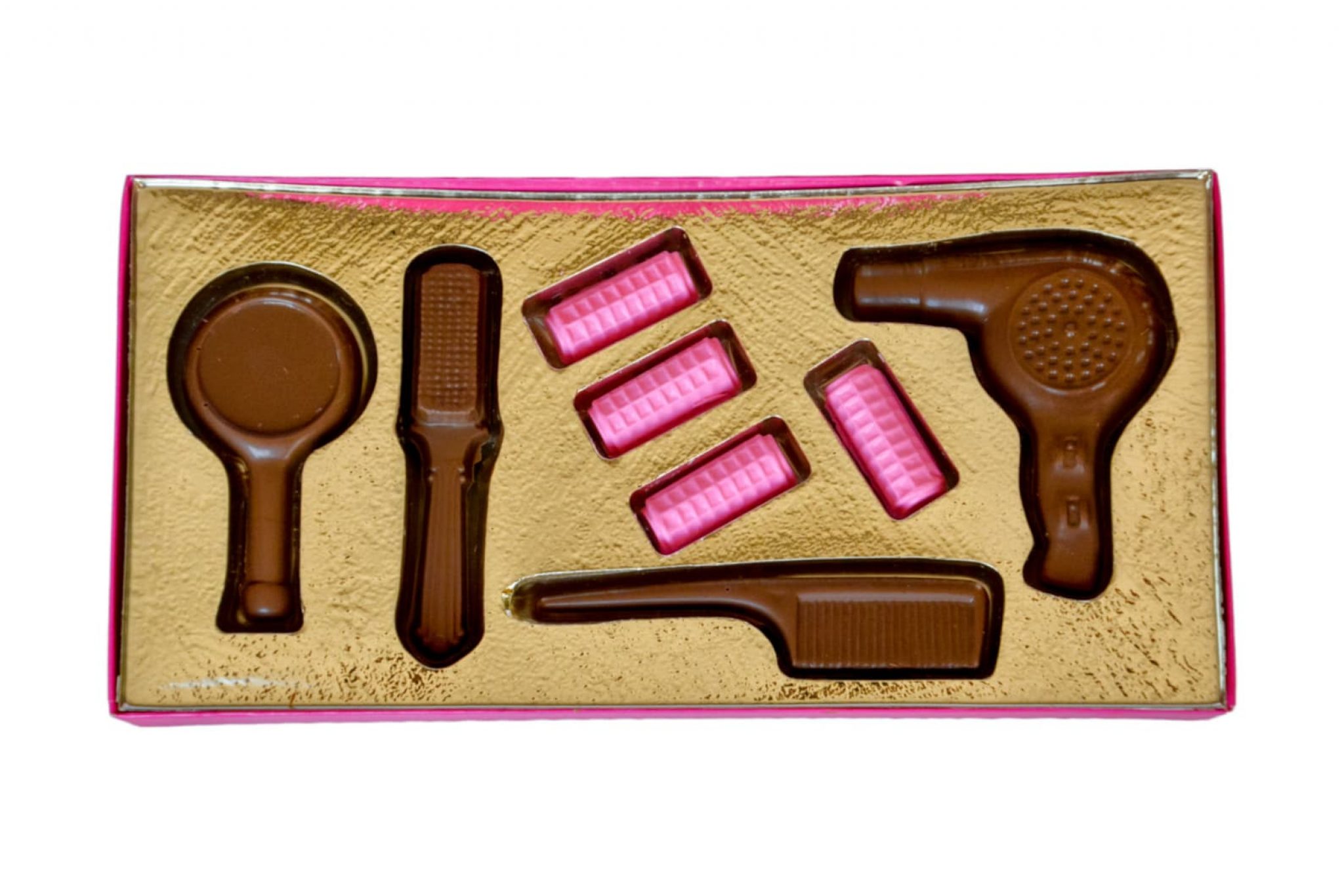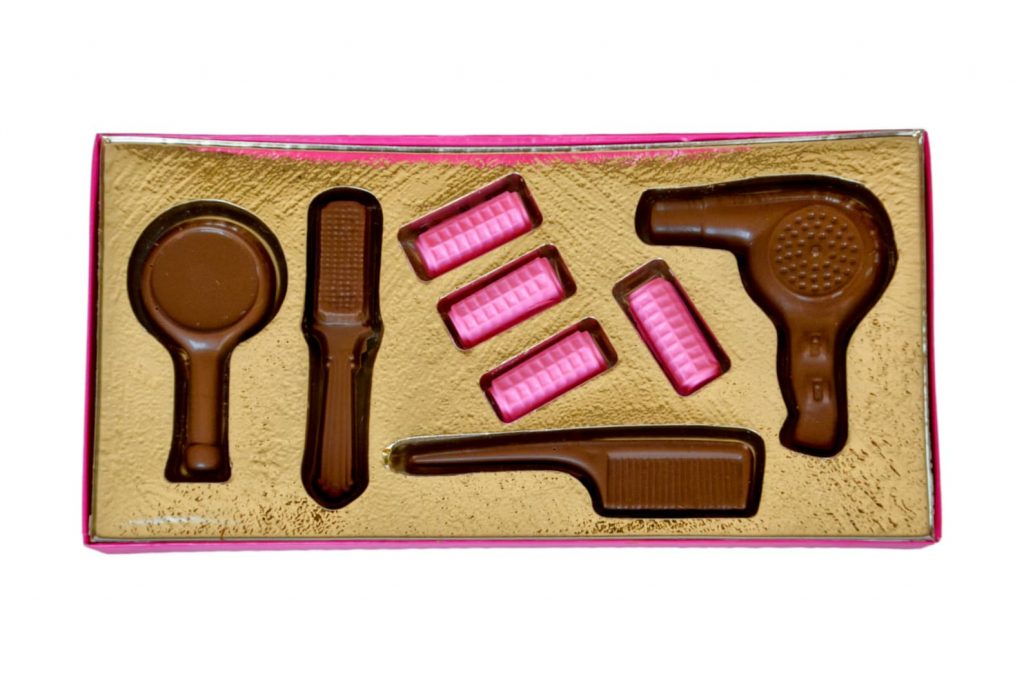 Million Dollar Stylist
Hairstyling isn't just something people do for fun or revenge — it's also a means for making money! But not all hair stylists have the business acumen they need to become financially independent. They will after they read this book by cosmetology business expert Marquetta Breslin. It will teach them how to build their skill set, promote their business, become industry leaders, and eventually rule the world from atop a mountain of mousse. And once they become rich, they will probably buy you dinner.
Hair Salon Patents
Here's a set of artworks that will immediately perk up any hair studio. They're reproductions of the patents for four brilliant inventions no hairstylist can live without: the hairdryer, the curling iron, scissors, and the hairbrush. Nothing yet for the customer bib or the handheld mirror, but perhaps those are self-explanatory.
Personalized Hair Stylist Ornament
This snowflake-shaped ornament arranged with tiny scissors and combs is a slam-dunk Christmas gift for hairdressers. Hang it on the Christmas tree when the season comes a-calling. We also had this vision of saving all the hair you cut off and fashioning it into kind of a tinsel string, but the Health Department shut down that idea real quick. It also makes a great stocking stuffer gift for hairstylists.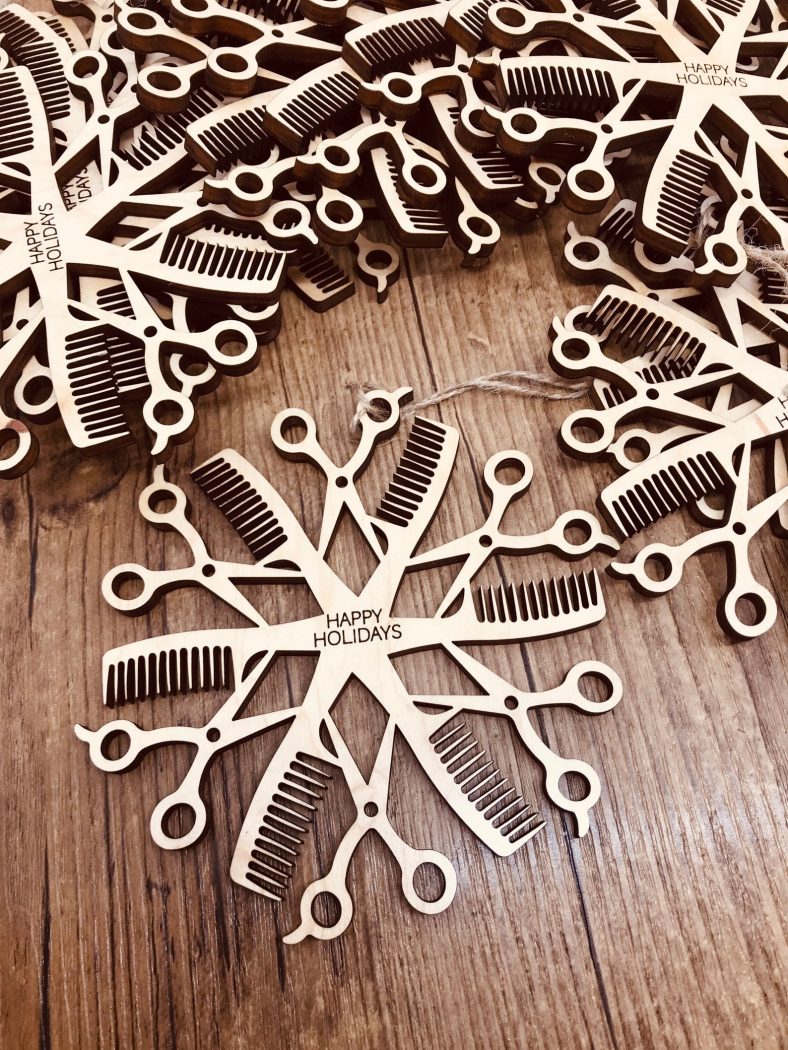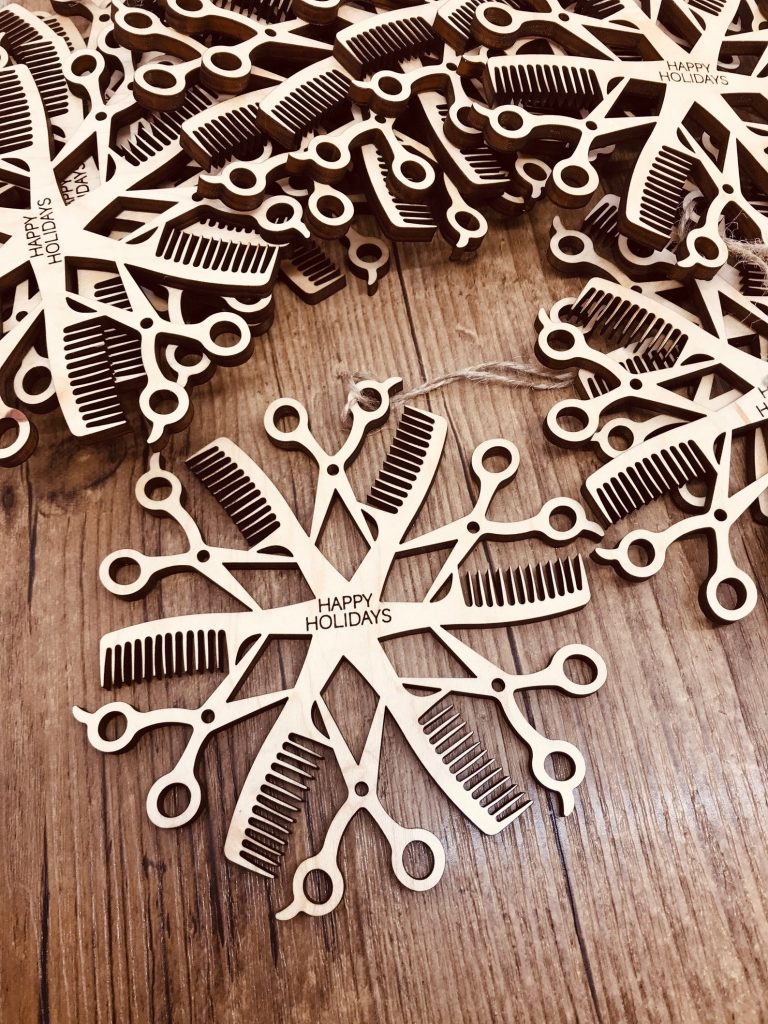 We hope these knockout hair stylist gifts will bring you a little closer to the barber or beautician that uses your head as the canvas for their artistic vision and manual talents.