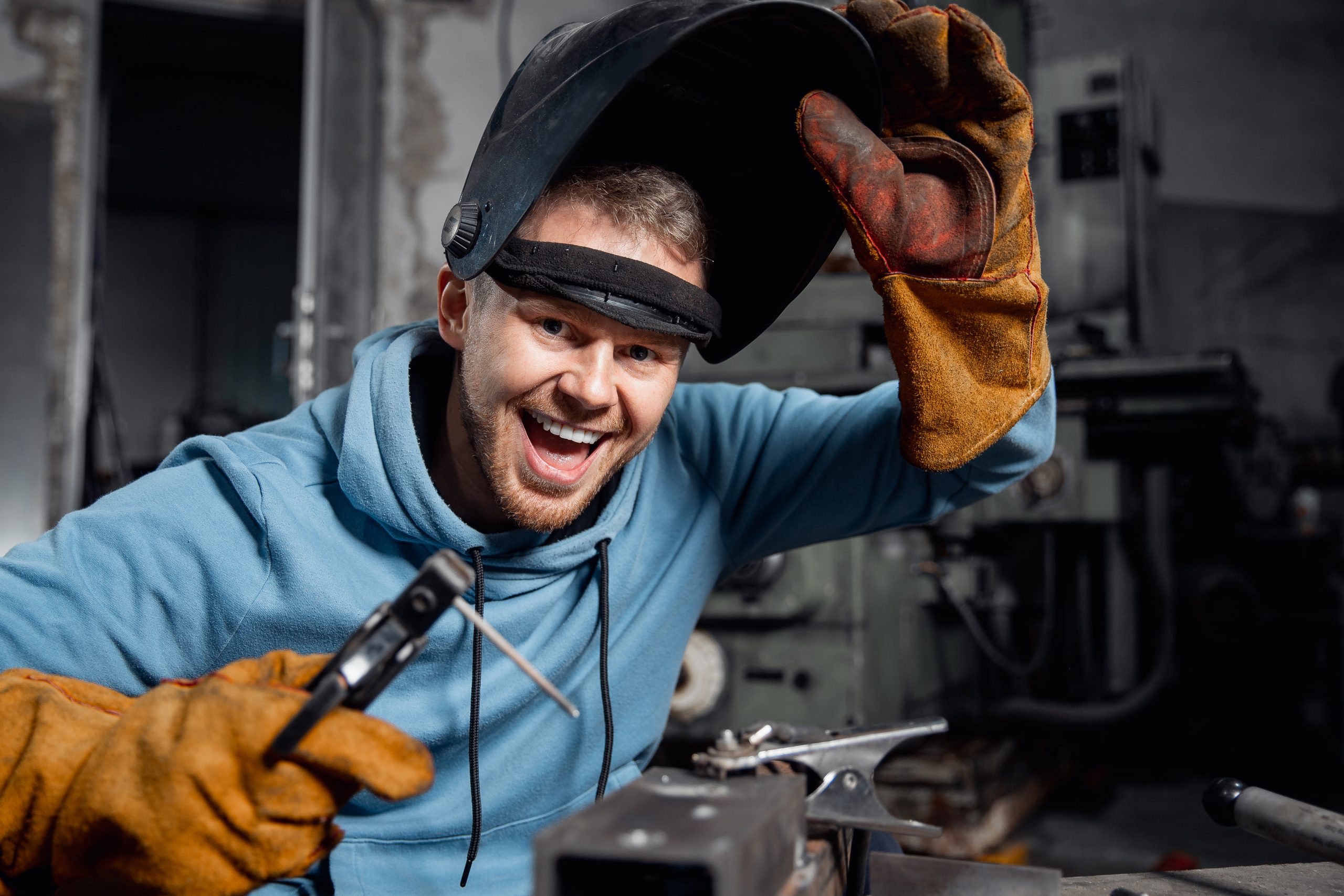 That steel coffee table you put your feet on? That outdoor grill you burn steaks on? That tripod stand you use to spy on your neighbors? These objects didn't just appear out of nowhere — somebody welded them. And we're here to help you show your gratitude with a few of the best gifts for welders.
Light the torch, lower the mask, and peruse through these burning hot welder gifts.
Related: Gifts for Men or Gifts for Women
Personalized Leather Welder Apron with Beer Pouch
Aprons in general are underrated as fashion items. This is mainly because they're associated with kitchens and are usually flimsy and pretty. Not this apron, though. It's the most macho apron ever made, fabricated from tough-as-hell leather and personalized with your selected logo or message. It's got pockets for everything, including a bottle of beer. Because nothing eases one's anxiety over being around machines that spit fire like drinking. Plus, personalized gifts for welders make the best gifts because it's something your welder friend wouldn't think to buy for themselves.
Related: Gifts for Beer Lovers
Personalized Caricature Portrait for Welders
Custom cartoon Portraits turn photographs of friends, families, and other interested parties into whimsical caricatures in some kind of action setting. Scurry over to their Etsy page right now to order one for your favorite welder. You can even ask for special details that will make your picture unique, like a tiger-striped face mask or a tastefully rendered burn wound. It makes a funny and unique welder gift for welders who have everything.
Related: Personalized Gifts
Welding Backpack
What's that? There's a welding emergency in the Colorado Rockies? An urgent welding need in the Great Salt Lake? No problem — you can take your job with you with this fully functional welding backpack! This is one of the best gifts for a welder on the go. It's an "extreme gear pack" with room for everything, including a full-sized hutch for that sexy welding mask in the back.
Related: Gifts for Men
Beef Jerky Gift Set
A welder needs protein like a manicurist needs acetone. There's no tastier way to administer protein than with the artisanal beef jerky made by Righteous Felon. Their jerky pack includes eight 2-ounce gifts of home-crafted meat products made with all-natural ingredients. It's unbelievably delicious, spicy, and uncut — not shaped into oversized drinking straws and forced into a convenience store display next to the breath mints.
Personalized Welder Sign
Welders work their wizardry on pieces of metal, so it only makes sense that some of the best gifts for welders are made from metal. That includes this striking personalized metal sign, featuring a dramatic cut-out of a welder taming the steely beast and a personalized name or message underneath. Choose from five sizes ranging from unassuming to extra-imposing, and from five colors including black, bronze, gold, silver, and rose gold for more dainty types.
Auto Darkening Welding Helmet
No self-respecting welder would be caught dead without their helmet. Actually, if they are dead, it's probably because they forgot to put on their helmet before they started welding. Which begs the question of why they were allowed to weld in the first place. Oh, forget it. Just give them this top-of-the-line head-contouring helmet, available in several styles and colors, with advanced lens technology that gives them a crisp view of the welding proceedings. It's one of the most useful gifts for welders you can find and is at the top of every welder's gift wish list.
Personalized Welder's Tumbler
Now this is the only tumbler a welder will ever need. A double-walled, stainless-steel monstrosity that can hold up to 20 ounces of burning hot or freezing cold liquid. Rough-hewn and arresting, burnished to a ragged glory and festooned with coarse trimmings. This tumbler will kick the asses of every other drinking utensil on the shelf. Plus, you have the option of personalizing it with your name or a message.
Farm and Workshop Welding
Itching to get started in the wonderful world of welding? Pick up this book by Andrew Pearce, covering everything you need to know about the art of bossing metal around. You'll learn about steels and abrasives. You'll learn about arc, plasma, and gas welding. You'll learn about offshoots like cast iron and pipe welding. And you'll make special projects like a metal fire pit or a doggie waterer.
Neck and Back Massager
Consider the plight of the welder, stooping day after day over a hot, molten Hades of their own creation. It is murder on the neck. That's why this massager is one of the most appropriate welder gifts you can give. Its ergonomic design makes it suitable for almost any body part. It's got eight kneading, heating nodes that orbit like self-directed blowfish, blasting pain and tension to smithereens.
Related: Relaxation Gifts
Flame Resistant Leather Welding Jacket
Straight from the industrial fashion runways of Stockholm, Sweden comes this utilitarian welder's jacket. It protects the body from the ravages of fire with anti-scald, flame-resistant cowhide split leather. It's got a front pocket that's ideal for toting around wrenches, hammers, screwdrivers, and antidepressants. For some reason, we're also getting a Hannibal Lecter vibe from this suit, but we trust the recipient won't take it that far.
Ram Skull Welding Sculpture Pattern
Just as seamsters use sewing patterns to make tacky 1970s suit jackets with wide lapels, so do welders use patterns to make steel interpretations of ram skulls. With this set of templates, ram skull-making has never been more of a snap. It's a digital PDF file download, complete with DWG files for CNC cutting, making welding a snap.
Beer Chiller Sticks
Is there anything more insulting to a welder than being given a bottle of warm beer? What kind of heartless rube who has never touched fire to iron would do such a thing? Cancel that sinful possibility with these beer-chilling gifts. Just stow them in the freezer for three hours, stick them in the bottle, and enjoy endless hours of beer that's colder than the merciless stare of a career criminal.
Professional Welding Kit
This kit has everything you need to weld in one outrageous gift package. The centerpiece, of course, is the Weldpro TIG200ACDC welder, a hulking piece of electronics that oversees the welding proceedings like a distant puppet master. There's also the Weldpro torch with its pitiless flame, as well as a gas hose, flow meter, foot pedal, trigger button, and a ground clamp. No beverage cup holders, but we'll manage.
Welder's Leather Cape
This piece of clothing is similar to the welding jacket we discussed a few gifts back, except much shorter. It amounts to a kind of shoulder pad with sleeves for the protection of the head and neck area. It's made of cowhide leather, stitched together with Kevlar thread and extra heat resistance. The seller notes it can also be coordinated with a bib apron or a sensible pair of heels.
3D Printer
Is your welder the creative type looking for more advanced technology? Introduce them to the eye-popping possibilities of a 3D printer. This easy-to-use machine turns spools of filament into solid works of art and functionality. It's affordably priced, making it easy to get on the ground floor of 3D printing mania. It's not the same as forging rock-sturdy objects from fire and steel, but it will fit in your kid's room and it's super fun.
Dremel Mini Welding Torch
This adorable miniature blowtorch is perfectly sized for small projects or repairs around the house. You know, like fixing bicycle gears, unfreezing locks with heated keys, repairing electronic wires, etching pictures into wood surfaces, or putting the finishing touches on creme brûlée. For us, that last part is the deal-clinched. Nobody loves big-ass welding torches like us, but they're pretty useless when it comes to burning custard.
Portable Collapsible Fire Pit
For the welder who likes to play with fire in their spare time, this collapsible steel mesh fire pit is the cat's burning pajamas. Set it up literally anywhere — the backyard, the beach, a campsite, an abandoned monastery — throw some wood on the fabric, and set it on fire. When the fire's out, sweep up the ashes, fold the pit together, and transport it away like it never happened.
Welder's Pencils
Ever try drawing a pattern on a hunk of raw metal with a ball-point pen? No dice, Picasso. You're going to need a set of special pencils. These very sensible gifts for welders make clearly visible, silvery marks on metal-in-waiting. What's more, the markings actually illuminate when the blade cuts through them, which is a pretty neat special effect and a good metaphor for something.
Fire Resistant Leather Welding Gloves
We don't want to get too graphic here. We assume you have some visual idea of what can happen when fingers touch open flames. Sure, every case is different, but almost none of them are good. Keep your welder's delicate hands safe with these heavy-duty protective gloves, with Kevlar-insulated cotton and aluminum foil to keep the demon fire from scalding their precious digits.
Welding Pocket Reference
"What happens if my electrode holder's jaws are defected?" "How quickly should I open an oxygen cylinder valve?" "What can I do with magnesium alloy?" "What angle should I hold the torch to finish off this creme brûlée?" The answers to most of these questions, and many more besides, are all available in this handy pocket reference book that you can whip out mid-weld.
"Welding: It's Like Sewing With Fire" Shirt
"Welding: it's like sewing with fire." Show off your welder's pride with that pithy quote emblazoned on the front of an attractive unisex T-shirt. Truer words were never spoken, except maybe "Construction: it's like Lego bricks with consequences."
Now that you've leafed through some of the best gift ideas for a welder, it's time to roll up your sleeves, get yourself some ductile steel, cover the contents of your garage in flame-retardant tarps, and light the torch to forge some unforgettable welders gifts. Or just, you know, hit the website checkout button. That's probably more practical, isn't it?
Be sure to follow us on Facebook for daily updates for unique gifts for those who have everything!