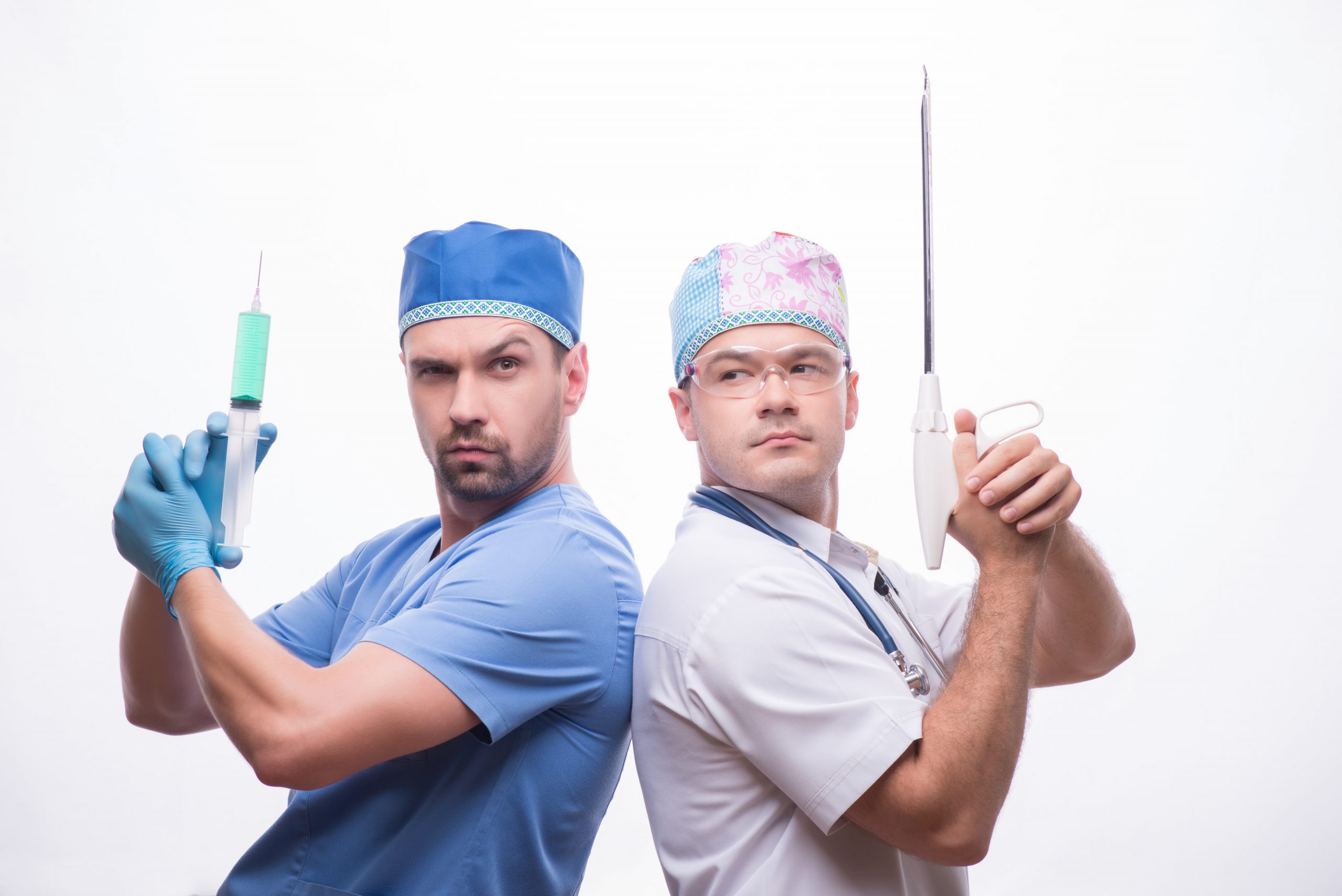 Do you have a family member or friend who's a doctor or studying to be one? That's great! Now you know somebody who can loan you money! Also, they save lives. There's no better way to thank your favorite medical professional than with these gifts for medical students, recent graduates, doctors, or retired doctors.
These aren't your run-of-the-mill, unsatisfying, hackneyed pencil holders or cups that say "My Other Car is an Ambulance." These are wholly unique gifts for doctors that your friend will either appreciate with all kindness or look at you funny. Just like when they whack your knee with a reflex hammer, any reaction is a good one.
Related: Gifts for Men or Gifts for Women
Personalized Whiskey Decanter Gift Set for Doctors
After a long day saving lives, taking pulses, and dealing with bureaucratic red tape from cranky insurance companies, there's nothing most doctors like better than forgetting it all with a powerful drink. Make that transition easier with these whiskey-related doctor gifts: a decanter and four glasses in a handsome, personalized box. It comes stenciled with that caduceus medical symbol that we've never quite been able to figure out.
Related: Gifts for Whiskey Lovers
Custom Obstetrician Cartoon Portrait
Obstetricians bring life into the world. Celebrate their lives with a custom-made cartoon portrait of them immediately after delivering a baby. Like, seconds after the delivery, with the mother still in full recline. A curious time to stop and pose with a thumbs-up signal, but we think it is hilarious. (Although the white coat looks extremely clean, given what the…you know, let's just not go there.) It is one of our favorite funny gifts for obstetricians or retirement gifts for doctors.
Related: Personalized Gifts
Personalized Doctor Coat Hanger
Know a doctor that keeps tossing their lab coat on the floor like a disgruntled teenager? Stage an intervention with this personalized wooden hanger. The crossing bar thingy is shaped in their name in cursive, and you can add a decal shaped like a caduceus, a heart, a stethoscope, the "Rx" symbol, or a paw print if they're a veterinarian (or just a really bad podiatrist).
Foot Massager with Heat
We learned everything we know about doctors and nurses from Grey's Anatomy. And one thing we've learned is that they're on their feet all day, running from room to room, desperately saving lives, and cornering each other in supply closets to argue about their relationships. It's only sensible to give them this foot massager, which gives their feet a relaxing shiatsu massage that melts tension like a lava rock going through a vat of butter. It's one of the most useful gifts for doctors and medical students.
Related: Relaxation Gifts
Personalized Doctor Belgium Chocolate Gift Set
Tantalize your favorite healing specialist with these chocolatey gifts for new doctors, retiring doctors, or doctors in between. They come with a personalized nameplate and all-chocolate recreations of a stethoscope, knee-tapper, prescription bottle, thermometer, and a syringe, which is the second-best way to administer chocolate to the body.
Hippocratic Oath Scarf
The Hippocratic Oath is the text that every new physician must swear to uphold before they so much as pick up a tongue depressor. It's long-ish, invokes Greek gods, and can be difficult to remember. But your favorite doctor or med student will never forget it (at least in the cooler months) with this fashionable scarf. It's got the original Greek and Latin text printed all over it for quick settlement of ill-advised bar bets.
Related: Gifts for History Buffs
Funny Medical Humor Notepads
Doctors and nurses don't often take the time out of their day to laugh. That's a shame because once you get past all of the sickness and misery, hospitals can be hilarious places. Make sure your favorite medical professional self-administers the best medicine with these notepad gifts for doctors, each containing a thigh-slapping one-liner and enough space to write out a Prilosec prescription.
Personalized Doctor Caricature Portrait – Many Styles Available
These cartoon portraits are a little less, shall we say, specific than the obstetricians', but there's still plenty of fun to be had with them. Examples from the artist's Etsy site show some cheery doctors and/or nurses happily wielding a syringe or holding a human heart that's grown arms, legs, and a face of its own. We want whatever these artists are having. They make one of the best retirement gifts for doctors. They have many styles to choose from; doctors, dentists, chiropractors, nurses, obstetricians, gynecologists, dental hygienists, and more
Human Organ Bath Bomb Set
These incredibly interesting and funny gifts for medical students have scented bath bombs shaped like the human heart and brain. They're available in six different scents. This is an idea that somebody had: "I got it! Bath bombs in the shape of human organs! Run with it!" Pretty impressive, but next time, we'd like to see them step up and do a kidney or a pancreas.
Microscope Lamp
Refresh your medical professional's memories of those long days at medical school peering at wayward bacteria with this medical-themed lamp. It's shaped like a vintage microscope with a light bulb mechanism adorning the top. The artist uses a different microscope depending on whichever vintage, unused microscope they have on hand at the moment. Will it be a 1920 Ernst Leitz Wetzlar, a 1930 Spencer, or another model? The artist is great about helping you receive the perfect one.
Related: Gifts for Men in Their 50s
Sound Machine for Sleep
The life of a doctor or nurse is one of long shifts, quick vending machine meals, and whatever precious moments of sleep they can steal. Help them get the most from their naps with this combination of sleep light, reading light, alarm clock, and sound-maker. It comes with an app that controls everything, letting your favorite medical professional program their own unconsciousness.
Personalized Stethoscope ID Tag
One of the most practical and useful medical school graduation gifts is this custom-stamped stethoscope clip bearing your soon-to-be medicine professional's name. It fits over the earpiece and slides over the tubing, preventing your favorite doctor from mixing up their stethoscope with the filthy ones they give to all of the interns.
Ninja Specialty Coffee Maker
"Another coffee maker? Give us a break." No, no, we most certainly will not give you a break, because the Ninja Specialty coffee maker is far more than your average caffeine delivery mechanism. It makes specialty coffee, meaning it can crank out espresso, lattes, macchiatos, cappuccinos, in addition to the unsexy but practical brews for your daily morning cuppa.
Coffee and Chocolate Tasting Gift Set
Your doctor tastes risk and danger every day. Why not give them something they would voluntarily taste given the opportunity? These gifts for medical students and doctors pair specialty coffees with ridiculously gourmet chocolates. We mean "ridiculously" in the best way, but they really are kind of ridiculous: "Crisp quinoa sesame"? "Black fig pistachio"? "Edamame sea salt"? What is this, gifts for a coffee-and-chocolate break or Fashion Week? Either way, we love them.
Personalized Doctor Bobblehead
Everybody dreams of having their own bobblehead. Now your fave doctor or nurse can have their own custom bobblehead to play with, display, or resell on eBay for a profit. The detail is staggeringly accurate and, true to its name, the head does indeed bobble, which implies it's got a neck problem that really should be looked at.
Personalized Leather Doctor Tumbler
This custom-made tumbler can handle 20 full ounces of steaming or cool liquid. It also comes with a leather wrap bearing their name, professional certification, and that pesky Caduceus symbol. It's one of the best gifts for medical students and doctors that lets them drink water, sip coffee, or transport urine samples to the lab in style.
Insulated Lunch Tote
Someone's gotten all clever with this one, haven't they? It's a lunch box disguised as an EMT transport case for human organs. It's got all of the attributes of a real organ transport case: foam insulation, water-proof lining, and an interior pouch. Your doctor or nurse is sure to amaze, delight, and appall everyone else in the hospital break room. We like to use it at funeral homes, but we might be a bit demented.
Top-of-the-Line Littman Stethoscope
Littman — when it comes to stethoscopes, that's the only name worth mentioning. "Oh, my goodness," the patient says, "is that a Littman stethoscope? I should have worn something nicer!" In the recesses of the Mayo Clinic, in the study halls at Harvard Med, in the ritziest of Beverly Hills plastic surgery establishments, there's only one word on the lips of anxious patients and attending staffers. "Littman," they whisper, like a child's secret wish.
Before and After Patients Coffee Mug and Wine Glass
Allow us to explain the joke behind these funny gift ideas for Doctors Day. The coffee mug is labeled "Before Patients," implying that a doctor needs to be awake and alert before seeing their patients. The wine glass is labeled "After Patients," inferring that their day of meeting with patients has made them want to forget the experience through alcohol. Whatever, doc. Just don't mix them up. Or do….that might be fun.
Fun Stretch Scrub Tops in Many Patterns
Scrubs used to be nothing more than drab blank canvases with neither flair nor fashion. That's all changed with these downright enthusiastic pieces of medical wear that will turn any emergency room into a party. These scrubs are overflowing with color and life, with decidedly non-clinical additions like cats, flowers, hearts, paisleys, butterflies, elephants, and anatomically correct unicorns. Many patterns are available.
Anatomic Heart Specimen Coasters
The human heart is a complex, delicate organ compromising several intricate layers. It deserves to be studied seriously in carefully controlled environments, like a commissary or a barroom. These medical gifts are six clear coasters, each bearing the image of a part of the heart. When stacked in the correct order, you'll see an anatomically correct image of the heart. What better instrument to put under your 24-ounce beer?
Compression Socks
Standing all day turns your legs into jiggling bags of fluid with poor blood circulation. That consequently turns them into aching and tired twigs suited for little more than damming a creek. These doctor gifts will energize the living daylights out of your calves, squeezing excess fluid out like a misbehaving dishrag and making blood flow as freely as a cheap slasher film.
Doctor Life: A Snarky Adult Coloring Book
When looking for the best gifts for a doctor's graduation, it's always a good idea to look for something they can relate to — like the minefield of med school, residency, and becoming a real M.D. This adult coloring book is a masterpiece of comic sarcasm, detailing the many ups and downs (but mostly downs) of the scrub life. All the pictures are outlined so the doctor can fill them in with the crayons they stole from the pediatric ward.
Mini Portable Espresso Machine
Ever find yourself in the middle of triple-bypass surgery really craving an espresso? But it's uncouth at best to just drop everything into an open chest cavity and skip off to the nearest coffeehouse. Kiss that hankering goodbye and reach for your demitasse, because this portable machine whips up a cup of rich, satisfying espresso in the comforts of your own operating room. Small enough to fit next to the forceps on your surgical tray! It makes a useful gift for medical students or doctors.
Anatomy Organs Art Prints
You can't really appreciate the natural beauty of a large intestine until you hang it on a wall. In lieu of an actual large intestine, we strongly recommend medical school gifts. They're artistic renderings of the heart, lungs, brain, and intestinal tracts, superimposed over a page from a vintage dictionary. We could gaze at them for hours, which makes us worry about ourselves a bit… we should go to the doctor.
Syringe Highlighters
Inject some color into your student's medical journal reading with this 24-piece set of highlighters in the shape of syringes. These pens are great gifts for medical students looking to give their study sessions a shot of adrenaline. They'll give those dozy articles the booster they need to be halfway interesting. They'll put boredom under anesthesia. And…yes, those are all of the tasteful jokes we can make about syringes.
Netter's Anatomy Coloring Book
It's another coloring book! We asked many doctors and medical students about this and they all said since they have such stressful lives, they enjoy sitting down and coloring. We seriously thought they spent spare time on yachts or on golf courses, not sitting knee-to-chin at the kiddies' table making pictures. Well, if they must play with coloring books, this is the one to get, since it has lots of pictures of body parts they can pretty up with magenta.
Pandemic Board Game
Just so you know, this board game was released in 2017 before all of that happened. It's quite fun if you can deal with the overwhelming timeliness. Players race against the clock to stop awful diseases before they consume the human race. The specialists build research stations across the globe to conduct careful lab tests to arrive at valid scientific solutions. Or they do their own research on Google in their bedroom slippers.
Personalized Doctor's Lab Coat
Give the doctor in your life something uniquely theirs with one of these lab coats, available in 20 different colors. It comes inscribed with their name on the front, so they won't mistake it for another doctor's lab coat. Then again, if you order the apple green coat, that will make it pretty distinguishable on its own. You figure it out.
Suture Practice Kit
Shaky hands are the downfall of hundreds of nervous medical interns. Give your med student a leg up in the suture business with this 27-piece practice kit. It's got needles, forceps, scissors, blades, scalpels — basically everything your budding stitcher needs for a good time. Great for long interstate bus trips where you really don't want anyone to bother you.
3D Brain Mood Light
It's a brain. It's a lamp. It's a brain and a lamp! This beautiful desk light glows in seven different colors. The panel itself is flat, but it gives off a 3-D effect we don't pretend to understand. Simply connect it to a USB port and twiddle a knob, and the brain will start its luminescent, ever-changing show. It comes with a "smart button," but it won't make you smart. We tried. It makes a great mood light or night light in case they have nightmares of surgeries gone wrong.
Doctor Pencil Set
These five adorable pencils come inscribed with brief, pithy sayings. They're perfect retirement gifts for doctors who haven't yet learned how to use smartphones. They're great graduation gifts for new doctors who are error-prone. They're outstanding gifts for surgeons who have a habit of misplacing their scalpels. Whatever your doctor friend writes with these pencils, there's still no way you'll be able to decipher it.
Don't spend too much time looking for the best gifts for doctors, soon-to-be doctors, or used-to-be doctors. Just pick one or several of the gifts we've discussed in this post to show your appreciation. Also, when you do get that loan, we wouldn't mind a cut. Just something to get us through the weekend. Or send us a prescription for something good. Thanks in advance!
Be sure to follow us on Facebook for daily updates of unique gifts!