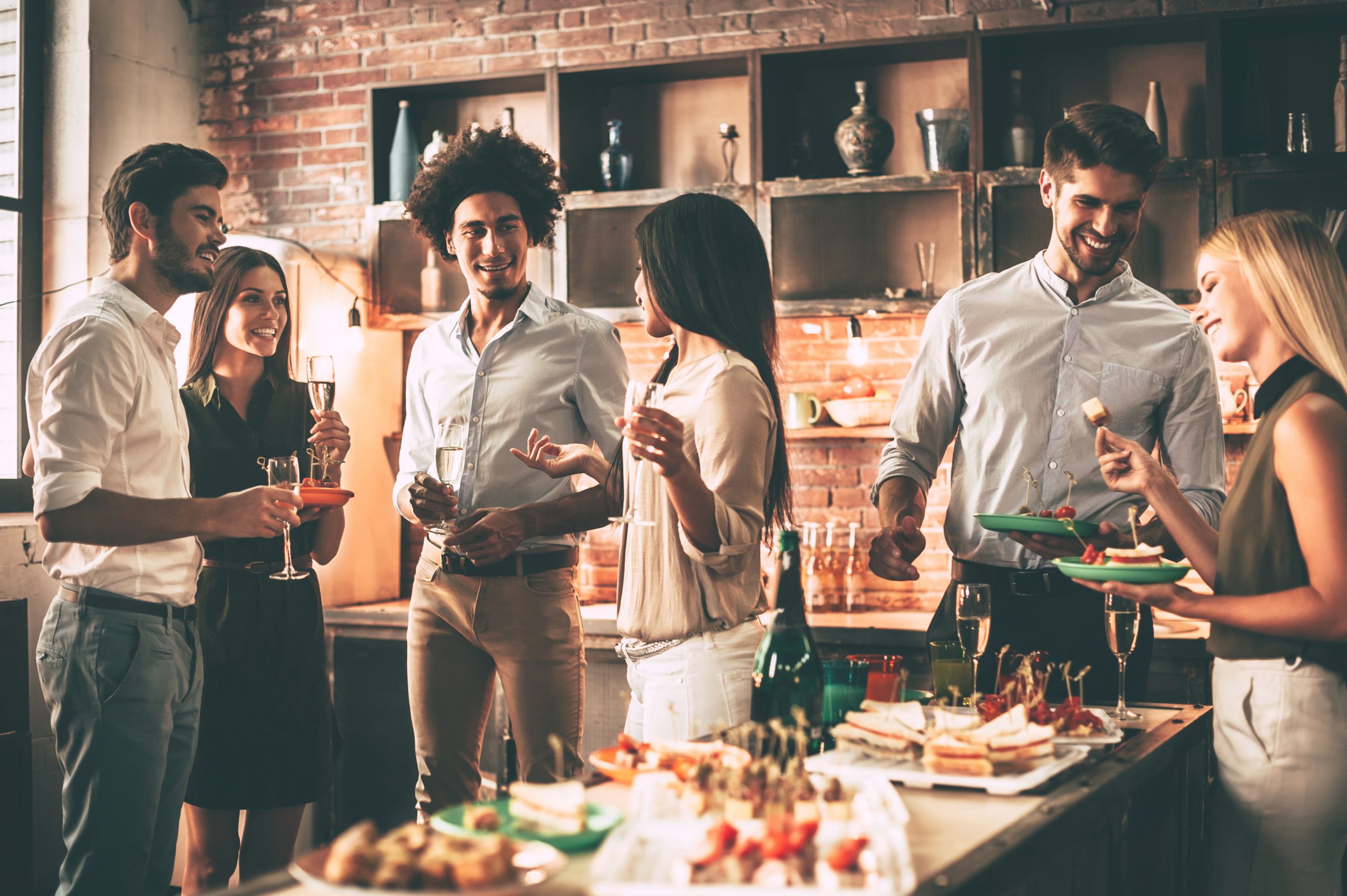 If you are looking for unique gifts for people who like to entertain, then think of items they wouldn't necessarily buy for themselves but they can use at their next party that they host. Maybe pick personalized host gifts or something they've never heard about. Whether is it heartfelt, funny, or unique, we have the best entertaining gifts around.
Molecular Gastronomy Kit
This Molecular Gastronomy Kit allows you to transform food. You can turn any liquid into caviar-like pearls, such as balsamic vinegar pearls for bruschetta or salad. Or create chocolate spaghetti for a fun dessert. Or use emulsification to create lemon clouds. It's one of my favorite gifts for people who like to entertain, because they can use this kit to create masterpieces at their next dinner party, which you will likely get to enjoy.
Personalized Wooden Recipe Book
This beautiful recipe book is available in many wood options (black-brown, beech, red tree, cherry tree, and natural), many sizes, 7 different types of paper, and you can get any engraving on the cover and back. For the host who loves to cook, this is a great way for them to keep their recipes and have them displayed in a gorgeous way. It can also be used as a travel planner, diary, wedding guestbook, or vision book.
Bread Dipping Seasoning
These dipping spices are delicious paired with olive oil for dipping.  Flavors include air-dried tomatoes, Za'atar blend, herbs de Provence blend, savory, minced garlic, and more. They are fun to share at parties so guests have several dipping choices, or just eat them by yourself.
Personalized Shark Coochie Board
This Personalized Shark Coochie Board makes a great funny gift for anyone who loves to entertain. In case you haven't had your coffee yet, shark coochie board is a charcuterie board for those who can't say 'charcuterie' and many people on the internet have been spelling it this way. It will bring laughs every time they use it to serve cheese at their party.
Murder Mystery Party
Murder Mystery Party is the ultimate gift for someone who loves to host dinner parties. It's a murder dinner party in a box so you invite 8 friends over and have them dress up as a character and then you try to solve a murder. The kit comes with clues, name tags, character descriptions, and more. Each box is paired with a different meal, so you can pick pasta, wine party, BBQ, and more.
Beer and Beverage Caramelizer
The Caramelizer is one of the best gifts for people who like to entertain outdoors with barbecues or campfires. You put the caramalizer stick over the campfire or BBQ to heat it up then you quickly put in into any beverage and it gives it a smoother texture and richer flavor by reacting to the sugars. It doesn't change the temperature of the drink, so it is great for craft beers. It's super fun to use at parties because everyone is fascinated by it.
Speakeasy: The Employees Only Guide to Classic Cocktails Reimagined
This cocktail book has recipes for 80 creative cocktails that are from the best Speakeasy in New York. Recipes emphasize fresh fruits and herbs, homemade syrups, and infusions to impress even the pickiest of drinkers so party hosts can step up their bartending game.
Olive Oil Gift Set
Every good dinner host knows the importance of good olive oil. Made in Italy, this olive oil gift set has basil, truffle, garlic, and Tuscan herbs. Each bottle is 8.5 ounces which is considerably larger than other brands, so it's a great deal. They are delicious for recipes or to just use to dip bread.
Wooden Cooler for Outdoor Parties
This wooden cooler is fully insulated to keep beer, wine, and soda cold all day. It comes in two sizes and several styles. The smallest size is 45 quarts which can hold about 45 cans with ices, but they also have a 57-quart size. It looks great for any outdoor gatherings and it's easy to move around. It one of the best gifts for outdoor entertaining because everyone can use cooler space.
Himalayan Salt Shot Glasses
Made with real Himalayan salt, these shot glasses make drinking tequila even more fun. The salt naturally adds a flavor to the liquor you are drinking. They are also fun to use for Bloody Mary shooters or oyster shooters or any drinks that go well with a hint of salt.
AeroGarden
Anyone who loves to cook will love the AeroGarden. Actually, I'm a horrible cook and I love mine. It comes with everything you need to easily grow 6 different herbs. The light tells you when to add water and when to add the food. Even someone with a brown thumb can use this, and cooking with fresh herbs will become 2nd nature.
Vodka and Gin Infusion Kit
This alcohol infusion kit has 12 exotic botanicals such as juniper-berries, pink-pepper, lavender, cardamom, cubebs, and many more! The box says it's made for gin, but I'm a vodka drinker and love using this. It's so much fun to create custom bottles of alcohol for our home bar and share them with friends at dinner parties. Or check out more drinking gifts in our section on Gifts for Drinkers.
Booze and Vinyl: A Spirited Guide to Great Music and Mixed Drinks
This is one of my favorite gifts for people who like to entertain because it pairs cocktails with the greatest albums of all time. It is organized by mood, so it works if you are having a rave party, a low-key dinner party, or if you are just wanting to seduce your significant other, and everywhere in between. It talks about the album and why each cocktail is paired with it so it's fun to listen to albums and prepare the corresponding cocktail.
Personalized Cutting Board
For party hosts who are too conservative for the Shark Coochie Board above, this one is for them. This cutting board can be personalized with their first and last name and a date and it's available in walnut or maple wood. For someone who entertains a lot, it is useful, beautiful, and sentimental.
Horrible Suggestion Coasters
These coasters have horrible suggestions on them that your party guests shouldn't do, but you secretly hope they do. They have sayings such as, "Have another. You're only getting funnier", "You know who would love this party? Your ex. Text 'em", "I'm sure everyone here can keep that secret", and many more.  They are a hilarious way to stir up the fun at any party.
Olive Oil of the Month Club
For those that love to throw dinner parties, the Olive Oil of the Month Club is a fun way for them to try new oils in their dishes. Each month, they will receive a new variety of hard-to-find, extra-virgin olive oil from award winning olive growers around the world. The best thing about giving someone this is that you will get to try them at the next party.
Personalized Liquor Decanter Set
How you display your booze says a lot about you and these whiskey decanter sets say nothing but class! They are gorgeous, can be personalized, are well made, and they have many options to choose from. You can choose to just get the decanter, or get the decanter, glasses, whiskey stones, and more.
Don't Do Cocaine in the Bathroom Candle
If you are looking for funny gifts for people who like to entertain, then this candle would be perfect. It is available in various scents (Amber Noir, Toasted Pumpkin, Apple Harvest, Christmas Tree, Black Sea, Moonlight Path, Eucalyptus Spearmint, or Mahogany Teakwood), and burns for about 100 hours. Guests will laugh every time they tinkle. For wild parties, perhaps it should say, "Don't do cocaine in the bathroom…. Unless you share".
Spice of the Month Club
Having dinner parties just became more fun when you have this Spice of the Month Club Subscription. Each month, you will receive freshly ground spices from a different region of the world.  At just $10 per month, it is affordable and the dinner host will be excited to receive new flavors each month. It's and entertaining gift that keeps on giving.
Personalized Ice Bucket
Keep your ice handy with this faux leather, personalized ice bucket. It is fully insulated to keep ice cold and the faux leather makes it easy to handle and drip free. You can get it personalized with your name, date, and a saying such as," keep your grubby hands off of my ice".
Restroom Guestbook
Great gift ideas for couples that entertain don't have to be over the top. If your friends have a great sense of humor, this restroom guestbook is hilarious. Each guest fills it out while using the restroom and it has questions like; which way should the toilet paper roll go, did you snoop in the cabinets, and what is the name you use for the bathroom? It also allows guests to rate their experience and has a place for doodles and notes.
Cocktail and Food Smoker
You can now smoke meats, cheeses, cocktails, and more in the comfort of your home. You can take any ordinary food or beverage and give it a deeper flavor and it comes with wood chips. If you haven't tried a smoked Old Fashioned, then you need to right away. Or how about a smokey whiskey? The flavor will get you hooked. And it is compact so it easily fits in your cabinet.
Steak Branding Iron
This customizable steak branding iron comes with letters and spaces so you can brand your meat with names, phrases, team names, love notes, and more. It's fun to brand everyone's meat at a Super Bowl party with your favorite team, just to tick off the people cheering for the other team. It's one of the best outdoor entertaining gifts.
Funny Wine Glass Charms
Help distinguish your glass from another with these funny cork wine glass charms. Have each guest pick their own or everyone can vote for who gets each one. Titles include; The Cat Lady, The Bad Influence, The Lush, The Shopaholic, and more. With 12 different charms, there is something for everyone.
Try the World Subscription
Each month, Try the World sends a box of food, ingredients, snacks, and drinks from around the world. I love getting this box because it is so fun to try new foods and new recipes.  This is one of the best gifts for people who like to entertain and try new foods or travel because it feels like you are travelling the world with each bite. Imagine trying sauces from Morocco, dips from Spain, or snacks from Ethiopia.
Don't F*ck Up the Table Coasters
Made of ceramic stone, these funny coasters tell your guests what you really feel. They have quotes such as, "Don't f**k up the table", "Please be considerate, b*tches", "Use a coaster, be classy and sh*t", and more. They make a great gift for your snarky dinner host.
Cocktail Infused Ice Cubes
These Cocktail Infused Ice Cubes are the newest thing for fancy cocktails. You just freeze them and pop them into your favorite drink. They have flavors like peach for vodka, cucumber watermelon for tequila, Meyer lemon daiquiri for rum, Negroni for gin, and blood orange for bourbon. However, you can always mix and match the flavors. They are unique and fun for parties and the party host will be excited to bust them out to share with guests.
Electric Wine Aerator
Whether you are a wine aficionado or a boxed-wine kind of person, this wine aerator will come in handy. Somehow, it softens the tannins (probably magic) and improves flavor. It can make bucket wine taste like it came from a fancy bottle. It can be used with white or red wine and comes with a carrying case so you can take it on the go. Every dinner host needs one.
Personalized Corn Hole
If you are looking for gifts for entertaining outdoors, try a personalized corn hole set. You send in any picture and it is custom made. You can use a picture of the party hosts, their pet, their kids, or even a picture of yourself so they remember you every time they play the game. Or check out our Personalized Gifts section.
Liquor Infusion Subscription
This Liquor Infusion Seasonal Subscription sends you infusion packs to make new flavors every quarter. Any party host will love to show off their homemade cocktail infusions.  Flavors include; Navel Glazer, Blue Sunday, Rose Ceremony, Just Peachy, Island Time, and more. Just put the infusion packs into the bottle and add your favorite alcohol. It's a great way to build a unique bar.
These were our favorite gifts for people who like to entertain. For more entertaining gift ideas, check out our Gifts for Home or our Housewarming Gifts.