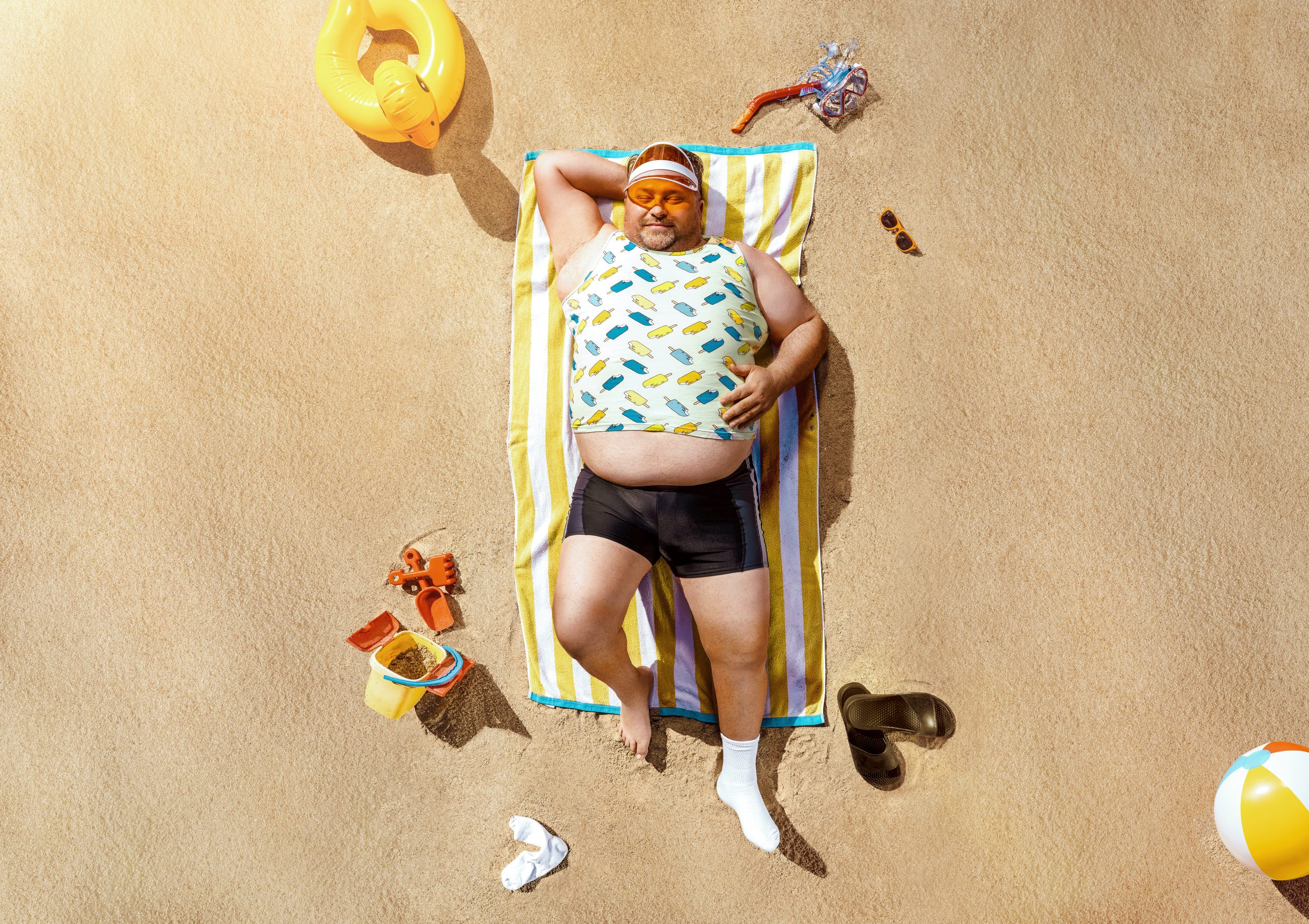 Most people would agree that a day spent enjoying the sun, sand, and surf is better than toiling away in an office or scrubbing toilets and floors at home. However, even ardent beach lovers will admit that lounging directly on sand isn't the most comfortable – and it's a lot more fun to frolic in the waves and spot colorful fish with something to protect your eyes from the sting of saltwater so finding the best gifts for beach lovers is fun to do!
Whether you're seeking the perfect gifts for your family and friends to take with them on a beach vacay or you want to find presents that remind them every day of the sandy seascapes they adore, there's no shortage of gifts for beach lovers.
Here are dozens of beachy gift ideas that are sure to please anyone in your life who craves the smell of saltwater and the feeling of sand underfoot.
Related: Gifts for Pool Owners
Custom Beach Sand Necklace
Some beachy gifts are meant for use on the sand, while others bring the sand to you. These cute and classy necklaces let beach lovers take the sand with them, with grains gathered from your choice of 2,800 beaches spanning the globe. Pick your preferred shape (circle or rectangle) and select sand from beaches in the U.S., Thailand, Somoa, Botswana, or wherever your loved one prefers to soak up the sun all around the world. Or you can customize it by using your own sand. It is one of the most unique gifts for beach lovers you can find.
Wine Purse Beach Tote
Everyone has a friend who's always down for "wine o'clock" festivities, whether they're brunching, taking a watercolor class, or lounging at the beach. This nautical tote not only has room for a towel, beach reads, and snacks in the upper compartment, but the bladder on the bottom (with hidden pour spout) holds up to two bottles of vino, making it among the best gifts for beach-loving wine connoisseurs. And the best part… the cops won't know you are sneaking your booze around anywhere you go.
Salty Little Beach Candle
Is it possible to bottle the essence of the beach? The creators at this shop on Etsy decided to take a crack at it with soy candles that make the perfect funny gifts for beach lovers. The Salty Little Beach candle comes in a range of scents, from Mango & Coconut Milk to Raspberry Margarita to Sandalwood Rose and more. Hand-poured in recyclable jars and produced from U.S.-grown soybeans, these candles take eco-friendly beach gifts to the next level.
Related: Gifts for People Who Like to Entertain
Personalized Floating Beach Wine Glass
Getting buzzy at the beach or poolside comes with the risk of broken glass. Nobody wants a party foul, which is why personalized beach gifts that up the ante on fun while minimizing the risk of an "oops" moment are ideal. This acrylic outdoor drinkware comes in a range of colors with the option to customize pieces with a monogram, they can float in the water, and they can be stuck in the dirt or sand. That way, everyone can keep track of their mommy juice while floating on the water.
Beachly Subscription for Men or Women
There's no shortage of monthly subscription boxes to brighten a loved one's day, from those that deliver bacon and beef, to options that customize fashion finds to boxes full of the latest tech, cosmetics, or tea. There's a loot box for every sensibility. When it comes to gifts for a beach lover, Beachly's Surf Subscription is a must, bringing the best of beach life right to the front door. Boxes typically include beachwear, flip flops and sandals, beach-themed jewelry, skincare, haircare, and so much more.
Related: Gifts for Your Son's Girlfriend
Bluetooth Speaker Water Bottle
This stainless steel, double-wall vacuum insulation water bottle not only holds 17.5 ounces of a favorite beverage, but the bottom is also a removable Bluetooth smart speaker, making for two incredible beachy gifts in one. The bottle maintains hot drinks for up to 8 hours and cold drinks for up to 24, with a cap that prevents leaks and a carrying loop for convenience. Rechargeable batteries keep the tunes going all day.
Personalized Beach Towel
Some summer gifts for the beach are useful but boring. Others let your personality shine through. This super-absorbent towel is not only great for lounging and drying off after a dip in the surf, but it even features a personalized photo and any text you want – the perfect way to prevent thieves from snatching your towel.
Anti-Theft Portable Beach Chair Vault
Most people don't go anywhere without an ID, a credit card or cash, a cell phone, and other valuables. But no one wants to lug it all down to the beach in their swim trunks. The best beach gifts solve a problem, and this beach vault provides a secure place to stash goodies. It locks around the rung of a beach chair and features slash-proof construction and RFID blocking, hitting all the high points of anti-theft functionality.
Beachy Spa Gift Set
Enjoying a beach vibe from the comfort of home is made easier with this bundle of beachy gifts that includes a jar of mineral bath salt, a mister, sugar exfoliant, hand and body lotion, and lip balm, delightfully scented with coconut, citrus, and more. An at-home spa day will feel like a trip to the tropics with this beachy gift set. Calgon, take us away!
Backpack Cooler
Sunny beach days are the best — until someone gets heat stroke. Staying hydrated is a must to make the most of time spent outdoors, which means that gifts for a beach lover that keep drinks cold on hot days are a godsend. This impressive cooler bag is waterproof, leak-proof, and designed to hold up to 54 beverage cans (and 4 pounds of ice) — keeping them cool for up to 24 hours. Lightweight and portable, with padded, adjustable straps, this is a must for any of your outdoorsy, beach-bound friends.
Personalized Beach-Themed Cutting Board Set
Cutting boards nice enough to double as a cheese/charcuterie board are great gifts for anyone who loves to entertain. For those who also pine for the wind and waves, this personalized set with a board and six matching coasters is a no-brainer. Go totally boujee with engraved resin made to look like the water line washing up on a sandy beach — make sure to add personalized engraving for that extra, upscale appeal. They make a great beach house gift.
Related: Hostess Gifts for a Weekend Stay
Portable Waterproof Bluetooth Speaker
Taking your tunes on the go is vital for anyone who wants to high-five like Maverick and Goose after a good game of beach volleyball, complete with Kenny Loggins' "Playing with the Boys" in the background. As gifts for a beach lover go, this tiny, portable speaker packs a punch with wireless streaming, up to 10 hours of play time, and a waterproof, durable construction that holds up in the great outdoors.
2-in-1 Foldable Beach Wagon and Lounger
There are few beach gifts better than convenience, and this 2-in-1 beauty delivers in spades. It pops out to a 3.9-cubic foot mesh cargo cart to wheel towels, coolers, and snacks out onto the sand. Then it unfolds to a comfy lounge chair for all-day sunning. Best of all, it folds down to just 35"x30"x10" for easy storage when not in use. You have to see it to believe it because it is super cool.
Personalized Adult Drink Pouches
Have you ever thought it would be nice if adults had sippy cups to stop them from getting sloppy with boozy beverages? Wish no more. Adult drink pouches make for great gifts for the beach or backyard BBQs. Non-toxic, translucent bags feature a resealable zip-top to stop leaks, paired with colored straws for sipping. Pre-pack drinks for transport with no fear of leaks and sip when ready. You can even customize them for wedding party weekends and family gatherings.
Beach Gift Basket
Give your family or friends a taste of the seashore with this basket chock-full of beach-themed gifts that embody the beach life. The 18-piece deluxe set includes a bevy of soaps, sea salts, scrubs, lotions, balms, and more, all in a box made to look like weathered driftwood. It's nice enough to serve as décor in an upscale bathroom in a beach house but way too good to leave sitting unused.
Giant Sand-Free Water-Resistant Beach Mat
One of the best options for beachy gifts for a beach lover is a large towel that separates a sunbather from the sand. Unfortunately, towels can be notoriously unwieldy in strong ocean breezes. Enter the beach mat, made from military-grade, high-density, woven material that creates a solid surface for sitting, but allows sand and dirt to sift through, creating a clean, debris-free beach experience.
Lightweight Folding Beach Wagon
Getting the whole fam to the beach includes toting a ton of towels, toys, sunblock, snacks, and more. A beach wagon is one of the best summer gifts that can make the experience a lot easier. This sturdy, lightweight, all-terrain, wheeled caddy accommodates up to 300 pounds worth of stuff. It holds a ton with overall dimensions of 37"x20"x31 (LWH) and collapses down for easy storage in a closet or the garage.
Webbed Swimming Gloves
While these webbed gloves look more Swamp Thing than Aquaman, they're a real boon for anyone who adores scuba, snorkeling, or swimming in general. Think of them like flippers for the hands, with webbing between the fingers that delivers greater propulsion with every stroke. Go farther with the same effort and enjoy more of the underwater environment than ever before.
Inflatable Air Lounger for the Beach
The only thing that might make watching waves crashing into the beach more relaxing is having your favorite comfy chair to lounge in. Inflatable loungers make great gifts that deliver a cozy beach experience. They stash in a tiny bag for easy portability and inflate without a pump at your destination – just whisk through the air, then close the mouth, roll it tight, and clip it for the ultimate in cushy seating.
YETI Hopper Cooler Backpack
This YETI backpack is one of the coolest gifts for beach lovers — literally. Inner dimensions of about 13"x6.5"x15" allow for up to 20 cans with a 2:1 ice-to-can ratio and closed-cell rubber foam offers superior cold maintenance. The Hydrolok zipper ensures a waterproof, leak-proof seal. Yeti coolers are the top of the line.
Water Adventure Experience
Half the pleasure of going to the beach is getting in the water. With the right beachy experience gifts, your loved ones will have the time of their lives. Whether you choose a bioluminescent paddle adventure, sea cave exploration, jet-skiing, snorkeling, or flying a jetpack, this is one gift your loved ones will never forget.
Full-Face Snorkel Mask with Detachable Camera Mount
Is it really better down where it's wetter? Your ocean-faring friend can find out with the right underwater gifts for a beach lover, including a full-face snorkel mask that makes peeking under the waves a cinch. Anti-fog and dry tech make for a clear viewing experience, while a removable camera mount lets snorkelers capture the experience to relive over and over again.
Giant Waterproof, Sand-Proof Beach Blanket
Beach blankets are pretty standard gifts for those who love to hit the coastline or local lakefront, but if you want to go all out, this extra-large option in parachute nylon is truly awesome. Lightweight and compact, it folds out to an impressive 118"x108", it dries quickly, and it won't allow sand to cling, leaving no mess in the trunk once it's shaken out.
Portable Wine Bag Flask
A little vino makes for a more enjoyable leisure experience, so wine-toting accessories are often great gifts for the beach. This collapsible, leak-proof pouch holds a full bottle of the red, white, or rosé stuff in a durable, flexible container that's neither as bulky nor breakable as glass. It's made from BPA-free, food-grade plastic that's easy to clean and reuse.
Solar Powered Phone Charger and Lantern
Modern lanterns are certainly safer than the old glass-and-oil variety, but they can take up a lot of space when packing for a beach trip. Flat, collapsible lanterns make for far better gifts, especially when they're IP67 waterproof, they can charge with solar or USB power, and they come in a range of colors! These nifty gifties also offer 250 lumens for up to 80 hours and they can charge your iPhone and tablet.
Beach-Themed Wine Charms
Tiki parties in the backyard are the perfect reason to give beach-themed gifts to the hostess, and a batch of 10 beachy wine charms, including shells, marine life, and more hits the sweet spot.
If you're looking for beach-themed gifts for the person who has everything, you can't go wrong with upgraded towels, durable and convenient totes, and wine accessories that make every beach day a trip to remember.
Be sure to follow us on Facebook for daily updates of unique gifts!