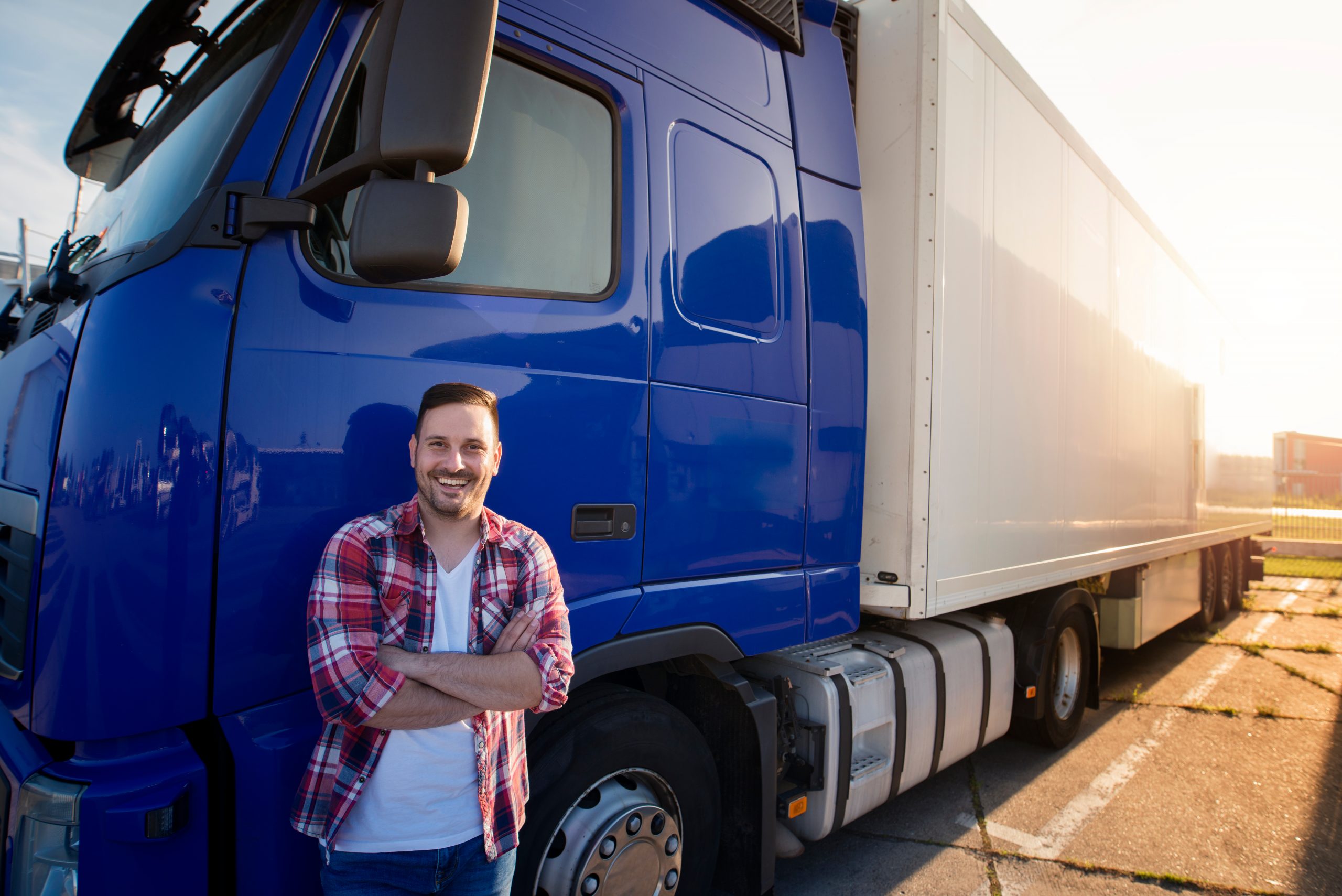 Truck drivin'. It's not a life for everyone. It's full of long stretches of blurry yellow lines, cheap roadside breakfasts, squawking CB radios, thermoses of old coffee, and occasional muscle cramps. What kind of gifts for truck drivers can possibly make up for the long, dreary, solitary routine of delivering American Girl dolls to toy stores? Or, you know, something else?
Nothing, probably, but we'll try. Here are some gift ideas for truck drivers that might ease the burden of keeping interstate commerce alive. These gifts for truckers might not get them past weigh station inspections or wash that day-old chili out of their mouths, but they're truck driving gifts that will undoubtedly do something to brighten their day.
Customized Caricature Portrait in a Semi-Truck
Send the Etsy artist for this truck driving gift a picture of your favorite truck driver, and they'll send you back a portrait of them sitting in a semi in the style of — this is a direct quote — a "Yellow Cartoon Character." They can't use the name of the TV cartoon character they're modeling their gifts after. We can tell you it's not SpongeBob SquarePants, Tweety Bird, Winnie the Pooh, or the Minions. Personalized truck driving gifts are the best because they are something personal and unexpected.
Related: Personalized Gifts
Driver Fatigue Monitor
Long drives on the open road in their big rig have a way of lulling truckers to sleep. This driver fatigue monitor mounts on the windshield and detects when your eyes start to drift into slumber or when you are driving erratically and then sounds an alarm to wake you up. This is one of the most useful gifts for truck drivers because it can literally save their life.
Temperature Control Smart Travel Mug
Nothing irks a truck driver like a room-temperature cup of coffee. Unless they want it that way. This electronic travel mug, which plugs into their cigarette lighter, keeps their hot beverage exactly at the temperature they prefer. It has settings for "very hot," "hot," "lukewarm," and yes, "room temp." Because you can never depend on a room to stay at the same temperature.
Related: Car Accessory Gifts
Personalized Trucking Sign
This lovingly rendered wooden sign showcases your truck driver's name or business in exciting serif and cursive fonts, along with a stirring personal message and two recreations of a semi on either side. It's one of the best gifts for a soon-to-be-retired truck driver or a small trucking business. It's also good for accountants who fantasize about being truckers.
Trucker GPS Navigation
Truck drivers have no use whatsoever for the dinky GPS you have in your suburban sedan. They need something that understands their needs. Garmin has the solution: a navigation system designed specifically for semi-truck drivers. It can devise custom routes based on truck weight and payload, warn them of sharp curves or low bridge clearances, and tell them which diners have the least bad chicken-fried steak.
Personalized Truck Driver Socks
Celebrate the brawny, hard-bitten, down-to-earth truck driving lifestyle with gifts of custom footwear. These socks feature a headshot of your favorite driver, interspersed with images of trucks. You can select images of tires, maps, skid marks, or yellow lines. Or choose a sock color like pink, pastel violet, or magenta, among others. Your truck driver will think of you every time they put these socks on. We just don't know what they'll think of you. These are one of the best truck driving gifts for truckers with a sense of humor.
Backup Camera Monitor for Semi Trucks
Semi-trucks can't just go in reverse anytime the driver feels like it. They have to make sure that people, other vehicles, mailboxes, or fast-food restaurants aren't in the way. That's why this monitor package is one of the most useful gifts for truck drivers. It comes with a 7-inch LCD screen, a camera, a car charger, and all of the wires they need to make sure they don't accidentally take out a lemonade stand.
Big Rig Wooden Puzzle
This is a box with 485 small, birchwood pieces. When they are correctly assembled, they will make a 3D model of a semi-truck. The package includes an instruction manual so you don't have to figure everything out for yourself. It also doesn't use glue so you don't have to worry about a tiny chassis getting stuck on your hands. It's like IKEA for the brain.
Related: DIY Kit Gifts
Personalized Stainless Steel Tumbler
We really can't overstate how tepid liquid ticks truck drivers off. This personalized steel-reinforced drink-ware will keep your truck driver's drinks dependably hot or cold for an extended time. It also comes with personalized imagery on the outside, including a truck, a personal message, and an American flag forcefully being held up by a hand. And really… all truck driving gifts should be as bad a** as this.
12V Heated Blanket
Sometimes, the road can be a lonely, cold place. We can at least do something about the cold with this electric blanket. Plug the charger into an empty cigarette lighter and let its healing warmth overtake every square inch of the fleece. Within just a few minutes, your driver will be at a comfortable body temperature, ready to haul that load of lawn furniture to the Arctic Circle.
Nintendo Switch Lite
The worst thing about being a truck driver is not being able to park in front of a flat-screen TV and play Super Mario 3D World for hours and that is why entertainment options make the best gifts for truck drivers. We know this. We've seen the survey results. That absence of entertainment is a thing of the past with the portable handheld gaming system. Now your favorite truck driver can hit the road and take Princess Peach and those creepy mushrooms along.
Related: Gifts for Gamers
Dash Cam with Night Vision
Keep track of other drivers' errant ways and avoid dangerous situations with this dashboard camera. You'll track every move that swerving sports car, chugging hippie van, puny compact, or godless minivan makes. And you'll have proof of your utter innocence in case of an accident, even at night.
Semi-Truck Patents
The semi-truck may be the greatest invention since paper. Now you can combine the two with these patent artwork gifts for truckers. They're replicas of the drawn designs for Kenworth trucks submitted to the U.S. Patent Office. Just one look at these classic blueprints fills our nasal passages with the smell of diesel fuel, pine-tree air fresheners, road-stop chili, and insomnia.
Portable Slow Cooker/Oven
Any truck driver will tell you it's hard to find a decent bowl of kale and lentil stew on the road. To get it done right, they have to do it themselves. That's possible with this portable, plug-in oven that looks as harmless as a lunch box. It keeps food warm, thaws frozen food, and even works as a slow cooker. Goodbye weak diner food, hello lobster bisque!
Dual Zone Portable Freezer
On the other hand, it's not easy for a trucker to keep perishable foods cold on the road either. They can't just put their hummus, radicchio salad, and chardonnay in the shotgun seat and expect them to stay cool. Ergo, we present this portable 12-volt freezer. It has a 45-liter capacity and can reach target temperature in as little as 15 minutes. Your trucker can control it with a mobile app so their foie gras stays fresh.
The Long Haul: A Trucker's Tales of Life on the Road
Finn Murphy is a truck-driving lifer who's collected 13 wild adventures in this volume. The book's been described as "Mark Twain behind the wheel," "hillbilly elegiacs," "funny and sad and wise." Every trucker has their fair share of anecdotes they're only too happy to regale you with at the roadside bar. With this book, you can just read them instead of listening to them.
Jerky of the Month Club by Jerky Snob
We are staunch defenders of the jerky food format. There's no better protein delivery mechanism in the world, and it's obvious why it's perfect for truckers. Turn them into dried-meat connoisseurs with a subscription to Jerky Snob (#1 Jerky of the Month Club in the world). Every month, they'll receive gifts of new jerky meats and flavors they can reach for more easily than lasagna or vichyssoise.
Seat Organizer
This handy, hang-up organizer keeps all of the sundry items in a trucker's cabin organized. It's made of Oxford fabric, has 10 pockets, and can safely hold everything a hard-working semi-truck driver might need: sunglasses, laptops, mobile phones, documents, pens, handcuffs, divining rods, piccolos, artisan honey, the sorting hat from Harry Potter, Pilates videos — you know, all of the typical truck driving gifts.
Memory Foam Mattress for Truck
It's 2 in the morning, your trucker needs a nap, all of the local motels are filled, and they have to pull over at a rest stop. No, we're not pitching a horror movie screenplay. We're selling you a portable, memory foam mattress your truck driver can roll out in the cab of their big rig and catch a little shuteye. Unless you want to hear about our horror movie screenplay. It's about killer garden gnomes.
Voice Controlled Bluetooth Headset
Communication is so important in the trucking industry. Just one misspoken word and you're transporting women's apparel to a meat-packing plant. That explains the need for this headset. It's voice-activated and loud enough to overcome the noisy vehicle environment. It can provide up to 24 hours of constant talk time on one charge, so your trucker won't have to cut his Bridgerton fan chat short.
SiriusXM Satellite Radio
A trucker's best friend in the long, lonely night is the radio. Or, rather, it used to be, before all of the radio stations were taken over by obnoxious talk shows and pop music. That's why satellite radios make great, useful gifts for truckers. Just mount this SiriusXM unit to the dash, fill out a little paperwork, and your trucker will have instant access to all of the cooking shows, dubstep, and Kidz Bop stations they want while driving their 18-wheeler down the lonely roads.
Personalized Letter Blanket from Family
Being a trucker means being away from the family for much of the year. But you can stay in their memory with this personalized item. Just send a personal message to the artist, and they'll turn it into an attractive blanket your trucker can read any time they like. It's perfect for commemorating that passionate love letter, heartwarming child's note, or paper receipt from the deli.
Portable Safe for Valuables
No good-for-nothing road thief is going to get their filthy mitts on that Publisher's Clearing House sweepstakes check your trucker just won. Help them keep it and other small, valuable items safe with this number-wheel-locked portable safe. It's easy, lightweight, and secure. (P.S. It's actually advertised as a small pistol safe. For obvious reasons, we don't crack jokes about guns. But for the record, that's what it is.)
Trucker's Road Atlas
Rand McNally's 2022 road atlas is one of the best gifts for truckers. It has lots of incredible maps and content. It's got information on truck routes, milage, construction hotlines, and hazardous materials regulation. Most importantly, each page in the spiral-bound book is laminated, so your trucker can spill coffee all over the Appalachian Mountains and not worry about the pages getting ruined.
Portable Rice, Vegetable, and Soup Cooker
How can a trucker fit a rice cooker in an already-cramped cab? Settle them down with this portable rice cooker, which plugs into (say it together) a cigarette lighter. It's perfect for small portions of rice, and it's also great for making soups, stews, steamed vegetables, and other grainy substances like quinoa, millet, and bulgur. (In Yellow Cartoon Character Voice:) Mmmmm… bulgur.
Polarized Driving Sunglasses
These bad-ass sunglasses are perfect gifts for truck drivers. They block UV rays like they were crooked fruit inspectors. They work so well because they have — get your jaw ready to drop — nine layers. That's right…nine. Just as the UV ray thinks it's beaten one layer, there are eight more to take them on. They don't stand a chance. It's a UV ray bloodbath, and you got a front-row seat.
Semi-Truck Phone Mount Holder
This mount holder was designed for semi-trucks. It's 11 strong inches long, with a sticky adhesive pad, a suction gel pad, four clamps, and the ice-cold emotion of a merchant mariner. It will hold your trucker's smartphone with a combination of indifference, world-weariness, and disgust. It's compatible with all smartphone brands, even the ones it holds in contempt.
Scrubba Portable Wash Bag
Truck drivers can't waste time looking for laundromats, and with this brilliant invention, they won't have to. It's a bag with a flexible washboard inside. Put in dirty clothing, add water and cleaning solution, seal it up, rub the bag vigorously against a hard surface, and voila! Clean clothes. You can hang them on a line to dry or just stand next to a truck stop restroom air hand-dryer for about a half-hour. Or wrap them in the quick-dry towels below for a much quicker dry.
Quick Dry Towels
Truck drivers battle against moisture every day: sweat, rain, spilled water, motor oil, ginger-and-rose kombucha, etc. Just when they think they've got it under control, there's another droplet just around the corner. But they can conquer the wet with these great gifts. These towels are made up of thinner threads, which means they dry up to 4 times faster than regular Terry-cloth towels. Out, damp spot!
Trucker Work Gloves
Look, we know work gloves aren't the sexiest gifts for truckers. They don't have flashing lights or LCD screens. They don't keep liquids cold or hot. And unlike most of the gifts for truck drivers, they don't plug into cigarette lighters. But the return on investment on these yellowish, leather gloves is sky-freaking-high. Your truck driver will know you understand the nature of their work, and their nail polish won't rub off.
You can't understand the life of a truck driver until you've rode a mile on their 18-wheels. You'll never know what it's like to have Smokey on your tail or scrambled eggs on your mud flaps. You'll never know the existential stupor of endless days and nights driving squawking livestock to farms or ranches or ski resorts or wherever it is they go. But you can at least try and show some empathy, and these gifts for truck drivers are good ways to start. Ten-four.
For more gift ideas for truck drivers, check out our Gifts for Men or our Gifts for Women.
Be sure to follow us on Facebook for daily updates of unique gifts for the whole family.