Best Gifts for New US Citizens to Welcome Them to America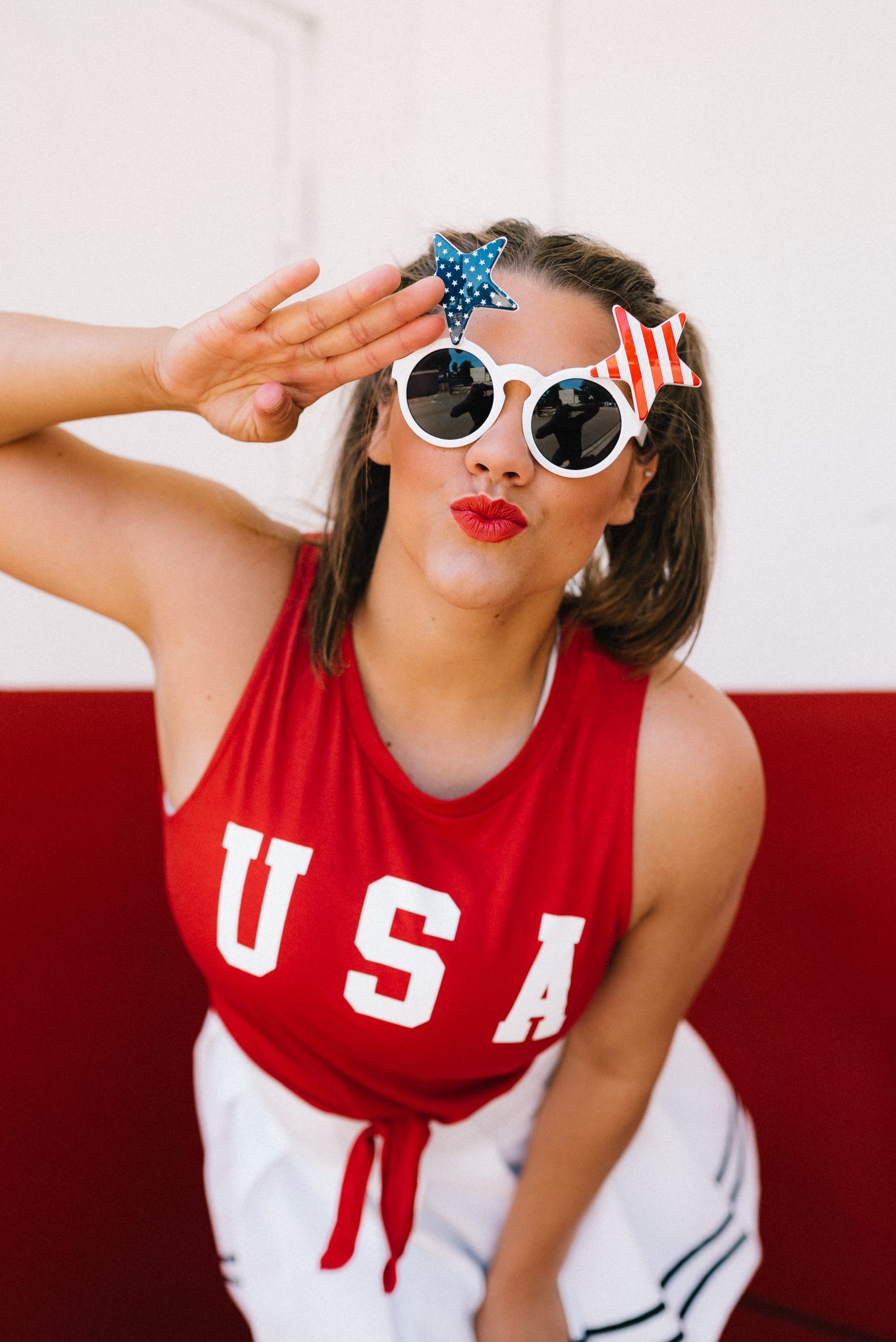 Becoming a US citizen is a big deal, and so are the gifts you should give the new American citizen in your life! From funny patriotic gifts to books celebrating democracy, to flag-themed home décor, these are the best citizenship gifts to help them show off their newfound residency status. So put down the apple pie and pick up something that really says, "I'm proud to be an American!" Here are the best gifts for new US citizens that will make them feel like they made the right decision.
---
Personalized "Upgraded to US Citizen" Candle
Welcome the new US citizen to America with this personalized and delicious-smelling candle. Choose between scents like Apple Harvest, Cinamon Vanilla, Sea Salt & Orchid, and many more. This will think of you and all of their accomplishments every time they light it.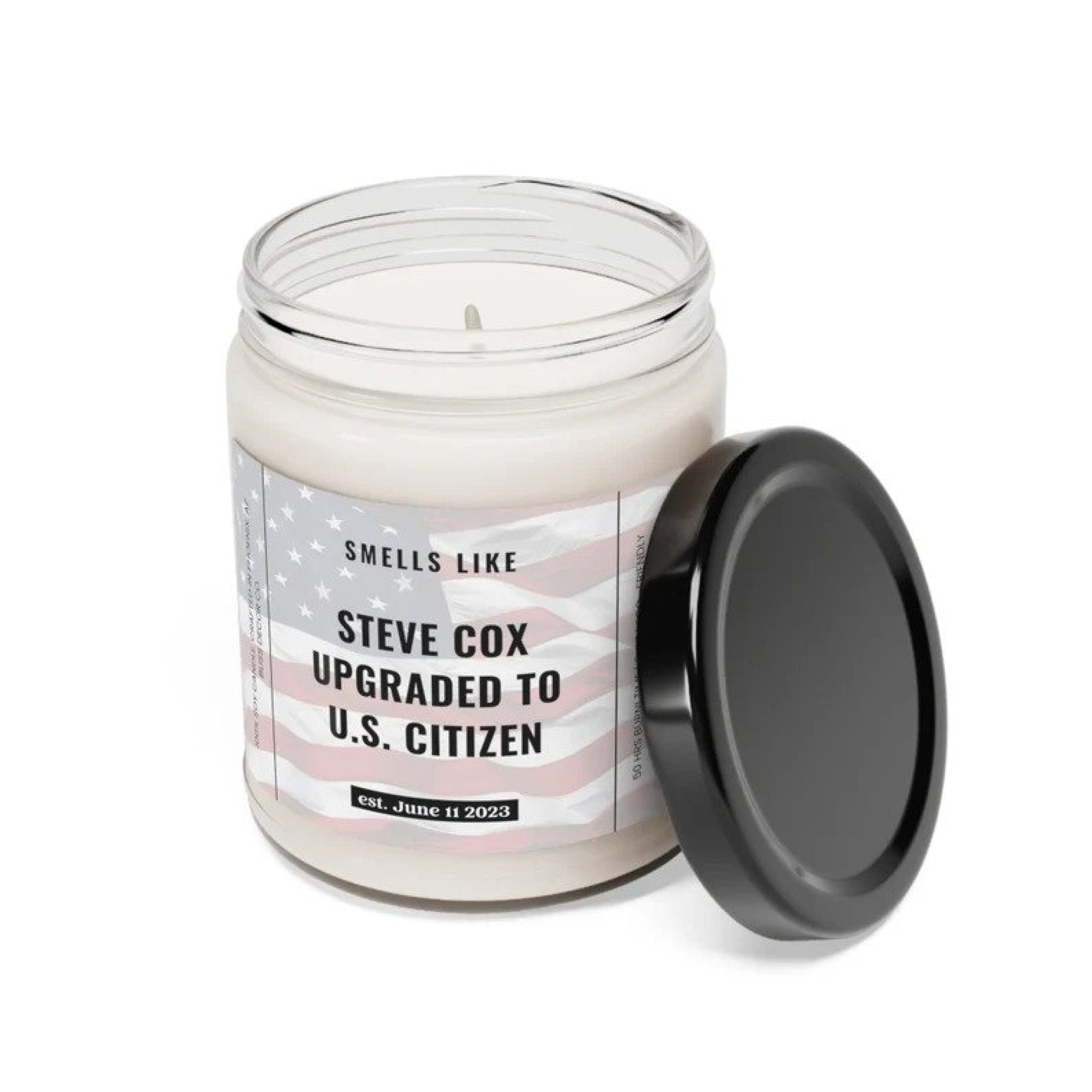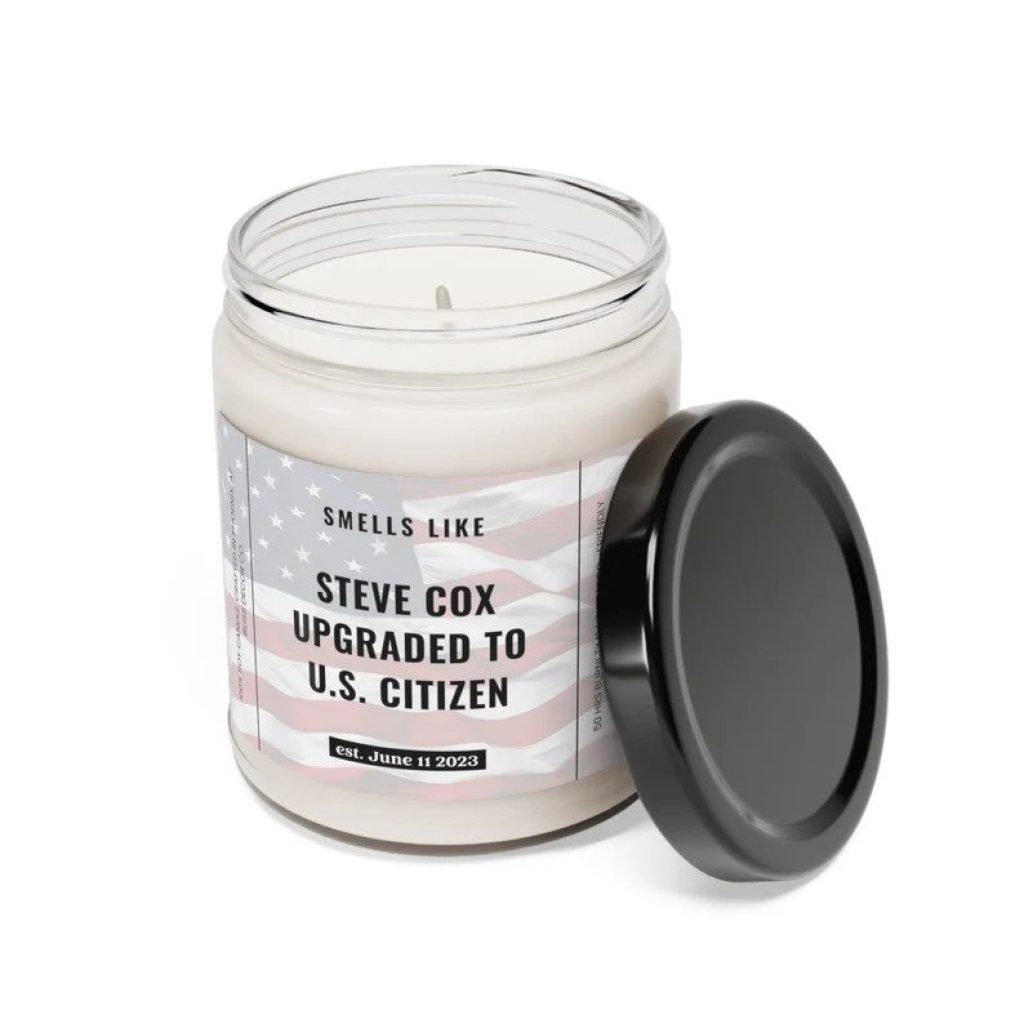 ---
"Relax Gringo, I'm a New American Citizen" Mug
This is one of the best gifts for US citizens with a sense of humor. You can choose between a mug or a stainless steel cup. It's an easy way to show you care without breaking the bank.
---
"We the People" American Flag Whiskey Decanter Set
For those new American citizens who want to celebrate their new status with a cocktail, then this American flag whiskey decanter set is the perfect gift. It is high quality and you can choose to get the entire set or just the decanter and you can choose the size of the decanter. What better way to celebrate being an American than by boozing it up?
---
Related: Gifts for Whiskey Lovers
---
Personalized "Two Countries" Framed Immigration Gift
Just because someone moves to America doesn't mean they don't still love their own country. There is enough love to go around, so this framed piece of art displays both countries. It is available in various colors for the frame and you can personalize it with a plaque.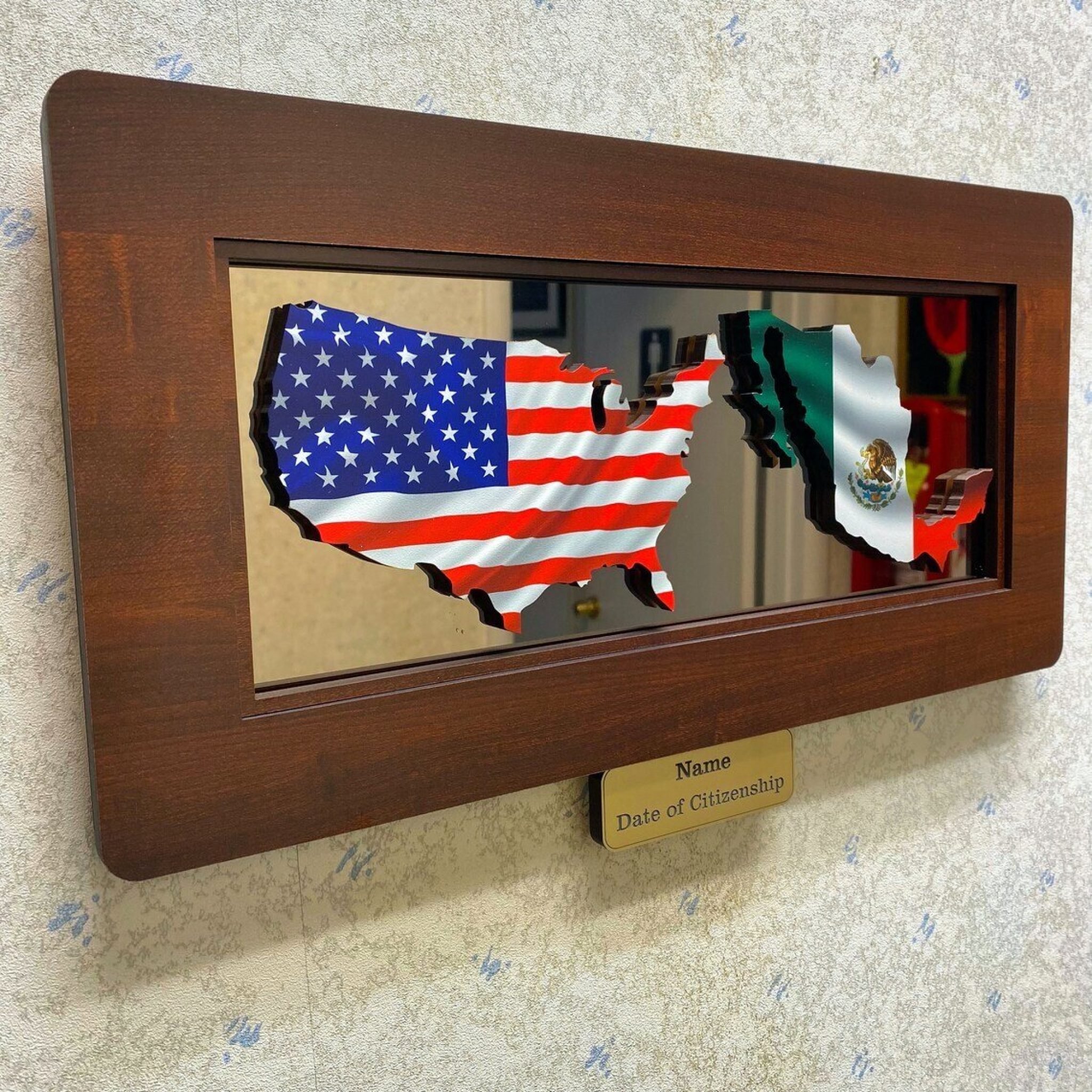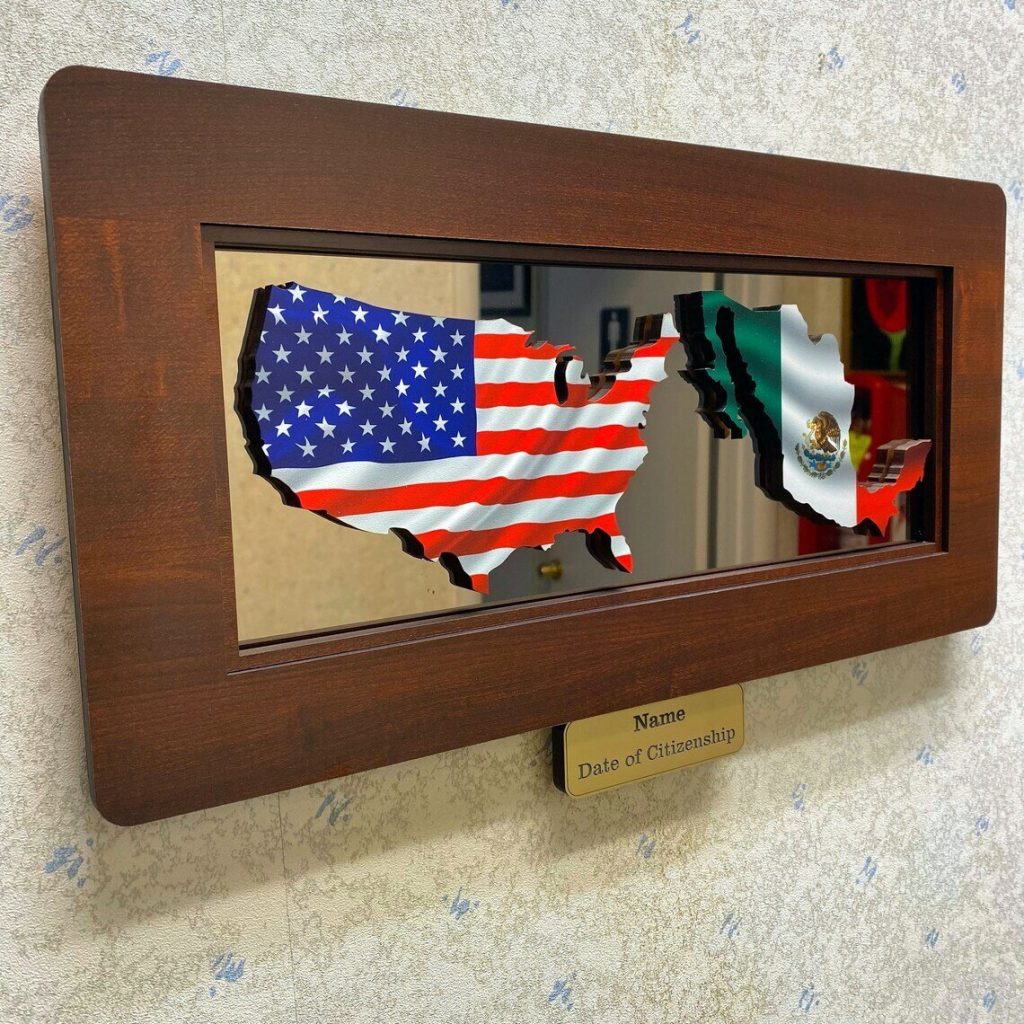 ---
Related: Personalized Gifts
---
Personalized Dual Passport Holder
This beautiful dual passport holder can be customized with any country, dates of birth and citizenship, maps, messages, names, and more. If you don't see one for the country or artwork you want, just click on any of them, and after you buy it, you just send them a black logo of what you want. The artist is incredibly easy to work with and the passport holders are beautiful. They also have single passport covers.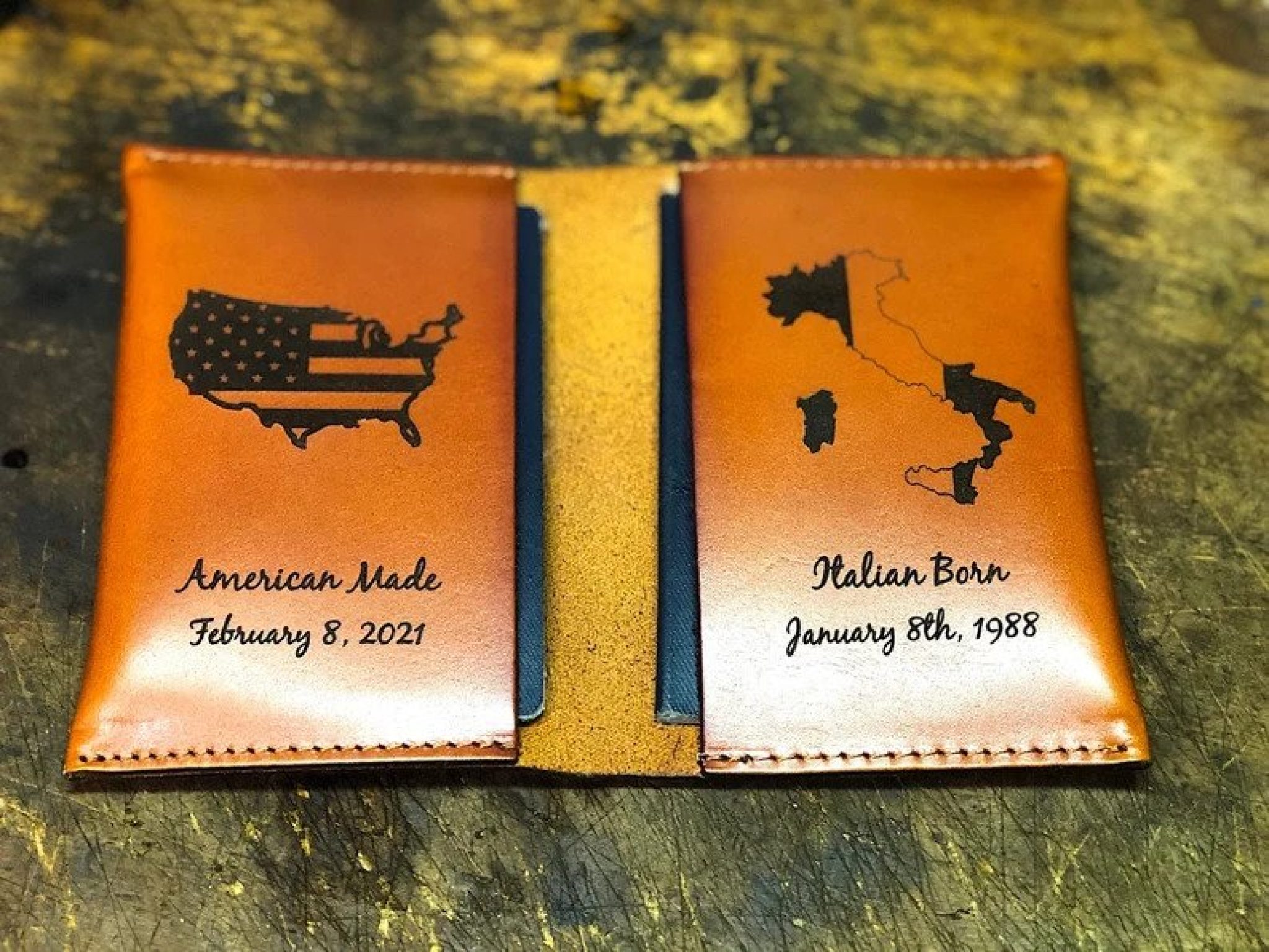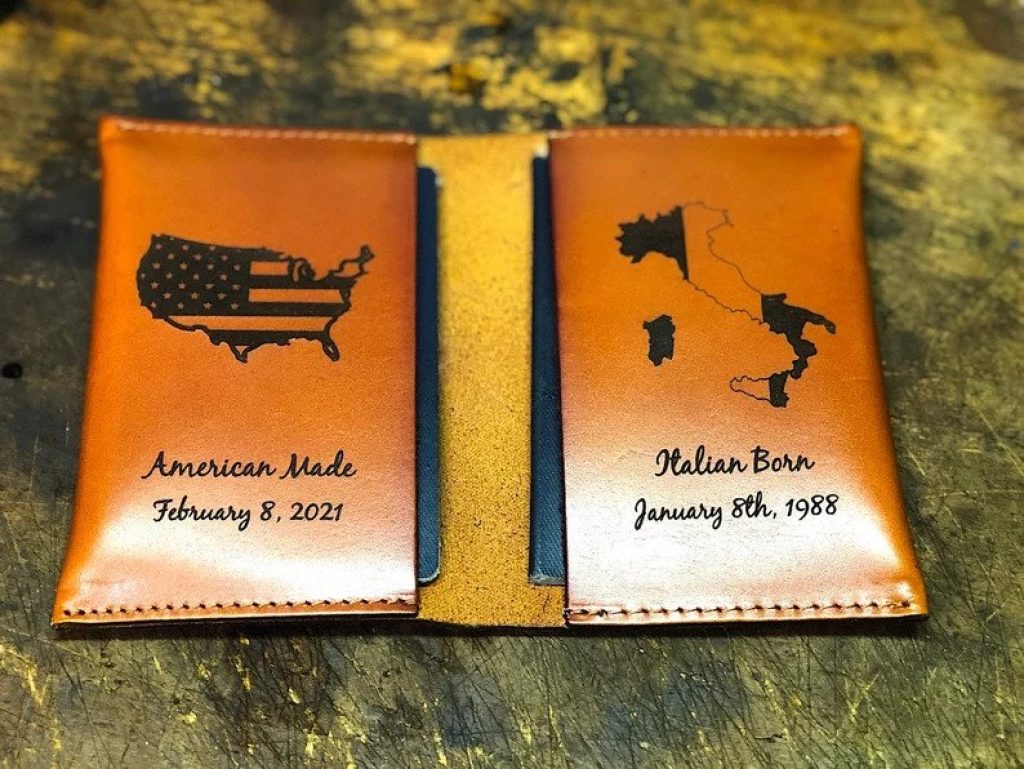 ---
USA Road Trip Puzzle
This brightly colored puzzle of the USA features the license plates of each state and has a list of 20 hidden objects in it that you have to find once you put it together. It is a fun way to learn all 50 states so it makes a fun gift for new American citizens.
---
50 States 5000 Ideas
Now that your loved one is in America, it's time to show them all of the wonderful things they can see and do here. It has stuff like parks, beaches, caves, hiking spots, the best places to see sea otters in the wild, and the largest yard sale in America. It is written by a National Geographic travel expert and the pictures are beautiful.
---
3D Wooden Wall Map of the United States
This 3D wooden wall map is not only beautiful, but it also inspires you to explore the country. They also have pins that you can mark the states you've been to and the ones you want to go to. I have one for the entire world and it is one of my favorite things I own.
---
American Flag Sherpa Blanket
Help them show their pride with this super soft red, white, and blue Sherpa blanket. It's so cozy, they will never want to leave. It comes in various sizes so you can get a small throw or get a king-sized one for the bed to use as a comforter.
---
Related: Funny Housewarming Gifts
---
Patriotic Socks
Do you know what is better than getting your citizenship after working hard for it for years? Having warm feet, of course! Show off your pride by sporting these bright stars and stripes socks. The set comes with 12 fun pairs, so you don't have to waste your time doing laundry as often.
---
The Big Book of American Facts: 1000 Interesting Facts And Trivia About USA
This book is packed full of weird and interesting facts about America. It has facts about weird laws, modes of transportation, money, science, and more. It's a fun gift for new American citizens because they will be in awe of the weird country they just moved to.
---
Site Seeing Tour
Now that they are an American citizen, it's time for them to get out there and explore their new surroundings. There are various tours for anyone: food, wine, city tours, adventures, beer, scavenger hunts, and more. Site-seeing tours are one of the best gifts for new American citizens who are adventurous.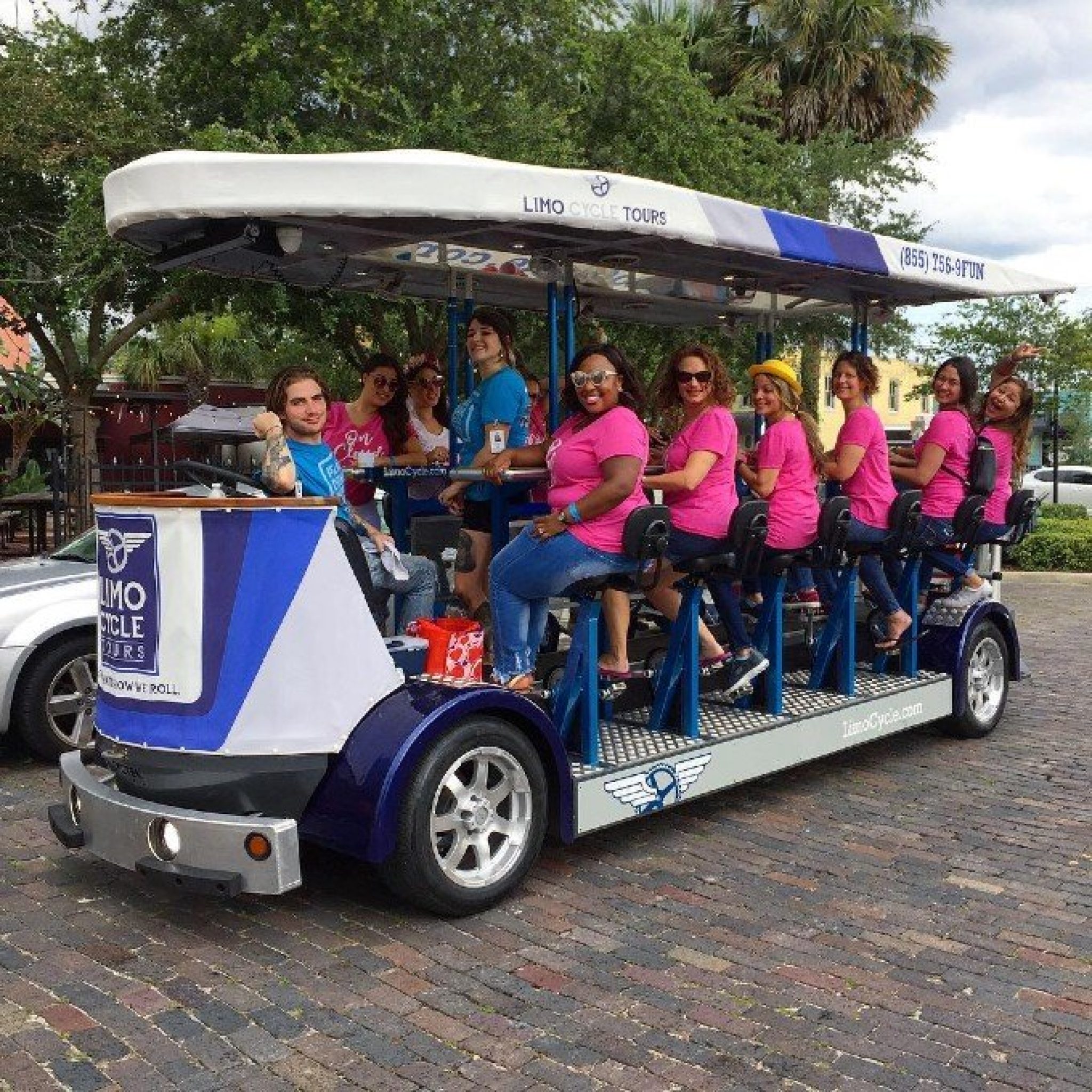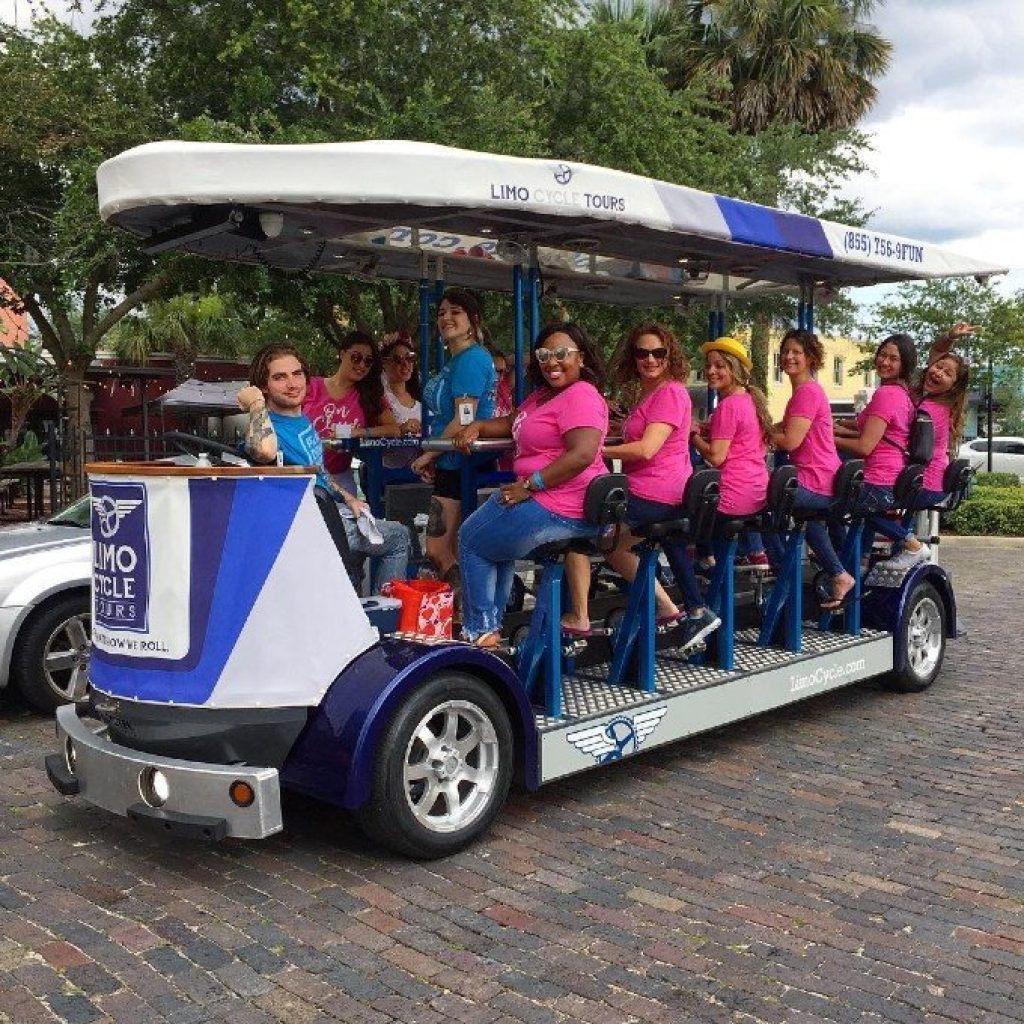 ---
Personalized Two Flag Transition Photo Sign
This transition photo art piece can be personalized with any two countries, and you can add a message to it. Depending on where you are standing, the sign will look a different way. One angle displays the US flag and the other direction displays the country of origin. It's a great way to celebrate your new citizenship while continuing to love your home country.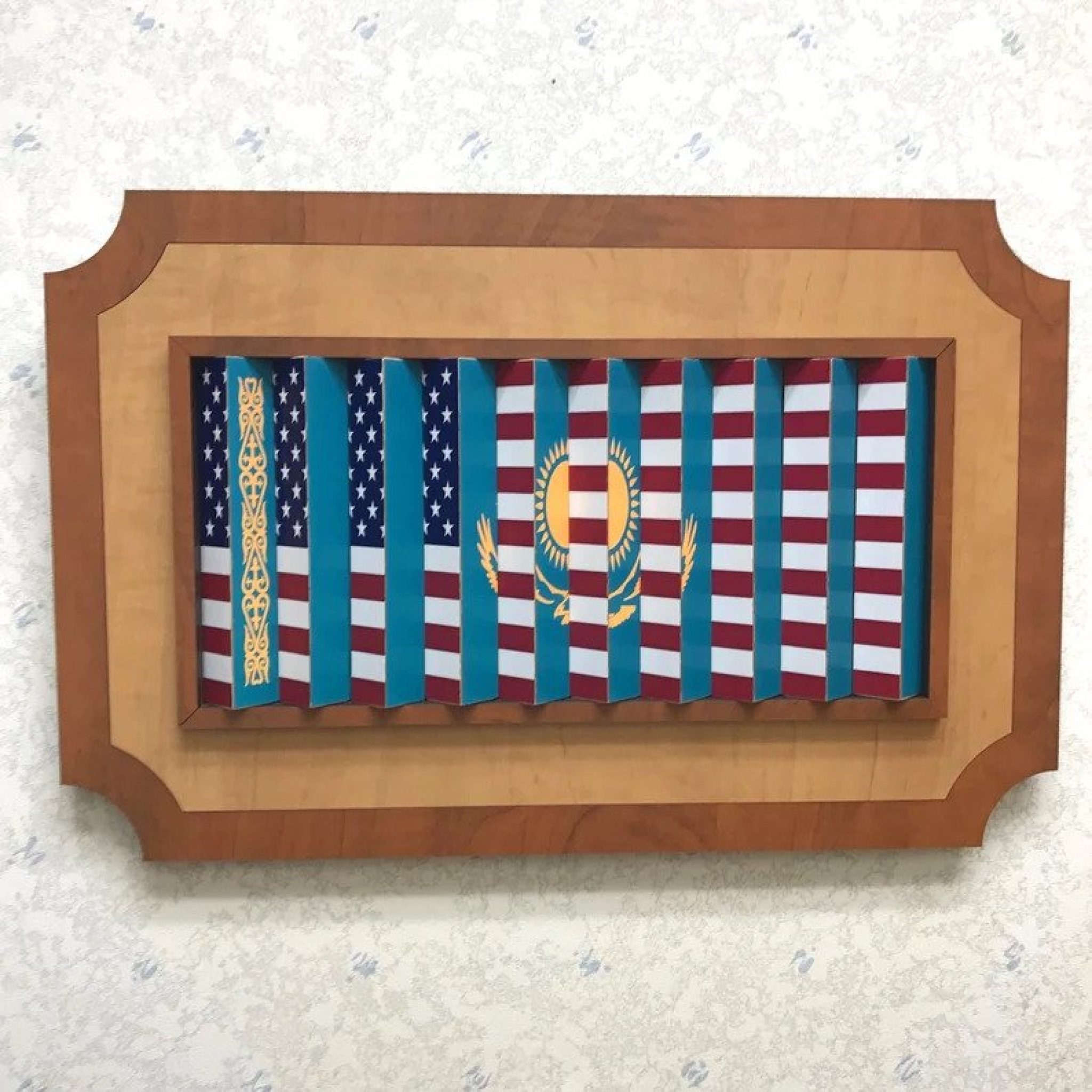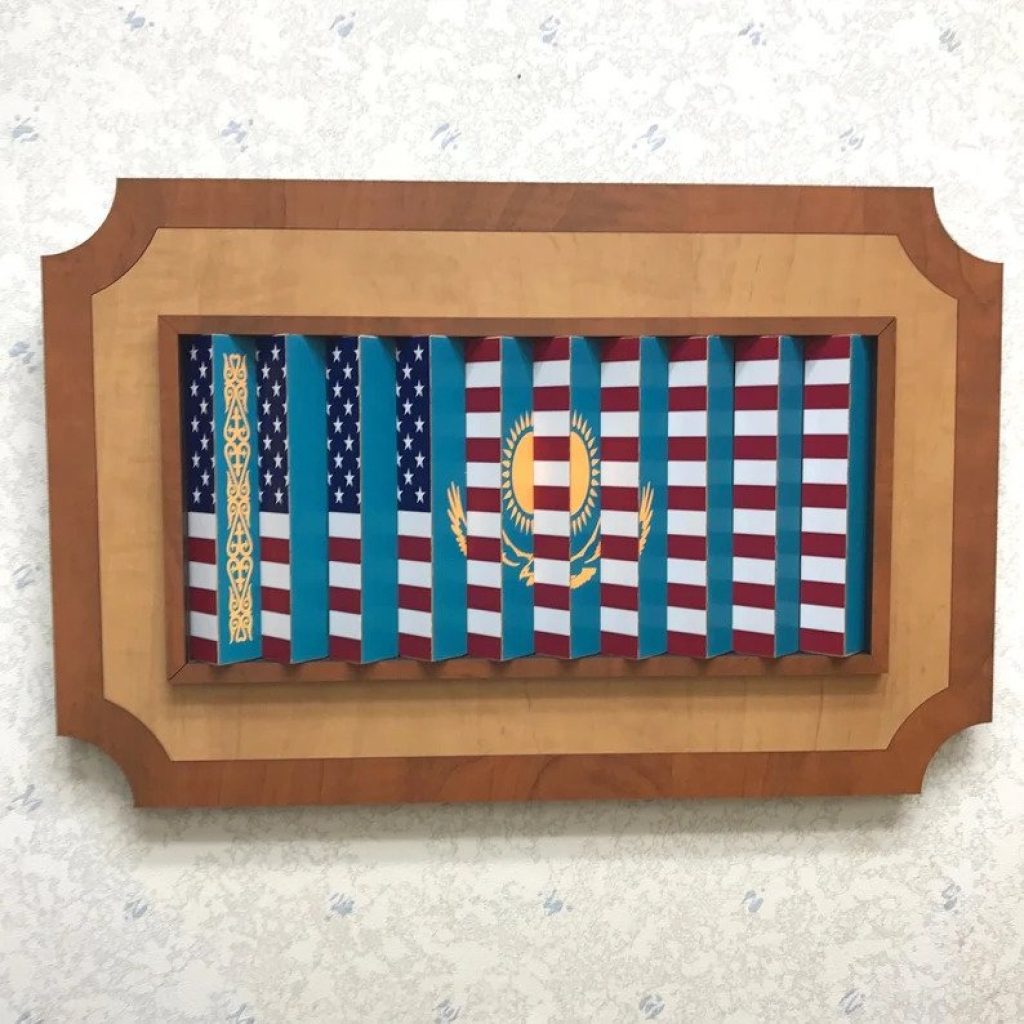 ---
American Trivia Game
In order to become an American citizen, the applicant has to answer a ton of questions about themselves and about the history of the USA. So chances are, they might be able to beat you in this game. And having them beat you is the best gift you can give to a new US citizen.
---
What makes the best gifts for new US citizens?
No matter what citizenship gift you decide to give, the most important thing is to show your support and congratulations to the new US citizen. After all, it's not every day that someone gets to experience the joy of moving away from their crazy family. So, why not spread the patriotic cheer with a gift that's sure to make them smile, whether it's a funny patriotic mug, a personalized piece of art, or anything in between, you can't go wrong.
Be sure to follow us on Facebook for daily updates on unique gifts for the whole family!