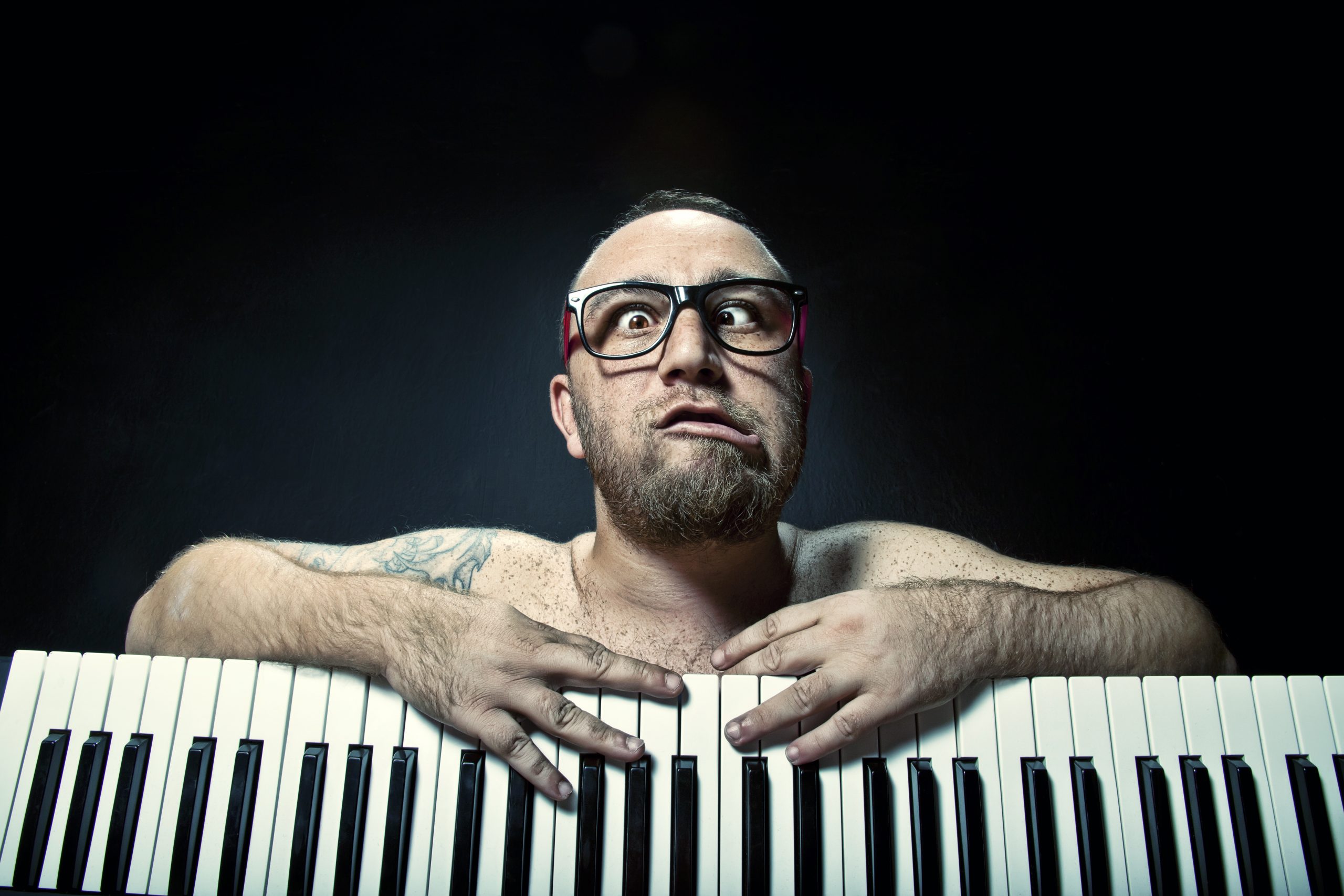 Unique gifts for piano players can be clever, cute, sweet, thoughtful, or eco-friendly—just like musicians themselves! To make your shopping easier, we have once again scoured the internet to compose a list of the best piano lover items available.
Whether you need gifts for piano teachers, students, friends, or family members—or maybe something for yourself—you'll find them here. From wine and cheese service to sentimental strolls down a musical memory lane, we've done our best to hit all the right notes.
Personalized Leather Music Journal
An inspired composer needs an inspiring journal to write in. The piano player on your gift list will love this thoughtfully made leather composer's journal. Use it for jotting down melodies, bits of poetry, dreams, or anything that your musical mind conjures up.
It's filled with sheet music paper and equipped with brass fittings for that instrumental touch. You can have up to four personalized engravings added along with the treble clef design.
Related: Gifts for Writers
Booze and Vinyl
One of the most innovative piano gifts you'll ever see, the Booze & Vinyl book is smart, beautiful, and useful. The hardcover features 70 of the greatest albums from the 1950s to the 2000s, complete with swanky photos, liner notes, and cocktail recipes that are paired to each album. It tells why each cocktail goes with the music so you can make the cocktail and then relax and listen to the tunes.
Booze & Vinyl is a must-have for any music lover who appreciates a good cocktail and knows how to set a mood. It is my favorite music lover gift (I have bought it for myself and several friends) and it looks really beautiful as a coffee table book.
Related: Gifts for Drinkers
Personalized Music Sheet Clip
Affordable and elegant gifts for piano players can be difficult to find, but a personalized music sheet clip handmade from high-gloss metal is easy. Engrave it with the musician's name or a short sentiment for a special touch. (All engraving is done in Freestyle Script font.)
A personalized music clip adds a special touch to any pianist's rehearsals or performances, and it lends a touch of class to piano lessons and performances.
Personalized Pianist Caricature Portrait
Who says piano teacher gifts (or student gifts) have to be boring? A personalized caricature portrait is a sweet and humorous way to thank your music teacher for all the patience, caring, and knowledge they have shared with you.
Supply your own photo, and you'll receive a one-of-a-kind digital file that you can print yourself on a t-shirt, mug, poster, or anything else your teacher will enjoy. It makes a unique pianist gift for students, teachers, and players.
Piano Keys Cookies
These clever and delicious piano lover gifts are tasteful and tasty at the same time! You'll receive one dozen perfectly decorated handmade designer cookies in a variety of notes, piano keys, and other musical symbols. These cookies taste as good as they look and arrive to you heat-sealed and ready to enjoy.
"What the F" Shirt
This funky t-shirt proves that gifts for piano players can be edgy. Choose from v-neck or unisex shirts in either 100% cotton or a cotton-polyester blend depending on the color.
Only music lovers will understand the clever note-inspired message. If your music-loving friend is a little naughty but still wants to keep it clean, surprise them with the "What the F" t-shirt.
Piano Keys Ring
This two-toned stainless steel piano ring is stylish and available in many sizes. And for under $15, it is one of the most affordable gifts for piano players you can find.
Bose Audio Sunglasses
Let's face it; piano players love music. That's why they do what they do. These Audio Sunglasses with open-ear headphones are the divine convergence of music nerd and tech nerd—and they're both cooler than you'll ever be.
If you need a pianist gift for the hippest music teacher or musician you know, splurge on these sunglasses with built-in Bose speakers. The open-ear headphones keep your friend safe by preserving awareness of their surroundings.
Playable LEGO Grand Piano
If there's something more amazing than a working LEGO Grand Piano don't show us—our minds couldn't take it. This amazing LEGO model comes with a removable 25-key keyboard with authentic moving parts to add a touch of realism to this fantastical gift for piano players.
The kit includes 3,662 pieces and measures 13.5 inches wide and 12 inches tall when complete.
Hand Massager
The best gifts for piano players don't have to have pictures of pianos sprawled over them. They can also be useful gifts. You know how tired your hands get after a few minutes of piano practice. Think of how a serious musician must be after hours of playing! This Lunix LX3 cordless hand massager will ease cramped hand muscles and help massage away pain from arthritis, carpal tunnel syndrome, and other hand problems.
The musician in your life will love the six levels of pressure point therapy and the option for heated massage. Talk about a stairway to Heaven!
1000 Record Covers
Record covers are like a history of fashion, art, and political change. Gifts for music lovers can be all that and more with the 1000 Record Covers hardbound book. This amazing compilation includes rock album covers from the '60s, '70s, '80s, and '90s, selected by music archivist Michael Och.
Real Ebony Piano Key Necklace or Keychain
You'll hit a high note with this piano player gift. It's a genuine vintage ebony piano key on your choice of 28-, or 36-inch adjustable gunmetal chain. The pendant is a showstopper at 3 ½ inches long, but if a necklace isn't your piano player's thing, this unique item is also available as a keychain.
Personalized Wooden Mixtape
Is the music lover in your life smart and nostalgic? If so, this handsome handcrafted wooden mixtape is a piano gift that will make them smile for years to come. Send in your playlist, and creators Carolyn and Sage Zipeto will personalize a wooden cassette with a title, special dates, and your loved one's initials and it actually holds music!
Just scan the QR code on the back of the cassette with your phone and start grooving to the tunes!
Music City Microphone Lamp
Not many gifts for music lovers can promise to show you the light, but this Music City microphone lamp can. Handcrafted from distressed metal for a vintage feel, the Music City Mic light is perfect in a music room, office, dorm, or anywhere.
It uses LED lights, measures 15 inches tall, runs on batteries, and the timer function helps you conserve battery life. Have a little piece of Nashville wherever you are.
Personalized Piano Key Wall Art
Personalized piano key wall art is perfect for weddings, birthdays, anniversaries, or to commemorate any important date in your music lover's life. Send in your information and choose from multiple layout options and sizes.
For the finished product, select a wrapped canvas, poster on fine art paper, or a framed canvas. JPEG digital files are also available if you prefer to print it yourself. It's an artsy piano-themed gift they can admire for years to come.
Bluetooth Light Bulb Speaker
Warning: this gift will make you the recipient's favorite person ever. Knowing that, which lucky person on your "gifts for music lovers" list will receive the Sengled Solo Bluetooth JBL Speaker Light?
This LED light bulb with a built-in speaker allows you to play music, adjust volume, and set brightness all from an iOS or Android device. How futuristic is that?
Piano Purse
The best gifts for piano players are the ones that you use over and over again. This Women's Piano Crossbody Purse will hit all the right notes with the music lover in your life. It's made of durable PU leather and the smart crossbody styling makes it both trendy and practical.
It's great for travel or everyday use, big enough to hold the essentials without being bulky or heavy. If you're looking for piano-themed gifts for piano teachers and students who are always on the go, this hands-free bag is perfect.
Adjustable Piano Bench
Help your budding pianist perform better with this thoughtful piano accessory gift. The Neewer Adjustable Piano Bench easily adjusts from 17.7 inches to 21.65 inches high with the twist of a knob.
Its beautiful padded seat will be a nice complement to the music room, and it's durable—holding up to 330 pounds. The bench also opens for storing sheet music and other accessories. Put this one on your list of stunning pianists' gifts.
Musical Scale Wine Glasses
No rundown of top music lover gifts is complete without wine glasses! Major Scale Musical Wine Glasses are cleverly designed to help you and your guests enjoy a symphony of notes as you sip your favorite vintage.
Just fill the glass to your desired note and run your finger around the rim for a crystal-clear tone. Get a set for your piano-loving friend and one for yourself. Wine tastings will never fall flat again!
Turntable Cheese Board
Turn up the volume on that brie with an awesome turntable cheese board. This Gouda and Grooves wooden board has a realistic turntable and the tonearm is actually a functioning cheese slicer! How clever is that?
A fully removable and washable slate platter provides a large surface for serving. Gifts for music lovers don't get much hipper than charcuterie meets vinyl.
Zimbabwean Gourd Thumb Piano
It can be a challenge to find gifts for a music lover that they don't already have. The beautifully crafted Zimbabwean Cannonball Gourd Thumb Piano may just fit the bill. It's portable and lightweight, great for bringing to classes or events, and fun to use.
Kids and adults of all ages will have fun perusing the included songbook to learn easy classics like "Happy Birthday," and "You Are My Sunshine."
Personalized Piano Teacher Caricature Portrait
Wouldn't it be great if you could give the piano teacher in your life a portrait of them surrounded by their adoring and grateful students? Well, now you can! Turn any photo into a personalized caricature portrait that features your favorite music teacher at the piano, conducting a symphony, or jamming with their students.
Choose from a digital JPEG file you can print yourself, a framed poster, or a print on canvas.
Piano Keys Metal Candle Holder
We could say this piano keys candleholder was on fi-yah, but we won't. However, we will say it's a beautiful gift for any music lover. It's handmade from steel pipe, stands 6.5 inches high, and comes complete with an LED candle with a built-in timer and realistic flickering flame.
You can choose from four finishes, including rustic, black pearl, copper, and silver. Get one of each if you need multiple gifts for piano players, teachers, students, or friends with a romantic side.
Mistaken Lyric Coasters
Mistaken Lyric Coasters will have your friends laughing so hard they won't want to put their drinks down. We've all sung the wrong lyrics to classic songs like "hit me with your best shark," or maybe "sweet dreams are made of cheese."
These stylish 4-inch square cork coasters pay homage to some of the best wrong lyrics we love to belt out, loud and proud, while driving alone in the car. The coasters come in a set of six.
Piano Tie
A piano tie is one of the most common piano gifts out there, but this Steven Harris Piano Keys necktie really is a note above the rest. It sports the classic depiction of piano keys on one side and a musical score on the other. It has a silk-like feel and is standard sized at 56 inches long and 4 inches at the base.
Mixtape of My Life
Creative, thoughtful, and a musical trip down memory lane—that's what a Mixtape of My Life is, and more. Think of it as a music memoir. The lucky recipient of this music-themed gift can ponder over 200 questions that help them chronicle their lives through music.
Thought-provoking questions make this gift a conversation starter for your next dinner party or a personal journey for the music lover on your gift list. Questions inspire memories, such as, "what was the first album you owned" or "what song did you later find out was smutty".
Personalized Pianist Cartoon Portrait
Pianist gifts don't always have to be serious. A personalized cartoon portrait is sweet and humorous and honors your favorite musician. This handmade portrait is based on a photo you provide and is hand-drawn.
You can have your favorite musician sitting at the piano in a variety of positions, or put them on a stage with friends. You'll receive a digital file with a Yellow Cartoon portrait that you can print yourself on mugs, t-shirts, or posters. How fun!
African Kalimba, Thumb Piano
You don't need a special occasion to give your music lover a traditional Newlam Kalimba thumb piano. This handcrafted item is beautifully embossed with musical notes, and designed to fit any hand comfortably.
In the right hands, thumb pianos are capable of playing complex compositions, but they're also fantastic fun for beginners. These gifts for piano players include an instruction booklet, a tuning hammer, and a flannelette bag for storage. It is great for kids and adults.
Back Massaging Heat Pad
Playing music puts a greater strain on the body than you may realize. One of the most thoughtful gifts for music lovers is one that helps them take care of their tired, overworked muscles at the end of the day. A Comfier heating and massaging pad does just that.
With two heat levels and five massage modes, the lucky recipient of this gift will be singing your praises for a long time.
Music Teacher Necklace
Sometimes the perfect gifts for piano players are simple, sweet, and meaningful. A handmade pearl necklace with a personalized package is sure to touch the heart of your favorite music teacher or mentor.
Each necklace is made from an 8-millimeter pearl and either 14kt gold, rose gold, or 925 sterling. You can personalize the piano-themed gift with your own sentiment and name on the gift placard.
Piano Patents
For truly different piano-themed gifts, consider these piano patent art prints. The aged look gives them vintage décor appeal, and they are sure to please any pianist who loves the instrument as much as the music.
You receive a set of four unframed prints depicting real historic piano patents. It's amazing to see how each and every tiny part on such a large instrument was patented separately. Who knew? Well, maybe your pianist did, but we sure didn't.
Funny Pianist Coffee Mug
This funny coffee mug is for the peanist, no peeanist, we mean pianist with a sense of humor! Who doesn't like to start their morning with a laugh? This handmade ceramic mug will put a smile on anyone's face.
And bonus if your gift recipient is left-handed: the design is printed on both sides of the mug so everyone can enjoy it. It's dishwasher and microwave safe, and guaranteed not to fade. It holds a full 11 ounces of coffee, tea or…? Well, that's not up to us.
Music Note Clock
Keep time the musical way with a brushed aluminum music note clock. This clock is striking and stylish with notes and scales instead of numbers. You don't have to read music to tell the time on this clock, but it helps.
You choose from four different designs: Circle of Guitars, Drumhead, Chromatic Scale, or Circle of Fifths. These clocks make great gifts for classrooms, studios, or music rooms.
Music Note Scarf
Some gifts for piano players are meant to go on forever, like this infinity loop scarf. (See what we did there?) Okay, bad puns aside, the KnitPopShop Music Note scarf is a fashion statement every musician or music teacher will appreciate.
It's soft, light, trendy, affordable, and it comes in a variety of colors so you can choose their favorite. Or choose several for all your musical friends—the price is right.
Beethoven Engraved Quote Pen
Show your music teacher the appreciation they deserve with a Beethoven engraved quote pen. The inspirational quote reads, "Music is a higher revelation than all wisdom and philosophy."
Whether they use it for composing their next masterpiece or jotting down a grocery list, they'll think of you every time they use it. This is a standard-sized ballpoint pen with black ink. It takes G2 size refills so, like the great master himself, it can be enjoyed for years to come.
Piano Bamboo Cheese Board
Who doesn't love some cheesy piano gifts? A bamboo cheese board shaped like a grand piano will be a hit at your next rehearsal.
The top of this 9-inch serving/cutting board props up to reveal a complete set of tools, including a cheese fork, cheese knife, and corkscrew. It's perfect for using at home, or take it with you to potlucks, picnics, and backyard gatherings.
Music Treble Clef Notebook Art
This treble clef notebook art is a thing of wonder. Each paper sculpture is handmade using nothing more than an actual book, some twine, and a button—and of course the artist's talent.
The page folding technique can be used to create a variety of images, words, names, or digits. The artist upcycles discarded books to make these beautiful creations, helping to keep usable items out of the landfill. It is truly one of a kid.
Classical Composers Print
Perfect for the home music room, dorm, or classroom, this classical composers print highlights 12 of the most beloved composers of all time, including Handel, Mozart, Wagner, Bach, and more. If your music lover is a fan of classical music or enjoys a vintage vibe in their décor, they'll love this musical gift.
You will receive a high-resolution JPG digital file suitable for printing on 8 x 10 or 16 x 20 paper.
Related: Gifts for History Buffs
Portable Roll-Up Piano
If you need piano lover gifts for a traveling student or someone who lives in a small place, consider this innovative portable keyboard. It rolls up for easy packing and is MP3 Bluetooth compatible. This battery- or cord-powered 61-key keyboard has high-quality sound and is ideal for students and other beginners.
Take it from classroom to classroom or from gig to gig or room to room. It's a conversation starter and a musical instrument all rolled up into one.
How to Choose the Best Gifts for Piano Players
When you choose musically themed gifts for the piano players in your life, you are showing them that you care about their hobbies, passions, and interests. Maybe you even believe in their talent.
Think outside the box to find something they won't expect. You can go with piano-themed gifts, useful piano gear, or even personalized gifts for piano players. Whatever you go with, go with unique items so you know it is something they don't already have.
Whether they're making a career in the arts or pursuing a love of music for the pure joy of it, the music lovers on your gift list will appreciate your thoughtfulness.
Be sure to follow us on Facebook for daily updates of unique gifts!