Personalized Gifts for Sisters That Will Make You the Favorite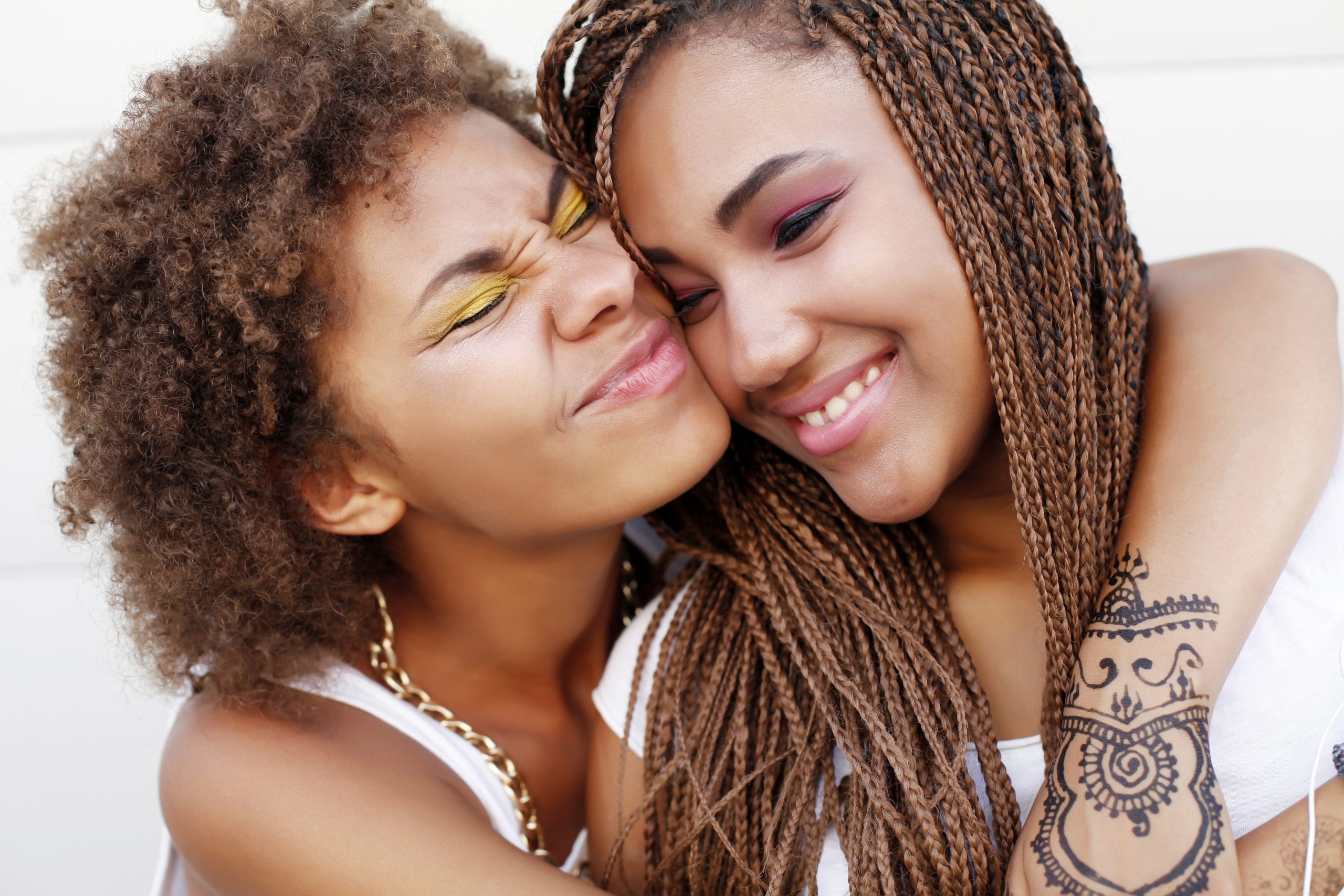 There are so many sweet, funny and functional personalized gifts for sisters that the biggest gift-giving problem you'll have is resisting the urge to buy a few things for yourself. Of course, there's nothing wrong with that either. We're not here to judge!
If you're tired of shopping at the same old stores for the same old things, scroll through our list of recommended sister gifts. No matter what the occasion, a gift from this list is sure to make you her favorite sister for life.
Related: Gifts for Women
Personalized Shark Coochie Board
Is that how your sister says "charcuterie" after she's into her second glass of wine? These personalized Shark Coochie wooden boards are large and in charge and absolutely hilarious.
Every 17-inch by 11-inch board is handmade from beech wood and is ready to help your sister display an array of tasty treats for her guests. Each board is unique with the natural colorings, markings, knots, and other characteristics of real wood.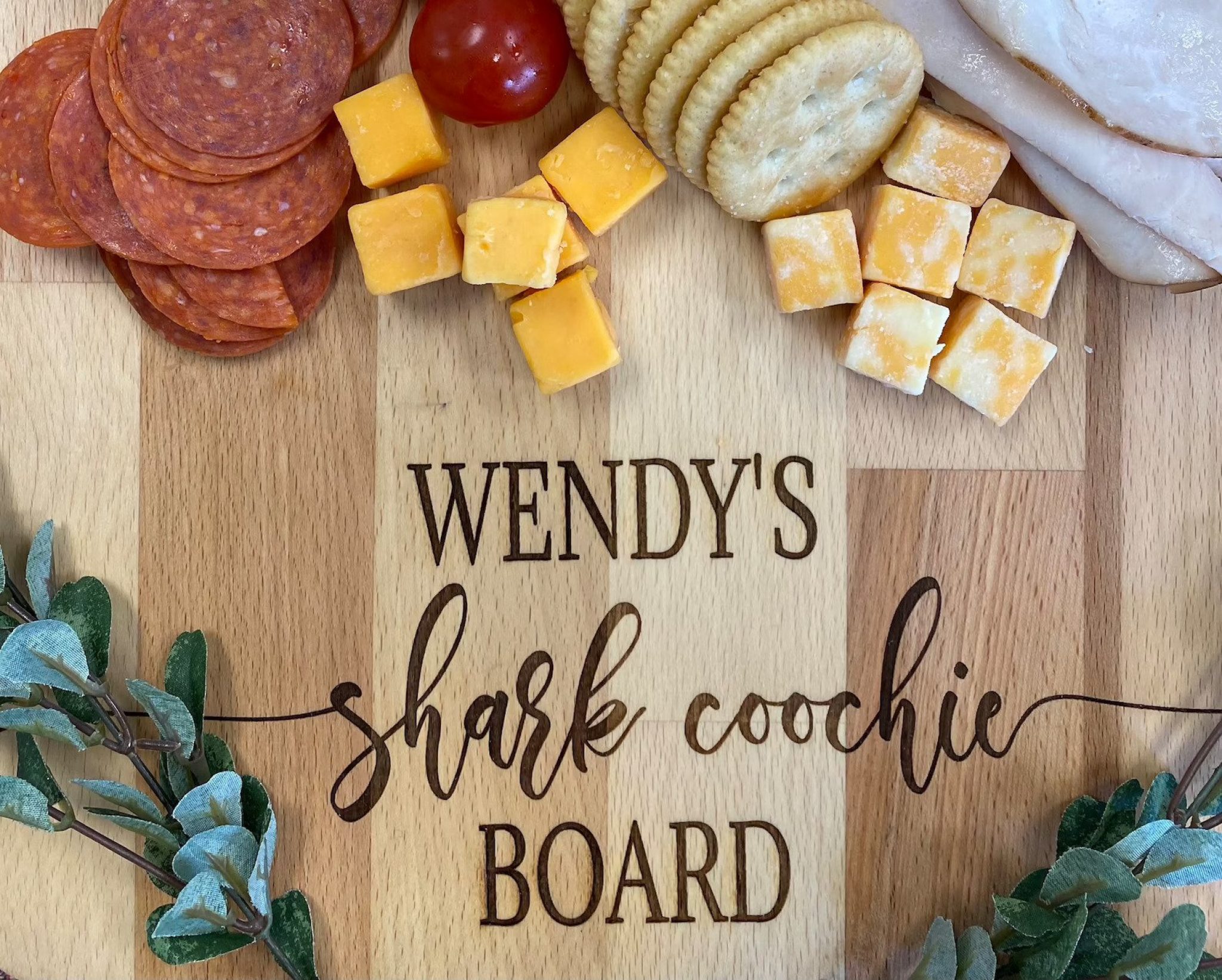 Related: Gifts for People Who Like to Entertain
Personalized Wine Tumbler
Travel tumblers may be the best thing to happen to wine since cheese. If your sister lives for the next girls' trip or afternoon at the beach, she'll love these travel-friendly metal tumblers.
Each one is handmade, holds a whopping 12 ounces, and comes in your choice of colors and fonts. Adding a customized illustration of the two of you or her favorite group of gal pals will bring a smile to her lips with every sip.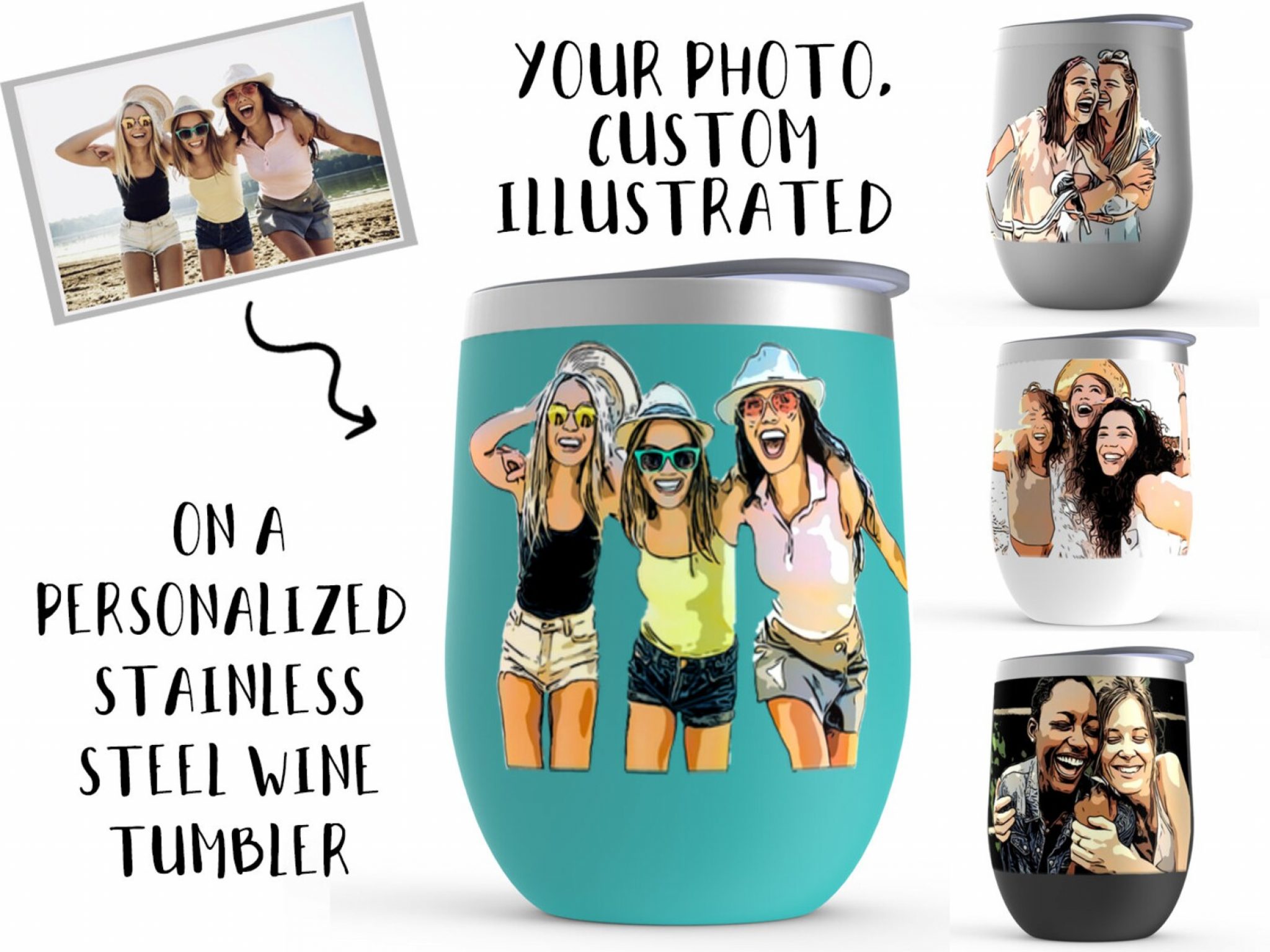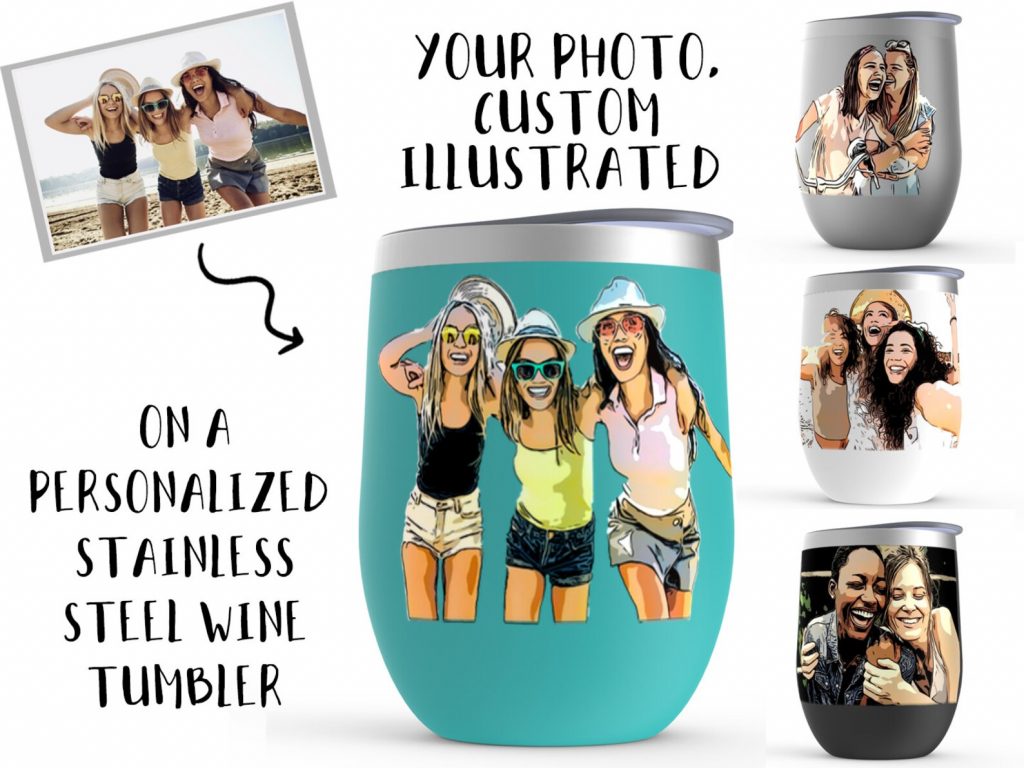 Personalized Historical Portrait on a Horse or Pet
Is she the sisterly version of your knight on a white horse, or does she have a bit of Napoleon complex? Either way, these personalized historic portraits are hilarious and grand at the same time.
You receive a digital file and a physical canvas portrait of your sister on horseback or on their pet from a template you choose. I bought these for my bonus daughters and they were hilarious and the artist was so easy to work with.
Related: 18th Birthday Gift Ideas
Personalized Astrology Birth Chart Book
Make your crystal-loving, sage-burning, star-gazing sister happy, and get her this birth chart book today. This handmade book includes a detailed analysis of her astrological sign (over 40 pages) in an artfully bound hardcover book.
You can even include a personal message printed on the first page. One of the most unique gifts for sisters we've seen.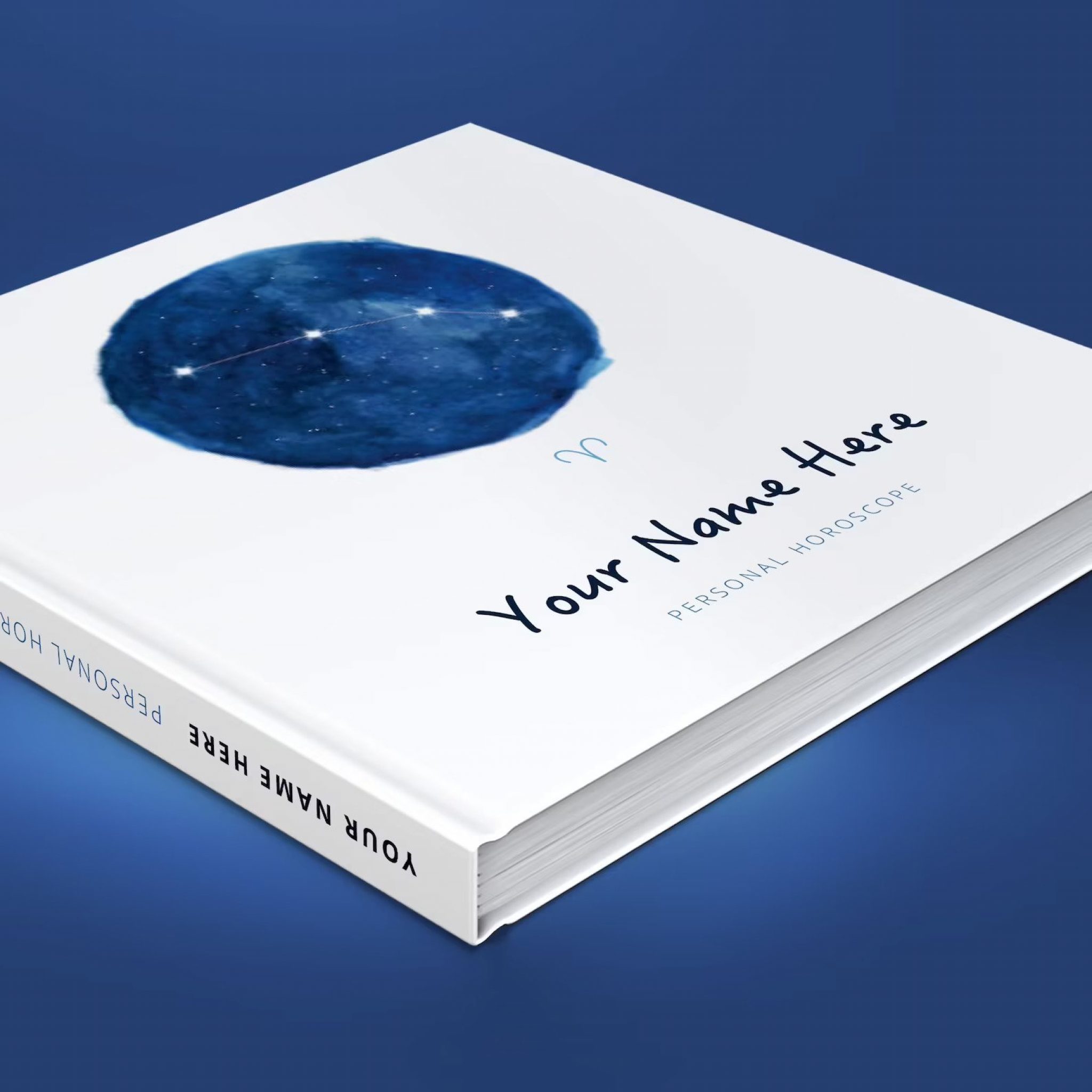 Personalized Picnic Table Wine Carrier
Admit it, two minutes ago, you didn't know what a personalized picnic table wine carrier was, and now you need one for your sister and one for yourself. These handmade totes are made from beautiful cherry wood but they convert into a table.
First, they function as a stylish caddie to carry a bottle or two of wine, a couple of glasses, and a few scrumptious picnic supplies. Then, the tote folds out Transformer style to become the cutest mini picnic table you ever saw. In the world of personalized gifts for a sister, this one is top-shelf.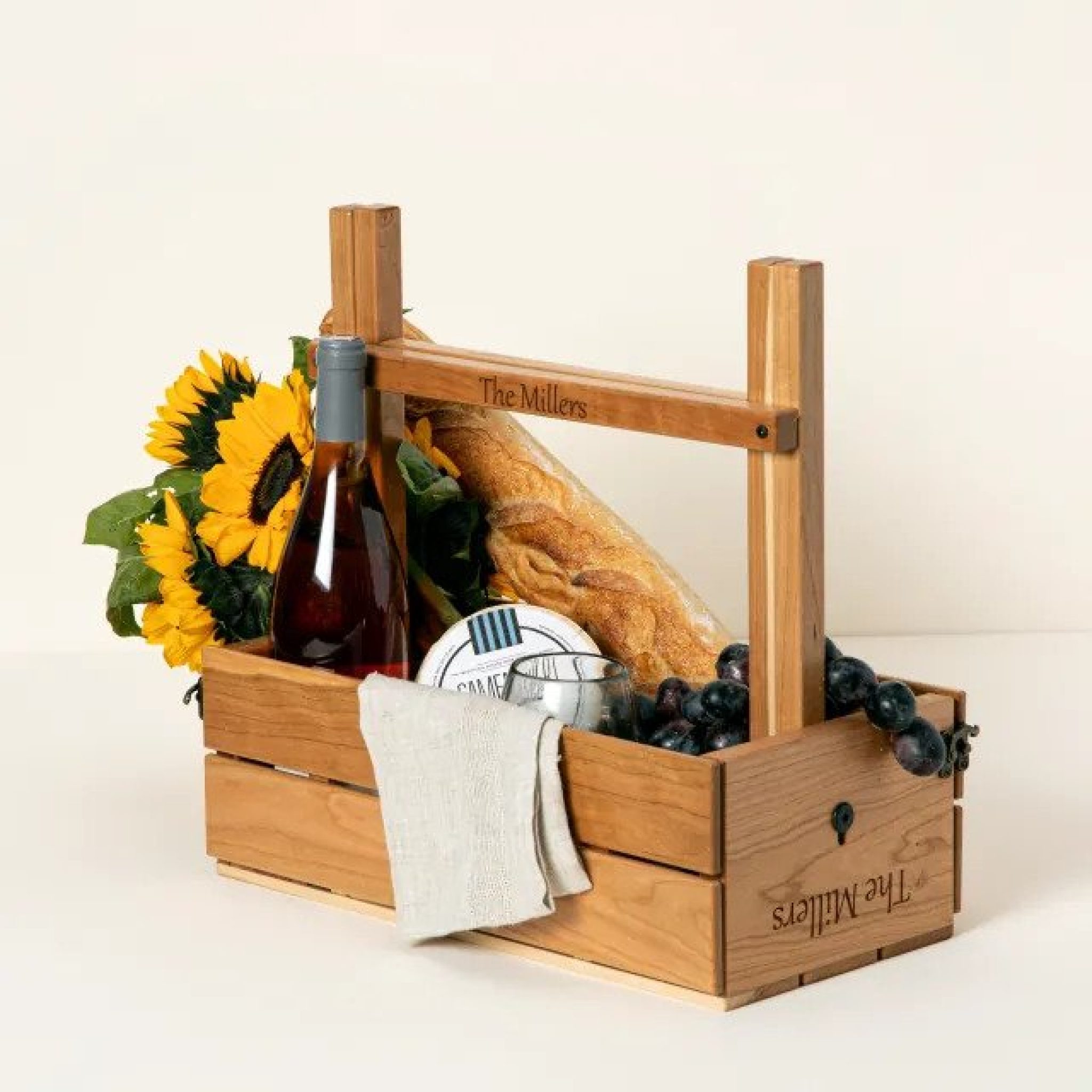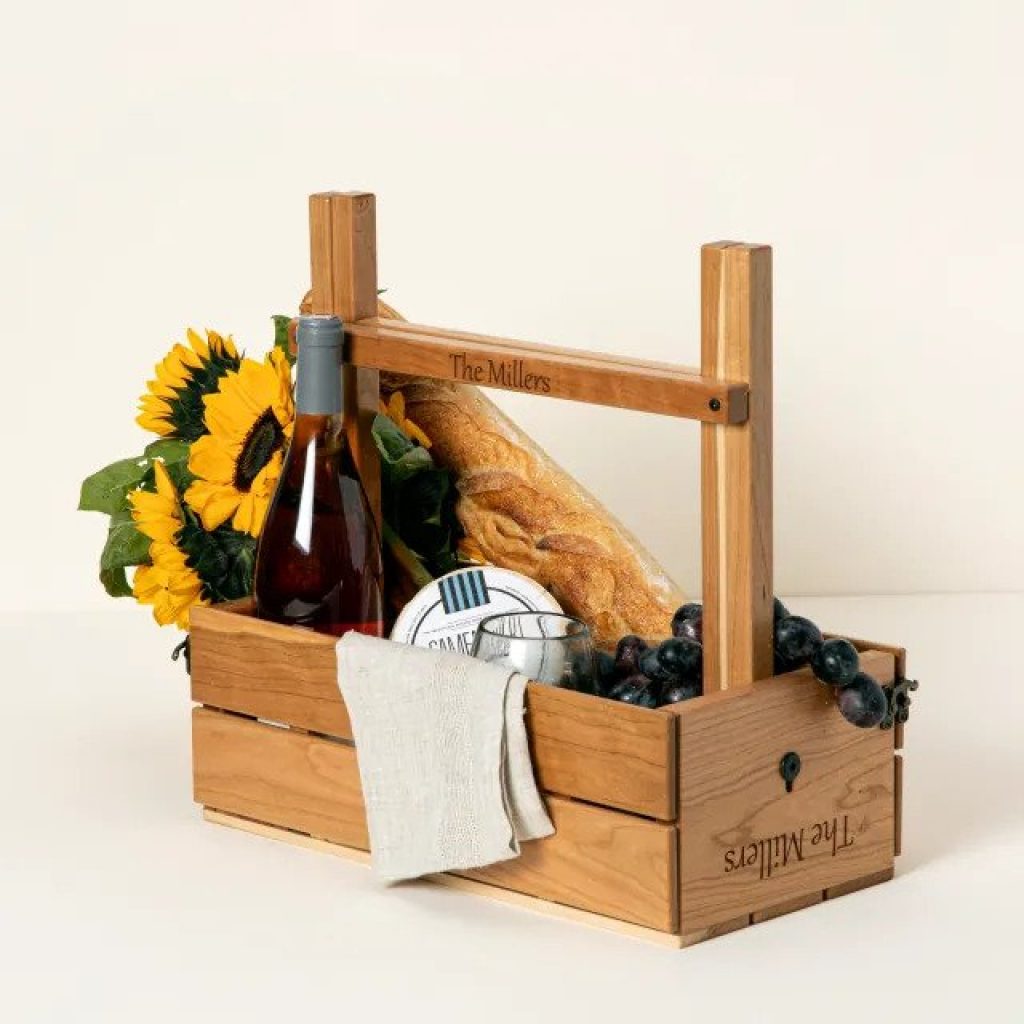 Monogrammed Leather Tote
Perfect for the fashionista, the student, the stylish mom, or the empire-builder, this monogrammed leather bag is big and beautiful. It's large enough to fit a large laptop and still hold everything else she needs for the day.
An optional zippered closure keeps everything secure and opens easily when needed. Have the lush full-grain leather bag engraved with her name — or maybe her new corporate title — for that unique sister gift she'll use all of the time. Available in many sizes and colors.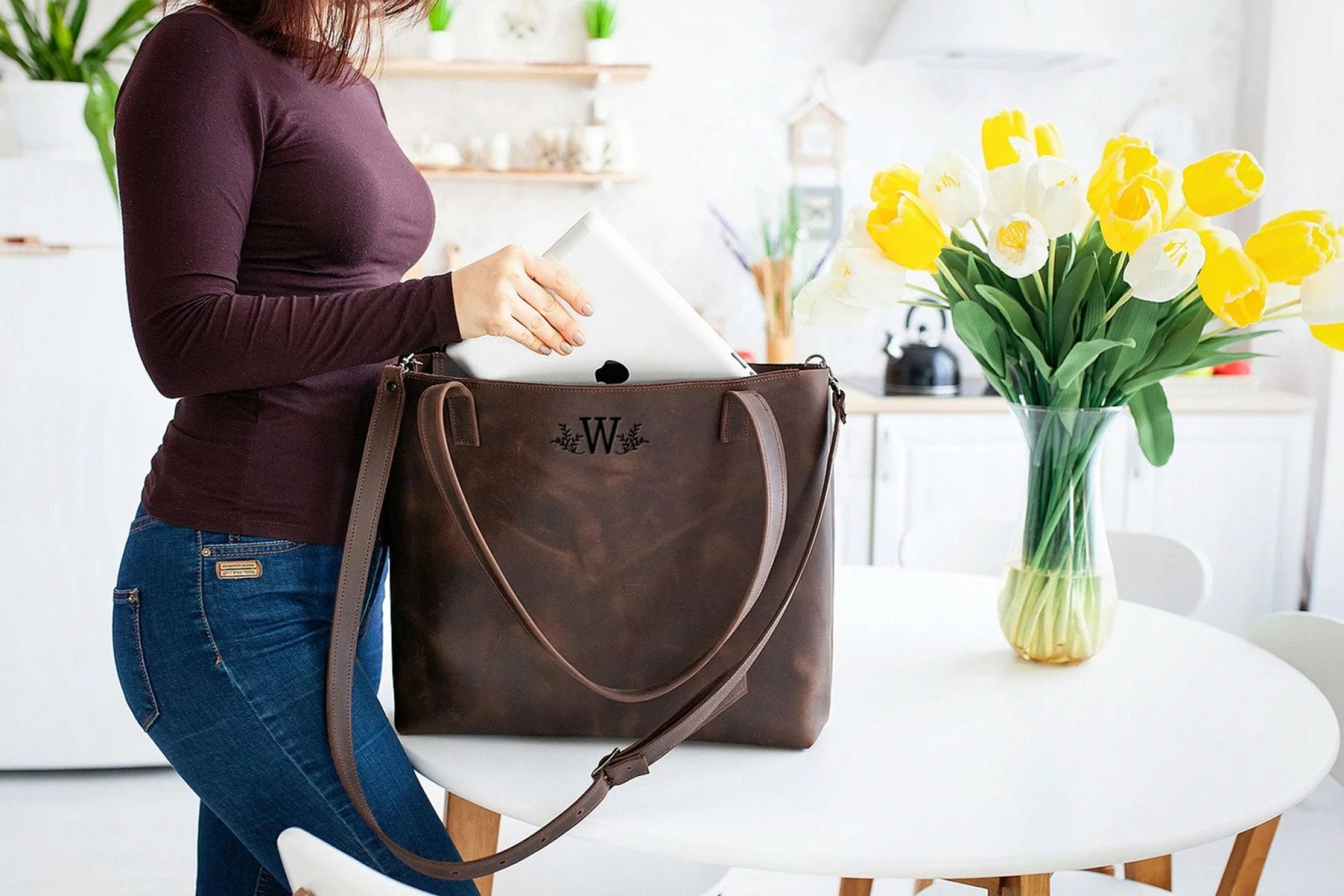 Related: Gifts for Women in Their 40s
Personalized Naughty Coffee Mug
What can we say about this naughty coffee mug? It's definitely not for the squeamish. If your sister loves a good stiff cup of coffee in the morning, she'll love the unique calligraphy of this handmade ceramic mug. Choose from the 11-ounce (average) or 15-ounce mug if size matters.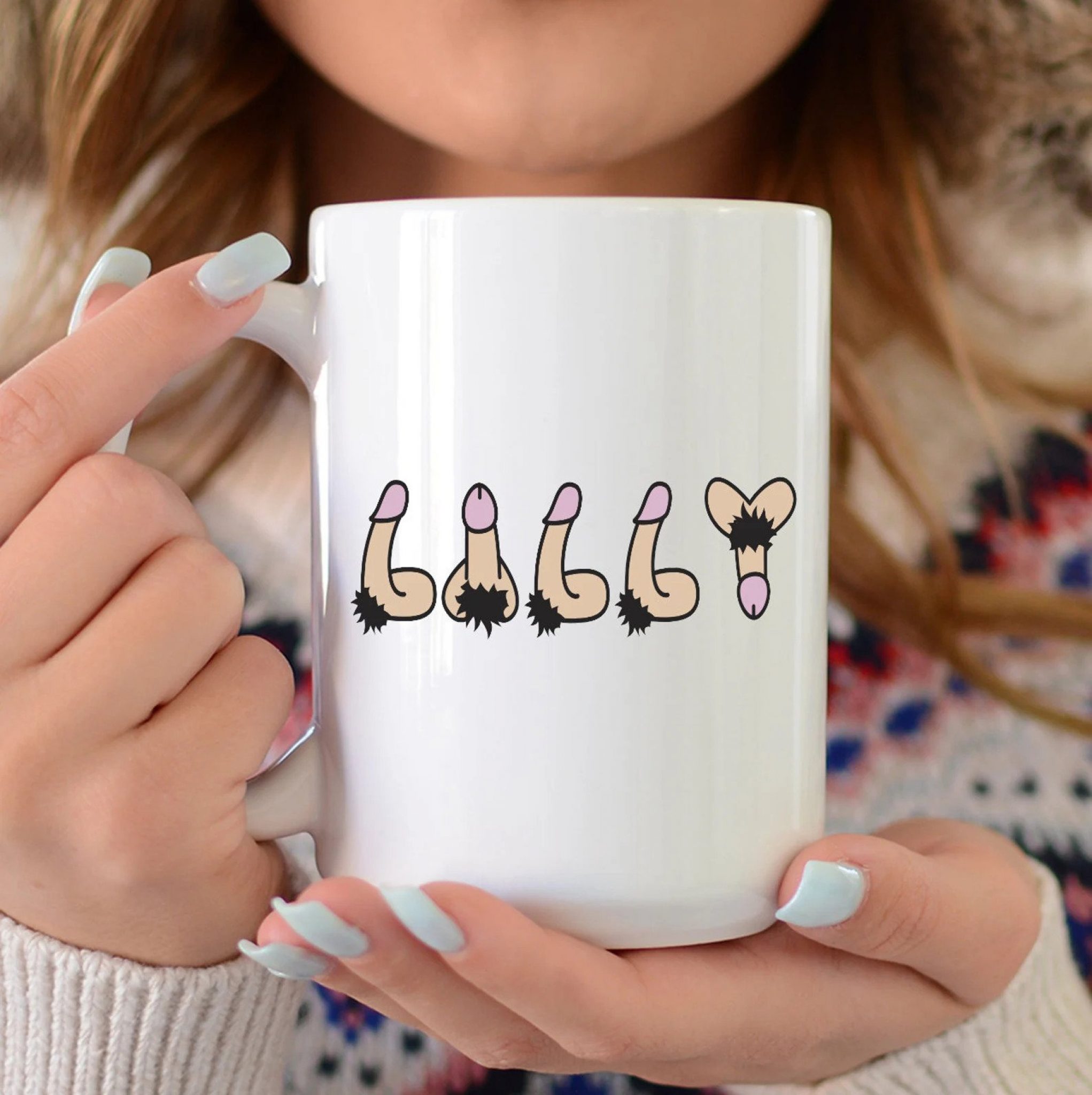 Personalized Moscow Mule Set
It's mule time! These gorgeous rose gold copper Moscow mule mugs are a classic but personalized addition to your sister's home bar. They make a great gift for her bridesmaids or to commemorate any special occasion. You can have two names engraved on these mugs, which means you just found the perfect wedding shower gift.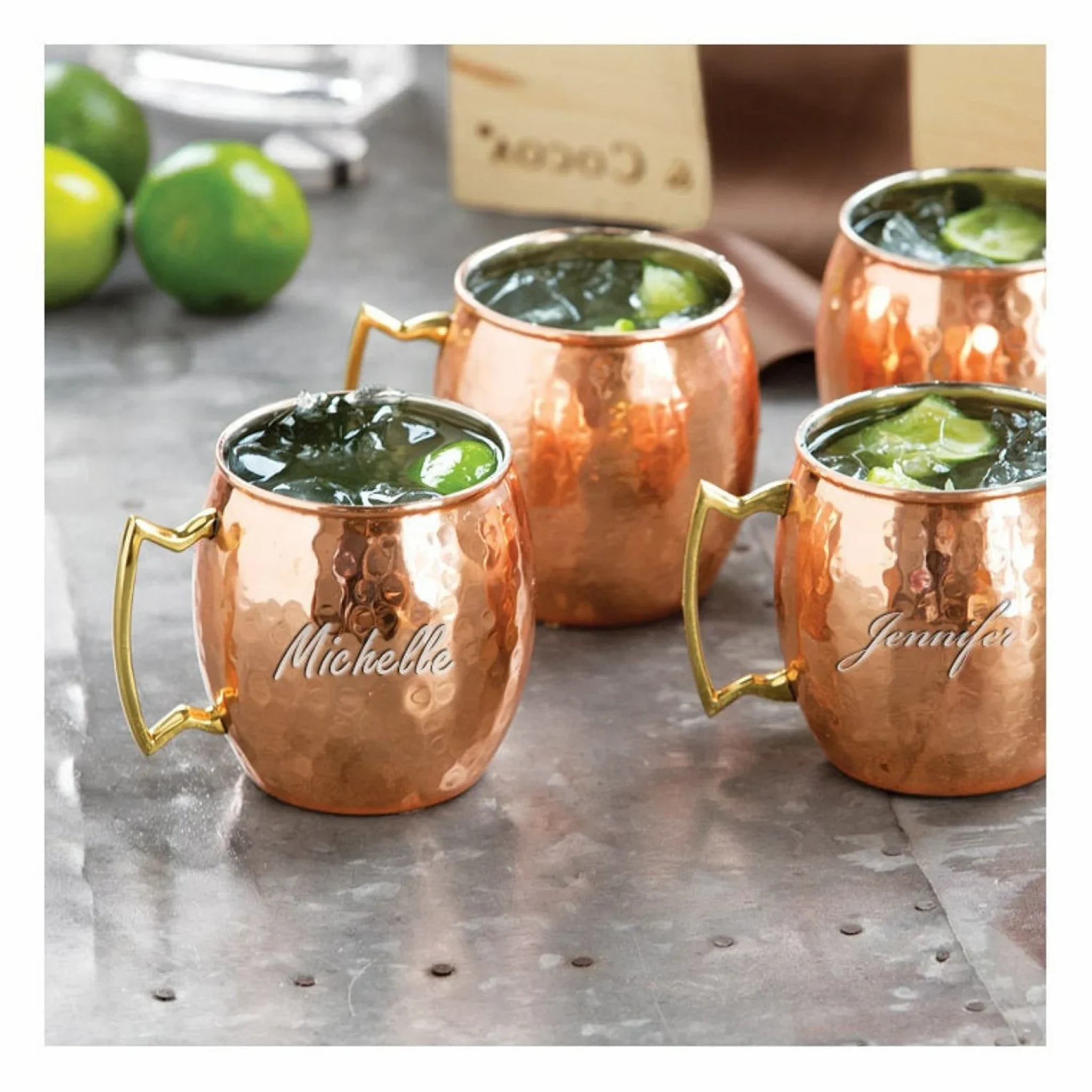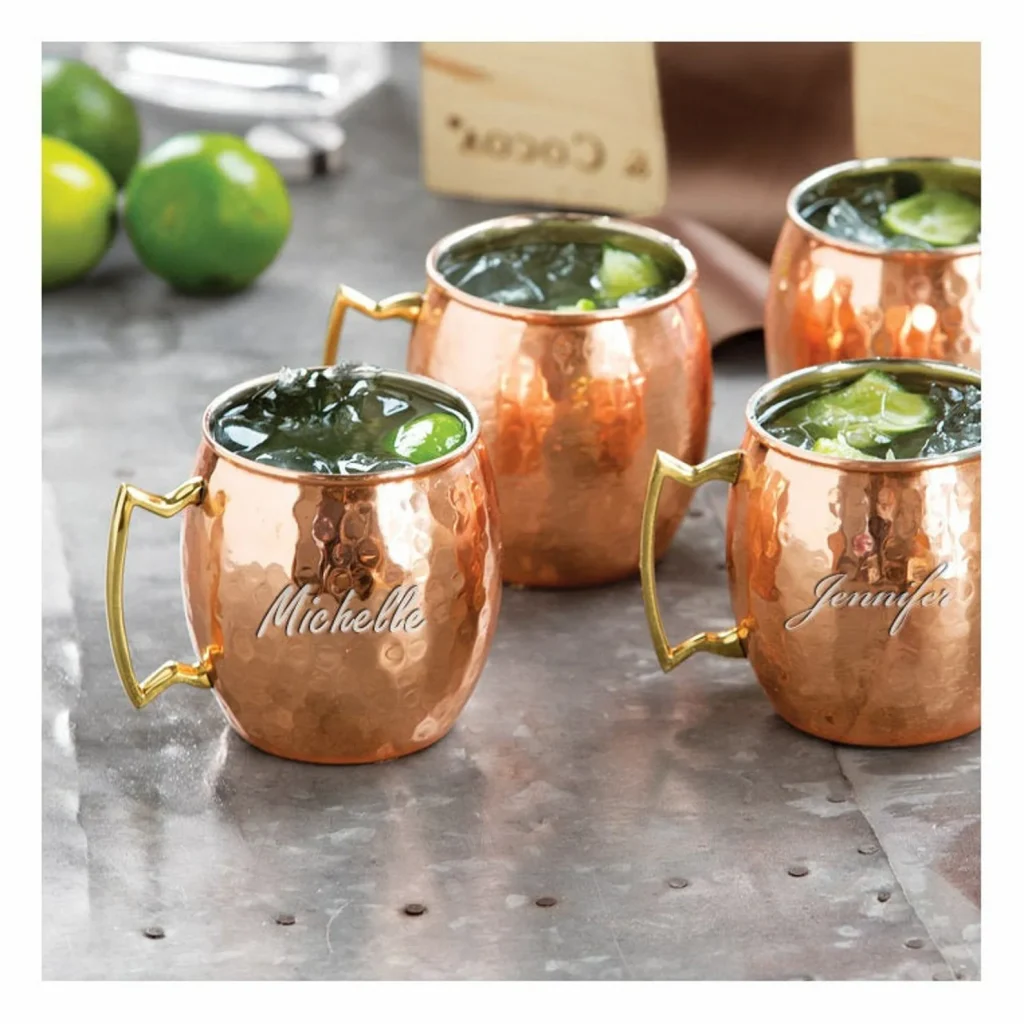 Related: Hostess Gifts for a Weekend Stay
Personalized AirPods Case
Who wouldn't love a gorgeous laser engraved leather-look AirPod case? The handy provided clip makes it easy to attach to her purse, keychain, or backpack. Don't hassle her for always losing her pods; take the passive-aggressive approach and give her one of these durable, luxe-looking cases with her name engraved on the front instead.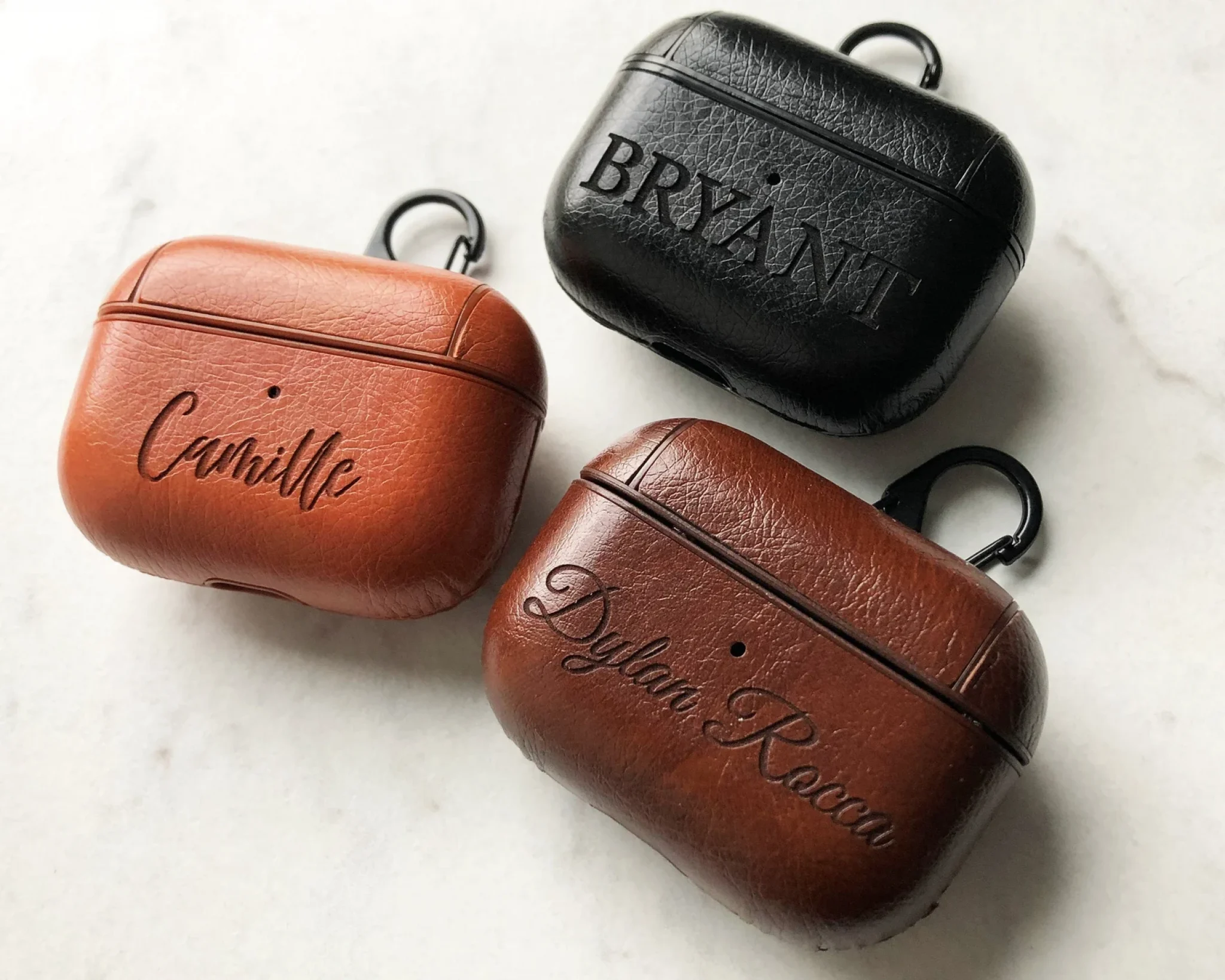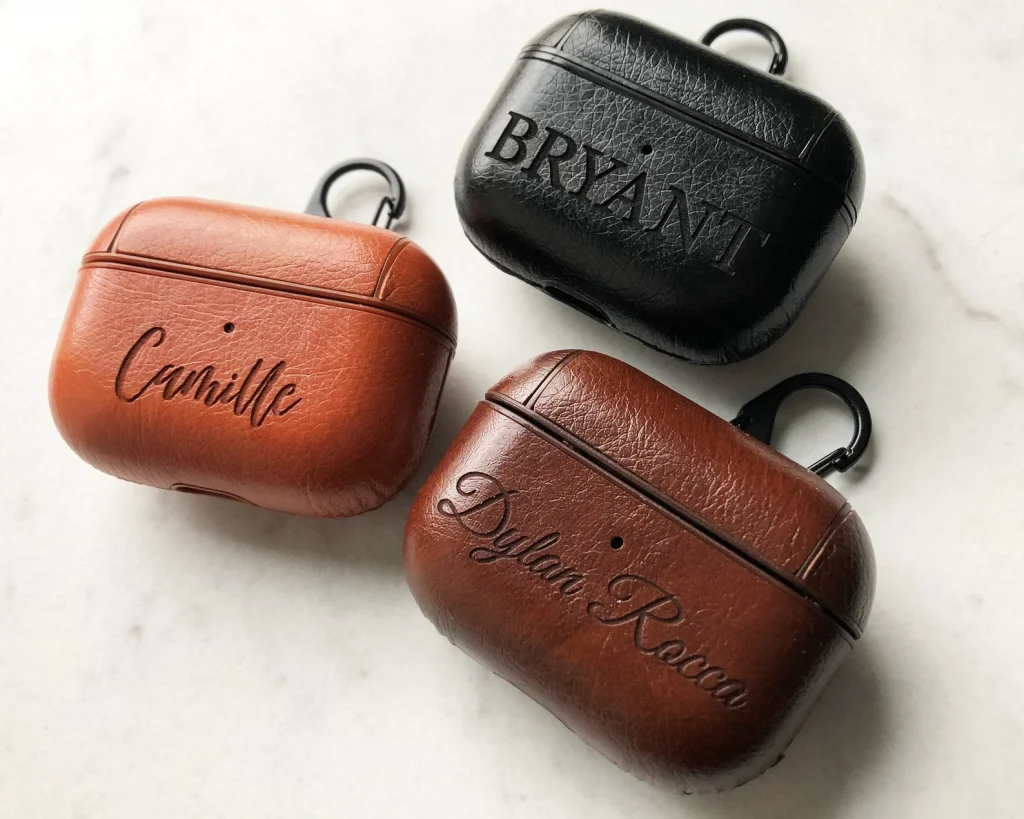 Personalized Book: Star in Your Favorite Book
Fun gifts for sisters who love to read are hard to find. Well, how about making her the protagonist in a great story?
Book By You lets you choose from several genres, including books for kids and teens, and put your sister in as the star and other friends and family as the other characters. You can even pick what the characters look like so it is truly one of a kind. With a personalized book, your sister can live out all her Jane Austen fantasies.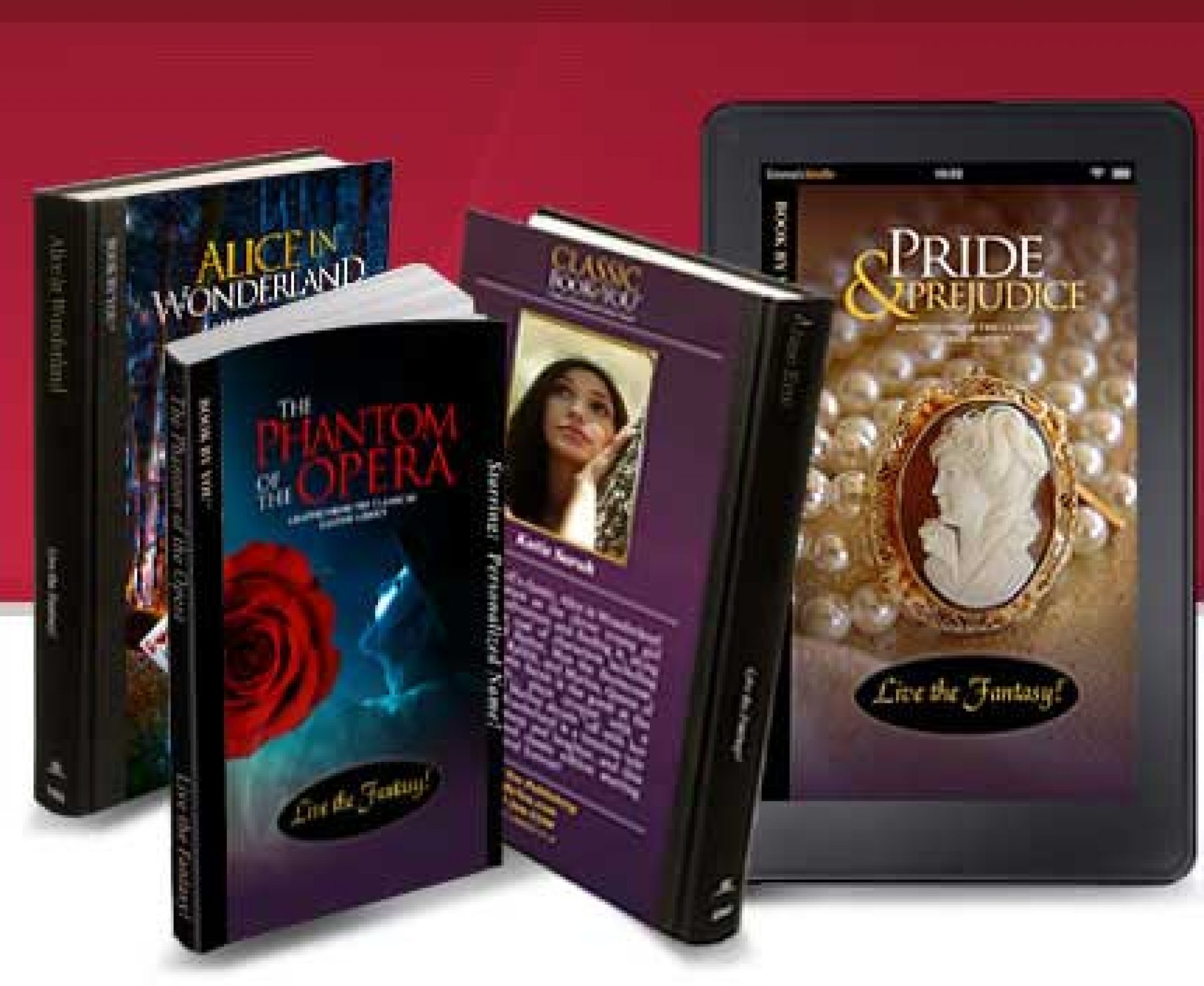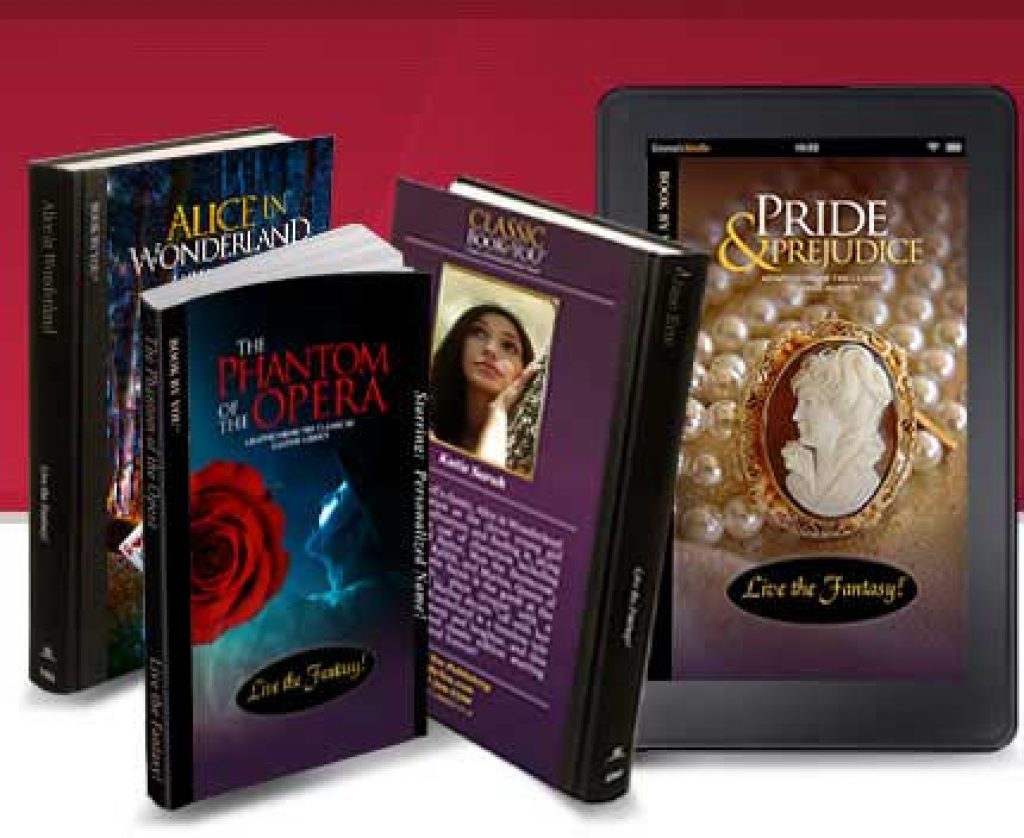 Related: Gifts for Book Lovers
Personalized Wooden Recipe Book
Food brings families together. If you're looking for a personalized sister gift that is sentimental and useful, this gorgeous handmade recipe book with an engraved wooden cover fits the bill.
You can choose from different engraving styles, different types of paper, and three sizes to create this totally unique sister gift that's sure to become an instant family heirloom.
Related: Gifts for Chefs and Food Lovers
Personalized Wine Chiller
Say "chill, sis" in the classiest way possible with this sparkly personalized wine chiller. The handmade durable stainless steel insulator includes hand-hammered detail and looks like something you dropped an entire paycheck on but it is incredibly affordable. The very chic monogram is classy and classic.
Personalized "Last F**k" Candle
You know your sister and when she has reached that absolute last f**k. Give her this 9 oz. soy candle to bring a smile when things are rough. Choose from a variety of scents she's sure to love, like cinnamon vanilla or crème brulee, and add her name, so there's absolutely no doubt whose last f**k is on fire.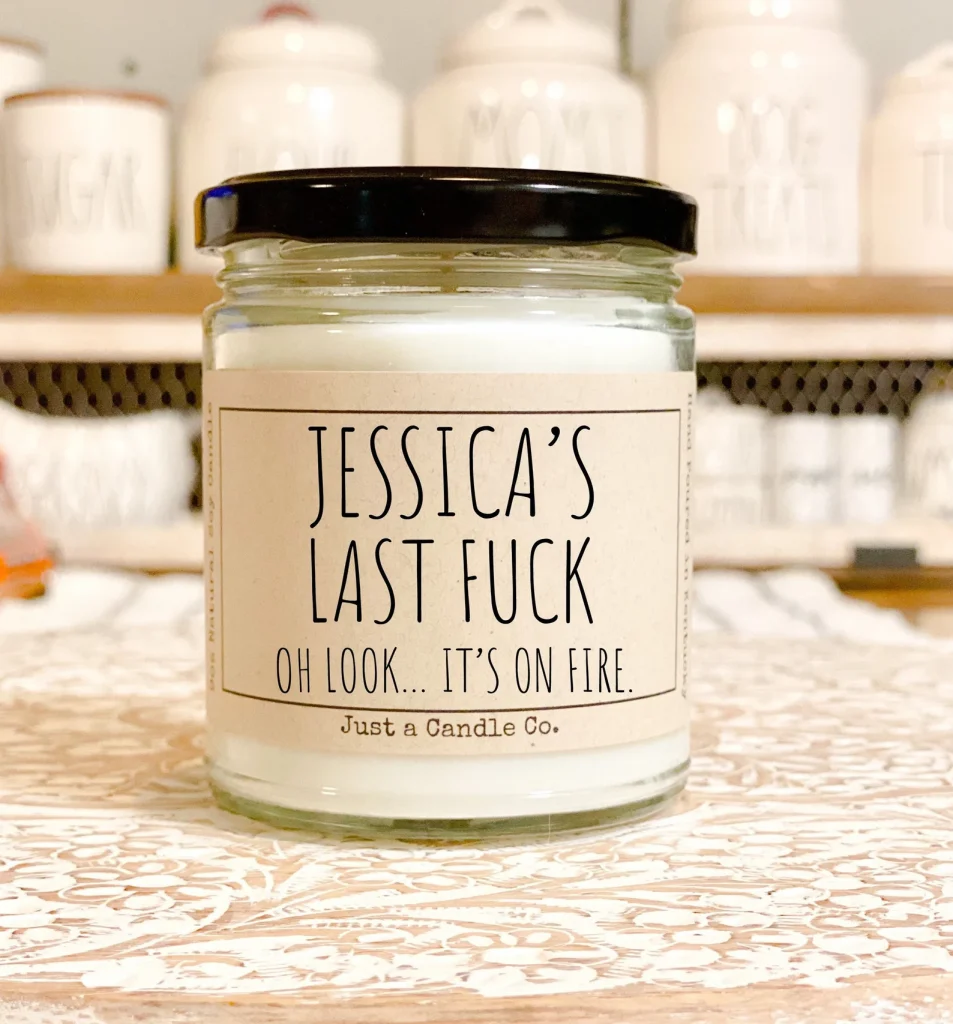 Personalized Leather Wallet
If your sister has finally grown out of the "throw it all in the bottom of the bag" stage — or if she needs to — this stylish leather wallet is a gift that will help keep her organized.
It includes three bill pockets, 16 credit card slots, and a convenient ID window. It's only about eight inches long. Have it engraved with her name, an inspirational quote, or a short personal message for that special touch.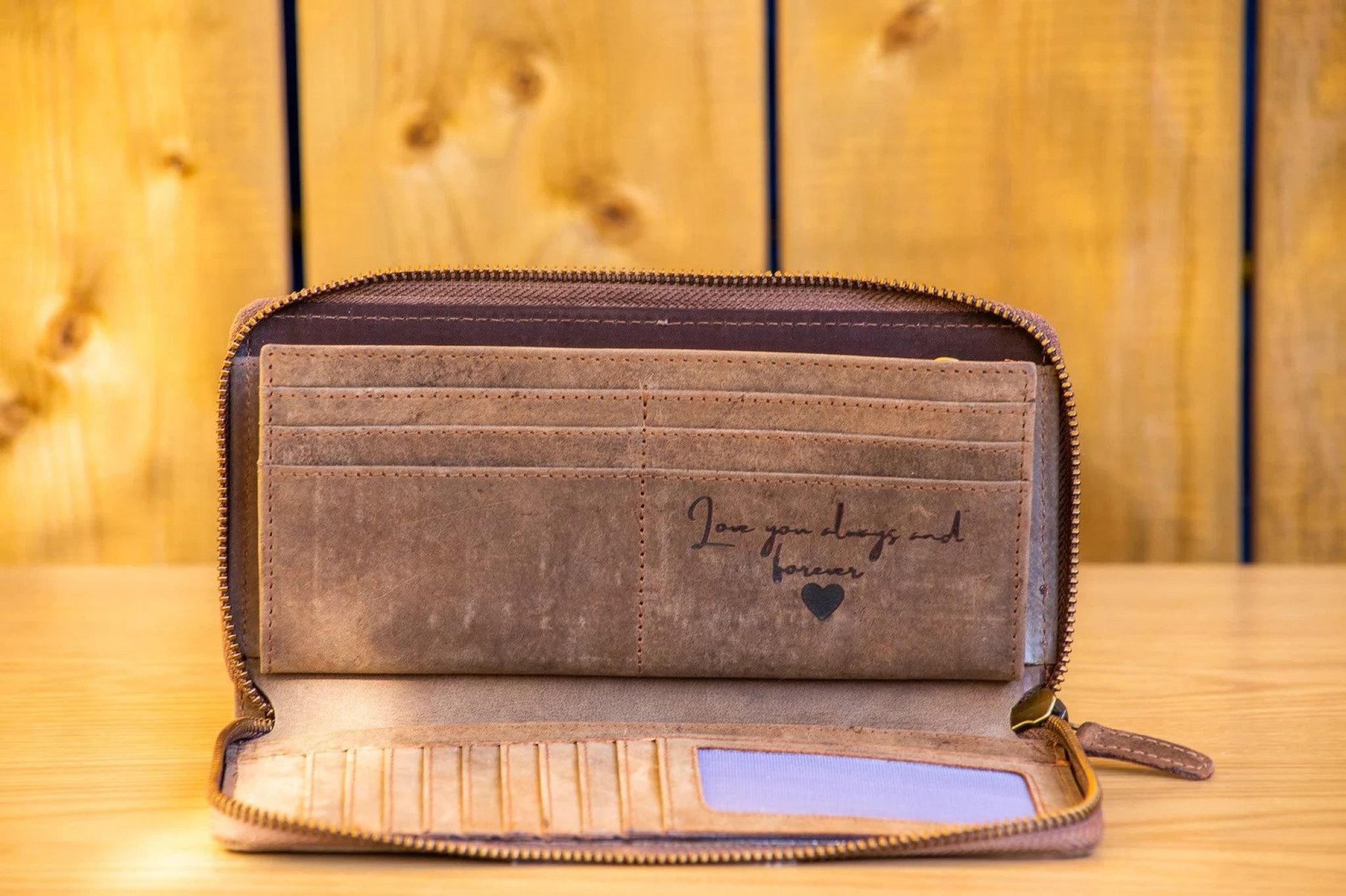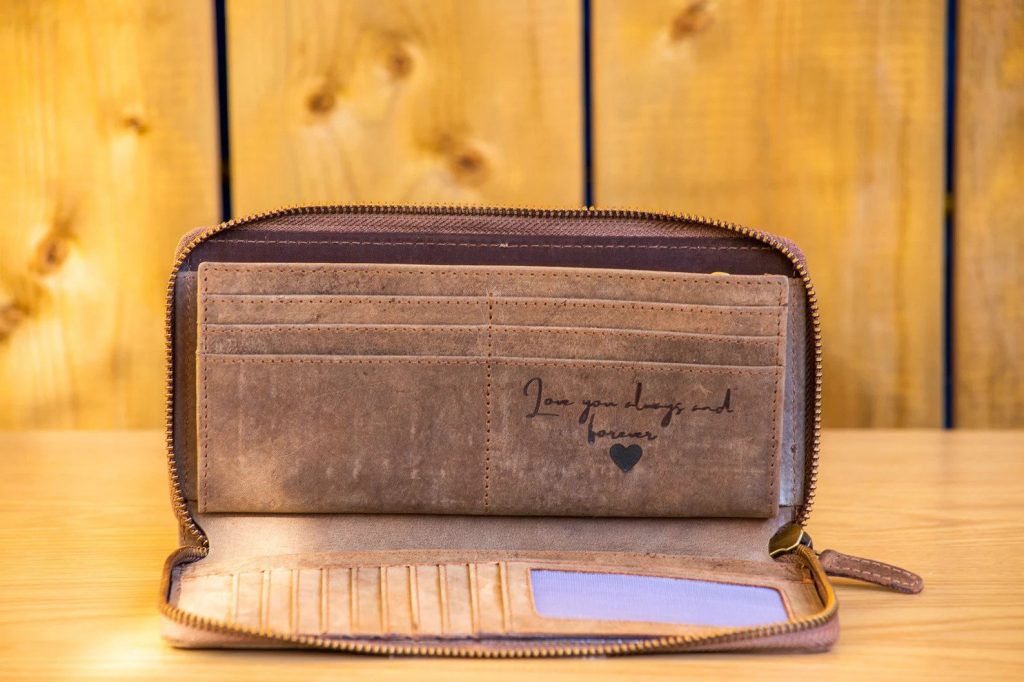 Personalized Yarn Bowl
If you don't know what a yarn bowl is, you probably don't own even one knitting needle. How dare you? But if your sister loves to crochet or knit, she will love a handmade pottery bowl with her name on it. The bowl is just the right size to hold a full ball of yarn, and she can store her needles in the holes when she's on a break. Clever!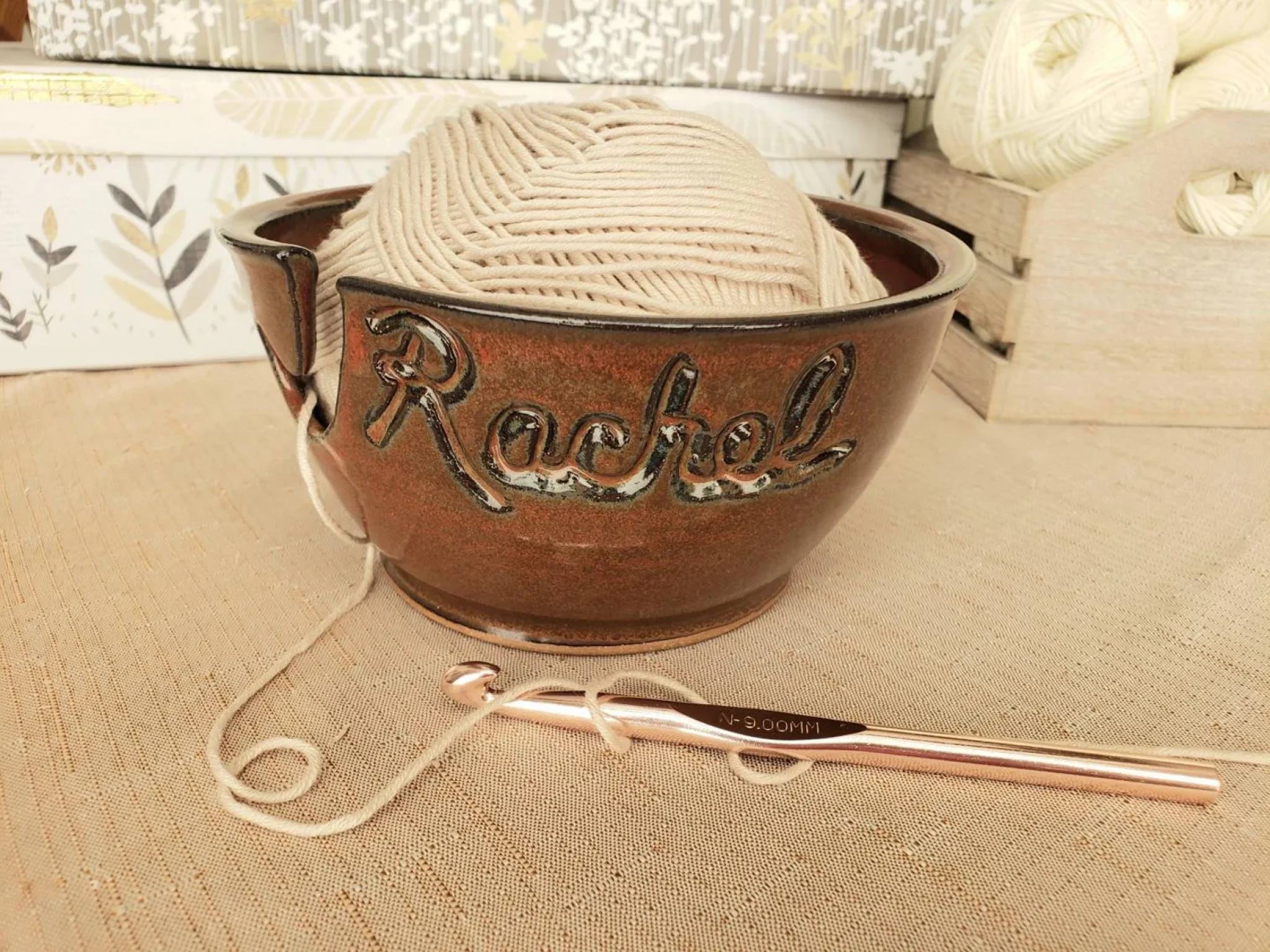 Related: Gifts for Women in Their 70s
Personalized Lollipops
Personalized gifts for sisters don't come sweeter than this! These personalized lollies are great for birthday favors, baby showers, graduation parties, and any other event where your sister deserves to be the star. Or just put your own face on them.
You supply the photograph and choose the shape, size, and number of lollipops you want. It's that easy. These candies are 100% edible and delicious.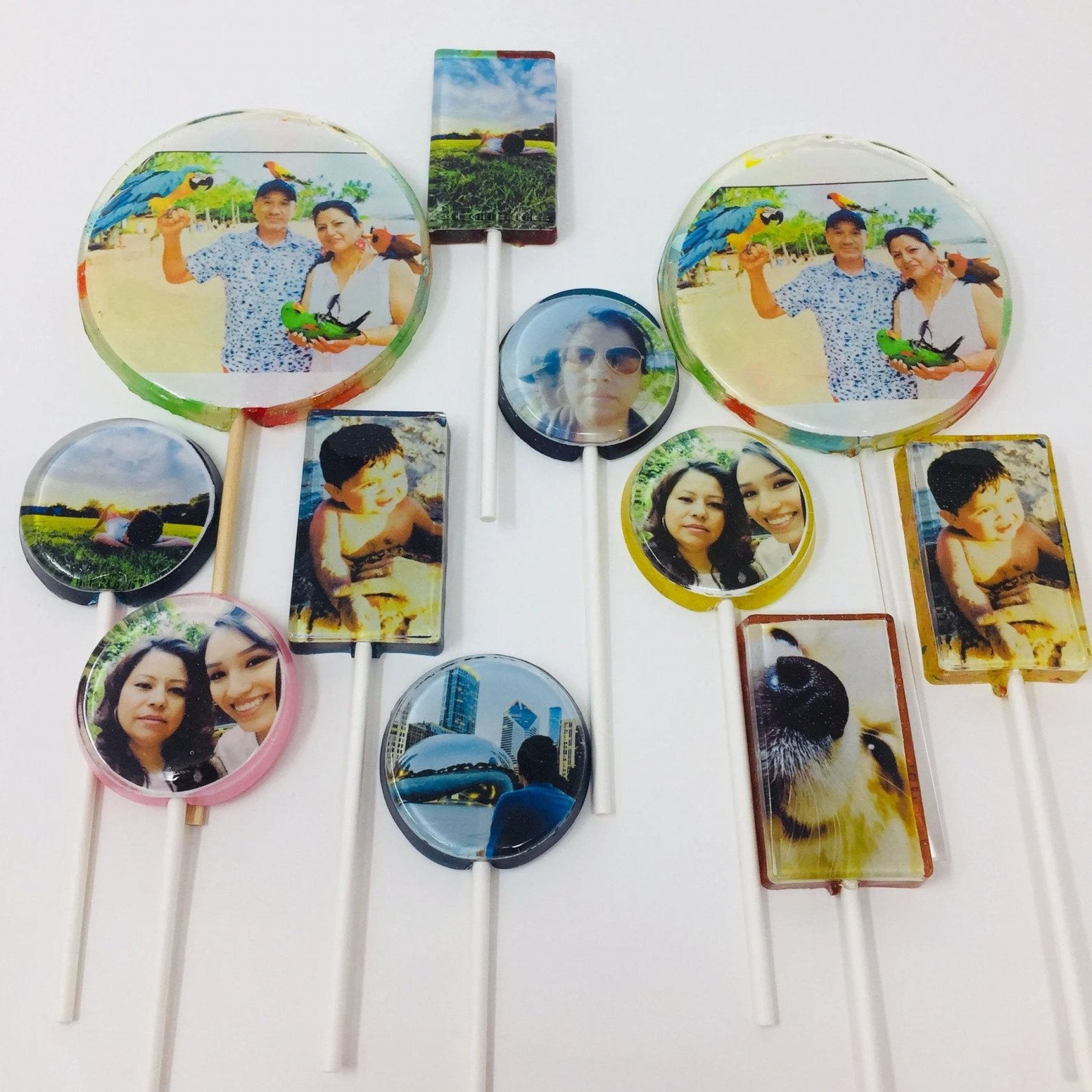 Personalized Historical Portrait
Until time travel is perfected, you can make your history-loving sister's wish come true with a historical portrait. Choose from dozens of eras, poses, and costumes and have her image placed into the template for a fun personalized gift.
You will select a digital file to print out yourself or an image printed on canvas. There are several sizes of printed images to choose from. You can also make it a family portrait or memorialize her Shih Tzu as a Renaissance lady of leisure.
Personalized Sequin Face Pillow
Your young or young-at-heart sister will flip for this personalized 16" x 16" inch sequin pillow with her favorite photograph on the front or put a picture of your face so she can get a laugh. At first, she will think it is just a pretty sequin pillow until she discovers your goofy face is hidden under the sparkle. These reversible pillows come in a variety of colors. They are comfy, cuddly, and fun to touch.
Personalized Etched Bottle of Wine
Does your sister dream of having her own wine label someday? Whether she's a vinophile or just likes to look at herself while she drinks, why not give her a wine bottle with her photo on it?
With this handcrafted sister gift, you can help her celebrate a special achievement or pay proper homage to her favorite sports team. Or put your face on it so she has to look at it while she gets drunk. Choose from an etched image or a personalized full-color label.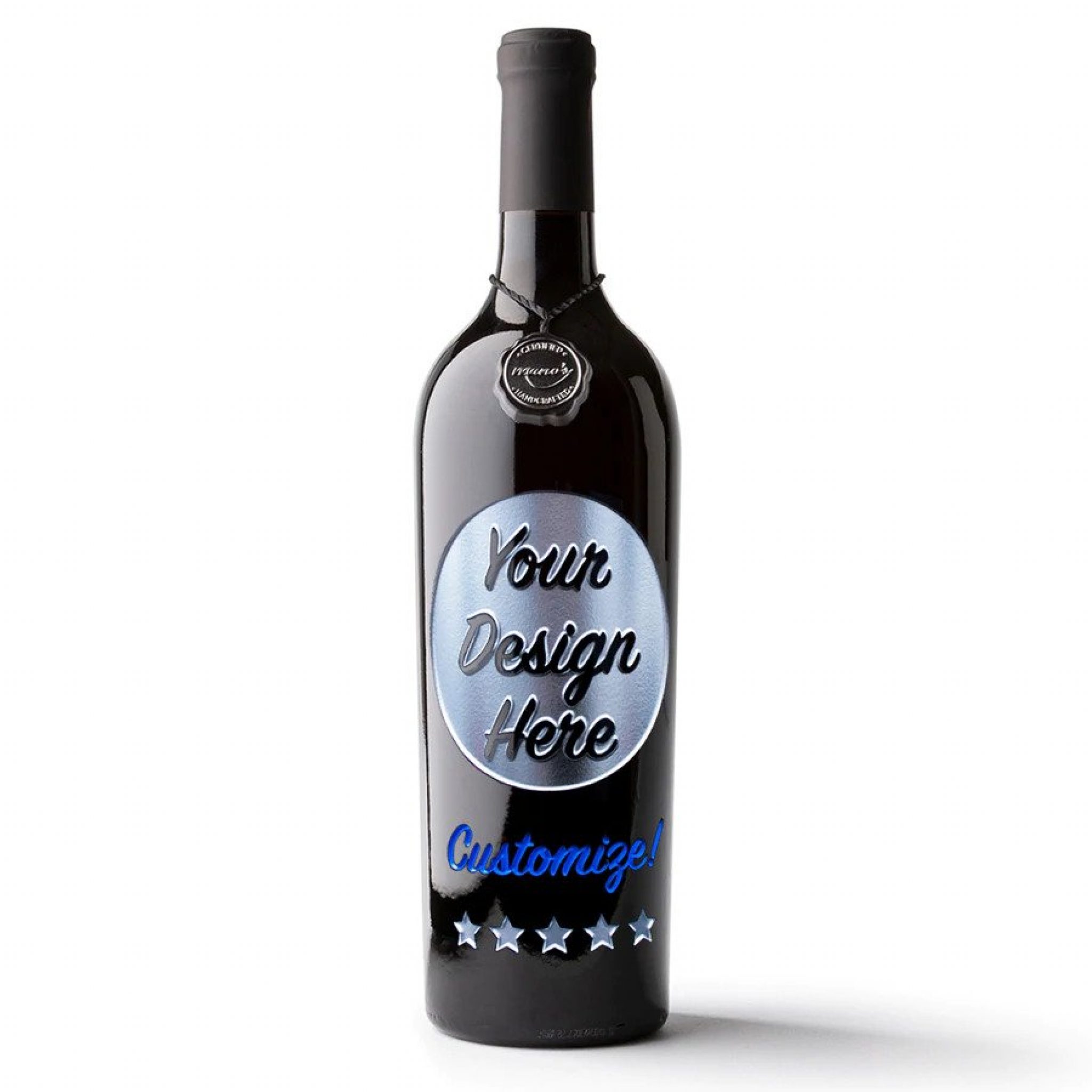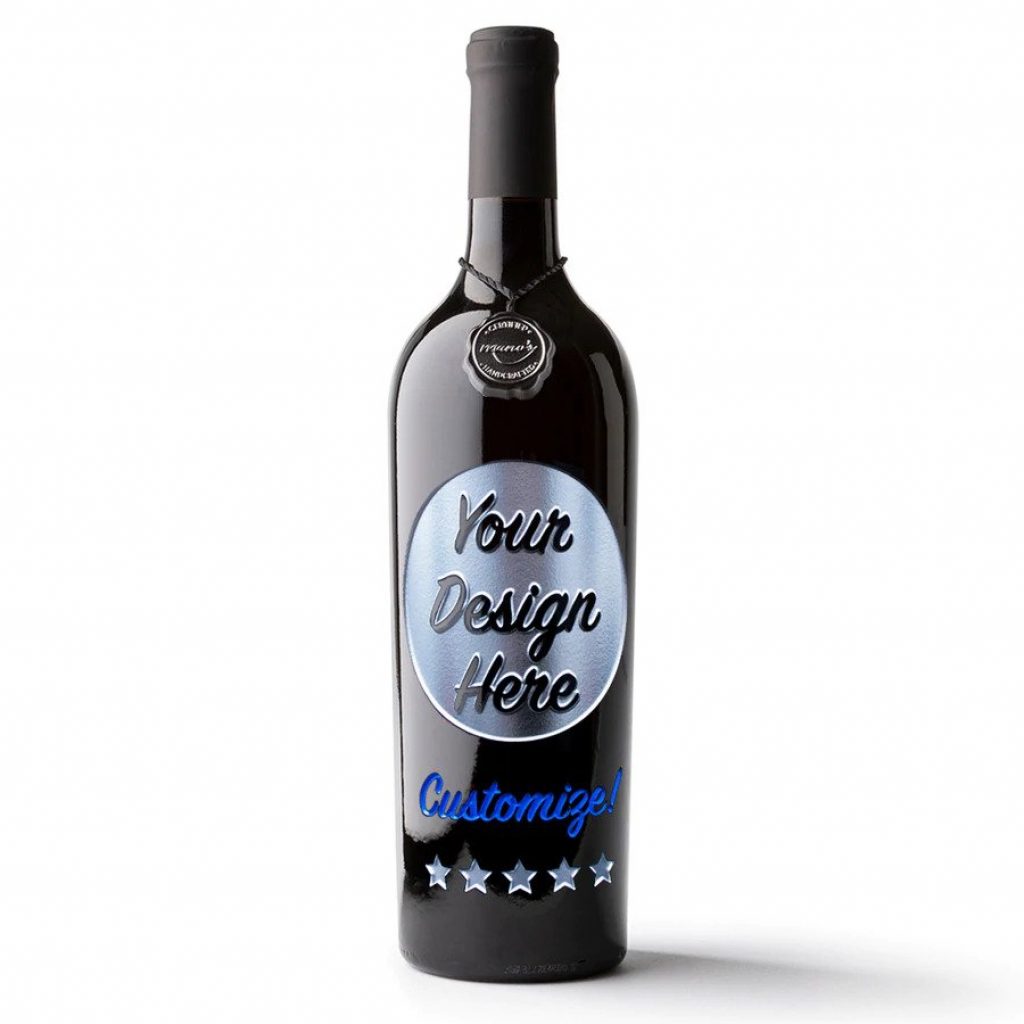 Personalized Sister Socks
Everyone loves getting a great pair of socks as a gift, and sister socks are even better! These personalized gifts for your sister will keep her tootsies warm and make her smile. There are thirteen designs to choose from and three sizes. They are custom made in the USA, and you can put up to three faces on your design at no extra charge so you can include the sister you don't really like.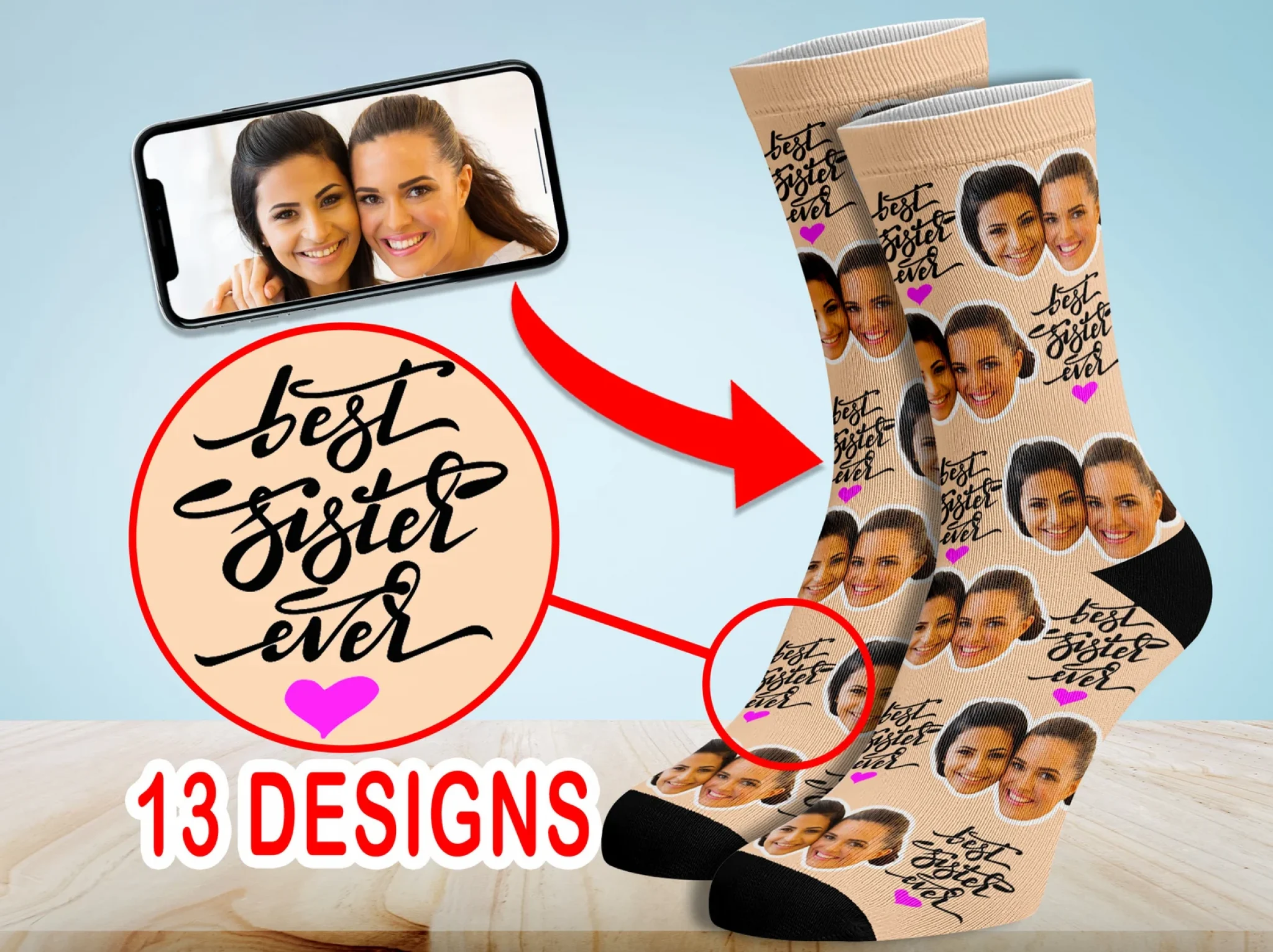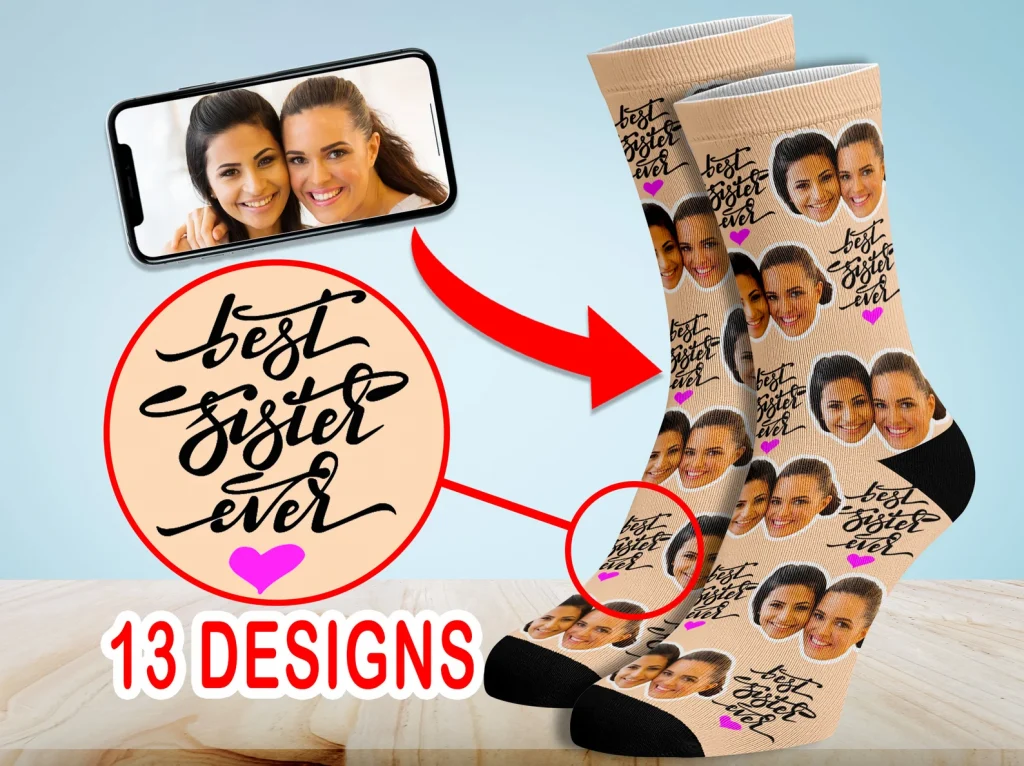 Customized Monopoly
Game night will never be the same after you give your sister this epic customized Monopoly game. You can choose your level of customization that includes a game box with her image on it, personalized game characters, custom properties, and even custom photos on the property cards.
If you thought she was a smug winner before, just wait until you're playing her personal edition.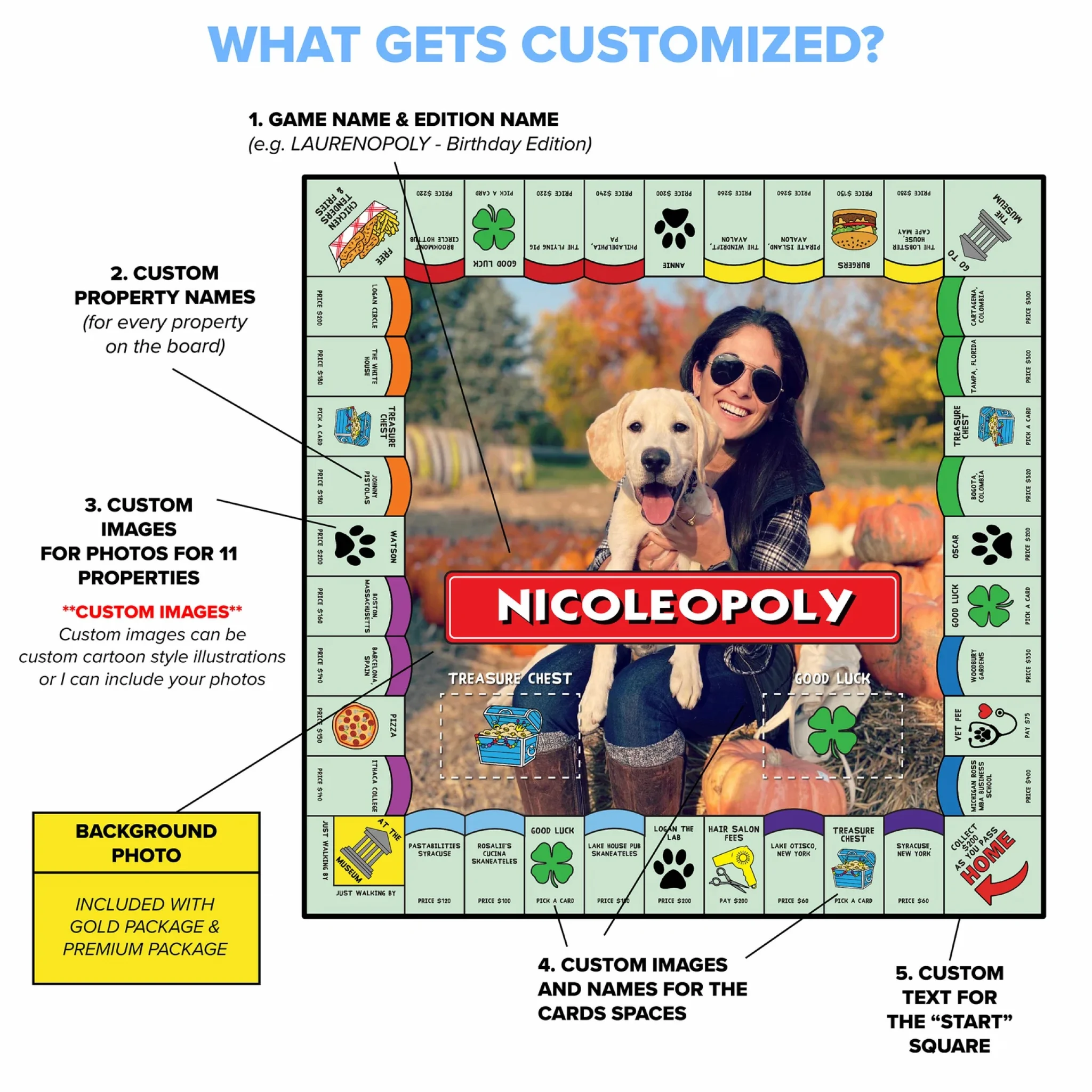 Custom Caricature Portrait
Nothing brings a smile like a caricature portrait. These digital caricature paintings come to you as a digital file that you can print yourself.
All you have to do is send a photo and a short description of your sister, and of course, you can make special requests. Want to commemorate that time she came out of the bathroom with toilet paper on her shoe? The artists at ZK Portraits can handle that.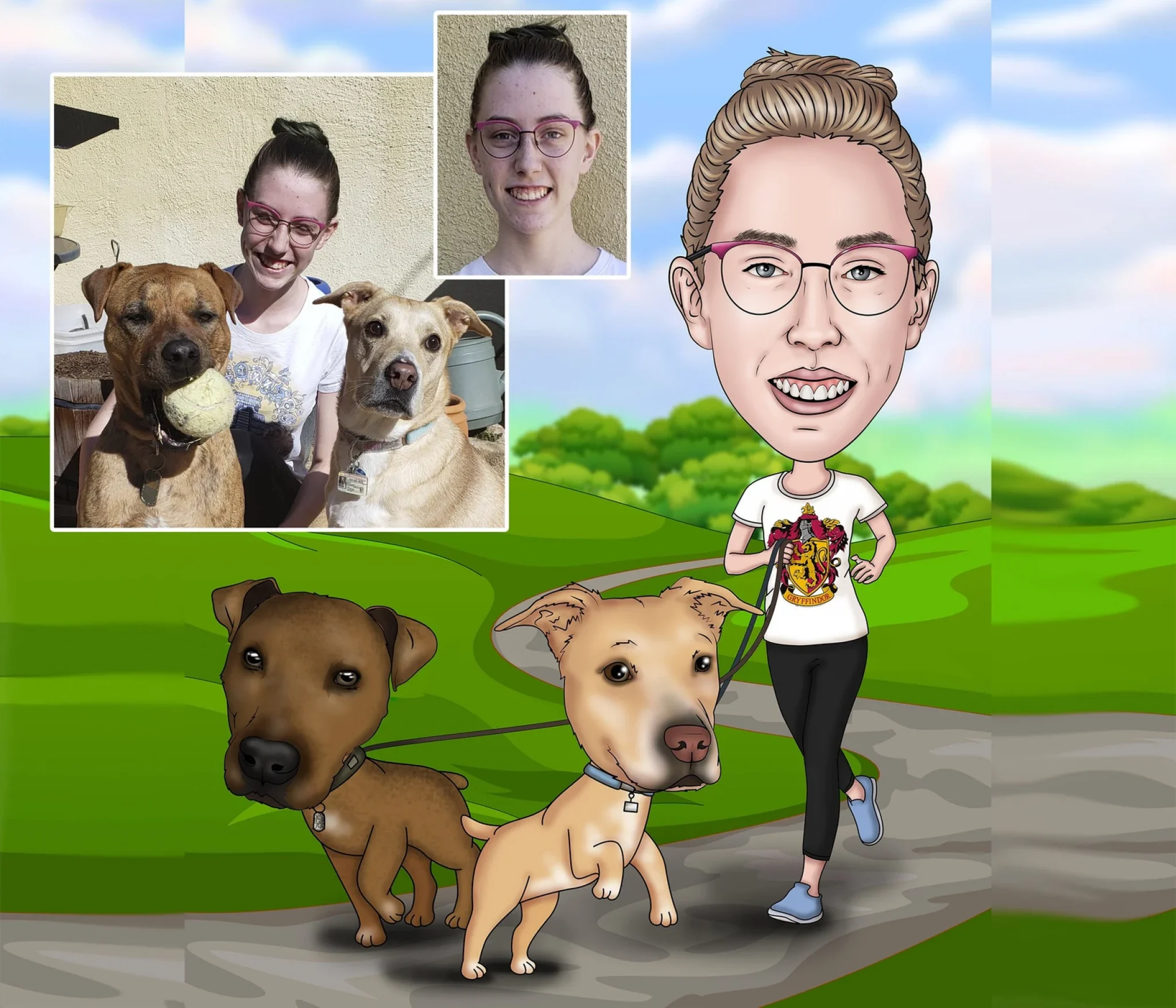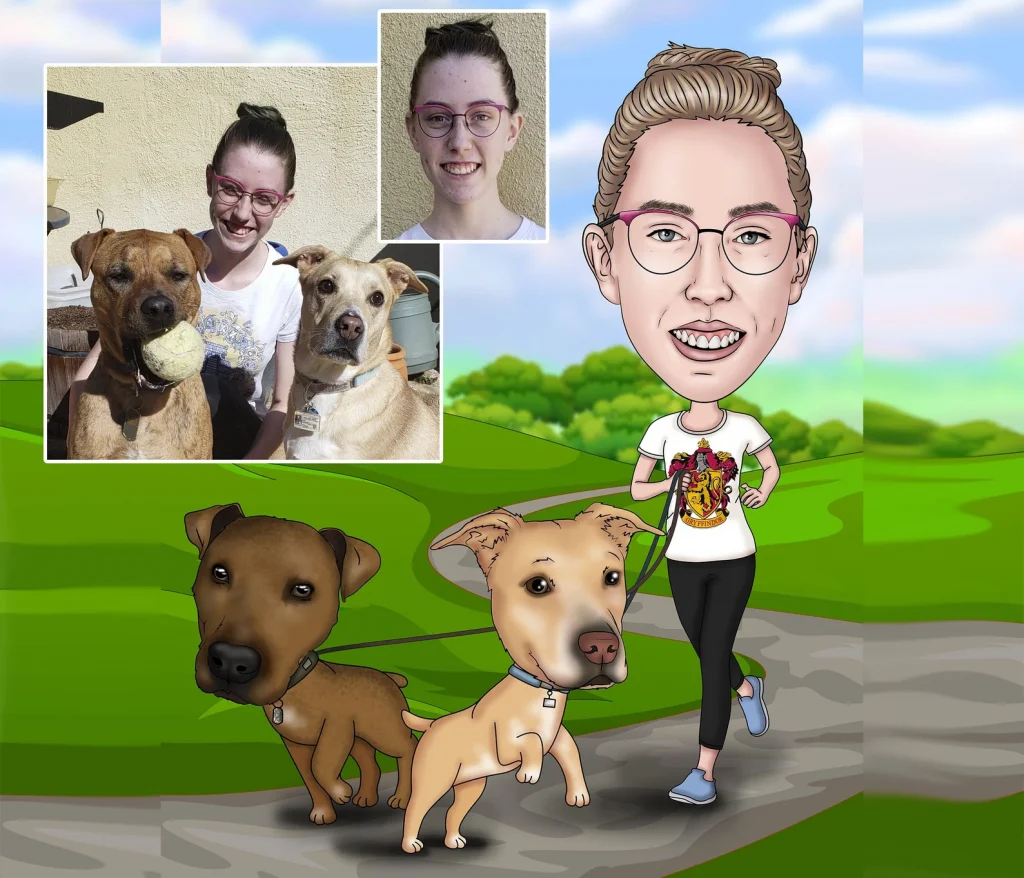 Personalized Chocolate
Tell your sister she's the sweetest thing around with personalized chocolate. Spell out a festive message for her special day or tell her you're sorry for that thing you did. Hey, she's your sister; she has to forgive you. And if she doesn't, you better give her chocolate so she doesn't tell mom. Whatever the message, this rich, delicious chocolate will do the talking for you.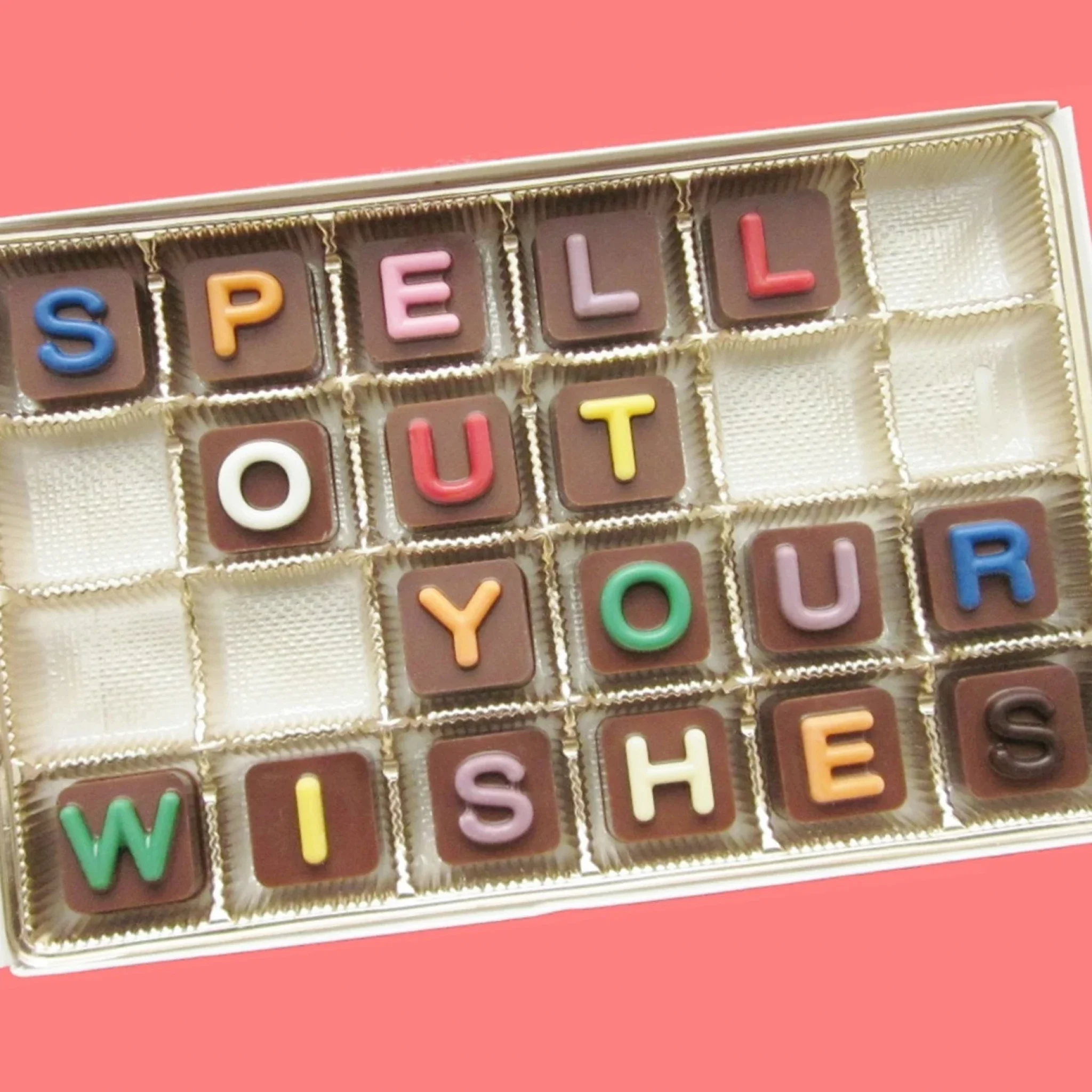 Personalized Wine Glass
Of all of the personalized gifts for sisters, a wine glass with her image may be the best way to say "I see you." These glass wine vessels are hand-painted with safe, non-toxic paints. Portray her the way you see her: brave, beautiful, smart, or a little bit silly sipping her mommy juice. So if you are looking for a funny sister gift that is meaningful, this is the way to go.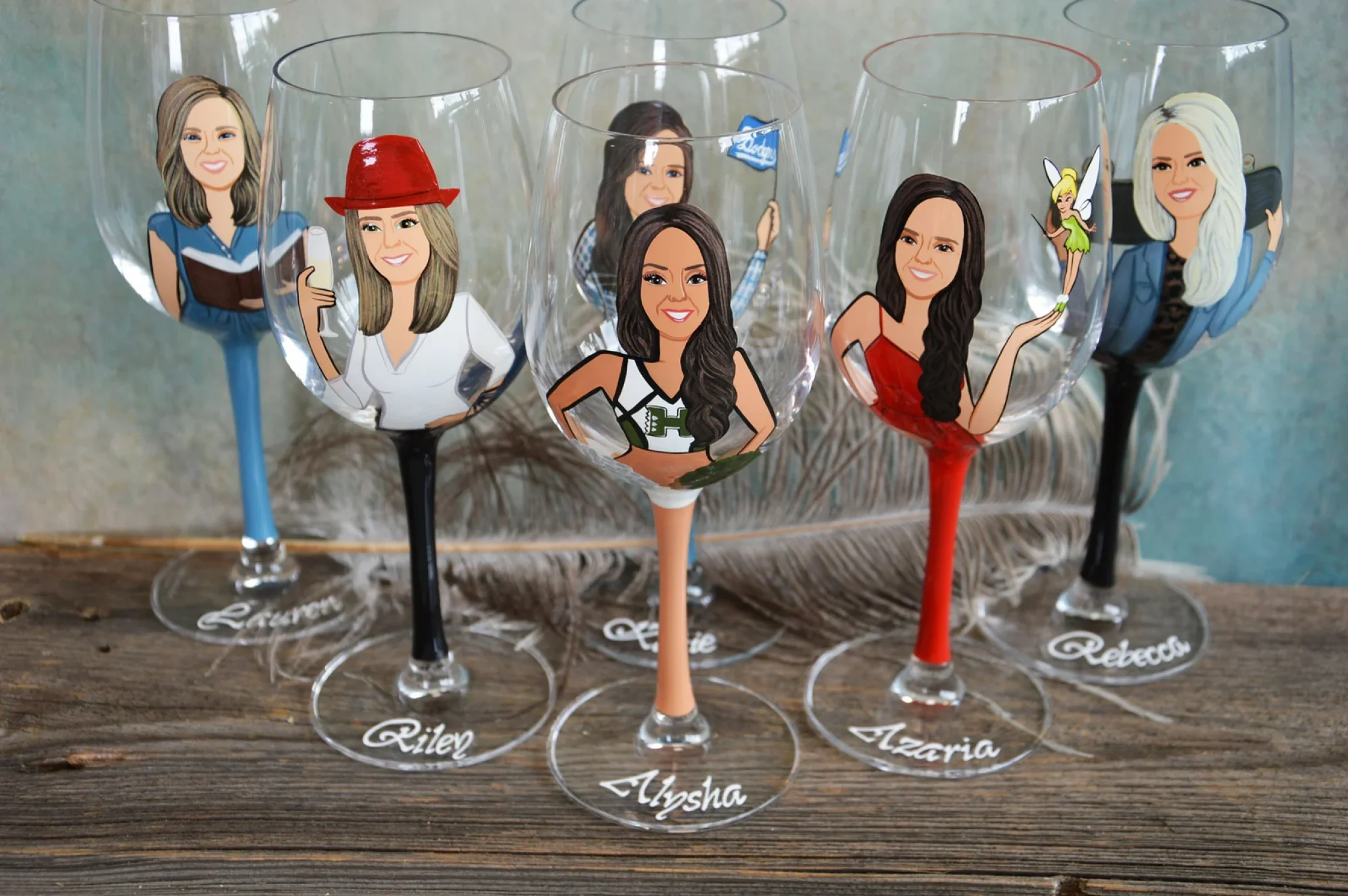 Personalized Cutting Board
A personalized cutting board is proof that gifts for sisters can be classy and upscale while still being 100% useful. If your sister's Insta is filled with pics of fruit-chuterie boards, she'll love this impressive walnut wood board to show off with.
This stylish cutting board is actually made to be used. But if she's more a take-it-out-of-the-deli-container kind of cook, she can proudly display her new cutting board in the accompanying stand.
Monogrammed Wine and Cheese Carousel
So let's be honest, wine-related items are well-represented on this list of personalized gifts for your sister. You know why. She knows why. And that's all we're going to say about it except that this wine and cheese carousel is the mother of them all.
It's a made-in-America, cherry wood mini wine bar, wine glass storage, and a lazy Susan cheese board all in one. What's more, you can have it monogrammed with her initials.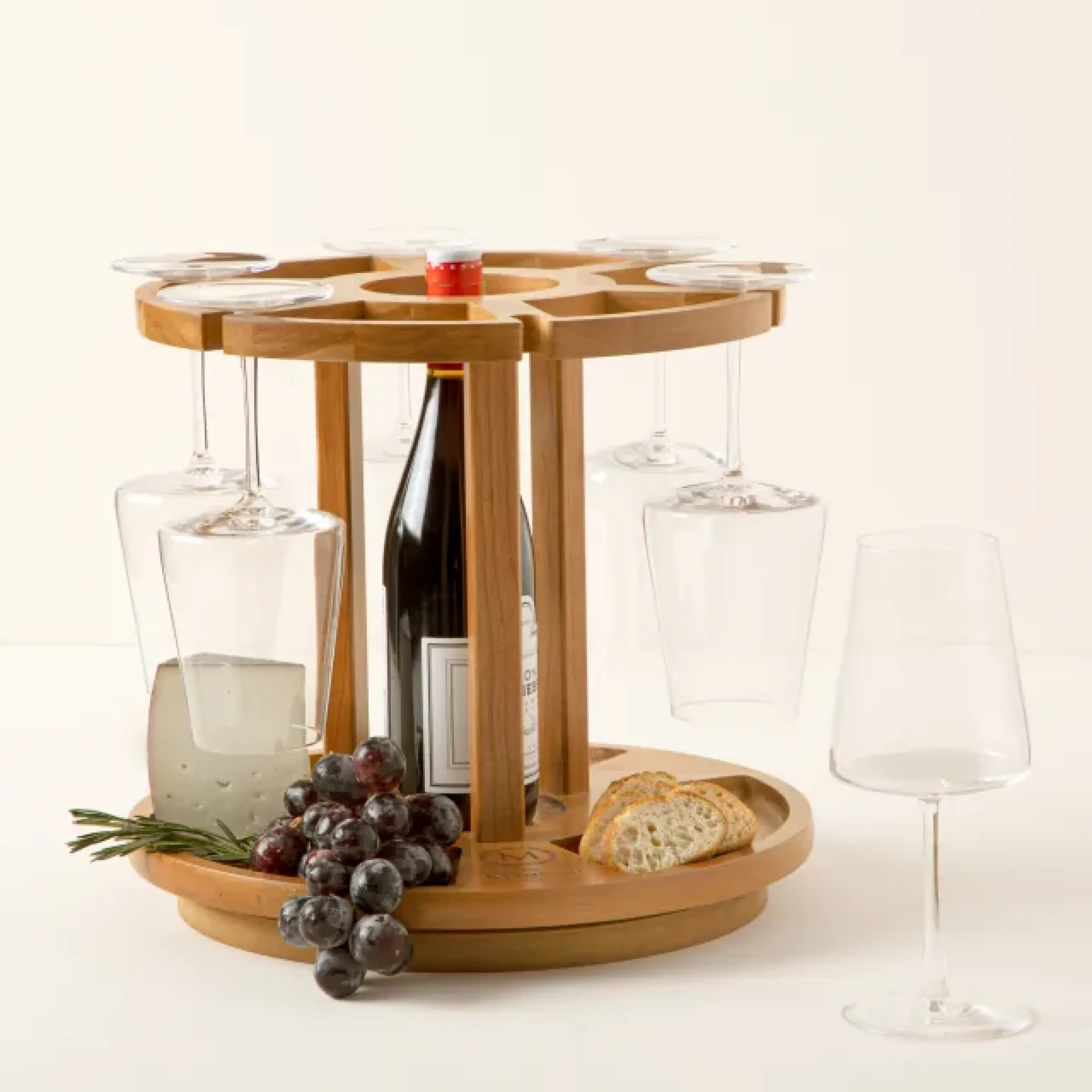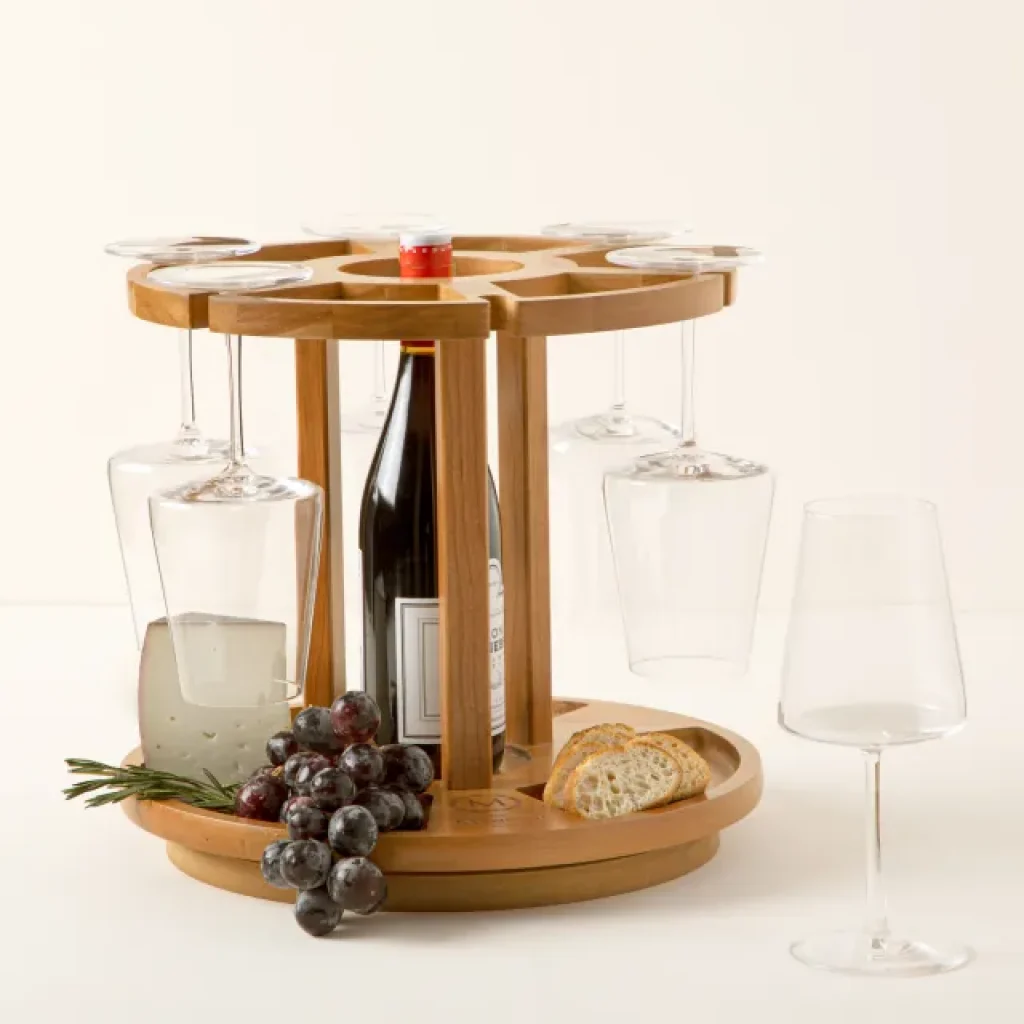 "What I Love About You, Sis" Book
The bond between sisters truly is something special; gifts for sisters should be special too. Not all personalized sister gifts let you tell her how much you appreciate her, but this one does.
You can be sassy, sweet, funny, or sentimental, pour your heart out and make her laugh all at the same time by simply completing the lines in this pocket-sized hardcover book. She'll read it again and again. It's one of the most sentimental gifts for a sister you can find.
Funny Personalized Portrait from Step Brothers
If your sister is a true fan of goofy comedies, she'll love receiving this personalized photo of the two of you in the iconic sweater vest photo from the movie Step Brothers. The two of you can enjoy "so many activities" while admiring this handmade beauty. You can also have it made with her and her dog. It comes complete with a quality wooden frame and a hook for hanging already attached.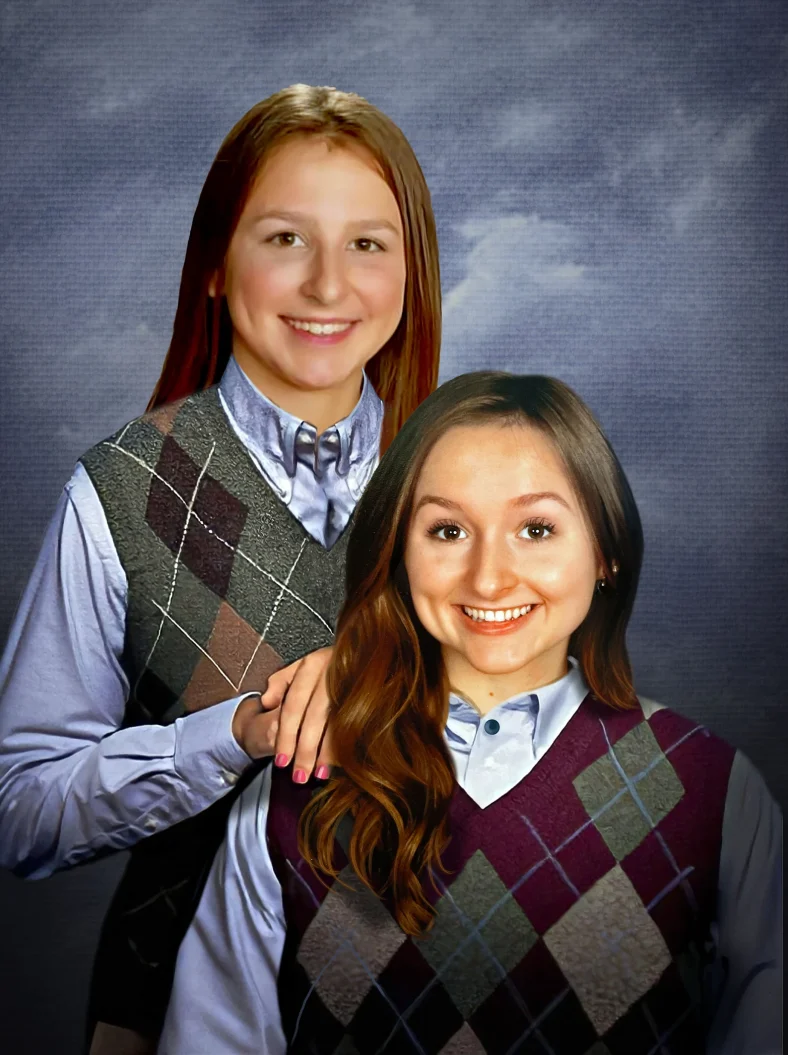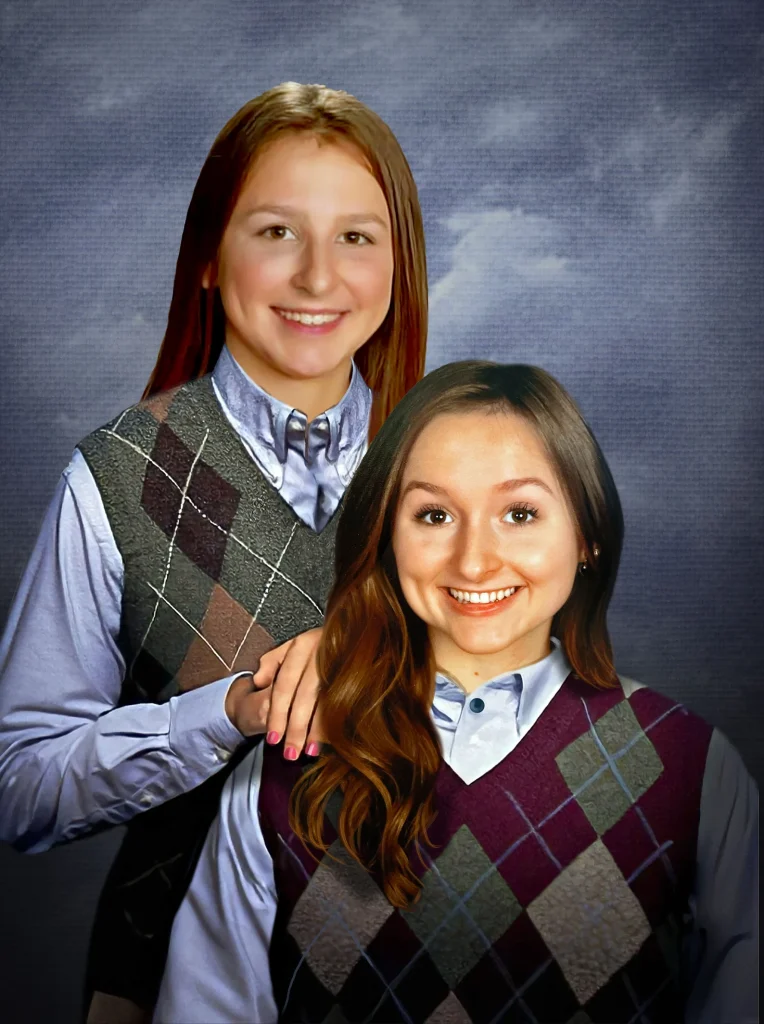 Personalized Face Pillow
Whose face does your sister most want to snuggle up to? It is yours, her pet's, or maybe her own? Whoever it is, this large (36" long and 20" wide) short-plush pillow is one of the most unique gifts for sisters you'll ever find. Make her laugh with a funny photo or touch her heart with something sweet — it's up to you. It's one of the funniest personalized gifts for sisters you can find.
Custom Tim Burton Portrait
If your sister's favorite holiday movie is "The Nightmare Before Christmas," a Tim Burton-inspired family portrait is the perfect gift or have it made with all of your siblings. You can select from one of the provided iconic backgrounds or, for an extra cost, have a custom background created for you.
With the option for up to five people — or five pets — you can include the whole family. You will receive a digital image that you own and can print on a poster, shirt, mug, or whatever suits her gothic fancy.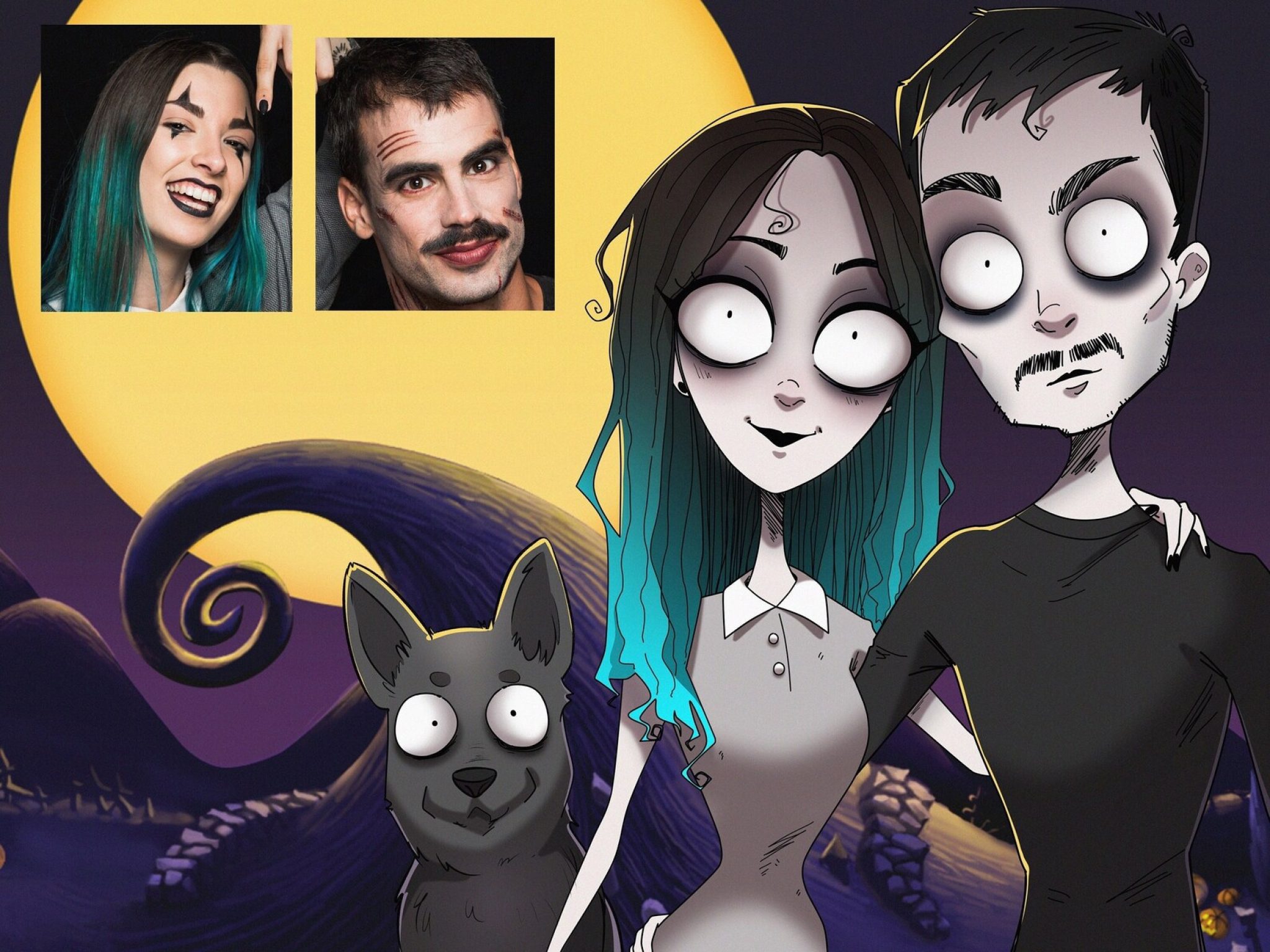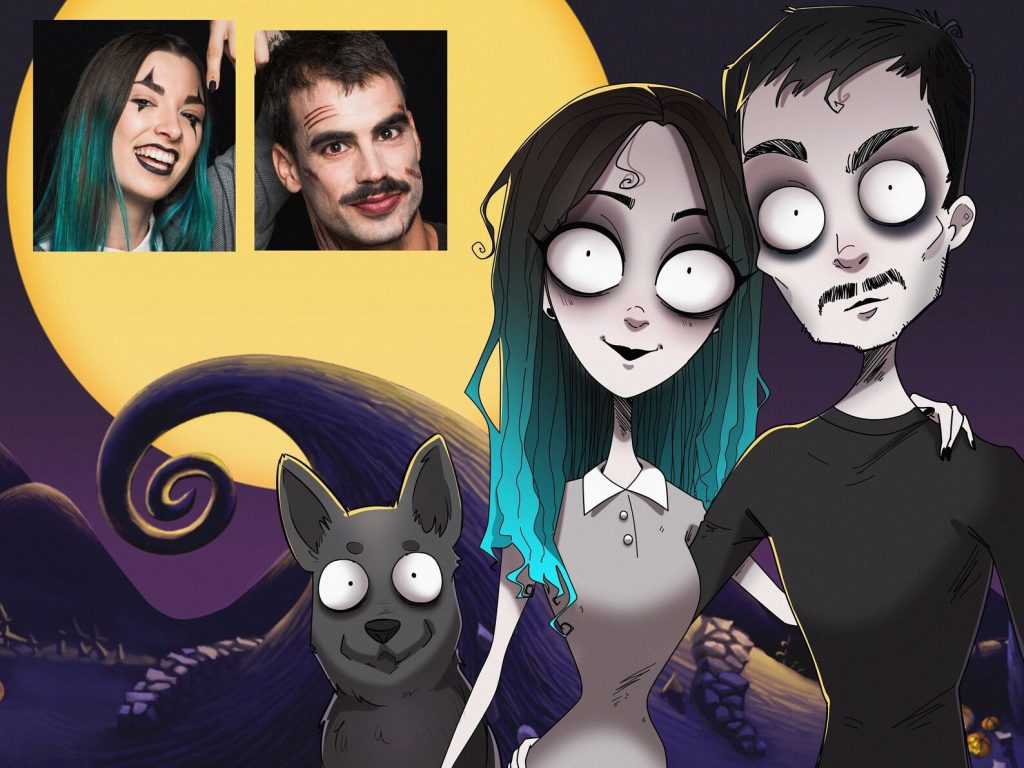 How do you pick the best personalized gifts for sisters?
Personalized gifts for sisters can be special, treasured items she keeps and enjoys for years to come. They can also be funny and silly and refer to an inside joke that only the two of you get.
Take time to consider her personality, hobbies, and favorite activities to help you decide which type of personalized gift would suit her best. With so many fantastic options to choose from, you could buy a whole year of gifts in one sitting. And while you're at it, maybe a few things for yourself as well.
Follow us on Facebook for daily updates of unique gift ideas!