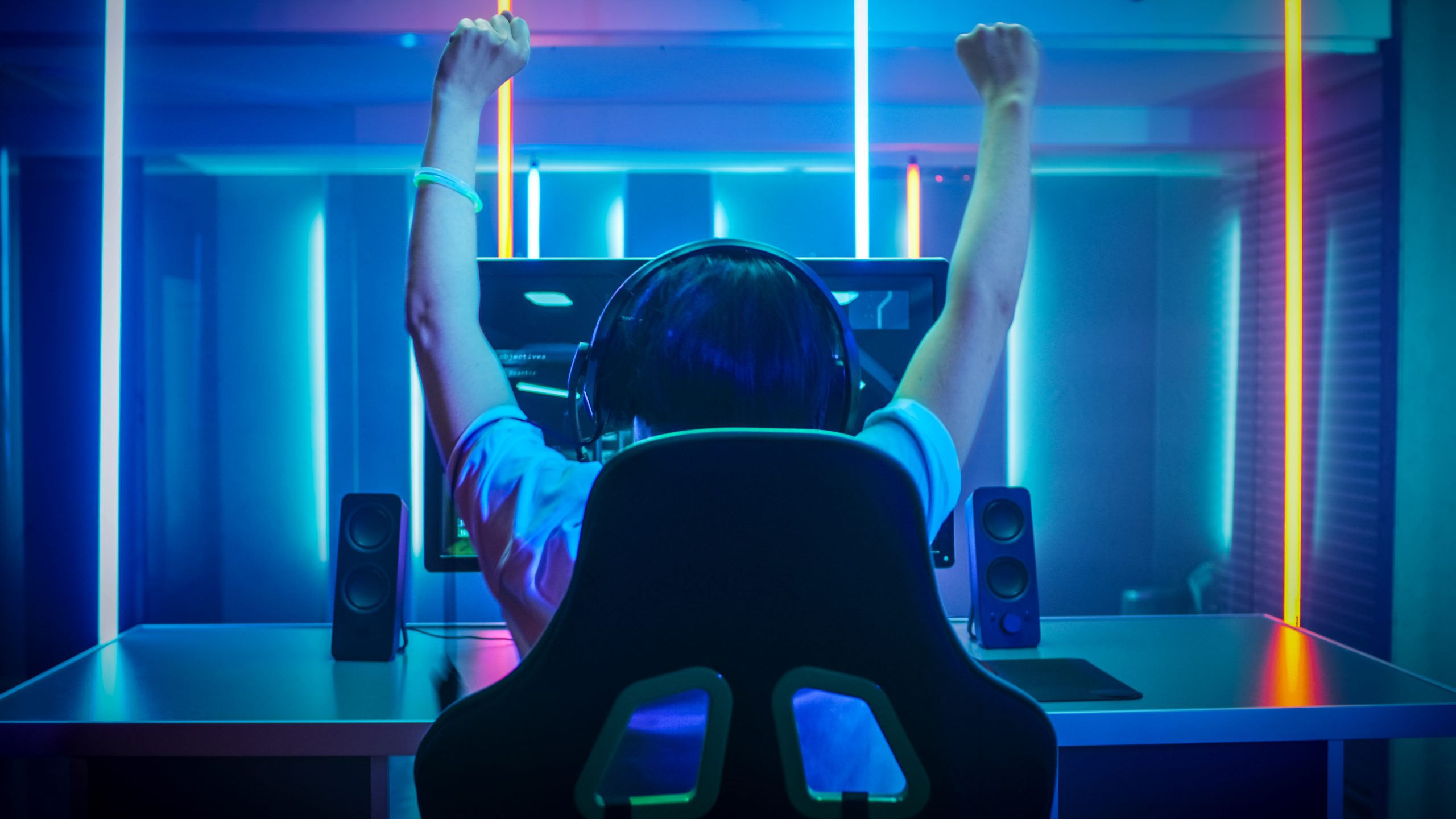 Chances are you know someone who's heavily into the gaming world. If you don't, such people are easy to spot. You might notice a slightly hallowed look around the eyes, a detached sort of presence, an itchy trigger finger, and a skittish sort of behavior. Some gamers are even more normal than that.
But because they're not seen as frequently in the wild as other people like accountants, baristas, politicians, or meter maids, it can be a trying task to find gamers the perfect gaming gift. Theirs is a mysterious and enchanted world, replete with adventure and fun, but hopelessly barren of department stores. You have to guess which best gifts for gamers will bring a ray of sunshine to their usually backlit existences.
Stop beating yourself over the head with Hammer Bro's mallet. (That's a Mario Brothers reference, to prove that we have researched this topic thoroughly.) This gaming gift guide lists several unique gifts that will brighten your favorite gamer's deep, dark, entirely electronic worldview. You may even get a thank-you or at least a vaguely appreciative nod. Read on for the best gifts for gamers you can find.
---
THE BEST GIFTS FOR GAMERS THAT IMPROVE GAMEPLAY
We don't need to tell you how ruthless the gaming world is. If one falls short, they risk defeat, discouragement, and disappointment. All those sad factors can result in the worst, most dangerous effect of all: embarrassment. Here are the best gifts for gamers that could turn your favorite gamer into a brutally effective winning machine that shows no mercy.
J+S Vision Blue Light Shield Gaming Glasses (under $30)
Spending more than half your life staring at video game screens can have a terrible effect on your eyes. They can get dry. They can lose their focus. They can get sore. They can get gouged if you get a little too much into Mortal Kombat. These glasses designed for video games and computer use blocks 90% of the retina-crushing blue light that screens emit, protecting your eyes so they can ogle for another day.
Blade Hawks Extended Gaming Mouse Pad (under $30)
This gargantuan mouse pad, over 2½ feet wide, crushes all those puny, single-purpose mousepads in your parents' attic into utter humiliation. It's backlit so it bathes your gaming experience in colorful, healing light. Its extra length gives your avatar the complete range of movability and functionality he or she may require. It's rubberized on the bottom, so it never slips around on the desk. It's insulting and weak that you would even consider any other mouse pad.
GTRACING Gaming Chair with Footrest and Bluetooth Speakers
Making sitting in the same position for hours at a time more — uh, comfortable with this ergonomically superior chair. This chair dwells on the vanguard of swivel technology, with speakers for playing Bluetooth-connected music devices, adjustable-height arms, a headrest, and cushion, up to 165 degrees of backward reclining, and the lumbar support all gamers crave. Now you're sitting down with power!
AOC 24″ Curved Frameless Gaming Monitor
This ginormous gaming monitor is so advanced and all-consuming that it makes all previous gaming monitors look like broken screen doors. It comes in sizes 24-34 inches across, with a gentle but perceptible curve for total game immersion, height-adjustable, relentlessly smooth, and responsive with a 240 Hz response rate, and a little bit of a bully. Purchase three of them to surround yourself in a video cradle of gut-busting action, blocking out your family, friends, roommates, and first responders.
Couchmaster Couch Gaming Desk for Mouse & Keyboard
Hunching is a major issue in the gaming universe. Gamers must bend over to operate consoles, mousepads, and keyboards, and over time this repeated action turns them into slouching, spine-compromised oldsters. The Couchmaster changes all that. It's a portable desk with a wide surface for all your gaming needs, and USB connectivity so you can control everything while leaning back on your ergonomically sound couch. It also has comfortable armrests and a beverage holder. It's the best and safest way to be immobile.
Razer Tartarus Gaming Keypad (under $80)
Gaming keypads, if you're one of the uninitiated, are auxiliary keyboard units that exist alongside bigger keyboards usually employed in video gaming. These keypads give your fingers that extra level of pressing agility. You can also program macros for the keys to perform complex gameplay functions. The latest Razer Tartarus gamepad has 32 programmable buttons, a soft-cushioned membrane, and attractive backlighting. We haven't the slightest idea how to use it, but there's a decent chance you have a gamer friend who's positively slobbering for one.
Americ Empire Pro Fingerless Gaming Gloves for Sweaty Hands (under $30)
Baseball players need gloves when they bat. Hockey players need gloves when they swat. Landscapers need gloves when they weed. Why shouldn't gamers have the same manual protections as those mere mortals? The Americ Empire gloves protect gamers from the remorseless ravages of hand perspiration, with improved grip control, high stretchability, precision fingertip and thumb openings, and a logo. Don't let your Animal Crossing skills fall victim to a stray bead of hand sweat. It's a jungle out there.
GamerGrip Total Grip Solution (under $30)
It's hand lotion and antiperspirant for gamers. That's what this is. Just a few squirts on your palms and fingers will keep your fingers dry and healthy for up to four hours of hardcore gameplay. Your controller will never fly out of your hands just because you were too inconsiderate to dry up before hitting the power button. Excess moisture will be a thing of the past. Tell hand sweat you've got other plans. Use this lotion to death.
X Rocker Pro Series H3 Black Leather Vibrating Floor Video Gaming Chair with Headrest
Are you still using the sofa, the floor, or — heaven forbid — dining table chairs for sitting down and playing video games? What are you, some kind of savage? You need this rocking chair if you want to accomplish anything at all notable in the field of gaming. It's made of leather, it's got speakers for a complete media experience, it vibrates at crucial points in the game, and has full connectivity with all major gaming consoles. Frankly, we can't even look at you unless you're in this chair.
Redragon Wired Gaming Keyboard, Mouse, Mouse Pad, and Headset Combo (under $50)
Imagine yourself running around the floor of your favorite big-box retailer, desperately scrambling to obtain all the items you need for quality gaming. Maybe the keyboard is on a different shelf than the mouse. Maybe the mouse pad is on a separate shelf from the headset. Maybe each item is located in — gasp! — different ends of the shopping aisle! Do you really need this helter-skelter method of obtaining gaming equipment? Hell, no. That's why this gamer gift has all the items a gamer needs in one box.
Homall Gaming Desk 44-inch Computer Desk Gaming Table
Ostensibly, this is a computer desk. But there's no reason it can't be used as a gaming table. The manufacturers insist that it can, and we're in no position to deny them. Actually, they're telling us it was designed for use as a gaming table. It has plenty of room for a 40″ monitor, games, and all of the junk that goes along with gaming. It has a headphone hook, cupholder, and it is extra sturdy in case you get super excited about winning at Fortnite and knock the desk. So, fair enough… it is a gaming desk. But we're just saying, from a distance, it looks just as much like a computer desk as it does a gaming table. We've provisionally agreed with them that we won't argue the point for the sake of promoting it as a gaming table. But, for the record, it's also a computer desk so it has a dual purpose.
Foscam Webcam with Microphone (under $30)
Only the highest tech went into this state-of-the-art webcam, perfect for communal gaming environments in which human contact may be advantageous. With 1080p video capture resolution, outsiders will be able to gaze upon your countenance for inspiration. With a functional microphone, they'll be able to hear the authoritative gloss of your human voice. It's not just for gaming, though: It's also for video conferences about gaming, video messaging with families and friends about gaming, and court depositions related to criminal charges committed during the act of gaming. It's flexible like that.
KLIM Chroma Rechargeable Wireless Gaming Keyboard (under $70)
A keyboard with three distinct zones of intensely glowing light, this rechargeable, USB-powered device will thrust your gaming experience from a tame, practically meditative effort into a full-throttle, edge-of-your-seat, nearly unbearable encounter with danger, risk, and eternal destiny. Its fast-membrane keys will give you little time to consider the ramifications of what you're about to do. Its quiet keystrokes will come upon you as a thief in the night. Its extended battery life will guarantee its continued operation long after you've shed this mortal coil. We suggest procuring one of your own.
UtechSmart Venus Gaming Mouse (under $40)
Most computer mice are docile, tempered creatures. They serve a few core functions, then leave you alone. This mouse, on the other hand, will haunt your dreams. It's calibrated for gaming functions, with a terrifying grip, a take-no-guff directional wheel, a threatening 12-key button panel on the left-hand side, and more attitude than a New York cab driver. The idea of using any other mouse for your gaming system reeks of desperation and feebleness. This mouse takes no prisoners. It puts you right into the middle of the action and frankly doesn't care if you emerge all in one piece.
BENGOO Stereo Pro Gaming Headset (under $40)
Let's talk about your gaming audio. Is it coming out of a pair of 2-inch speakers that would barely work on a local phone call? Is it being emitted into a wimpy pair of earbuds that could be easily confused for M&Ms? Then you've got a world of problems that only this stereo gaming headset can solve. It treats external audio ambiance like a disobedient child. It has a microphone so nobody will question your diction. It's got a frequency range that covers subatomic movements, and an LED light simply because it can. All other headsets are hereby canceled. Feel free to stamp on them.
---
THE BEST GIFTS FOR GAMERS THAT IMPROVE A GAMER'S LIFE
As with fashion, politics, and fast-food service, sometimes it's more important that a gaming environment looks good. Or just has enough fun features to distract gamers from the fact that they're falling way behind in Kirby Star Allies. Or at least is set up so they don't misplace their headphones or stumble around in the dark. Here are some game-related accessories, lights, and auxiliary items that won't make them play better, but might make them feel better.
Nintendo Labo Variety Kit (under $50)
Nintendo Labo is designed to bring a modicum of thought and execution outside the pixels. Young players can build their own games, make their own controllers, debug their own programs, and play the finished products on a Nintendo Switch console. The Labo Variety kit features five different projects that teach kids the core concepts of designing and building their own video games, covering almost everything except booking hotel rooms for gamer conventions and getting trolled on Twitter.
Mario Kart Live: Home Circuit
This extravagant addition to the Nintendo Switch, simply put, turns your house into a Mario Kart racetrack. You place markers and flag crossings on the floor, then navigate them with a physical-world Mario Kart by remote control via your Switch console. As the Kart bolts around your living room and kitchen, you can watch the race unfold right on your Switch screen. Never before has bumping into table legs or terrifying house cats been so electrifying.
Lootcrate Subscription Box
The Lootcrate box is something of a pop-culture free-for-all, containing a host of valuable trinkets associated with the latest video games, TV shows, comics, and movies. You can specify which video game or comic you want and the box will be tailored for that. A typical shipment contains articles like T-shirts, collectible figures, stickers, books, household items, pins, and buttons, basically any kind of item that offers itself up easily to image licensing and quick distribution. In other words: just about anything. Maybe not crock pots or loveseats, but pretty much anything else.
Kubik Letters "Do Not Disturb" Privacy Sign (under $20)
To be honest, we think the mere sight of you in the thick of a video game issues a strong message in itself that you're not to be bothered. But sometimes you may be behind closed doors, where no one can see you gaming. Next thing you know they'll innocently knock, your concentration spoiled, and your onscreen characters falling to untimely, often gruesome deaths. Avoid that conundrum with this sign to hang on the door of your abode, which indicates whether you're too busy killing to acknowledge the presence of others, or open to brief moments of human contact.
Headphone Stand with USB Charger (under $30)
Everyone knows gamer headphones can't stand up on their own. Try it. They flop over. We've seen the research reports. We trust science. This device, however, allows wireless headphones the support they need to remain upright without taking away their essential freedom. It's got a USB charger to power them up while they're standing. It's got three other USB chargers for smartphones and tablets as well. It's got other chargers for laptops and bigger devices. So it doesn't just help headphones — it helps all your devices maintain their potency and peace of mind, which will come in handy during the robot rebellion.
Paladone PlayStation Controller Alarm Clock (under $30)
Never miss another early-morning round of Fortnite with this digital alarm clock fashioned after a PlayStation controller. Powered by a USB cord, this top-of-the-line time management device displays the current hour and minute in stunning, classic LCD style. That alone could be its primary selling point, but it keeps on giving: It will also beep upon arriving at a pre-programmed time, to draw you out of your nightly slumber. We know this is a lot to wrap your head around; we'll give you a minute to do.
Raspberry Pi Retro Gaming Kit (under $80)
Raspberry Pi's are a little difficult to explain for those of us whose workstations aren't buried by computer cables whose functions we don't comprehend completely. From our viewpoint, the Raspberry Pi looks like a tiny computer in a miniature circuit board that hooks onto any viewing device. The main objective is to make it easier to learn to program, focusing on specific disciplines of digital operations. This Raspberry Pi kit helps users recreate the exciting, 8-bit video games of the past. We think. We're in the ballpark. We're in the parking lot of the ballpark, at least.
Oculus Rift PC-Powered VR Gaming Headset
In the still-young age of virtual reality gaming, Oculus is the most well-known brand and standard-setter. They've perfected the art of shutting one's self off from the outside world like nobody else. Their headsets are alternate chambers of existence that make it easy to succumb to full-frontal, absorptive gameplay from which return is only half-assured. This Oculus headset is guaranteed to make you disappear the moment it's necessary, leaving mundane chores like answering the phone and eating to those still addicted to physical reality. It's sad, really, when you think about it.
Personalized Gamer Name Sign (under $30)
Online gamer play, of course, is highly reliant on alternate identities. This helps bring a sense of personality and playfulness to the proceedings, and also stops your bosses from tracing back abhorrent online behavior back to you. Celebrate your ability to create a memorable fake name with this LED lamp, customized with your brightly-lit gamer tag, as long as it doesn't have more than 24 letters. In other words, "CaptainDoom43" will work just fine, whereas "SociallyAwkwardGuyWhoHasntLeftTheBasementIn8Months" will not.
Custom Gaming Sign
Here's another LED lamp with fully customizable messaging, highlighted by two lines of text and a nice little graphic of a game controller. It also provides the user with 12 different colors and 64 different light modes, giving you a wide option of lighting strategies to bathe your gaming chamber in an other-worldly glow. As far as messaging goes, we recommend phrases like "Bob's Game Room," "No Guts No Glory," "Mercy Is For Cowards," and "Just Slip the Pizza Under the Door."
GloBoards Gaming Decor (under $30 each)
From what we can ascertain, these are board-shaped, backlit devices one may choose to hang on their wall for decorative reasons. They're not strictly related to gaming. But they can represent your gaming area's novelty, reinforce its electric ambiance, or give off the idea that it's a radioactive zone to stave off intruders, girlfriends, or parents. So maybe they have everything to do with gaming.
---
THE BEST GIFTS FOR GAMERS THAT GAMERS CAN READ, WEAR, PLAY, OR HANG ON THE WALL
Once in a great while, a gamer will emerge from their darkened basement and attempt to form connections with the outside world. No, really. Well — look, it was worth a shot. That said, there are plenty of gamer gifts that won't do anything to improve a gamer's skill or organization, but can help them learn about their obsession, kill time away from the console, reinforce their identity, or learn some adjunct skills. At the very least, these unique gifts for gamers are fun and tangentially related to gaming.
100 Video Games Bucket List Scratch Poster (under $30)
There are 100 video games each gamer must play before they die. They're essential games in the canon. If you miss one, you risk death with unfulfilled ambitions, leaving behind a tarnished legacy. This poster will help you avoid such post-mortem misery by keeping track of each game you play through the miracle of scratch-off technology: Play a game, scrape off the surface with a hard-edged instrument, and rest easy knowing you're paving your path to nirvana brick by precious brick. When you are looking for the best gifts for gamers, this should be at the top of your list because every gamer needs this.
Nintendo Patent Prints
Before your favorite Nintendo game controller found its way into your media room and created colorful alternate worlds full of wonder and magic, it had to be patented. That means somebody had to file design blueprints and product descriptions with a government agency. This set of prints for hanging on your wall reprints the patent submissions of 8 Nintendo innovations, including the Gameboy, Gamecube, NES, Nintendo 64, and Super Nintendo consoles. It's a great way to celebrate decades of innovation, and the bureaucratic red tape of the US Patent Office. If you only want 4 patents, check them out HERE.
Fallout: The Vault Dweller's Official Cookbook (under $30)
Who doesn't love dystopian cuisine? Fallout is the gaming universe's favorite post-apocalyptic adventure, and this cookbook by Victoria Rosenthal helps gamers adjust to life in the virtual nuclear aftermath with real-life dishes like Mirelurk Belly (salmon) Croquettes, Hermit Crab (shrimp) Stuffed Cave Mushrooms, Braised Deathclaw (pork belly) Steak, and Nuka-Cola BBQ Sauce. Civilization may be on the brink of extinction, but that's no excuse not to eat like a king.
Blood, Sweat, and Pixels: The Triumphant, Turbulent Stories Behind How Video Games Are Made (under $20)
For every video game in the market, there's a team with hundreds of human beings that have worked behind the scenes to bring it to life. Jason Schreier's book is an engaging and in-depth odyssey into the intimate, complex world of video game development, covering everything from technical issues, marketing strategy, artistic concerns, and useless input from the bean-counters in corporate. This story feels so real you can almost smell the empty pizza boxes from all-night coding sessions.
The Button Masher PlayStation Onesie
Who says onesies are only for babies who don't have the physical stamina or strategic mindset for Call of Duty: Black Ops? This full-sized, single-piece jumpsuit or pajama or whatever you want to call it is for adult people, and it's colorfully decorated with images from PlayStation controller buttons to reinforce the wearers' devotion to gaming and last through a long night of focused playing. Comes with a hood if, for whatever reason, the wearer needs to cloak their identity. When you are looking for the best gifts for gamers, why not pick something that allows them to stay in their pajamas all day?
Springbok's 1000 Piece Jigsaw Puzzle Gamer's Trove (under $20)
From time to time the modern gamer must arise from their furled position and work on improving their spatial perception. What better external device to accomplish this than a jigsaw puzzle? Clocking in at 1000 pieces, this jigsaw puzzle breaks down an incredibly disorganized video gamer's closet into tiny pieces, which a gamer with an outsized attention span puts back together to form a 30" x 24" picture. They may not get an achievement badge, but the internal pride should be rewarding enough. Shouldn't it?
Monopoly Gamer Collector's Edition
It seems a little counter-intuitive to make an old-fashioned board game for modern video gamers but there is no aspect of modern society the makers of Monopoly are willing to leave untouched. Ergo, this video game version of the world's favorite real estate trading game, featuring all your favorite characters from Nintendo's Mario Bros./Donkey Kong universe. Perfect for reassuring those who are worried they've forgotten how to throw dice. If Fortnite is more your speed, check out Fortnite Monopoly HERE.
PlayStation Controller Cufflinks
Every gamer has faced the same, nerve-wracking dilemma: What to wear when they're at a wedding, at a funeral, in a receiving line for the Queen of England — any occasion more formal than they're used to. Solve that sartorial crisis with these cufflinks (our researchers insist there are pockets of society that still wear cufflinks), modeled after the button arrangements on your PlayStation video game controller. Show the world you can be a tasteful self-dresser and a Minecraft junkie at the same time!
The Game Console: A Photographic History from Atari to Xbox
This book by Evan Amos chronicles the eight generations of video game consoles, covering everything from Pong (ask your grandparents) to the Nintendo Switch, and everything in between. Relive thrilling historical moments in gaming development, from the Commodore 64 Tea Party and the NES Rebellion to the Sega Genesis Wars, the Microsoft Xbox Riots, and the Amazon Fire TV Impeachment Trial.
The Last Supper Nintendo Canvas Wall Art
Finally — and we really mean "finally" — here's a reimagining of da Vinci's immortal painting The Last Supper, replacing the original images of our Savior and his apostles with Mario and his cohorts. You and your friends will gaze into the fine lines of this tribute painting, trying to figure out which one of Mario's apostles is going to betray him with a kiss. So if you are looking for unique gifts for gamers that might offend someone, then this is the way to go! Blasphemy has never been so much fun.
For more gift ideas, check out our section on Gifts for Men or Gifts for Women or Gifts for Kids and Teens.
Be sure to follow us on Facebook for daily updates of unique gifts for your whole family!