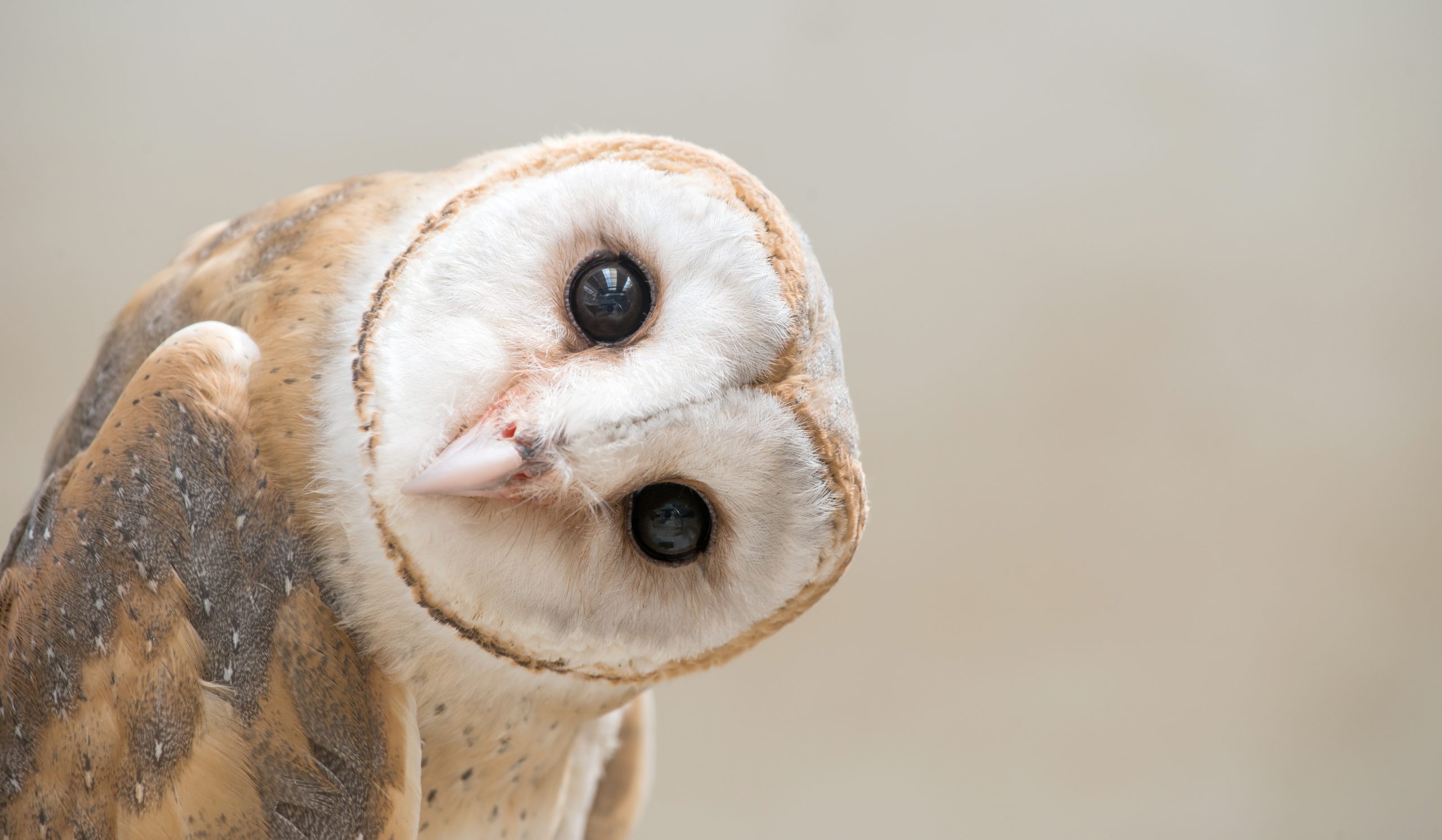 Hoo isn't charmed by the big-eyed gaze of an owl? Owls are majestic and mysterious but somehow still funny looking, and we are here for all of it. If you have a friend or family member smitten with these creatures, this thoughtfully curated list of unique gifts with owls will give you years of owlish gift ideas. Whether she is stylish, whimsical, artsy, or thoughtful, you'll find the perfect item for any occasion in our guide to products for owl lovers from owl jewelry and housewares to games and decor with owls. Owl lovers, rejoice! Hoot Hoot!
Leather Owl Bracelet
This custom leather owl bracelet can be made to fit any sized wrist and you can choose the color of the band. It is made with flat European leather with brass owl and brass trim. It looks even better in person, so you have to see it! Owl gifts have never been so pretty!
"Irritable Owl Syndrome" Coffee Cup
It's a well-known fact that owls are not morning people. Maybe that bad a.m. attitude has rubbed off on your owl-loving friend? If so, give her this Irritable Owl Syndrome coffee cup so she can start her day with someone who truly understands. The grumpy owl design is printed on both sides (great for lefties), and the 11-oz. mug is dishwasher safe. It's one of the best gifts with owls for your snarky friends with a sense of humor and a love for coffee and birds.
Owl Watering Can
Just as owls like to disguise themselves in the trees, this adorable owl looks like a unique sculpture for your home or garden, but it is actually a watering can. It is handcrafted by Balinese crafters in Indonesia, so it has that exotic beauty to it. This might be one of my favorite gifts with owls for those with a green thumb… or at least a desire to have a green thumb.
Related: Gifts for Environmentalists
"Owl Drink to That" Wine Glass
Can you believe we made you wait this long for a wine-related owl gift? Drinking wine and watching owls hoot in the trees should go hand in hand. The "Owl Drink to That" stemless wine glass is worth the wait. The ergonomic shape of the glass ensures a comfortable grip for the owl enthusiast. Plus, a whopping 15-oz. capacity means your friend can honestly say she only had "one glass" all night. Purchase one for your friend or a set to kickstart her owl-themed bar.
Stainless Steel Owl Wine Bottle Stopper
What goes with an owl wine glass? An Owl Wine Bottle Stopper, of course. These stainless steel, bejeweled bottle stoppers are beautiful and will add a touch of elegance to any drinks cabinet. The rubber seal helps prevent wine oxidation, but you're not limited to using them for wine bottles. Dress up any bottle with an elegant stopper. They also make great hostess gifts for owl lovers. The next time you're invited over, don't just show up with a bottle of wine; be everyone's favorite guest by also bringing a unique owl wine stopper.
Related: Gifts for Drinkers
3D Wooden Owl Puzzle Clock
Okay, who requested the steampunk, 3D Wooden Puzzle with a working clock? We thank you, whoever you are. This is one of those rare owl gift ideas that has a lot of crossover appeal. Puzzle lovers, clock collectors, and anyone, teen or adult, who appreciates a unique gift will love assembling and displaying this item. This amazing puzzle requires no glue or tools, just old-fashioned puzzle making. Fly it out on game night to use as the official timekeeper. I've done many wooden puzzles like this with my family and they are really cool how the pieces click together.
Solar Owl Garden Stake Light
Finally, a gift with an owl meant to be enjoyed in the dark! You need this Solar Owl Stake Light in your garden to light your way and show your love for all things owlish at the same time. Simply stick it in the ground outside and it will charge from the sun and automatically turn on at dusk. Made of durable stainless steel, this fancy, filigreed, feather facsimile will bring a smile (and maybe a slight scare) every time you see its golden eyes glowing.
Related: Gifts for Grandma
Personalized Owl Jewelry Box
This sweet owl gift is something any girl will love, especially with a personalized message carved inside. The Vintage Owl Jewelry Box is handmade to order but has the appeal of an authentic vintage item. The lift-up top reveals a handy mirror, and you can add your personalized message inside the pull-out drawer for an extra surprise. Each box is stained with a warm, honey-oak finish that will last for years.
"Zero Hoots Given" Owl Socks
Even people who dream of flying silently through the moonlit sky still want warm feet. These super-cute and super-affordable Zero Hoots Given socks will do the trick. They are machine washable and made from a cozy polyester blend, making them the perfect practical gifts with owls. Having adorable owlets on your feet is almost as good as being able to fly.
Personalized Owl Light
The Personalized Owl Light is great for a kid's room, a dorm room, or any room where you want a touch of whimsy. Unique gifts with owls that serve a real function can be hard to find, but this LED night light is both decorative and useful. The fixture is handmade from wood in the US and is available in a variety of colors. It's also customizable for names and dates up to ten characters long.
Personalized Owl Cutting Board
Of course, she wants a Personalized Owl Cutting Board. Who wouldn't? These gifts with owls are fully customizable. Choose from maple, cherry, or walnut wood and three convenient sizes. Each cutting board can be engraved with your owl-loving friend's name and important dates, such as birthdays or anniversaries. It's a sweet engagement gift for any owl-loving couple and an equally sweet housewarming gift for that bold woman who is doing it on her own.
Related: Gifts for People Who Like to Entertain
Cedar Owl House
This amazing Cedar Owl House provides years of fun and birding adventure for everyone, including your gift recipient's friends and family. (Hint, it's kind of a gift for you too.) Saw-Whet and Screech owls love to move in and get cozy with the included wood nesting chips. The nesting box comes complete and provides the proper ventilation for owls to use safely. Encouraging owls to nest on your property will help keep rodents and other unwanted pests out of your yard and garden with no threat to cats or dogs.
Owl Luggage
Don't you hate it when your plain black bag gets lost in a sea of black bags at the airport baggage carousel? That will never happen again with the Rockland Softside Owl Luggage set. With four sizes in the set, you'll always have the right bag for whatever travel excursion awaits. The owl print is colorful and whimsical and affordable. Each rolling bag has a telescoping aluminum handle and skate wheels for easy maneuverability. This luggage set rates among our favorite unique owl gift ideas for around $100.
Bird Nesting Material for Birds to Make a Nest
The Bird Nesting set is proof that owl gifts can be simple, good for the environment, and still beautiful. Great for any nature lover, the bird nesting set comes with a traditional suet feeder filled with natural alpaca wool. This nesting material will appeal to all kinds of birds. Refill bags of wool are available. The wool is left unwashed, so there is no soap or other residue that may be harmful to the birds. It also makes a thoughtful gift for bird lovers who do not want to attract other animals into the yard with birdseed.
Sherpa Blanket With Owls
Few gifts with owls are as snuggly as this Ukeler Flannel Sherpa Throw. This large, 50×70-inch blanket is adorned with the sweetest owl images. An occasional pop of red adds interest to the neutral, natural color scheme. It's a wonderful gift for owl enthusiasts of any age – perfect for snuggling on the couch or as an accent to a woodland-themed kids' room or cabin. Machine washable (thank you) in cold water.
Owl Oil Diffuser Necklace
Owl gifts for her don't get much easier than the Lava Stone Diffuser Owl Necklace. The aromatherapy locket comes with a 24-inch chain and seven lava stones in different colors – one for each day of the week! Simply add a couple of drops of essential oil to a lava rock and insert it into the owl and then enjoy aromatherapy all day. Buy a small bottle of her favorite essential oil, and you're done. Whoo, whoo is her favorite person after opening this gift? You are, of course.
Wooden Owl Jigsaw Puzzle
This beautiful Wooden Jigsaw Puzzle is a work of art she'll want to keep forever. Rich colors and intricate designs bring the owl-shaped puzzle to life. Each piece is crafted from raw basswood, and the design is precision printed for a clear, bright image. The puzzle has 155 pieces, so kids and adults can enjoy working on it together.
Owl Rain Boots
We're not sure if owls like to splash in the rain, but she won't be able to help herself from jumping in a few puddles with these Tall Owl Rainboots. The boots will help your feet stay dry and warm even in a downpour. And of course, they are covered in owls! Lots of colorful owls on a black background that are so cheery, she'll look forward to each rainy day.
Unique Owl Scarf
Stunning is the only word we can think of to describe this handmade Owl Scarf. In the world of unique gifts with owls, it truly stands out. The striking, realistic owl image is digitally printed on a floral turquoise background, complete with a crescent new moon. It looks like an owl is flying across the garden to meet you. The large, 6-foot-long scarf is available in either 100% cotton or silk/cashmere blend.
The artist also has many other styles and colors HERE.
Wooden Owl Coasters
Give your owl-loving friend a set of these Wooden Crafted Coasters if you want to make them smile (and say you're sorry for that water mark you left on their coffee table). These coasters are simple, cute, and hand-carved from mango wood, which is naturally resistant to moisture and decay. Your purchase helps support the traditional artisans in rural India who make them. And for only around $10, it's one of the most affordable gifts with owls you can find.
Solar Owl Garden Statue light
How clever is this Solar Owl Statue with faux succulents? Pretty darn clever! What a fun owl gift for your gardening friend or the one who can't actually grow real plants. The 10.5 x 6-inch resin statue has solar LED lights tucked into the center of each plant in the body of the owl. It's weatherproof, hand-painted, and stays bright outdoors thanks to a UV-resistant coating.
Owl Windchimes
Show all that big owl love with this gorgeous set of Aluminum Owl Windchimes. The unique design of this gift includes four red copper aluminum tubes and an entire parliament of owls. (It's true – a group of owls is called a parliament!) Colorful beads add the perfect touch of sparkle. Make sure to hang these windchimes near a window to enjoy the soothing sound, even when you're indoors.
Owl Backpack
Not all owls are cute and whimsical. The face on this black leather Owl Backpack definitely says, "stay away." But even an owl scowl is too cute to resist. The backpack is perfect for holding your phone or iPad and a few other must-have items, and the black PU leather is soft and durable. If the female on your gift list is more leather than lace, she'll dig this stylish little bag. perfect for kids or adults who are owl lovers.
Owl Lamp
If you're looking for upscale owl gifts for her – without the upscale price – take a look at this stylish Ceramic Owl Lamp. The classic blue-and-white color combination works perfectly with the size and details in this surprisingly sophisticated lamp. Extra details like a brushed gold pedestal bottom and top finial give the lamp an expensive look without breaking the gift budget. It even comes with low-energy LED bulbs and a linen-look lampshade.
Owl Diamond Painting Kit for Adults and Kids
Is the owl lover in your life a crafty crafter? Even beginners will enjoy the Owl Diamond Painting Kit. It's like paint-by-numbers with sparkling beads instead of paint. The kit comes complete with everything you need, including an environmentally friendly canvas, to make an amazing 3D owl picture that will look like a boutique store treasure. How is this less than $12?? Talk about an affordable owl gift!
Silver Owl Ring
Wow. With piercing blue eyes like those to gaze into, who needs a romantic partner? Okay, well, that might be taking things a bit far, but this handmade Owl Ring truly is a match made in heaven for any owl enthusiast. Each ring is made to order so you can pick the eye color and they have intricate feather details and an authentic vintage look. The owl ring is adjustable to fit almost any hand.
Owl Mittens
Our advice for using this owl gift? Don't wear them while driving because you won't be able to keep your eyes on the road. These handcrafted, designer owl mittens are made by a process known as needle felting. The gloves are made from a blend of mohair, Spandex, and wool, and the appliqued owls are made from felted wool and eco fur. Each pair is custom-made and absolutely owldorable. Available in many colors.
* Due to the intricate way they are made, they are a bit pricey so if you are on a budget, check out the next pair.
Fingerless Owl Mittens
These adorable fingerless owl mittens are made of soft mohair-acrylic yarn so they feel so soft and cozy. Because your fingers are out, it allows you to scroll through Instagram and still have stylish hands. The artist is easy to work with, so if you want a different color, it's no problem. After you purchase the mittens, just shoot her a message to let her know what color you would prefer.
Harry Potter Hedwig Owl Beanie
Wingardium Leviosa! You knew we couldn't leave Hedwig out of our list of gifts with owls. This Harry Potter Hedwig Beanie is designed for teens and adults and is made of an acrylic blend knit. (It could work for kids too, it would just be a little looser) It may not bring messages from home, but it will keep your head warm. Available for both muggles and wizards.
3D Owl Lamp
This totally groovy 3D Illusion Lamp changes color and makes a unique owl gift for kids or grownups (or grownups who are still kids inside). The owl image seems to leap right off the lamp pedestal to illuminate your room like magic. You can set the light to change randomly, toggle between colors, or choose just one. Energy-saving LED light is friendly to the eyes and makes a great nightlight or use it as a sexy avian mood light.
Owl Onesie
Sometimes loving owls from afar just isn't enough. You need to dress like one, too. The Polar Fleece Owl Onesie makes it possible do to just that. This cozy costume has a button closure and is available in sizes small through extra large. Great for snuggling up on the couch or some avian cosplay. Remember, friends don't judge.
Owl Pajama Pants
An owl gift idea for the true night owl or the casual owl who likes to stay home in her pajamas as much as possible. These cute Owl Pajama Pants come in sizes petite through plus and are made from plush fleece, so you know they're cozy. Cheerfully colored owls are printed on a black background, making it easy to match with any comfy t-shirts she already has.
Owl Candle Holder
If you're looking for gifts with owls that's more classy than kitschy, the Snow Owl Flex Candle Holder may be your style. The hand-painted glass ornament suspends from an elegantly curved white metal stand and is the perfect size for holding a tea candle. The overall look is mysterious and ethereal. This gift would be perfect for woodland-themed holiday décor or any home where unique items are appreciated.
Owl Memory Foam Slippers
You are never too old for a new pair of plush slippers, especially these Owl Memory Foam Slippers. The cute gray-and-white owl image is irresistible, but the real star is the comfortable memory foam insole. Women with wide feet will appreciate the extra give in these slippers. The textured bottom protects wearers from slipping on slick surfaces.
Owl Measuring Cups
Normally, having owls in the kitchen might be a reason to call animal rescue services, but this four-pack of colorful Owl Measuring Cups is meant to live in your cupboard. They make a fun owl gift for anyone who loves to cook or enjoys a splash of color in their kitchen gadgets. The measuring cups are made from high-quality ceramic and come in their own gift box for easy giving.
Leather Owl Journal
Any artist or writer in your life would love to receive this Leather Embossed Owl Journal. Your choice of 7×5-inch, 8×6-inch, or 10×7-inch journals is available. The 5×7-inch size is perfect for a travel sketchbook or traditional daily journaling. Natural brown leather is embossed with two owls perched on branches surrounded by an intricate, leafy border. Inside, there are 120 pages of handmade paper. Gorgeous!
Owl Succulent Pots
Another great gift with owls for the gardener! Check out these handmade Owl Succulent Pots. There are four styles to choose from, and each pot is unique since they are all handmade. These compact pots are the perfect size for growing succulents, cacti, or any small plant, measuring approximately 3 1/2 inches tall and wide.
Owls Coloring Book
Coloring is a great way to reduce stress and soothe jangled nerves at the end of a busy day. Adults are enjoying the fun of coloring, thanks to coloring books like this Owls Coloring Book. It is filled with 30 lush, tapestry-like images ready to be colored. The pages are perforated and one-sided to ensure each creation stays picture-perfect. Take them out before coloring to prevent leak-through onto other pages so you can display them afterward like museum art.
What are the Best Gifts With Owls?
Gifts with owls aren't just for people who love owls specifically. Any nature lover, bird watcher, and those who enjoy creative, unusual items will find something to enjoy from our owl gift list. Whether you chose a gift that is actually for owls or a gift that showcases owls, you can't go wrong. We just wonder – hoo many things did you buy for yourself? 
Be sure to follow us on Facebook for daily updates for unique gifts for everyone!