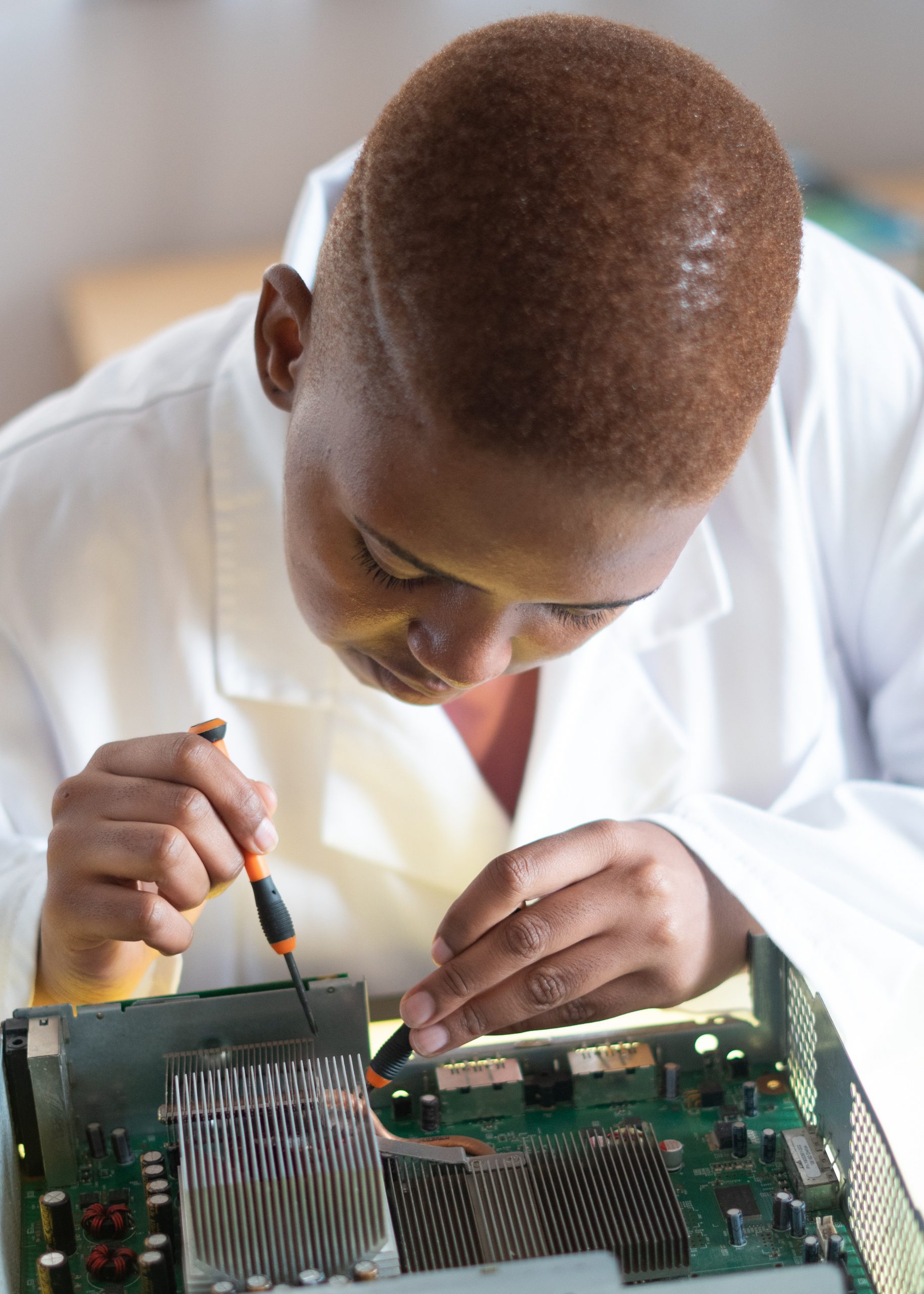 You may think finding great gifts for an engineer is a difficult task, but once you read through our list of gift ideas, you may find the hardest part is choosing only one. That's alright. Feel free to buy as many of these creative, brain-twisting, scientific, mathematical, and fun engineer gifts as you like. There is something here for every kind of engineer. Need gifts for civil engineers? We've got it! You can also find gifts for engineer students and kids who love all types of science.
The engineer in your life will appreciate the logic of buying multiple gifts. Especially if it means they get more chances to build cool stuff.
Personalized Engineer Caricature Portrait
The engineer in your life already sees themselves as the boss. Why not give them a personalized engineer caricature portrait that confirms it? You can choose from a variety of backgrounds that make fun gifts for electrical engineers, civil engineers, mechanical engineers, and more. Send in the photo of your favorite calculator-carrying nerd, and you will receive a digital caricature to print out yourself. Add up to five characters to include the whole gang.
Related: Personalized Gifts
Personalized Engineer Whiskey Glass
After a hard day of going over blueprints, it's time for a little relaxation. But even while relaxing, an engineer needs everyone to know they are right. This engineer whiskey glass makes that possible. Choose between four engineers' mottos such as, "I'm not arguing, I'm just explaining why I'm right." It is beautifully etched to be durable and dishwasher safe and you can have it personalized with their name. The glass holds 12.5 ounces and is perfect for an after-work cocktail or a shot of fine whiskey on the rocks.
Floating Lightbulb Lamp
Gifts for an engineer don't have to be serious; they can also be fun. This levitating lightbulb lamp will be the talk of the office when it's sitting on your favorite engineer's desk. Or use it at home to baffle and amuse guests. A lightbulb literally floats above a wooden base and is perfect for a nightlight or ambient lighting. It's unique, stylish, functional, and if you ask me… magical.
Related: Gifts for Men in Their 50s
Stirling Engine
Engineering gifts don't come more spot-on than the Sunnytech Hot Air Stirling engine. First of all, only the engineer in the room will even know what it is. He or she will have hours of fun explaining to kids and adults (anyone who doesn't get out of the room fast enough) how the heat generated by alcohol creates enough electricity to power the motor. We kid, of course. This is a cool gift for engineers that is made of high-quality materials. My husband has several of these and loves them.
Drone Camera
Inside every serious engineer is a big kid looking for an excuse to play. The Ruko drone camera will give them one! The Ruko drone has a 5G FPV transmission distance and up to a 4900-ft. remote control range. It's easy to fly, and the 4k camera is capable of 4k/30fps video and still shots. It comes with a sturdy bag for easy transport and is flight-game compatible for hours of creative fun.
Engineer's Field Bag
If you're looking for practical gifts for civil engineers or any engineer that works in the field, the tactical engineer's field bag is just the thing. The messenger-style shoulder bag comes in four colors and is made of upgraded 1000d nylon fabric, so it's light and durable. It has seven compartments, including a laptop pocket, to make staying organized easier.
Related: Gifts for Women in Their 40s
Arduino Kit
Holy geek-out alert. Engineer gifts don't get much better than this ultimate Arduino Kit. If you don't know what that is, don't worry – neither did we. But now that we have explored it, we realize just how cool it is. Arduino is an open-source electronics platform that's used for building electronics projects. This ultimate starter kit is compatible with Arduino IED and comes with a free PDF tutorial.
Word Clock
The Sharper Image Word Clock is unique and stylish. It would look great in your favorite engineer's home or on their office desk. It works as both a timepiece and a decorative piece. At first glance, the clock looks like an oversized word search puzzle, but when the LED display comes on, a series of words tell you what time it is. If you need gifts for mechanical engineers or anyone else on your list who enjoys something different, this gift is timely.
Related: Gifts for Engineering Students
3D Printer
Put this on your list of gifts for software engineers or mechanical engineers and everyone else who's as amazed by the idea of 3D printing as we are. The ELEGOO Saturn 3D Printer UV is a dream-come-true gift that's more affordable than you might think. The Saturn printer has a large printing volume that can handle multiple full-sized models, and it comes with a one-year warranty on all parts.
Robot Car Kit
"Robot" is the first word of this gifts for engineers suggestion, so you know it's going to be awesome. The ELEGOO UNO R3 Car Robotic Kit is designed specifically for education and fun, and is the perfect introduction to Arduino learning or for someone who just wants to play. The kit contains 24 parts and is easy to assemble, even for beginners. Get this for the budding engineers in your life or the adults who are smart enough to understand the value of playtime. It's a great engineering gift for the engineer who is a kid at heart.
Personalized Engineer Cartoon Portrait
Show the engineer in your life how proud you are of their accomplishments by immortalizing them in a personalized cartoon portrait. Provide a photo, and you'll receive a digital JPG or PNG file of a digital canvas that you can print yourself. Choose from a variety of full-color backgrounds, and you can add text for free.
Premium Mechanical Pencil Set
Can you even call yourself an engineer if you don't own a set of upscale mechanical pencils? We don't think you can. If you need gifts for mechanical engineers, pick up the GraphGear 1000 Premium Mechanical Pencil set from Pentel Arts. The set includes four sizes of pencils with refill leads (in black) and erasers. Everything comes in a handsome gift set for easy giving.
Belgium Syphon Coffee Maker
Even engineers agree that life is better with coffee. The Diguo Belgium Syphon Coffee Maker is a work of art, an engineering masterpiece, and a fascinating way to blend a cup of pure, fresh coffee. Coffee connoisseurs claim the syphon coffee maker makes the most aromatic, flavorful coffee without a trace of bitterness. The Diguo is plated in gold and looks as beautiful as the coffee it brews.
Related: Gifts for a History Buff
Raspberry Pi Kit
Okay, for most of us, raspberry pie is something delicious to eat. But for engineers, it means something else entirely. It's not delicious and sweet, but it does contain a lot of parts and instructions. An engineer's dream come true! If words like "java scratch code," "solderless breadboard," and "Python" get your engineer's motor running, then get ready to issue a speeding ticket when you give this Freenove Ultimate Starter Kit for Raspberry Pi. Even if the engineer is an experienced programmer, they will still enjoy the fun experiments it has.
3D Wooden Marble Run Puzzle
RoWood Marble Run 3D Wooden Puzzles are everything gifts for mechanical engineers should be. They are overly complicated and incredibly detailed, and all it takes for system failure is for one gear to be slightly misaligned. But seriously, this amazing 294-piece 3D puzzle teaches the fundamentals of engineering and provides hours of entertainment for the whole family. I've done several of these puzzles and thy are a blast.
Mensa 365 Brain Puzzle Calendar
Okay, you don't have to be a genius to enjoy the Mensa Page-a-Day Calendar, but it helps. You may not think of calendars as cool gifts for engineers, but this one is filled with 365-days' worth of word puzzles, logic challenges, mini Sudoku, and more. Every day is a new challenge. The Mensa calendar is also 100% recyclable, which even a stone-cold engineer will appreciate.
Engineers: From the Great Pyramids to the Pioneers of Space
What makes a better gift for structural engineers than a book that hails the glory of engineering through time? Engineers: From the Great Pyramids to the Pioneers of Space highlights some of the most brilliant builders, thinkers, and creators of all time. This beautiful book is in full color and covers over 100 designers, architects, and of course, engineers. Buy it for the amazing photography, but get lost in the fascinating information on each structure and the engineers who brought them to life.
Circuit Board Coasters
Even engineers care about their furniture. These fun Circuit Board coasters are great gifts for software engineers or any tech enthusiast who likes a clean, modern look. These coasters are handmade and come in your choice of colors: red, green, blue, and gold. They also have non-slip, silicone feet to keep them stable, a detail any engineer will appreciate.
3D Wooden Train Puzzle
Wow, this may be the mother of all 3D puzzles. Does the engineer in your life also have fantasies of being a train engineer? Then the Toy Train 3D Wooden Puzzle is a must-have gift. It includes a whopping 405 pieces that together build two train cars: a steam-run engine and a passenger car with a hinged roof so you can look inside. These wooden 3D puzzles are always fun for adults, teens, or for the whole family.
Bridges: A History of the World's Most Spectacular Spans
Let's just call this what it is: engineer catnip. This gorgeous hardcover book, titled Bridges: A History of the World's Most Spectacular Spans, proves that engineering gifts don't have to be complex brain puzzles. "Bridges" is a visual history of landmarks that spans the world. It showcases classic and modern innovators and includes all of the facts and statistics your engineer will love – that's the catnip part.
Engineering Life: A Snarky Adult Coloring Book for Engineers
All kidding aside, being an engineer can be a high-stress job. The Engineering Life adult coloring book is a smart (and snarky) way to let off some steam and keep those stress levels low. It includes a fun selection of high-quality images on 60lb paper stock ready for any type of coloring medium. Each page is backed in black to prevent colors from bleeding through. Now that's some planning an engineer will appreciate.
Galileo Thermometer and Barometer
The Galileo thermometer is as remarkable now as it was when it was invented in the 16th century. The Wind & Weather version comes in a handsome wood frame. It's a wonderful conversation piece and a smart way to introduce kids to the laws of physics or just a cool looking weather prediction device for adults. This is one of those gifts for an engineer that would look great in their office or man cave.
Silk Engineering Tie with Circuit Boards
No list of gifts for an engineer would be complete without at least one novelty tie, right? We do not disappoint! How about a silk tie made from pure silk and printed circuit boards on it? It actually looks like a beautiful pattern, but the engineer will be delighted to know what they really are. It's also available in any color so you can request anything.
3D Pen Pro
This 3D Pen Pro is not only fun to use, but it is also helpful for prototyping and drafting. It includes 10 colors and a drafting mat and it is much faster than the other 3D pens on the market. You can even use it to make repairs around the house. The pen is beginner friendly, so you might have to hide it so the kids don't steal it.
Complicated and Cool Light Switches for Engineers
The only problem with these Complicated Switch Plates from GreenTree Jewelry is figuring out which one you want. Thank goodness your home has more than one light switch! Each one is handmade and fits over any standard single-toggle light switch. Installation is so easy that even an engineer can do it. The colors and movements vary, but each one has a unique (and overly complicated and cool) movement that flips the switch off and on.
Personalized Engineer Pen Set
A beautiful pen set is still one of the best graduation gifts you can give a person. If you're looking for elegant gifts for mechanical engineers or engineering students, this personalized pen set includes a case, one ball point pen, and one roller ball pen, all made from rosewood. You can personalize the case and pens with your engineer's name or business name and include an appropriate graphic.
Folding Keyboard
These folding keyboards are definitely great gifts for civil engineers, but why stop there? Honestly, this is a gift almost everyone on your list will love. The folding Bluetooth keyboard can fit into a pocket and offers universal compatibility (Apple, Android, Windows, Samsung, and Linux devices). Take it with you on job sites, mobile work stations, and for travel. It's not just cute; it works hard with 60 hours of battery life.
Periodic Table Shot Glasses
All work and no play makes engineering very dull indeed. Periodic beaker shot glasses to the rescue! Get your engineer this set of four dishwasher-safe "lab" glasses, and let the good times roll. You receive two Erlenmeyers and two beakers, all adorned with kiln-fired enamel graduations. Let's all lift a beaker and make a toast to science.
Kakko Digital Soldering Station
"Watcha doin'?"
"Oh, just building a robot with my digital soldering station." If that sounds like a conversation that could happen around your house, check out this Hakko digital soldering station. It provides 120 volts and 70.00 watts of soldering power and is made of metal and durable plastic. It's easily portable, so you can use it anywhere around the house or shop.
Related: Gifts for Welders
Perfectionist Cutting Board
Engineers do not live on mathematics alone. Occasionally they also need a little charcuterie. This precision cutting board is perfect. Seriously, it will perfect your slicing with etched-in rulers, cutting guides, and angle markers. It's made of durable, thick bamboo and guaranteed not to break or split. This is certainly one of our tastiest engineer gifts.
Math Equation Clock
Who wants a plain old clock with regular numbers when you could have one with math equations instead? At first glance, the Decodyne Math Wall Clock is just a regular clock, but on closer inspection, you'll realize the customary 1 through 12 numbers have been replaced with equations (like 6 x 2) that represent 1 through 12. Clever! This fun clock has a black background and white chalk writing to fit into modern décor or dress up a classroom.
Build Your Own Bluetooth and FM Radio
Forget about building a bear! If you're looking for gifts for mechanical engineers, take a look at this Build Your Own Bluetooth and FM Radio. This is a great hands-on project that includes everything you need for a complete working radio. Engineering meets music – what a beautiful friendship.
Thermal Imager for Smart Phones
Remember when the engineer in your life mentioned they didn't have an infrared camera? Okay, maybe they didn't say it out loud, but you know they want one. The Thermal Camera for Smart Phones actually transforms a smart phone into a thermal infrared camera. You can capture and share thermal images, and the unit includes professional tips to make your images the best they can be. You will feel like you are a spy in your favorite action film.
Weatherproof Notebook
Do you need some practical gifts for electrical engineers or others who might have to work out in the rain? Take a look at these Weatherproof Top Spiral Notebooks from Rite in the Rain. You receive a set of three notebooks, each filled with 50 sheets of all-weather paper. The paper repels water, mud, and grease, and it can even survive a trip in the washing machine. The Wire-O binding is specially designed to keep pages intact and aligned, even if you carry it around in your back pocket.
Nikola Tesla Patents
If your engineer is decorating their first home or apartment, they'll love these Nikola Tesla patent prints. You receive a total of 12 prints in your choice of size and background. All prints are made on archival paper with high-quality ink. Frames are not included.
Engineer Cutting Board
Are you're looking for gifts for engineers who want to be chefs? Granted, that might be pretty specific, but we have no doubt they are out there. Planning a meal is almost as complicated as building a bridge. This handmade, eco-friendly organic bamboo cutting board is just the thing. It is simple, durable, and good-looking, with a finished hole for easy hanging.
What are the best gifts for an engineer??
Engineers are curious, smart. and like to create things. Playing with electronics or building a train might not seem like something adults would do but it is right up their alley. Look for gifts that bring out the kid in them but also stimulate their minds and you can't go wrong.
If you're feeling a little gift-envy after reading our list, don't worry. You don't have to have an engineering degree to enjoy any of these items. Go ahead, buy one for yourself. Our gift guides don't discriminate. Even if you're (gulp) an artist or a professional juggler or something even more un-engineer-like, we won't tell. It's your life – enjoy your mechanical pencils!
Be sure to follow up on Facebook for daily updates of unique gifts for the whole family!